The soup season is officially here, and I can't be happier! I mean, who says no to a steaming bowl Spiced Butternut Squash Soup cuddled up in a chair watching their favorite show? Not me, for sure!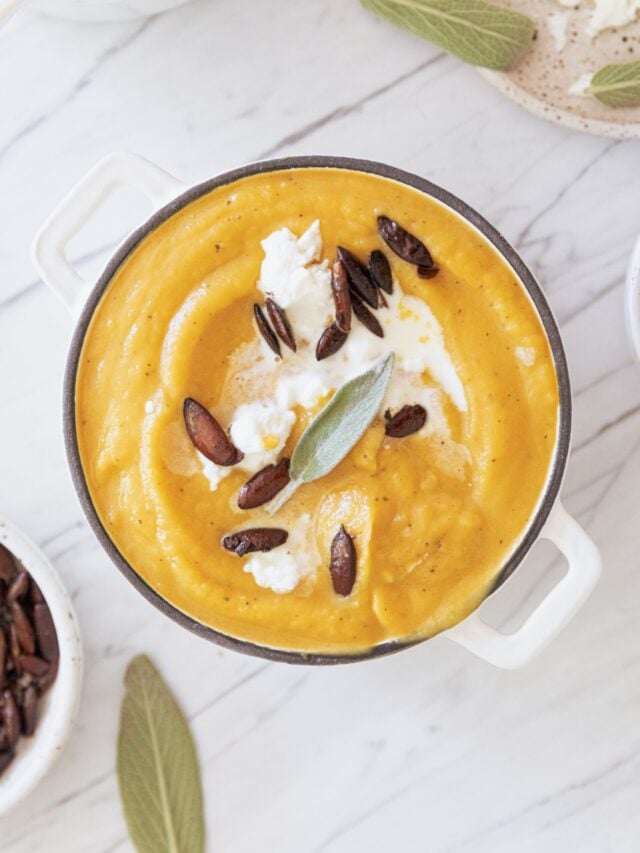 I love the fact that soups always come out flavorful. Doesn't matter if you have a broth or a cream base, chicken soup or veggie soup, or are making it spicy or mild - soups ALWAYS hit home!
One of my go-to soups for colder weather is this Spiced Butternut Squash Soup. It's perfect for those lazy days or when you want to impress your friends with a gourmet dish without putting in too much effort! And, of course, who ignores the beautiful butternut squash when it's in season?
Pair this squash soup with some homemade dutch oven artisan bread or easy yeast bread rolls for a cozy fall weeknight dinner!
Jump to:
Why You'll Love This Recipe
It's easy peasy. Just follow the recipe, and you'll have a hearty soup. Just like that!
It only uses simple ingredients. No chilly visits to the grocery store, guys! Isn't that a perfect winter dream?
It's super easy to customize! Make it vegan, or let it be loaded with your favorite cheese. The choice is yours.
It's super healthy! Butternut squash is loaded with fiber, vitamins, and minerals, making this soup an absolutely nutritious treat.
Ingredient List for the Best Butternut Squash Soup Recipe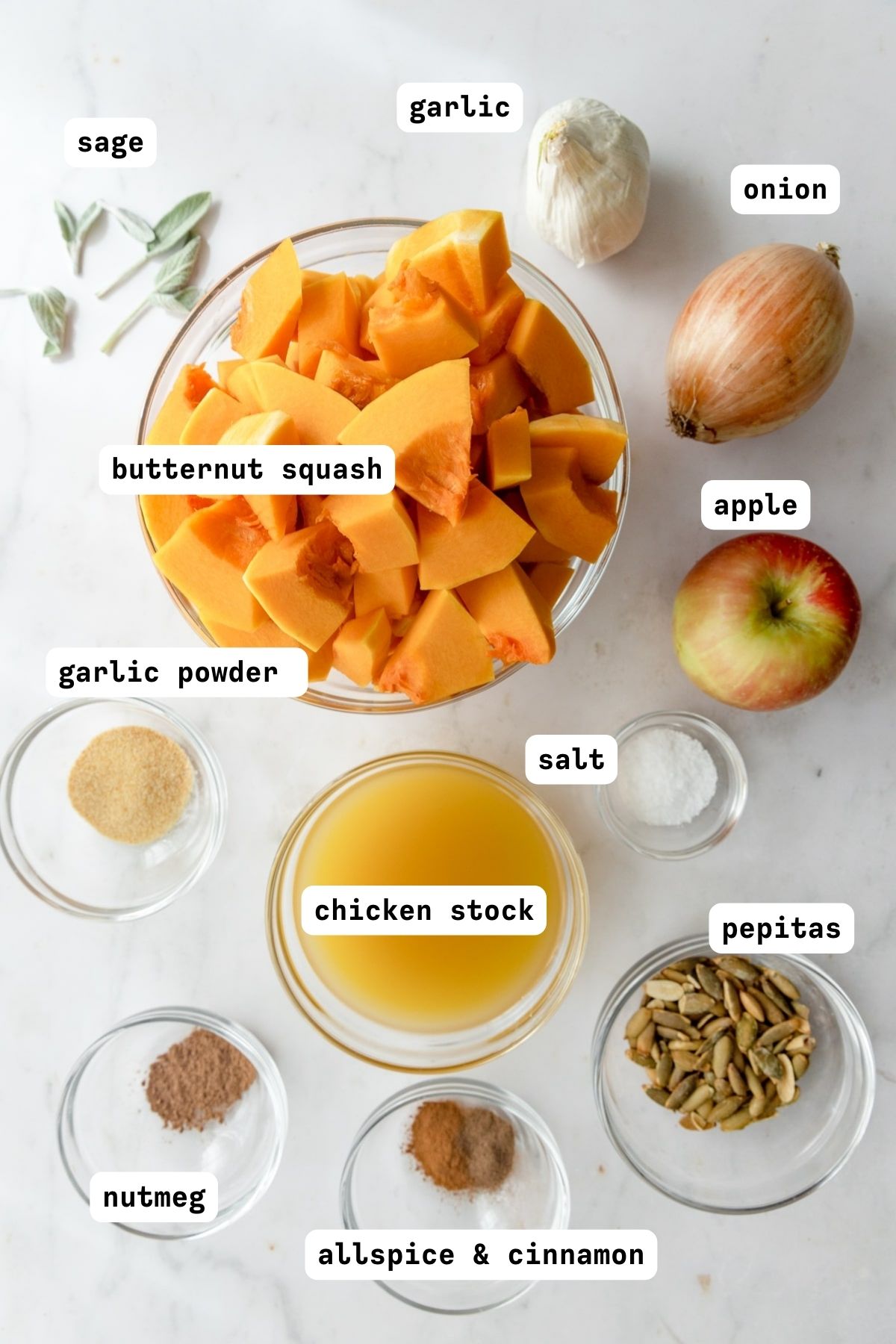 Butternut Squash - The sweet and nutty flavor of this veggie will come together to give you a deliciously creamy bowl of goodness. Butternut squash has oodles of Vitamin A and antioxidants! Oh, and look at that beautiful color of our star ingredient! Stunning!
Olive Oil - Substitute with avocado oil if you're not a fan of olive oil.
Spices - I use salt, nutmeg, allspice, cinnamon, and dried sage. You can also crank up the heat with black pepper and cayenne pepper. Also, try adding curry powder for an extra kick.
Onion - Use a sweet onion like Vidalia or Walla Walla for a slightly sweeter taste to balance the earthy flavor of squash.
Honeycrisp Apple - I love how the crisp and syrupy sweetness of a Honeycrisp apple boosts other flavors of this soup. If you want to add a twist of tanginess, go for granny smith apples. Honey crisp apples also pair well with other savory dishes, like these Apple Honey Walnut Crostinis!
Garlic Cloves - Roasted garlic cloves are more aromatic and have a slightly sweet flavor. They'll jam perfectly with the rest of the ingredients.
Chicken Broth - The soup has a liquid base. You can use store-bought chicken broth for this recipe. But if you want to do a homemade version, go for it. Chicken stock and vegetable stock will work, too.
Half and Half - Do you like creamy soups? Add half and half to the recipe. Whole milk and heavy cream will do, too. If you want to keep things vegan, go for light coconut milk or cashew cream.
You'll also need crumbled goat cheese and pumpkin seeds for garnishing. Let that extra richness take over!
The recipe card has all the measurement details that you'll need. Check it out.
Steps To Make The Soup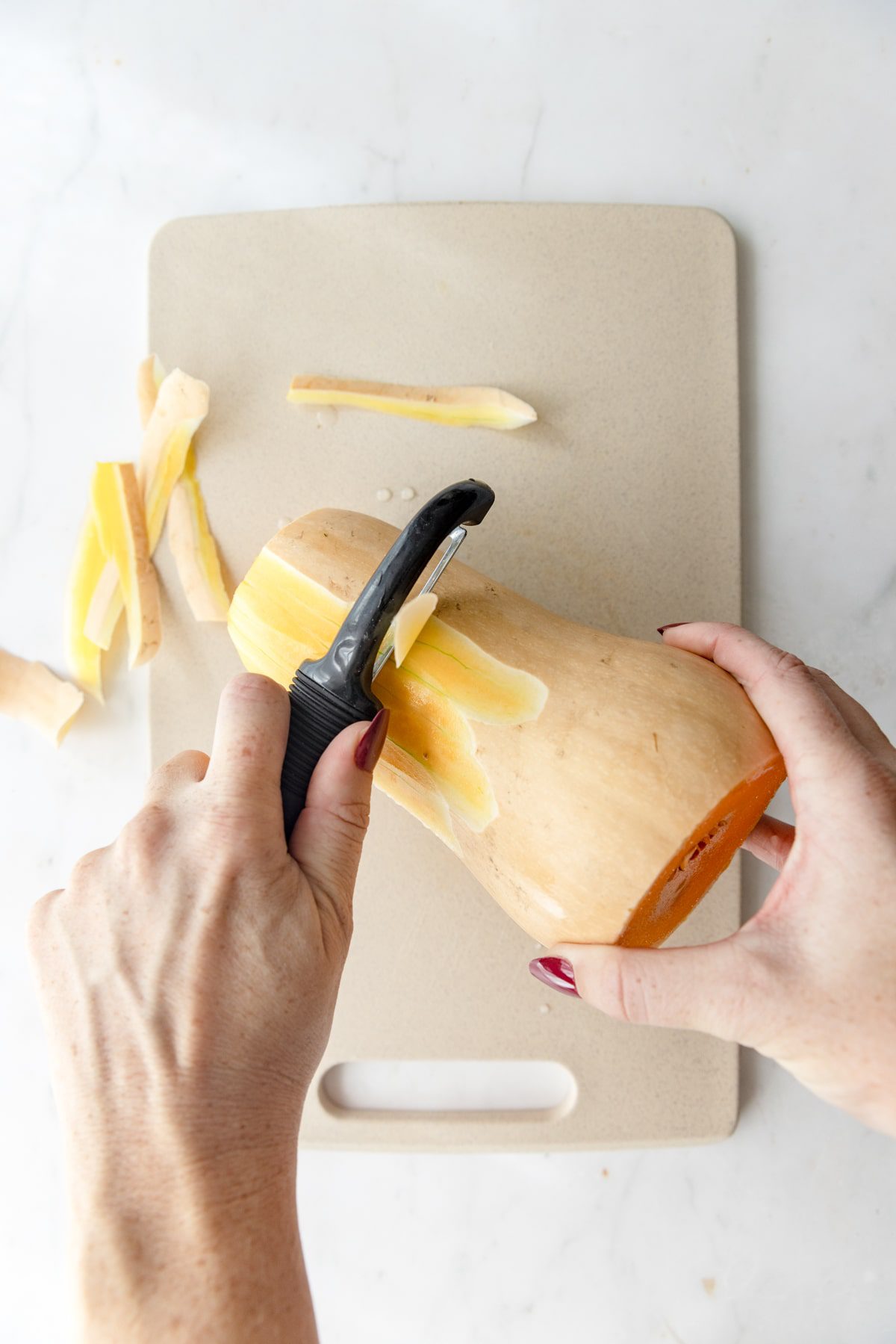 Step 1. Cut off each end and peel the butternut squash.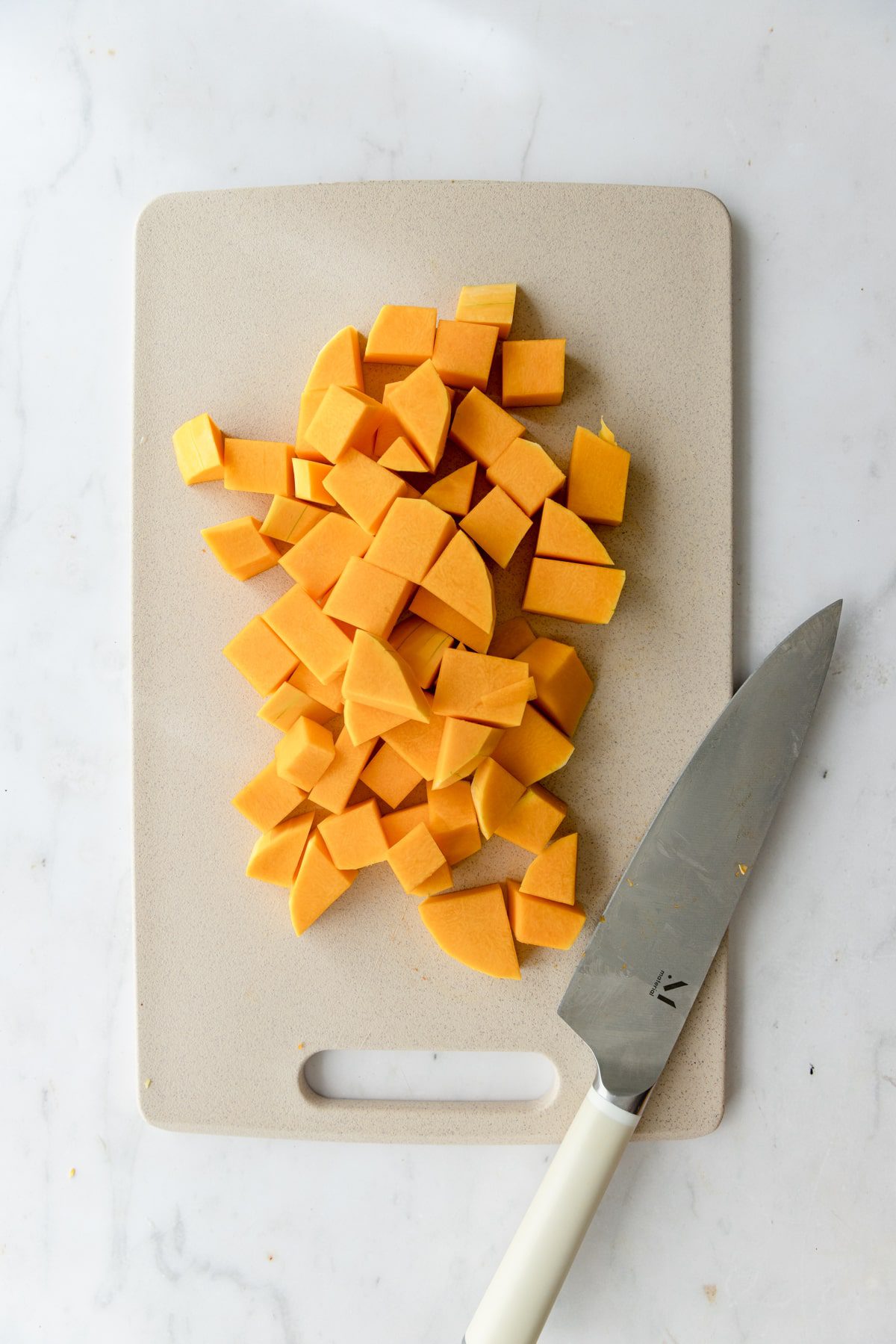 Step 2. Remove the seeds using a spoon and dice into 1 inch cubes.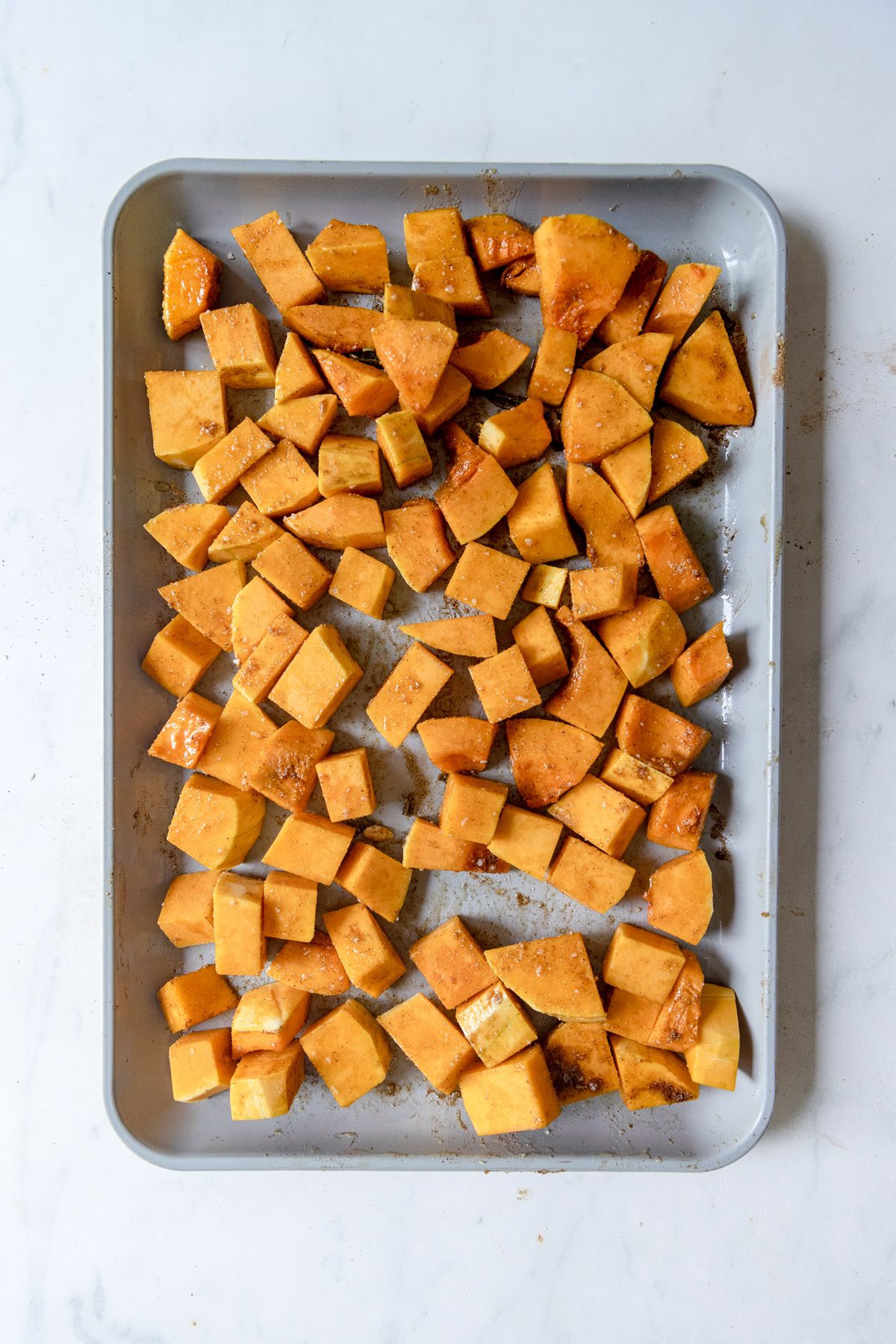 Step 3. Toss diced butternut squash with spices and olive oil, bake at 375 for 15 minutes.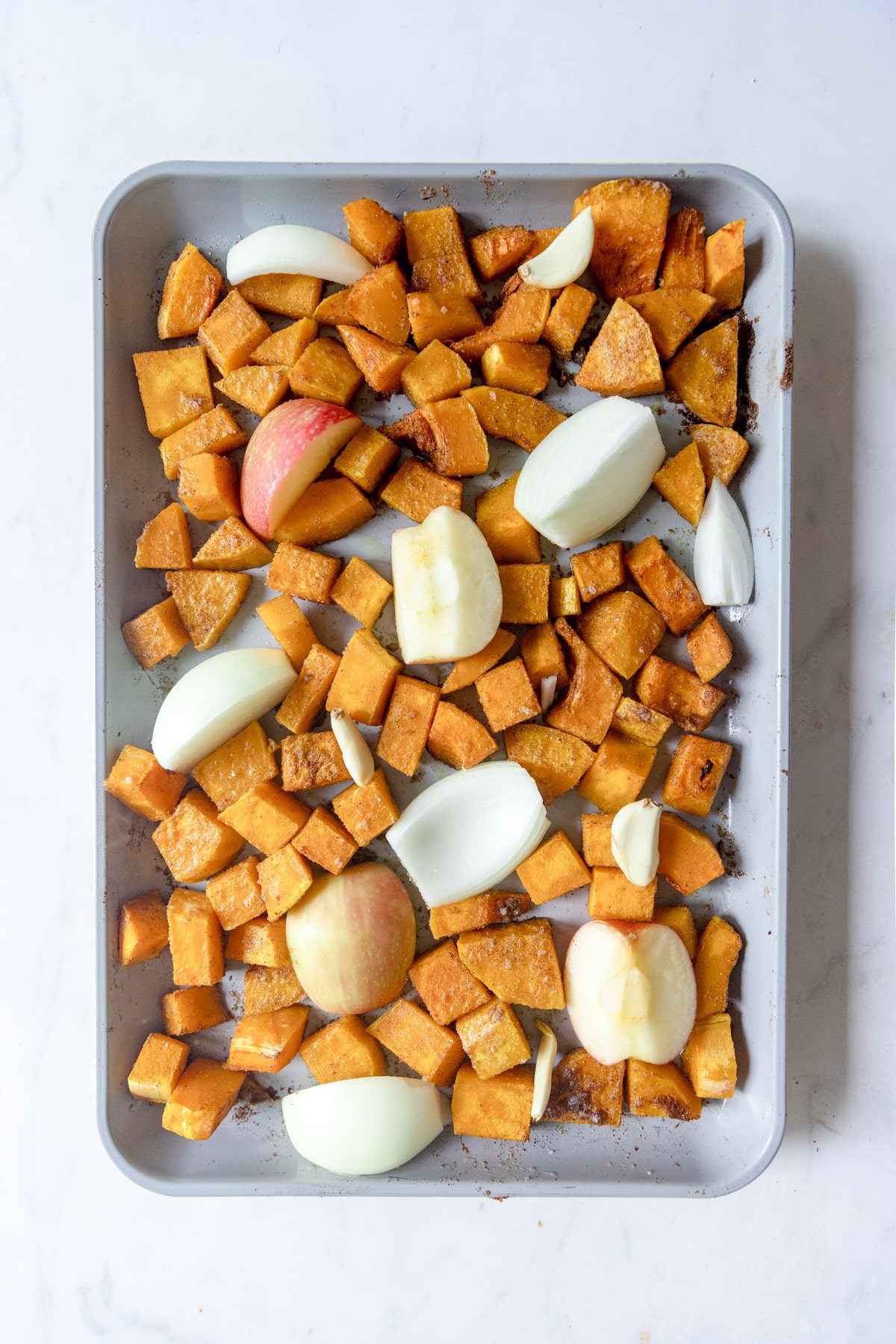 Step 4. Remove from the oven and add quartered onion, apple, and garlic. Roast again for 10-15 minutes.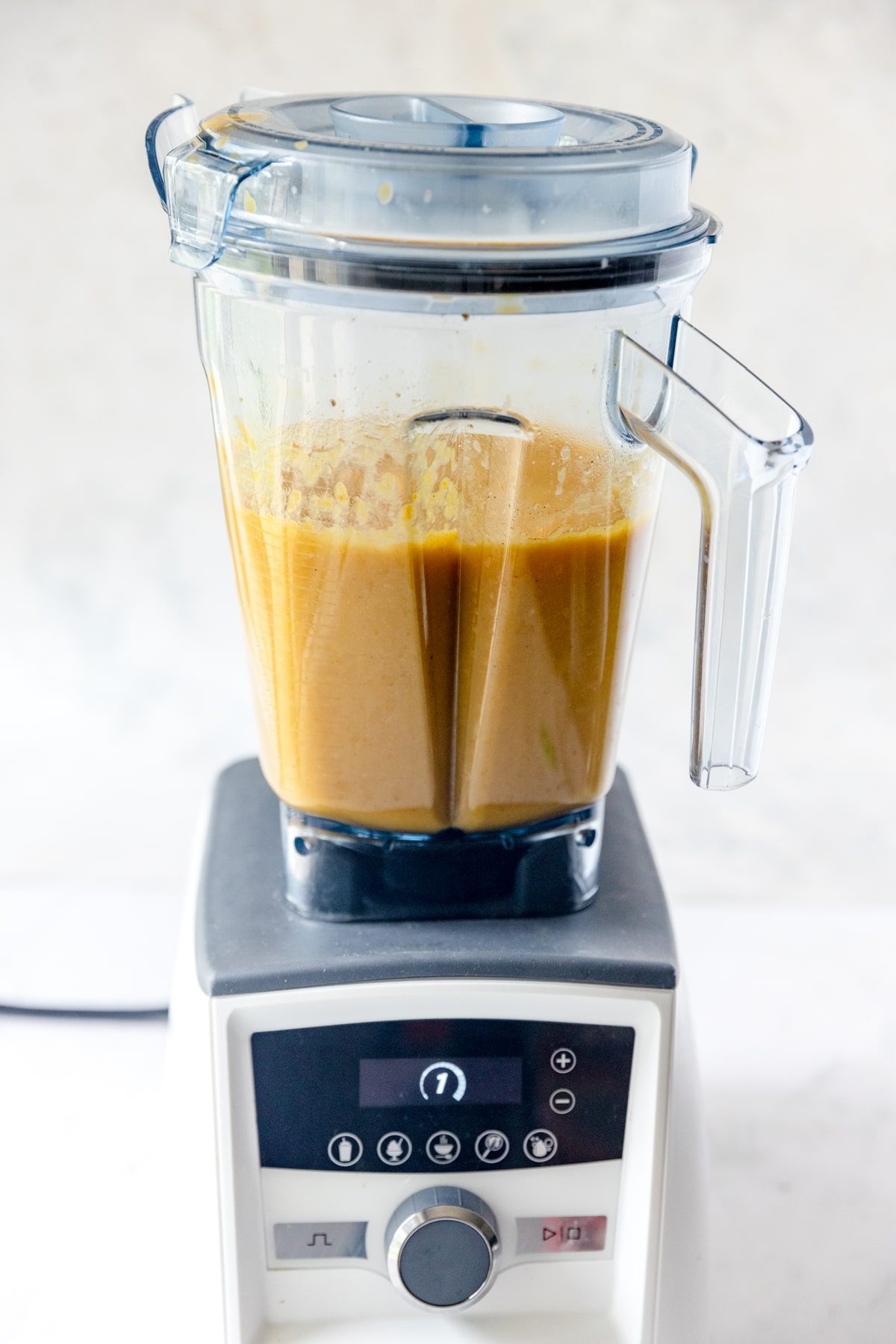 Step 5. Add all roasted veggies to a blender or food processor along with chicken stock and blend until smooth.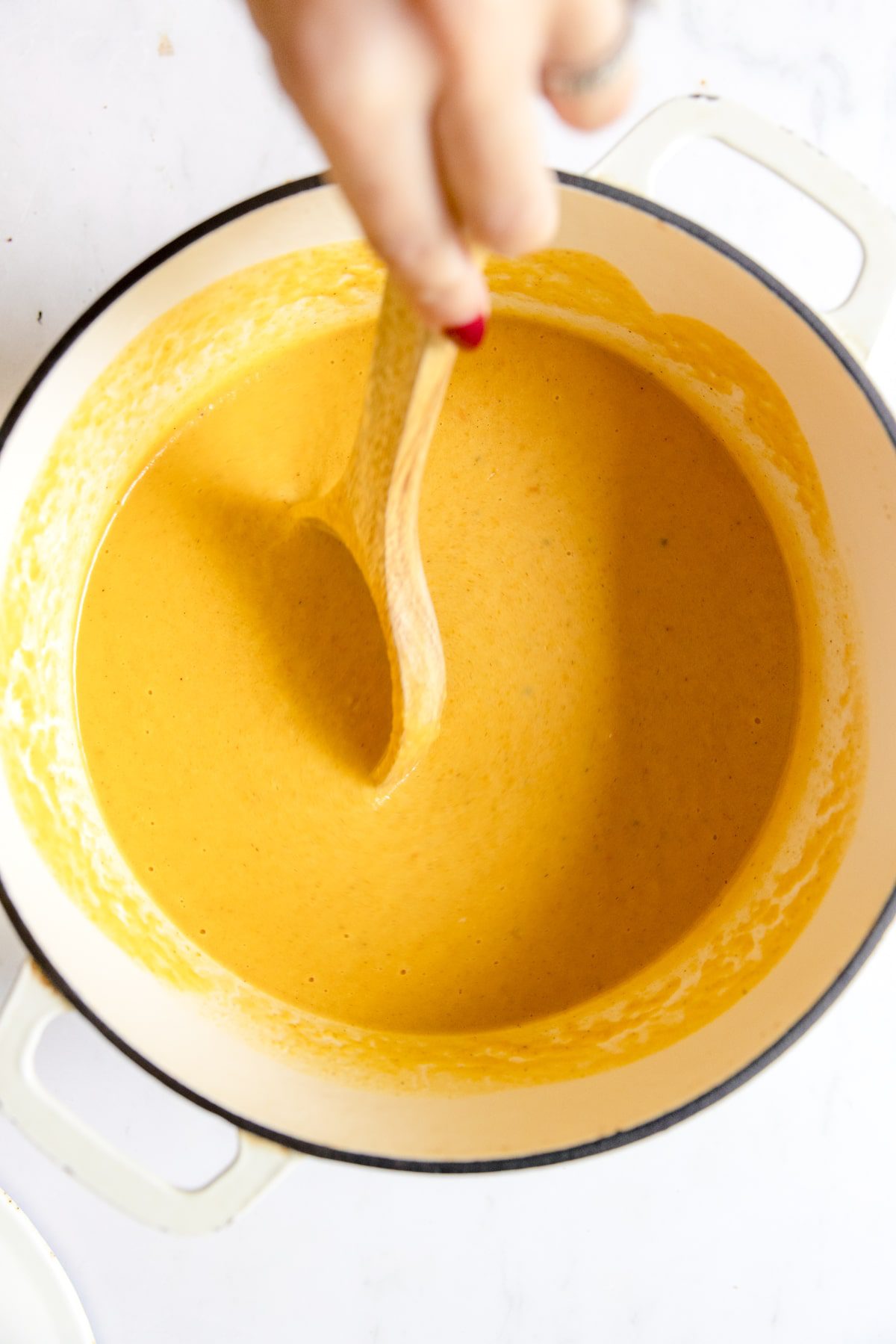 Step 6. Add the blended squash soup to a dutch oven pot and stir in half & half. Heat through over medium heat.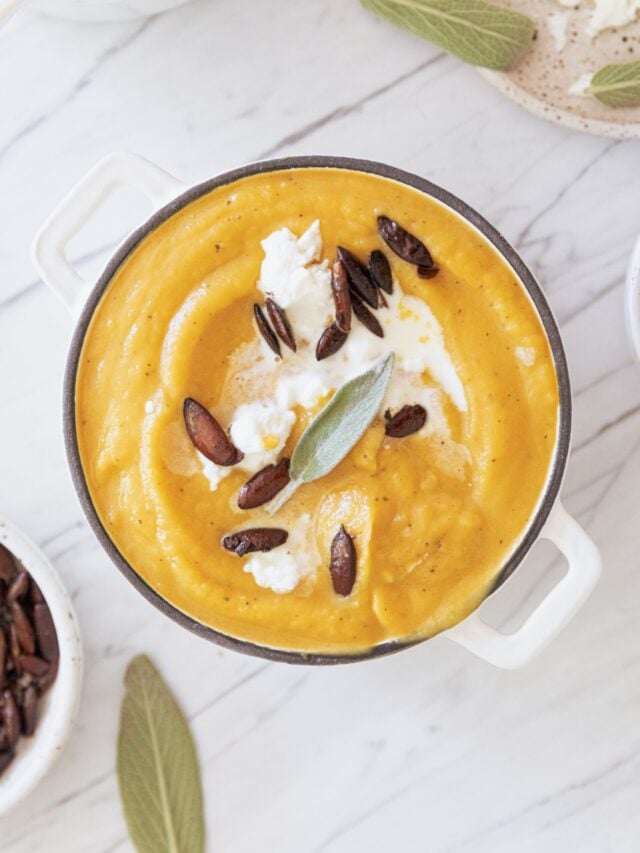 Then dish it up and garnish with the crumbled goat cheese and pumpkin seeds! Enjoy!
Variations You Can't Say No To
Since you'll be having a lot of soup during this time of year, you need some kickass variations to keep things interesting! Here are some ideas for you to try.
Crank up the spice with chipotle peppers. These smoked jalapeños will give your soup a rich and smoky flavor, along with an extra dose of spiciness.
Add a little tanginess with lime juice. The addition of lime juice at the end will brighten up the flavors of this soup.
Add some protein with shredded chicken. If you're looking to make this soup a complete meal, add some shredded or diced chicken to it. You can also use your leftover rotisserie chicken for convenience. Chicken and potato soup is a great way to use up any leftover chicken as well!
Make it vegetarian with vegetable broth. Add cubes of fried tofu for a vegetarian version of this soup.
Make a spicy Thai butternut squash soup with red curry paste. (A lot like this Sweet Potato Butternut Squash Curry!) Also, top it off with some coconut milk and cilantro for an exotic flavor.
Some people also enjoy the sweet and nutty taste of peanut butter in their butternut squash soups. If you want to enhance the sweetness, you can also add coconut sugar or brown sugar to the recipe. Let your personal preference shine through.
Serving the Spiced Butternut Squash Soup
This delicious soup can be your perfect appetizer or side dish. Since it has a diverse flavor profile, it pairs well with many dishes. Some of my favorite accompaniments are:
But honestly, this soup is satisfying enough on its own!
Tips and Tricks for Spicy Butternut Squash Soup
I've made this soup dozens of times! Here are my pro-tips for making it the very best it can be...
Use fresh butternut squash, if possible, rather than canned puree. Fresh produce will give a more intense flavor to the soup.
Add spices according to your taste preferences, but don't be shy! Since butternut squash has a mild flavor, it can handle stronger spices. So, go ahead and experiment with different spice combinations.
Don't like a chunky soup? No problem. Blend yours in an immersion blender/stick blender or food processor for a smooth consistency. Immersion blenders are my secret weapon for super smooth soups.
To make the soup creamier, add potatoes or parsnips. The starch will help with thickness. Velveeta Potato soup is a great option if you are craving a great potato soup!
Want your squash soup more savory? Use vegetable stock and miso paste instead of chicken broth.
Don't like onions? Caramelize them before adding them to the soup to mellow out their flavor.
Frequently Asked Questions
Can I Make Spiced Butternut Squash Soup in an Instant Pot?
Absolutely, yes! It'll take about 30-40 minutes in the instant pot. 
Can I Freeze Butternut Squash Soup?
Yes, you can. It'll survive three months if stored in an airtight container. Just remember to thaw it before reheating. To reheat, dump the soup in a Dutch oven and let it simmer over low heat. 
Do I Need to Peel the Butternut Squash Before Cooking?
Nope! The skin will be soft enough after roasting that you won't even notice it in the soup. Plus, it adds more nutrients and fiber to your meal!
Related Recipes You'll Love!
If you tried this Spiced Butternut Squash Soup or any other recipe on my website, please leave a 🌟 star rating and let me know how it went in the 📝 comments below. Thanks for visiting!
📖 Recipe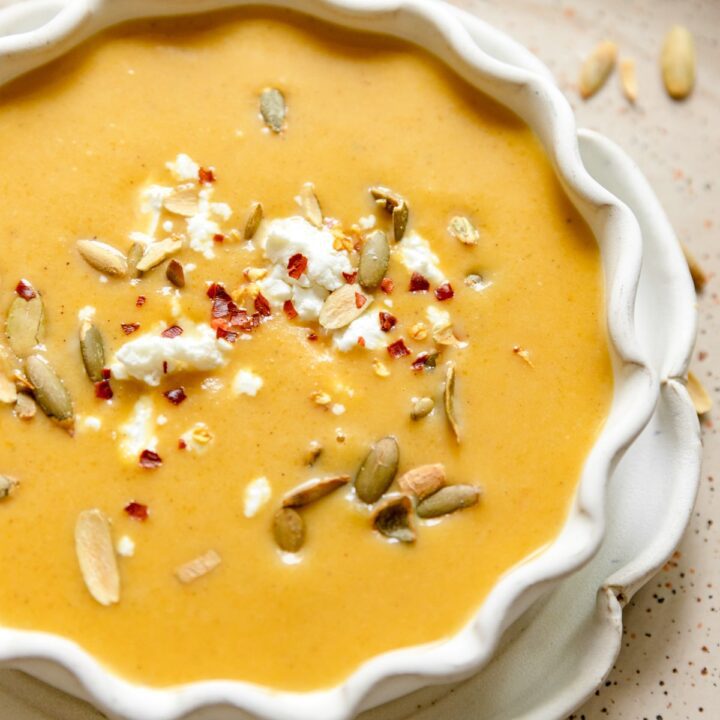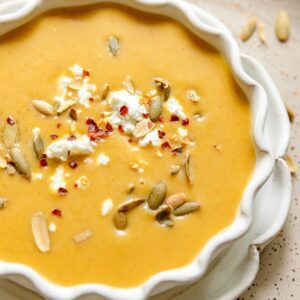 The BEST Spiced Butternut Squash Soup Recipe
Discover the perfect 30-minute recipe for Spiced Butternut Squash Soup – a quick, family-friendly, and healthy meal option. Learn how to whip up this comforting soup with a delightful blend of spices in no time! Your taste buds and your family will thank you.
Print
Pin
Rate
Equipment
1 sheet tray

1 blender

or food processor

1 heavy bottomed pot
Ingredients
3

cups

butternut squash

approx 1 medium butternut squash

2

tablespoon

olive oil

1

tablespoon

salt

½

teaspoon

nutmeg

½

teaspoon

allspice

½

teaspoon

cinnamon

1

teaspoon

dried sage

1

onion

quartered

1

honeycrisp apple

quartered

3

cloves

garlic

1 32

oz

carton chicken broth

½

cup

half and half

optional

8

oz

crumbled goat cheese

¼

cup

pumpkin seeds
Instructions
Preheat the oven to 375 degrees.

On a sheet tray, combine the squash with olive oil and all spices.

Roast for 25 minutes then remove from the oven.

Add the onion, apple, and garlic cloves and return the sheet tray for the oven. Bake for an additional 15 minutes.

Remove from the oven and add the veggies to a blender along with 3 cups of the chicken broth.

Blend until smooth, adding more broth if necessary to help it blend out.

Transfer the soup to a large pot and add in the remaining broth and half & half.

Bring to a gentle boil over medium high heat and cook for 10 minutes to heat through.

Serve the soup with crumbled goat cheese and pumpkin seeds on top.
Notes
This soup freezes great! It'll survive three months if stored in an airtight container. Just remember to thaw it before reheating. To reheat, dump the soup in a Dutch oven and let it simmer over low heat. 
Play around with different flavor profiles! A spicy red curry butternut squash soup is a surprising, but delicious twist on a classic fall dish. 
Don't skip the goat cheese & pumpkin seeds. The creamy + crunchy combo is the perfect topping for this rich soup. 
Nutrition
Calories:
250
kcal
|
Carbohydrates:
17
g
|
Protein:
11
g
|
Fat:
17
g
|
Saturated Fat:
8
g
|
Polyunsaturated Fat:
1
g
|
Monounsaturated Fat:
6
g
|
Trans Fat:
0.002
g
|
Cholesterol:
28
mg
|
Sodium:
1897
mg
|
Potassium:
401
mg
|
Fiber:
3
g
|
Sugar:
7
g
|
Vitamin A:
7926
IU
|
Vitamin C:
18
mg
|
Calcium:
128
mg
|
Iron:
2
mg