Bright, juicy, and filled with summery goodness, my simple recipe for Fresh Garden Salsa is a staple at our house this time of year. Whether you grow your own veggies, have overflowing countertops from your CSA, or just crave a zesty Mexican dip, this is the recipe for you! Made with just 10 ingredients in less than 10 minutes, this easy blender salsa is dead simple and utterly delectable.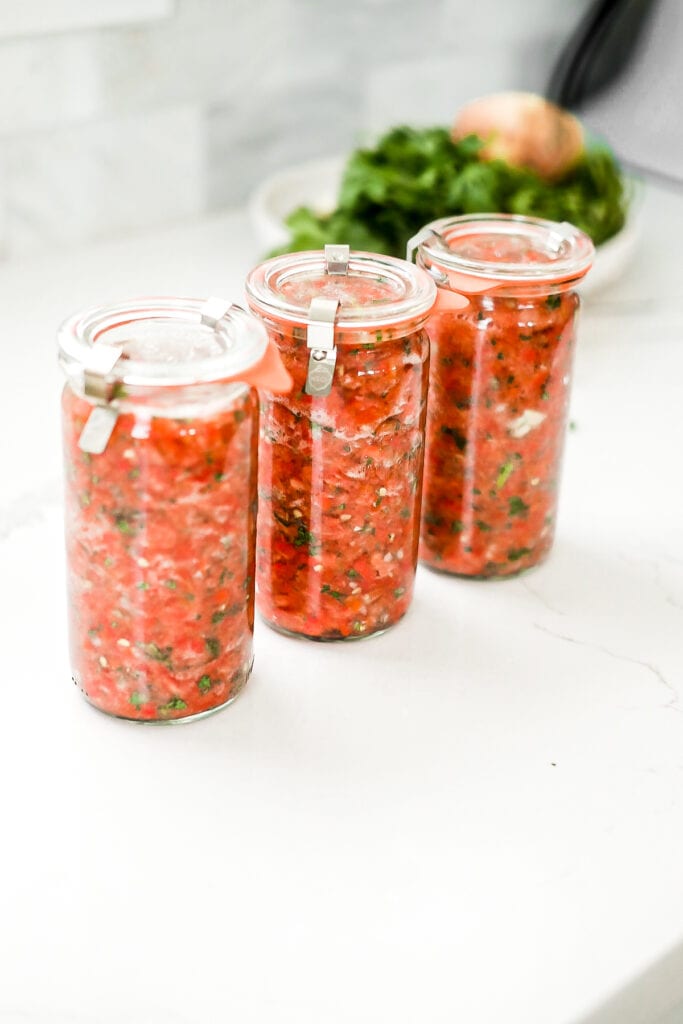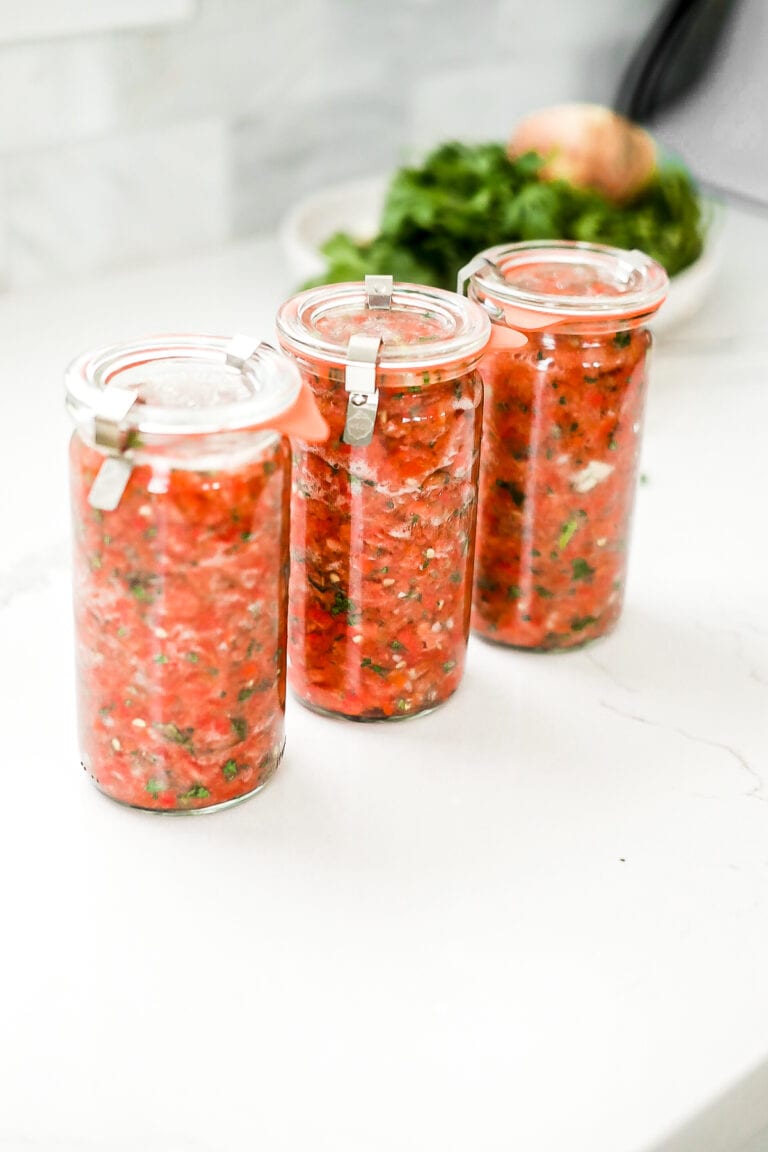 Why This Salsa Is The Best
My Mom isn't necessarily the best cook (I LOVE YOU MOM!), but she does have a few smash hits up her sleeve. This delightfully veggie-forward salsa recipe is one of them! It is:
Quick & Easy. Perhaps my favorite thing about this fresh garden salsa is that you don't have to be precise with your knife work because it's blended! Do a few quick, rough chops and then let the blender do the work. You'll be done in less than 10 minutes.
Only 10 Ingredients. This vegetable salsa is seriously so simple. I'd bet you already have almost everything you need on hand!
Wholesome & Nutritious. My restaurant-style salsa is jam-packed with fresh, uncooked veggies. I can't think of a healthier snack!
Fresh Garden Salsa Ingredients
As promised, you don't need a lot of ingredients to make a gorgeous batch of homemade garden salsa. Here's your list:
Tomatoes - Since this is a blended salsa, feel free to use either meaty varieties like romas, or opt for juicy slicers like Purple Cherokees or beefsteak tomatoes. If the craving hits in the middle of winter, I suggest reaching for greenhouse-grown cherry tomatoes.
Jalapeno - Remember that the majority of capsaicin (the compound that makes chilis taste spicy) lives in the seeds and white membranes; for a milder flavor, remove them before adding.
Cilantro - I'm a huge fan of earthy, herbaceous cilantro. Feel free to omit it if you are not.
Onion - Any color – red, white, or yellow – will do the trick. You can also swap in green onions or shallots for a milder flavor.
Lime - Fresh is always best, especially as pertains to citrus juice. To get the most from your fruit, give it a firm roll on the countertop for 10-15 seconds before slicing it open.
Garlic - Fresh garlic has a more pungent flavor that works well in this garden-fresh salsa. Feel free to use garlic powder if needed, but note that it will be much milder.
Rotel - Any canned tomatoes with green chilis will do the trick, so feel free to opt for white label brands to save a little money.
Cumin - If you have them, I suggest toasting whole cumin seeds for the most pungent flavor. If not, ground cumin will do the trick!
Salt - I personally prefer using kosher salt because the wide flakes make it harder to over-salt things. Feel free to use another type of salt if you prefer, but I suggest staying away from iodized table salt because the iodine can leave a bitter taste.
Sugar - You only need a bit of sweetness here to balance out the acidity of the tomatoes. Feel free to swap in agave nectar if needed.
Tools Needed
You barely need any equipment to make this deliciously fresh salsa crudo. Here's what to grab:
Serrated Knife & Cutting Board. You don't have to do a lot of knife work here, but there's still a little veggie prep to be done. The thin skin of tomatoes can be hard to cut unless your knives are freshly sharpened, so now is a good time to bust out a serrated blade.
Blender or Food Processor. Either will work, so choose whichever is easiest to clean!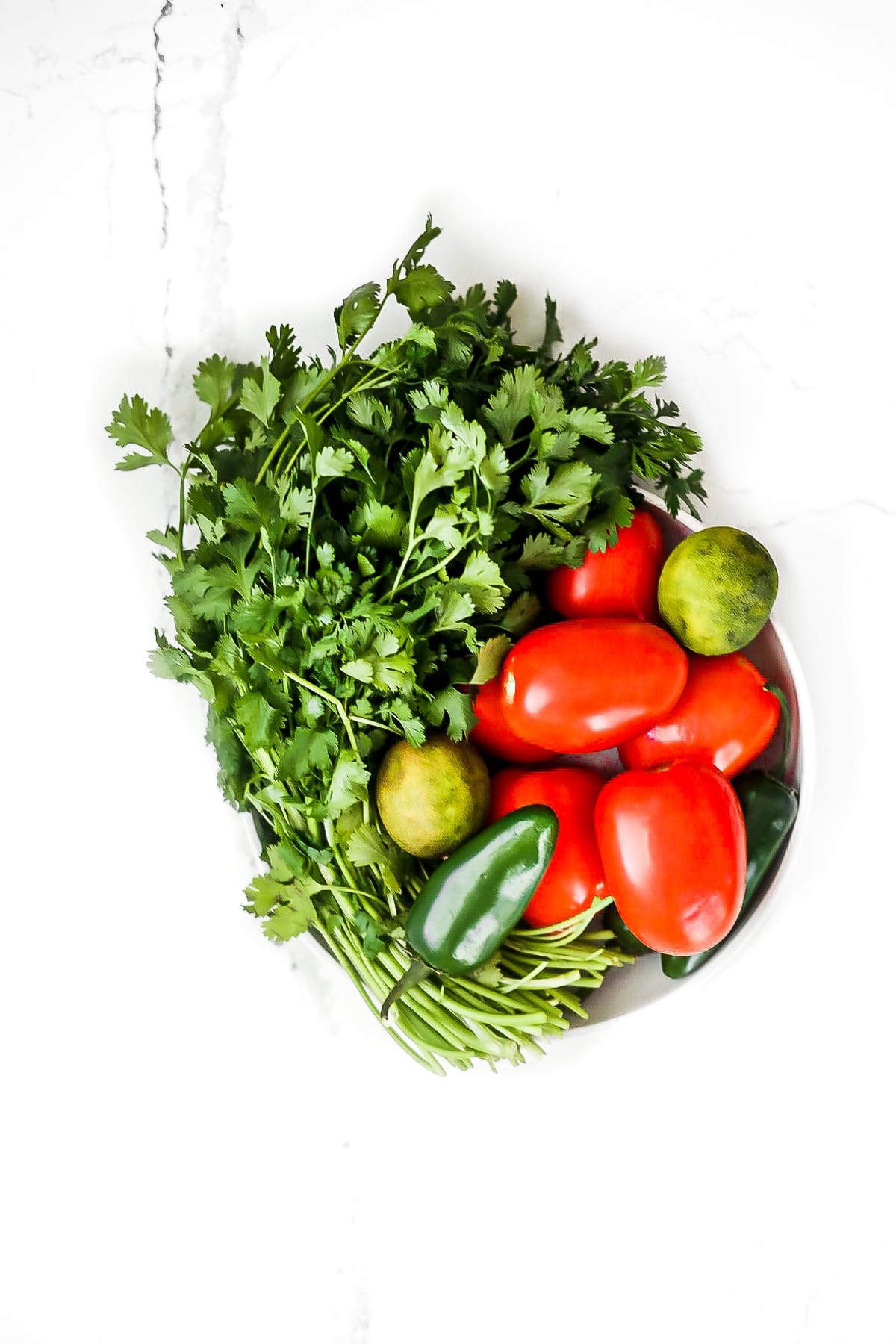 How To Make Garden Fresh Salsa
This salsa recipe is so simple, I almost feel silly writing out the ingredients. Here's how it's done:
Step 1: Blend. Toss everything in the pitcher of your best blender or food processor. Give it a blend for about 20 seconds until smooth. That's literally the entire recipe. I told you it was easy!
Step 2: Serve with your favorite tortilla chips, repeating as often as needed to satisfy your cravings.
Swaps & Substitutions
This fresh garden salsa recipe is pretty perfect as is, but there's always room for customization. Here are some of my favorite variations:
Opt for a spicier version of this salsa by either adding more chilis or using a hotter pepper. Serranos are slightly hotter than jalapeños, while bird's eye chilis and habaneros are significantly spicier.
Not a fan of cilantro? Try swapping in parsley instead.
Make it chunkier by pulsing instead of blending.
FAQs & Tips
How to Adjust the Spiciness - When it comes to Mexican salsa, you can get anything from mild to ridiculously spicy depending on your taste. I consider this particular recipe to be mild to medium depending on how spicy the jalapeños are and how heavy-handed I am with adding them. If you prefer a milder salsa, carefully remove the seeds and white membranes from the pepper before adding. If you prefer a spicier salsa, feel free to either add more chili peppers or use a spicier pepper instead. 
Salsa will last in a clean, airtight container in the refrigerator for up to 5 days.
Can I freeze fresh salsa? Sure thing! I always like to make a big batch at the end of the harvest year so I can get a little taste of summer when the winter comes. Simply pour it into clean, airtight jars and freeze for up to 4 months.
Do you have to cook salsa? It all depends on the recipe! This particular salsa is considered a salsa crudo, or "raw sauce" because the ingredients are not cooked. Consider it a pico de gallo that has been blended.
What can I add to make my salsa taste better? "Better" is subjective, so consider what feels out of balance. The usual suspects for this salsa recipe are either salt, acid, or heat.
If the salsa tastes a little bland, try adding either salt or lime juice (or both) to liven it up.
If it tastes too spicy, add more tomatoes.
If it isn't spicy enough, add more chiles.
If the acid feels too tart and puckery, add a bit more sugar to even it out.
I'm also the kind of person that could use cilantro as my salad greens (don't judge, it's delicious!), so I'll often add an extra handful if I need more flavor. No matter what you add, make sure to do it incrementally. Remember: you can always add more of the ingredient, but you can't take it away once it's in there.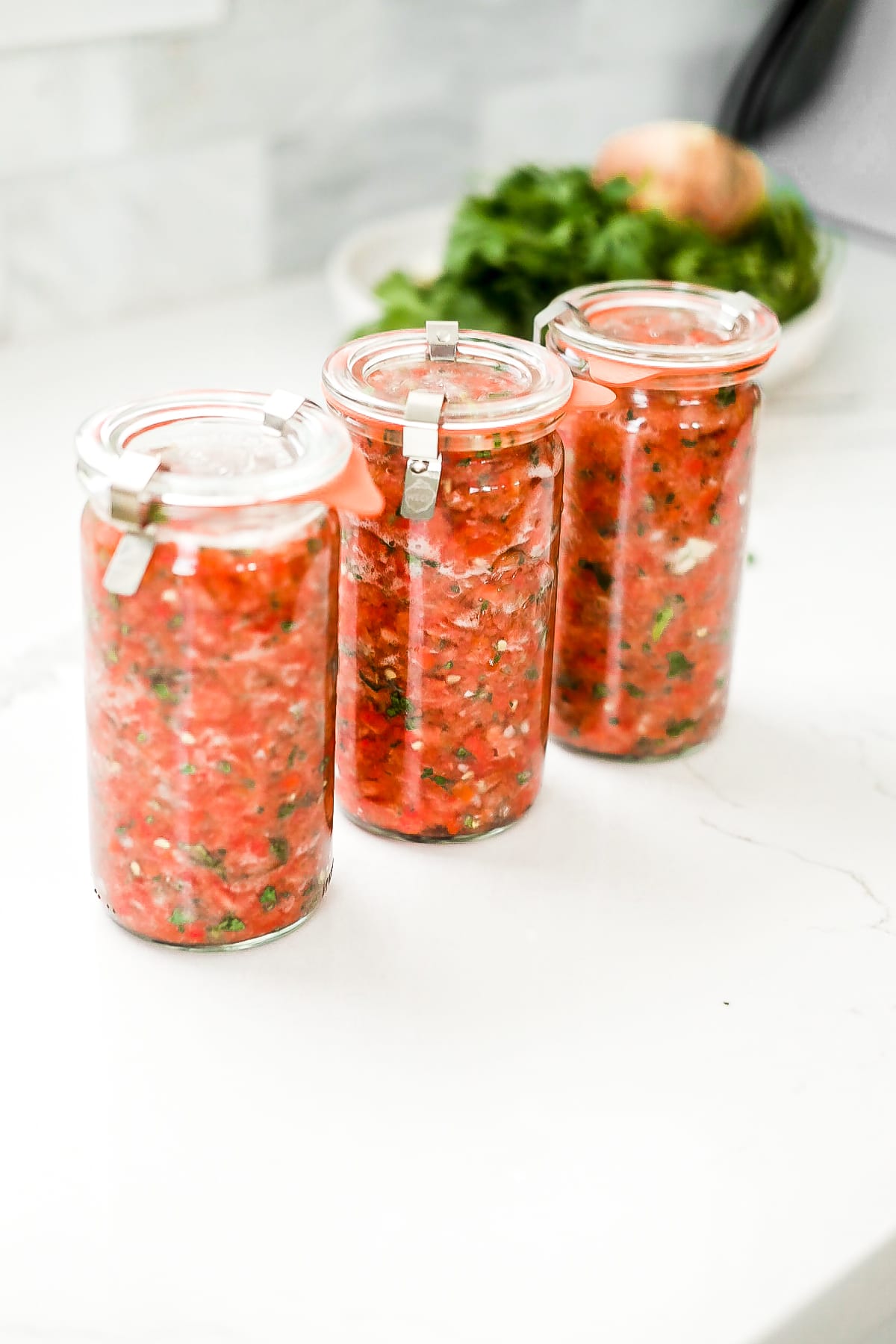 Serving Suggestions
I'm gonna let you in on a little secret: sometimes, when my hubs and kids are gone, I'll make a batch of this salsa to eat as my dinner. It's literally that tasty! Sure, the chips are nice for crunch, but I could honestly eat it like a gazpacho.
HOWEVER, if you want to go the more traditional route, I certainly won't blame you. It pairs beautifully with:
Tortilla chips and other dips like guacamole, queso, or that creamy jalapeño sauce from Chuy's.
Margaritas or other summery cocktails, light beers, and sparkling rose.
Any Mexican or Tex Mex meals like my 20-minute taco soup, carne asada-stuffed avocados, burrito bowls, or grilled chicken fajitas.
Family, friends, and laughter.
Seriously, folks. Give this über-fresh, summery garden salsa a try before the season is up. You won't be sad you did!
More 10-Minute (or Less!) Appetizers
If you tried my Mom's amazing Fresh Garden Salsa recipe, let us know how it turned out by commenting or rating it below. You can also always tag me in your social media posts; I love seeing your creations and I LOVE cheering you on!
For more easy entertaining recipe inspiration, follow me on Instagram, Pinterest, or Facebook. You can also get all of my newest content delivered straight to your inbox by signing up for my email newsletter!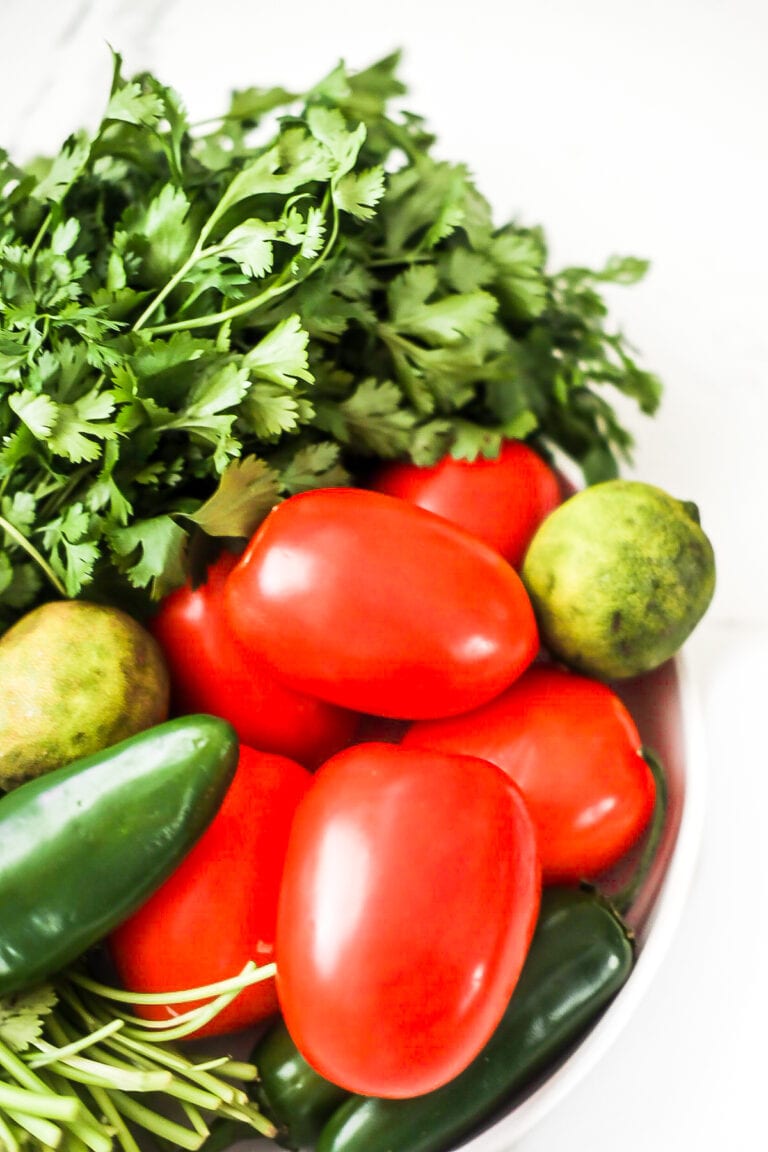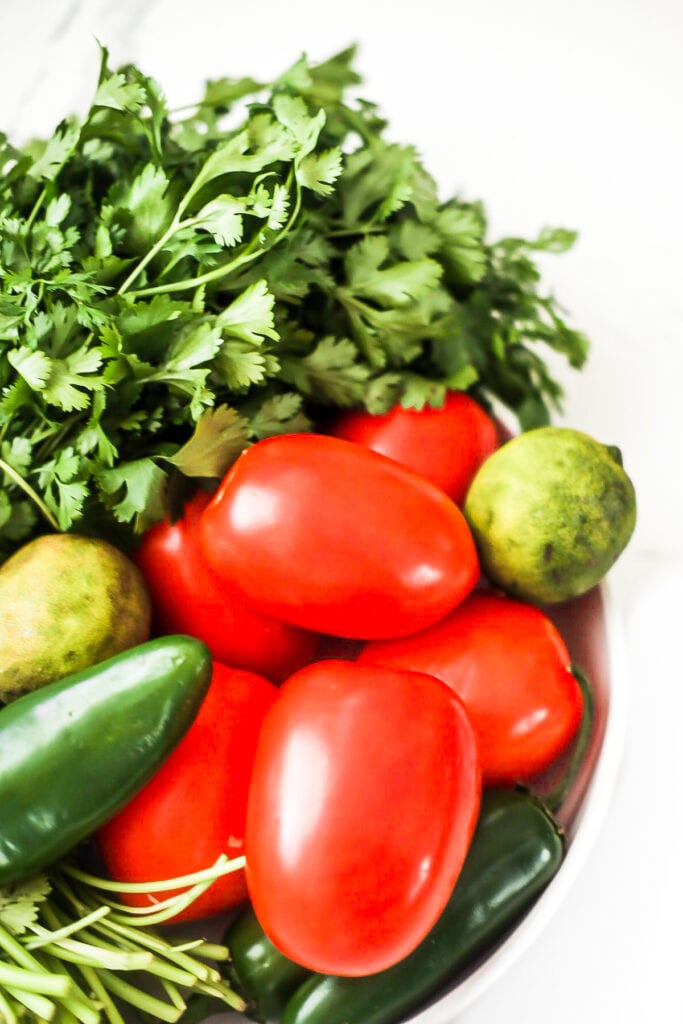 Other Mexican Recipes That Would Go Great With Garden Salsa
📖 Recipe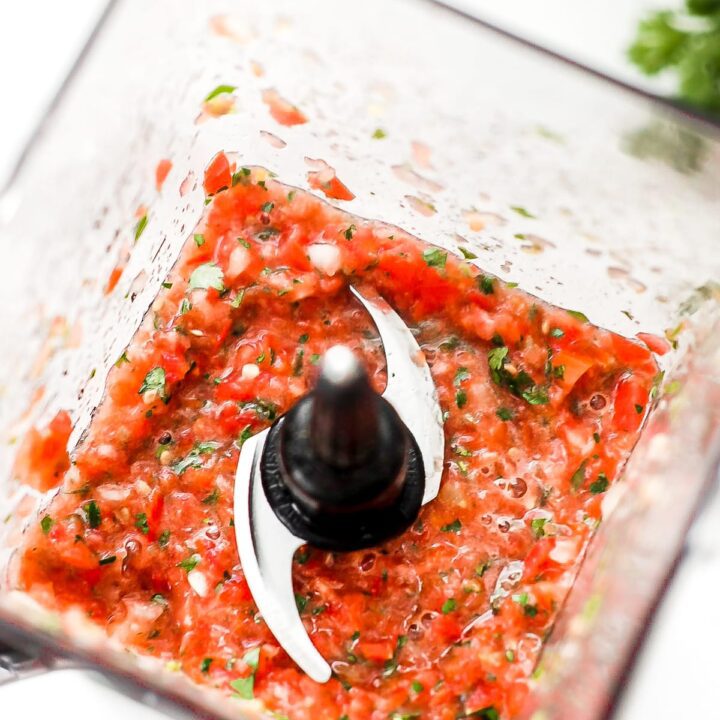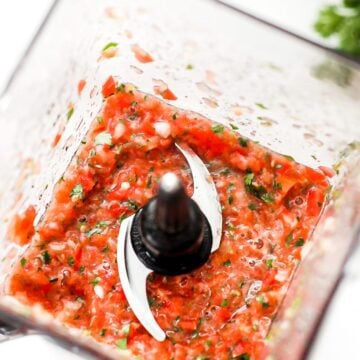 Fresh Garden Salsa
Super simple and healthy salsa whipped up in the blender. Use up those summer vegetables and make some delicious restaurant style salsa
Print
Pin
Rate
Ingredients
3

Cups

roma tomatoes, roughly chopped

¼

onion

¼

cup

cilantro

½

tsp

salt

½

tsp

cumin

1

can

rotel

½

jalapeno

1

ilme, juiced
Instructions
Roughly chop all ingredients and toss everything into the blender