I love sitting down to eat at a Japaese restaurant for one reason and one reason only: the delicious Miso Soup . This is my better-than-take-out homemade Miso Soup with Noodles!
No need to go to a restaurant for that delicious broth! I love having this for a quick lunch, a side with dinner (maybe my seared ahi tuna?) or with a big salad.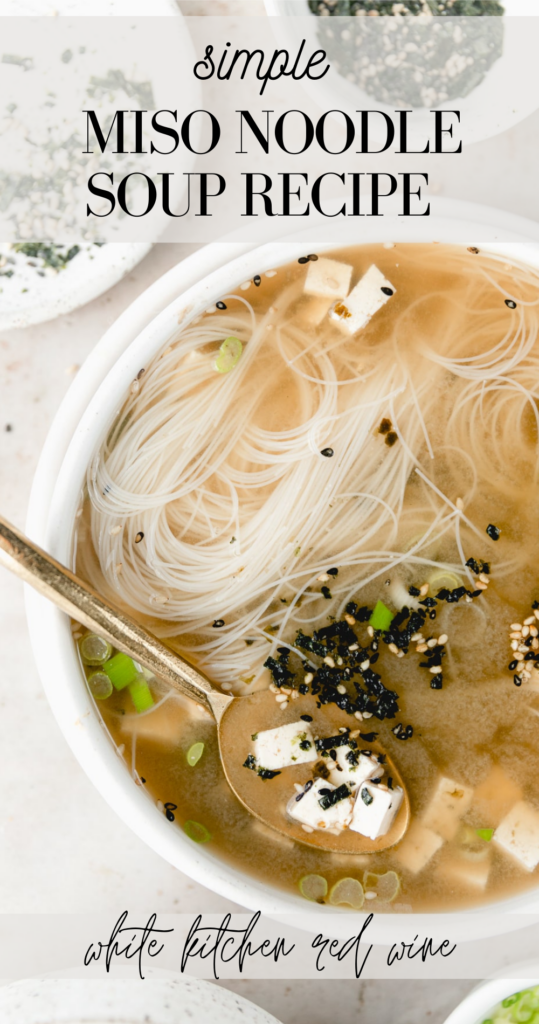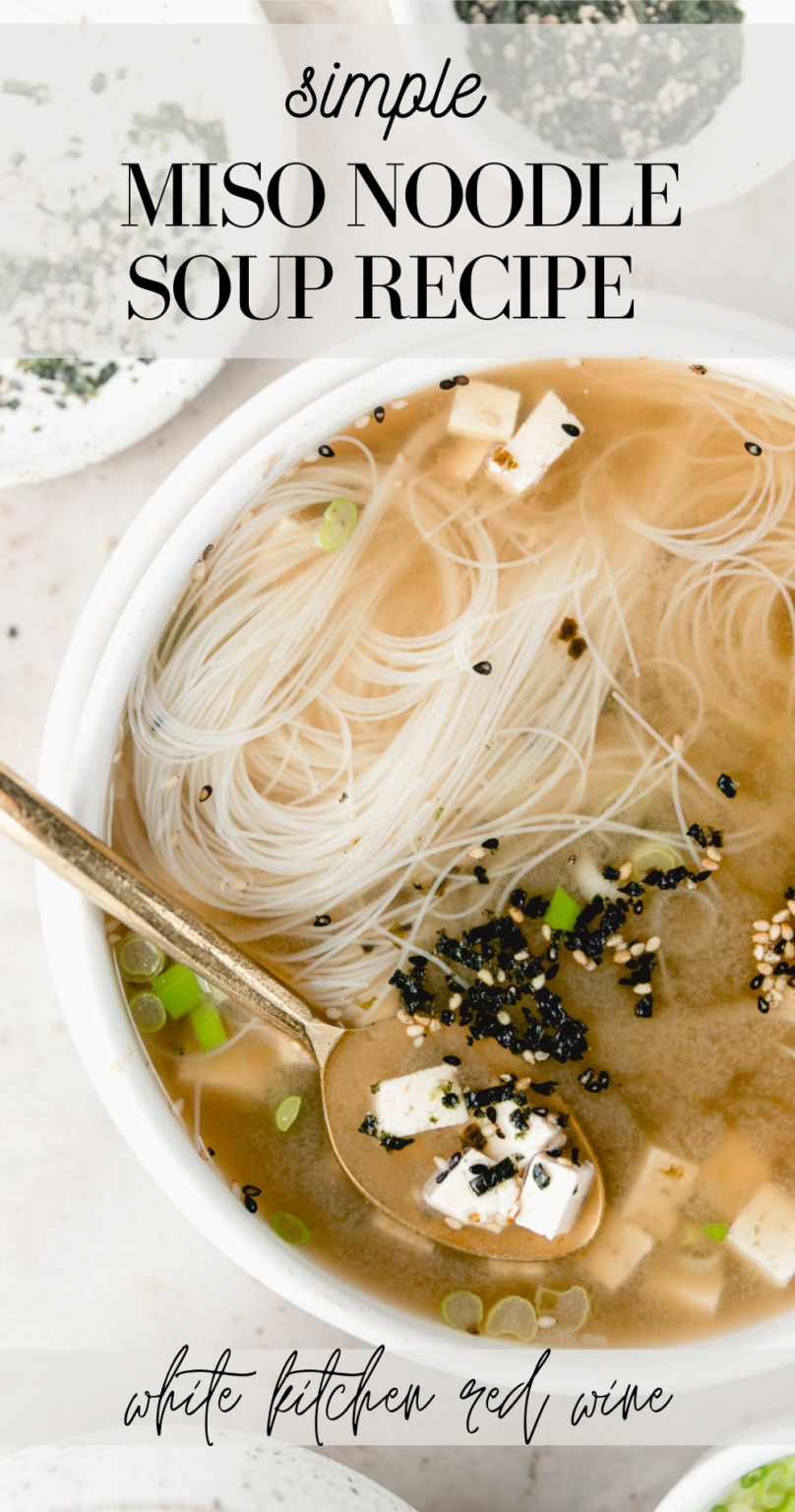 What's In Miso Soup?
Miso soup has a few very important ingredients that gives it the distinct flavor we all know and love.
Miso Paste - you can find this in the international aisle and it comes in white miso paste and red. I used a white version for this recipe. Miso is a fermented soybean paste.
Dashi (or Japanese soup stock) - this is a mixture made from dried bonito fish flakes and kelp or anchovies. You can buy it dried or make homemade dashi just like in this recipe!

I also have a great option if you can't find this. I used Furikake seasoning I found at Trader Joe's. It's a mix of toasted sesame seeds, nori (seaweed), salt, and sugar.

Veggies and other add-ins! These can be vegetables, tofu, nori, and more! For my homemade miso noodle soup, I like to use tofu and rice noodles. Delicious!
How Many Calories are in Miso Soup?
This will ultimately depend on the mix ins you add but the broth and miso paste are generally low in calories.
About 40 calories per tablespoon of miso paste and then add in the calorie count of your veggies and tofu!
This recipe comes out to about 220 calories per serving due to the noodles and the tofu.
Substitutions
Like I mention above the Dashi is the only ingredient I've had trouble locating and I used the Furikake seasoning in its place.
Find that at your local Trader Joe's!
The vegetables you can use are endless so you can really substitute in any vegetable you enjoy.
I also use chicken stock but you can use vegetable stock if you wish.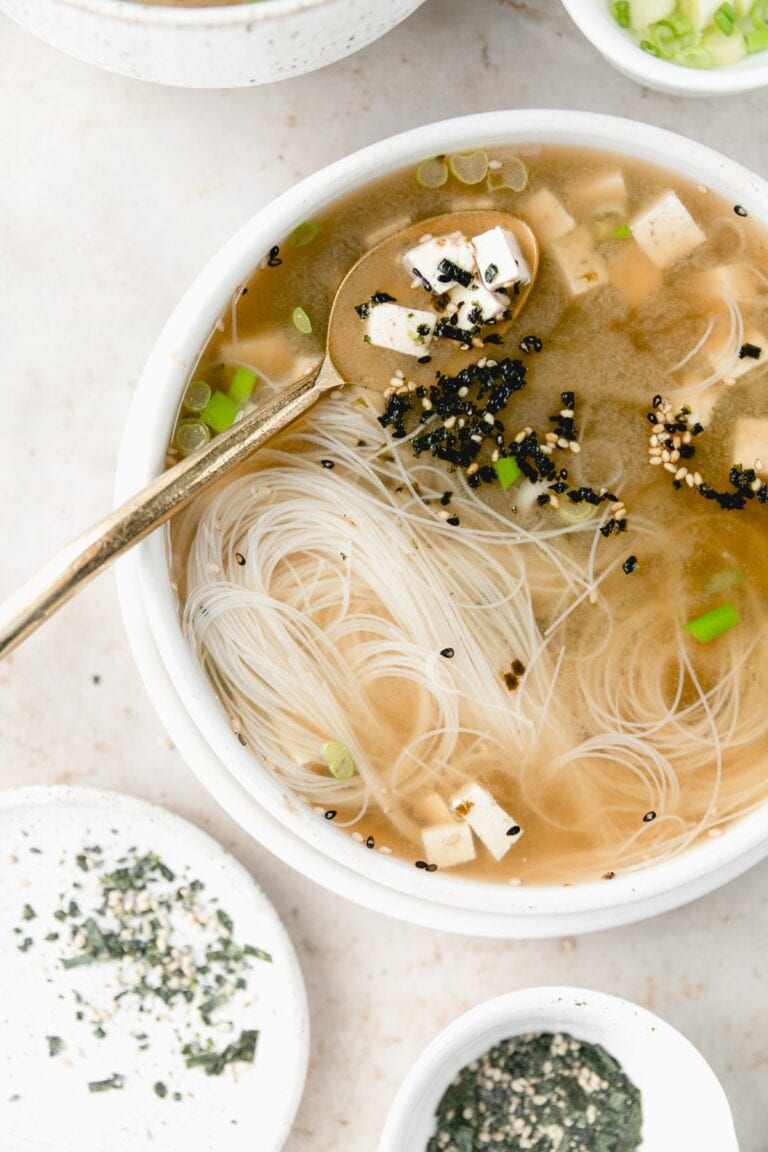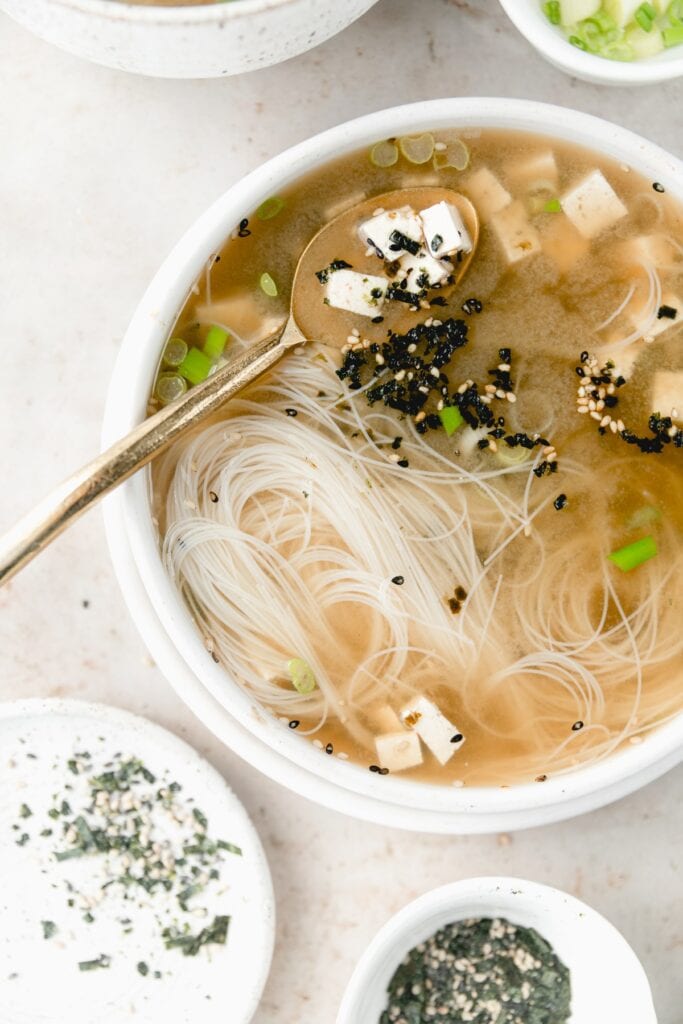 What Noodles To Use
What makes this recipe different is the addition of rice noodles. To me, it elevates this to a full and satisfying meal.
Rice noodles are very easy to cook, simply pour boiling water or broth over the noodles and let it sit for 10 minutes to fully cook the noodles.
You could also use soba noodles or leave them out completely.
Vegetables To Put In Miso Noodle Soup
Here are some good ingredient additions to really customize your Miso Noodle Soup!
shredded carrots
green onion
bean sprouts
peas
corn
spinach
tofu
potato
onion
How To Make Miso Soup with Noodles
To make your miso noodle soup...
Bring the water, broth, and miso paste to a boil
Stir in the tofu and veggies
Add salt, pepper, and Furikake seasoning
Pour over rice noodles and let sit 10 minutes.
Enjoy!
Red Or White Miso Paste?
Either would be fine for this recipe. I used white but feel free to use what you can get your hands on.
The difference in the two is red miso is fermented longer and white miso has a more pungent flavor.
I like to use white in soups due to the bolder flavor.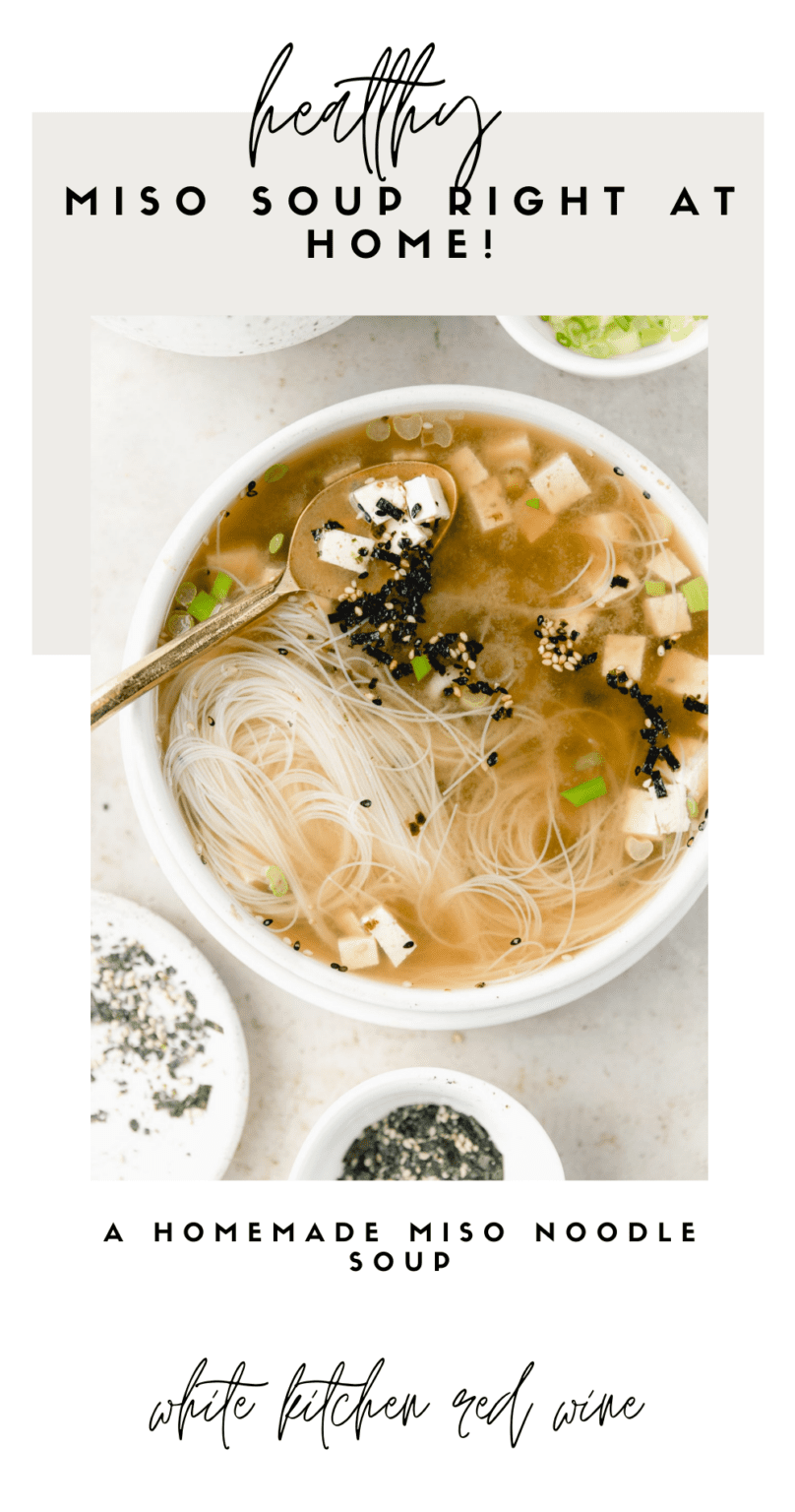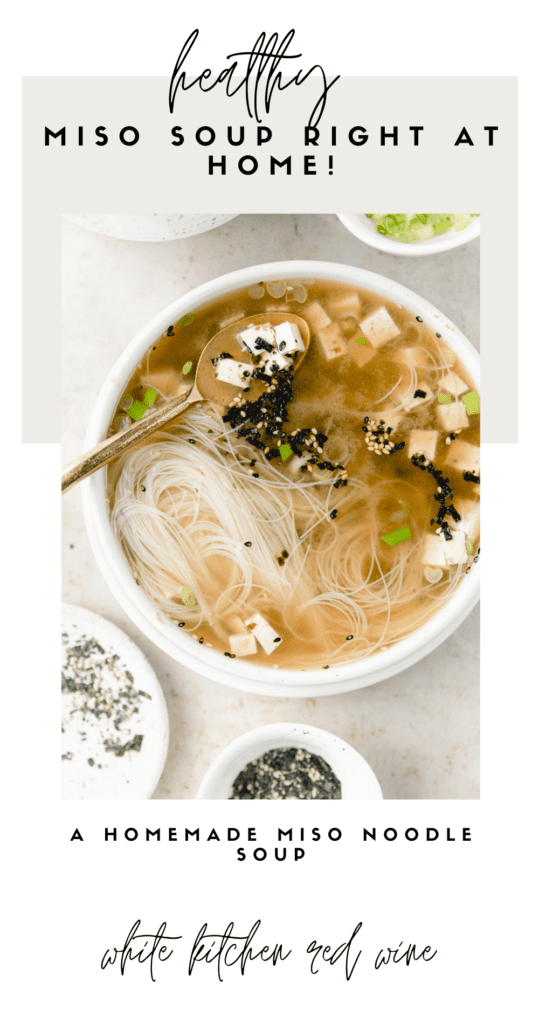 📖 Recipe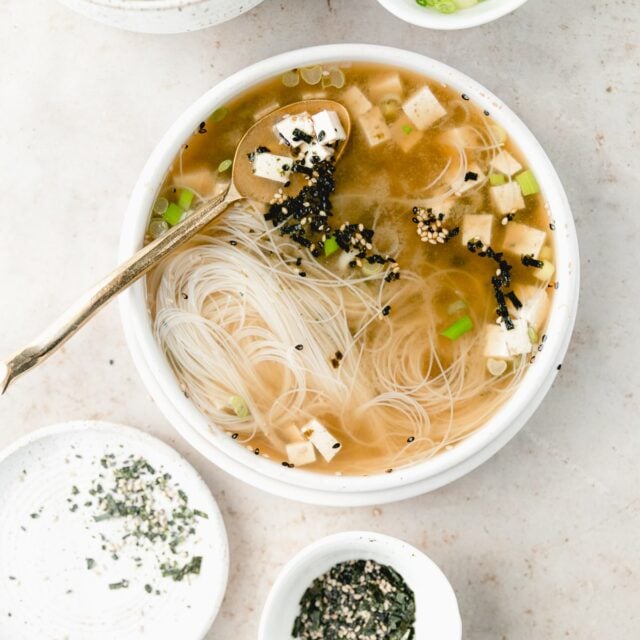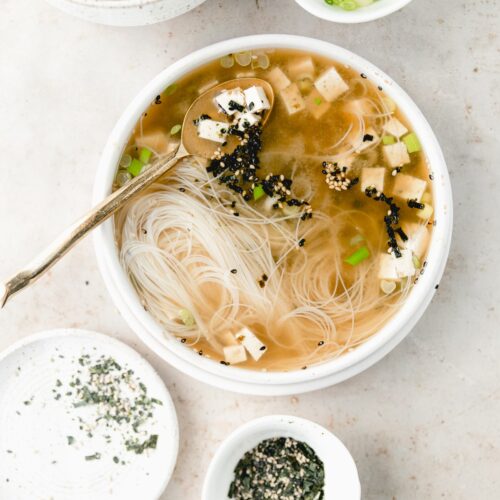 Ingredients
4

cups

chicken stock

or vegetable stock

2

cups

water

8

oz

silken tofu

cubed

5

scallions or green onions

sliced

2

tablespoons

Furikake seasoning

6

oz

rice noodles

2

teaspoon

salt

1

teaspoon

pepper

2

tablespoons

white miso paste

may also substitute red miso if you cannot find white.
Instructions
In a large pot bring the stock, water, and green onions to a boil.

Add in the cubed tofu and the Furikake seasoning, salt, and pepper.

Stir to combine and boil for 5 minutes.

Turn the heat off.

Add the Rice noodles to the pot and wait 10 minutes until noodles are tender.

Enjoy!