Looking to level up your lunch game? Look no further than the homemade TikTok Italian grinder sandwich recipe that's taking social media by storm!
Bursting with flavor and piled high with all your favorite Italian deli meats, cheeses, and toppings, this mouthwatering creation is sure to satisfy even the biggest appetites.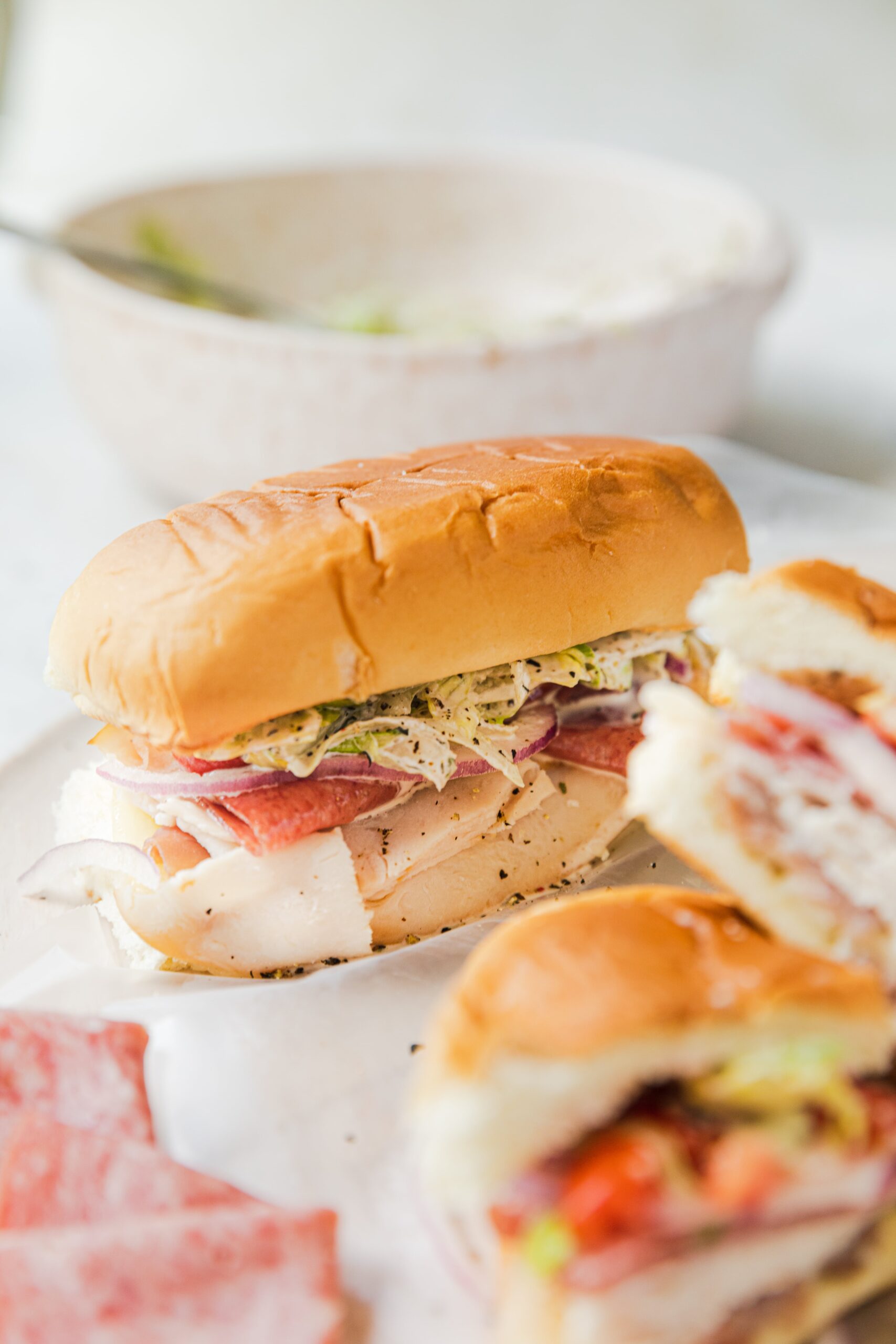 Whether you love to cook or just looking for something to toss together, this simple yet delicious recipe will look like it came straight from the deli!
And if sandwiches are a go-to in your house, try out my Panera Frontega Chicken Panini or Chipolte Chicken Avocado Melt!
THE Viral Tiktok Grinder Sandwich
TikTok is one of the BEST places to find recipe inspiration and the newest food trends. Even as a tried and true recipe developer myself, I pull inspo from everywhere! Even Tiktok.
And a couple of years ago these grinder sandwiches went crazy viral with all sorts of variations!
Mini Grinder Sandwiches
Chopped Italian Grinder Sandwiches
Grinder Salads
TikTok is a social media platform known for its viral dances and lip-syncing videos, and has taken the culinary world by storm! It truly has revolutionized how the homecook finds and curates recipes.
It has the power to spread a recipe far and wide in a matter of minutes! Just like my viral White Chicken Enchiladas and viral Lady Bug Caprese Bites! With over 1 million views, Tiktok is definitely a powerful (and useful!) tool for finding and sharing recipes.
What is A Grinder Sandwich?
If you find yourself in the Northeastern United States, you may come across a popular sandwich known as a grinder.
What exactly is a grinder? Simply, it's a hearty and delicious sub-style sandwich with Italian-American roots!
A true staple in delis and sandwich shops. They come in tons of variations with meats, cheeses, veggies, and sauces. While it may have gained popularity in various parts of the world, particularly the United States, its roots actually trace back to Italy!
Italian Grinder Sandwich Ingredients
This sandwich is LOADED with layers of flavor and made with fresh ingredients, this classic sub is a crowd-pleaser for any occasion. Perfect for party hosting! While you can easily find Italian grinders at your local deli or sandwich shop, there's something special about making it from scratch in the comfort of your own kitchen...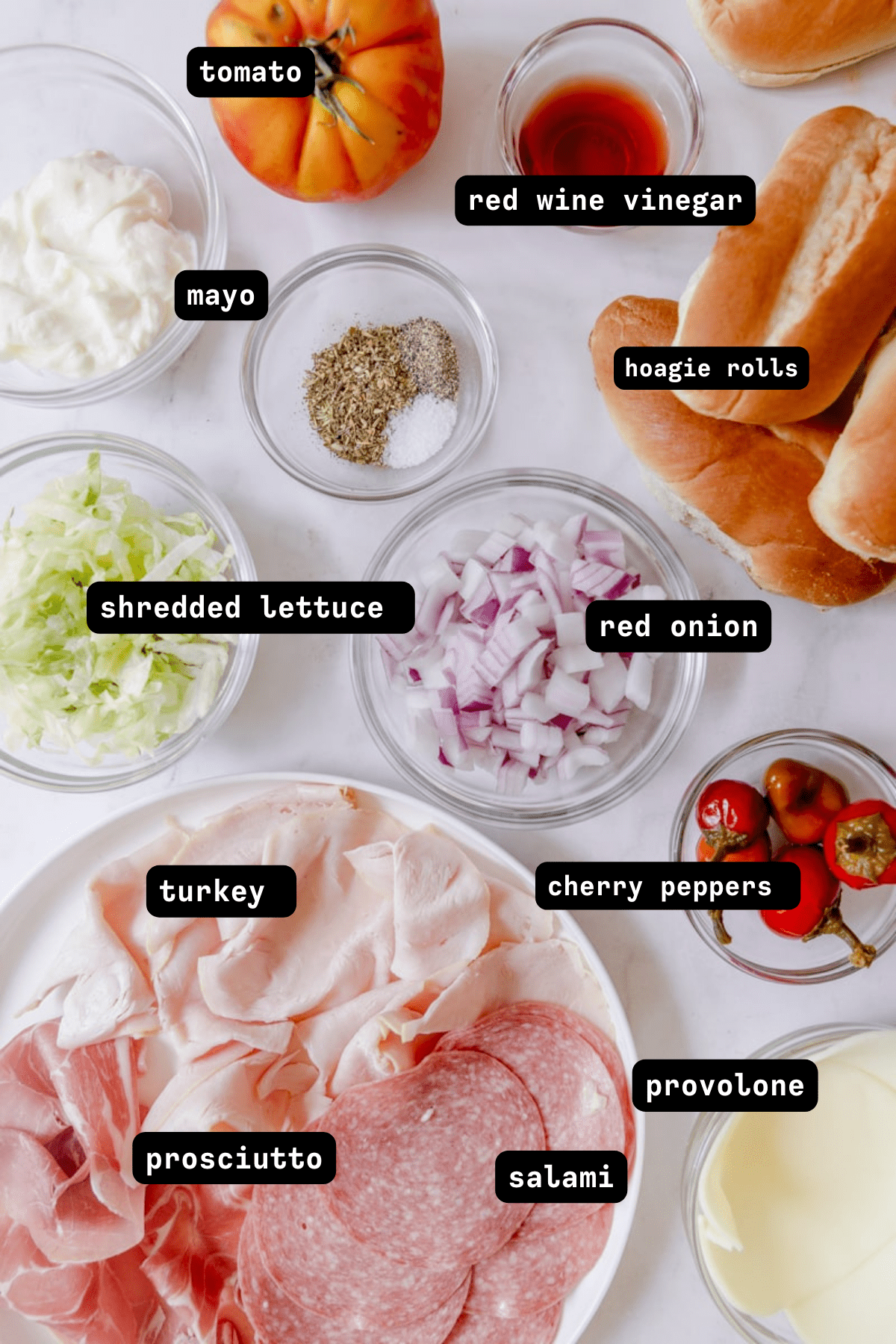 Sub Bread or Hoagie Rolls - these rolls are the perfect vehicle to hold all of our toppings. You can get these freshly prepared in the bakery of your store or grab a bag of sub rolls.
Slices of Provolone Cheese - Provolone is an Italian cheese that balances the meats and veggies perfectly! You could also substitute in white cheddar if you like.
Sliced Turkey - Head to the deli section and grab your favorite freshly sliced turkey. I used a basic oven roasted turkey breast on mine.
Salami - Another savory layer to add, use Genoa salami to really amp up the Italian flavor of your grinder sandwich.
Prosciutto - Proscuitto is soft and salty thinly sliced ham. I love adding this for something a little different in my grinder sandwich
Roma Tomato - For the veggies, fresh roma tomato holds up nicely and adds a burst of juiciness.
Cherry Peppers - If you crave a good tang on your sandwich, these bursting red cherry peppers are a great option! People also love to add pepperoncinis to the Italian Grinders.
Red Onion - thinly sliced red onion is a must on my homemade Italian grinders!
Additional Toppings:
Red pepper flakes for some added heat.
Grated parmesan cheese if you want that savory touch.
Homemade Grinder Sandwich Dressing
Shredded Iceberg Lettuce
Mayo
Red Wine Vinegar
Salt and Pepper
Italian Seasoning
How to Make The Tiktok Grinder Sandwich
While the layers to this may look complex, it's truly so easy! This Italian sub comes together quickly with just a few steps: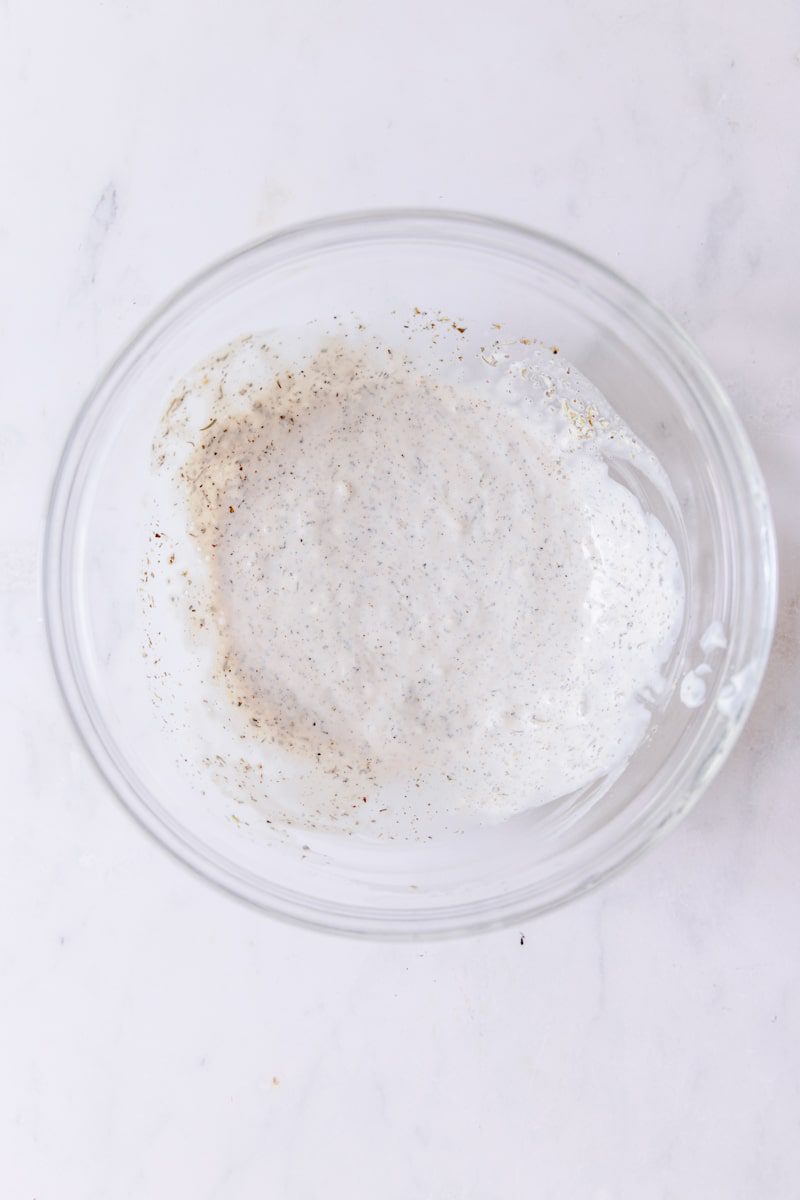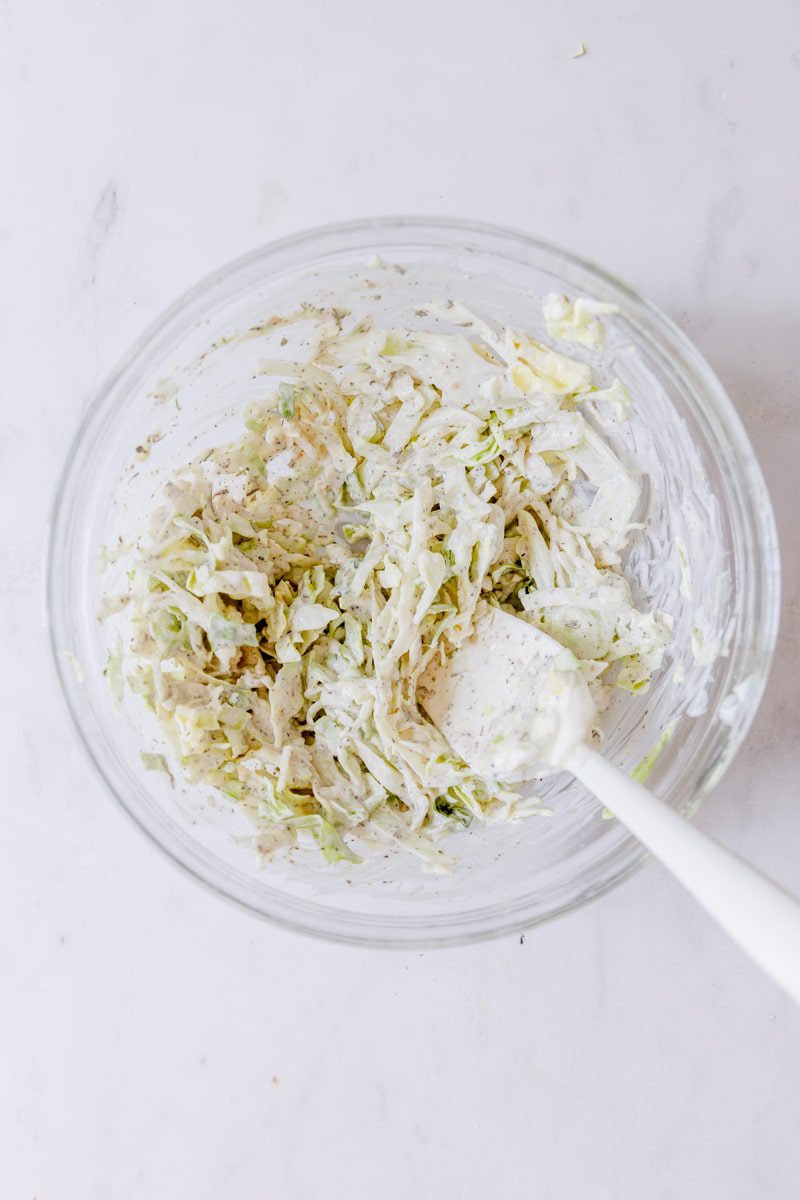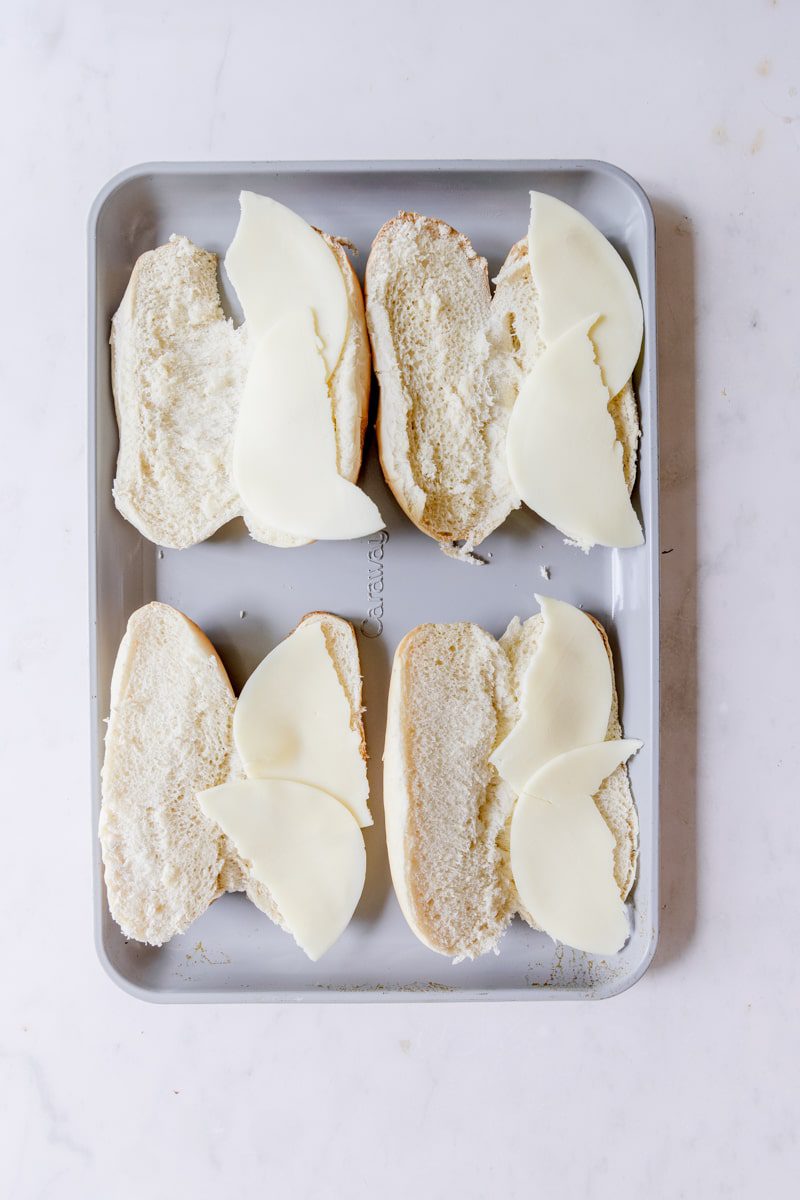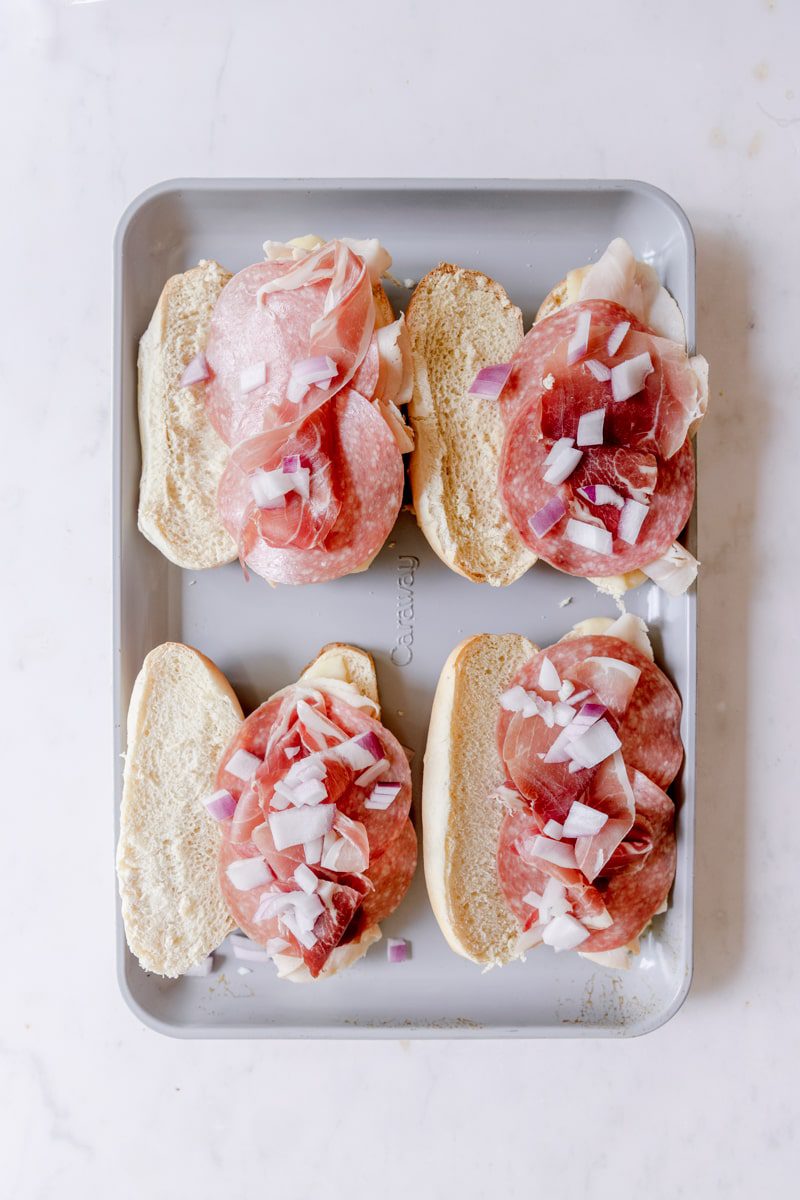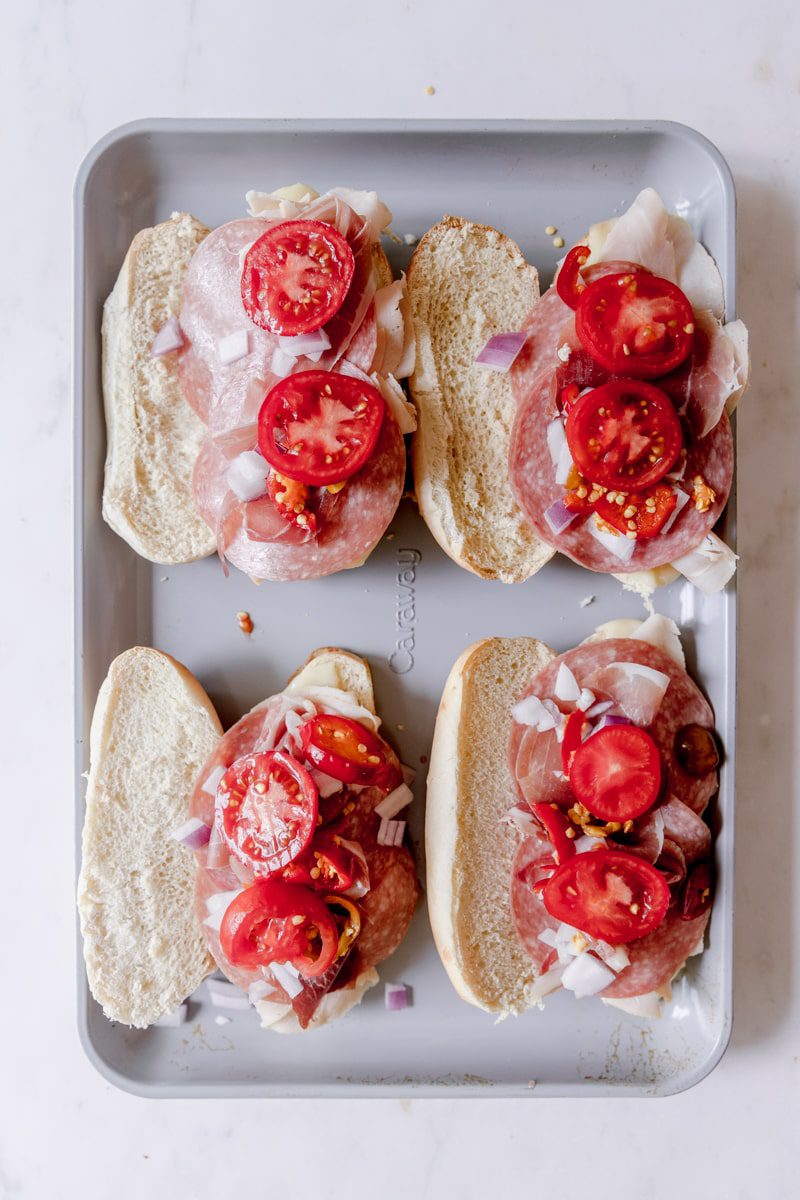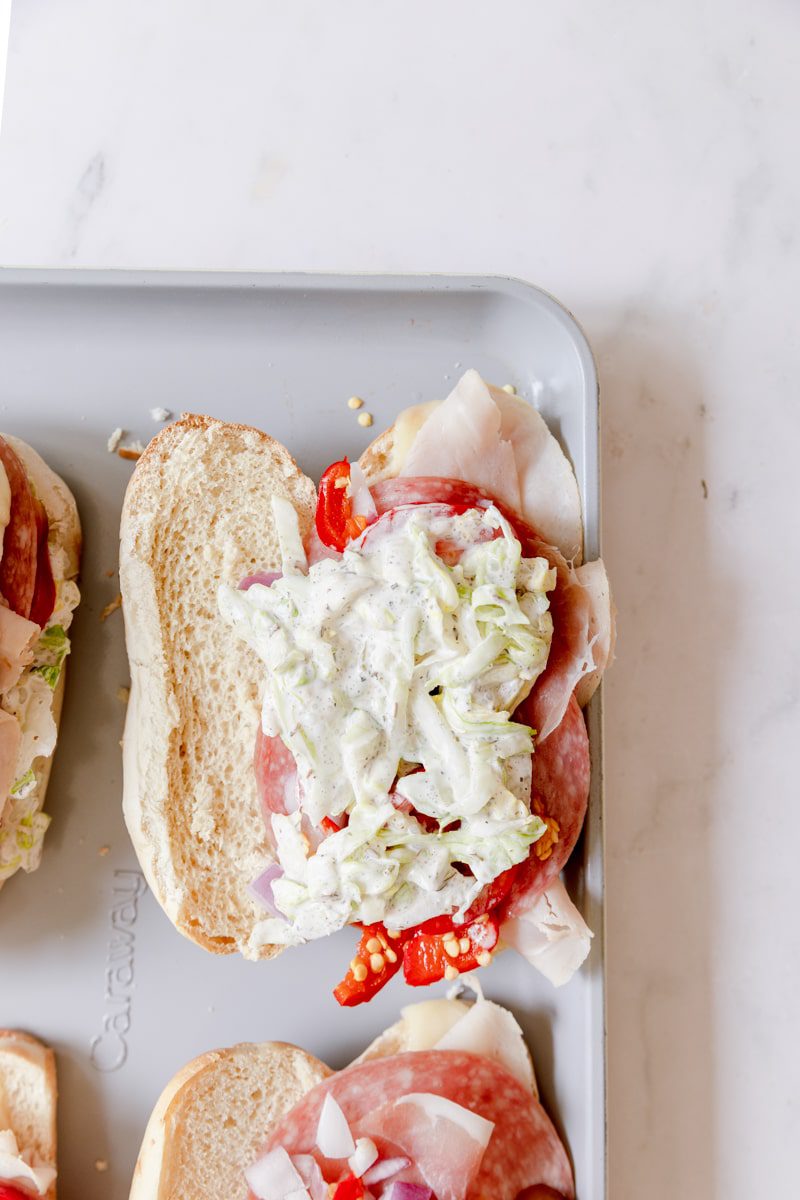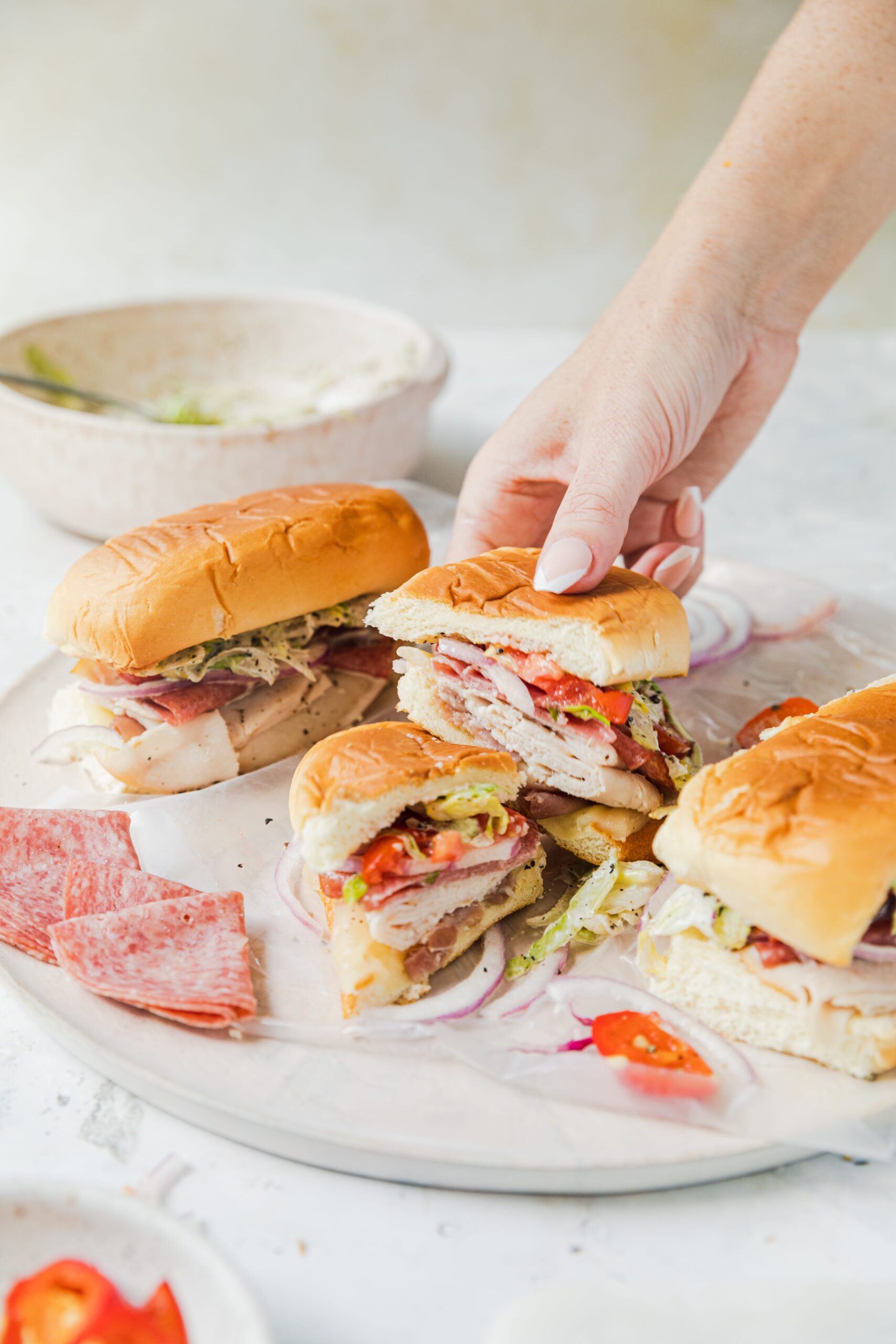 Substitutes and Variations
Grinder sandwiches are a beloved classic in the world of deli sandwiches. However, if you're looking to switch things up or accommodate dietary preferences, we've got you covered!
This sandwich is super easy to customize so if there is a cheese or meat you don't love, swap in something you prefer!
Vegetarian/Vegan Options
Grilled Vegetable Medley Grinder
Seafood Grinder
Unique Alternatives
Italian Grinder Salad Sandwich - this could simply be all of the ingredients for the grinder finely chopped or diced and added to the hoagie bun! Delish!
Tips & Tricks for Perfecting Your Italian Grinder Sandwich
Toast your bread to get the cheese nice and melty! Before I pile my ingredients high, I love to add a little toastiness to the bread first.
Selecting the Right Bread. The foundation of any great grinder is in choosing the right bread. Opt for a crusty roll or baguette that can hold up to hearty fillings without becoming soggy or falling apart when toasted! Layer Your Ingredients.
To ensure each bite is full of flavor and texture, layer your ingredients strategically. Start with the cheese,then add your choice of meat, followed by vegetables and top it off with our dressing!
Experiment with different meats and cheese to create unique flavor profiles (roast beef for richness; salami for spice; turkey for lean protein; ham for a classic touch)
Types of Dressings for Grinder Sandwiches
While the choice of fillings plays a huge role in creating a delicious homemade grinder, the dressing you use adds that extra zing and enhances the overall taste!
Try out Olive Garden Italian Dressing on your grinder for a convenient store-bought option! This is also a great option if you want to make an Italian grinder sandiwth with no mayo!
Or try your hand at your very own homemade Italian dressing like my recipe below!
If you are more simple, just spread some mayo with a teaspoon dried oregano on either side of your hoagie roll for a creamy touch.
The possibilities are endless!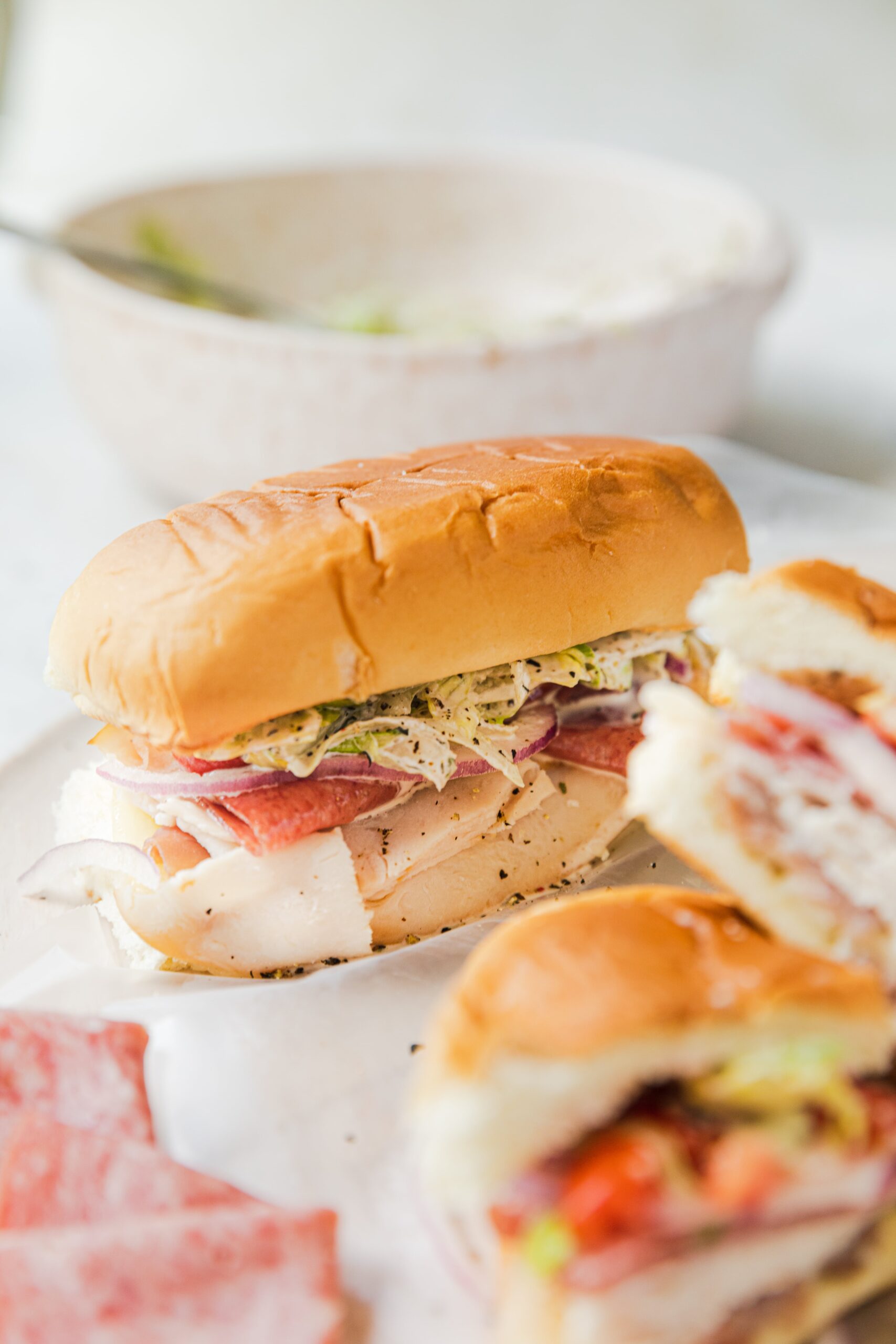 What to Serve with Italian Grinders?
Here are some delicious options that will perfectly complement your tasty sandwich:

1. Pasta Salad: A classic pasta salad loaded with fresh vegetables like cherry tomatoes, bell peppers, olives, and tossed in a tangy Italian dressing is the perfect sidekick to any Italian grinder.

2. Caprese Skewers: Skewer together bite-sized mozzarella cheese balls, cherry tomatoes, and fresh basil leaves drizzled with balsamic glaze. These colorful and refreshing skewers add a pop of flavor to your meal.

3. Garlic Parmesan Fries: Elevate your fries by tossing them in garlic powder, grated Parmesan cheese, parsley flakes, salt, and black pepper before baking or frying them until
FAQ
Can you make this ahead of time?
I wouldn't make the whole sandwich ahead of time but you can prep the dressing and assemble when ready to serve!
What is a grinder salad?
A grinder salad refers to a salad made up of finely chopped grinder sandwich ingredients. 

What is a grinder sandwich?
 A "grinder" sandwich is a type of sub or hoagie that typically includes a variety of deli meats, cheese, vegetables, and condiments.
📖 Recipe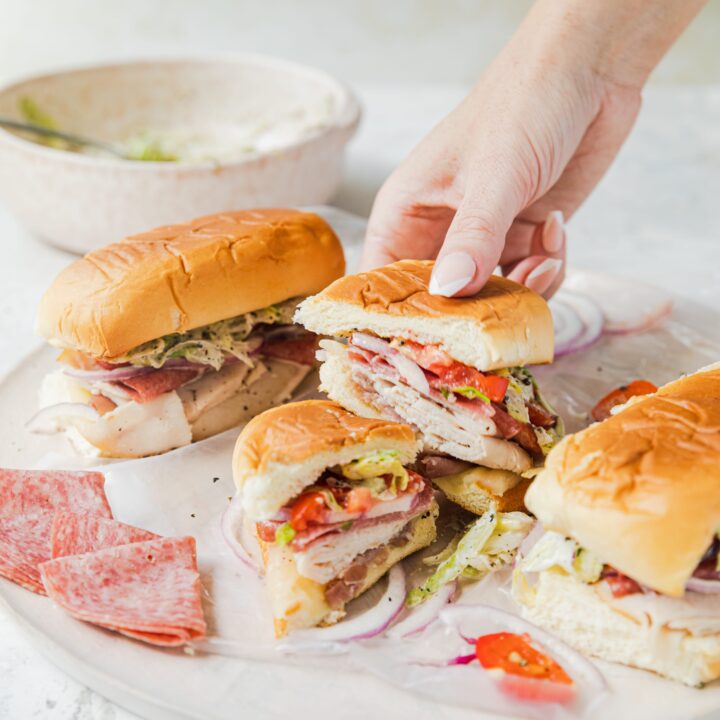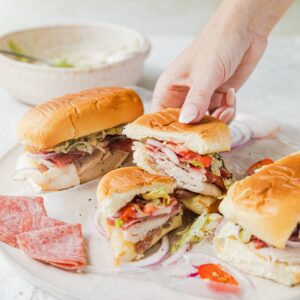 TikTok Italian Grinder Sandwich Recipe 
An easy way to enjoy a classic delicious grinder sandwich right at home! Make these TikTok famous Italian grinders!
Print
Pin
Rate
Ingredients
4-6

hoagie rolls

4-6

slices

of provolone cheese

6

ounces

of sliced turkey

6

ounces

of sliced salami

3

ounces

of sliced prosciutto

1

Roma tomato sliced

5

cherry peppers sliced

or pepperoncinics

¼

of a red onion sliced

1

cup

shredded lettuce

¼

cup

of mayonnaise

1

tablespoon

red wine vinegar

½

teaspoon

of salt

½

teaspoon

of pepper

1

teaspoon

Italian seasoning
Instructions
In a mixing bowl combine all of the dressing ingredients. Cover and place in the fridge.

Slice the hoagies in half and place on a sheet tray. On one half, lay out the provolone cheese.

Bake this at 350 degrees for 5 minutes until the cheese is melted.

Remove the bread from the oven and layer the turkey, proscuitto, salami, tomato, onion, and cherry peppers.

Top with spoonfulls of the dressing and add the top of the baguette onto the sandwich.

Slice into individual servings and enjoy.
Notes
This is a highly customizable sandwich so feel free to swap in different protein, cheese, and veggies to your liking!
Be sure not to skip the step of toasting your bread, I find that it stands up to the layers of ingredients better with a little crispness to the edges! Plus the melted cheese adds a delicious flavor.