This Lebanese kousa (mahshi, cousa, stuffed squash) has such a special place in my heart and my belly!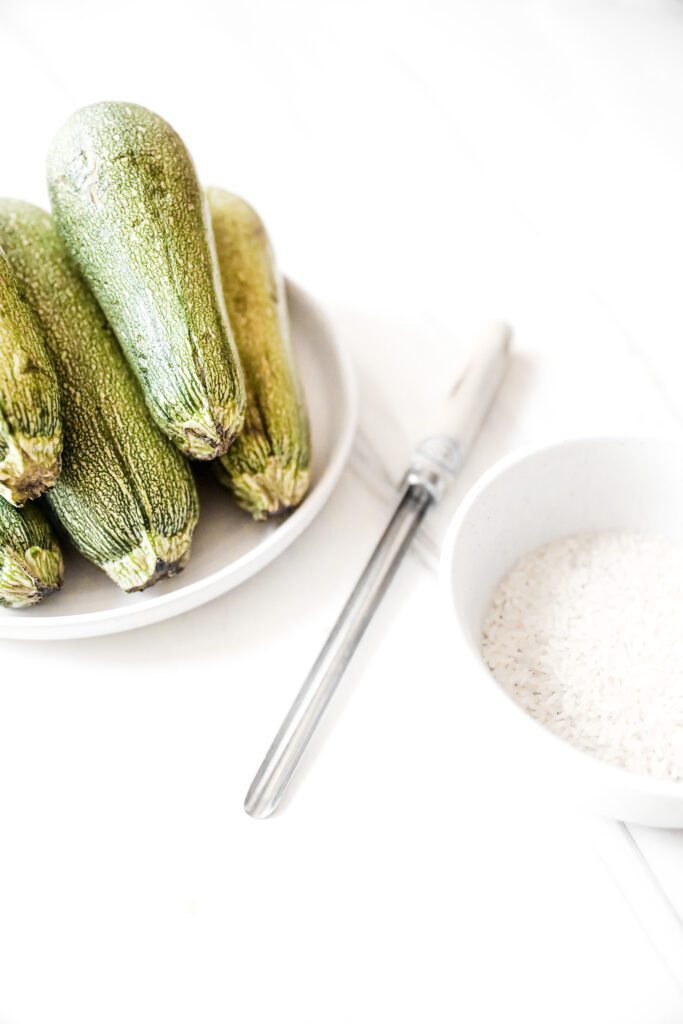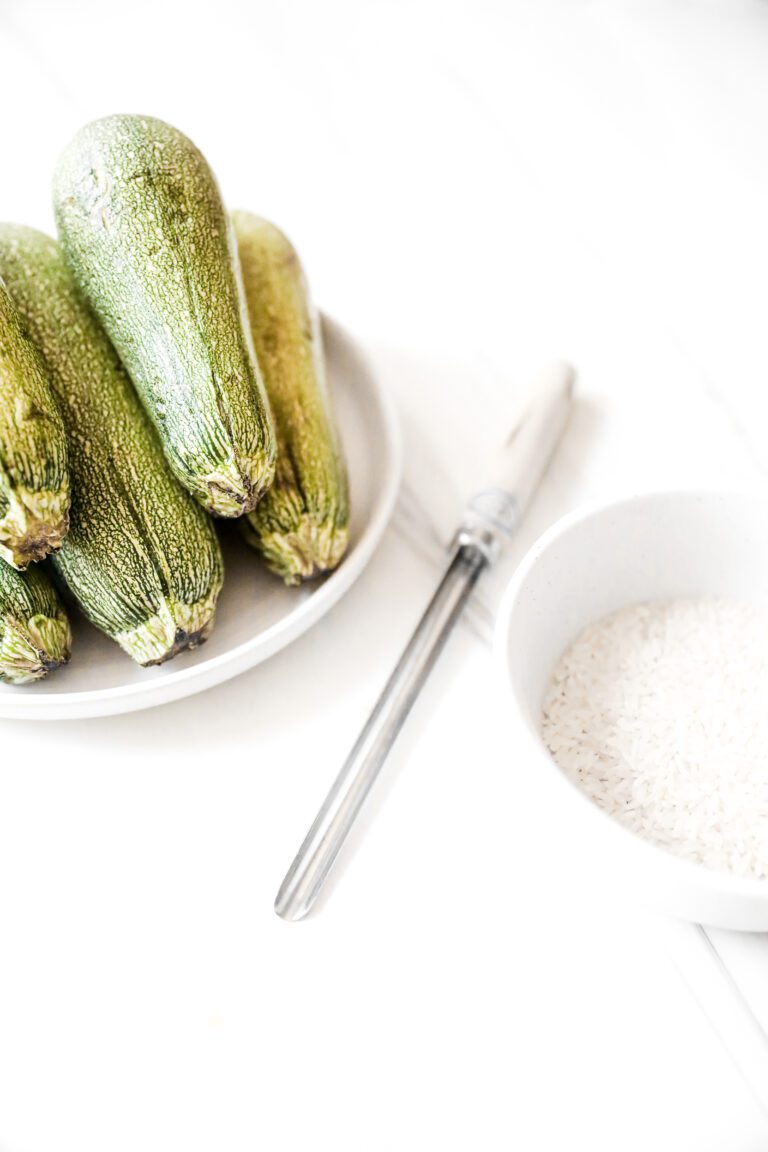 Why Lebanese Culture is Important To Me?
I've mentioned before that my husband comes from a Lebanese family and we also attend a church where a large part of the community is Lebanese. After I fell in love with my husband it didn't take long for me to fall in love with Lebanese food! Lebanese Kousa Mahshi to be exact.
When I first attempted this recipe, my husband came home from work and the first thing he said when he opened the door was that it smelled like his house growing up! I knew in that moment I was going to commit to learning these recipes passed down from family and give my daughter the same great memories he has of this delicious culture's food!
What a compliment, right!? While I of course am not Lebanese, I am surrounded by many who grew up in this amazing, loving, and accepting culture that is tethered together with delicious food!
What Is Kousa mahshi?
Mahshi in Arabic means stuffed. Kousa is the squash! So it literally translates to Stuffed Squash. A dish originating in the Middle East. It is stuffed with a spiced meat and rice mixture and poached in a tomato broth surrounded by garlic and onion.
My Lebanese kousa recipe is a mix of watching and tasting many of my Lebanese friends and families recipes and re-creating it at home. As very few of these Sittees (grandmas) actually write down their recipes!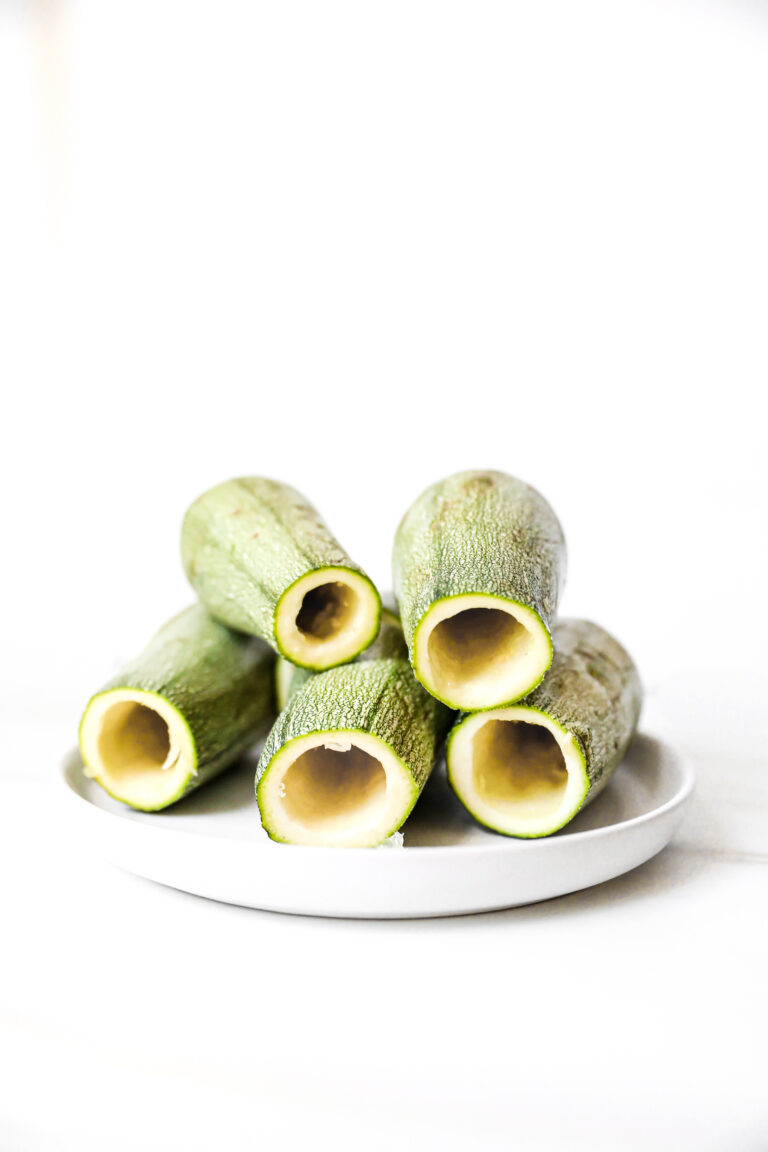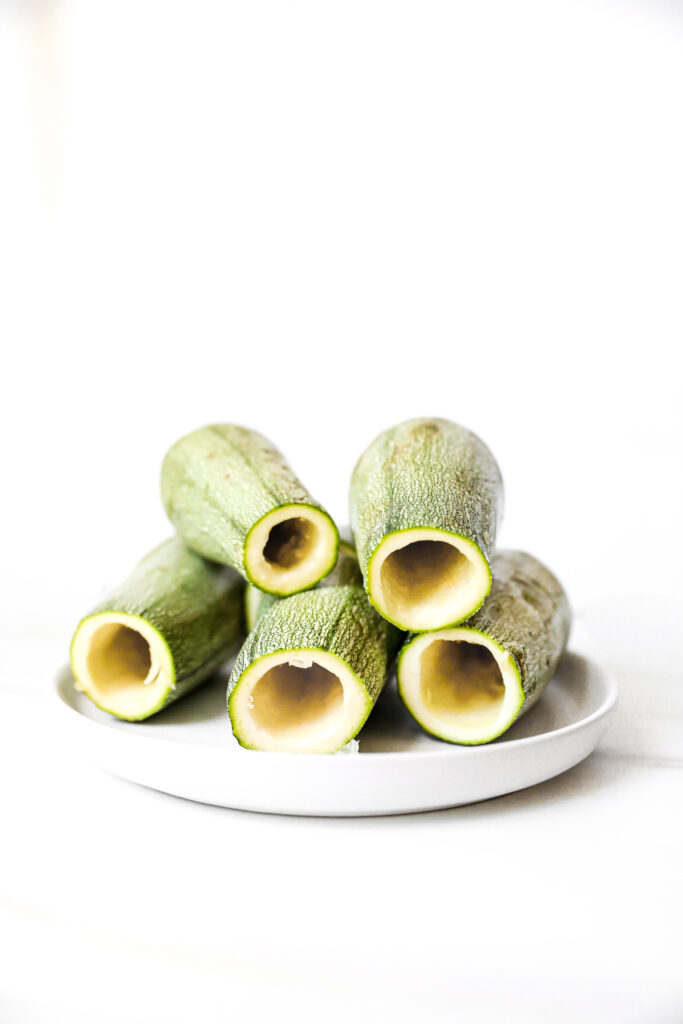 What Kind of Squash To Use For Kousa?
Where I am from in Kansas we don't have actual Lebanese Kousa in most grocery stores. We do have one Middle Eastern market that carries it from time to time!
They are much smaller in size than your traditional zucchini. The closest thing I have found was called Mexican Zucchini from Sprouts.
If I cannot find that I will just use regular zucchini squash but cut it in half to make the serving sizes shorter.
How To Stuff Lebanese Squash
So this dish is extremely easy to do. However the most difficult part about it is coring the zucchini before stuffing it.
A zucchini corer will do the trick just fine! Here is a zucchini corer. You stick it into the squash and scoop gently to hollow it out.
For the meat mixture, some people cook the meat prior to stuffing, some don't since it will be cooked in the broth. The recipe I was taught to make cooks the meat before stuffing.
You mix your meat and spices and cook them together. Stir in the rice and then stuff it in the hollowed squash. Not all the way to the top because as the rice cooks it will expand.
You then put them all standing up like soldiers in a stock pot and fill with the tomato broth. Finish it by wedging onion and garlic in between. We'll bring this to a boil and then let it simmer away until all the flavors come together and the rice is fully cooked.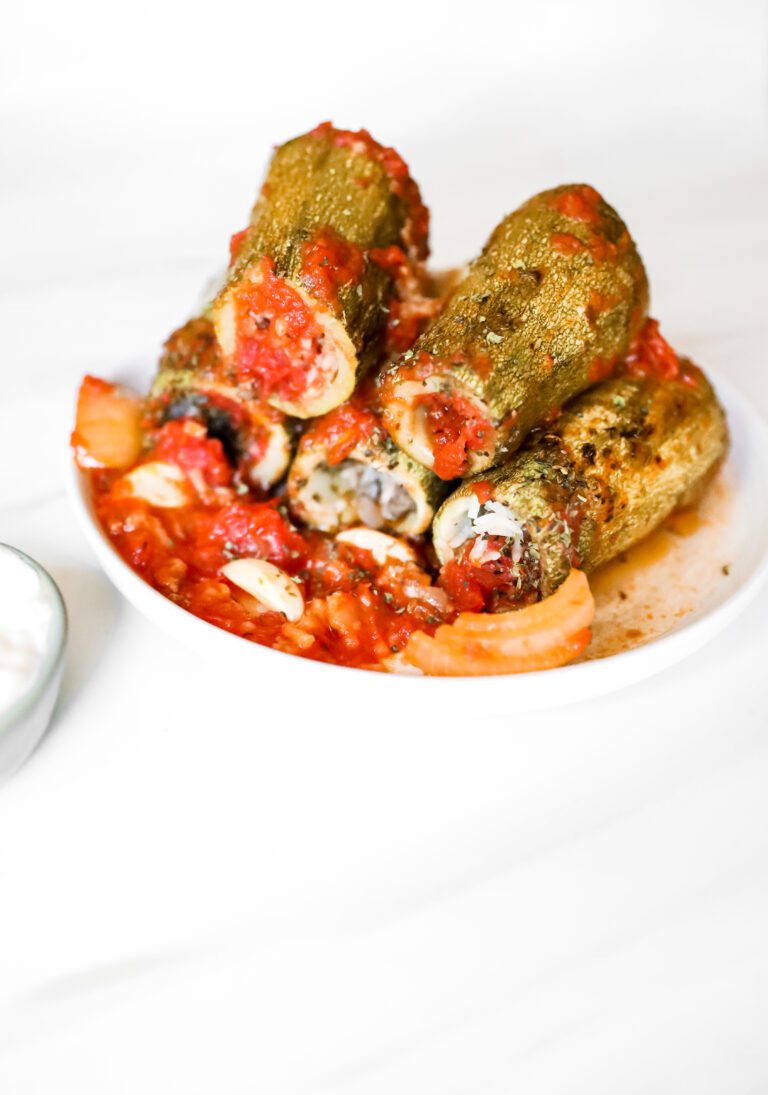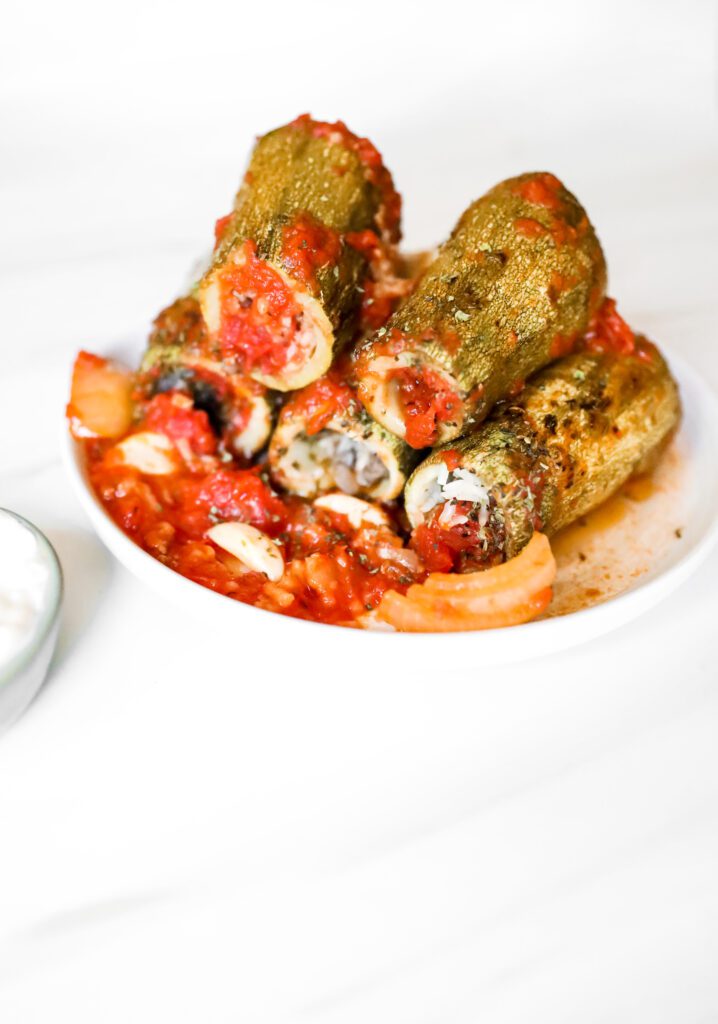 What To Serve With Lebanese Stuffed Squash
In my house I like to serve with a side of pita and hummus. You could try this red pepper hummus for something different!
But traditionally it is served with Labneh. Which is a strained yogurt that is delightfully tangy and rich.
Tabouli Salad is also always on my table when I serve Lebanese food because my husband and father in law love it! A bright, herby, lemony salad really is the perfect compliment to this cozy stuffed kousa.
📖 Recipe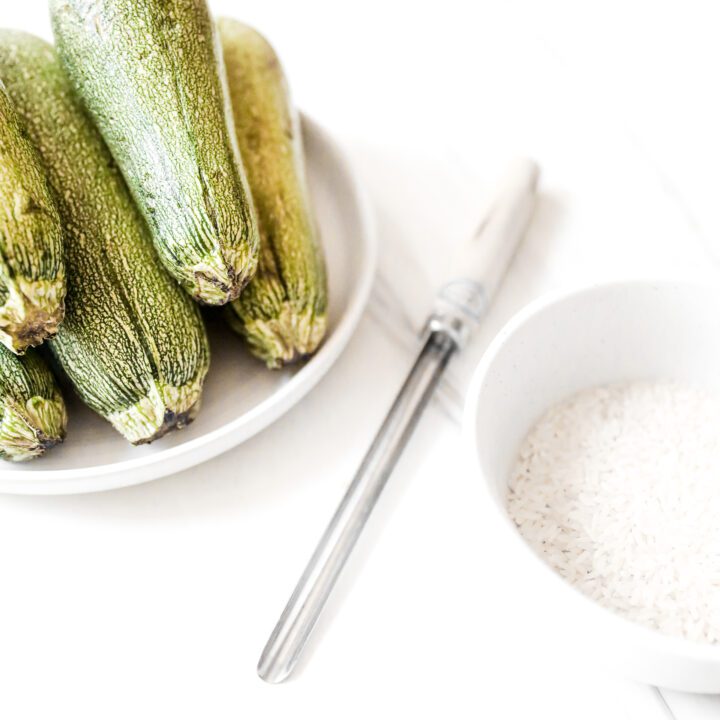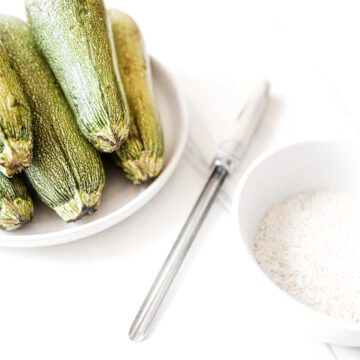 Kousa Mahshi
A delicius Lebanese comfort food of stuffed zucchini squash. Meat, spices, and rice fill these zucchini and they are simmered away in a tomato broth.
Share by Text
Print
Pin
Rate
Ingredients
5-6

Lebanese zucchini

sometimes it can be called Mexican zucchini. OR just get 3 regular sized zucchini

1 28

oz

can of crushed tomatoes

½

cup

rice

½

cup

ground beef

1

tablespoon

cinnamon

3

teaspoon

salt

1

teaspoon

pepper

6

garlic cloves

1

onion
Instructions
First prepare the filling. Dice ½ of of the onion.

Brown the ground beef with the onion. Add in the cinnamon, salt, and pepper.

When it is almost completely cooked through stir in the uncooked rice

Set aside.

Core the zucchini using the corer. Cut off just the ends of the zucchini and core out the inside (If you have full size zucchini, cut them in half to create 2 shorter zucchini and core them.)

Don't poke all the way through to the other side, just remove enough that you can stuff the meat mixture in.

Carefully place the zucchini standing up like soldiers in a pot, It's ok if they lean over a little bit. You want them to be covered by the tomato broth!

Fill the zucchini about ¾ of the way up (leaving room for the rice to expand as it cooks)

If the whole amount of meat mixture doesn't fit in the zucchini, just scoop it into the bottom of the pot.

Pour over the whole can of tomatoes.

Cut the other ½ of the onion into quarters and wedge them In between the zucchini as well as the whole garlic cloves.

Bring to boil and then reduce to a simmer for 50 minutes until rice is cooked.

Sprinkle with dried mint and top with labneh