A quick and easy snack or side dish, this 5 Minute Italian Tomato Salad is a bowl of delicious marinated tomatoes with shaved parmesan and tasty balsamic dressing!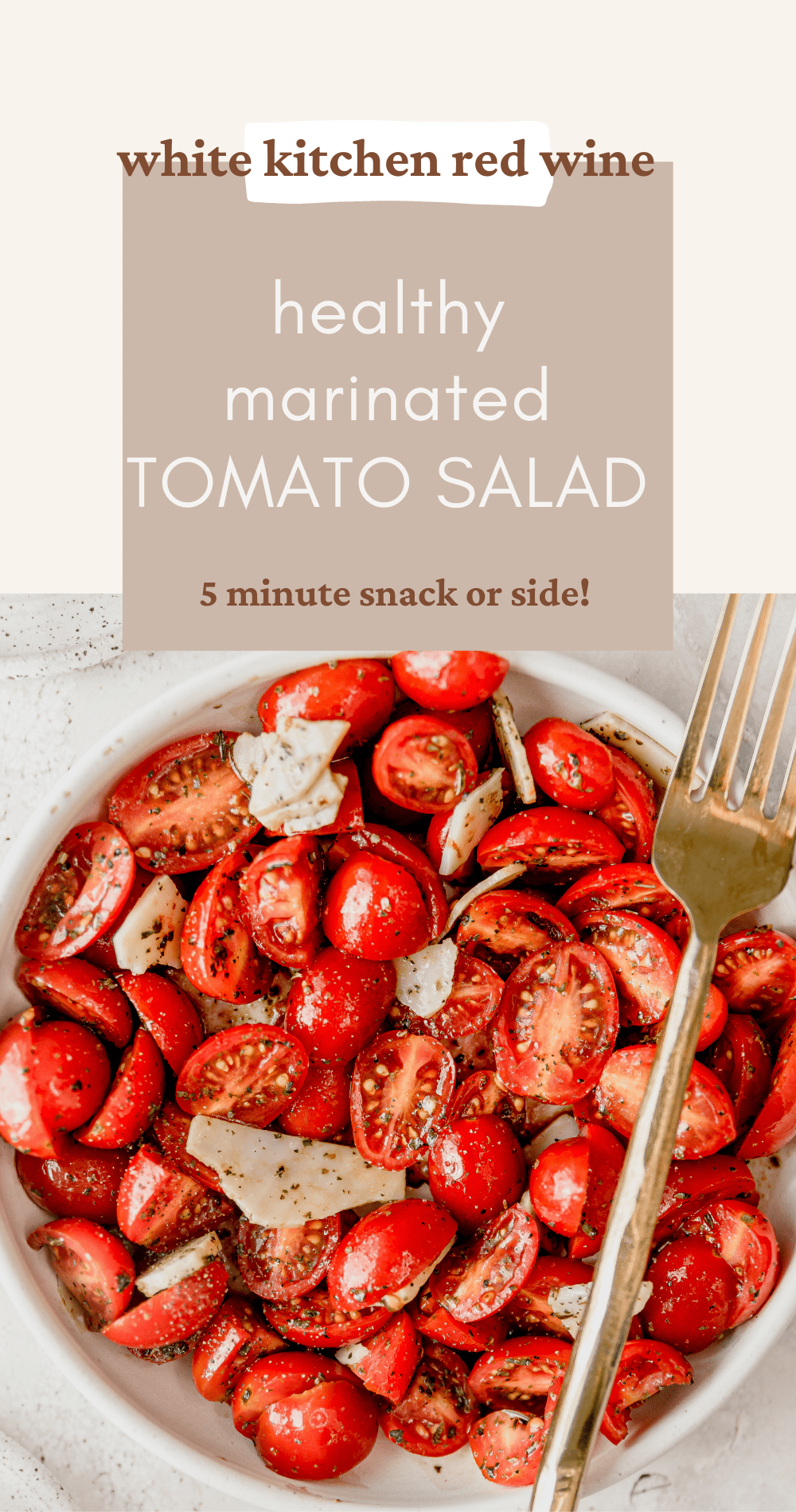 Italian Tomato Salad
If you are looking for a unique salad to add to your dinner table, how about these marinated tomatoes?
It's a beautiful bright red tomato salad that is loaded with Italian spices! Oregano, basil, parsley, and more give these juicy cherry tomatoes an herby touch.
For only being a few ingredients, this Italian Tomato Salad really packs a punch in flavor and is absolutely gorgeous!
You could serve it along side my Basil Balsamic Chicken Thighs in the summer or with a Flank Steak for a hearty dinner.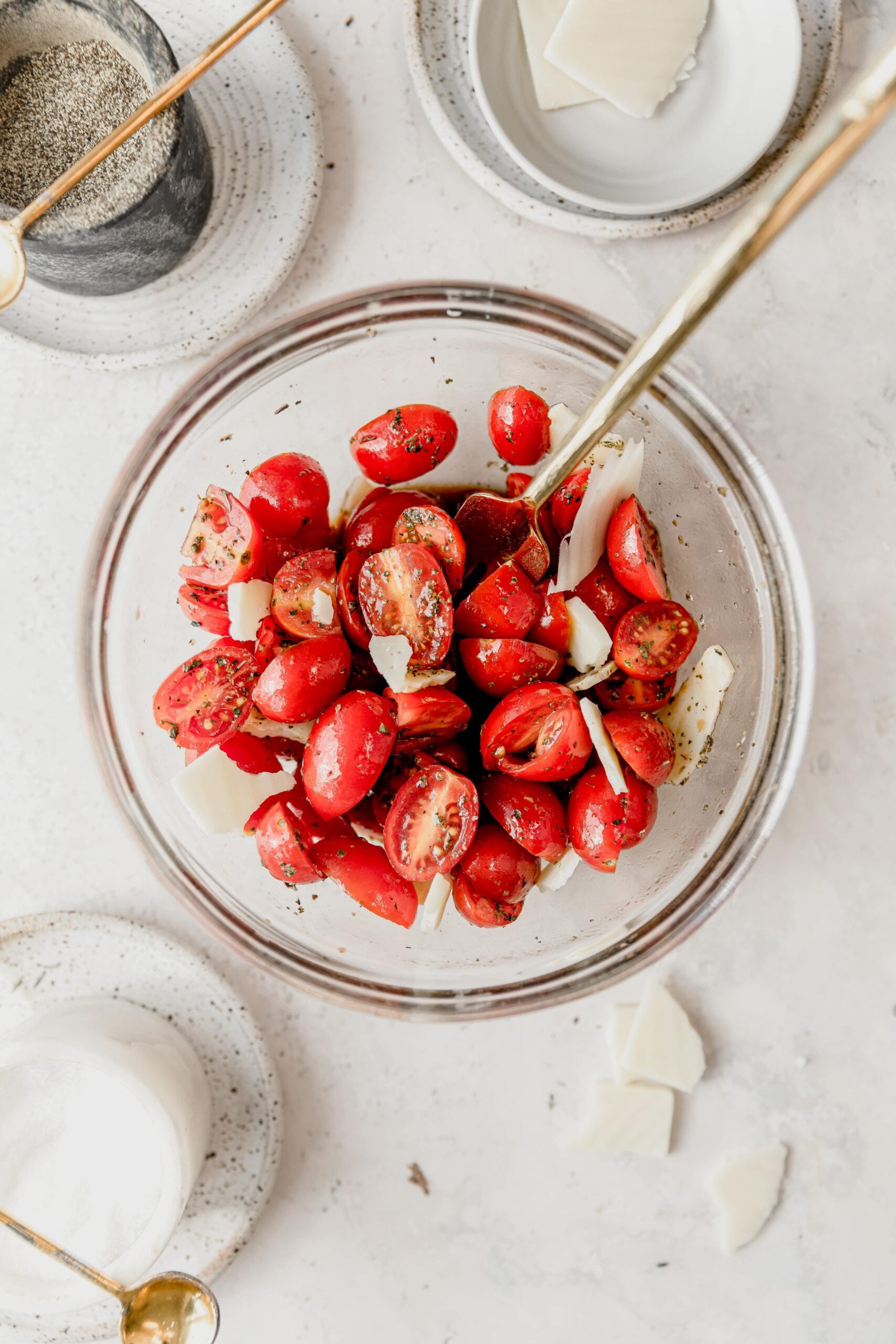 Tomato Marinade
While the sweet tomatoes are amazing, the star of this salad is the simple tomato marinade. Just a few ingredients that you likely already have in your pantry!
balsamic vinegar
olive oil
Italian seasoning blend
salt
pepper
This all gets whisked together and poured over your tomatoes to begin turning them into a bright and zingy tomato salad!
This marinade or dressing also goes really well over my Garlicky Kale Panzanella Salad!
What Tomatoes Are Best For Tomato Salad?
For mine I enjoy using cherry tomatoes cut in half. But there are so many delicious varieties of tomato, it is really up to you!
I also think beefsteak tomatoes, heirloom tomatoes, even Roma tomatoes would go well in this salad.
Pretty much any tomato of your choosing, except for green tomatoes!
I've seen the pints of cherry tomatoes that come in many different colors and if you are looking to serve a gorgeous salad, that would be a great choice for this Marinated Italian Tomato Salad.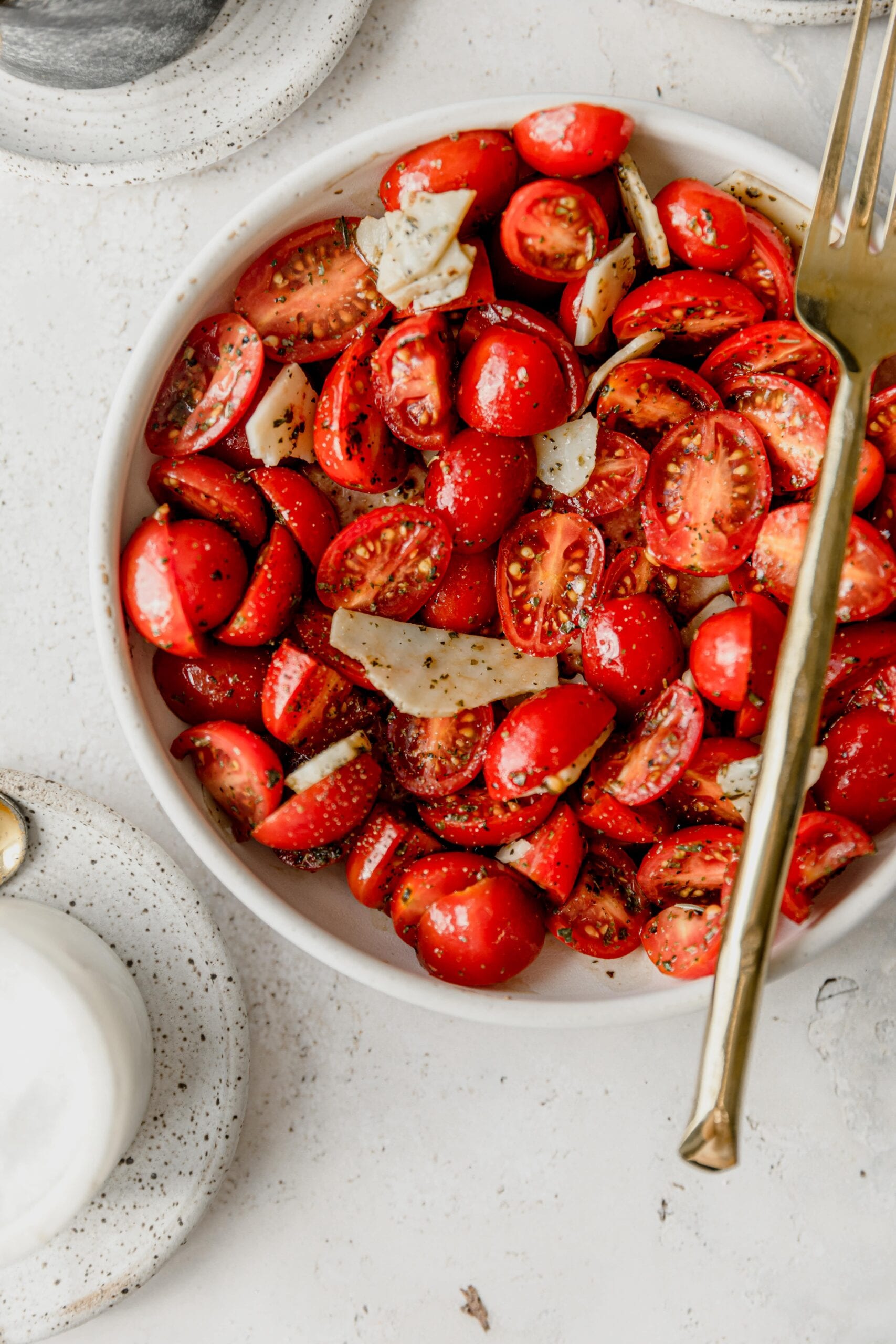 Italian Seasoning Blend
So you can pick up a container of any Italian seasoning blend you find at your local grocery store. They usually contain basil, oregano, parsley, rosemary, thyme, and even red pepper flakes!
If you don't happen to have Italian seasoning on hand you can definitely make your own by combining dried spices and herbs together like in this Homemade Italian Seasoning Recipe .
Choosing a Balsamic Vinegar
One way to elevate a recipe like this that doesn't have a ton of ingredients is to make sure you have the BEST ingredients!
Balsamic vinegar is one of those ingredients. Choosing a great balsamic can make or break your dish. When buying balsamic vinegar, it's similar to wine!
The taste and quality depend on the type of grapes, how long it's aged, and where it's from all matter in terms of taste.
My main tip for choosing is to check out the order of ingredients on the list. The two main ingredients should be cooked grape must and wine vinegar. The ingredient most present in the vinegar is listed first.
The grape must is sweeter and the vinegar is more acidic.
So for a sweeter balsamic choose the one with grape must be listed first
For a more acidic balsamic choose the one with vinegar listed first
What To Serve with It?
Ok so you've made the tomato salad now what should you serve with it?!
Any type of grilled protein would be divine with this. Such as a Grilled Chicken Sliders!
It could also go great with any Lebanese or mediterranean flavored dishes like my Chicken Kafta, Spinach Hand Pies, or Kousa!
How To Store Italian Tomato Salad
Since they are marinated, this actually stores in the fridge very well for up to 3-5 days in an airtight container.
The longer the tomatoes sit in the Italian marinade, the better it gets! Just be sure to wait until serving to top with slices of fresh parmesan cheese.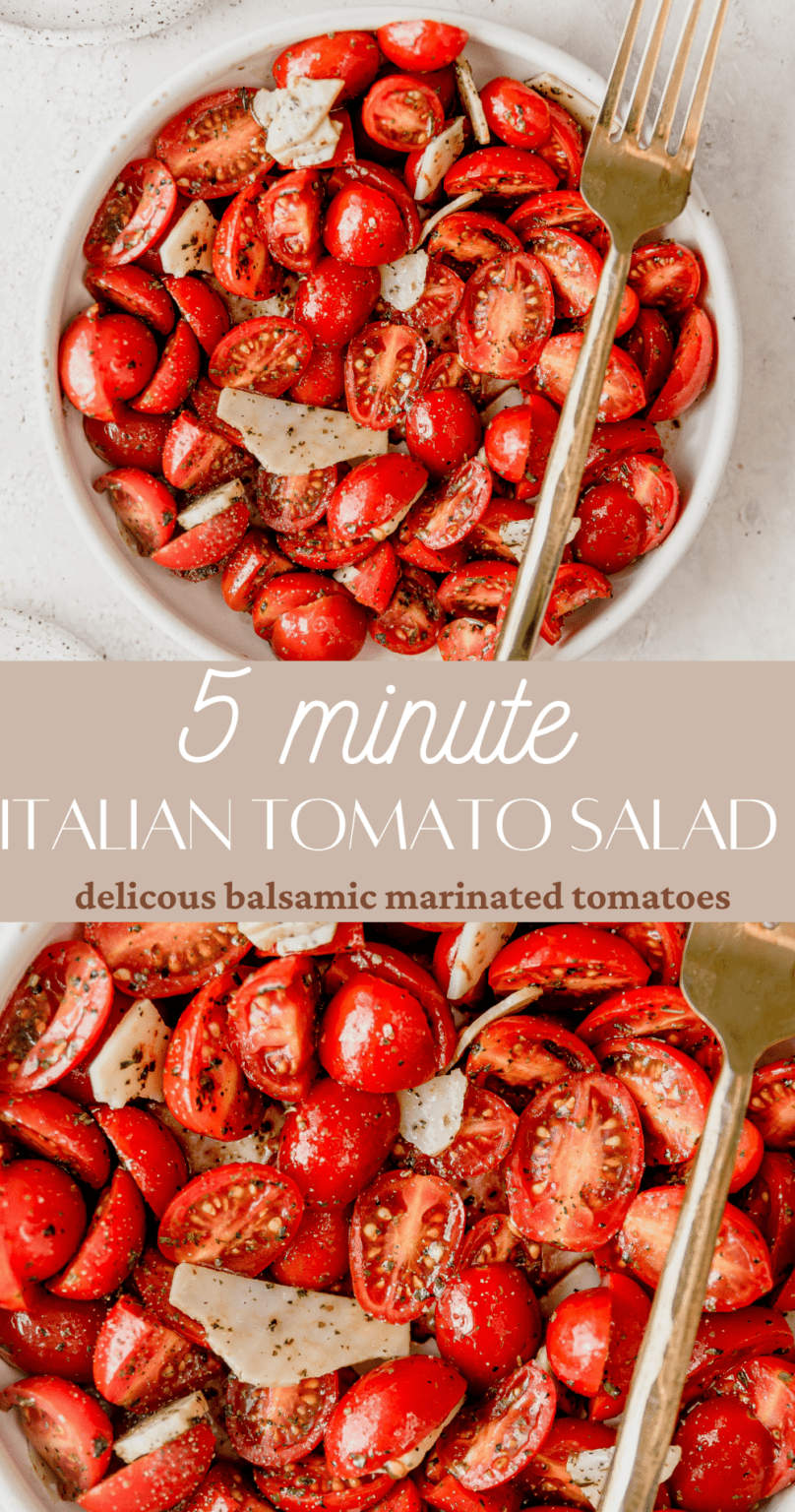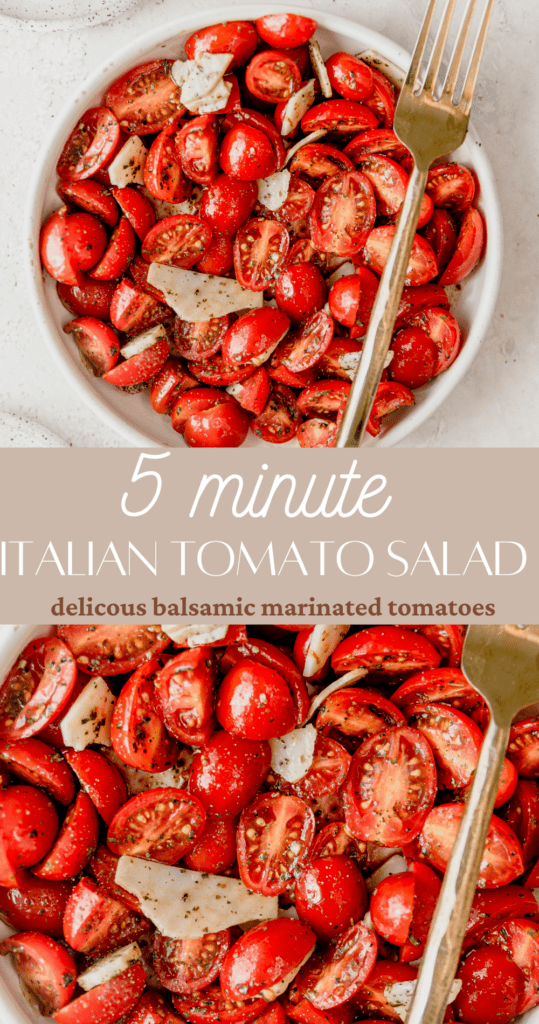 📖 Recipe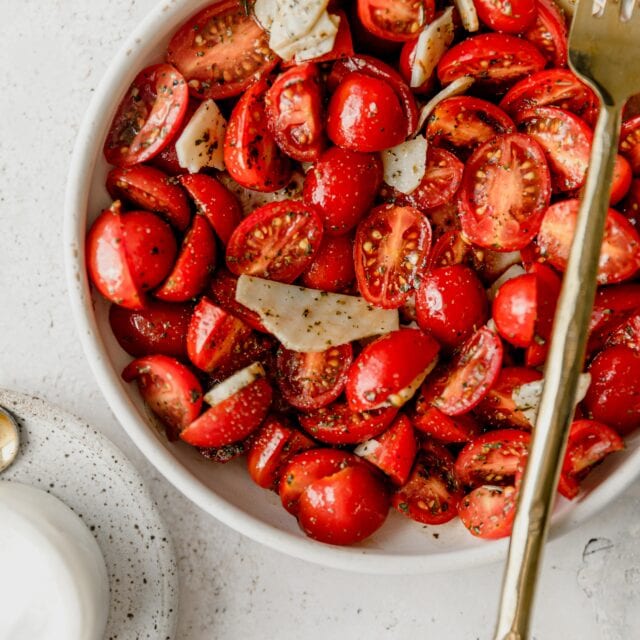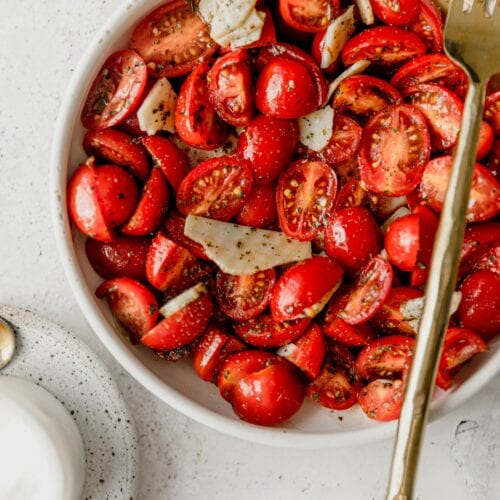 Marinated Italian Tomato Salad
delicious 5-minute recipe, great for a snack or side. These marinated Italian tomatoes are healthy and taste amazing thanks to the balsamic dressing.
Print
Pin
Rate
Ingredients
2

Cups

cherry tomatoes

halved

¼

cup

balsamic vinegar

¼

cup

olive oil

1

tablespoon

Italian Seasoning

½

teaspoon

salt

¼

teaspoon

peppe
Instructions
Cut all cherry tomatoes in half

Place in a medium-sized bowl.

Pour the balsamic vinegar, olive oil, and Italian seasoning over the top and toss.

Sprinkle with salt and pepper.

Let sit for 10 minutes up to overnight.

Enjoy topped with shaved parmesan cheese.