Sausage Stuffed Acorn Squash
Welcome back! If you are ready for your home to smell like savory comfort food goodness, then start making your grocery list for this recipe! Only a few ingredients and an hour stand between you and some yummy Sausage Stuffed Acorn Squash.
We spent the weekend apple picking and will be using some of those delicious apples in this stuffed acorn squash recipe...
Sausage Apple Stuffed Acorn Squash Ingredients
This recipe really couldn't be easier and is a lighter dinner option because we are using delicious chicken sausage! Here's what you'll need...
1 pack Chicken Sausage sliced 
2 acorn squash cut in half and scoop out the seeds
2 stalks celery diced
1 yellow onion finely diced
2 apples peeled cored, & chopped
Pepper
Salt
½ cup bread crumbs
3 oz goat cheese
2 tablespoons Coconut oil or olive oil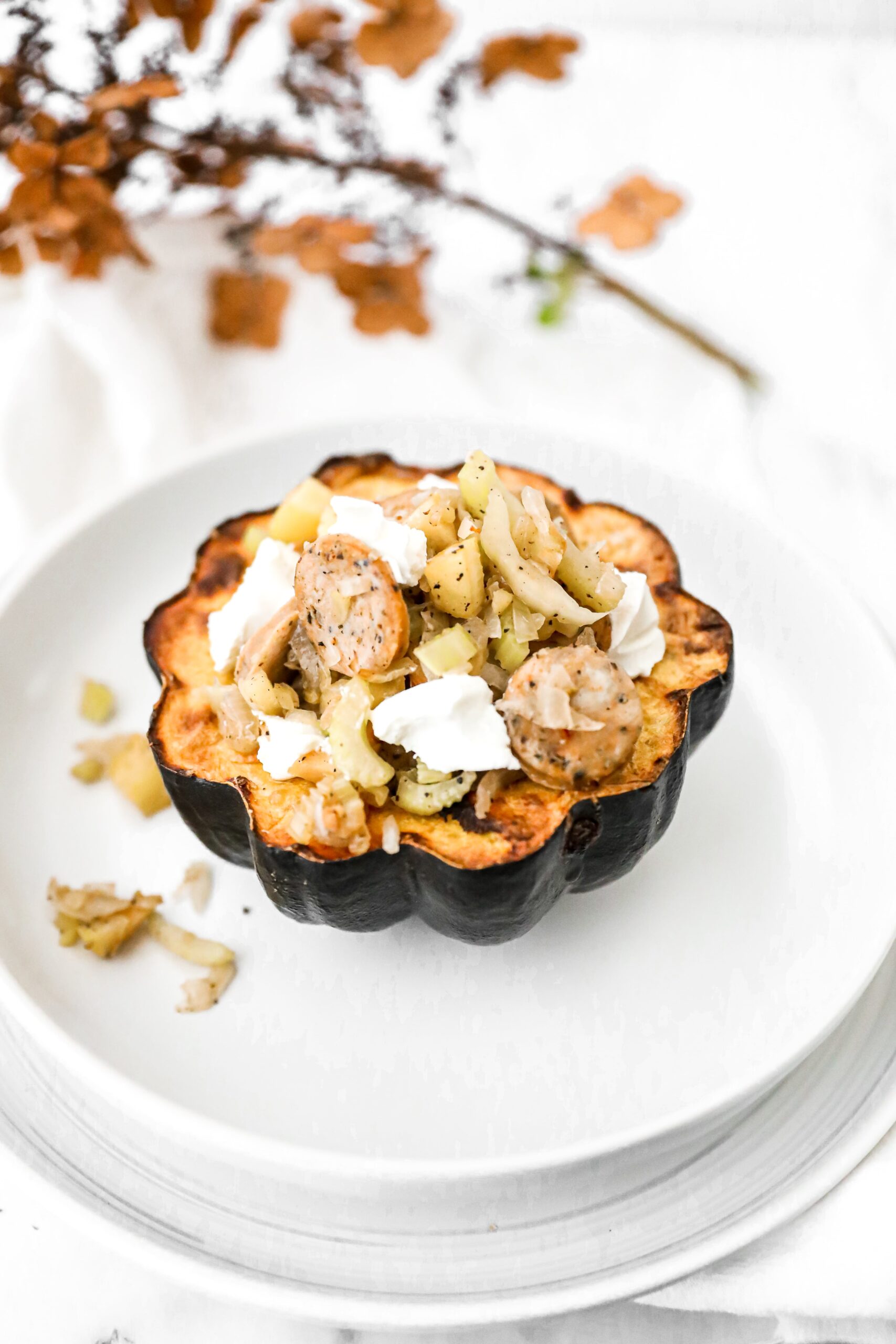 How to Prepare an Acorn Squash
It's pretty simple once you've done it a couple of times! There are many ways to do it, but to me this is by far the easiest!
Using a serrated knife, cut the acorn squash in half lengthwise so it can sit on its "ends" where the stem would have been. (If it has a stem, cut that too!) If you cut it the other way then you will have squash rolling around everywhere on your sheet pan.
Using a spoon carefully scoop out the seeds (you could season these and roasted them later for an amazing snack!)
Brush with olive oil or butter and season with salt and pepper.
Pop them into a pre heated oven of 400 degrees and leave them for 50 minutes!
What Goes Well With Acorn Squash?
Acorn squash is pretty mild and can take on savory OR sweet flavors. I had tons of apples to use up from our recent apple picking trip and wanted something savory.
Apples, onion, celery, and sausage paired SO nicely with this Autumn squash and is super beautiful to serve right out of the squash itself!
For good comfort food measure, I also included a little goat cheese...
I served it up over a bed of arugula tossed with olive oil, salt, and pepper. Top that with craisins and slivered almonds and you have yourself something that feels fancy but is totally lean, clean, and green!
You could definitely serve it with this Cranberry Shallot Vinaigrette salad and it would be divine!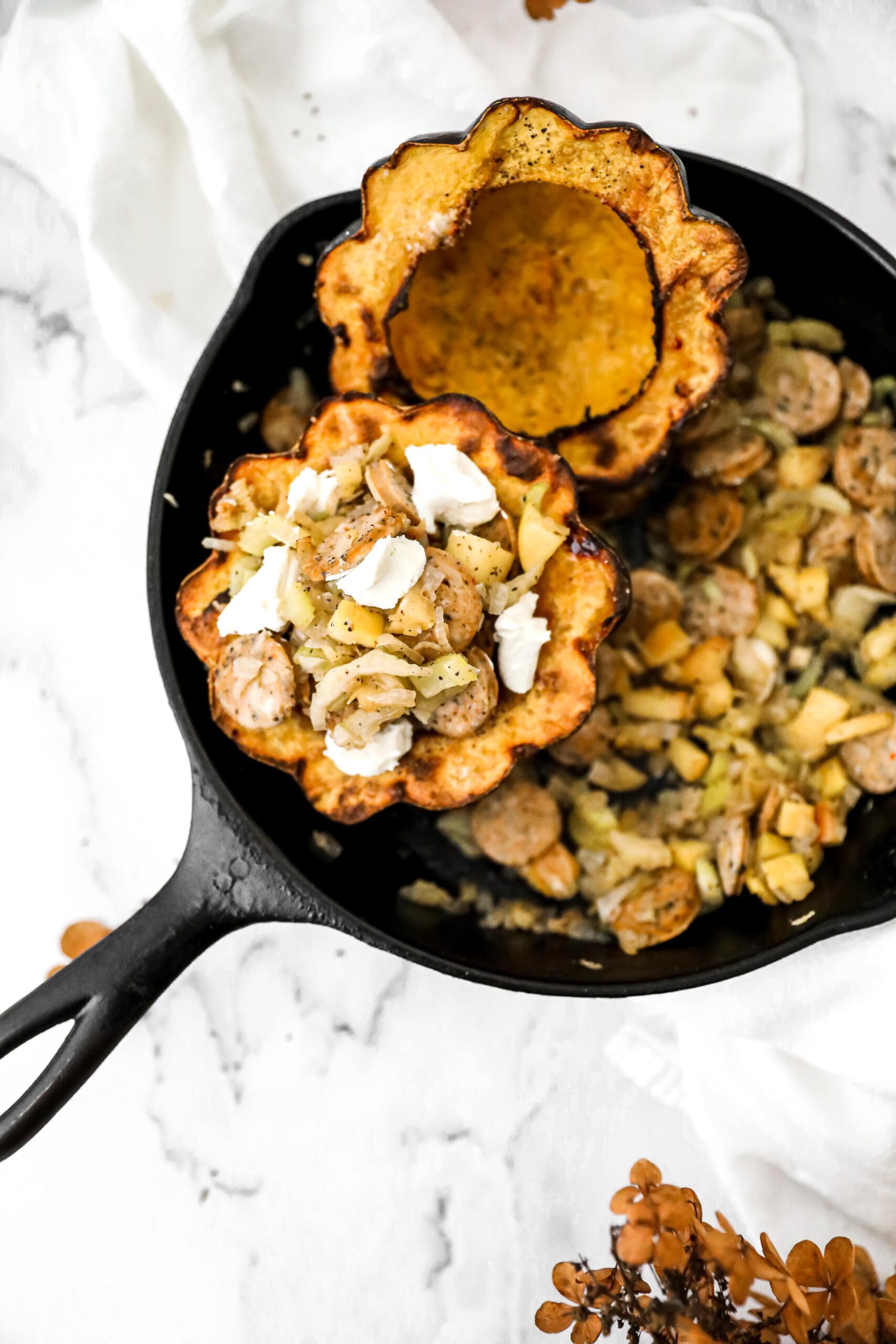 The BEST Chicken Sausage!
To make this meal a bit healthier I chose to use my absolute favorite Never Any! Chicken Sausage in the Tomato Basil flavor from Aldi.
I always have a pack of these in the freezer for easy & healthy addition to any meal. Feel free to use your favorite ground pork sausage too!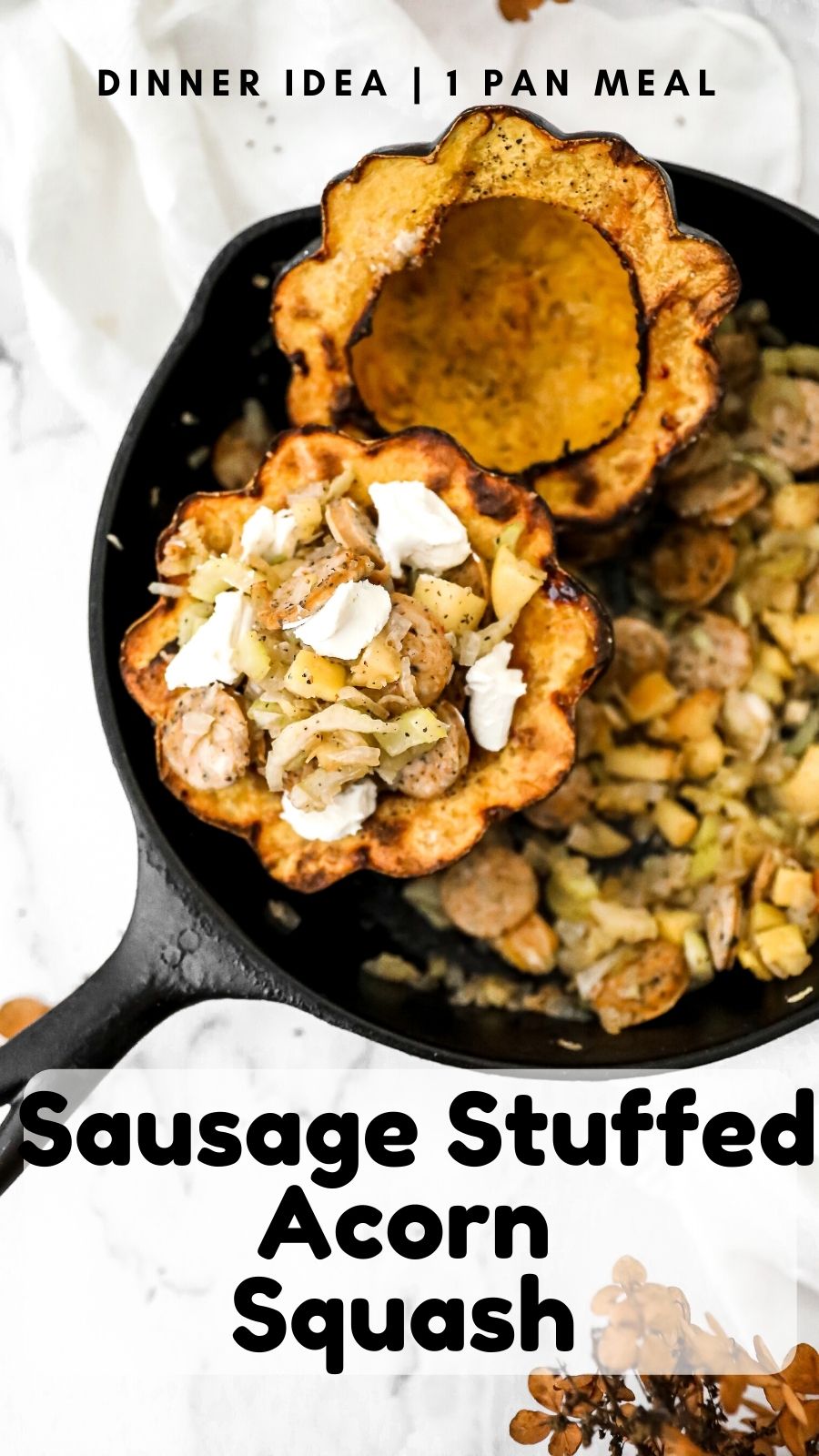 📖 Recipe
Ingredients
1

pack Never Any! Chicken Sausage Tomato Basil sliced

or your favorite ground pork sausage

2

acorn squash cut in half and scoop out the seeds

2

stalks celery

diced

1

yellow onion finely diced

2

apples peeled

cored, & chopped

Pepper

Salt

½

cup

bread crumbs

3

oz

goat cheese

2

tablespoons

Coconut oil

or olive oil
Instructions
Preheat your oven to 400. Slice your acorn squash in half and scoop out the seeds. Brush with 1 tablespoon of the coconut oil, season generously with salt and pepper, and place on a sheet tray that is foil lined.

Roast for 50 min or until tender.

While your squash is roasting slice sausage, chop apple and onion, and dice celery.

If you have ground sausage you should brown that first. If you have the Never Any! chicken sausage it is already cooked.

Heat 1 tablespoon of coconut or olive oil in a skillet and sautee your onion and celery. Cook until onions are translucent (2-3 min) Then add in your apples and chicken sausage or browned pork sausage. Season with a pinch of salt and pepper to taste.

In a small bowl mix together your bread crumbs and toss with a little olive oil.

When squash is finished remove from oven, stuff halfway with sausage and apple mixture, top with a few crumbles of goat cheese then fill the rest of the way up with sausage mix. Finish it with bread crumbs and turn your oven to broil

Do not take your eyes off of this or it will burn! Broil until the top is brown. Remove and enjoy!


Nutrition
Serving:
1
Acorn Squash
|
Calories:
445
kcal
|
Carbohydrates:
43.5
g
|
Protein:
21.7
g
|
Fat:
23.6
g