Delicious and Easy Marinated Mozzarella Cheese
This easy recipe for marinated mozzarella di bufala can serve as anything from a simple snack, to an appetizer, to a delicious addition to any cheese board!
Homemade infused olive oil with tangy lemon pepper and herby rosemary are the perfect complements to the creamy mozzarella pearls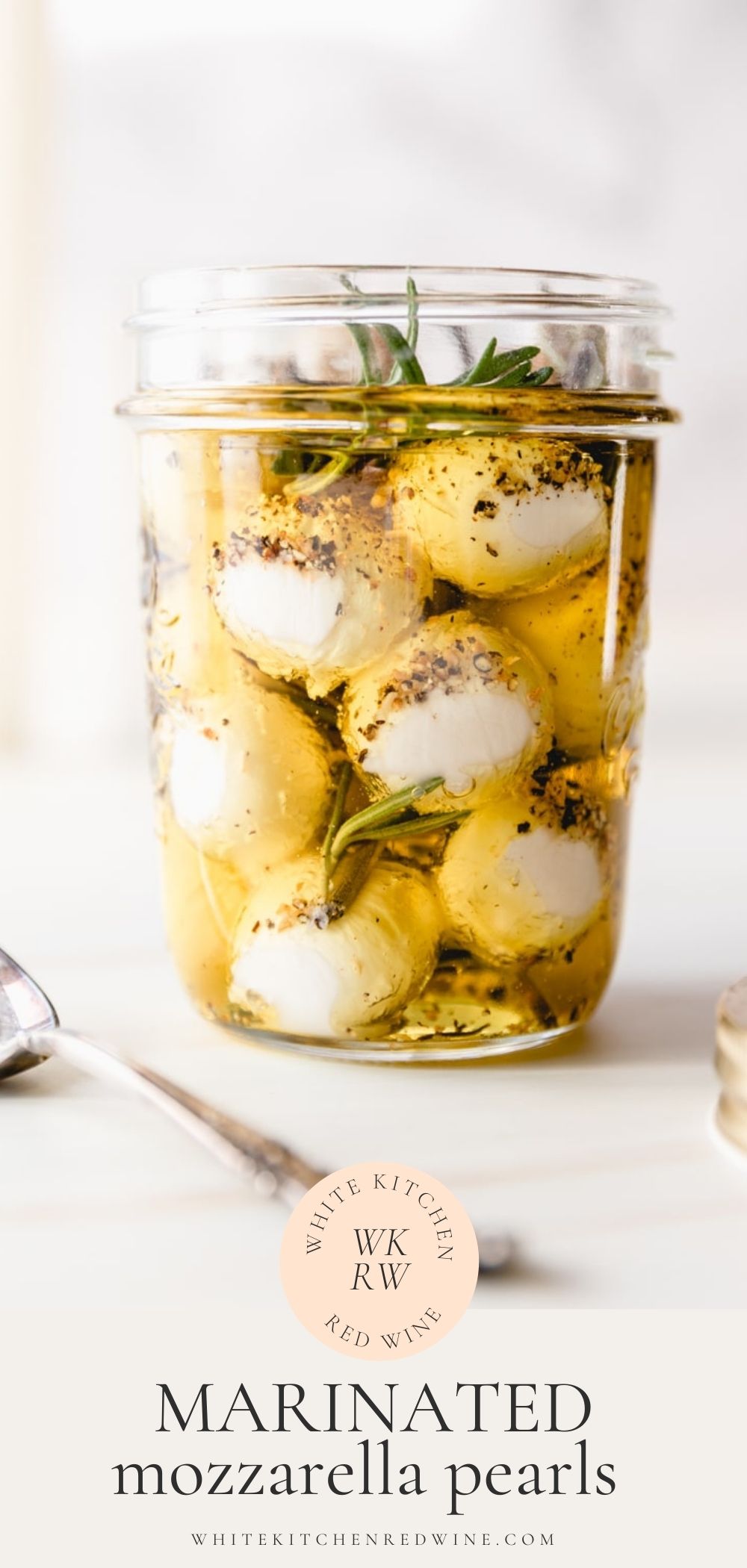 Mozzarella di Bufala
So what is Mozzarella di Bufala? We all know mozzarella cheese as a soft, easy-to-melt, totally creamy cheese.
Buffalo mozzarella is made specifically from an Italian buffalo! Traditionally only coming from a few regions of Italy like Campania, the mozzarella named "Mozzarella di bufala" is a recipe that has a controlled origin.
This means this certain recipe can only be produced in certain regions of Italy with the traditional recipe! Pretty fascinating.
It's one of my favorite types of mozzarella and I would highly recommend it for this recipe. However, you can also marinate mozzarella pearls if you cannot get some at the local grocery.
What's A Mozzarella Pearl?
So the other option for marinating these yummy cheese balls are mozzarella pearls!
These are super easy to find and they are mini balls of mozzarella that go great on salads, skewers, and crackers.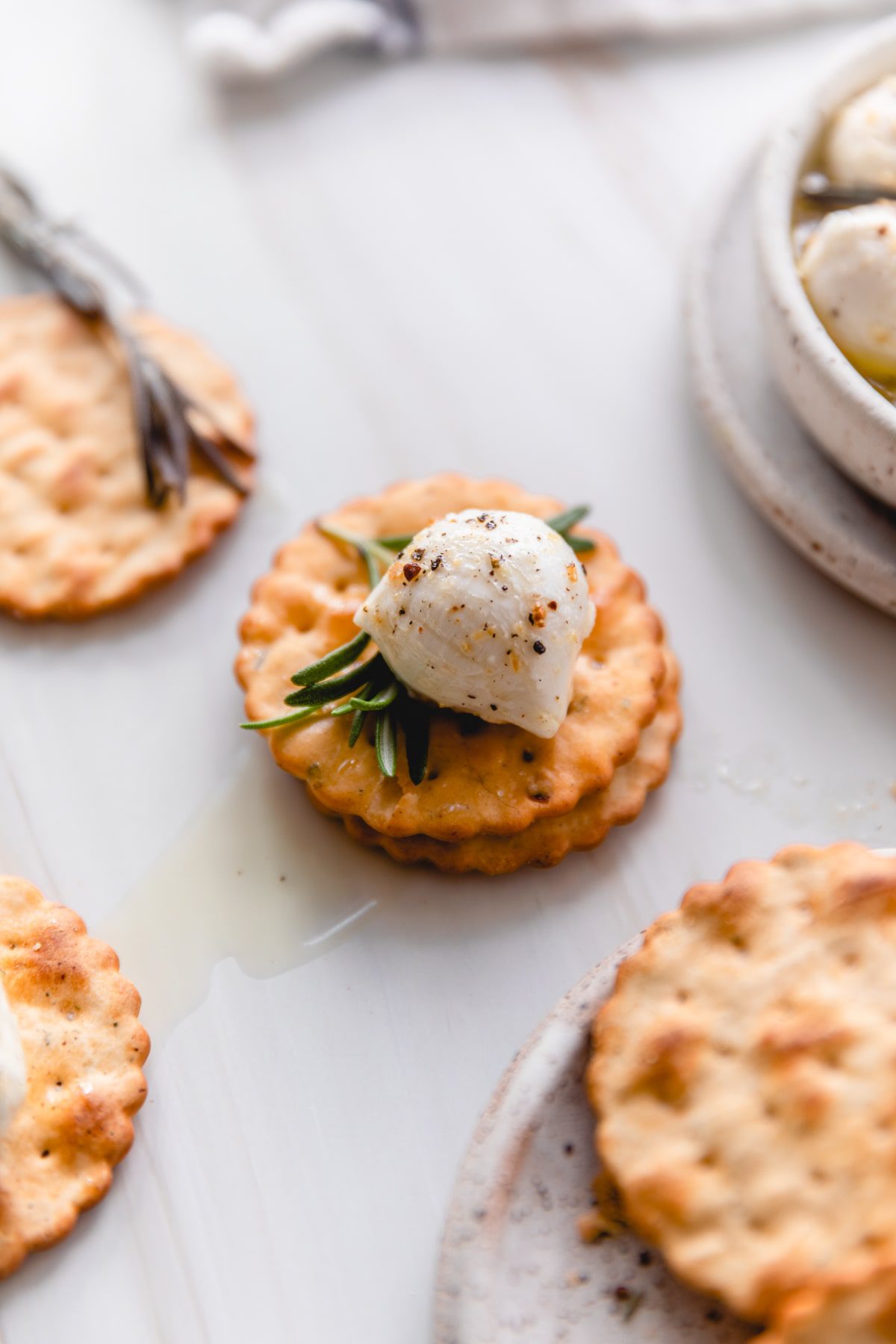 Marinade Ingredients For Mozzarella Appetizer
Gather these simple ingredients to get started!
mozzarella di bufala or mozzarella pearls
good olive oil
salt and pepper
lemon pepper seasoning
fresh rosemary
If you like these ingredients you might also love these recipes...
How To Serve It...
So after you've assembled these delicious pearls, I've got some great ideas on how to serve them! They are easy to customize if you like more or less seasoning and go great with tons of recipes...
Mozzarella Bruschetta
One way to serve it up would be some bruschetta! Mix it up with chopped tomatoes and balsamic, put it on top of some crusty bread and you will have a top-notch appetizer!
Cheese Board
These little marinated pearls of mozzarella would look gorgeous as an addition to any cheeseboard. They are mellow in flavor with the punch of tangy lemon pepper, it'll definitely be a great balance to other hard cheeses on the board.
Caprese Salad
Lastly, one of the most common ways I like to enjoy mozzarella is in a caprese salad. Layers of tomato, basil, mozzarella and a generous drizzle of balsamic on top! YUM!
How To Store
So storing these marinated mozzarella pearls is very easy, but I do have a couple of tips!
I like to store in a large mason jar. Once you cover the pearls with the olive oil they will be perfectly stored in there.
However, once you pop this into the refrigerator, the olive oil will get solid. Don't worry! It will look odd, but just remove it from the fridge for about 10-15 minutes to let the olive oil return to room temperature and it'll be good to go.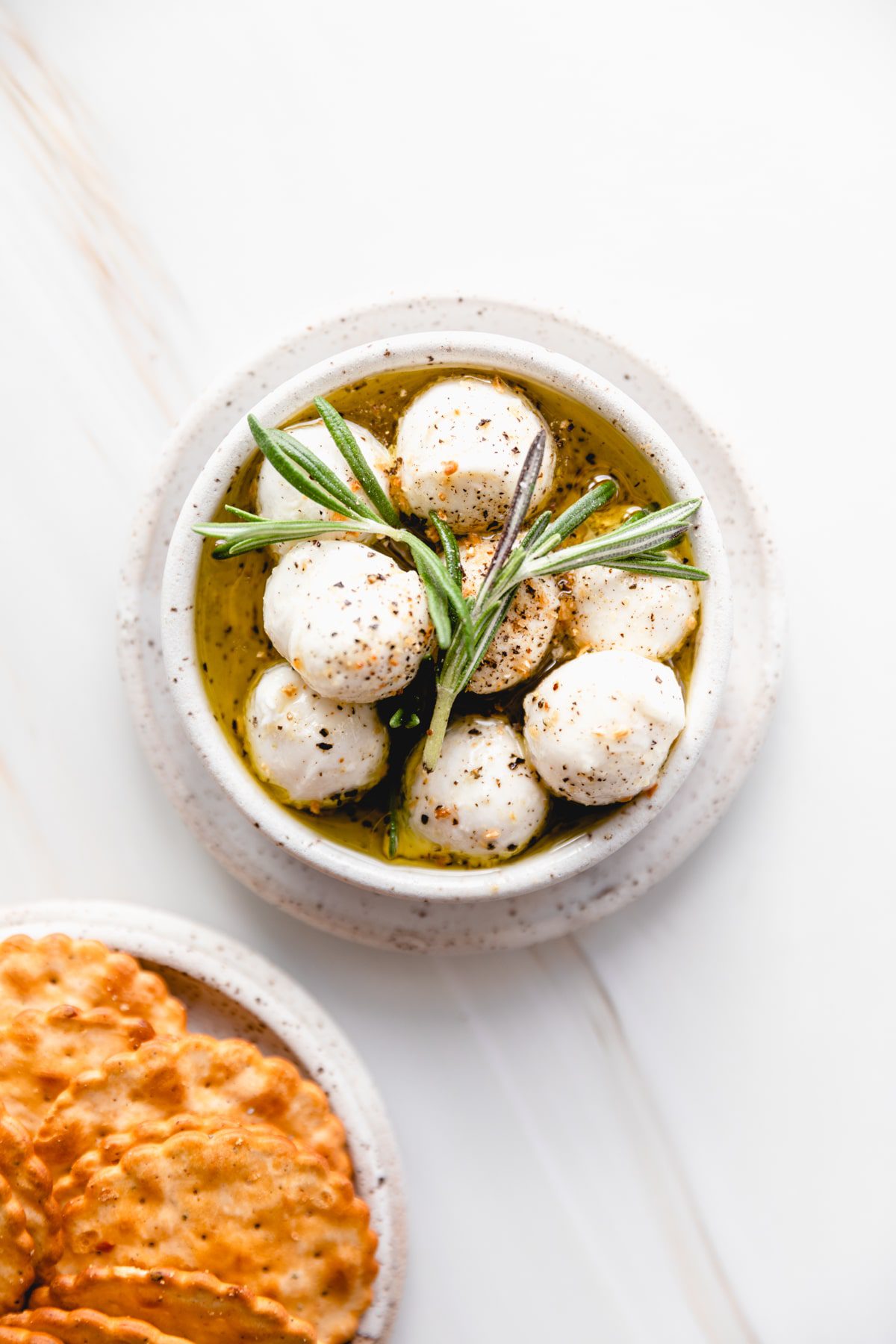 📖 Recipe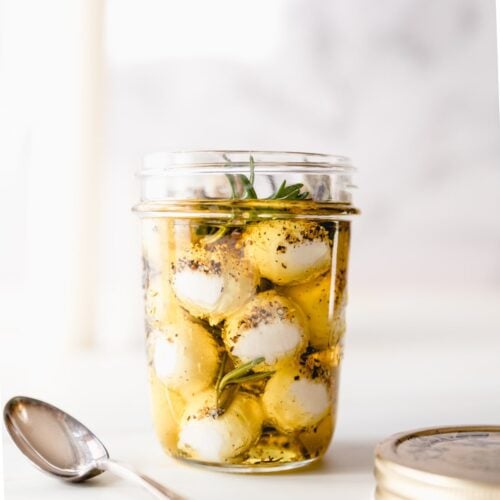 Marinated Mozzarella Pearls
Easy to make mozzarella marinated in a homemade infused olive oil. Seasoned with lemon pepper and rosemary, these are great on salads and cheese boards.
Print
Pin
Rate
Ingredients
8

oz

mozzarella di bufala or mozzarella pearls

1

cup

olive oil

1

tablespoon

lemon pepper seasoning

large pinch of salt

2-3

sprigs of fresh rosemary
Instructions
Drain the mozzarella of the water it came in and place the mozzarella into the mason jar.

Cover with olive oil

Add in the lemon pepper seasoning, large pinch of salt, and rosemary sprigs.

Close the lid to the mason jar and store in the refrigerator.

When ready to serve, remove the jar from the fridge 10-15 minutes prior to serving. The olive oil will get solid in the fridge, so let it come to room temperature before serving.