Ever look at a salad and wish it was bread? I'm here to save the day with this Garlicky Kale Panzanella Salad! Panzanella is a bread salad basically! Bread soaked with oil and vinegar dressing that is....
Marinated tomatoes and onions as well as kale top this French bread beauty! I mean it is a salad after all...we do have to include a few vegetables!
Panzanella salad is a delicious way to serve up something different at the dinner table that doesn't lack in flavor OR texture PLUS its salad...Let's start with the base of this salad first!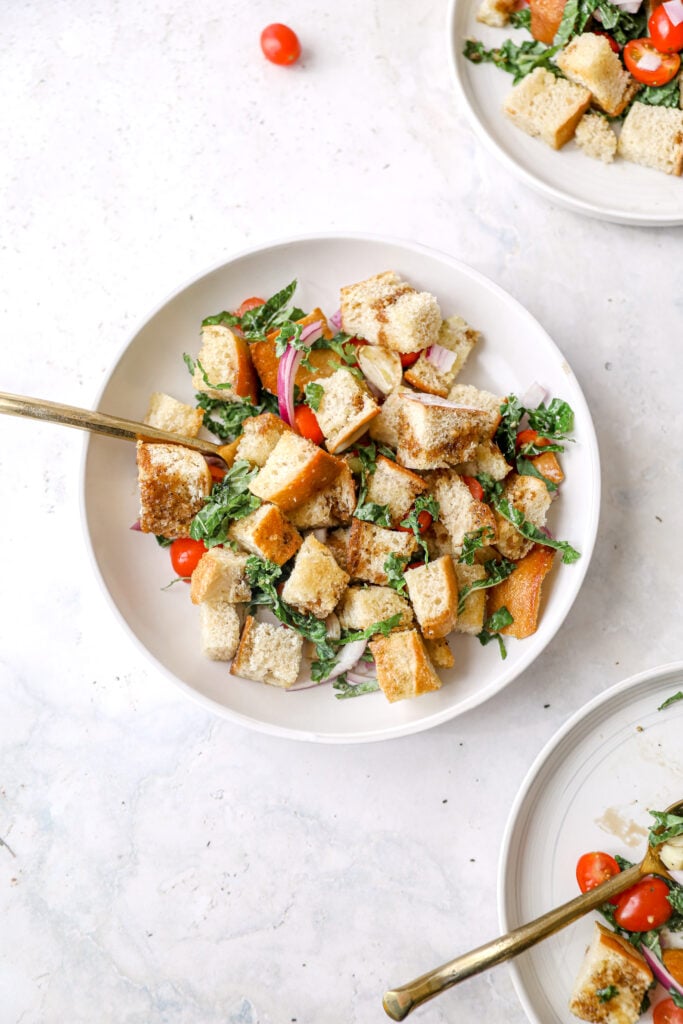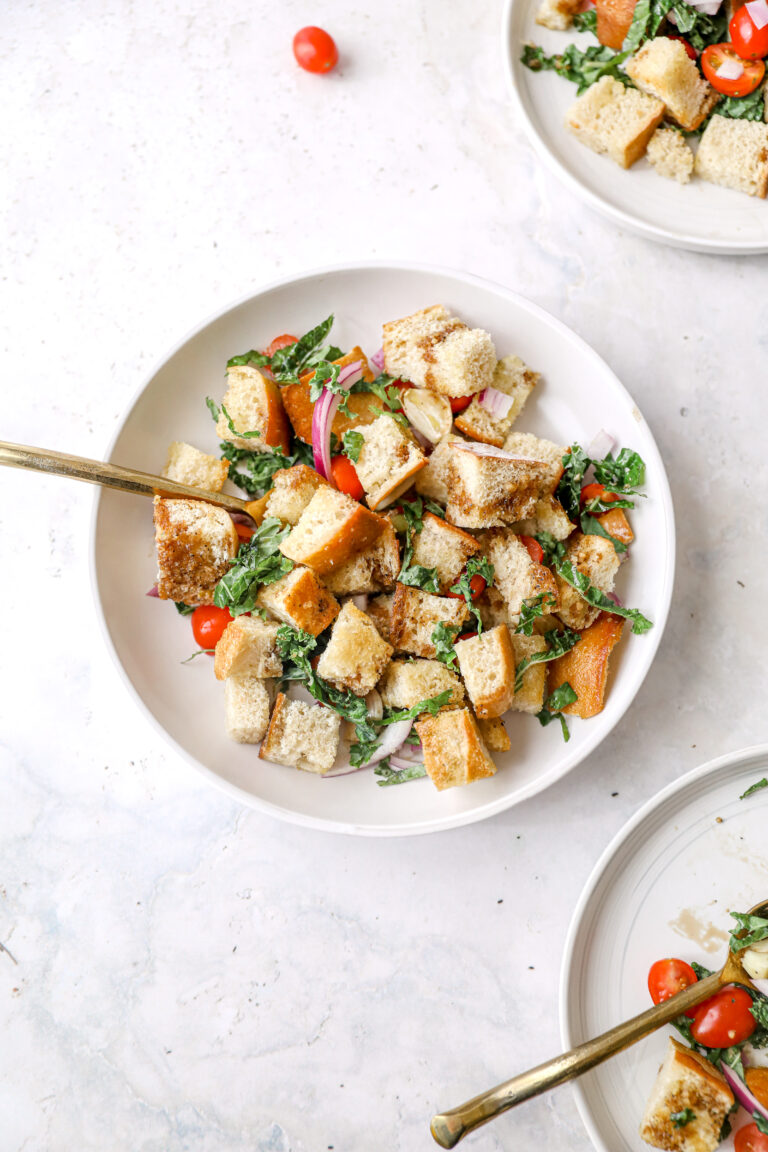 Garlic French Bread Croutons
The main component of any good panzanella salad is deliciously crispy French bread. For this garlicky kale panzanella we are making our own toasty bread!
Grab a day or two old French bread from the bakery (I found this one at Aldi!) and we'll first slice it in to 1 inch cubes.
Give a generous drizzle of olive oil! Sprinkle it with poultry seasoning blend and into the oven to toast!
I like to toast this bread for about 15 minutes at 375 degrees Fahrenheit until just golden on the edges. Let it cool before moving on!
To really emphasize the garlic-y flavor in this dish, I also broke up a whole head of garlic and placed cloves all throughout the bread on the baking sheet and let it roast. My house smelled amazing!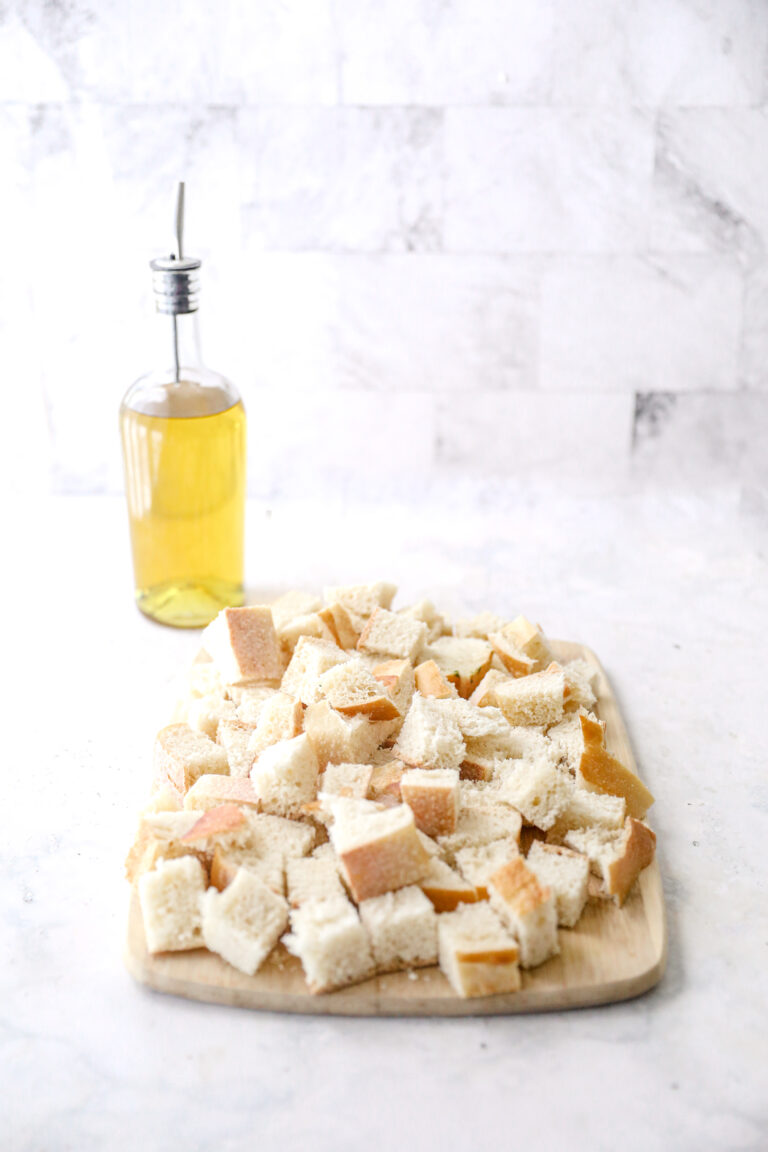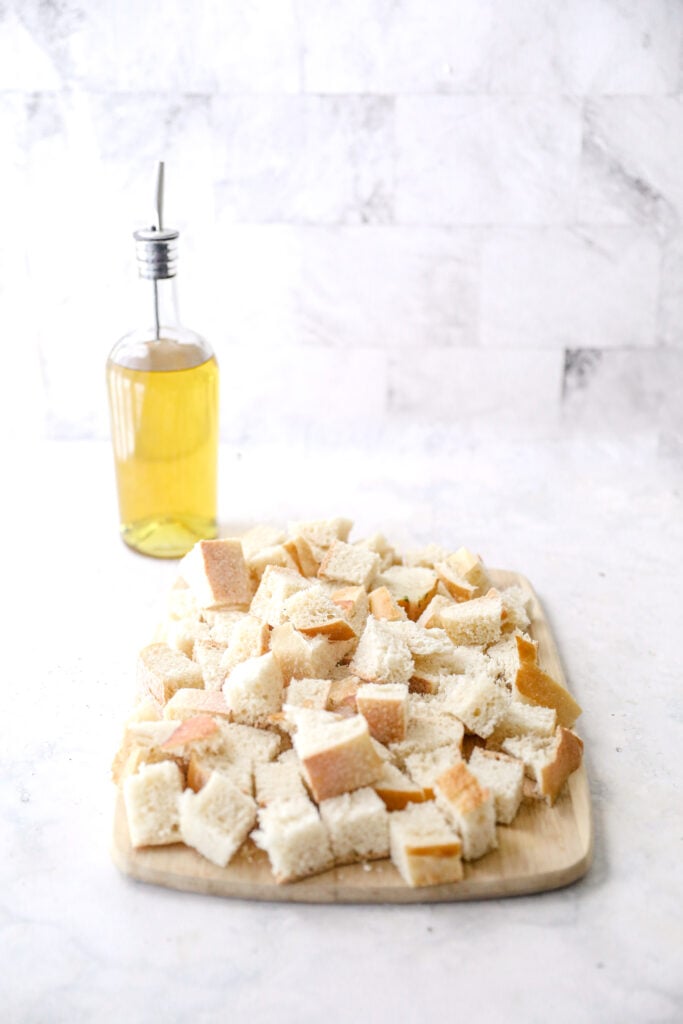 Panzanella Salad Ingredients
The other ingredients that make up the salad are usually some combination of tomato, onion, and cucumber! You could even throw some olives on their and it would be delicious.
After the bread is toasted we'll add our fresh veggies on top!
For this one, we are going to use...
shredded kale
cherry tomatoes
red onion slices
oil and vinegar dressing
In addition to our fresh veggies, we'll make a homemade vinaigrette to soak the whole salad!
That's the best part of the panzanella experience, it's like the perfect bite of dunking bread into oil + vinegar plus the freshness of the tomato and onion.
Garlic Kale Panzanella Salad Dressing
The dressing for this particular garlicky kale panzanella salad is a classic balsamic vinegar dressing!
Mix olive oil, balsamic vinegar, honey, salt, pepper, and LOTS of fresh garlic to make a super tangy and addictive dressing.
This gets poured over the whole salad and tossed. Let it sit for about 10 minutes so the bread soaks up all that garlicky goodness. Now it's time to eat!
📖 Recipe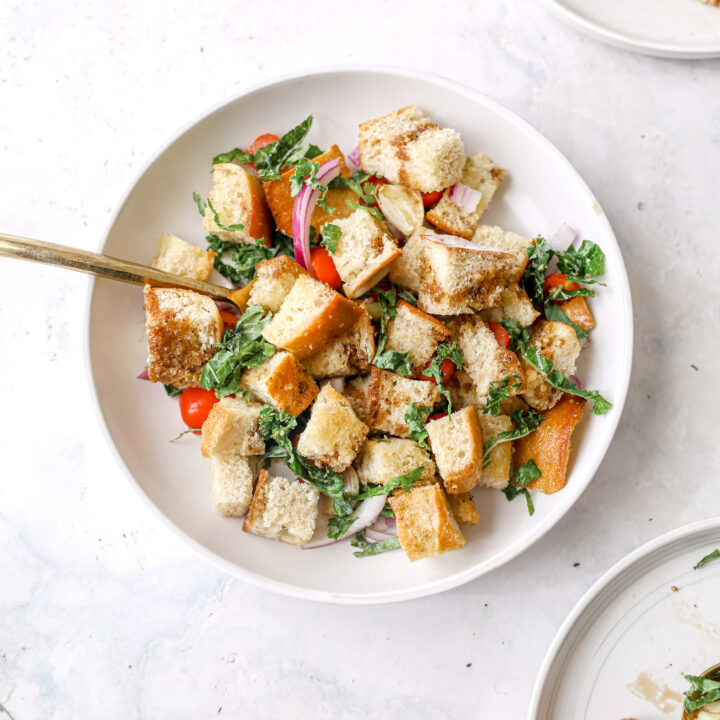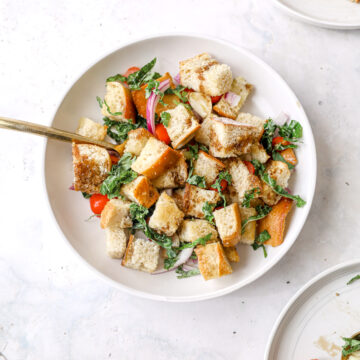 Garlicky Kale Panzanella Salad
A delicious crusty bread salad with tangy balsamic dressing and fresh tomato and onion
Print
Pin
Rate
Equipment
Baking Sheet

small mixing bowl

salad bowl
Ingredients
Panzanella Salad Bread
1

loaf

French Bread (yeilds about 5 cups cubed bread)

4

tablespoon

olive oil

2

tbsp

poultry seasoning

Feel free to substitue with Italian seasoning!

1

head

garlic, broken into individual cloves and peeled
Panzanella Salad
2

cups

cherry tomatoes, cut into halves

¼

a red onion, diced

3

cups

shredded kale
Panzanella Salad Dressing
½

cup

olive oil

4

tablespoon

balsamic vinegar

1

teaspoon

salt

½

tsp

pepper

½

tablespoon

honey

4

cloves

minced garlic
Instructions
Panzanella Crusty Bread
Cube the French bread and generously drizzle with olive oil.

Sprinkle with the poultry seasoning and place on a baking sheet along with the cloves of garlic.

Bake at 375 degrees fahrenheit for 15 mintues until golden brown.
Create the Panzanella Salad
while the bread is baking, cut up the onion, tomatoes, and kale (if you didn't buy pre-shredded)

Add your kale to a mixing bowl and massage it for 30 seconds. Trust me this will make you enjoy the kale more!

Add the tomato and onion to the kale and add the toasted bread. Mix to combine well.
Panzanella Salad Dressing
In a small bowl combine all dressing ingredients and whisk.

Pour all of it over the mixed panzanella salad. Let it soak into the bread for 10 minutes then enjoy!