Side dishes are the ultimate way to show off at a dinner! Whether you are hosting dinner or bringing a side to a party, these Hasselback Butternut Squash are a show stopper and OH SO delicious.
Roasted to perfection with tons of fresh garlic and fragrant herbs, your house will be smelling like heaven after cooking this butternut squash.
What is hasselback?
Hasselback is a technique normally used on potatoes by thinly slicing them but not all the way through. So it creates this amazing look and an opportunity to get flavor in every crack of that veggie!
Putting my own spin on it, I took a peeled butternut squash and simply sliced thin slices all the way down the length of the squash. I used the back of my knife to gauge how thick I wanted each slice to be and just cut uniform slices.
Don't worry about if you cut all the way through, just keep on going! Haha, don't put too much pressure to be absolutely perfect. Once it roasts, it'll all taste the same.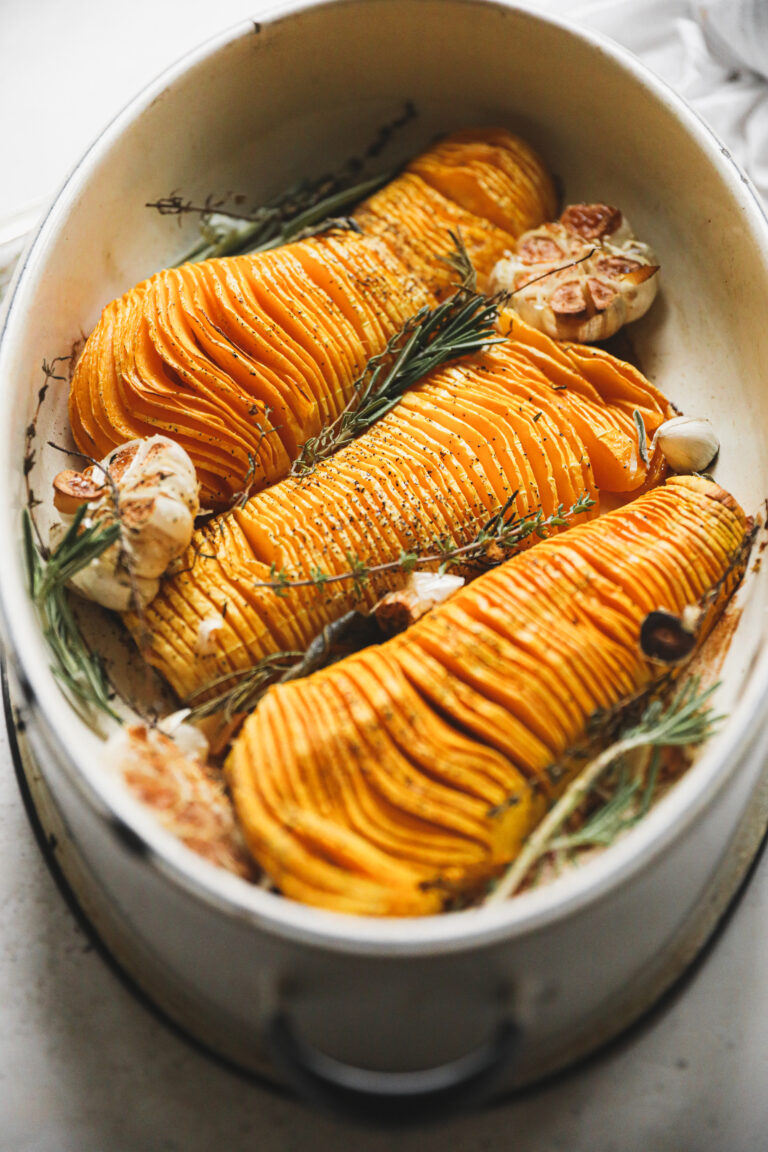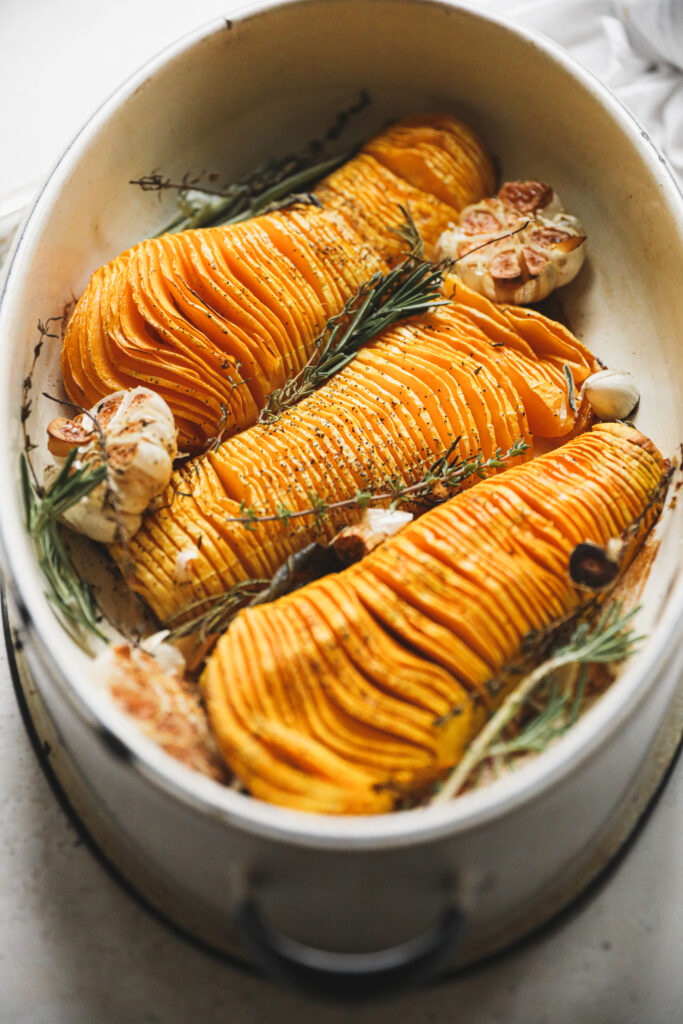 How To Peel a Butternut Squash
One of the most difficult things about this super easy recipe is the preparing of the squash. I take a vegetable peeler and simply peel the squash that way.
Then slices the ends off so you have a flat surface and using a serrated knife, cut straight down the squash lengthwise. Scoop out the seeds and you are ready to hasselback these butternut squash!
What Herbs Go With Butternut Squash
I love all the flavors that make you think of "Thanksgiving" to go with butternut squash! It's a mild, creamy flavor and is supported well by sage, thyme, rosemary, and of course GARLIC!
Fresh or dried would be fine! I like the fresh herbs to top it with after roasting to add some real elegance to the dish. However when you are cooking it, it is totally fine to use dried herbs.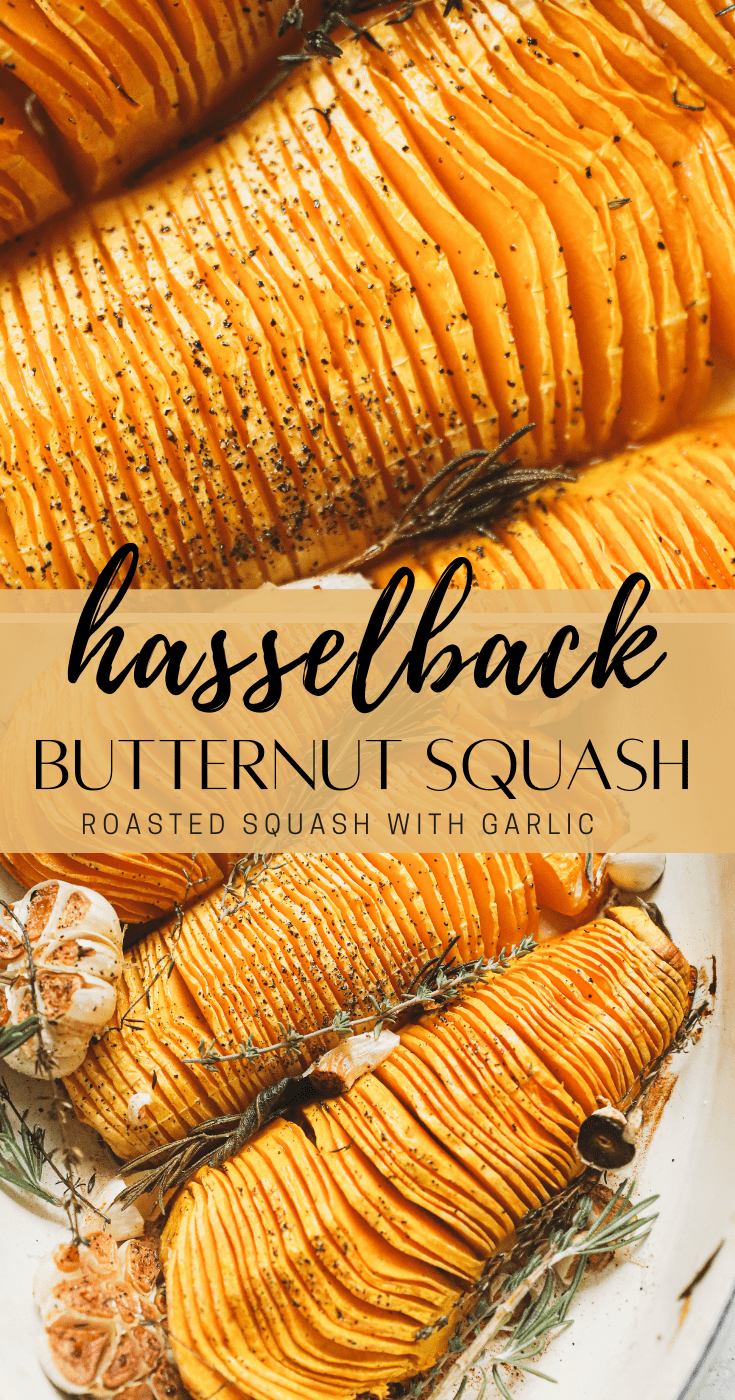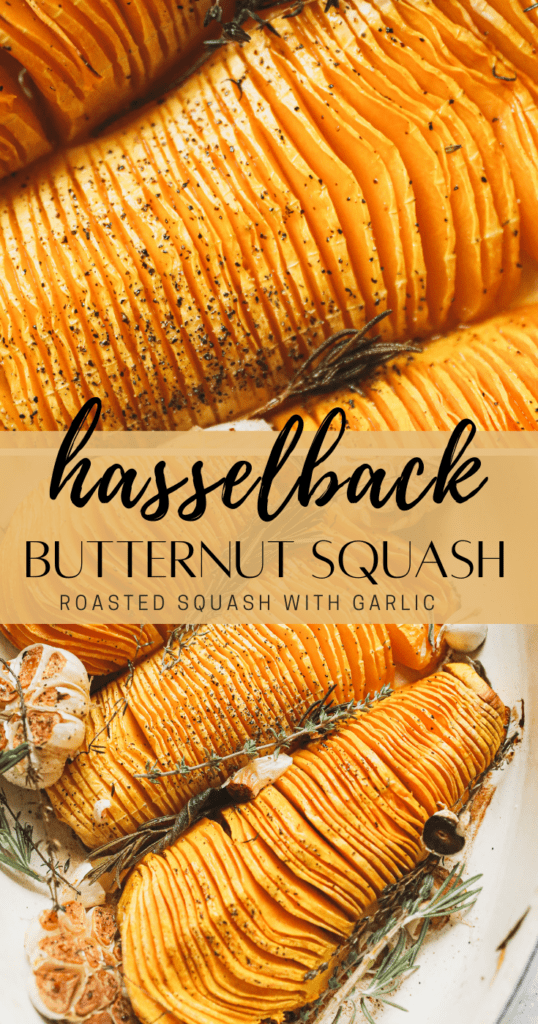 📖 Recipe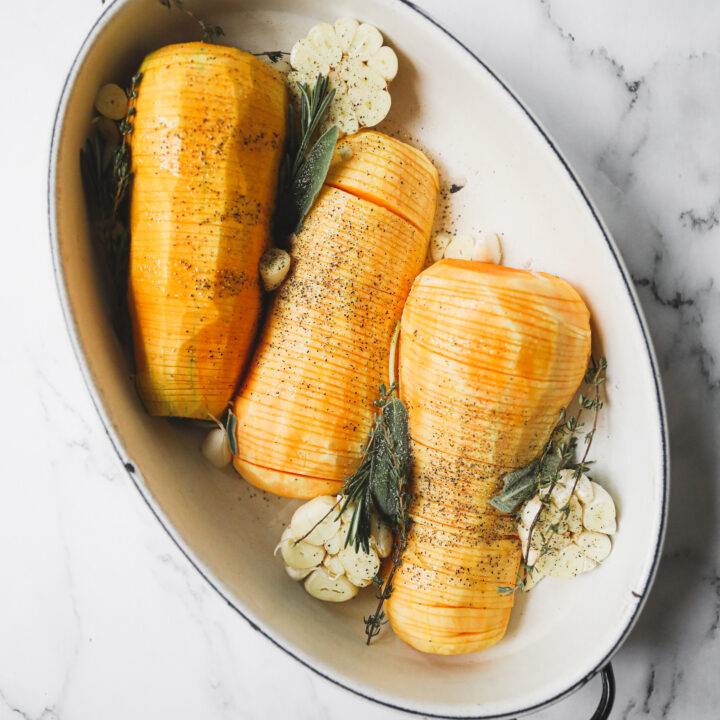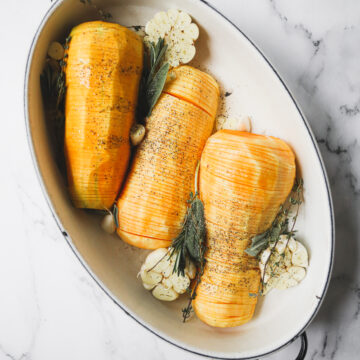 Hasselback Butternut Squash with Garlic and Herbs
Simple but special hasselback butternut squash with tons of fresh garlic roasted to perfection.
Print
Pin
Rate
Ingredients
2

butternut squash

¼

cup

olive oil

4

fresh heads of garlic

2

teaspoon

salt

1

tsp

pepper

4

sprigs

fresh thyme

8

sage leaves

3

sprigs

rosemary
Instructions
First peel the butternut squash with a potato peeler

Then cut off the ends of the squash so they are flat. Then use a serrated knife and cut the squash lengthwise.

Lay the squash flat side down and hasselback slice down the length of the squash. Be careful to not cut all the way throught the squash (although it won't be ruined if you do!)

Place 4 squash in a roasting dish or baking dish.

Cut the tops off of 4 heads of garlic and place all around the squash in the roasting pan. If any cloves fall out, toss them in and don't waste any! The more garlic the better.

Sprinkle everything with salt and pepper. Place the fresh herbs all around the roasting pan.

Drizzle ¼ cup of olive oil all over the vegetables. Pour a little extra right into the heads of garlic.

Roast at 400 degrees for 45 minutes. Check on them halfway and if you can, carefully spoon some of that hot, garlicky oil left in the bottom of the pan and spoon it over the squash.

When it comes out of the oven you may want to finish with a little extra salt and pepper. Enjoy! Make sure to get a nice garlic clove every few bites, that roasted garlic is perfection!