30 minutes to a delicious Cheese Stuffed Peppers with loads of shaved steak! It's the perfect weeknight dinner that has tons of flavor. It's hearty, filling, and oh so cheesy!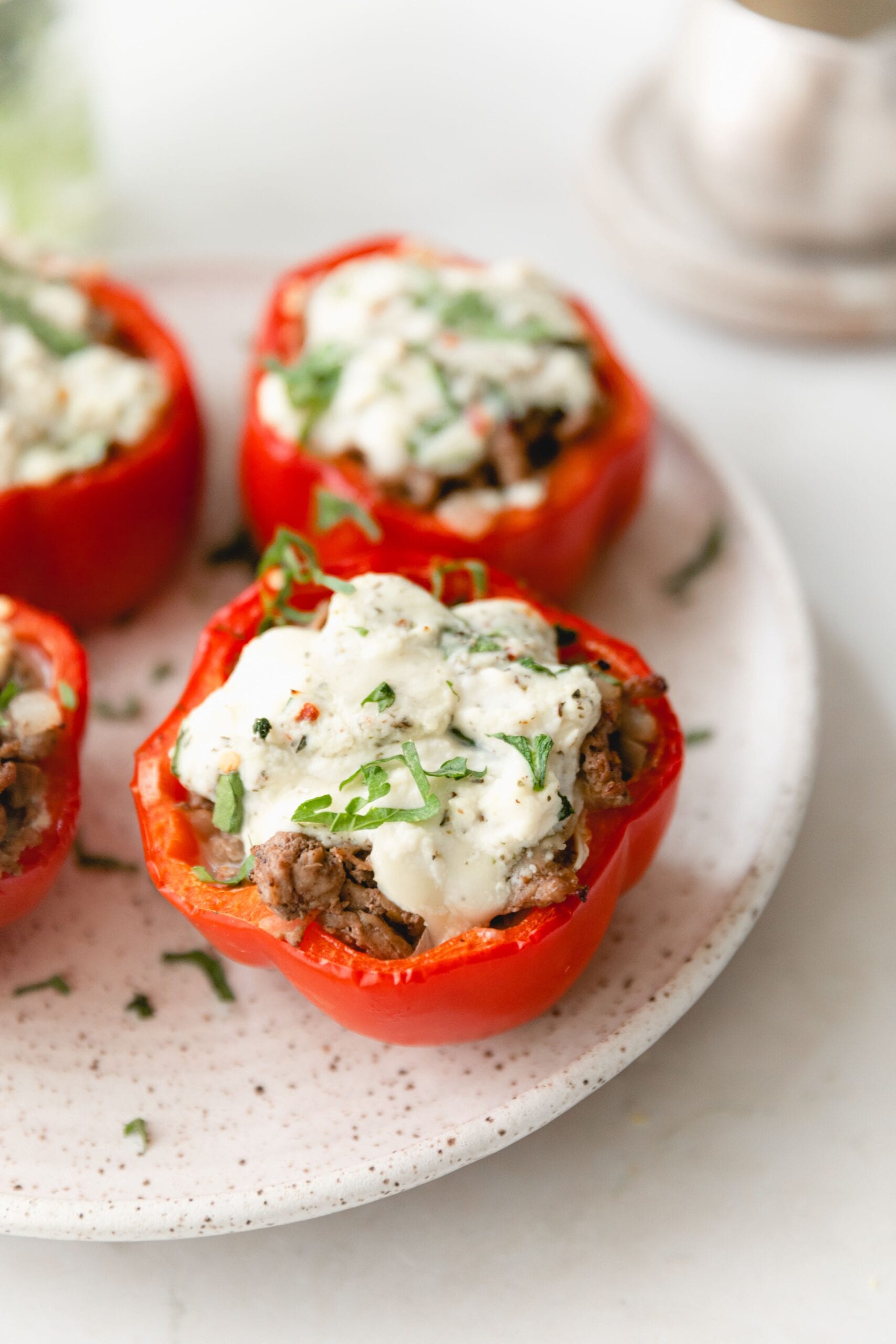 Cheese Stuffed Peppers Ingredients
2 types of cheese make up the majority of the filling for these roasted red peppers. It's a delicious blend of parmesan and ricotta which are creamy and savory.
Top it all with shaved steak and Italian seasoning and you've got yourself an amazing dinner!
3 red bell peppers
1 lb shaved steak
1 cup ricotta cheese
½ cup shaved parmesan cheese
1 tablespoon Italian seasoning
2 teaspoon salt
1 teaspoon pepper
1 teaspoon cinnamon
1 teaspoon red pepper flakes
1 cup chopped spinach
2 tablespoons minced garlic
How To Make Steak Stuffed Peppers
Only a couple of steps are required for this cheesy steak pepper recipe. So let's make it!
Preheat the oven to 425 degrees Fahrenheit
Roast the peppers for about 15 minutes while you prep the rest of the ingredients.
Slice the red peppers in half and clear out the seeds
In a small bowl combine the ricotta, parmesan, italian seasoning, salt, pepper, and spinach.
In a large pan cook the steak over medium high heat and mix in the cinnamon.
Cook until it the steak mostly cooked through.
Remove the peppers and layer some cheese mixture, steak, then top with the rest of the cheese mixture.
Pop them back in the oven and cook for 5 more minutes. Enjoy!
Best Baked Peppers
I love baked peppers! You can stuff them with so many things. For this recipe I love using red bell peppers because you cannot beat the flavor.
Feel free to use green, orange, or yellow as well! They make the best peppers for baking because they can hold a lot of filling.
This would also be really delicious stuffed in a poblano pepper for a more smokey version!
More Stuffed Pepper Recipes
From Mexican flavors to a take on a tuna melt, these bell peppers are roasted to perfection and stuffed with the best flavors! Grab yourself some bell peppers and start stuffing!
Low Carb Mexican Stuffed Peppers - delicious low carb option for a weeknight dinner!
Taco Stuffed Peppers - Taco Tuesday, but make it healthy! Keto friendly pepper recipe.
Tuna Melt Peppers - Tuna melt!? Yes please! Replace those buns with peppers and enjoy a warm toasty tuna melt.
Ground Turkey Stuffed Peppers - Lean ground turkey is the star of this pepper recipe! Hearty and delicious.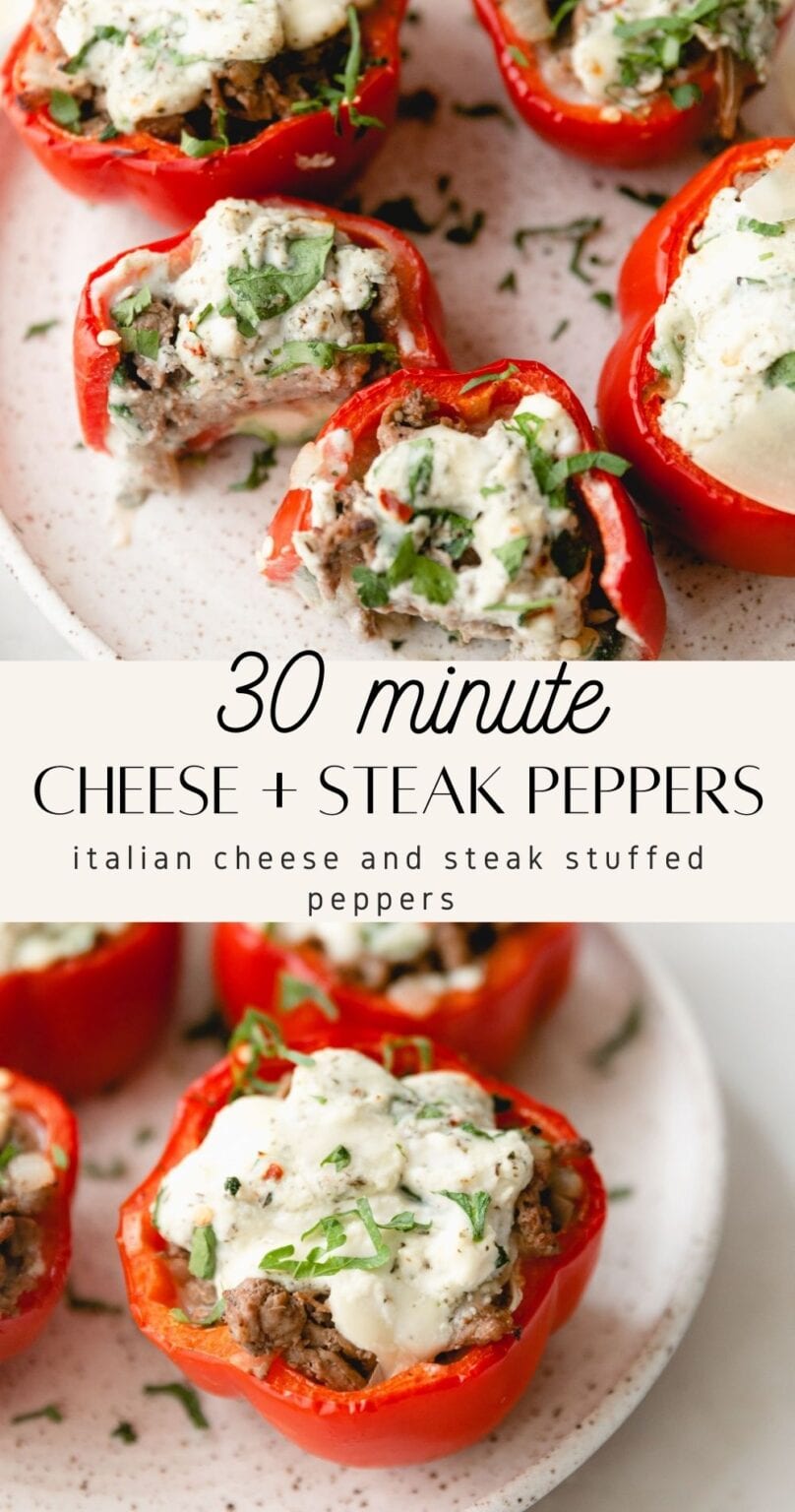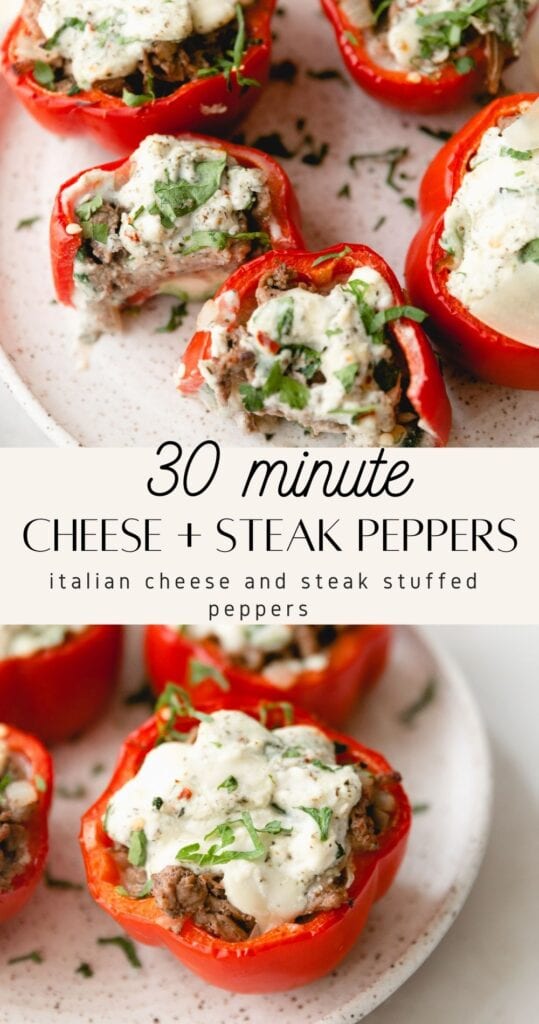 📖 Recipe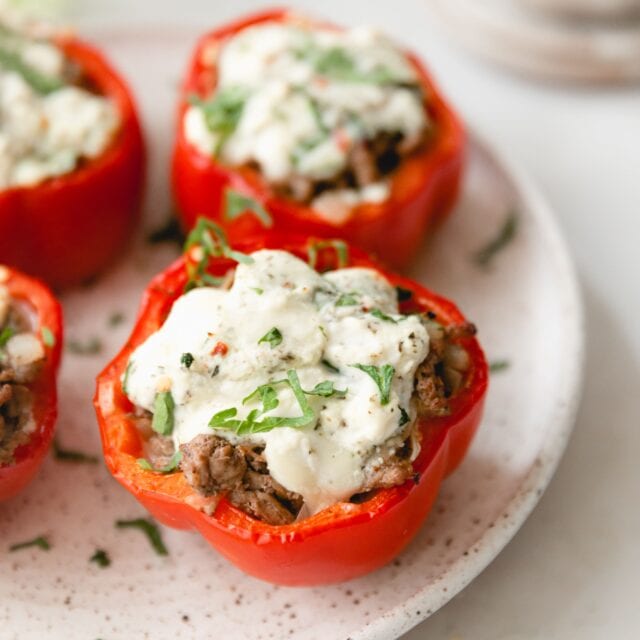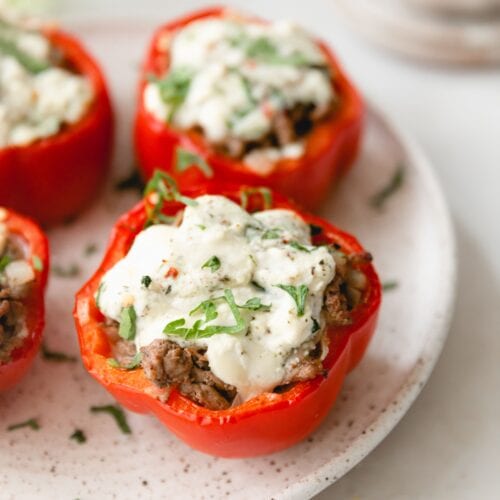 Cheese Stuffed Peppers with Steak
Ricotta cheese stuffed peppers with savory shaved steak all baked into a tender bell pepper.
Print
Pin
Rate
Ingredients
3

red bell peppers

1

lb

shaved steak

1

cup

ricotta cheese

½

cup

shaved parmesan cheese

1

tablespoon

Italian seasoning

2

teaspoon

salt

1

teaspoon

pepper

1

teaspoon

cinnamon

1

teaspoon

red pepper flakes

1

cup

chopped spinach

2

tablespoons

minced garlic