Vegan Butternut Squash Recipe
When the air starts to get crisp and the nights a little chilly, you better believe I am busting out this vegan Dairy-Free Butternut Squash Soup! Ok maybe even before it gets chilly...what can I say? I love to make soups!
It is such a quick and easy dinner, the leftovers freeze well, and it serves lots of people.
Plus, the longer you let this roasted butternut squash soup simmer the better the flavors, and your home will smell like you slaved away for hours. We both know you didn't, but I'll never tell.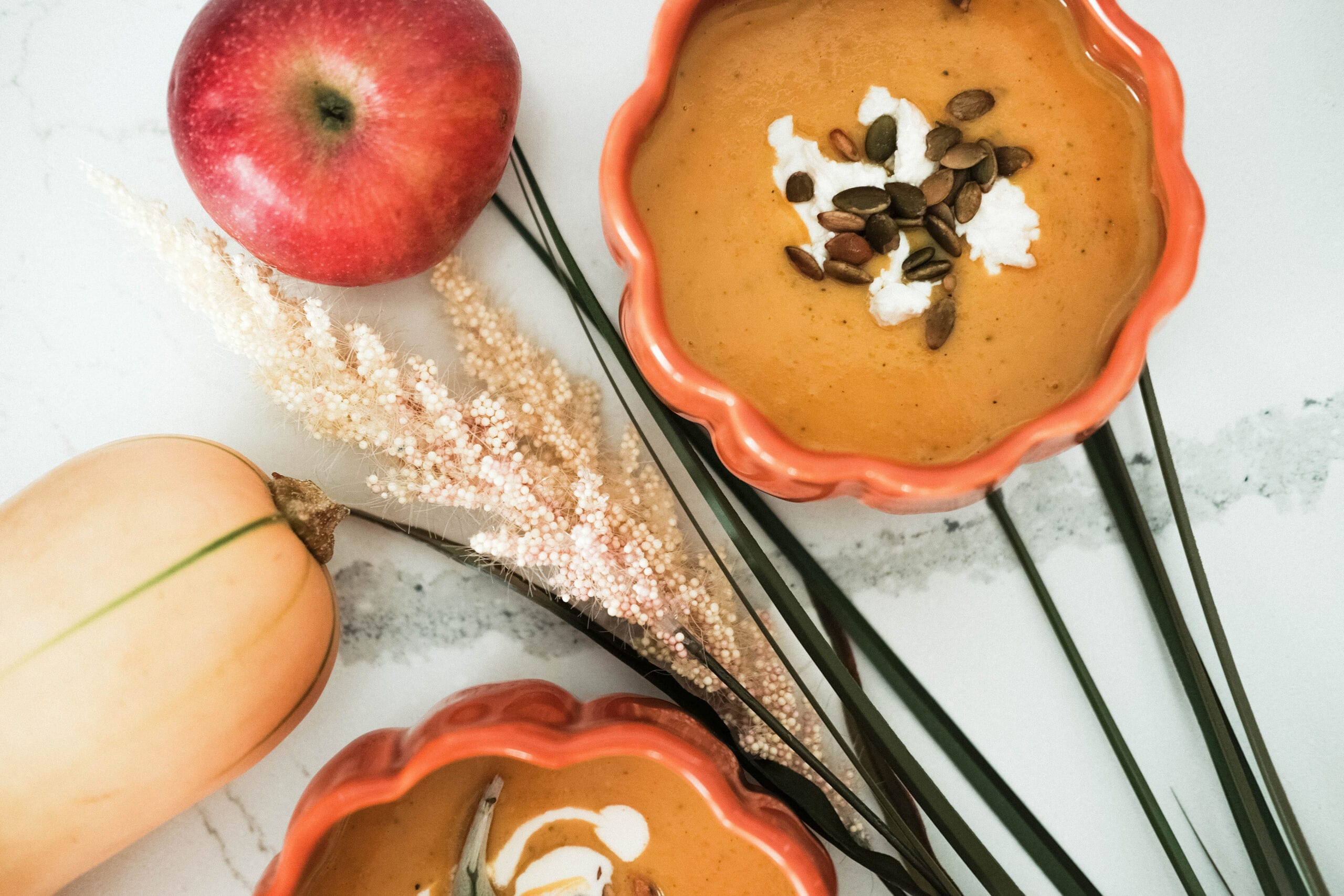 Butternut Squash Soups Ingredients
This vegan soup is so absolutely delicious and perfect for fall! It's freezer friendly, light and lean, and DAIRY FREE!
These are the ingredients you'll need...
1 butternut squash peeled and chopped into 1 inch chunks
1 tablespoon melted coconut oil
1 tablespoon olive oil or avocado oil
1 tsp salt + pepper
2 tsp garlic powder
1 tsp minced garlic
½ onion diced
1 large apple peeled and diced
8 sage leaves
3 cups veggie broth
2 cups water
Pinch of red pepper flakes optional
3 oz goat cheese leave out for vegan option!
¼ cup pepitas
⅓ coconut cream if desired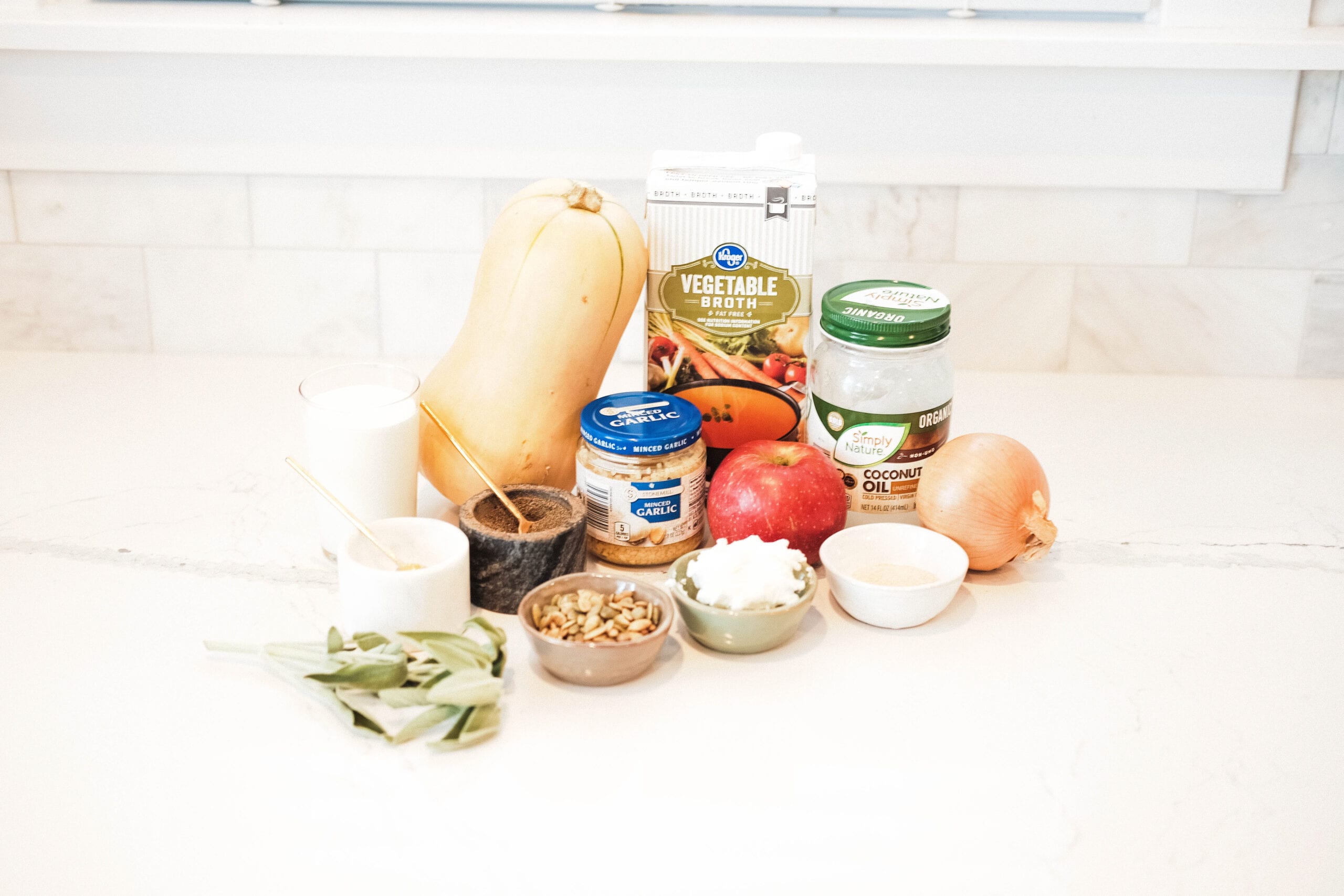 How To Peel and Cut Butternut Squash
I think my favorite way to do this safely and effectively is to peel it with a potato peeler.
Cut off the end of the squash so they are flat and begin peeling.
Slice it lengthwise down the middle and then simply remove the seeds.
Dice and roast!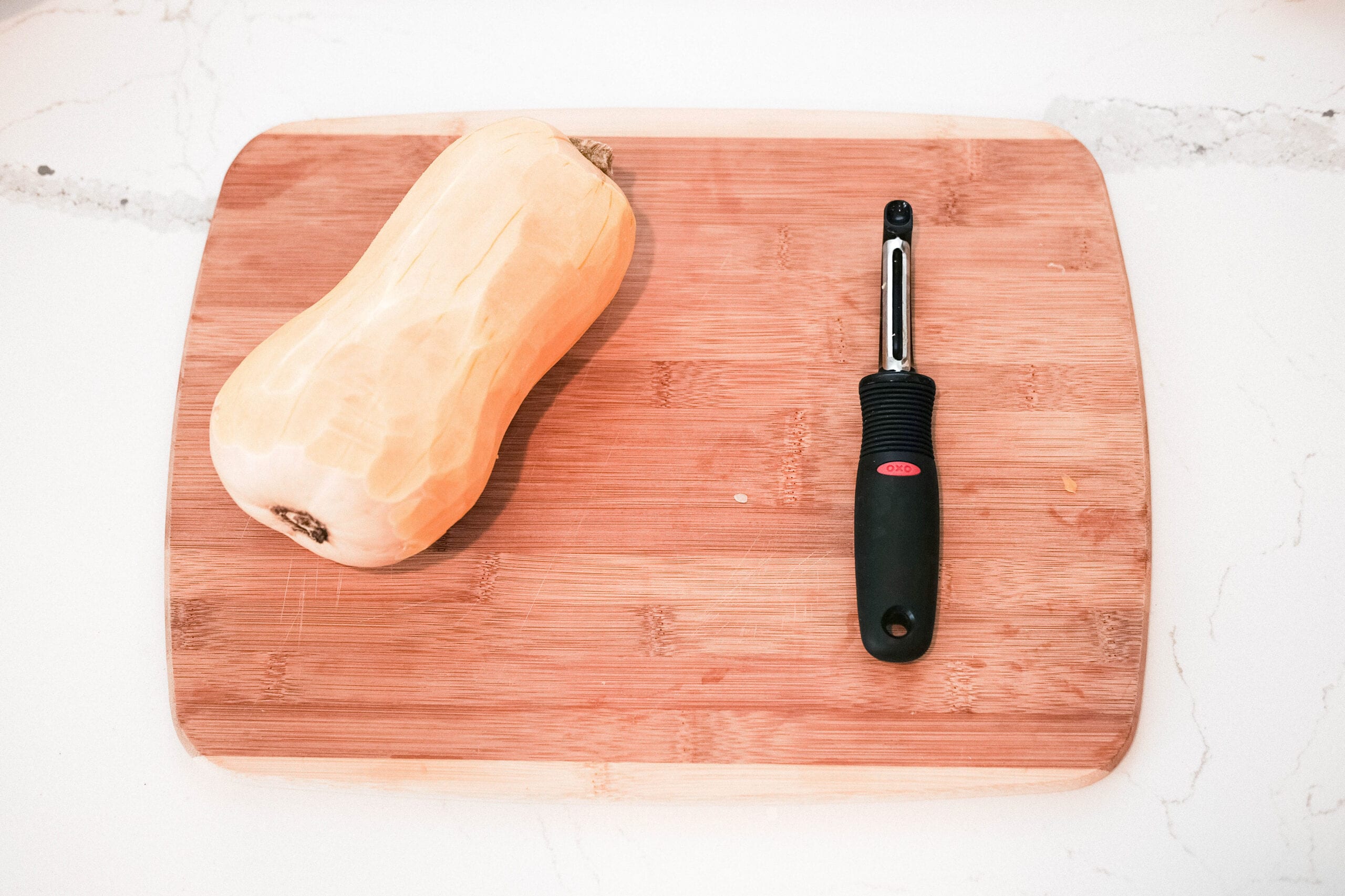 How To Roast Butternut Squash
Preheat your oven to 400 degrees Fahrenheit
With a vegetable peeler, carefully peel your butternut squash
Cut in half and scoop out the seeds.
Chop into 1-inch cubes
Place on a baking sheet and generously season with salt and pepper
Let butternut squash roast for 30 minutes until tender!
Why Butternut Squash Soup is the Best Fall Soup
There is something so comforting and cozy about enjoying steaming hot homemade soup for lunch or dinner. I also love when I don't have to feel guilty about enjoying comfort food.
Enter: this dairy-free butternut squash soup! It's warm, inviting, and something about it feels very fancy once you get all your toppings on!
This can be enjoyed with a big green salad or toss in some rice or quinoa to make it a little more hearty.
It's a favorite around my house and it couldn't be easier. So grab your wine & let's get cookin'!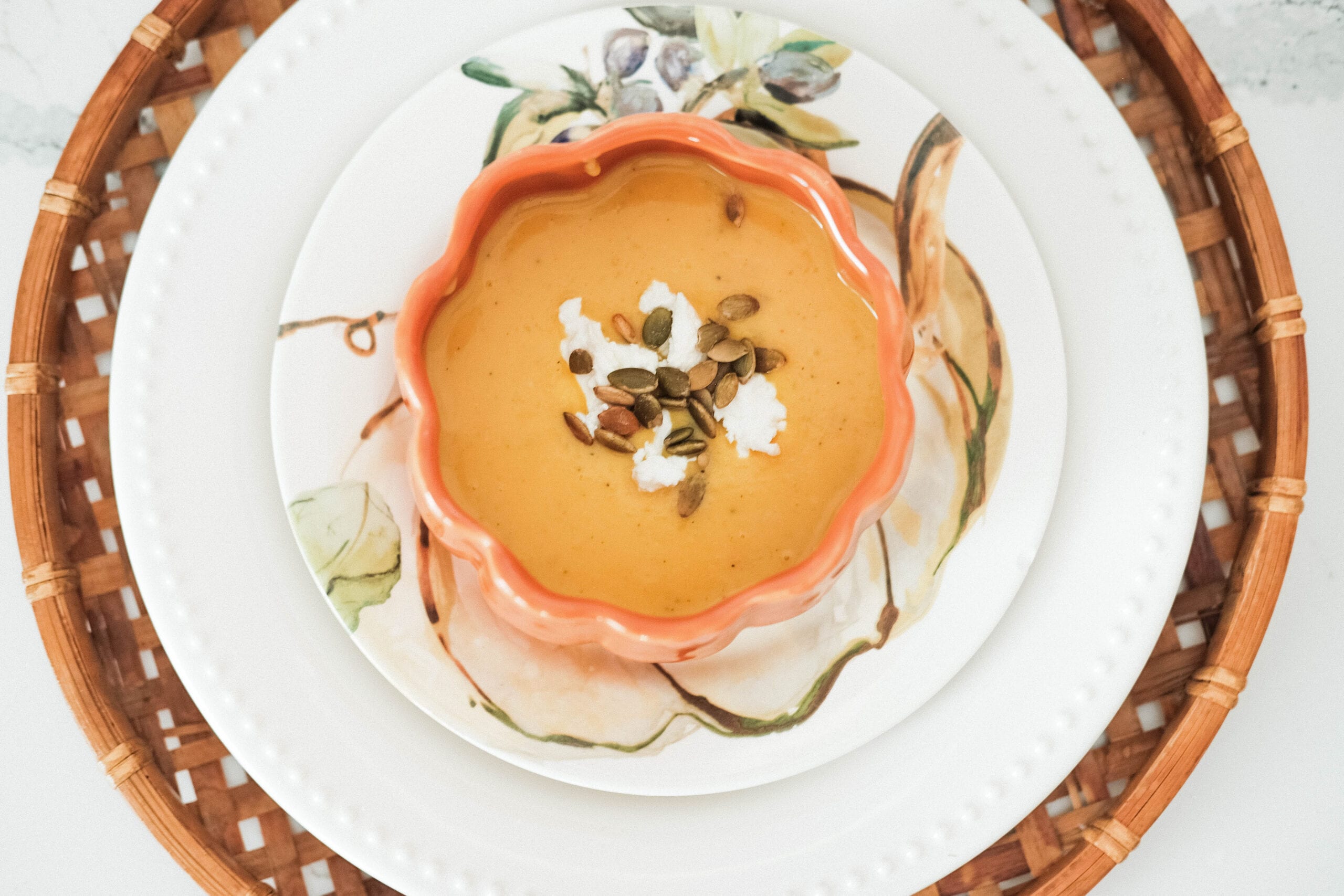 Best Toppings For Dairy Free Butternut Soup
I always love a little something to add texture.
To this soup I add pepitas, or roasted pumpkin seeds, for some crunch. As well as a dollop of goat cheese!
The goat cheese amplifies the creaminess of the soup and the flavor plays so well with the mild butternut squash. However this makes it not dairy-free anymore.
If you'd like to keep it dairy-free simply use Kite Hill almond cream cheese instead!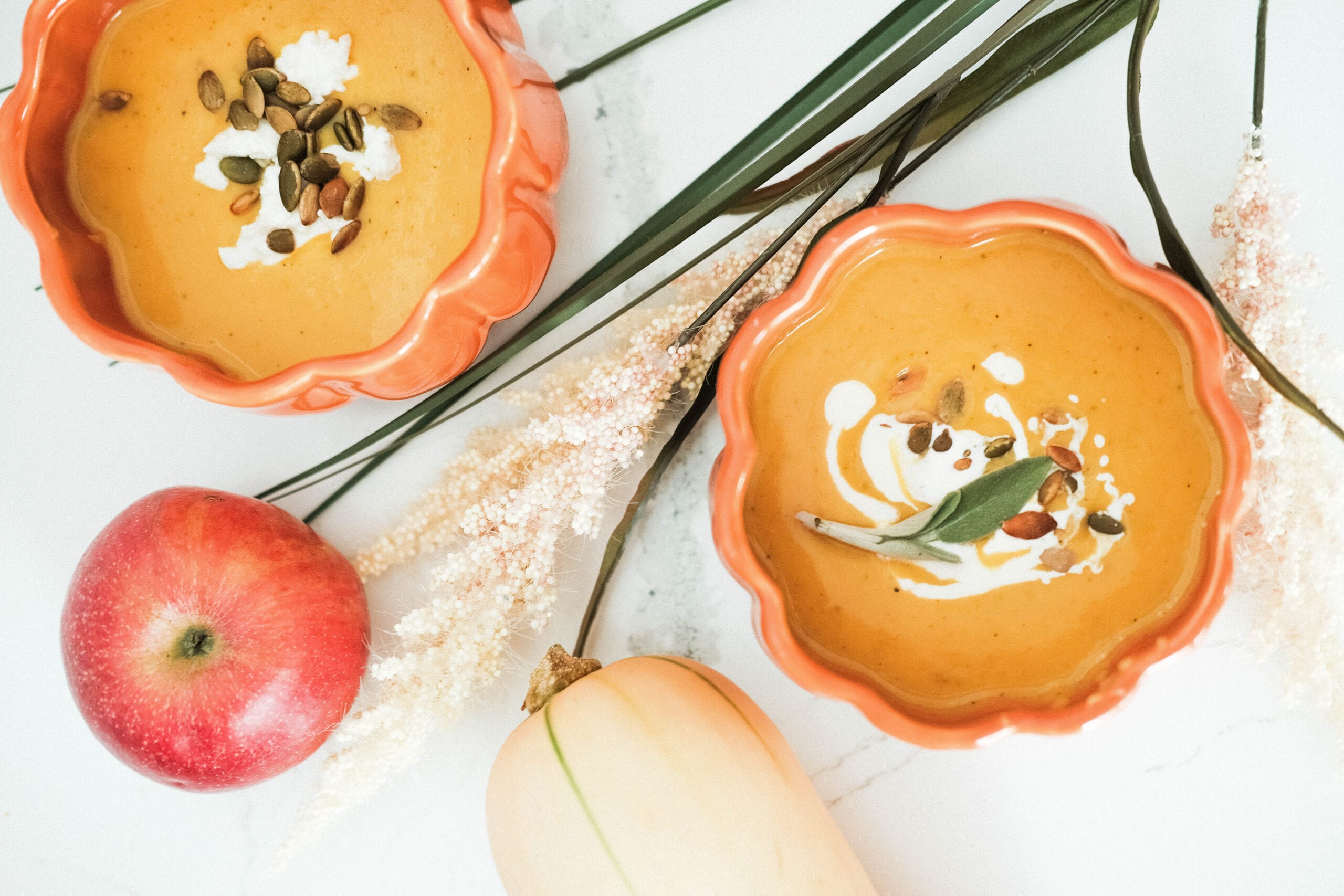 Other Delicious Squash Recipes
I really enjoy squash in the late summer and early fall. It's a great transition food and so abundant and easy to find!
If you enjoy this vegan butternut squash recipe, try out these~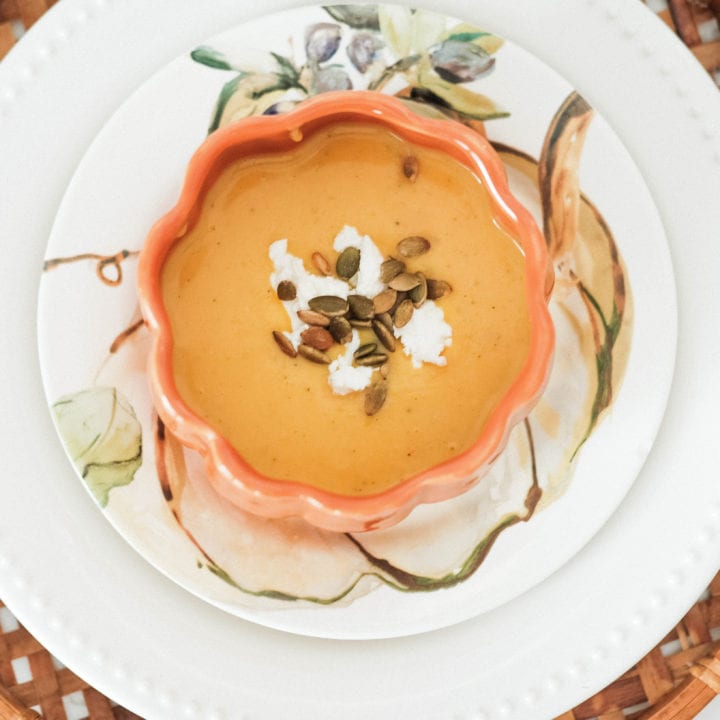 Dairy Free Vegan Butternut Squash Soup
This savory vegan soup is so comforting and honestly the perfect fall meal! I love topping this with a bit of coconut cream for a bit of sweetness and enjoy!
Print
Pin
Rate
Ingredients
1

butternut squash peeled and chopped into 1 inch chunks

1

tablespoon

melted coconut oil

1

tablespoon

olive oil or avocado oil

1

teaspoon

salt + pepper

2

teaspoon

garlic powder

1

teaspoon

minced garlic

½

onion diced

1

large apple peeled and diced

8

sage leaves

3

cups

veggie broth

2

cups

water

Pinch

of red pepper flakes optional

3

oz

goat cheese

leave out for vegan option!

¼

cup

pepitas

⅓

coconut cream if desired
Instructions
Set your oven to 400. Peel your butternut squash then chop it into 1 inch cubes. Make sure to remove the seeds!

Toss with melted coconut oil and season with salt and pepper. Place on a foil lined cooking sheet and roast for 30 min.

Once that is finished heat your olive or avocado oil in a dutch oven or your favorite pot on medium-high. Throw in your chopped onion and apple then cook for 3-5 minutes

Add in chopped sage leaves, garlic, garlic powder, salt, pepper, and pinch of red pepper flakes

Stir to combine then pour in vegetable broth, water & squash cubes. Bring to a boil and leave to simmer for about 15-20 minutes.

Then add everything to your food processor or high speed blender (be careful, it's hot!)

Blend for a good 2-3 minutes until silky smooth.

Add back to pot and stir in coconut cream if you are using it.

Dish it up and sprinkle the top with goat cheese, pepitas, and enjoy!