Frosty, frothy, sweet, and caffeinated, this Iced Chocolate Almondmilk Shaken Espresso recipe is a near-perfect copycat of the beloved Starbuck's drink. Best of all? It takes just 5 minutes to make at home and will save you a boatload of money!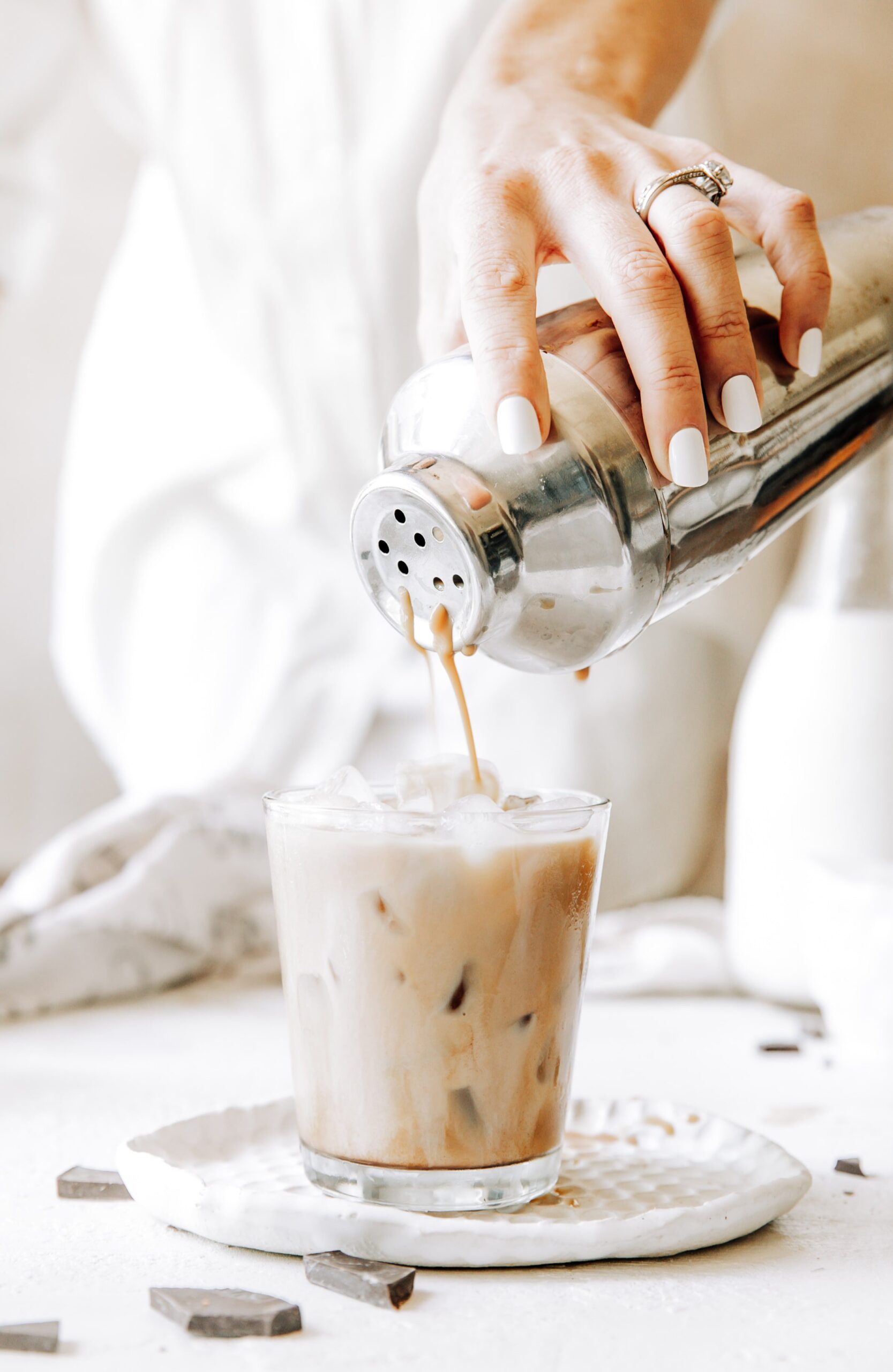 Why This Coffee Drink Is The Best
I don't know about you, but I've been seriously feeling the effects of recent inflation on my pocketbook. Between gas and groceries, I'm buying the same amount of stuff but spending what feels like 180% of what I used to. From all the headlines I've been reading, I don't think I'm alone.
While I used to delight in splurging on a Starbucks shaken espresso from time to time, I personally am pinching my pennies a little tighter these days. Luckily, I've discovered the secret to making my own fancy coffee shop-style drinks at home, and friends? It's life-changing!
This iced chocolate almondmilk shaken espresso recipe is:
Fast & Easy. Pull some espresso shots, add some milk and powder, then shake for 30 seconds. It's super simple to do, and it's faster than waiting in a drive-thru line. Win-win!
Made With Just 3 Ingredients. Not only is your shopping list short, but you can also rest assured knowing nothing weird or artificial is making its way into your cup of happiness.
Versatile. One of the best things about making your own Starbucks iced shaken espresso is you can have it just the way you like it every single time. Switch out the milk, make it decaf, add an extra shot, toss in a splash of syrup… the coffee world is your oyster.
Budget-Friendly. Instead of paying $5+ for a single drink, you can spend about twice as much for 2 weeks' worth of supplies! I'm no math major, but I'd call that a serious budgetary improvement. Wouldn't you?
Iced Chocolate Almondmilk Shaken Espresso Ingredients
You need just 3 simple ingredients to make your own shaken espresso Starbucks-style. Here's what you'll need to gather:
Light Roast Espresso - Light roast coffee beans actually have more caffeine than dark roast, which is a bonus for a coffee freak like me. This is also the type of espresso Starbucks uses for their shaken espresso drinks, so you'll end up with a more authentic drink. 
Chocolate Malted Milk Powder - Feel free to make your own, or grab a container of Ovaltine, Carnation Chocolate Malted Milk Powder, or any other brand that you fancy.
Almond Milk - I suggest using an unsweetened vanilla-flavored version for the best flavor and lowest amount of added sugar, but feel free to use any type or flavor that you like!
Ice - Okay, technically this is the 4th ingredient, but it's just frozen water! For the best flavor, use filtered water to make your ice.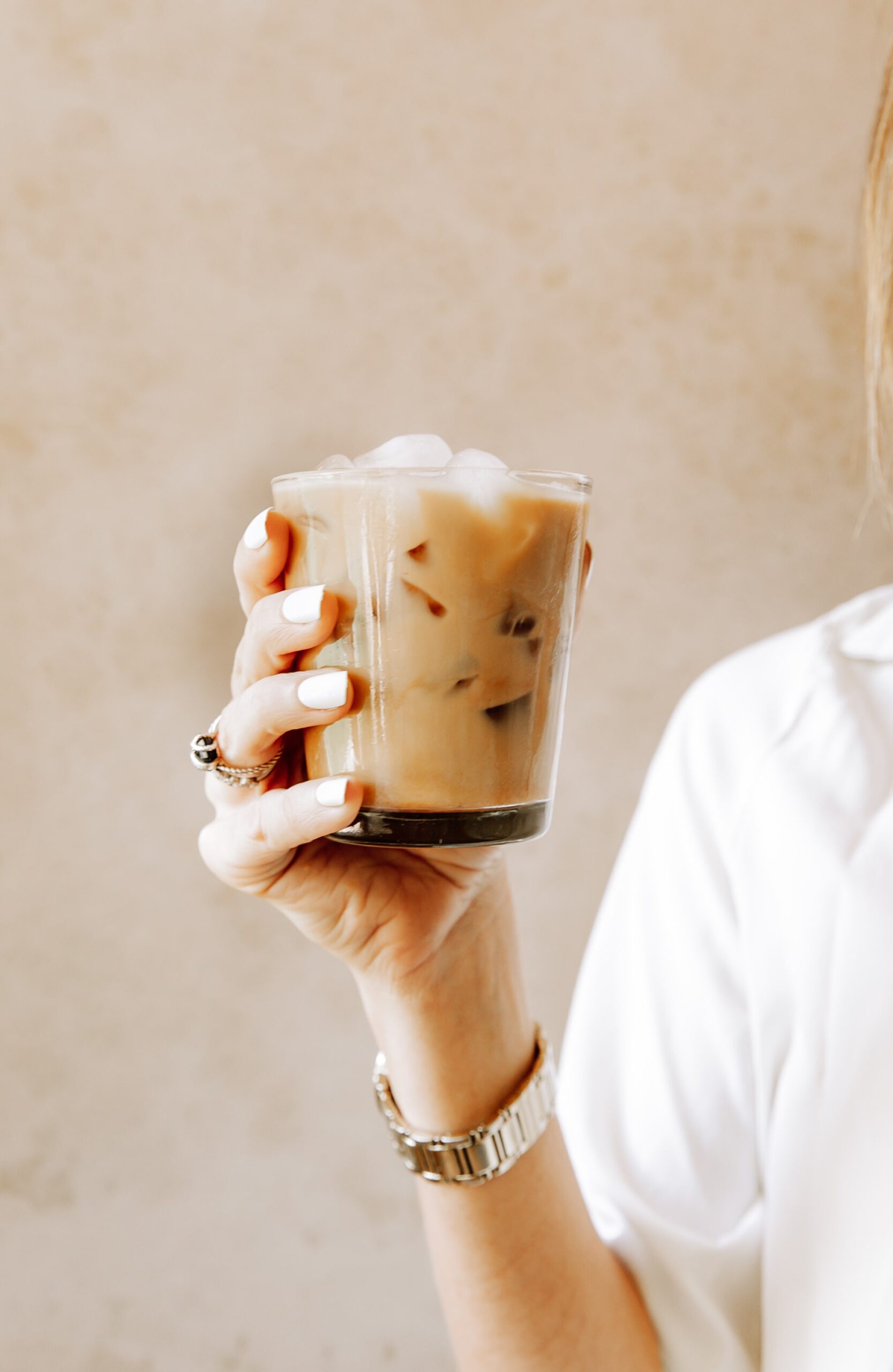 Tools Needed
You don't need a bunch of fancy machinery to make an iced shaken espresso Starbucks-style. Here's everything you need:
Espresso Machine or Stovetop Espresso Maker - If you have a countertop espresso machine, awesome! If not, don't feel like you need to invest hundreds of dollars. I find that countertop models do an excellent job, and you can easily score one for less than $50.
Cocktail Shaker - Getting all that frothy, frosty goodness requires nothing more than a little elbow grease and a cocktail shaker. Cool, right?
How To Make A Copycat Starbucks Iced Chocolate Almondmilk Shaken Espresso
Once you realize how easy it is to make your own shaken espresso drinks at home, you'll want to make them all the time! Here's how it's done:
Step 1: Shake. Combine all ingredients in a cocktail shaker or blender bottle and shake.
Step 2: Strain & Serve. Strain over fresh ice and enjoy!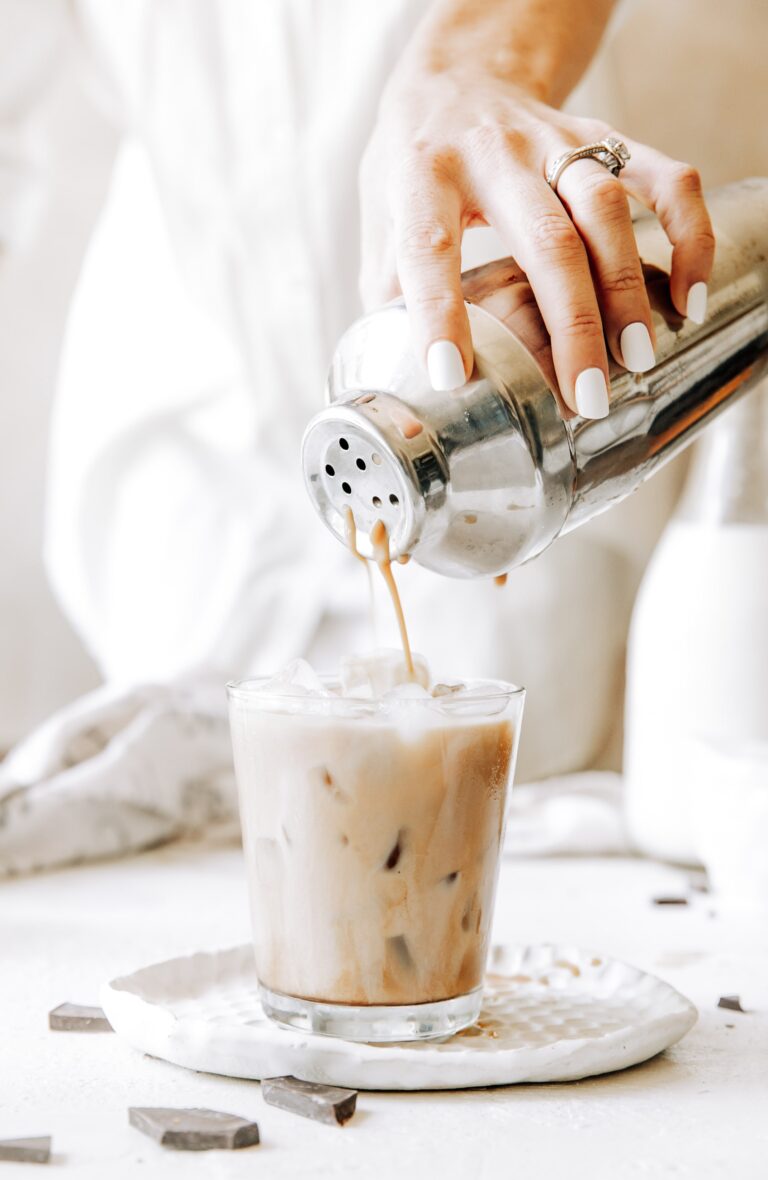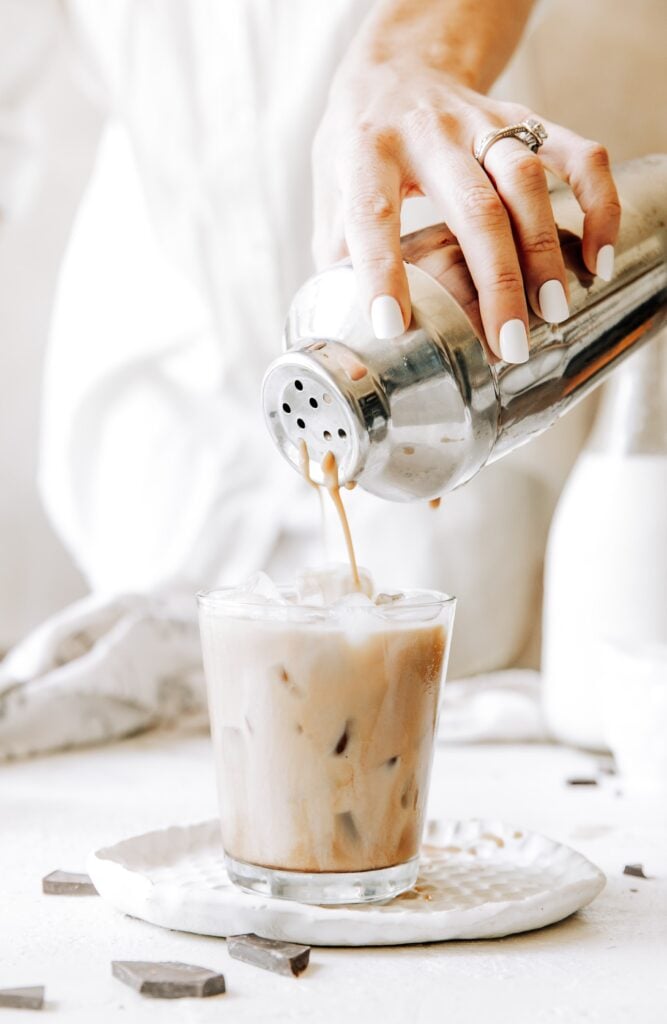 Swaps & Substitutions
One of the best parts about being your own barista is that you don't have to suffer the absurd upcharges for changing things up. Here are some ways to customize your iced shaken espresso to your liking:
Different milks. This iced chocolate shaken espresso doesn't have to be made with almond milk. Feel free to use oat milk, coconut milk, hemp milk, regular dairy milk, or any other milk that you prefer. 
Different flavorings. Not a chocolate person? Swap in regular malted milk powder. Want it to be almond or caramel flavored instead? Use whatever flavoring syrup or powder you prefer. This is YOUR coffee break, so make it just the way you want it!
Make it vegan. Despite using almond milk, this drink won't be vegan because of the malted milk powder. The solution? Swap in maca powder and either cocoa powder or chocolate syrup! Maca has a flavor that is remarkably close to malted milk, so you'll never know the difference.
No cocktail shaker? No problem. Grab a large mason jar with a tight-fitting lid instead. Just make sure there is plenty of headroom (about half the jar) so you can aerate the milk properly for a perfectly foamy head. You can also hold off on adding the ice and use a handheld or electric milk frother, an immersion blender, or a regular blender to achieve a perfect foamy consistency, then pour it over ice.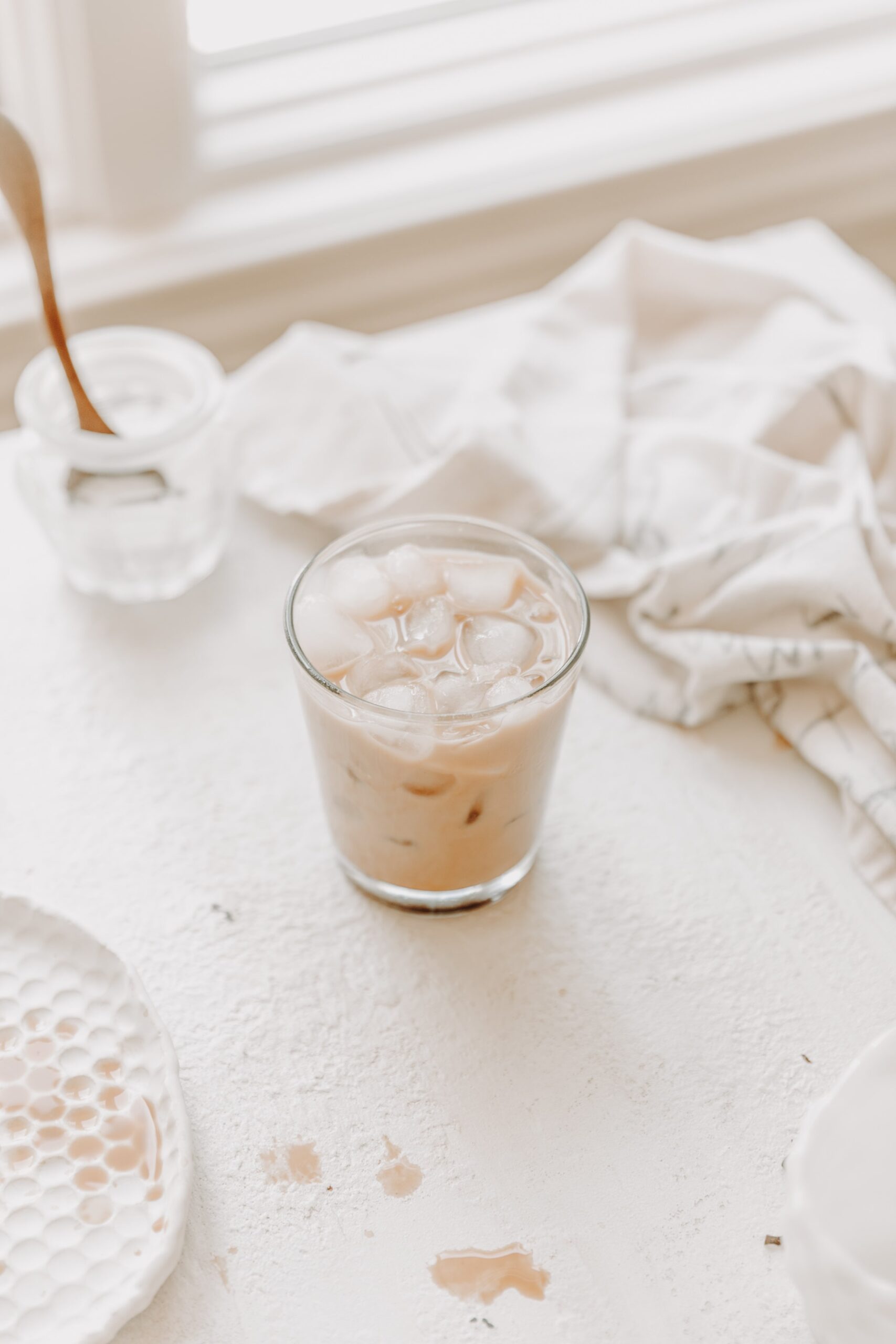 FAQs & Tips
How do you make espresso at home? Making espresso at home is simpler than you might think. You can use a countertop espresso machine, a stovetop model, a French Press, an Aeropress, or even instant espresso powder mixed with hot water. Alternatively, you can opt to make a highly concentrated cold brew and use that as your espresso instead.
Can you make espresso without an espresso machine? You can use a French Press, Aeropress, or stovetop espresso maker (like a Moka Pot) to make an excellent cup of espresso. You can also feel free to use instant espresso powder mixed with hot water if you prefer!
How do you choose (or buy) good espresso? Honestly, you can use any coffee bean you like to make espresso. It just needs to be ground finely and have the right ratio of water to coffee.
I personally prefer using primarily arabica beans that have been freshly roasted by a local roaster. I also always look for Fair Trade certification on my beans. If you don't have a grinder at home, it's okay to buy pre-ground espresso. Just be sure to purchase it in small quantities so it doesn't become stale before you can get to it.
Serving Suggestions
I'm personally a coffee-for-breakfast gal, so I lean towards pairing this chocolatey iced shaken espresso with easy, make-ahead treats like:
If you're more of a savory breakfast person, try pairing your Starbucks-at-home with my Pesto Egg Sandwiches or Savory French Toast Sausage Bake instead.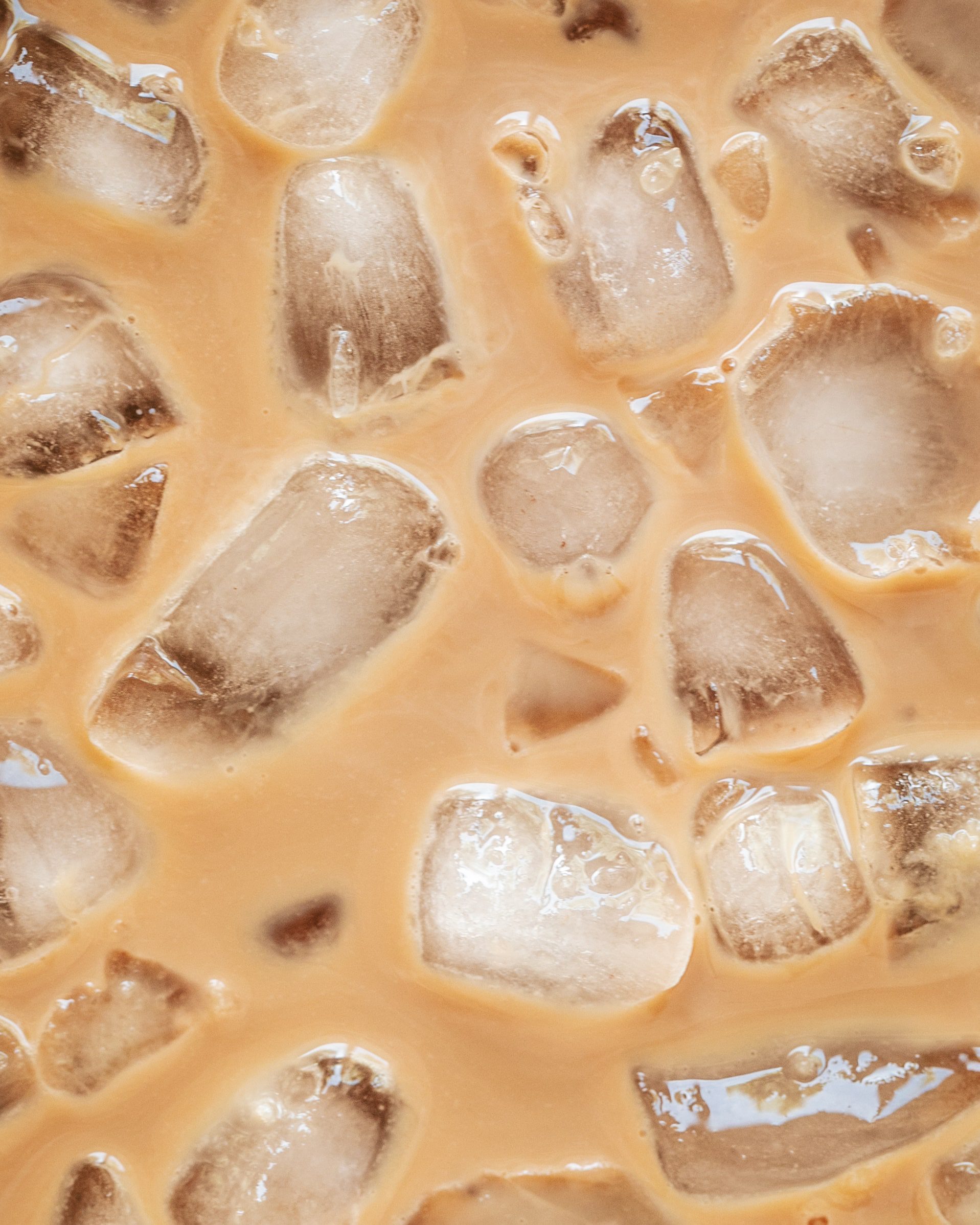 More Tasty Coffee Break Recipes
There are plenty of ways to treat yourself to fancy coffee shop vibes without the fancy coffee shop prices. Here are some of my other favorite recipes:
CTA: If you tried this Iced Chocolate Almondmilk Shaken Espresso Copycat Recipe, please let me know how you liked it by rating and reviewing it below!
📖 Recipe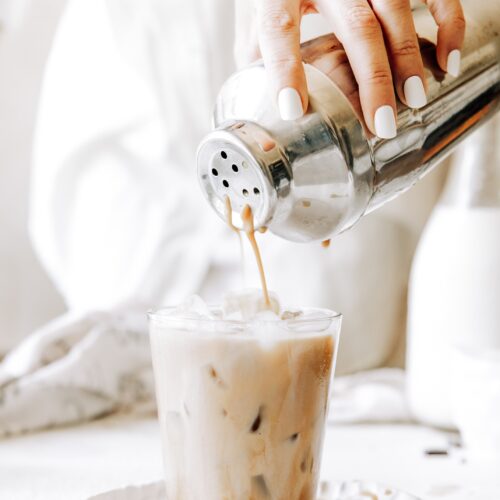 Iced Chocolate Almondmilk Shaken Espresso (Copycat Recipe!)
A copycat recipe for Starbuck's Iced Chocolate Almondmilk Shaken Espresso! It's so easy to make at home and you can't beat that rich, chocolate flavor.
Print
Pin
Rate
Equipment
1 Espresso Maker

1 Cocktail Shaker
Ingredients
3

Shots

Blonde Espresso

½

cup

Almond Milk

2

tablespoon

Chocolate Malt Powder

1

cup

Ice
Instructions
Add all ingredients to a cocktail shaker and shake well.

Pour over fresh ice in a cup and top with more almond milk if desired!