The perfect shade of green, this Starbucks Pineapple Matcha copy cat recipe is your go-to afternoon latte! With coconut milk, pineapple, matcha, and ginger it's refreshing and delicious!
Matcha lattes are ideal for a mid-day pick-me-up because they have a touch of caffeine! This version is low carb, dairy-free, and refined sugar-free! A guilt-free treat!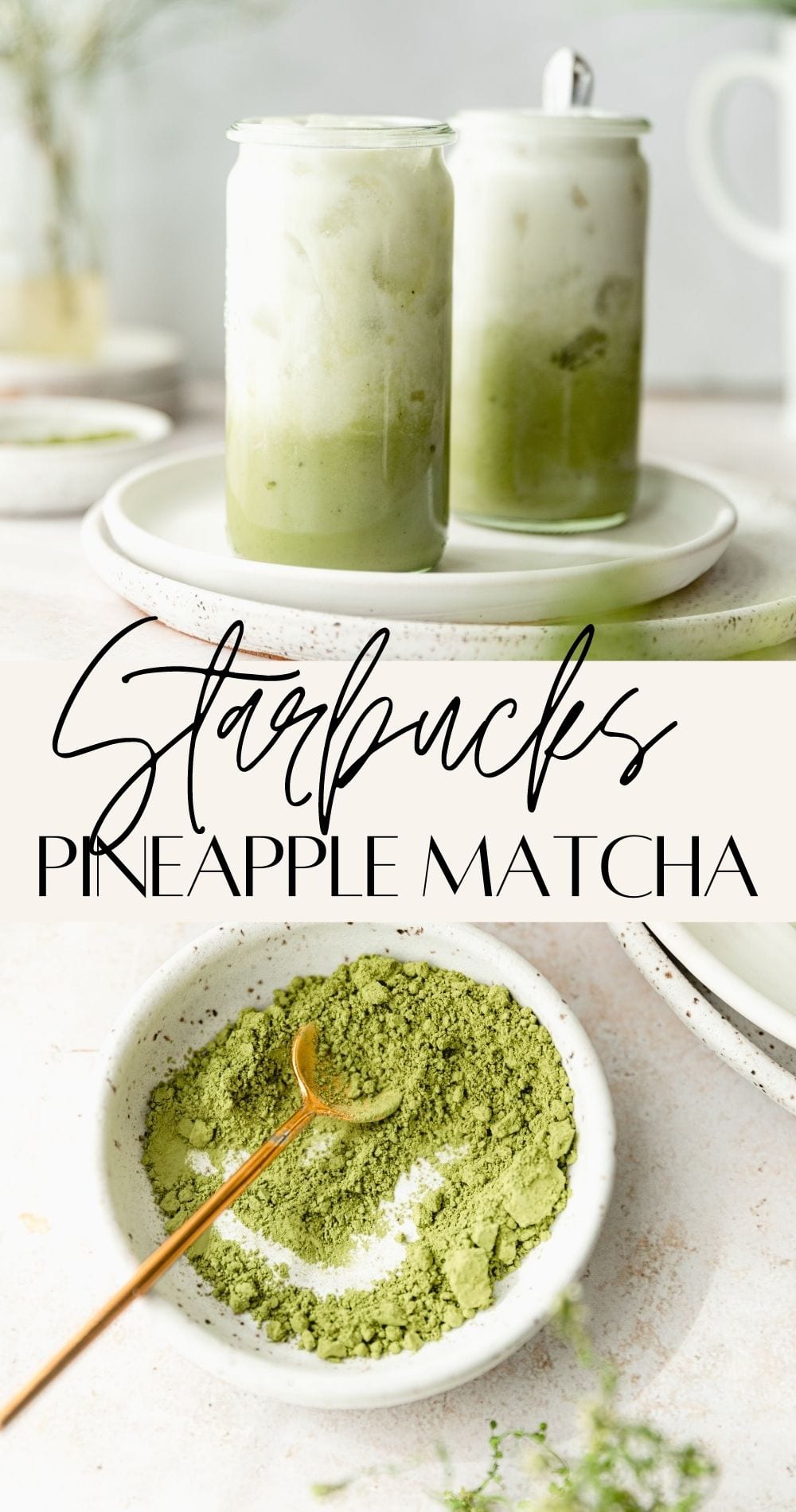 DIY Starbucks Iced Pineapple Matcha Drink
The ingredients for this Starbucks copy cat are really simple! Quality over quantity here, and this is what you'll need to make it...
Japanese Matcha (ground green tea powder)
Ginger paste
Agave
Pineapple Juice
Coconut Milk
Ice
Matcha is readily available at most grocery stores in the tea isle! It is different from a loose leaf green tea in that Matcha is ground into a fine powder.
The key to a delicious matcha latte is the quality of green tea you choose and how you prepare it.
Types Of Matcha
Matcha falls under 2 different category types: ceremonial and culinary.
Ceremonial grade Matcha is the best quality and with a delicate flavor, is usually used in Japanese tea ceremonies and only mixed with hot water. So the flavor can shine!
Culinary grade is just fine for cooking, baking, and other daily beverages you may want to enjoy! This is the type I use, however, feel free to try out both and note their differences.
In this latte, this Jade Leaf Organic Matcha is what I used!
Proper Way To Prepare Matcha
Matcha is best prepared using these simple steps: Sift and Whisk!
Sift the matcha into a shallow bowl. It clumps easily and for easy mixing, sift it first!
Vigorously whisk it from side to side to fully incorporate the Matcha powder into the small amount of hot water.
For this Starbucks Pineapple Matcha latte, however, we are going to whisk it directly into coconut milk. Which I understand is NOT authentic but for our purposes, it's what we'll for this latte.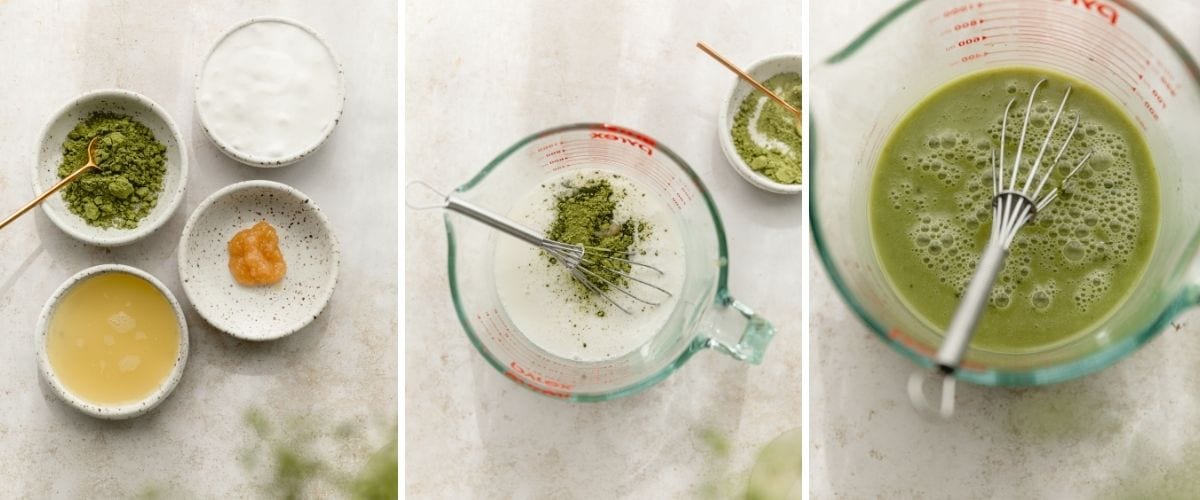 Is This Healthy?
So is this Pineapple Matcha Latte healthy? Actually, it is pretty healthy! The coconut milk, ginger, and matcha are all very healthy ingredients!
This latte has 223 calories per serving. This may seem high, but coconut milk is actually pretty high in calories.
However compared to a latte with heavy cream or whole milk, it's a touch healthier!
If you want to make it even lighter, perhaps use half water and half coconut milk!
Is The Pineapple Matcha Latte Dairy Free?
YES! By using coconut milk we completely eliminate dairy in this creamy latte.
Starbucks Pineapple Ginger Syrup
So to sweeten this latte, Starbucks actually uses a Pineapple Ginger Syrup. However I like to eliminate refined sugars where I can so we are substituting in something else.
Fresh ginger paste and agave nectar do the trick perfectly along with a splash of pineapple juice!
All the sweetness, naturally! If you like this Matcha Latte you will love my Dalgona Whipped Coffee Recipe or this Panera Green Tea recipe!
More Starbucks Copycat Recipes
📖 Recipe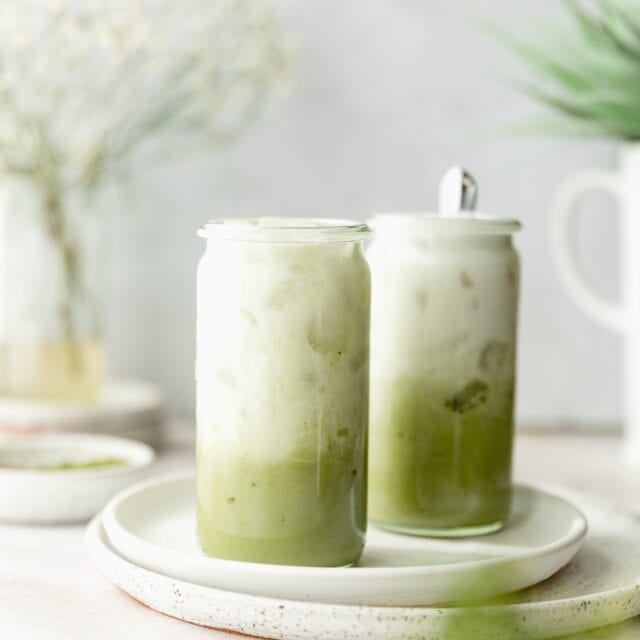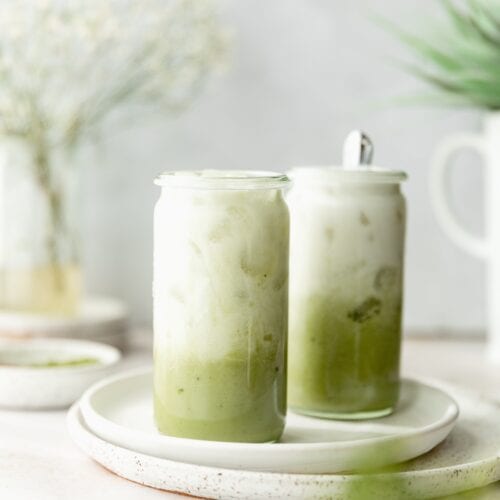 Starbucks Pineapple Matcha Latte
A copy cat version of Starbucks Pineapple Matcha drink. Refreshing and light, a perfect afternoon pick-me-up!
Print
Pin
Rate
Ingredients
1

tablespoon

Matcha Powder

1

tablespoon

Ginger paste, or freshly grated ginger

¼

cup

Pineapple Juice

1

can

Coconut milk (remove the cream on top!)

1

tablespoon

Agave syrup (optional for sweetness)

2

cups

ice
Instructions
Sift the matcha into a mixing bowl with the coconut milk.

Whisk vigorously from side to side to incorporate the powder into the milk.

Add in the pineapple juice, ginger, and agave. Continue to whisk.

Pour over ice and top with coconut milk or almond milk.