So, you're craving something slightly sweet, with a little caffeine kick, but don't want to make a Starbucks run? YES! That's me always. Enter, my Starbucks Iced White Chocolate Mocha recipe.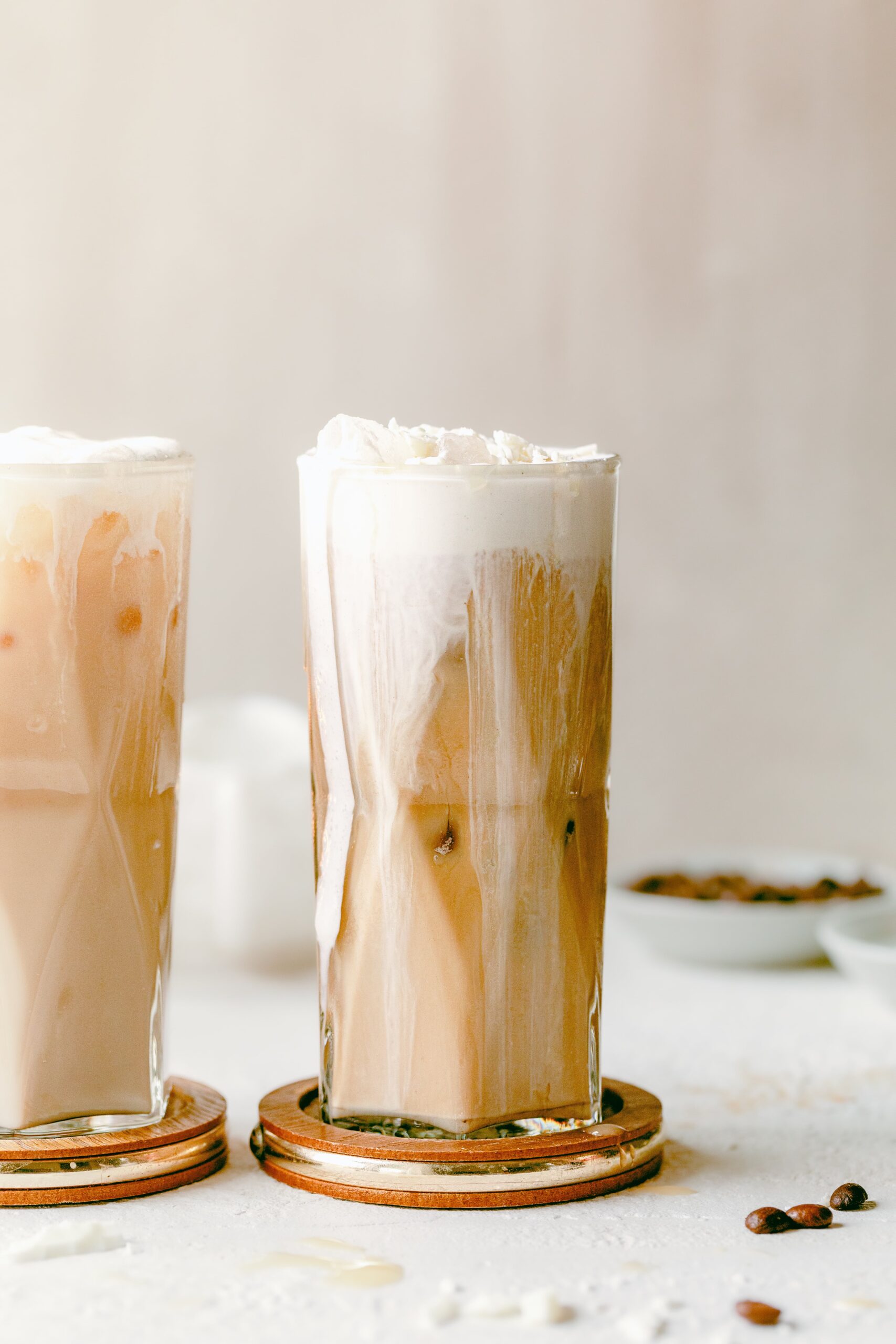 Iced White Mocha
Maybe one of their most popular drinks, this sweet and creamy iced white chocolate mocha is a blend of espresso and white chocolate sauce stirred into milk!
It's got that bit of caffeine we all need and the white chocolate syrup is just the perfect afternoon "treat yourself" moment.
The ingredients are easy to find, this recipe is easy to make at home and its CHEAPER.
Just like my Starbucks Copycat Pineapple Matcha Latte & Sugar Cookie Latte (another fave!) just picking up the ingredients alone is less than the cost of 2 drinks at Starbucks.
Ingredients
You may already have most of these ingredients at your house! So brew up some espresso and let's make this simple drink.
Espresso
2% Milk
White Chocolate Syrup (Torani is easy to find and so yummy!)
Heavy Cream
How To Make Starbucks Iced White Chocolate Mocha
Brew a double shot of espresso for each drink you'd like to make.
Pour this over ice to let it begin to chill.
In a mixing bowl whisk together the milk and white chocolate syrup.
In a smaller mixing bowl add heavy cream and using a milk frothing whisk, whip it until it has soft peaks.
Pour the white chocolate milk mixture over the espresso and stir.
Top with whipped cream and enjoy!
Why Make This At Home?
The biggest appeal to making this drink right at home is obviously the cost! It's much cheaper to have the ingredients on hand and make as many as you'd like.
I also typically like my drinks on the less sweet side, so I can control exactly how much sauce goes in and I can make my drink a little stronger with extra espresso (for NO extra cost).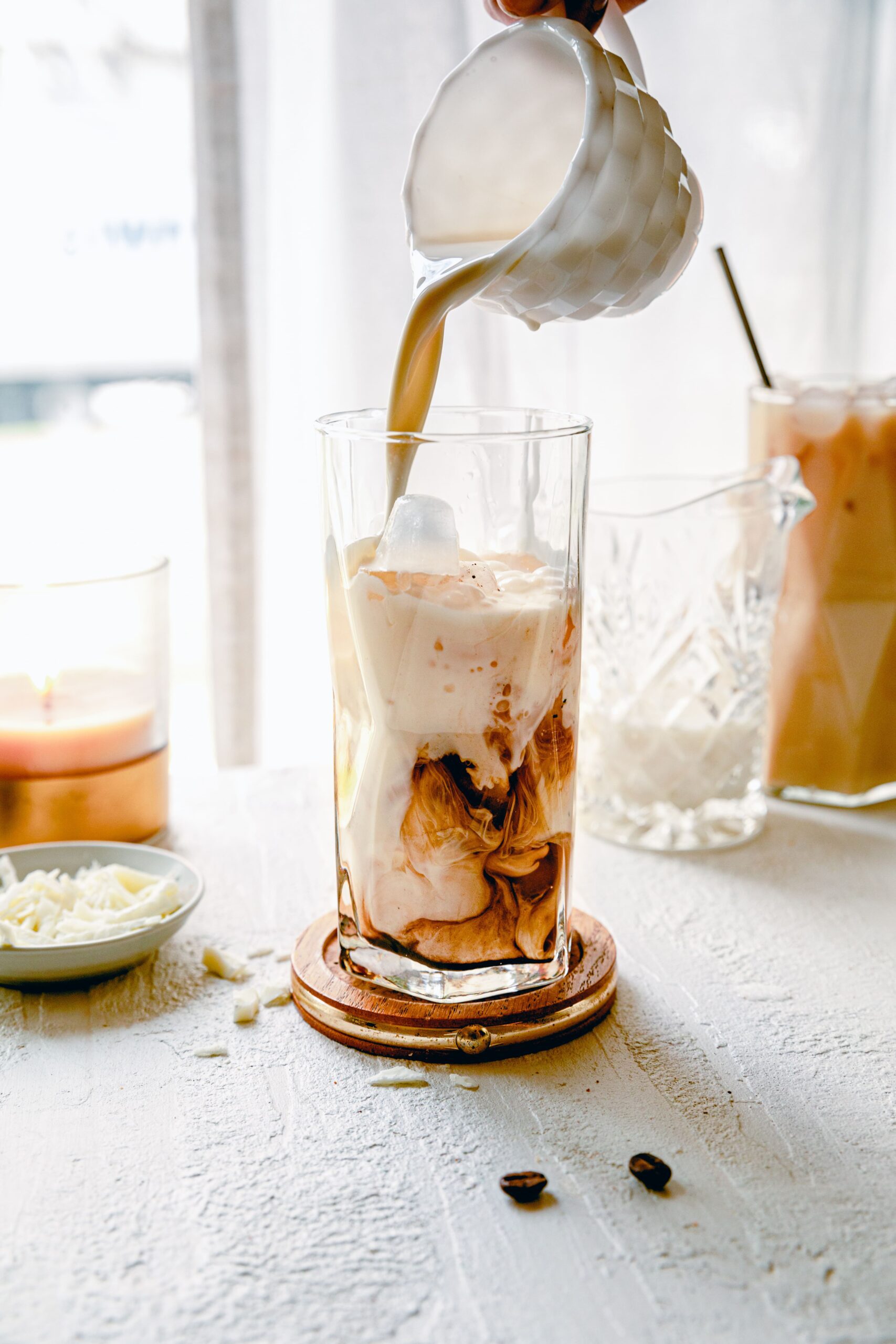 Can This Be Dairy Free?
Absolutely you can make a dairy free Starbucks White Mocha. Swap in your favorite non dairy milk and follow the same instructions!
You'll also want to make your own white chocolate sauce by melting some dairy free white chocolate (or almond bark!) with your choice of milk.
Is Starbucks White Chocolate Mocha Healthy?
So, in short: no. It's got a lot of sugar in it and high in carbs & calories. However this is one of those things I like to say is good for the soul! Hah.
Starbucks White Mocha Calories: 460kcal
Carbs: 54grams
Sugar: 53 grams
So these are just the facts. I am all for a good treat here and there! However, if you are looking to cut back on any of those nutritional values listed above, making it at home might be the ticket!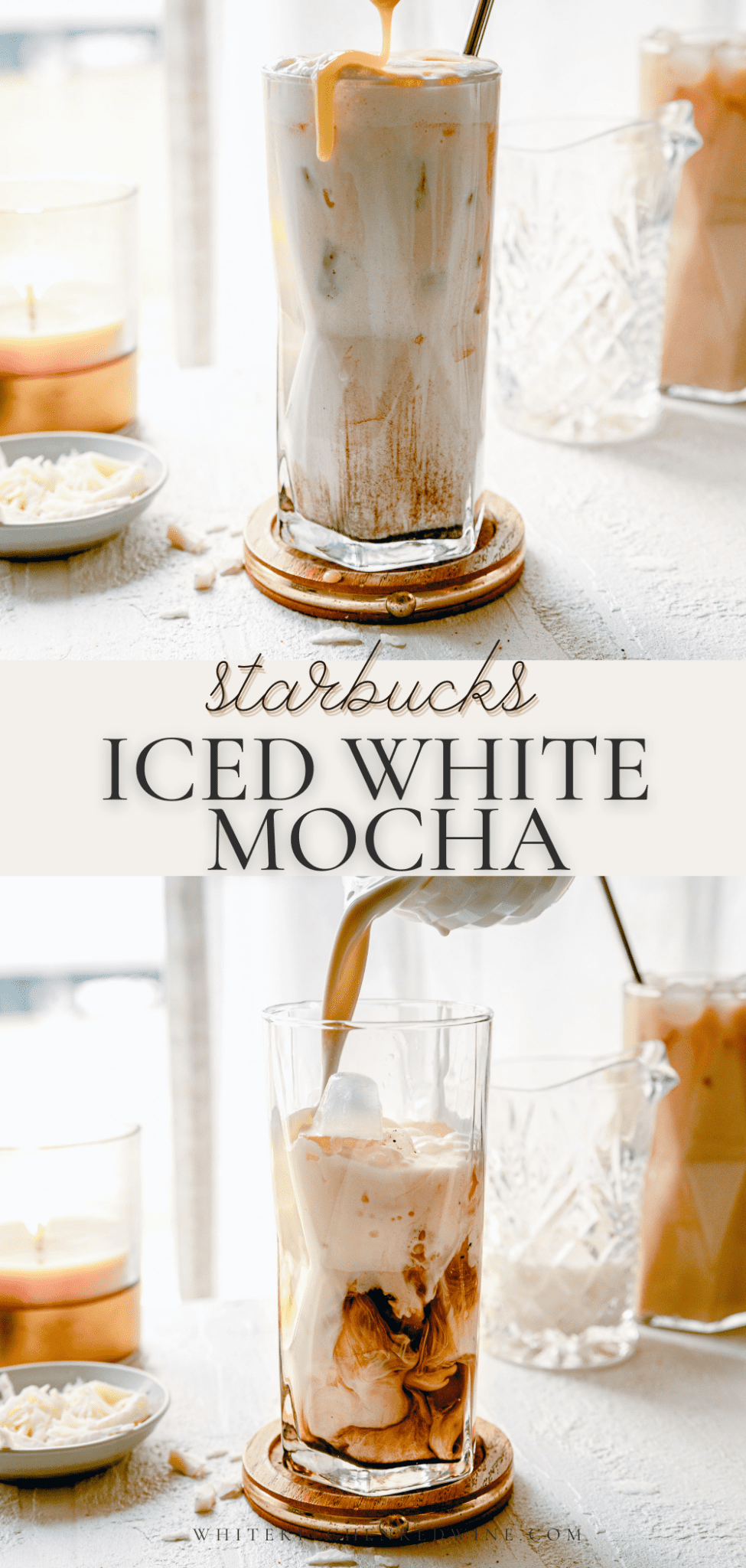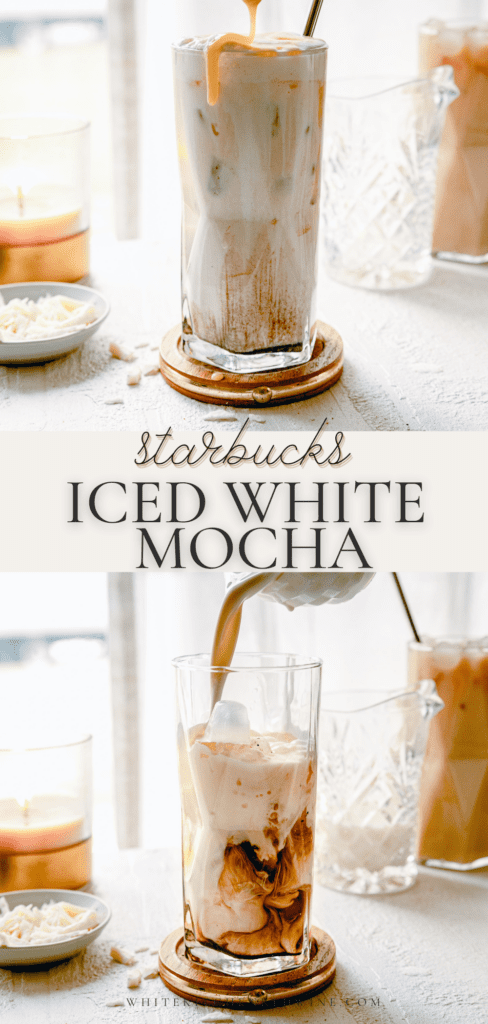 📖 Recipe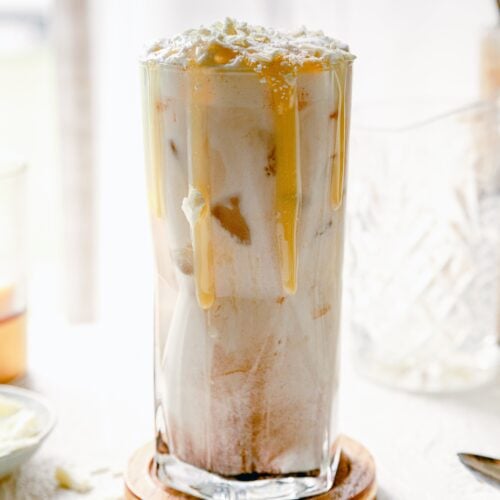 Starbucks Iced White Mocha
Delicious and creamy white chocolate mocha is easy to do right at home. Fresh espresso shots combined with white chocolate sauce, milk, and topped with homemade whipped cream is a treat for any time of day.
Print
Pin
Rate
Ingredients
2

shots of espresso

or sub in ¼ cup strongly brewed coffee

2

tablespoons

Torani white chocolate sauce

½

cup

2% milk

3

tablespoons

heavy cream

optional: white chocolate chips for topping
Instructions
Brew 2 oz of espresso and pour over a glass of ice.

In a mixing bowl combine the white chocolate syrup and milk.

In another mixing bowl, using a milk frother, whisk the whipped cream until it has formed soft peaks

Pour the white chocolate milk over the espresso and stir well (or combine in a shaker!)

Top with whipped cream and white chocolate chips.