A hot chocolate that has sugar, spice, and BOOZE! This Gingerbread White Hot Chocolate cocktail is a cozy blend of creamy white hot chocolate and spicy gingerbread.
Topped with loads of toasted marshmallows and gingerbread men of course! Bourbon is to blame for the addicting nature of this drink. So cozy up and let's make this cocktail!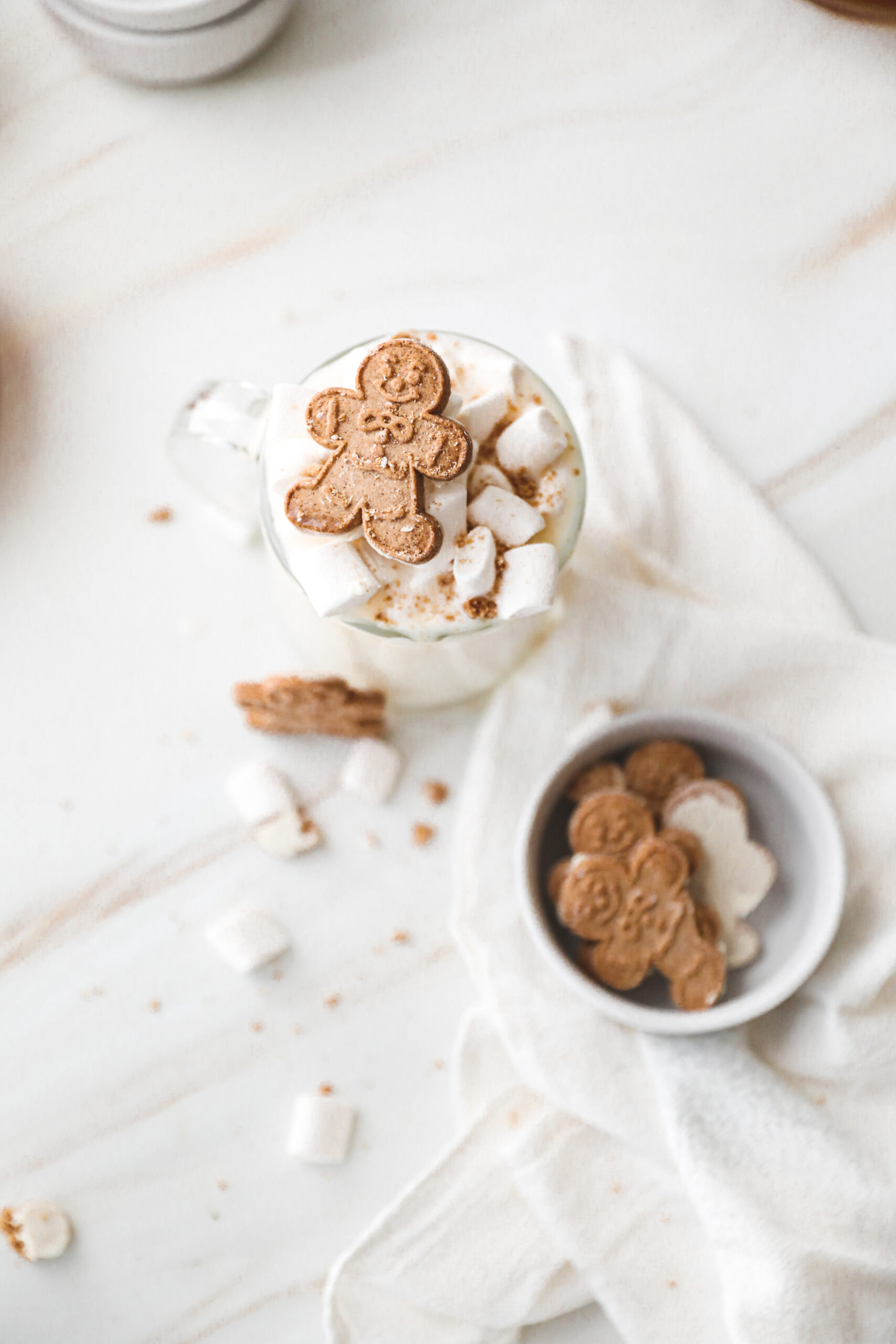 Homemade White Hot Chocolate Mix
While you can definitely make white hot chocolate using the powder, why not make it as clean as you can and do it yourself at home? The white hot chocolate powder has who-knows-what in it...
Making white hot chocolate at home is simple with white chocolate and steaming hot half and half or milk!
This version is also going to have a couple of pumps of gingerbread coffee syrup! That will give it the warm and toasty taste of gingerbread with the fewest ingredients.
Simple Homemade Hot Chocolate
The simplest way to make this hot chocolate is to melt down your chocolate chips (or white chocolate baking bar!) by pouring steaming milk over them. Whisk together until thick and creamy.
You can continue to thin out the chocolate by adding more milk to your desired consistency. It's really that easy! We'll be adding in some bourbon as well to this and that's going to help tone down the sweetness of the drink.
I love adding tons of mini marshmallows and toasting them with a torch to really add something special to the drink!
What Gingerbread Syrup is Best?
I've been using the Torani coffee syrups and I really love them! The gingerbread syrup has a very ginger-y flavor to it which makes this drink amazing!
The syrup is a unique twist on this classic white hot chocolate and possibly even better than Starbucks white hot chocolate!
Gingerbread Latte
I keep this on hand even after I've made this hot chocolate so I can create delicious Gingerbread lattes in the morning.
To create a gingerbread latte at home you just need 2 shots of espresso (or strongly brewed coffee), stir in some of the gingerbread syrup, and top with steamed milk!
Toppings For Hot Chocolate
The topping choices for this hot cocoa are my favorite part! You can really play up the "white" color and go monochromatic or crush some cookies on top for texture!
marshmallows
gingerbread cookies
white chocolate chips
whipped cream
cinnamon
The best gingerbread cookies for this in my opinion are from Trader Joes! They look like little gingerbread men and I think they are so festive. And delicious!
Boozy Hot Chocolate
Honestly, the best way to enjoy this cup of white hot chocolate is probably to stir it up with some bourbon or whiskey.
A real cup of cheer! Adding a splash of alcohol to this to create an amazing and cozy adult beverage is probably what Santa would do...
Spice it up with a cinnamon whiskey for extra punch!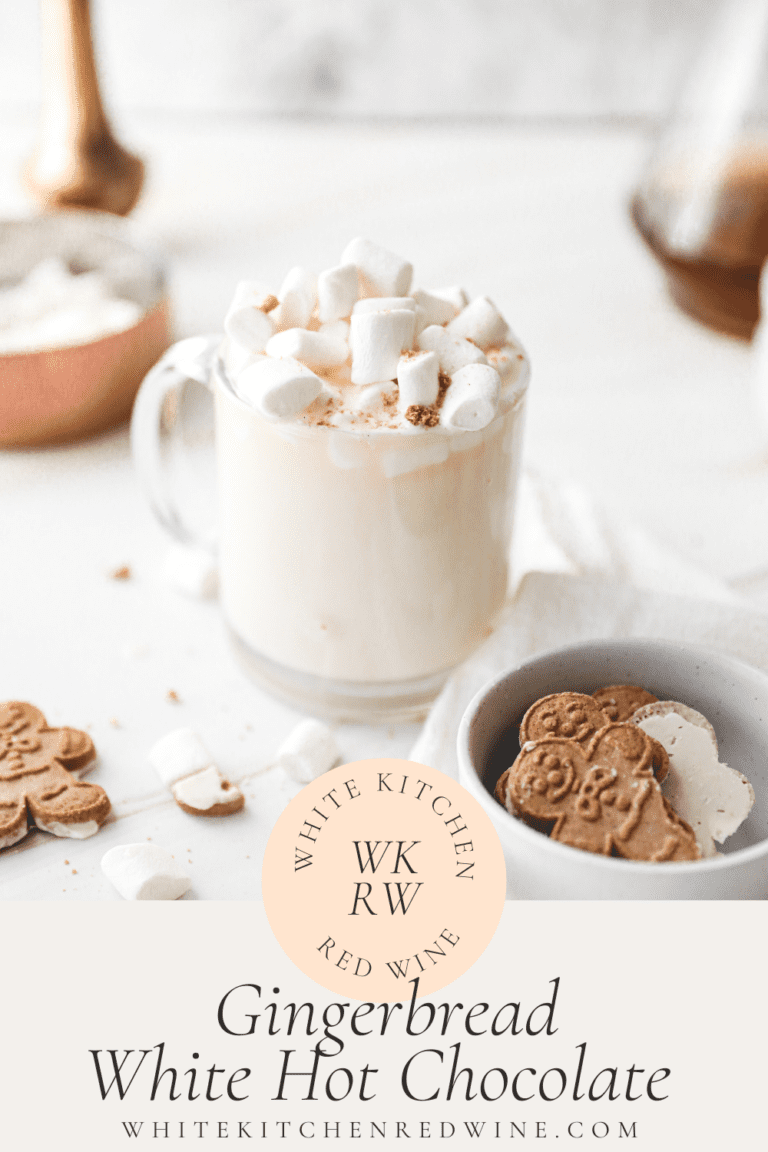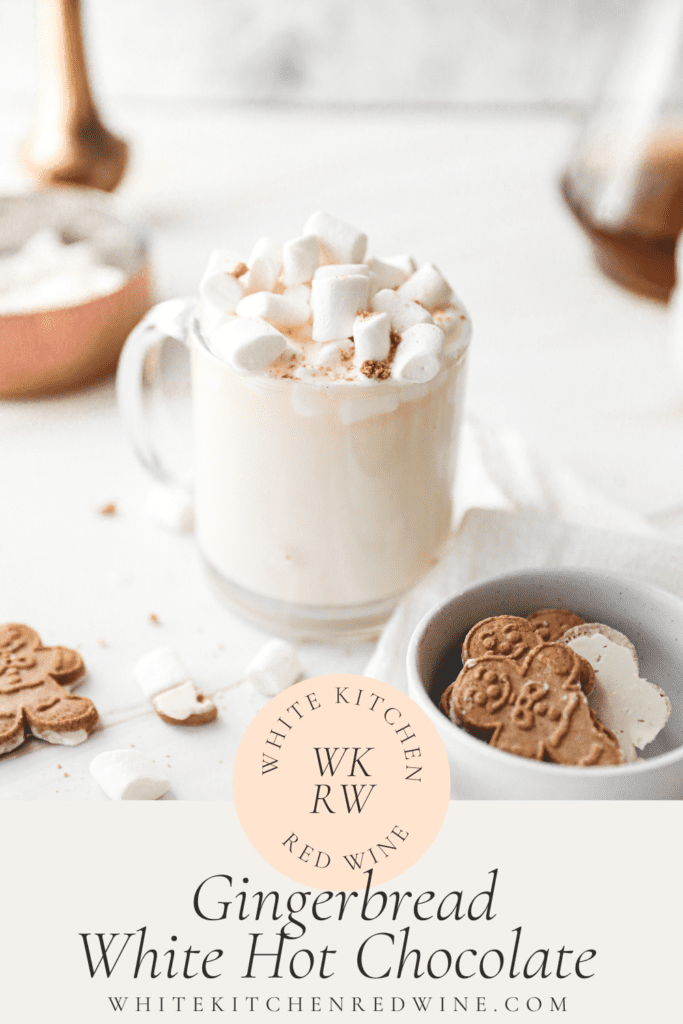 📖 Recipe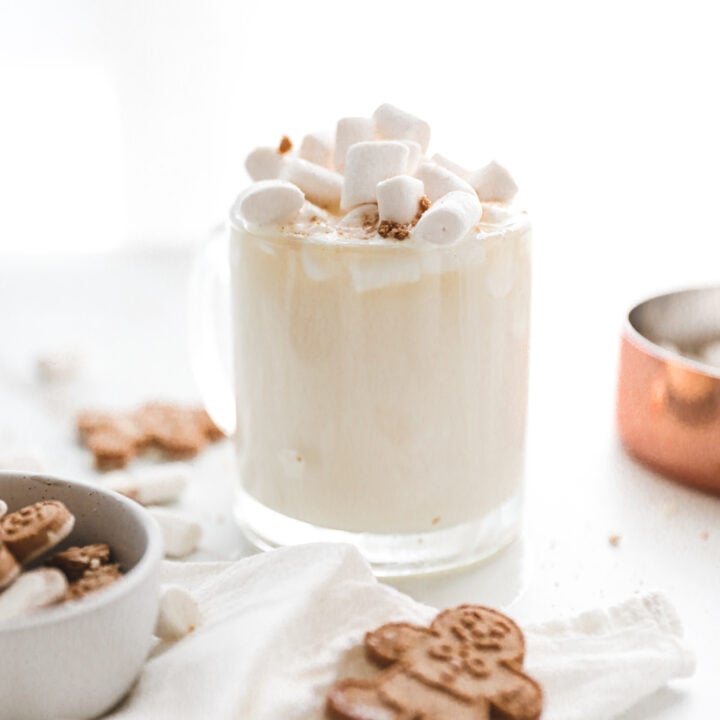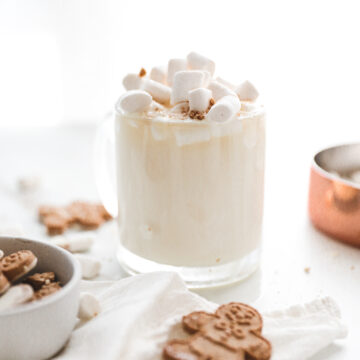 Gingerbread White Hot Chocolate
Gingery white hot chocolate topped with marshmallows
Print
Pin
Rate
Ingredients
2

cups

whole milk

1

bag

white chocolate chips (splurge for the good kind!)

1

oz

Torani Gingerbread Syrup

2

oz

bourbon

¼

teaspoon

salt

gingerbread cookies for topping

marshmallows for topping
Instructions
In a saucepan bring the milk to a gentle boil

Then stir in the white chocolate chips and stir until melted.

Stir in the syrup and bourbon. Promptly pour into a mug and top with marshmallows and gingerbread cookies.