I'm a tea lover! Maybe it's because I was born in the south, maybe it's because my mom was always (still is!) always drinking it, it's so refreshing and it's got a little kick of caffeine! My favorite tea of all time is Panera's Green Tea!
I think I literally drank gallons of this stuff after having my daughter. Panera was the first meal I had after giving birth and I just never stopped after that!
This tea is fruity, refreshing, fun, however, it's LOADED with added sugars. So I wanted to create a healthier version! Here is my Panera Green Tea!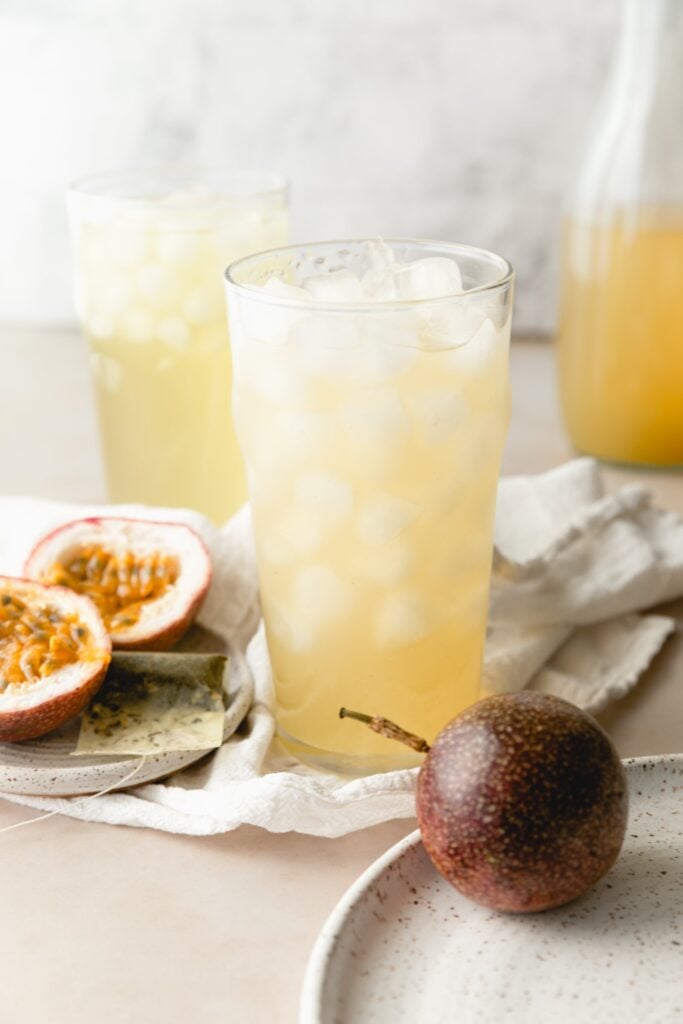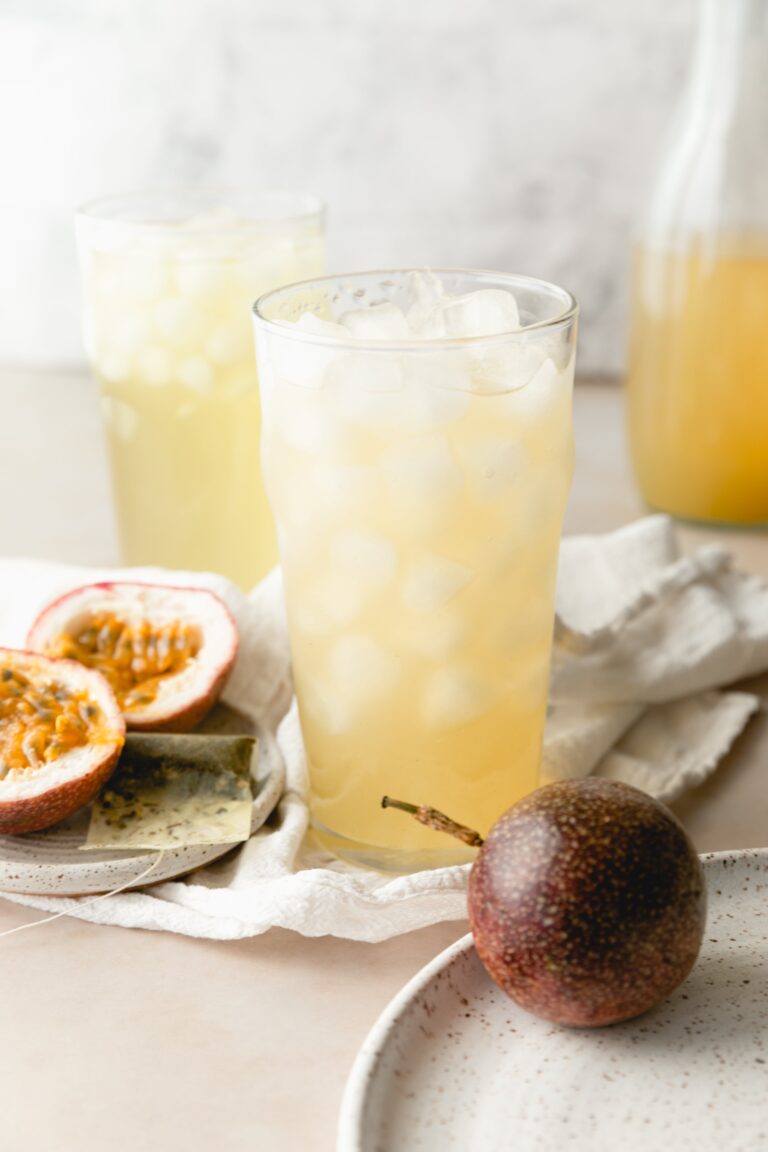 What are the flavors in Panera's Green Tea?
So the main flavors of this green tea are passionfruit and papaya. Other recipes include honeydew, however, for me, it wasn't my favorite.
Start with a passionfruit green tea as the base, add some acidity with lemon juice and finish it off with papaya nectar!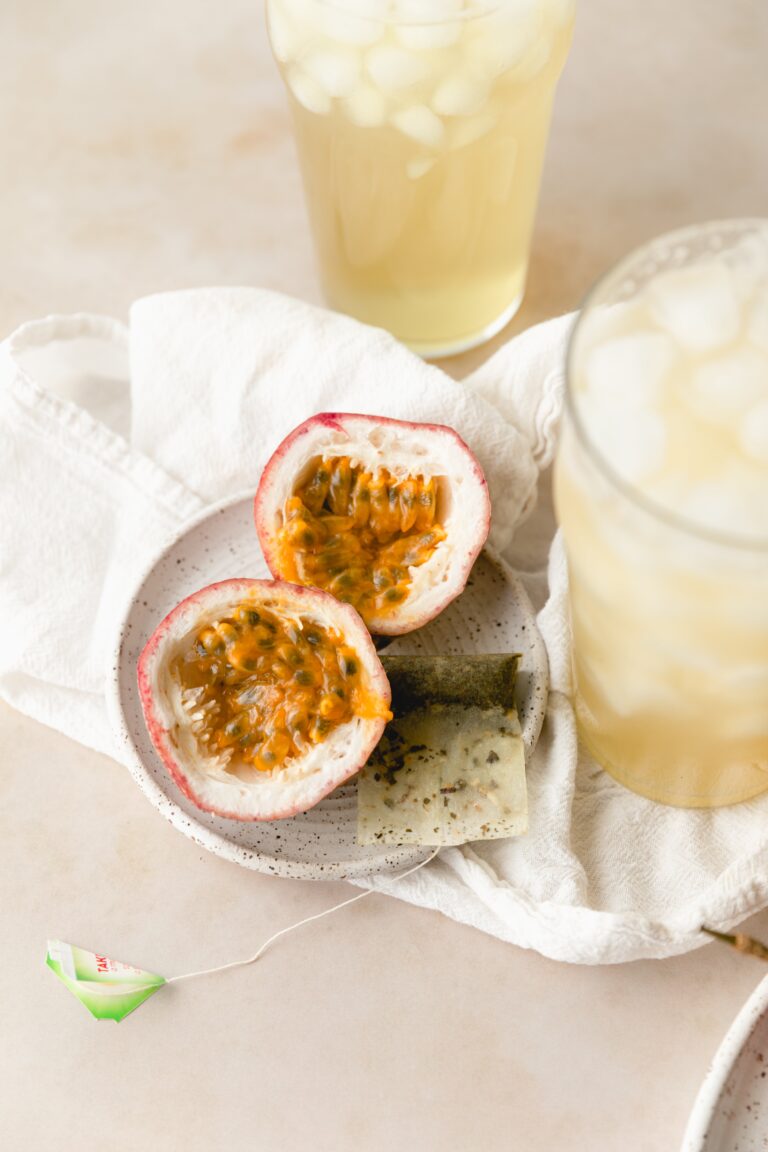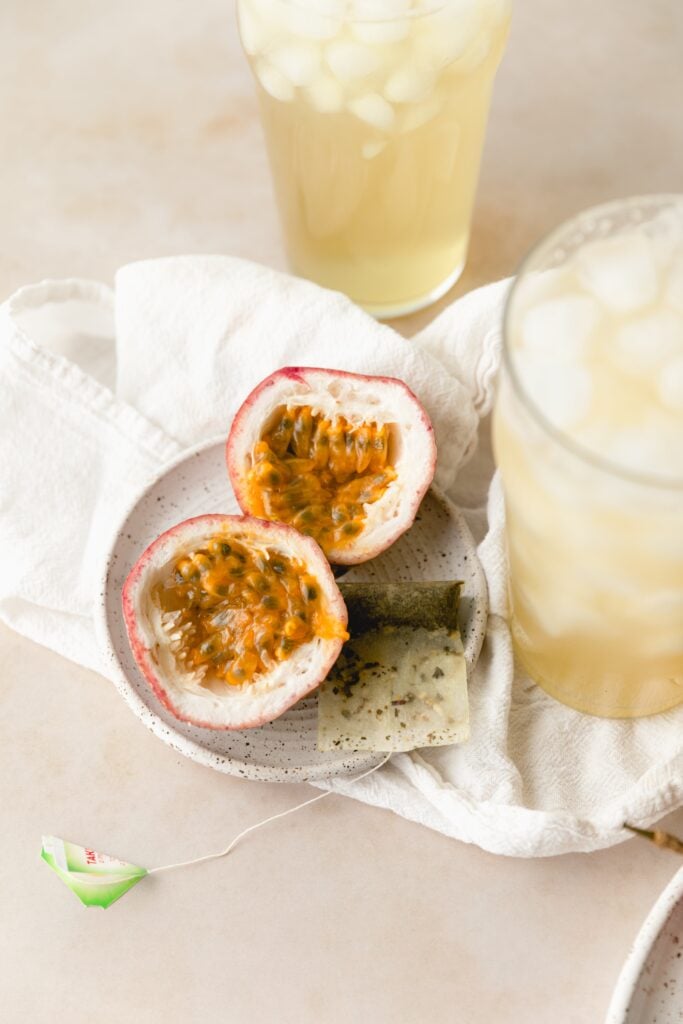 Does Green Tea Have Caffeine?
Green tea does contain a small amount of caffeine per cup. Not as much as a cup of coffee, but green tea is an awesome thing to sip on in the afternoon if you need a pick me up!
Green tea is made from stems and leaves that haven't undergone the same oxidization as say, black tea. It's processed fairly quickly after picking to maintain its green color.
How Much Sugar In Panera Green Tea?
So here is the one fact that made me want to brew this tea at home...the sugar content. I'm not totally against added sugars but I don't like to consume my day's worth in one glass of tea.
Panera's green tea has 30 grams of sugar. That's ¼ a cup of sugar for just one drink. The guidelines suggest that women consume 25 grams of sugar in a day and men up to 36 grams.
So...by making this at home with a naturally derived sweetener we not only reduce the amount of sugar. We also lower the glycemic index; meaning we won't spike the blood sugar as much!
Steeping Green Tea
Steeping green tea can get tricky because if you let it go to long, it will get bitter. For this drink's purposes, we are going to steep it in cold water for 5-6 minutes.
If you steep it in hot water I suggest 3-5 minutes for optimal flavor!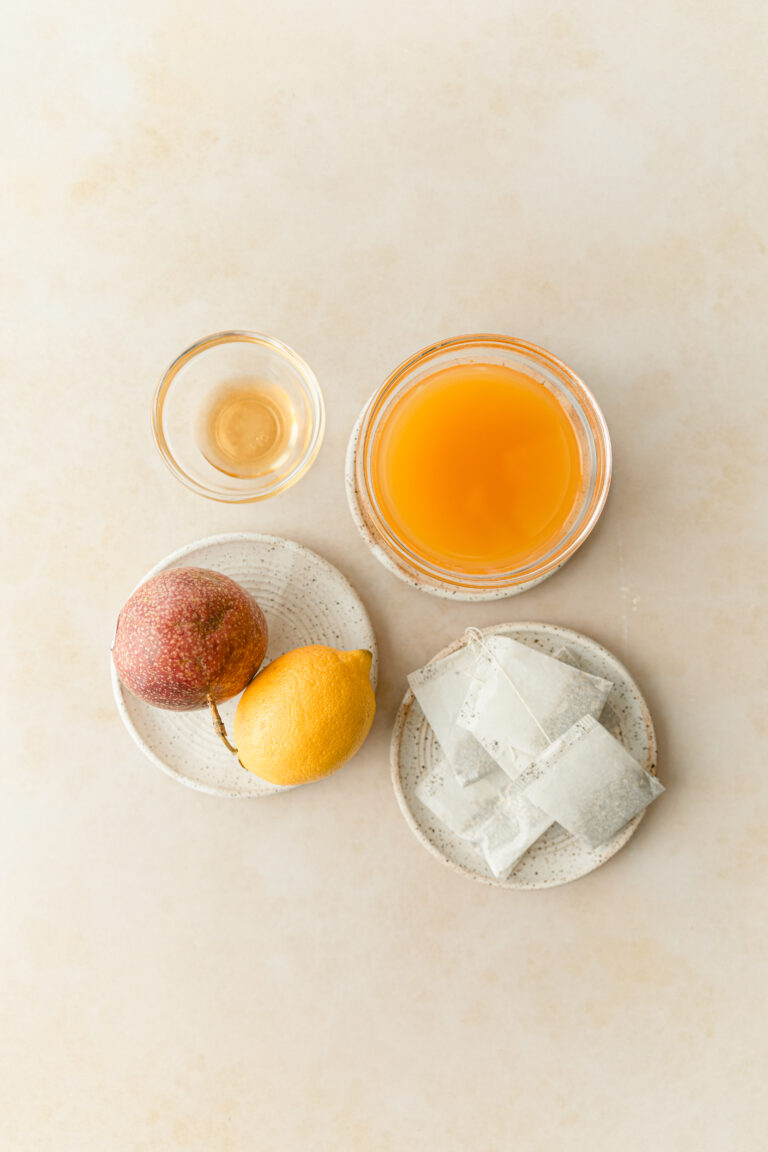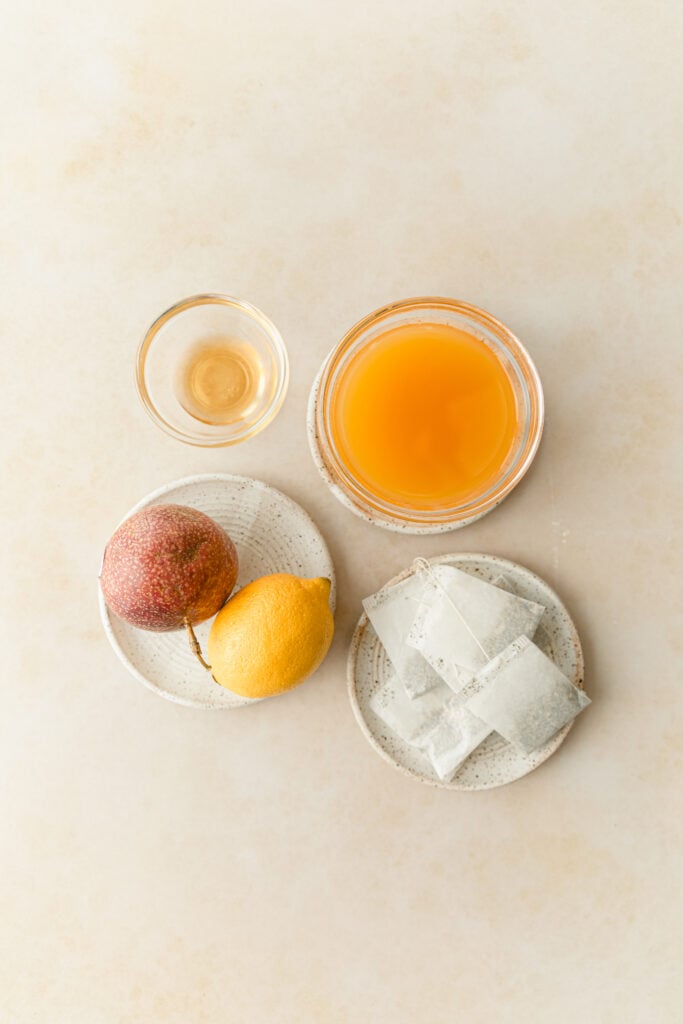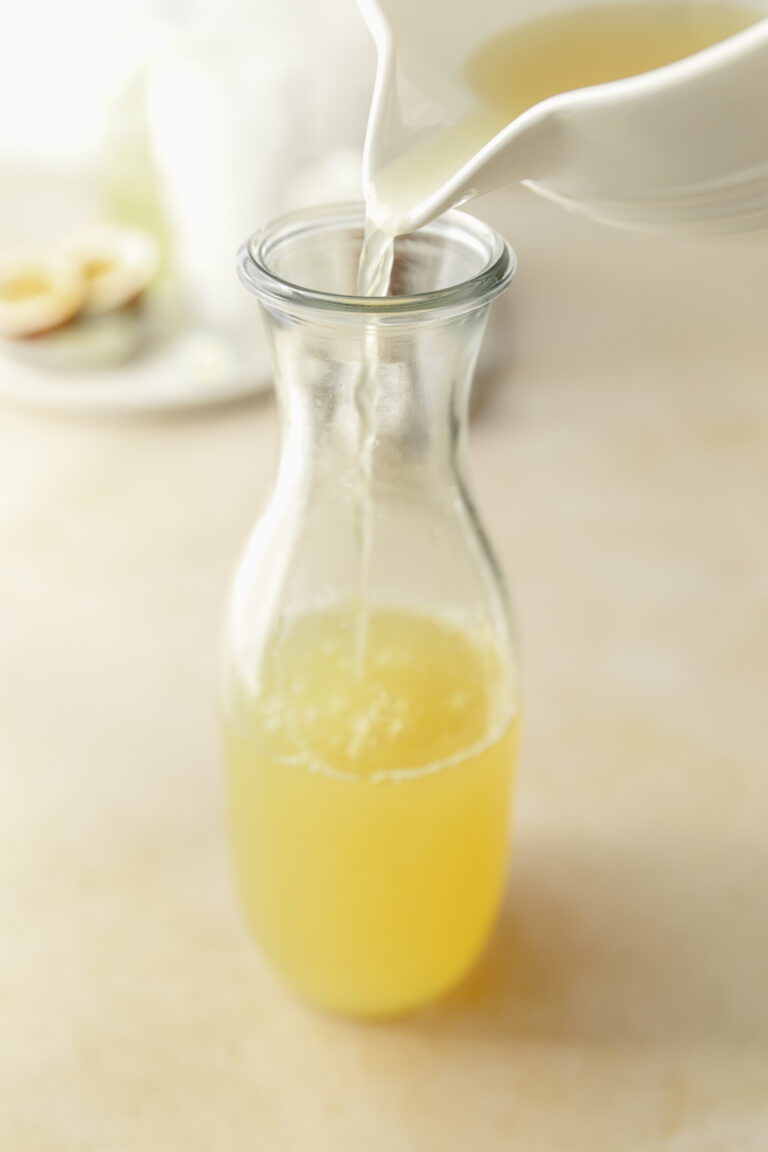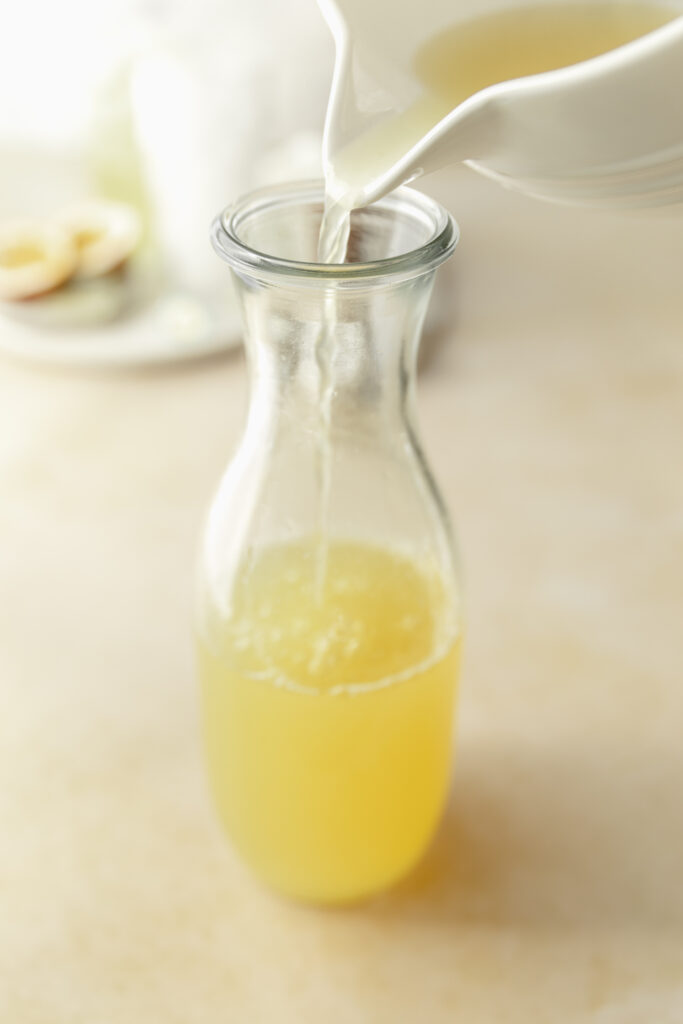 Sweetening Your Tea
So as I briefly mentioned before, we won't be adding ¼ cup of sugar to this green tea.
Instead I opted for a naturally derivied sweetener: agave. Agave is smooth, dissolves easily, and is very sweet. Which makes it perfect for sweetening beverages!
I even sweeten my skinny spicy margaritas with agave!
More Panera Copycat Recipes
If you love this Panera copycat Green Tea, you'll love these other recipes...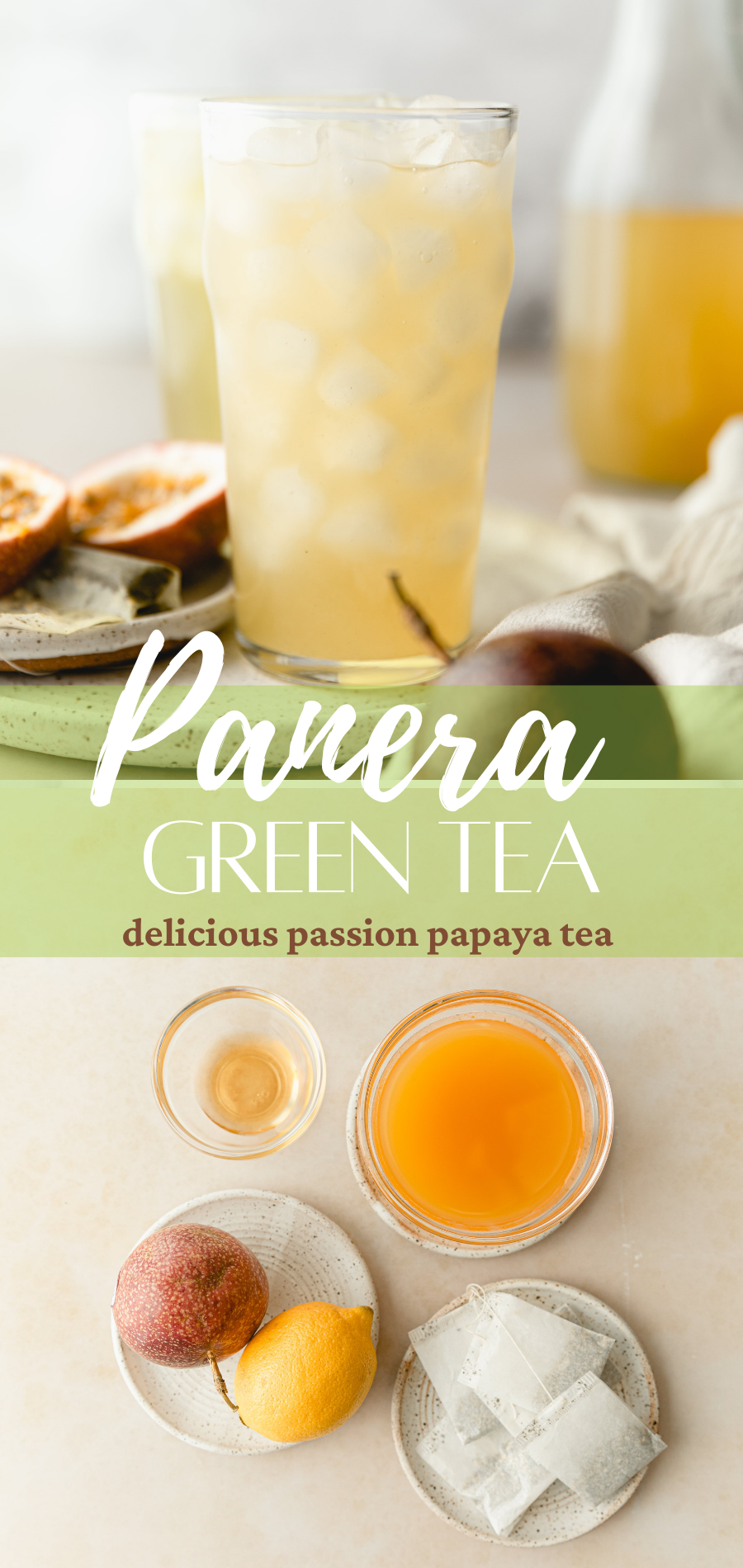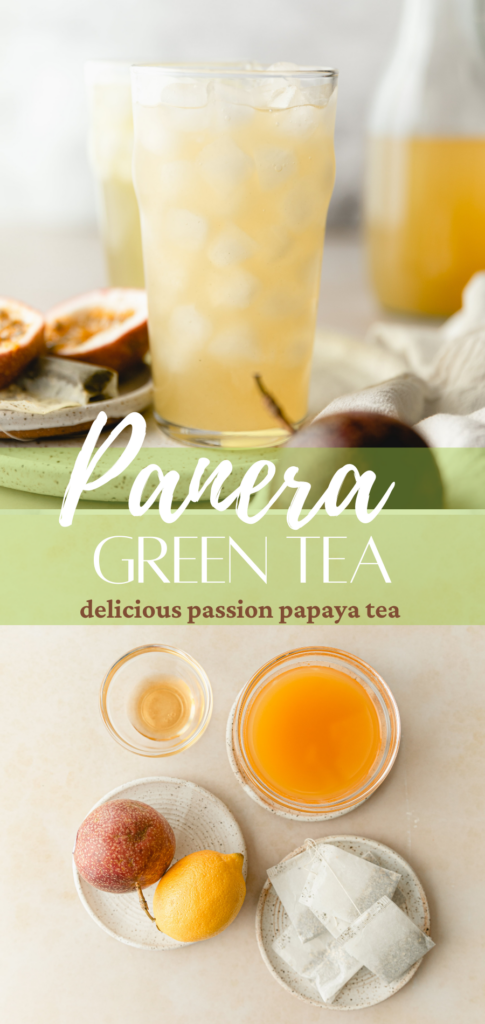 📖 Recipe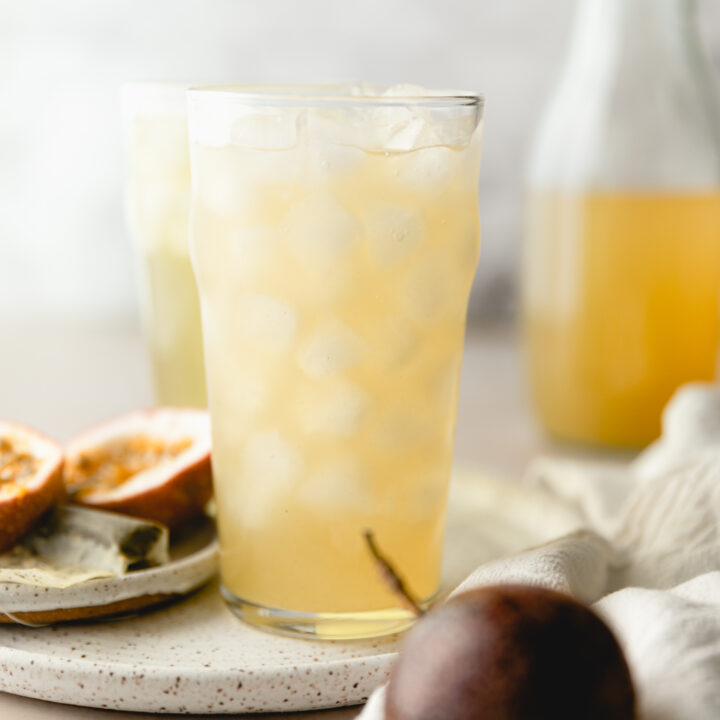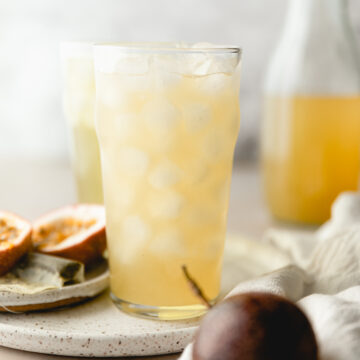 Panera Green Tea
A copycat of Panera Bread's green tea! Delicious and fresh passion papaya tea.
Print
Pin
Rate
Ingredients
6

Lipton Passionfruit Orange Jasmine Tea Bags

or any passion fruit-flavored green tea bag

6

cups

of water

Juice of 1 lemon

¼

cup

papaya nectar

2

tablespoons

agave nectar
Instructions
In a large mixing bowl, begin to steep the tea bags in the water.

Steep the tea for 5 minutes.

Add the rest of the ingredients and steep for another 2 minutes.

Remove the tea bags and whisk to combine.

Taste and add more lemon juice for tartness or papaya nectar for sweetness to your preference.

Enjoy poured over ice!