So you've seen it on Instagram, TikTok, it's everywhere by now! This combo of hot water, instant coffee, and sugar all whipped up to make this amazing Dalgona coffee. But do you want to drink instant coffee? Or do you even have any? I sure didn't. And what about ALL THAT SUGAR? No thanks. My solution is a whipped espresso with the least amount of sugar necessary to get that whipped coffee look!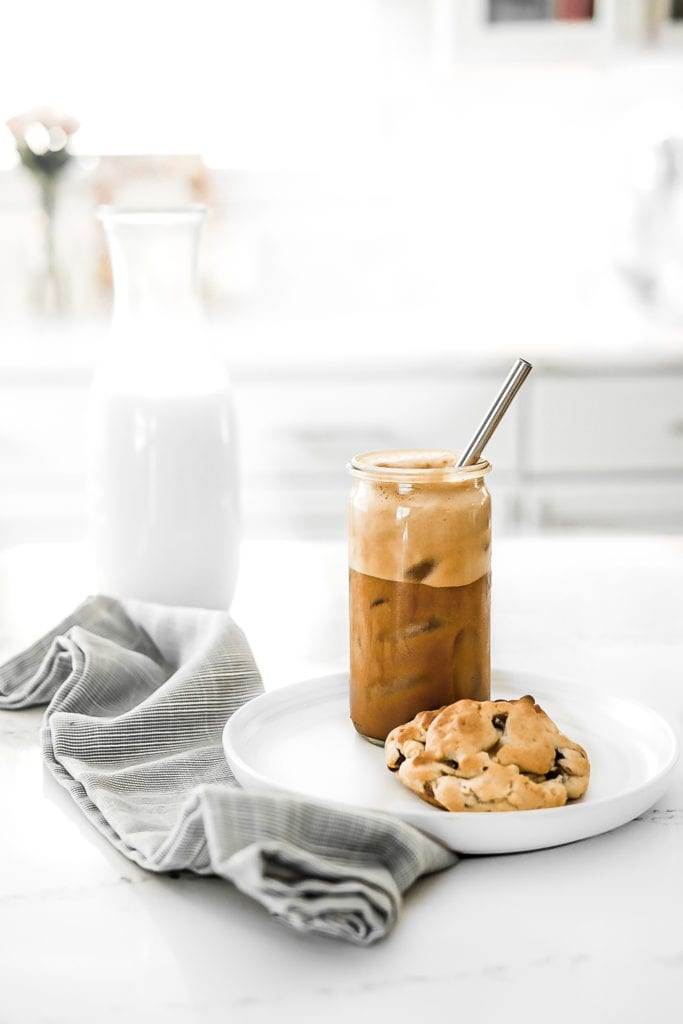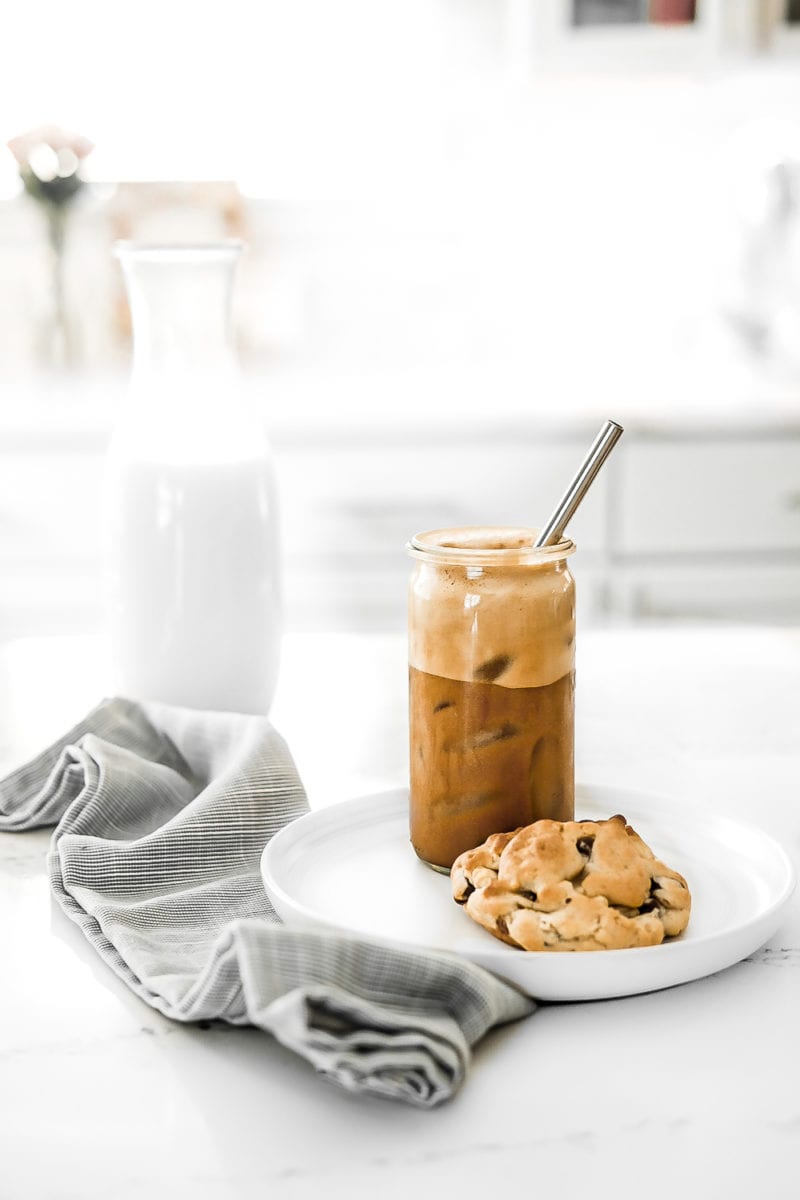 How TO make Dalgona Coffee
Well, I have to say I wasn't too excited about the thought of using instant coffee plus I didn't have any, but what I DO have is an incredible espresso machine (Breville Barista, yes you need one) and I thought why not use 2 shots of hot espresso whipped with the sugar?
And IT WORKED! Beautifully actually. So 2 oz of hot espresso + 1 teaspoon of sugar. Feel free to use coconut sugar. I like coconut sugar because it has a lower glycemic index aka less of a spike in blood sugar. This is quite a bit sweeter than I like my normal coffee (BLACK) so it's a treat for sure!
Less Sugar
But, I did a little experimenting on how little sugar I could actually use while still getting the "WHIP" and have it stay whipped for a while. 1 teaspoon was the limit and it's heck of a lot better than 2 full tablespoons!
So by using espresso I actually get the caffeine I crave from a coffee and by using only 1 teaspoon of sugar you STILL get the whipped effect without allllllll the added sweetness & calories.
But, if you enjoy yourself a good sweet Starbucks drink, your gonna love this! So in addition to using espresso instead of coffee grounds, I use an amazing alternative to your regular almond milk. JOI. Joi is a nut-milk base that is easy to use and only made up of one ingredient: almonds.
I came across this on social media a couple of years ago and thought it was a brilliant idea and now I have the joy of being a brand ambassador! You put a scoop of the base into a blender with water, give it a spin, and you have FRESH almond or cashew milk!
If you want to try JOI for yourself, use my link and get 10% off your purchase!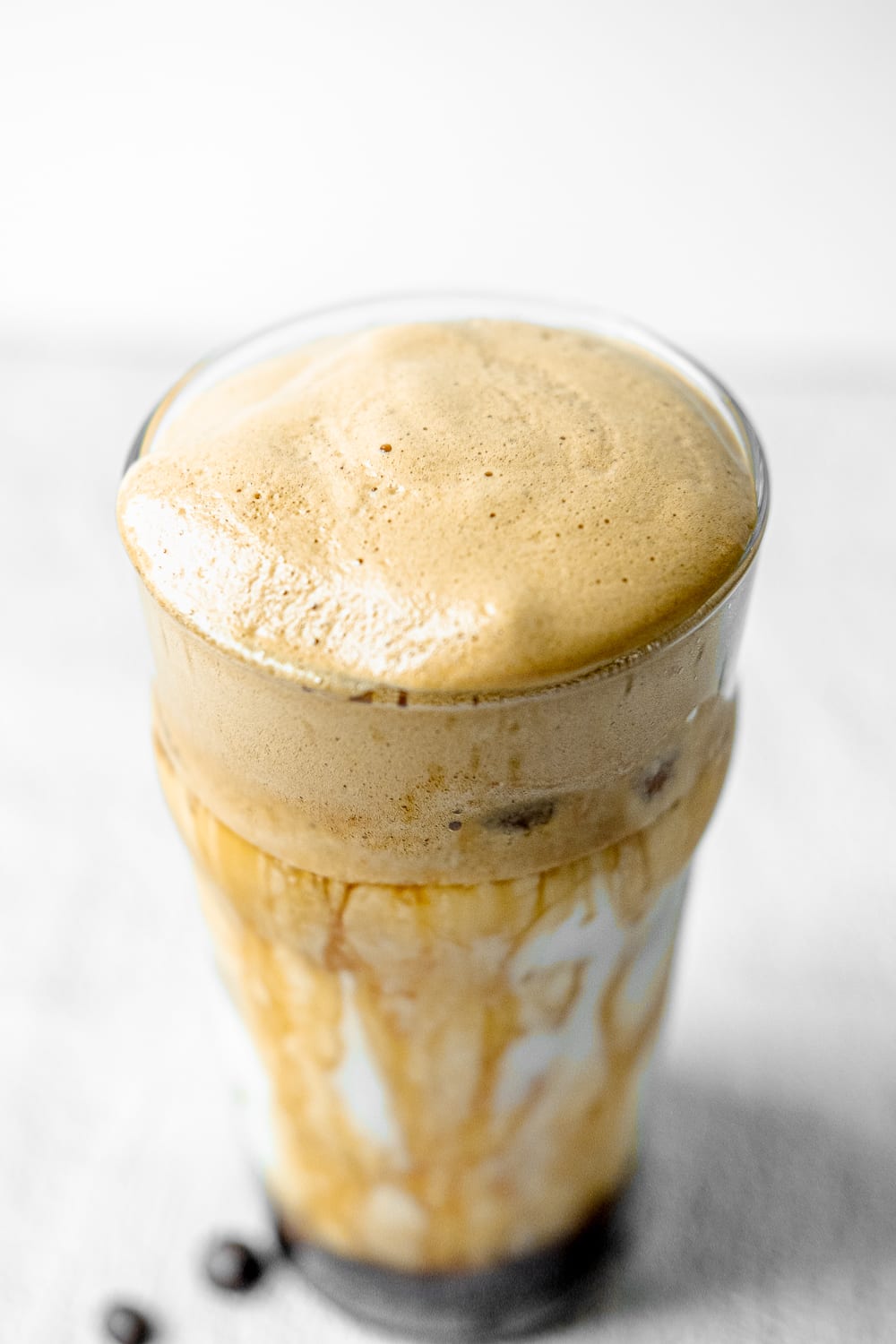 It's got no fillers, preservatives, or anything else that makes the competitors almond milk shelf stable. You make what you need and store the tub for your next go round! So let's make my version of Dalgona Whipped Coffee. Scroll down for HOW to make Dalgona Whipped Coffee
Ingredients
2 oz freshly brewed espresso (hot!)
1 teaspoon of coconut sugar (or regular sugar)
1 cup Joi almond milk
Instructions
Brew your espresso and in a cup with tall sides (trust me, this can get messy) combine it with the sugar
Using a hand mixer OR a milk frother like this with the whisk attachment, whisk for 3-5 minutes. Have patience!
Pour your fresh JOI almond milk over a cup of ice and top with the Dalgona Whipped Coffee.
📖 Recipe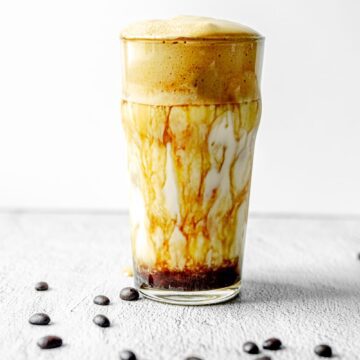 Whipped Dalgona Coffee
Skinny version of the popular Dalgona Coffee
Equipment
hand mixer

bowl with tall sides
Ingredients
2

oz

hot brewed espresso

1

teaspoon

coconut sugar

1

cup

JOI almond milk
Instructions
in a bowl with tall sides, add brewed espresso and sugar. Whip with a hand mixer for about 5 minutes until frothy

pour over cold milk and ice!
Notes
You could also use up to 2 tablespoons of sugar based on how sweet you like it! Give it a quick stir before drinking. Although it looks pretty all separated, it tastes waaayyy better after its mixed! 
If you want to try JOI for yourself, use my link and get 10% off your purchase!