Are you looking for a new cocktail recipe to impress your guests at your next party? Look no further than the Mexican Candy Shot! This unique shot packs a punch of spicy and sweet flavors that will have your taste buds doing the *cha-cha*.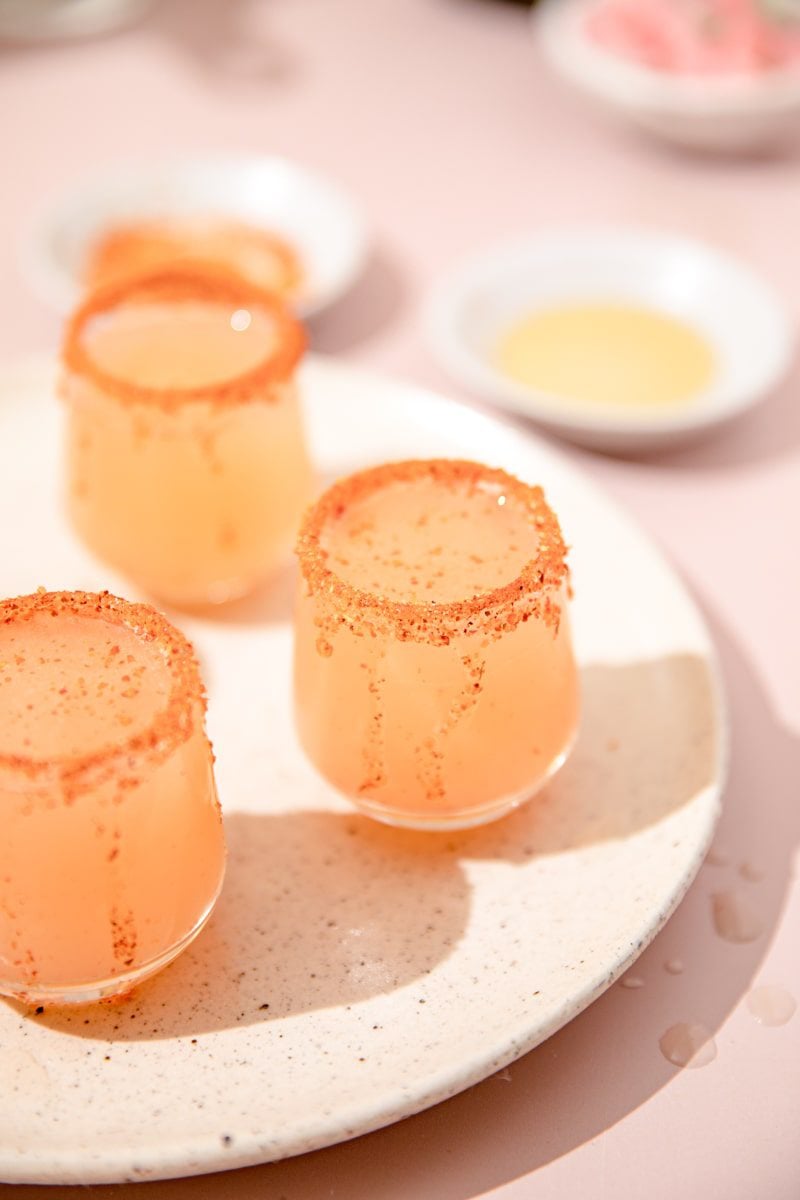 Not only is this shot delicious, but it's also stunning. The bright pink color of the watermelon schnapps combined with the orange color of the Tajin makes for a gorgeous presentation. (You know I'm all about that!)
This shot can be mixed up ahead of time, chilled, and poured for the perfect shooter each time for a BBQ, Game Day, or Cinco de Mayo party!
Jump to:
What is Mexican Candy?
Mexican Candy, also known as dulce Mexicano in Spanish, is a type of confectionery that is popular in Mexico and other Latin American countries!
Mexican Candy comes in a wide variety of flavors, shapes, and textures, but it is often known for its bold, vibrant colors and unique combination of sweet and spicy flavors!
This can include tamarind candies, spicy lollipops, and coconut treats. If you have a sweet tooth and enjoy trying new flavors, Mexican Candy is definitely worth a taste! And the sweet + spicy combination is what gives this shot its name!
Why You'll Love this Shot!
This unique balance of tangy, sweet, juicy, and salty makes this shooter a total experience. You'll love it for any of your summer parties!
It's super easy to mix up. With just a few ingredients shaken together, you can whip up this impressive looking shot.
Packed with flavor! For a minimal amount of ingredients, you can really pack a huge punch of flavor with this drink.
Can you say, refreshing?! This combo screams summer and it's totally refreshing. It's what I like to call a "porch pounder." Meaning you could sit out side and sip these all afternoon!
Mexican Candy Shot Ingredients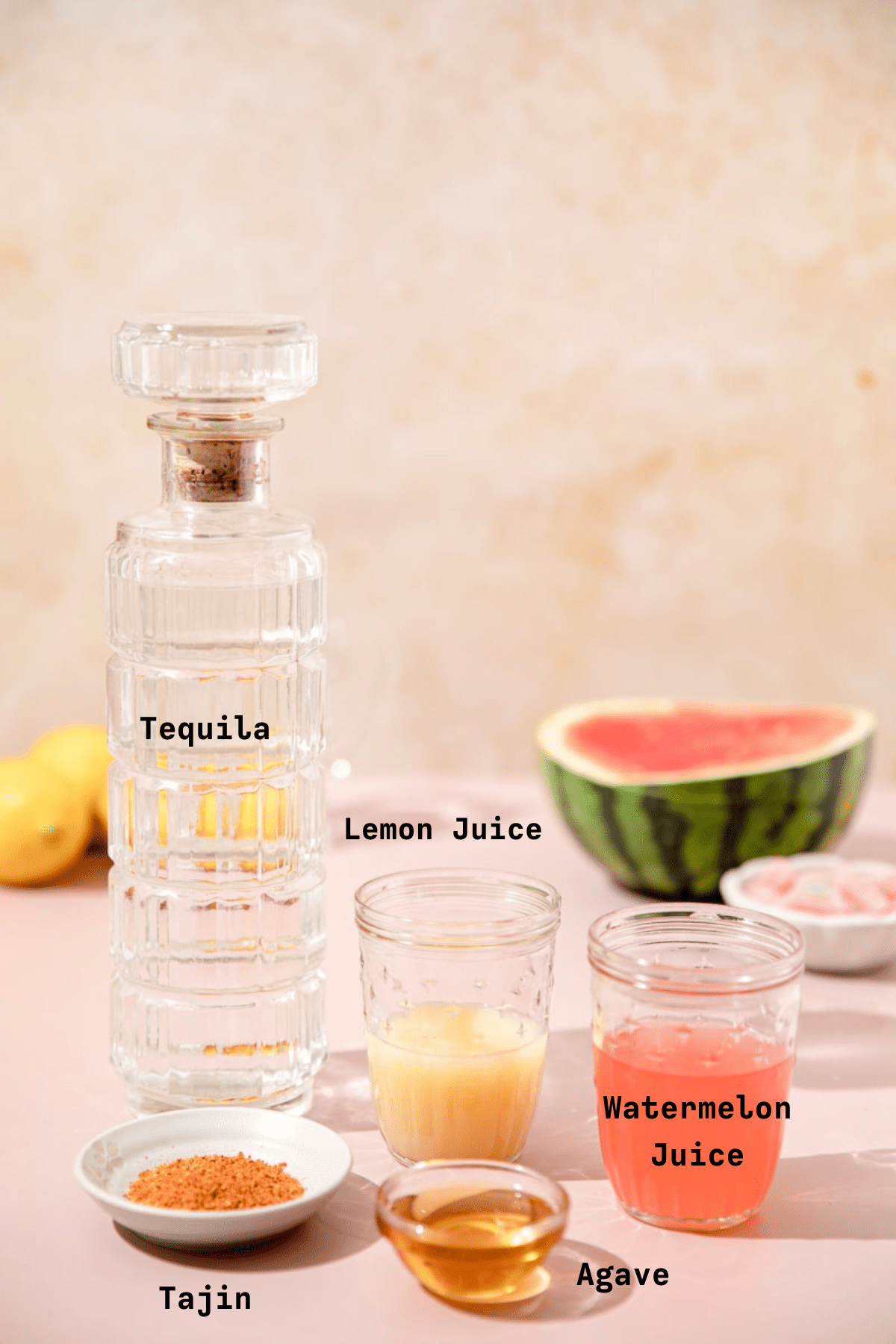 Here are the ingredients needed to make the Mexican Candy Shot:
Tequila: The base spirit of the shot, tequila is a key ingredient that adds a bold, earthy flavor to the mix.
Watermelon schnapps: This sweet liqueur adds a fruity, refreshing taste that balances out the spiciness of the other ingredients. (Swap this for watermelon juice to make a delicious cocktail!)
Lemon Juice: the citrusy balance to our sweet watermelon schnapps!
Agave: This is our sweetening agent! It dissolves quickly into our drink and adds that touch of sweetness you need.
Tajin seasoning: A popular Mexican seasoning made from chili peppers, lime, and salt, Tajin adds a tangy, zesty flavor to the rim of the shot glass.
Salt: Like Tajin, salt is used to rim the shot glass and adds a salty, savory flavor that complements the sweet and spicy flavors in the drink.
Sour Candy Watermelon: For the perfect garnish, grab a sour candy watermelon!
Together, these ingredients create a unique and flavorful shot that is sure to impress your guests at your next party.
What is Watermelon Schnapps?
Watermelon schnapps is a sweet and fruity liqueur that is commonly used in cocktails and mixed drinks. Plus, that color? So beautiful!
It has a distinct watermelon flavor that is perfect for summertime sipping!
Made by infusing watermelon flavor into neutral grain spirits and adding sugar, watermelon schnapps has a lower alcohol content than straight spirits like vodka or tequila. Some popular brands of watermelon schnapps include:
Hiram Walker Watermelon Schnapps
Pucker Watermelon Wow
Bols Watermelon Liqueur (this one is my preference!)
These brands offer a range of options when it comes to watermelon schnapps, from budget-friendly options to higher-end liqueurs.
No matter which brand you choose, adding a splash of watermelon schnapps to your drinks is an easy way to add a burst of summery flavor!
How to Make the Shot
Making this Mexican Candy shot is nearly as easy as tossing it back! Here's step-by-step instructions to make the drink.
In a cocktail shaker add ice, watermelon schnapps, tequila, agave, lemon juice, and ½ the tajin,
Shake vigorously for 30 seconds.
Rim 6 shot glasses with the remaining tajin.
Strain the shot into each of the 6 glasses and garnish with a watermelon candy. Enjoy!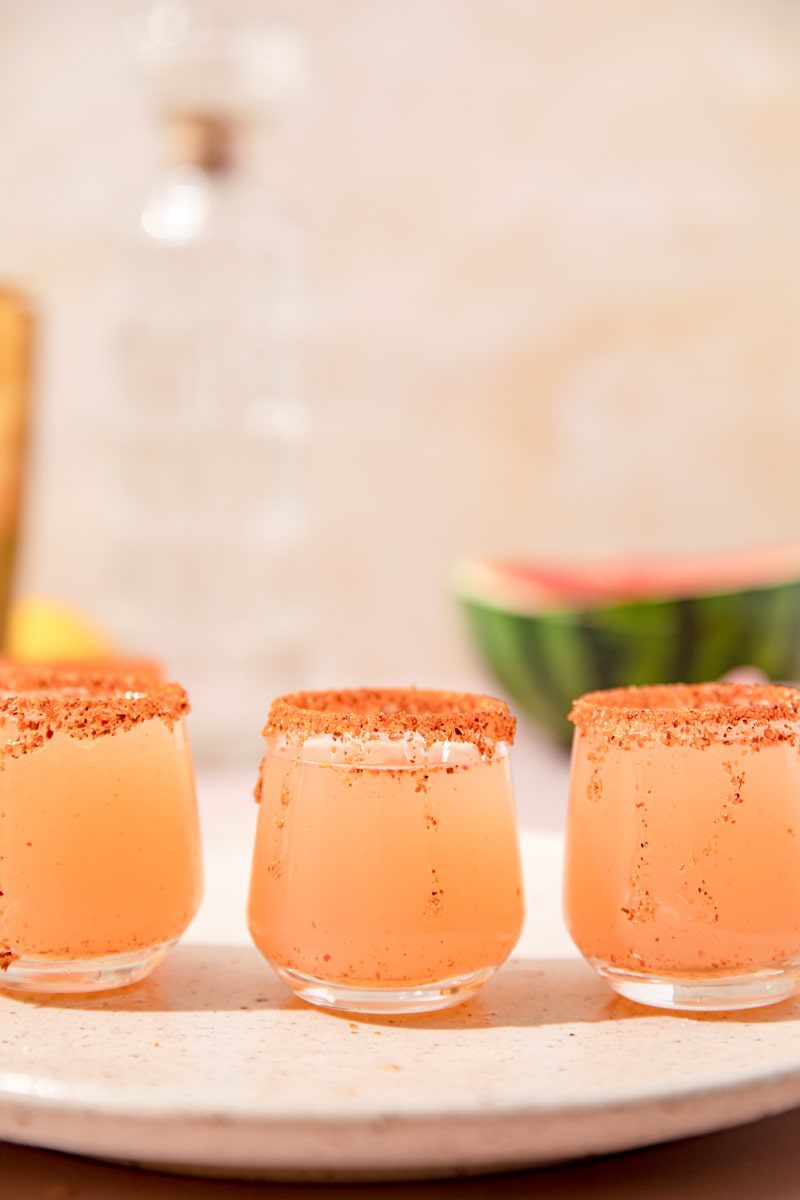 Tools Needed
You'll need a great cocktail shaker and a few simple shot glasses for this recipe.
You can find great cocktail shaker sets on Amazon and it's a must-have for any home bar set up.
Next you'll need to grab some fun shot glasses! You could use something simple or something fancy, just like these!
Variations and Substitutions
This refreshing drink can have a few variations to suit your fancy!
Make it a cocktail! While this makes a delicious shot, if you substitute the schnapps for watermelon juice, then you've got yourself a delicious cocktail!
Make a Mango Mexican Candy shot by substituting the Agave with Mango Syrup.
Mezcal: This is a smoky liquor made from agave plants like tequila, but it has a distinct flavor that sets it apart. You can use mezcal instead of tequila to create a different taste profile for your Mexican candy shot.
Chamoy Sauce: Chamoy sauce is another popular condiment in Mexico known for its fruity-sweet-spicy combination. Adding chamoy sauce to your Mexican candy shot will give it an extra kick.
Cinnamon Tequila: To add an extra layer of flavor to your traditional Mexican Candy Shot recipe, infuse cinnamon sticks into your tequila before making the drink.
How to Serve Mexican Candy Shots
Mexican candy shots are a fun and unique way to enjoy the delicious flavors of traditional Mexican candies!
Rim Your Glasses: Add even more flavor to your Mexican candy shot by rimming your glasses with sugar or salt mixed with Tajin seasoning, a popular Mexican spice blend.
Use Shot Glasses: Keep things festive and easy by using brightly colored shot glasses for your drinks. You can even find ones in the shape of cacti or chili peppers!
Pair With Snacks: Serve traditional Mexican snacks alongside your shots, such as churros, flan, or pan dulce (sweet bread).
Garnish With Candies: Top off each shot with a piece of your favorite Mexican candy – from tamarind balls to spicy mango lollipops.
No matter how you serve them, these sweet and tangy shots are sure to be a hit at any gathering. So grab some tequila and get creative!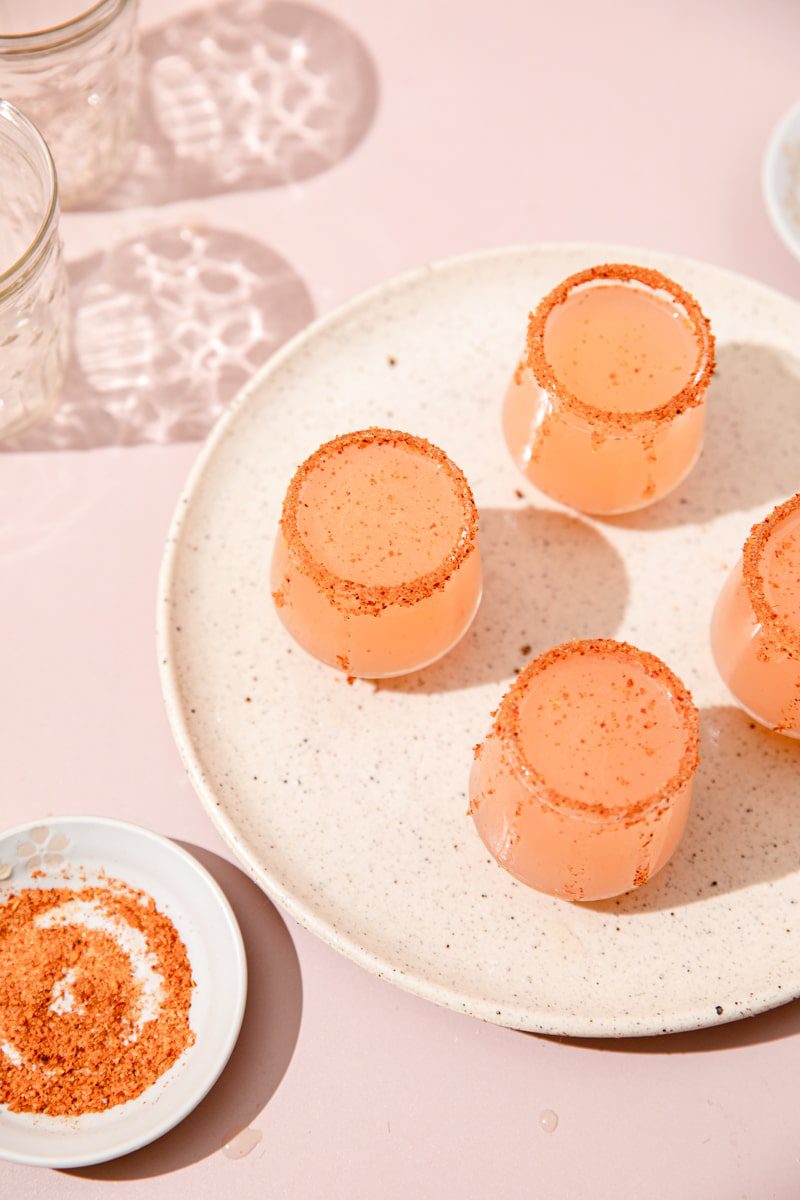 📖 Recipe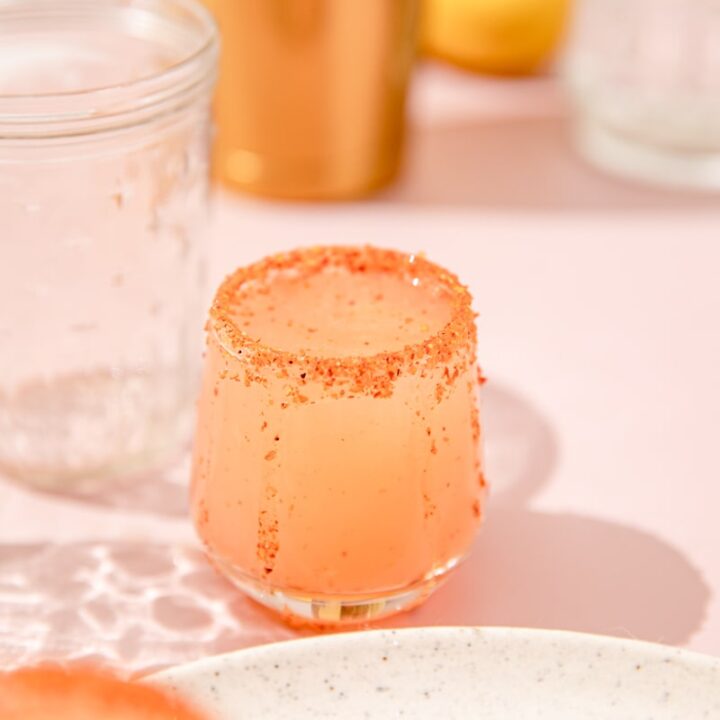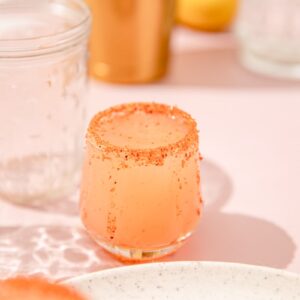 Mexican Candy Shot
Add some spice to your next party with these tasty and simple Mexican candy shots - sure to be a hit among friends!
Share by Text
Print
Pin
Rate
Equipment
1 Cocktail Shaker

6 shot glasses
Ingredients
3

oz

watermelon schnapps

6

oz

tequila

2

oz

agave syrup

2

oz

lemon juice

2

tablespoon

tajin

sour watermelon candy for garnish
Instructions
In a cocktail shaker add ice, watermelon schnapps, tequila, agave, lemon juice, and ½ the tajin,

Shake vigorously for 30 seconds.

Rim 6 shot glasses with the remaining tajin.

Strain the shot into each of the 6 glasses and garnish with a watermelon candy. Enjoy!