Green bean casserole is (hands-down) a perfect Thanksgiving side dish. It always brings a lot of people and cheers to the table. The version I'm sharing today is a no-mushroom-soup special! Yep, it's possible!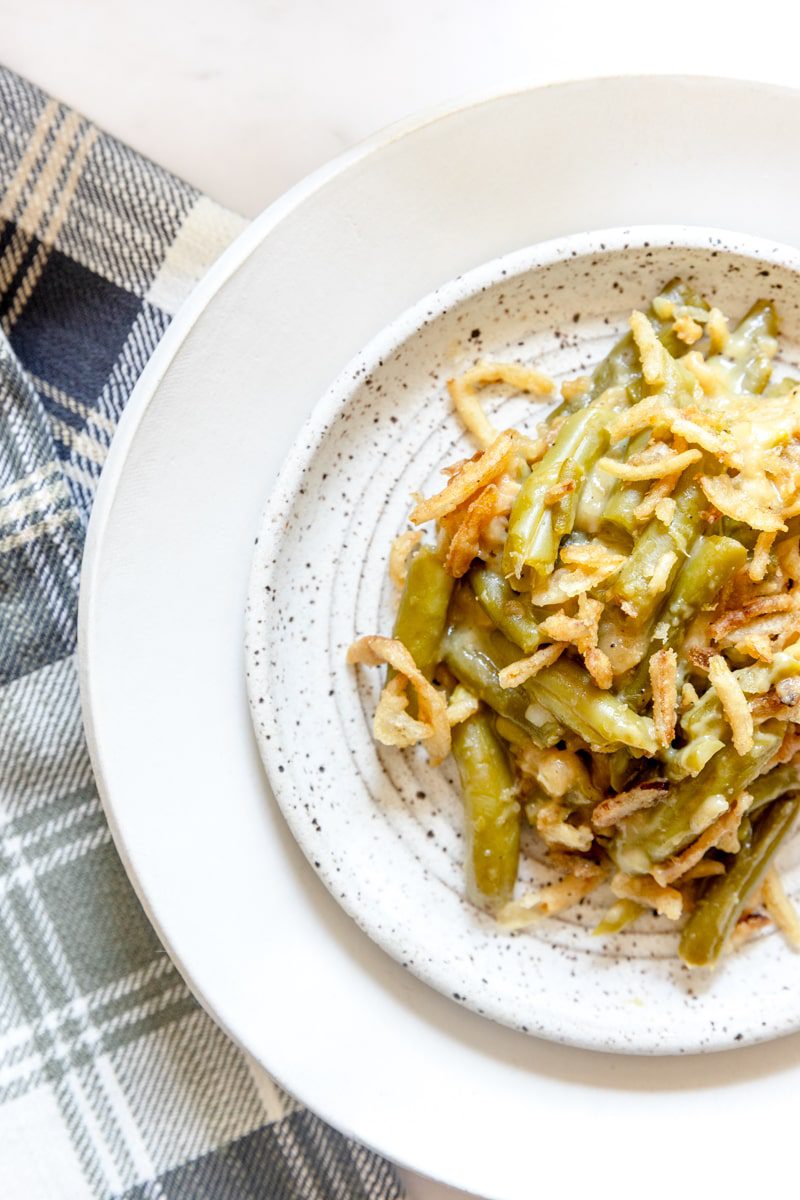 So, switch up your Thanksgiving game from the regular sweet potato casserole and cranberry sauce to something more filling, creamy, and crowd-pleasing. 
Jump to:
This Green Bean Casserole Without Mushroom Soup Will Become Your Favorite
Here's why...
It'll help you feed the crowd. The recipe, although a side dish, is pretty filling.
It's quick and easy. Although the cooking time is about 40-45 minutes, you only have to give your precious 15 minutes to it. Your oven will do the rest of the work!
It's a breeze to customize. Top it with your favorite toppings, and watch it work the magic! Every. Single. Time!
No fancy ingredients! Even if you don't have an ingredient in your pantry already (slim chances), you can easily pick one from your nearest grocery store.
Ingredients For the Best Green Bean Casserole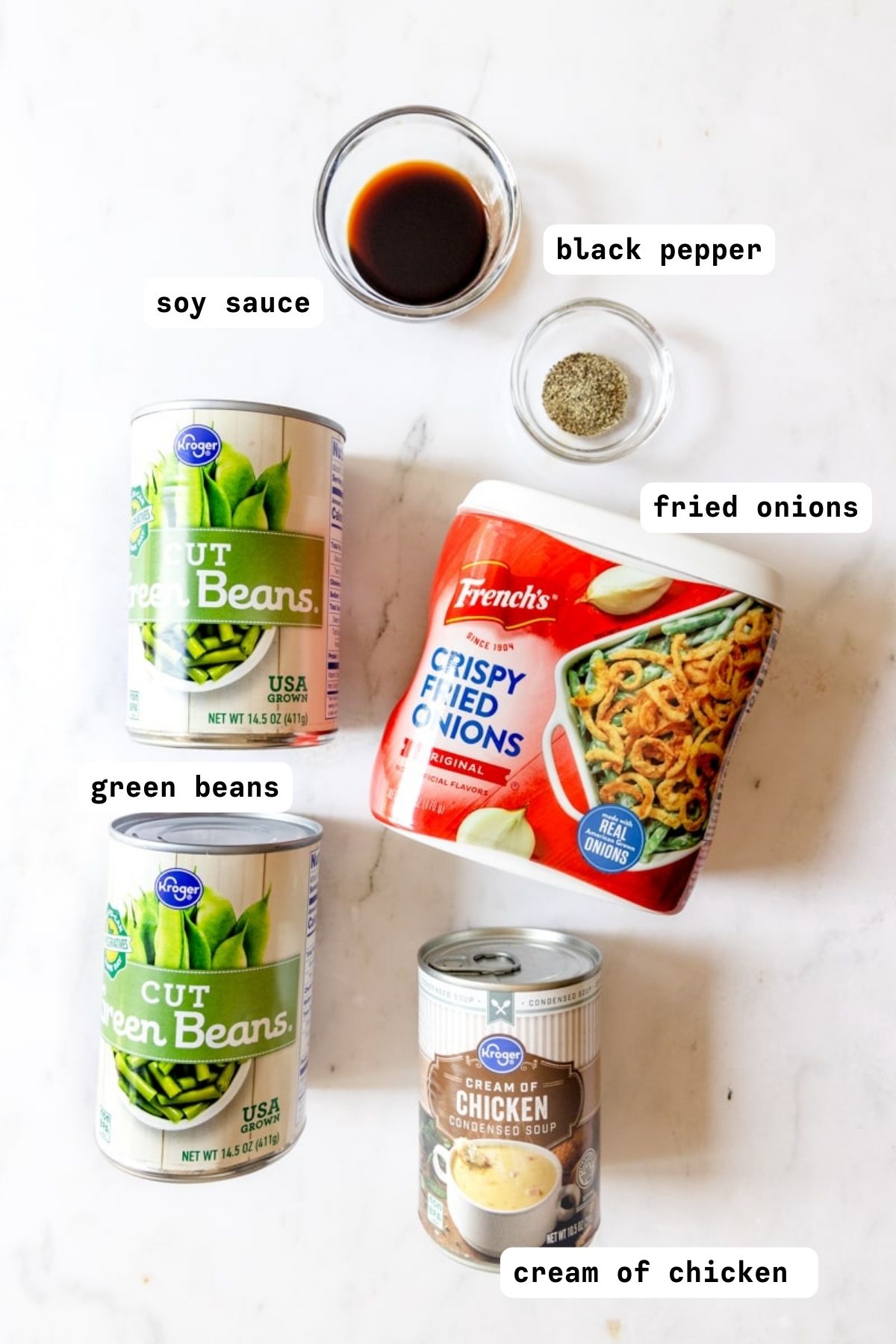 Green Beans - You can use fresh green beans, canned or frozen ones - everything works. If you're using frozen green beans, increase the baking time by 10-15 minutes. For canned green beans, drain the liquid and rinse the beans before adding them to the mix.
Soy Sauce - Give your traditional green bean casserole a slightly nutty flavor profile with soya sauce.
Cream of Chicken Soup - Use condensed cream of chicken soup for a thicker consistency. You can use canned soup or make your own. More on it in a bit.
French Fried Onions - I prefer homemade crispy fried onions for their perfect crunch and delicious flavor. They bring a hint of sweetness to balance the rest of the flavors.
Pepper - Nothing works without black pepper. It's a classic way to bring a little spice to the dish.
Milk - Here's where your casserole will get its creaminess. Don't leave the milk out.
Refer to the recipe card at the end of the post for the exact quantities.
Making the Classic Green Bean Casserole
Get ready to amp up your holiday table (and make your guests' taste buds happy) with the tastiest (and super simple) green bean casserole.
Bring out your baking dish and let the casserole magic begin.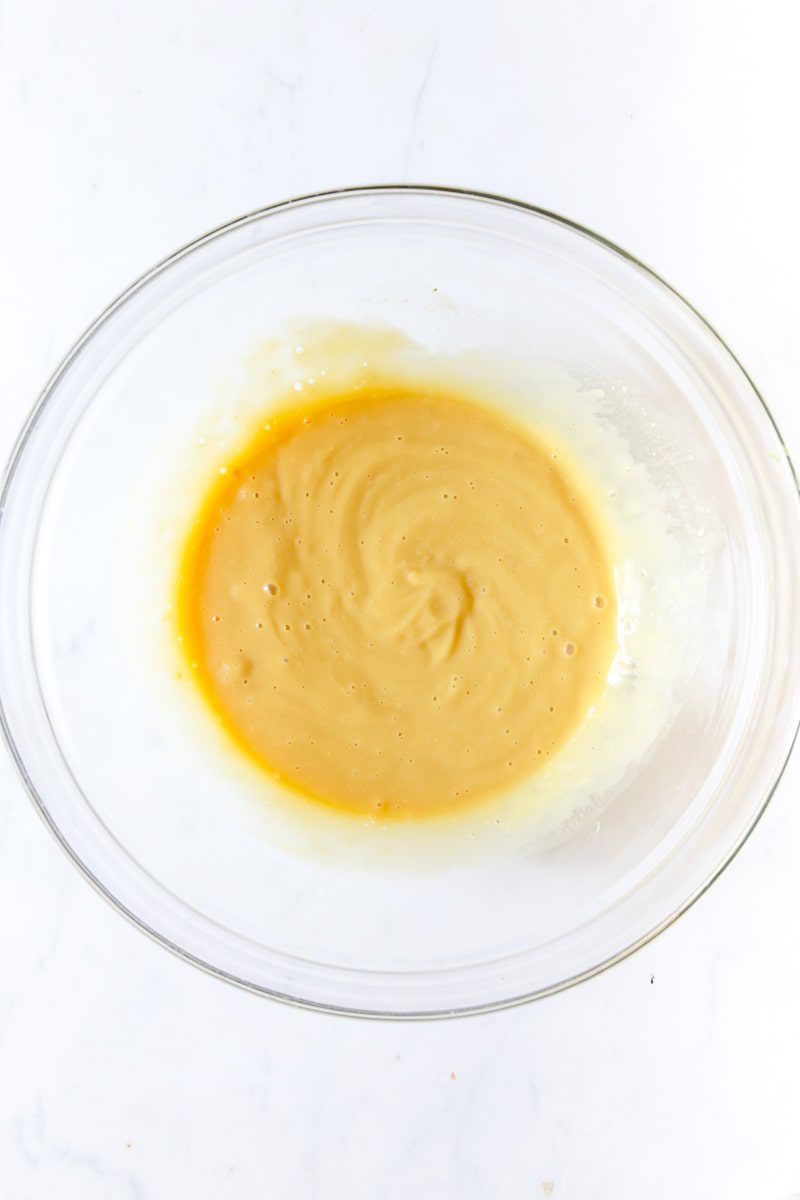 Mix together milk, soy sauce, and condensed chicken soup.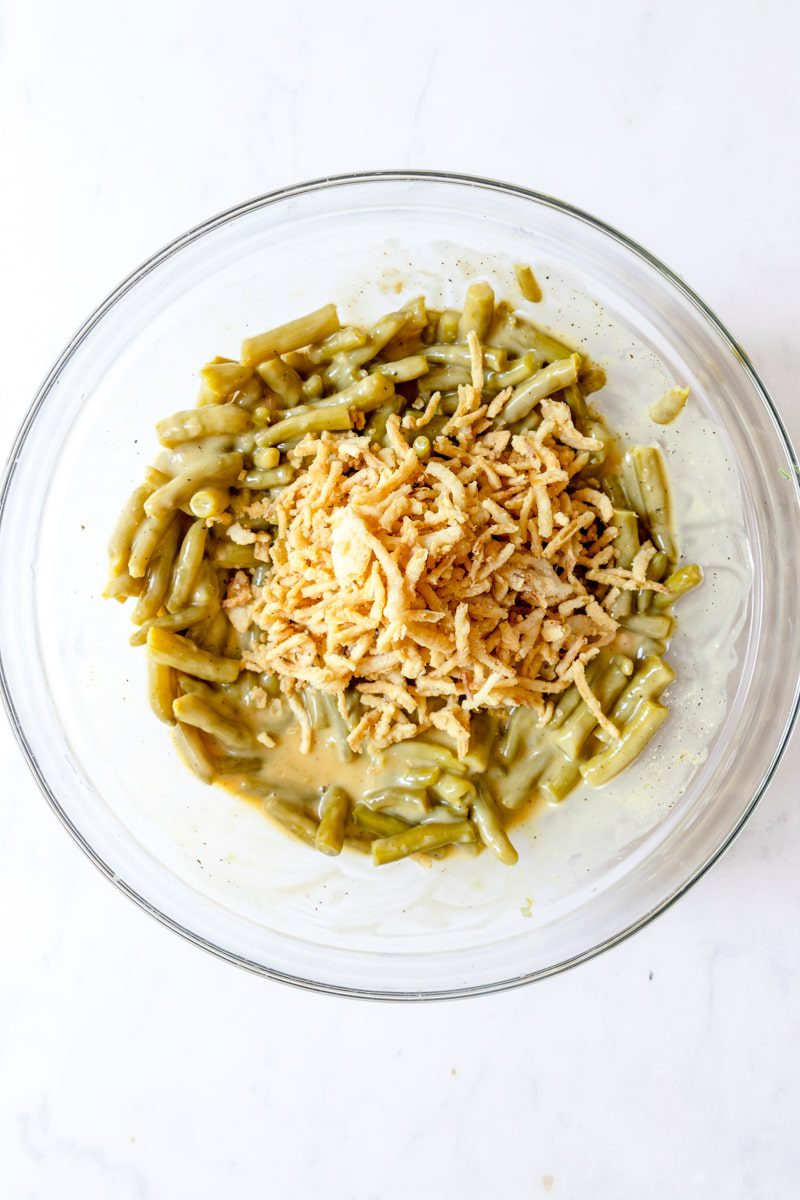 2. Stir in the green beans and ¼ cup fried onions.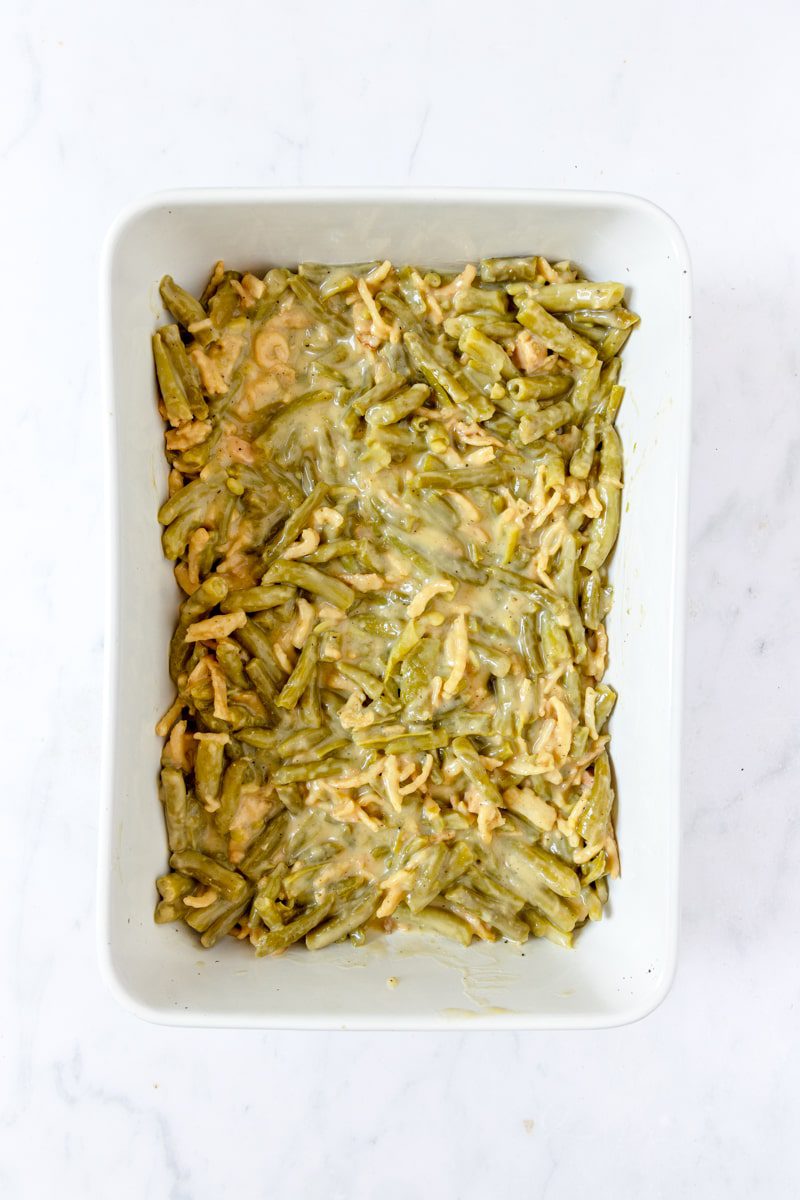 3. Pour mixture in a baking dish and bake for 30 minutes at 350 degrees.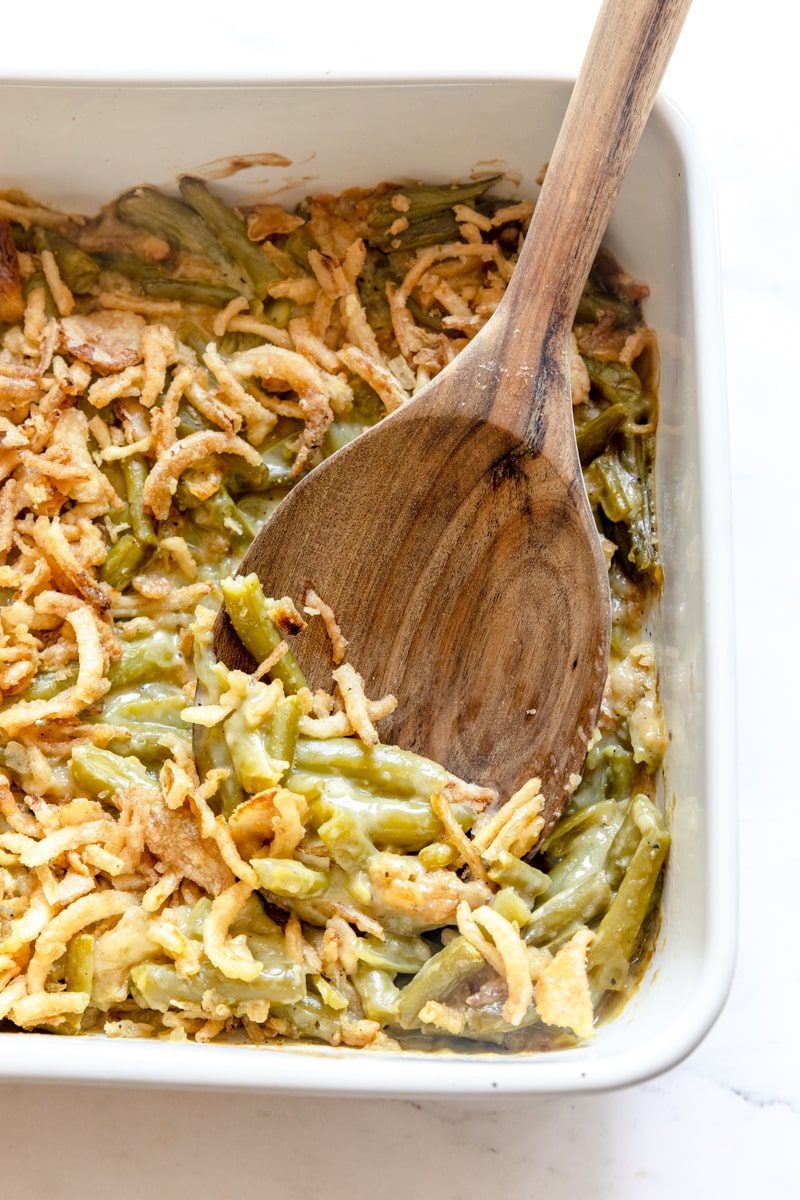 4. Remove and add remaining fried onions then continue baking for 5-7 minutes. Enjoy!
Done? What are you waiting for? DIG IN!
How to Make My Own Cream of Chicken Soup?
As promised, I'll tell you how to make a super delicious homemade version of cream of chicken soup. Trust me; it's super easy peasy!
Melt a few tablespoons of butter over medium heat in a large skillet.
Add garlic and cook it till it's deliciously aromatic. One minute should do.
Now, gently fold in all-purpose flour. Do not stop whisking! Go at it till you have a smooth paste, and cook some more to let it thicken.
Next, add some chicken stock. Again, keep up with religious whisking.
Add heavy cream and mix it till you have a nice texture. Keep cooking for 2-3 minutes before adding cream cheese.
Season your homemade chicken cream soup with a pinch of salt, pepper, thyme, nutmeg, lemon juice, and some pepper flakes.
There, your creamy sauce is ready!
Note: If you're out of cream cheese, sour cream will cover for it. Just add it in the end, or it will curd!
Frequently Asked Questions
How to Store Leftover Green Bean Casserole?
You have leftovers? Only kidding! Take your airtight container, fill your leftovers in it, and slide the box into the fridge. You have three days to gobble it up!
Can I Freeze It?
Yup! It's a great make-ahead dish that freezes like a dream. Do it right, and you're looking at 6 months of shelf life. Make sure you plastic wrap the dish.
📖 Recipe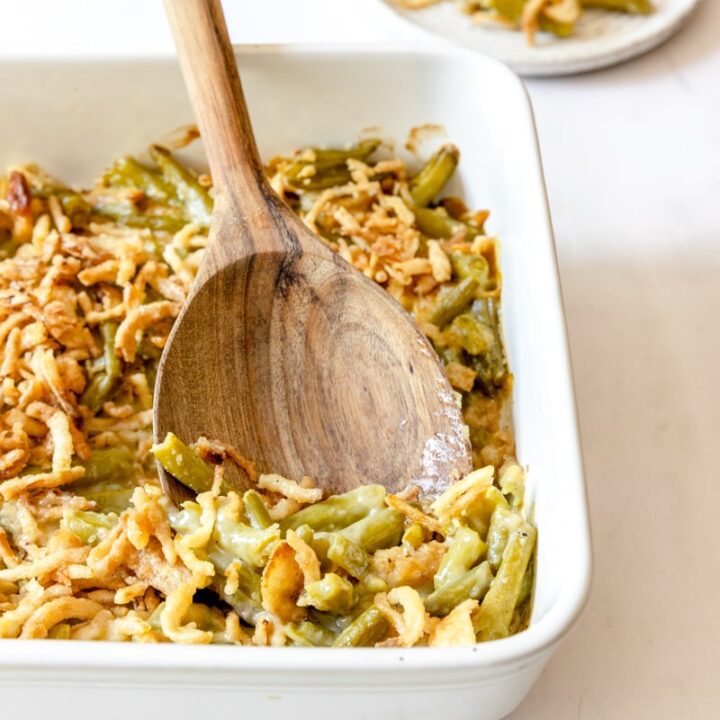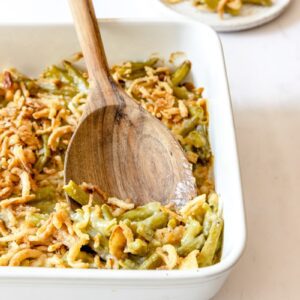 Green Bean Casserole (Without Mushroom Soup!)
Elevate your holiday feast with a flavorful green bean casserole recipe that doesn't rely on mushroom soup.
Share by Text
Print
Pin
Rate
Ingredients
4

cans of green beans

drained

1

tablespoon

soy sauce

1

can of condensed cream of chicken soup

1

can fried onions

½

teaspoon

pepper

½

cup

milk
Instructions
In a large mixing bowl combine the milk, condensed soup, and soy sauce. Whisk well to combine.

Pour in the drained green beans, ½ cup of the fried onions, and pepper. Stir to combine.

Pour this mixture into a 9x13 casserole dish and bake at 350 for 30 minutes until bubbly around the edges.

Remove the casserole and sprinkle the remaining fried onions on top. Bake an additional 5 minutes. Enjoy!
Notes
Feel free to use blanched, fresh green beans instead of canned beans for a slightly different take on this recipe!