If you're a coffee lover like me, you know there is no such thing as too much Joe. From a classic Iced White Chocolate Mocha to Dalgona Whipped Coffee, every sip is a treat.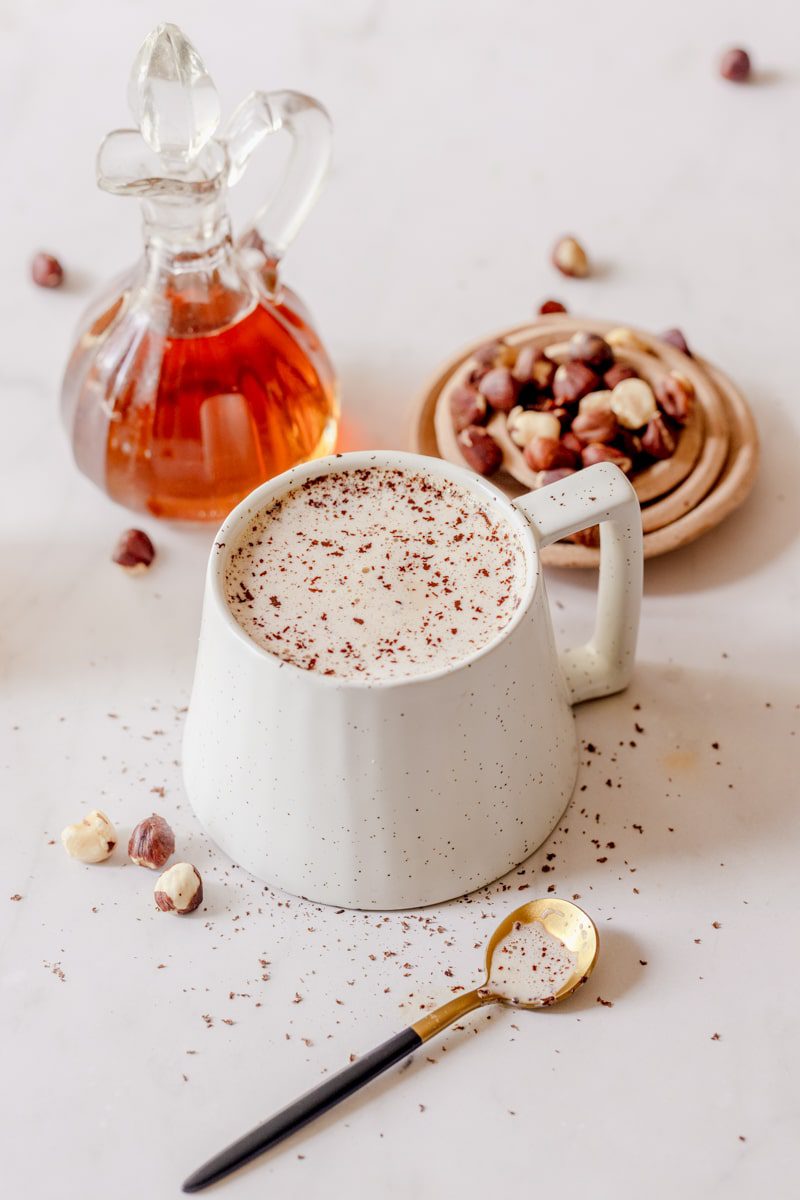 So, ditch your regular hot chocolate this season and try this hazelnut latte. It's creamy, nutty, and full of flavor. Serve it hot or cold - it'll leave you wanting for more. 
Either way you take it, it would pair beautifully with a big slice of Blueberry Brioche French Toast Casserole!
Jump to:
Why You'll Love This Recipe
You only need three ingredients. A Starbucks-level coffee with three simple ingredients! Need I say more?
It gets ready in less than 5 minutes! No continuous whipping, no extra equipment.
It's super versatile. Don't have a fancy coffee machine? No worries! You can make this latte in your French press, and it'll still turn out to be delicious.
Ingredients for Hazelnut Latte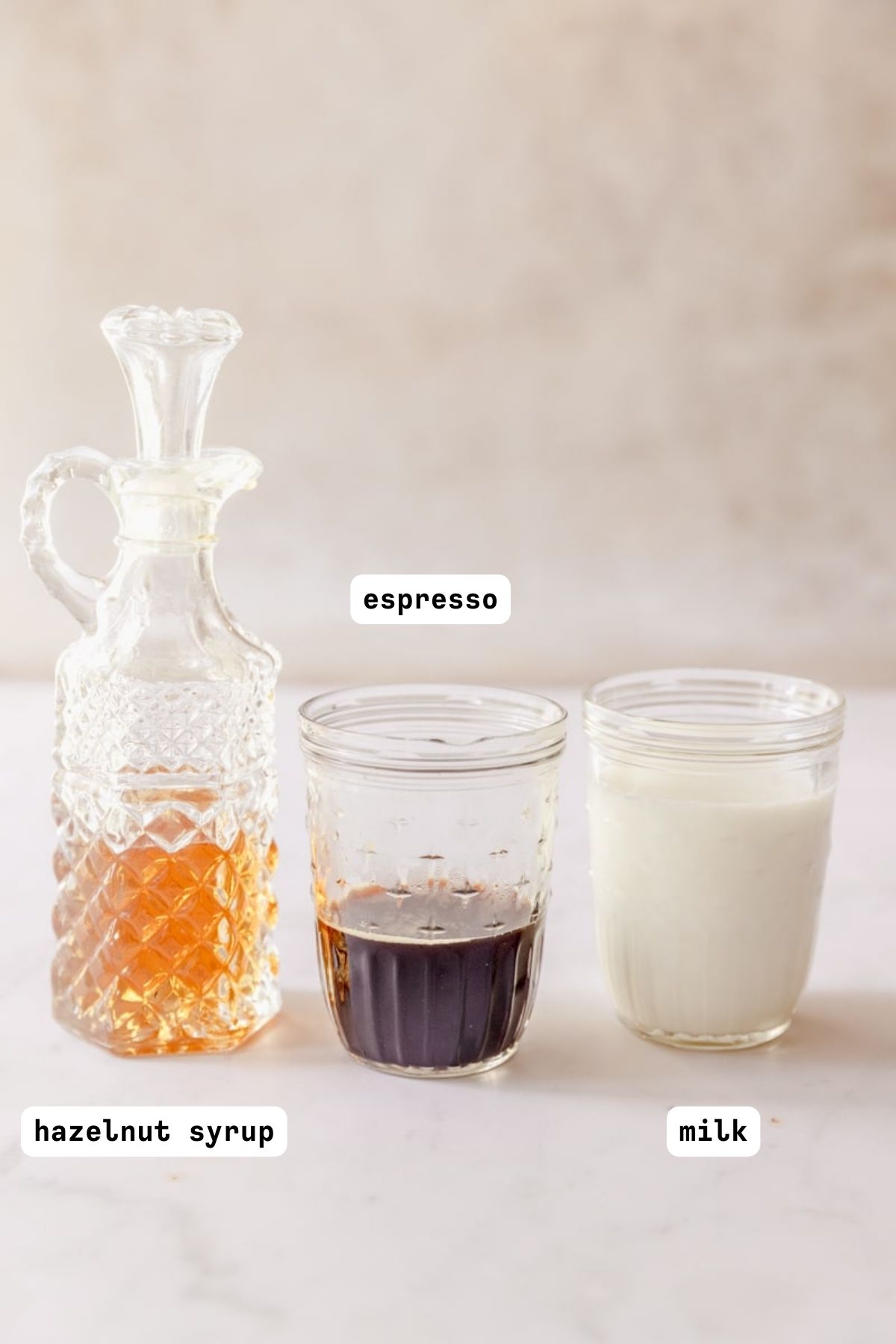 Hazelnut Syrup
It is our star ingredient for this latte recipe. It'll add a subtle nutty sweetness to your latte. You can make your own or use a store-bought syrup.
Freshly Brewed Espresso
I love freshly brewed espresso! That scent, ah, it's everything! But if you don't have an espresso maker, cold brew will work, too. Just adjust the amount to match the fresh espresso's strength.
Milk
Whole milk is the best choice for a hazelnut latte. But if you prefer plant-based milk, oat milk is a great option. Almond milk and coconut milk will do, too.
Optional Ingredients
I usually stick to the three basic ones mentioned above. But there's no rule here. Here are some add-ons you might want to try:
Maple Syrup - for sweetness
Cinnamon - for a warm and cozy flavor
Nutmeg - for a nutty and spicy touch
Vanilla Extract - for a rich and sweet aroma
Making the Delicious Hazelnut Latte
Heat up the milk and hazelnut syrup in a saucepan.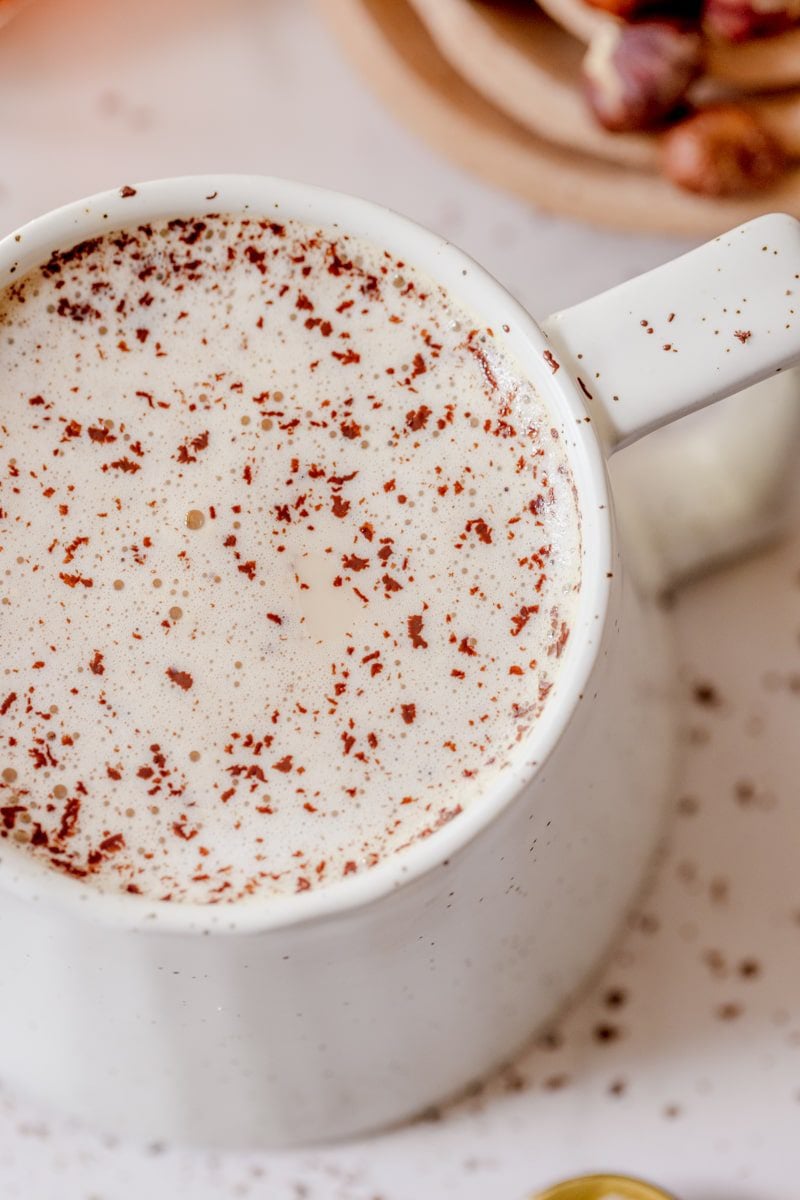 2. Add the hazelnut steamed milk and espresso to a mug and enjoy!
Making the Delicious Iced Hazelnut Latte
Here's the cold version of the hazelnut latte.
You have to follow the same steps, except steaming the milk. Confused?
Follow the step-by-step instructions below: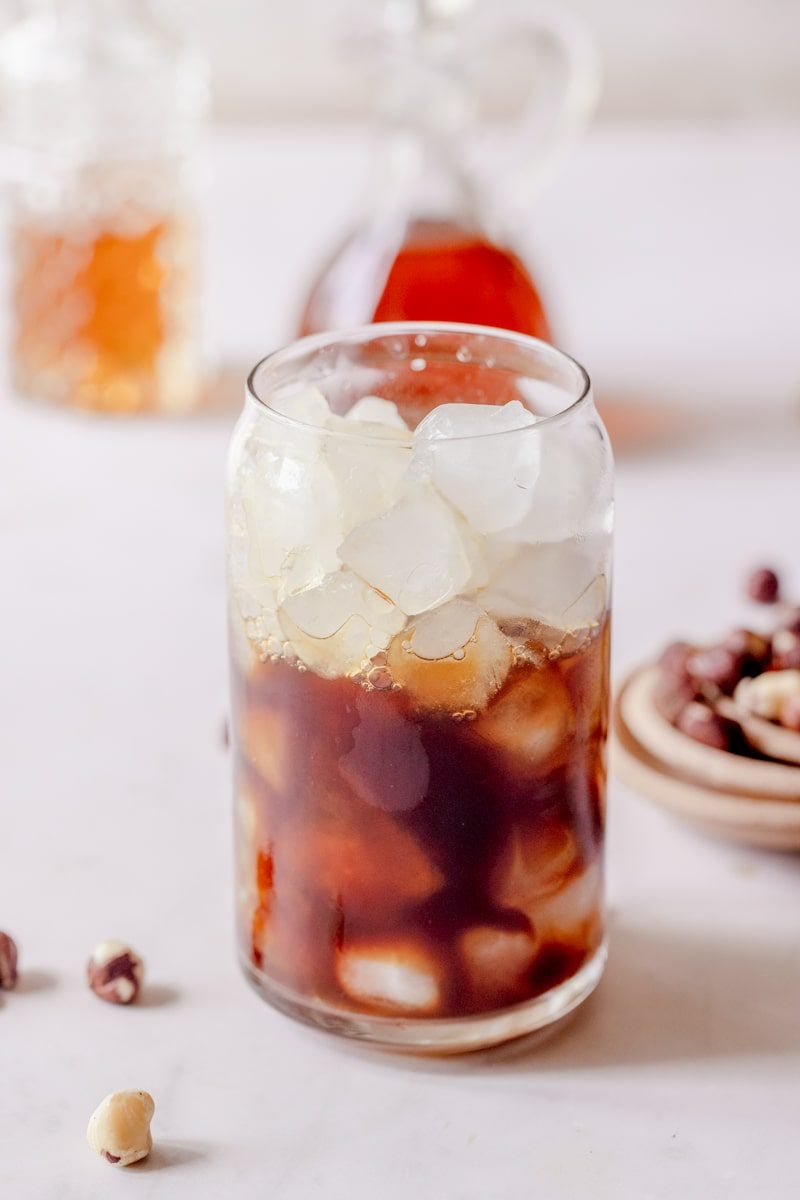 Fill a glass with your brewed espresso and the hazelnut syrup.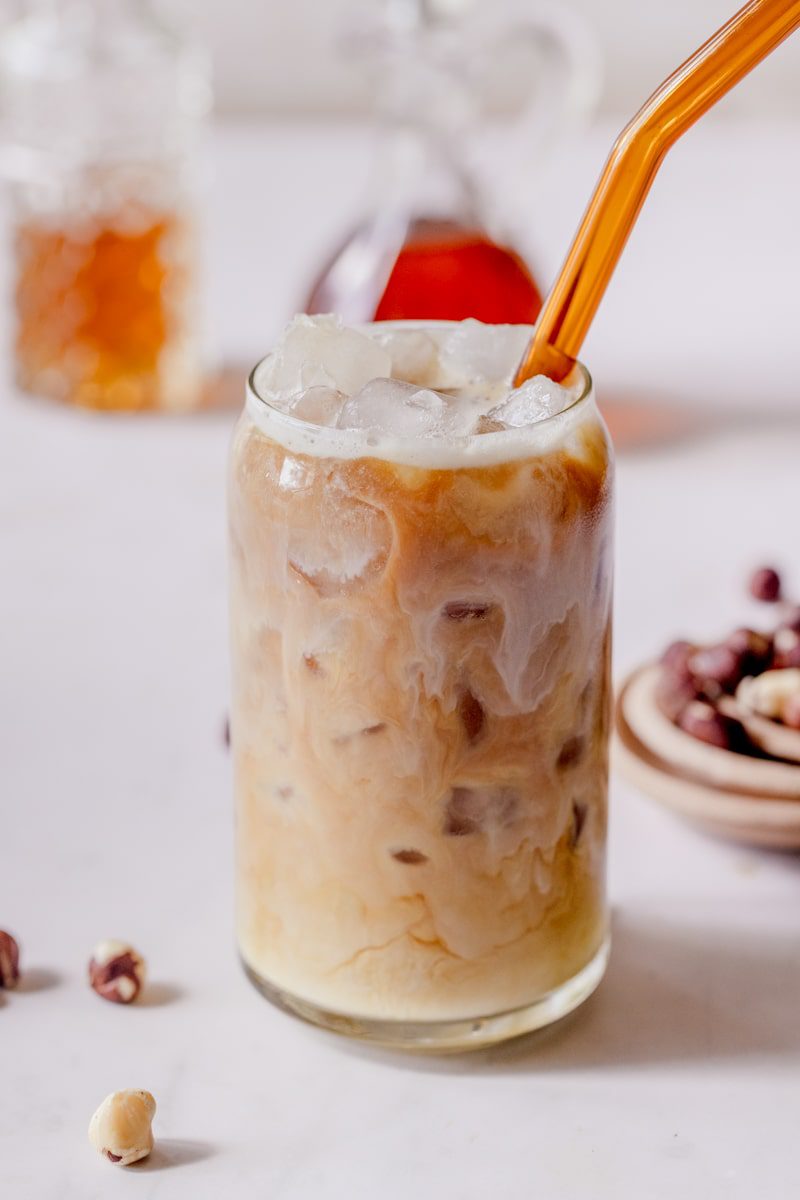 2. Top with cold milk and enjoy!
Must-Try Variations
Chocolate Hazelnut Latte - add a little drizzle of chocolate syrup to your latte.
Iced Pumpkin Spice Latte - mix pumpkin spice into your freshly brewed espresso to bring those warm pumpkin spices into the mix!
Hazelnut Mocha - cinnamon, chocolate, hazelnut...whats not to love?!
Frequently Asked Questions
Can I Make My Own Hazelnut Syrup?
Yep! Bake hazelnuts in preheated oven for 8-10 minutes. Let them cool a bit, and then remove their skins with a paper towel. Chop them and put them in a saucepan. Now, add water and cane sugar and bring the mixture to a boil. Let it simmer for 10-15 minutes. Turn off the stove, add vanilla extract, and let it sit for a few minutes. Once done, strain and store.
Can I Use Any Other Nuts?
Of course, you can! Try walnuts, almonds, or pecans for a different nutty flavor.
How Do I Make This Vegan?
Use plant-based milk and maple syrup instead of cow's milk and cane sugar.
📖 Recipe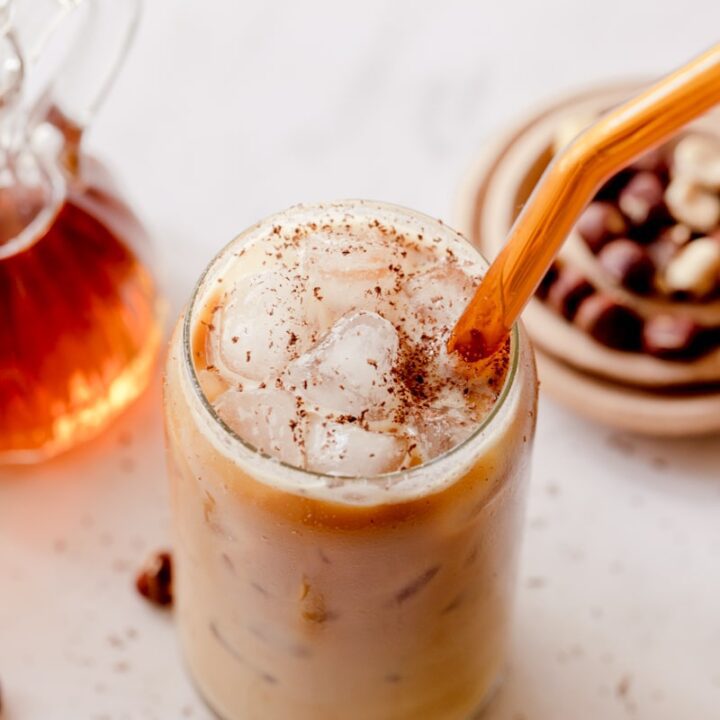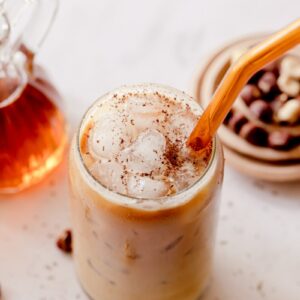 Equipment
1 espresso machine (or moka)

1 Saucepan
Ingredients
1

tablespoon

hazelnut syrup

2

oz

freshly brewed espresso

1

cup

milk
Instructions
Brew your espress using an espresso machine or moka pot.

Steam your milk using a milk frother/steamer or bring it to a gentle boil in saucepan over medium heat then remove it.

In a mug combine the hazelnut syrup and the espresso.

Top with the steamed milk and enjoy!

To make it iced, skip steaming the milk and pour all of the ingredients into a cup over fresh ice. Enjoy!
Notes
Try adding chocolate syrup or pumpkin spice to create delicious flavor combos with your base hazelnut latte recipe!