Skip the expensive store-bought granola butters and make it yourself with just a few wholesome ingredients! It tastes like oatmeal cookies, yet can be used just like your favorite nut butter. But it has NO NUTS!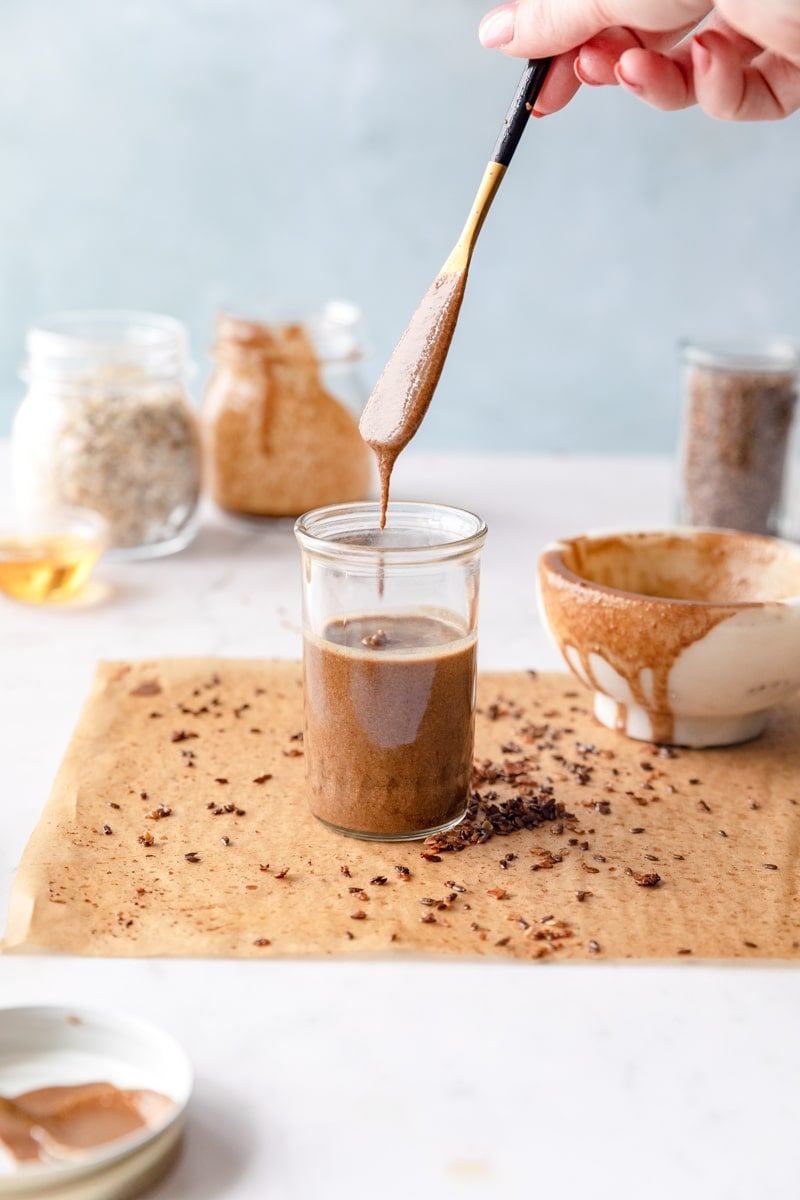 If you haven't tried granola butter yet, you're in for a treat! It looks like nut butter, but tastes just like granola! It's a little like cookie butter, but much healthier.
Think warm spices like cinnamon, allspice, cardamom, and ginger with a slightly sweet toasted oat flavor. It reminds me of how the house smells after making my Apple Pie Granola!
Jump to:
Why You'll Love This Recipe!
A simple recipe, but so many reasons to love it!
Allergen friendly. It's perfect for people with tree nut allergies or dietary restrictions because it's easy to adjust the ingredients to meet your needs.
SO Many Uses! It tastes amazing on anything: toast, sliced apples, ice cream, yogurt, and more.
It's naturally lower in fat and calories than almond butter or peanut butter because it is made from oats, not calorie-dense nuts.
What is Granola Butter?
Granola butter is made by toasting the ingredients for homemade granola like oats, flax seeds, coconut oil, and spices. Instead of pouring the crumbles over your yogurt, add it to a food processor or blender and blitz it up with some olive oil until smooth.
The toasting process brings out a delicious nutty flavor that has the flavor of oatmeal cookies and tastes amazing on pretty much anything. Although it sounds a little strange before you've tried it, you'll quickly understand why granola butter is so trendy right now.
Oat Haus granola butter is incredibly popular and comes in a ton of different flavors, but is so expensive! This recipe makes a smooth, creamy granola butter that tastes like chai thanks to a variety of warming spices.

Tools Needed 
You'll need a few ingredients and a little patience to make this oat-based spread. Here are some tools to make your job easier!
High-speed blender or high-speed food processor. This is essential to acheive a silky smooth texture of a nut butter you love!
Baking Sheet - this helps to toast your homemade granola prior to blending it to creamy perfection.
Parchment Paper - line your baking sheet with parchment or tin foil for less mess!
Storage Container - whether you choose an air tight Tupperware or glass mason jars, choose a storage option that works for you!
Homemade Granola Butter Ingredients
This granola in spreadable form is one of my all time favorite toppings for pancakes, waffles, apples, and more. Here's what you'll need to make this delicious nut-free spread!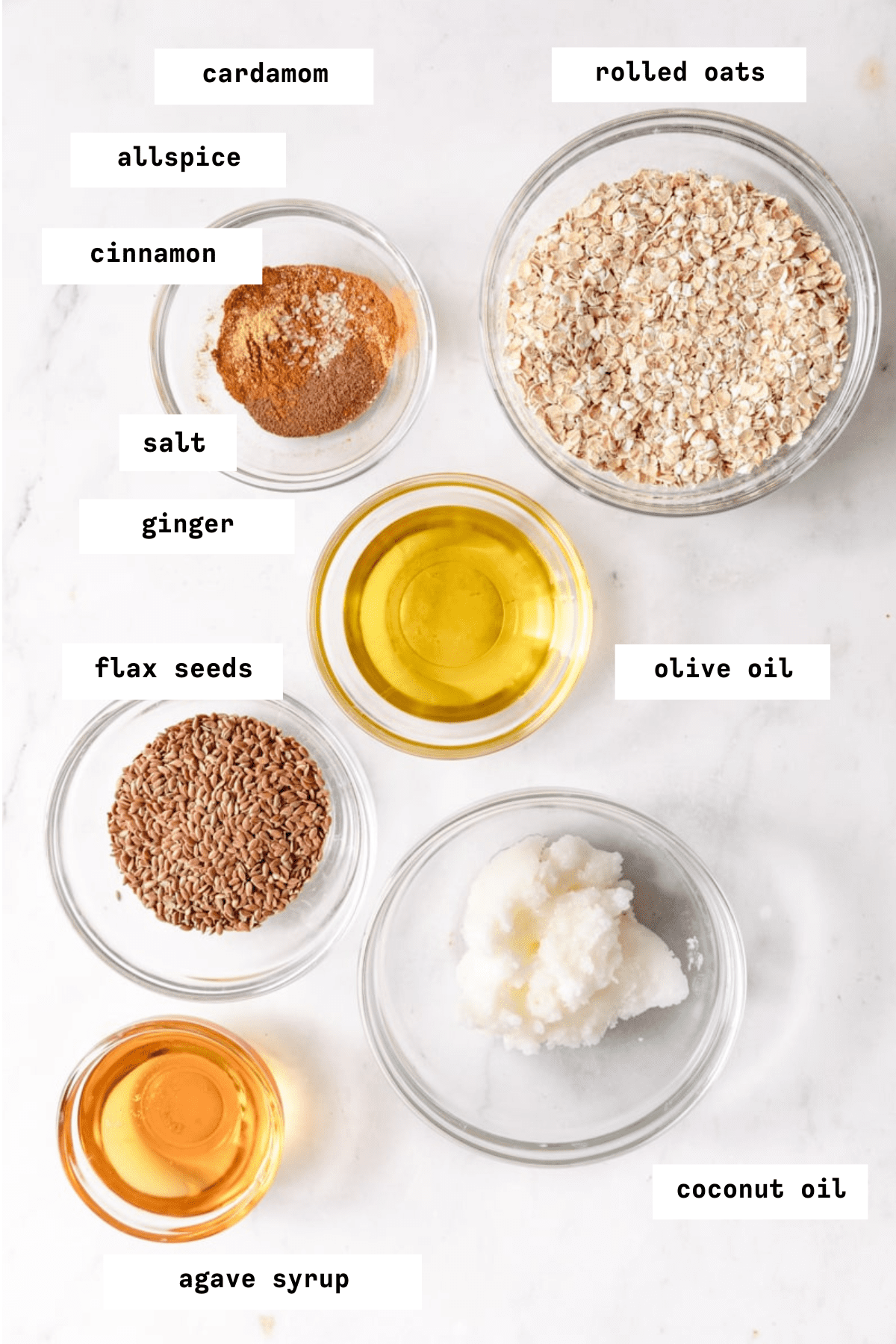 Rolled oats - This is the base of the granola butter! Use regular rolled oats.
Flax seeds - Flax is a powerhouse of nutrients, fiber, protein, and heart-healthy omega-3 fatty acids.
Cinnamon - Cinnamon adds a little warmth and classic granola flavor to this recipe.
Allspice - This dried berry adds a warm, spicy flavor that tastes like the holidays.
Cardamom - A little cardamom makes this granola butter recipe taste like your favorite spiced chai.
Ginger - Ginger adds a bright, warm heat that balances well with the other spices.
Salt - Don't forget to salt your granola butter! It will draw out the flavors of all the granola butter ingredients.
Agave syrup - Agave is a great neutral sweetener that doesn't spike your blood sugar as much as regular sugar.
Coconut oil - Toast your oats, flax, and spices in coconut oil for a perfect nutty flavor.
Olive oil - This is the key ingredient that turns your granola into smooth butter. Choose a neutral or light olive oil with minimal scent or flavor.
How To Make Granola Butter
This simple recipe is like a warm hug right in your pantry! Here are the steps to make granola butter...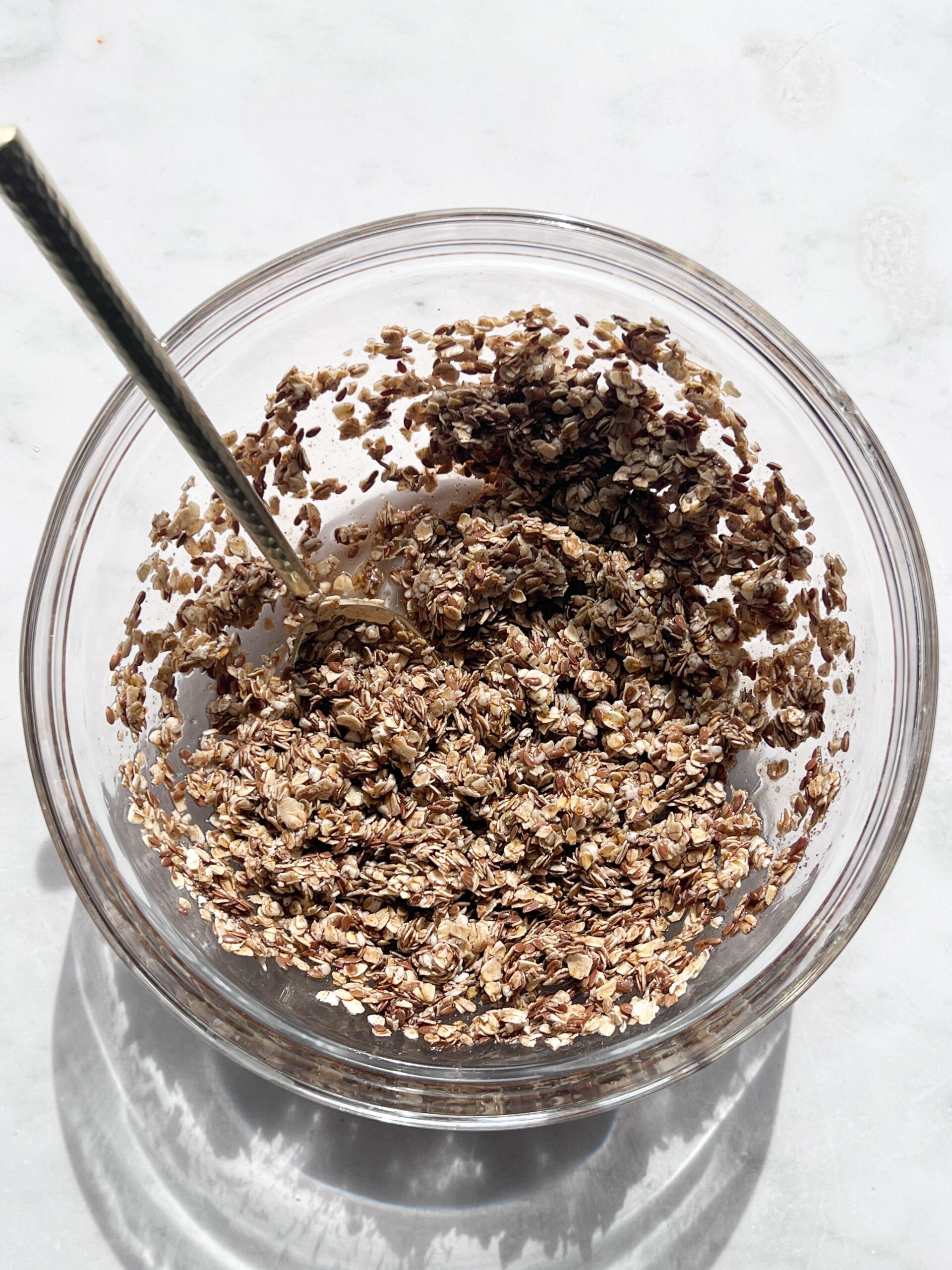 In a mixing bowl, toss all ingredients together except for the olive oil.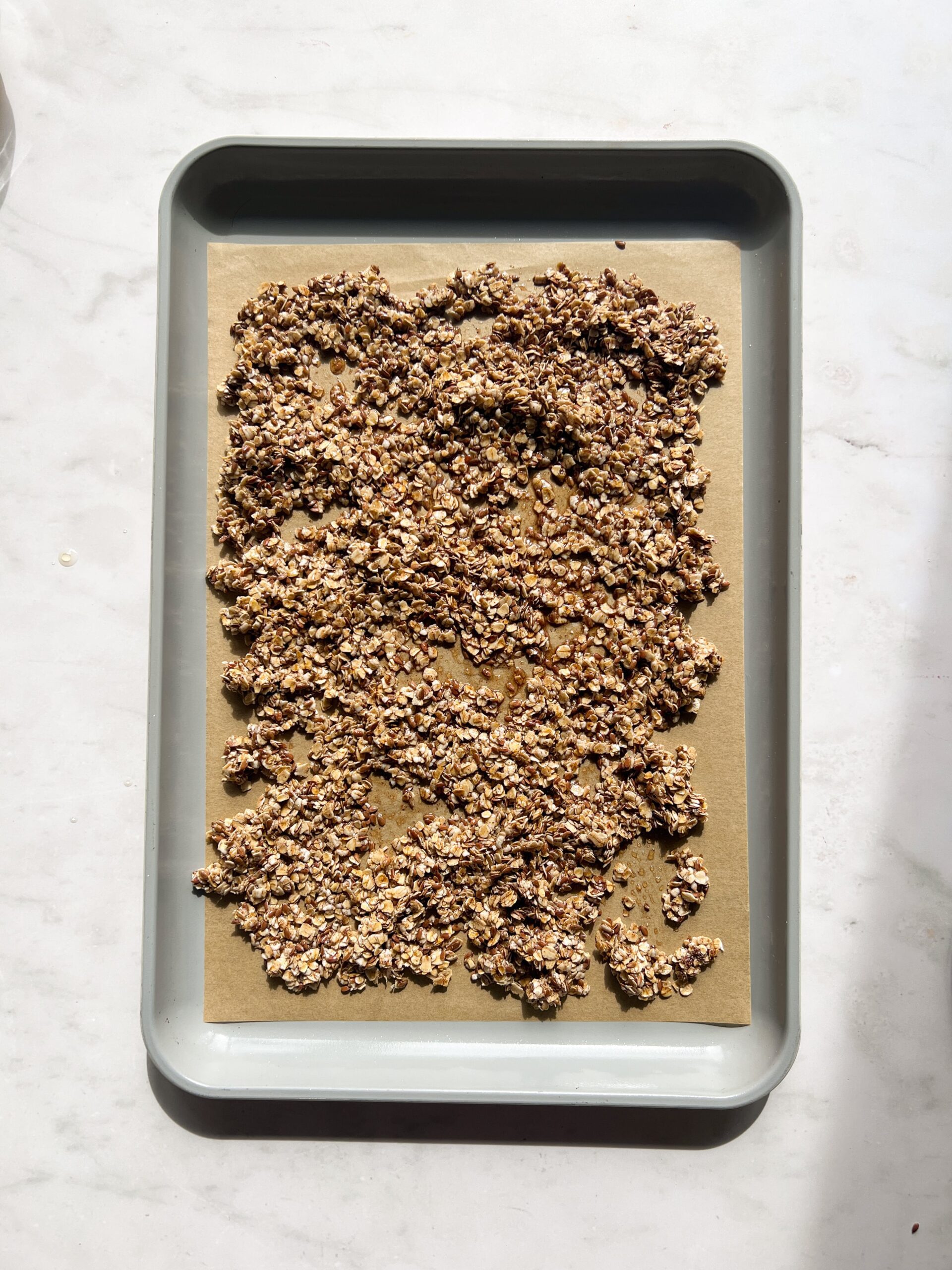 2. Spread onto a parchment lined baking sheet and bake at 325 for 5-7 minutes until toasty and golden brown.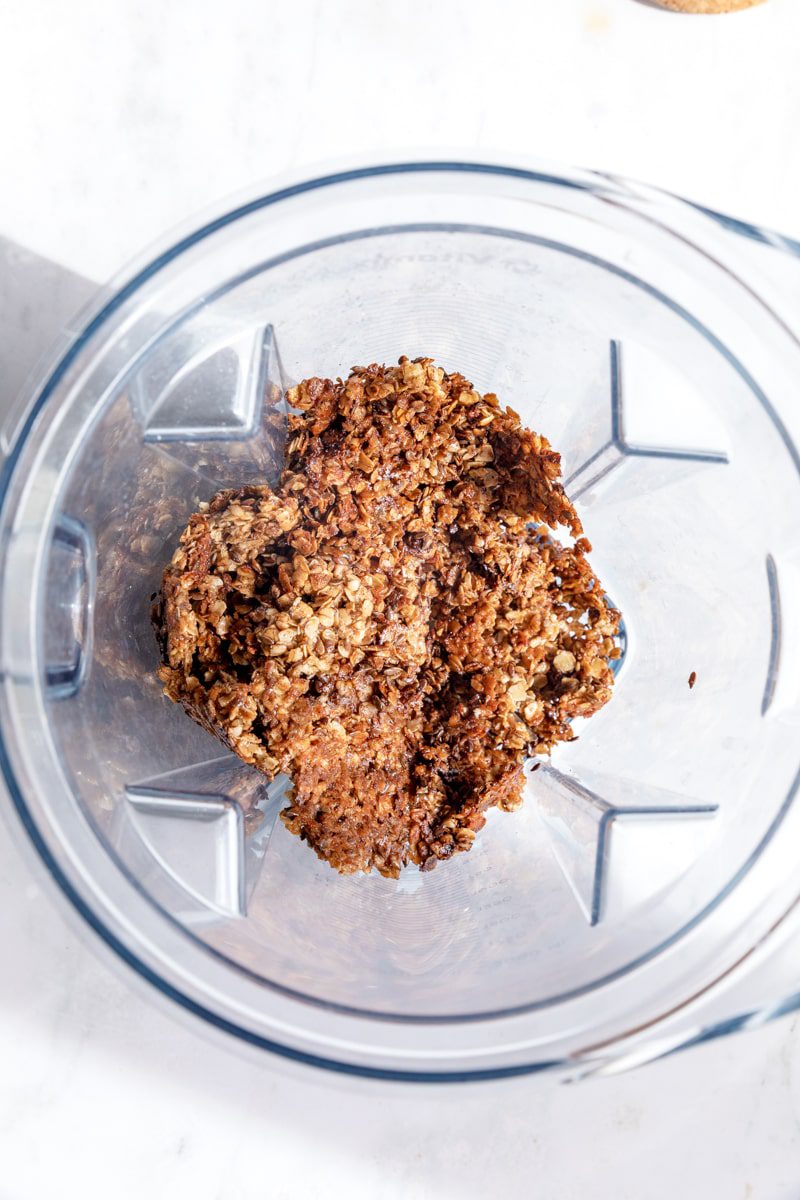 3. Add the granola and olive oil to a blender or food processor and blend for 5 minutes.Scrape down the sides and blend for another 5 minutes.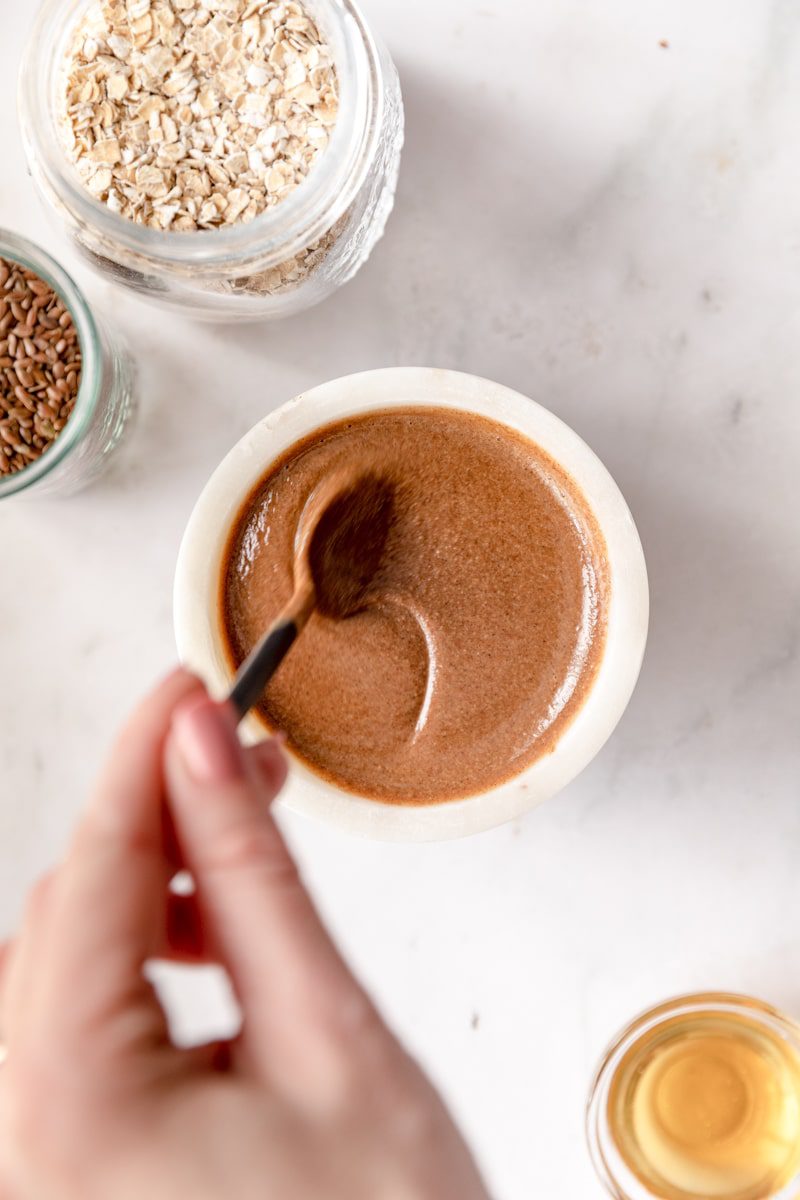 4. Scrape down the sides once again and and blend for another 2-3 minutes if it is not creamy and smooth.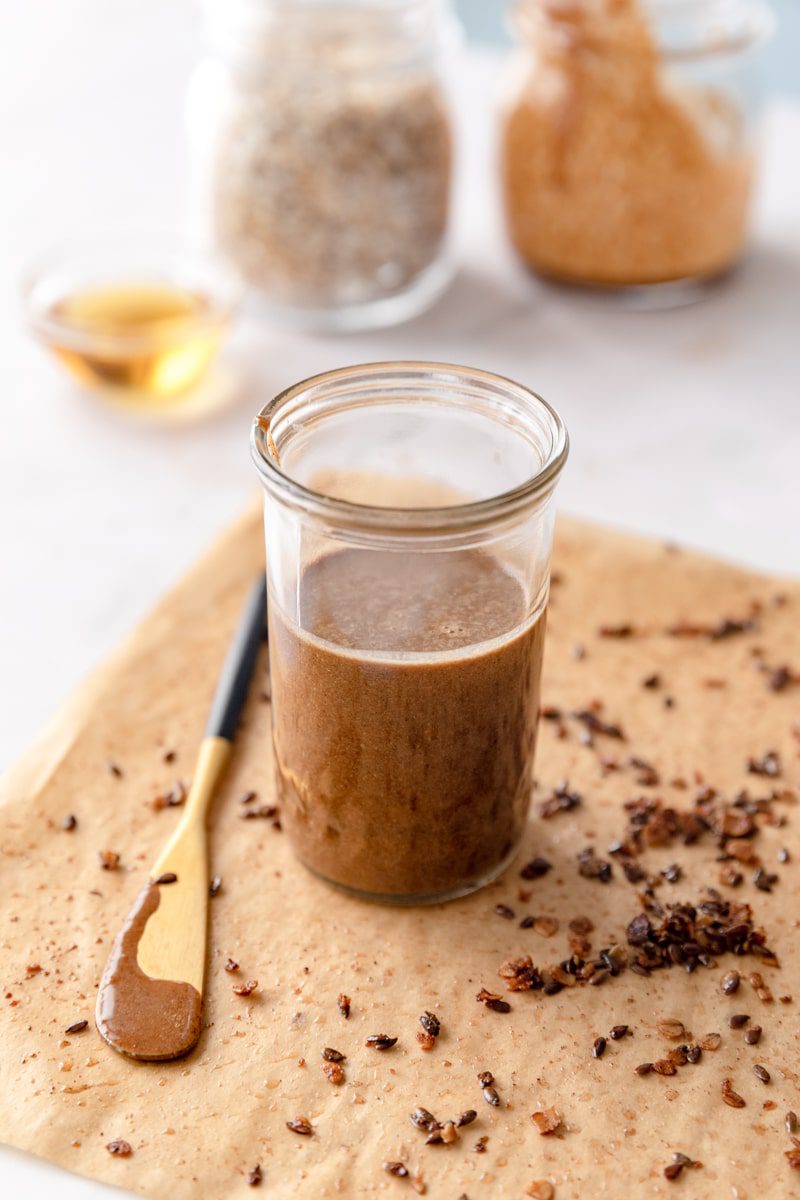 5. Store in a mason jar and enjoy!
Is Granola Butter Healthy?
This nut-free granola butter is incredibly healthy! It has tons of healthy fats from the coconut oil and olive oil. Flax is a great source of nutrients, fiber, and omega-3s.
The spices have a variety of health benefits including reducing blood sugar and inflammation. There are only 2 tablespoons of agave nectar in this recipe too, so it's naturally low in sugar. Since it's so filling and flavorful, it's a great way to fight sugar cravings.
Although you'll want to enjoy this recipe with some fresh fruit or a little extra protein, this healthful spread is a perfect addition to your pantry.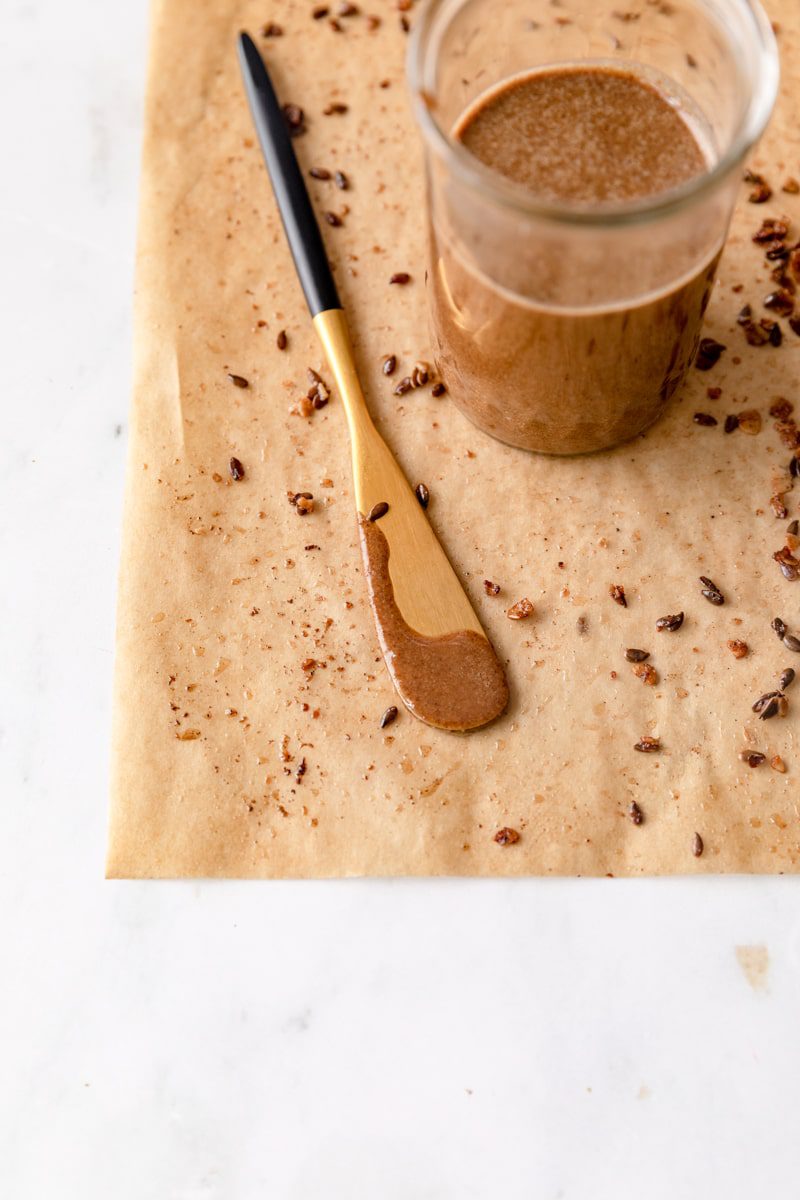 ​Substitutes and Variations
While this recipe is a delicious spread as is, here are some awesome substitutes and oat butter variations you might also love...
Add vanilla extract for an extra layer of flavor! Trader Joe's has a Bourbon Vanilla Extract that is perfection and would really elevate this recipe plus that sweet smell of vanilla is just hard to beat!
Chocolate Granola Butter would be easy to make with a pinch of cocoa powder and stirring in mini chocolate chips into it!
If you don't require a nut-free environment, you can absolutely include nuts like walnuts, pistachios, or almonds!
How To Use Granola Butter
Use granola butter like nut butter. Add it to a bowl of oatmeal, make a granola butter and jelly sandwich, drizzle it over Greek yogurt, spread it over wholewheat toast, use it to dip fruit, etc. It's easy to adapt this recipe to make it just to your liking, too.
Tips For The Best Oat Butter
Blend your granola while it's still warm. The extra heat softens the oats and will create a smoother texture.
Substitute your favorite sweetener like maple syrup, honey, or even brown sugar.
Taste your granola butter after blending. For a sweeter granola butter, add an extra splash of agave.
Feel free to replace the flax seeds with sunflower seeds in this oatmeal butter recipe.
FAQ
What is granola butter made of?
Granola butter starts with a base of oats, which can be toasted with flax seeds, sunflower seeds, earthy pumpkin seeds, or other nuts, a little oil, sweetener, and spices. After toasting, the homemade granola is blended in a food processor or high-speed blender with a little more oil until it's smooth and creamy.


What to put granola butter on?
Serve granola butter anywhere you would normally add nut butter. Think yogurt, toast, sandwiches, smoothies, apple slices, oatmeal, and more.
Does granola butter need to be refrigerated?
Granola butter does not need to be refrigerated. It can be stored in an airtight container at room temperature in the pantry just like regular nut butters. You can refrigerate it, but the oils will solidify, changing the texture.


Is granola butter gluten free?

Granola butter can easily be made gluten-free by choosing gluten-free oats. If you have a gluten allergy, double check that all of your remaining ingredients are processed in certified gluten-free facilities.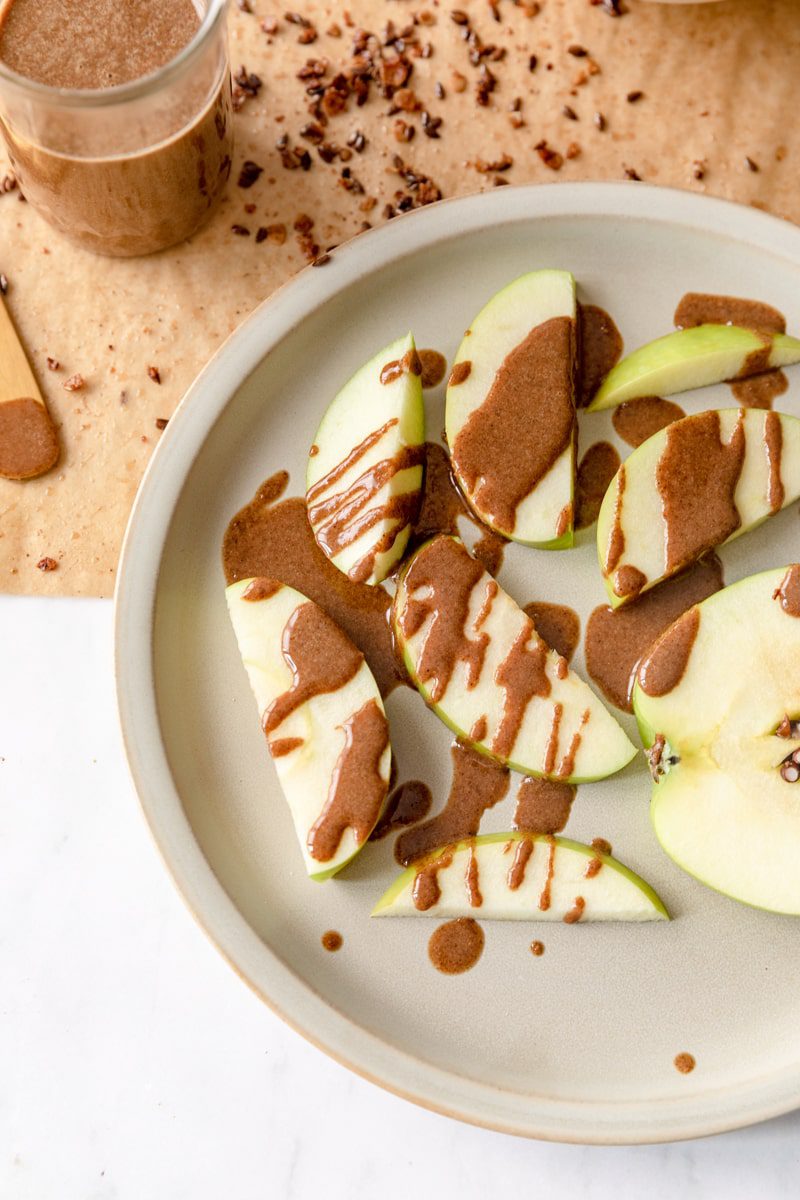 📖 Recipe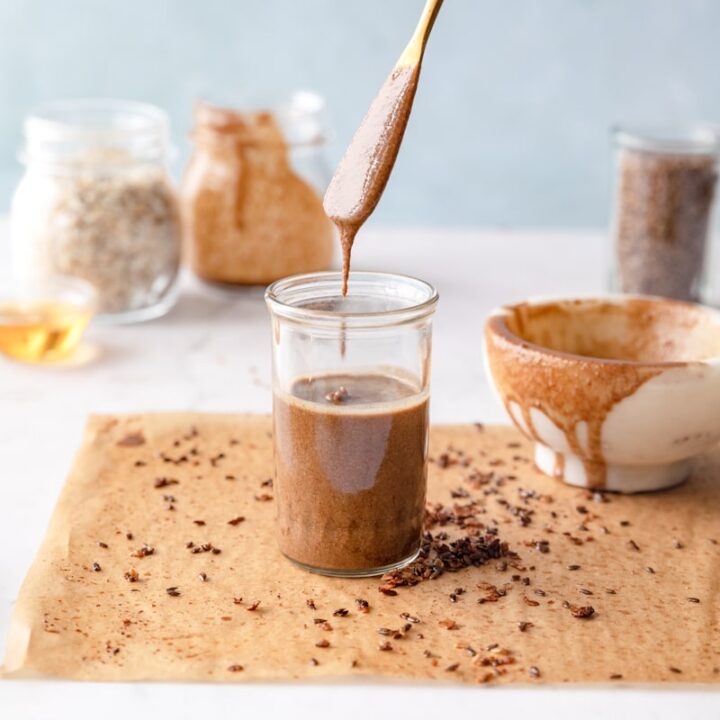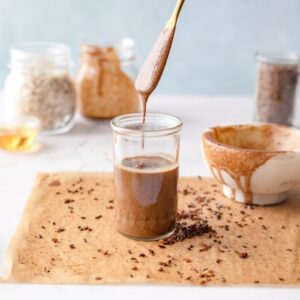 Homemade Creamy Granola Butter
Delicious and creamy butter made from real, whole ingredients like oats and flax. Use it like peanut butter and customize any way you like!
Print
Pin
Rate
Equipment
1 sheet tray

1 high speed blender
Ingredients
1

cup

rolled oats

¼

cup

flax seeds

½

tablespoon

cinnamon

½

tablespoon

allspice

½

tablespoon

cardamom

½

teaspoon

ginger

1

teaspoon

salt

2

tablespoon

agave syrup

¼

cup

coconut oil

melted

¼

cup

olive oil
Instructions
In a mixing bowl, toss all ingredients together except for the olive oil

Spread onto a parchment lined baking sheet and bake at 325 for 5-7 minutes until toasted.

Add the granola and olivec oil to a blender or food processor and blend for 5 minutes.

Scrape down the sides and blend for another 5 minutes.

Scrape down the sides once again and and blend for another 2-3 minutes if it is not creamy and smooth.

Store in a mason jar and enjoy!