Pretty and pink, absolutely refreshing, and perfect for any day of the week! This Pink Mule is loaded with pink grapefruit, fresh rosemary, and that zingy ginger beer. This Grapefruit Moscow Mule will be in constant rotation on your drink menu!
Whether you are hosting a birthday party, a bachelorette party, or even a fun super bowl party, these fun fizzy drinks NEED to make an appearance!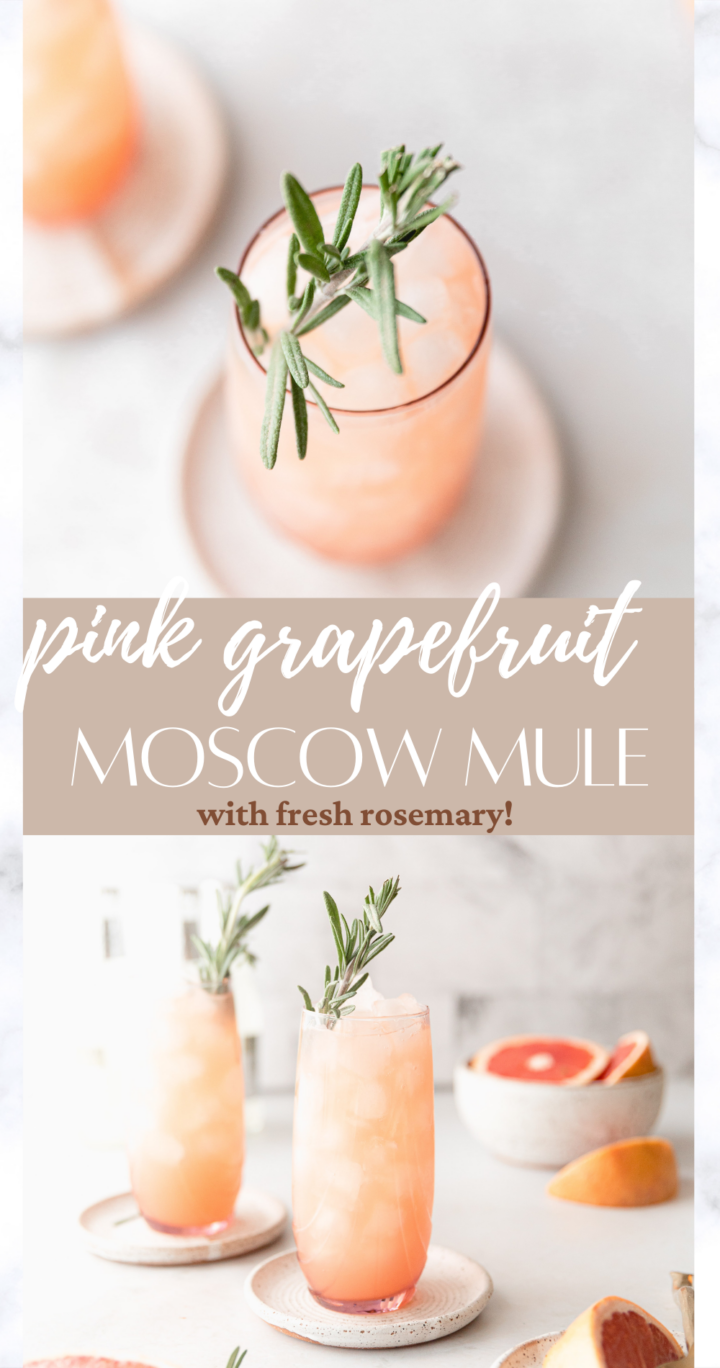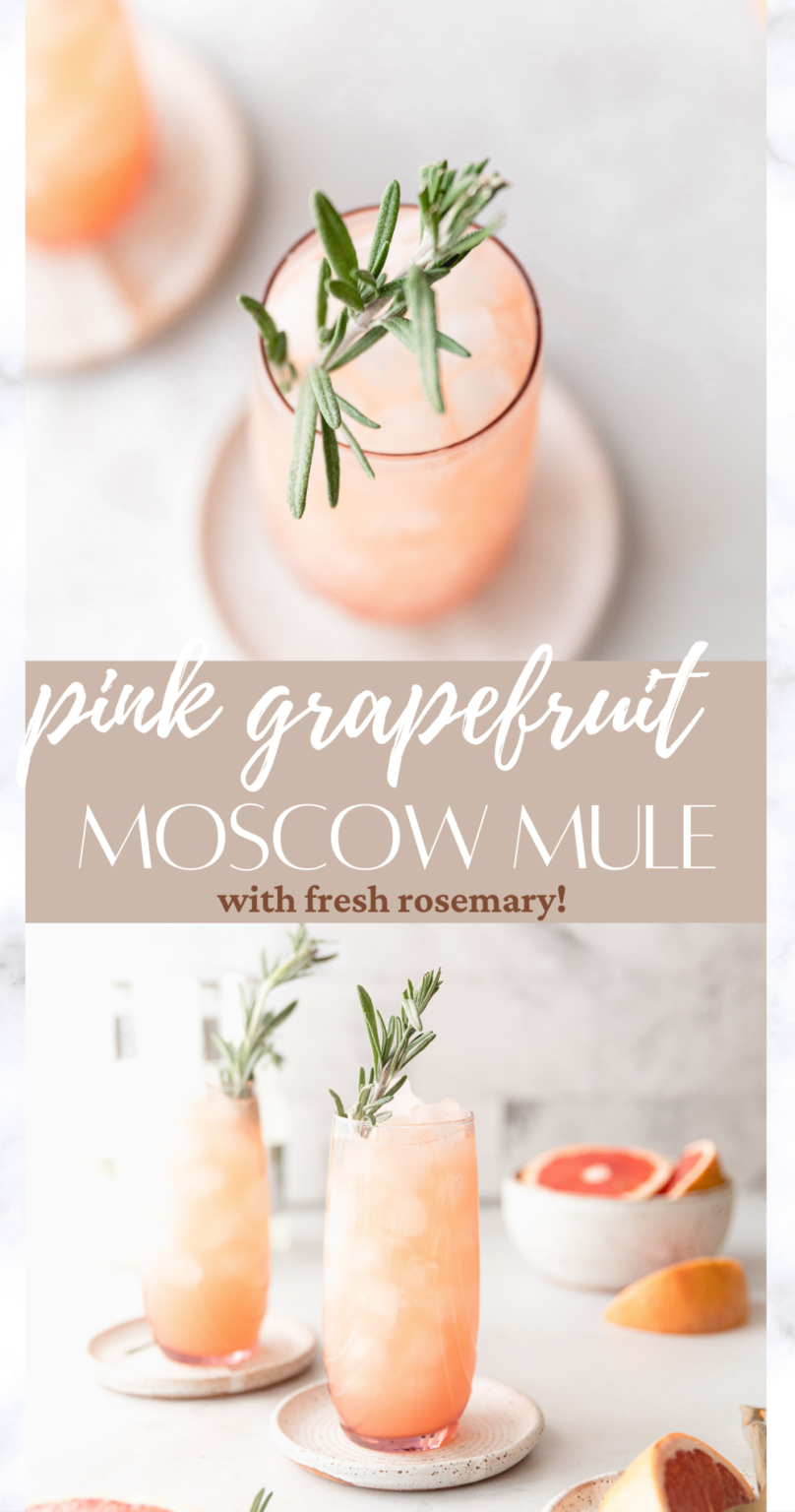 Pink drinks are perfect for this time of year to share with friends or your partner, or even by yourself! Spicy ginger beer cuts through the bitter grapefruit for a tasty drink!
These are also what I like to call a "porch pounder" aka an easy-drinking, refreshing, beverage that you could sit on the porch and enjoy all day!
What's A Moscow Mule?
A Moscow Mule is a fizzy drink of ginger beer, vodka, and lime juice! We're creating a pink mule by swapping that lime juice for grapefruit juice.
Moscow mules are absolutely delicious and refreshing. Great for serving with sheet tray nachos, sliders, and chips and dip (like my Skinny Mexican Corn Dip!)
Moscow Mules originated back in the 40s as a way to try to make vodka a more popular liquor to drink. As well as trying to make ginger beer more popular, why not combine?!
Now there are so many variations, not with only lime juice. Like this Pink Mule, we are using another citrus: grapefruit!
Why Are They Served In Copper Cups?
Moscow Mule drinks are traditionally served in a copper cup. Why?
For looks. It looks very distinct and people know EXACTLY what is in that copper cup.
Enhancing the flavors.
It keeps it unbelievably cold! Have you ever tried to hold onto one of the copper cups? FREEZING!
I opted for a clear glass for mine so you could enjoy the Pink Mule in all its glory!
What Is Gingerbeer?
So one of the main ingredients here is ginger beer. What the heck is ginger beer? I remember years ago there was literally one little donut shop in town that sold ginger beer.
My dad would go every weekend and pick up a 6 pack to make his weekend drinks with. Now you can visit almost any grocery store and find it.
Its a carbonated ginger drink (no actual beer!) it has a strong, spicy ginger flavor and pairs perfectly with some citrus.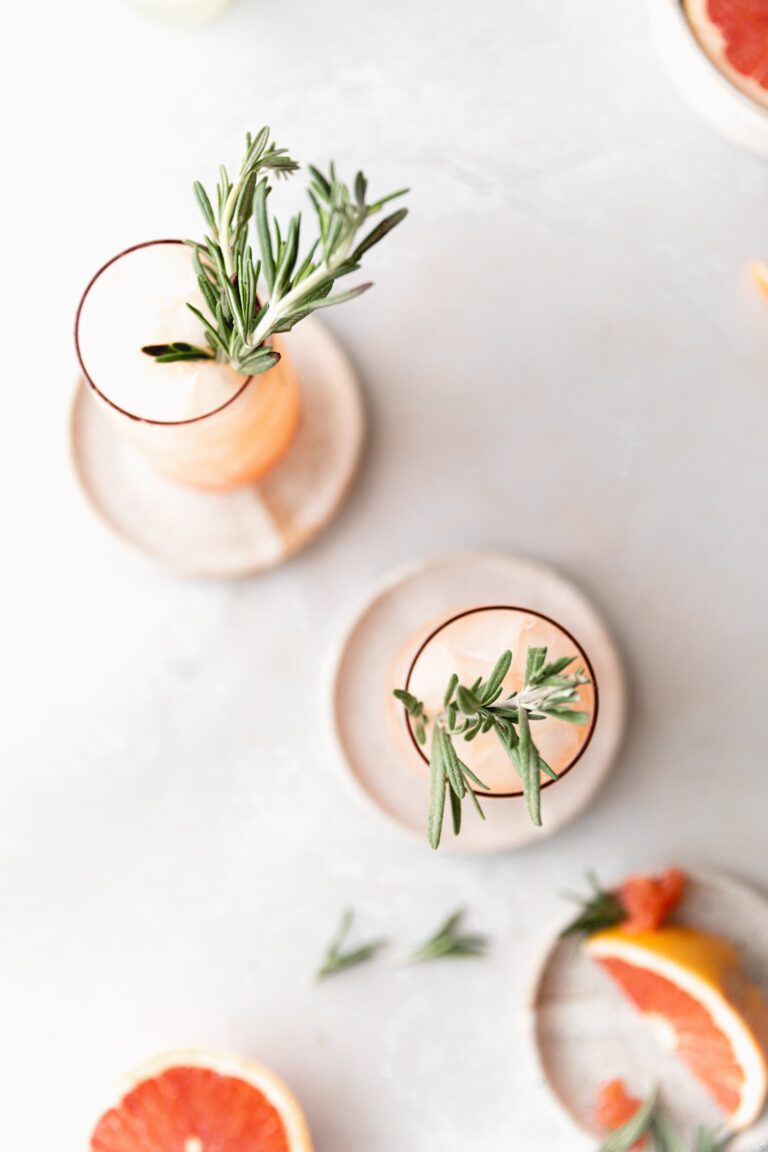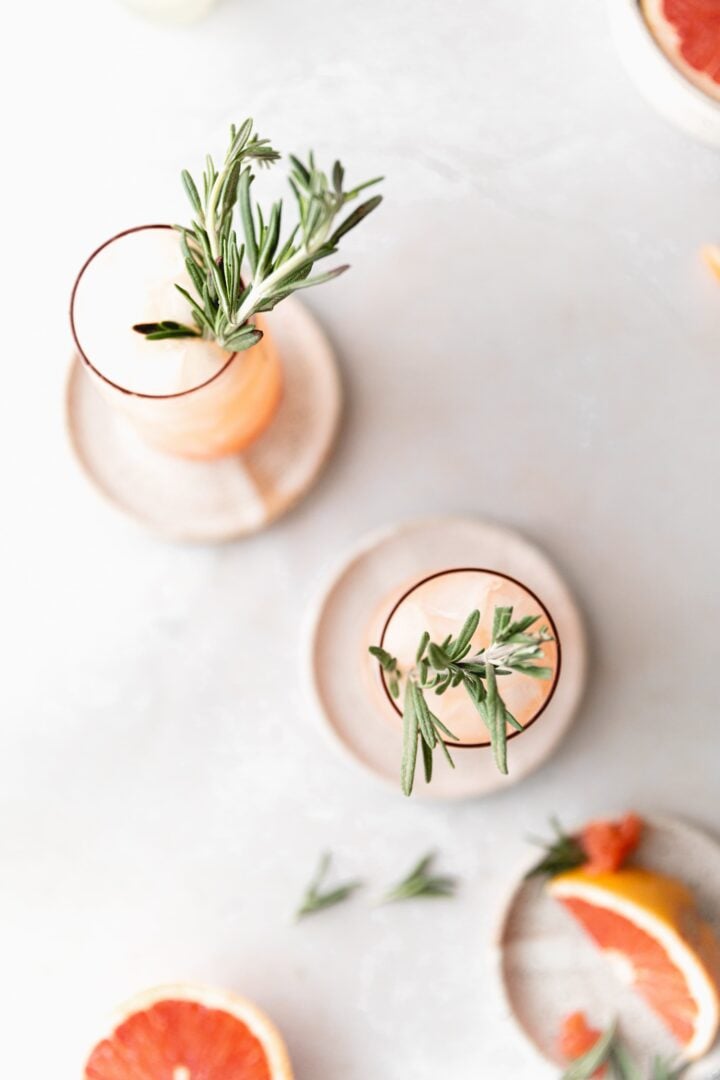 Fresh Grapefruit Juice vs Bottled
For this Grapefruit Moscow Mule recipe you can juice your own grapefruit, by all means!
However if you buy zero added sugar bottled grapefruit juice, that will do the trick just fine. Grapefruit juice is bitter and we are adding some sweetness to our Pink Mule via the ginger beer and some agave.
So no need to get already sweetened grapefruit juice!
Grapefruit and Rosemary Moscow Mule Ingredients
For our Pink Grapefruit Moscow Mule we need just a few fresh ingredients...
grapefruit juice
vodka
rosemary sprig
ginger beer
agave nectar (or honey)
How To Mix a Pink Mule
I prefer my mules stirred. So I make them in a large pitcher or cup and mix all ingredients.
First add the ginger beer, agave, and vodka to some ice. Top with a splash of grapefruit juice and a sprig of fresh rosemary.
If you try to muddle the rosemary to infuse the flavor, you will end up with tons of little leaves in there and you don't want that.
Rosemary is such a strong flavor that just by smelling it as you take a drink it will enhance the Pink Moscow Mule!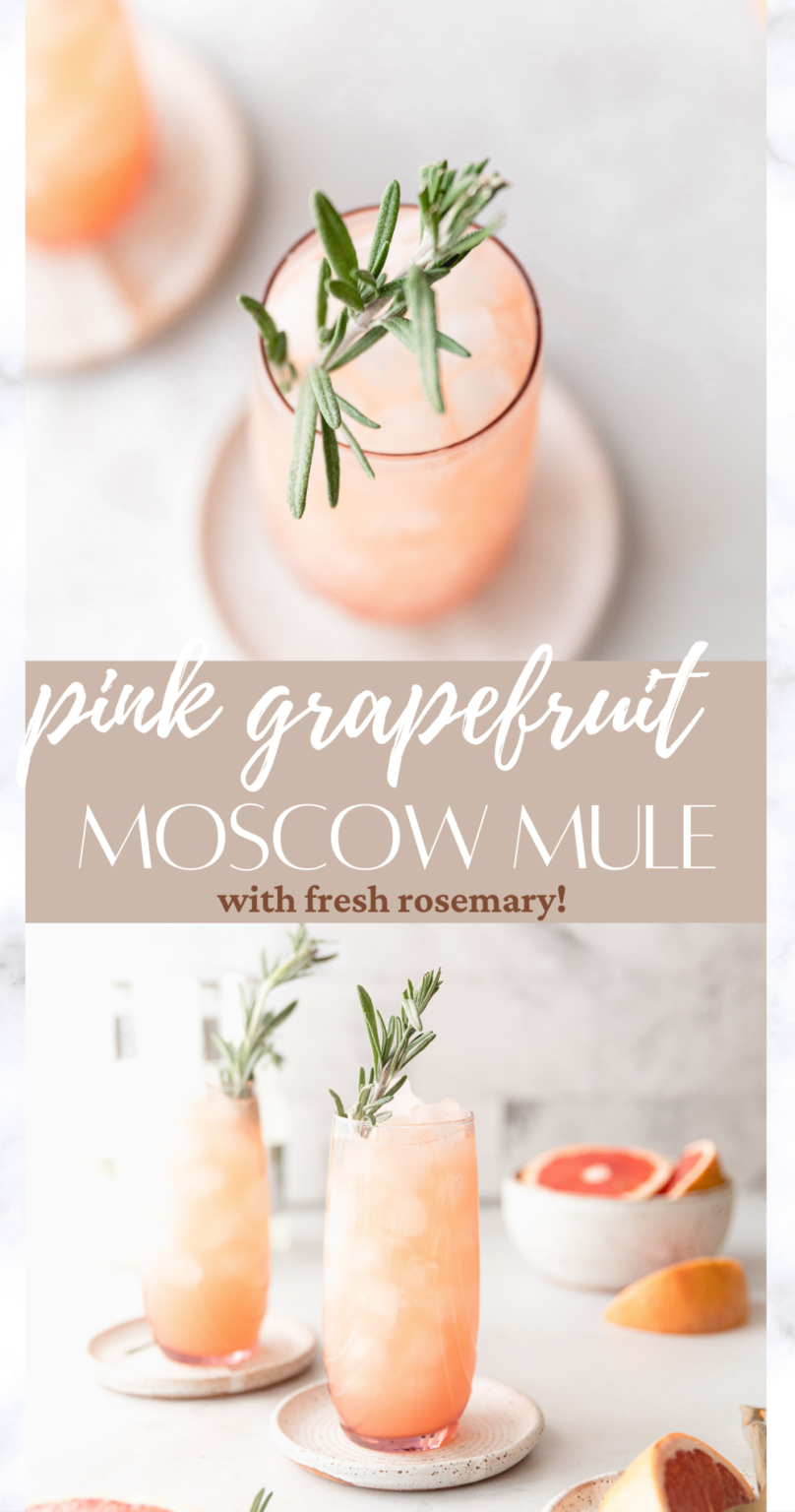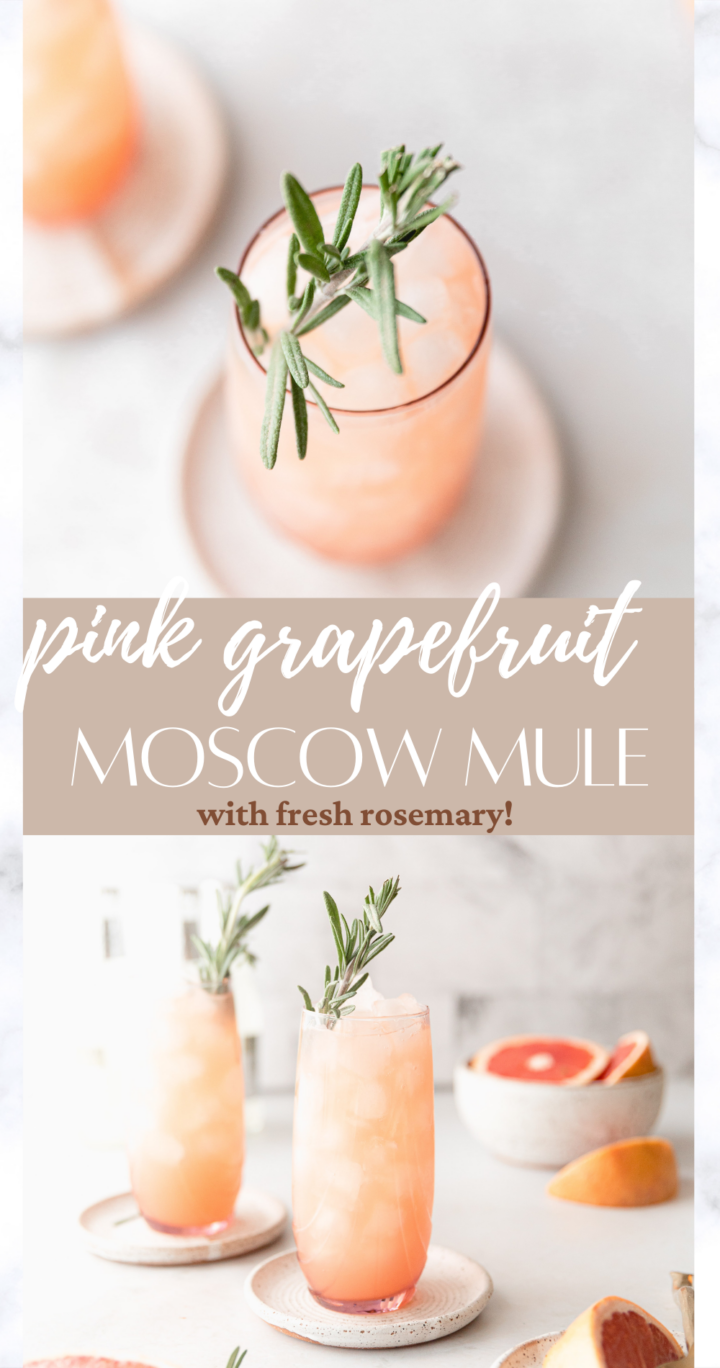 Best Drinks and Snacks For Girls Night...
This is great cocktail to serve for your girls night because it's pink, duh!
Other snacks I love to serve for my girls night can be found on this blog which highlights a girls night charcuterie board!
Dips of any kind or some tacos, heck even pizza goes down well with this bright and fizzy drink. Enjoy!
📖 Recipe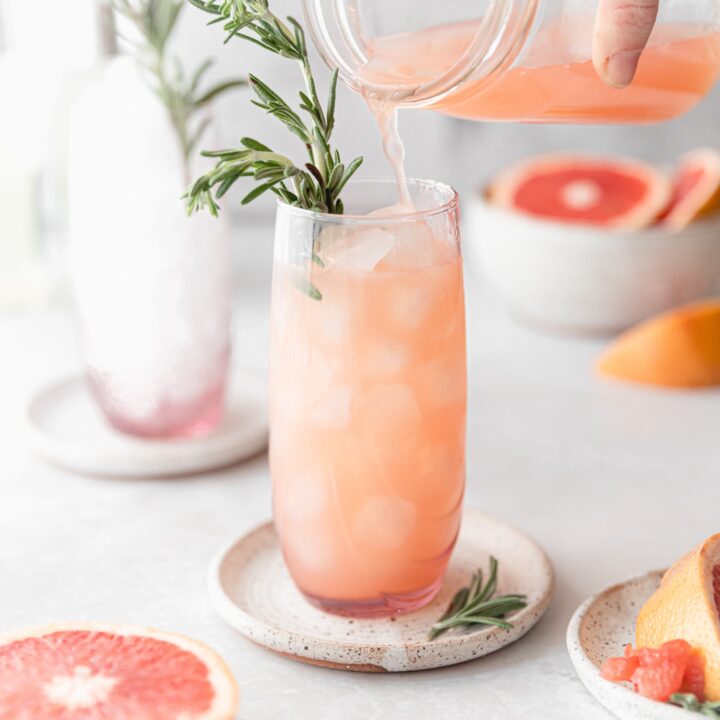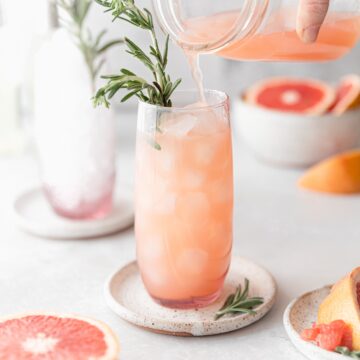 Ingredients
1

6 oz Ginger Beer

1.5

oz

vodka

1

oz

Grapefruit Juice

Sprig of Rosemary for garnish

Optional: Squeeze of lime
Instructions
Combine all ingredients in a cup with ice and stir. Garnish with rosemary. Enjoy!
Video
1 (6 oz) Ginger Beer
1.5 oz vodka
1 oz Grapefruit Juice
Sprig of Rosemary for garnish
Optional: Squeeze of lime
Combine all ingredients in a cup with ice and stir. Garnish with rosemary. Enjoy!