What to do at home for bridal shower or bachelorette parties?
Ok it's been WAY too long since I shared any party planning or awesome party themes around here. My sister is getting married this fall & its up to me to plan the best of the best parties. Due to current circumstances we had to get creative with some at home bachelorette party ideas!
So she got a clementine (cutie) themed bachelorette party: This Cutie is Getting Married. So it was full of oranges and bright, fun party decor!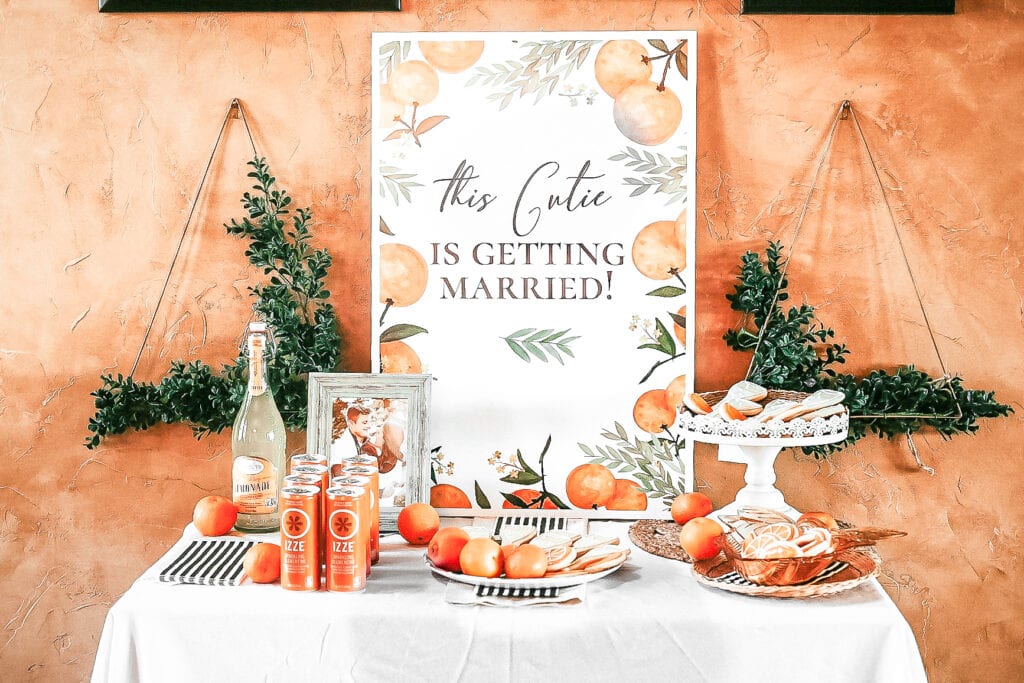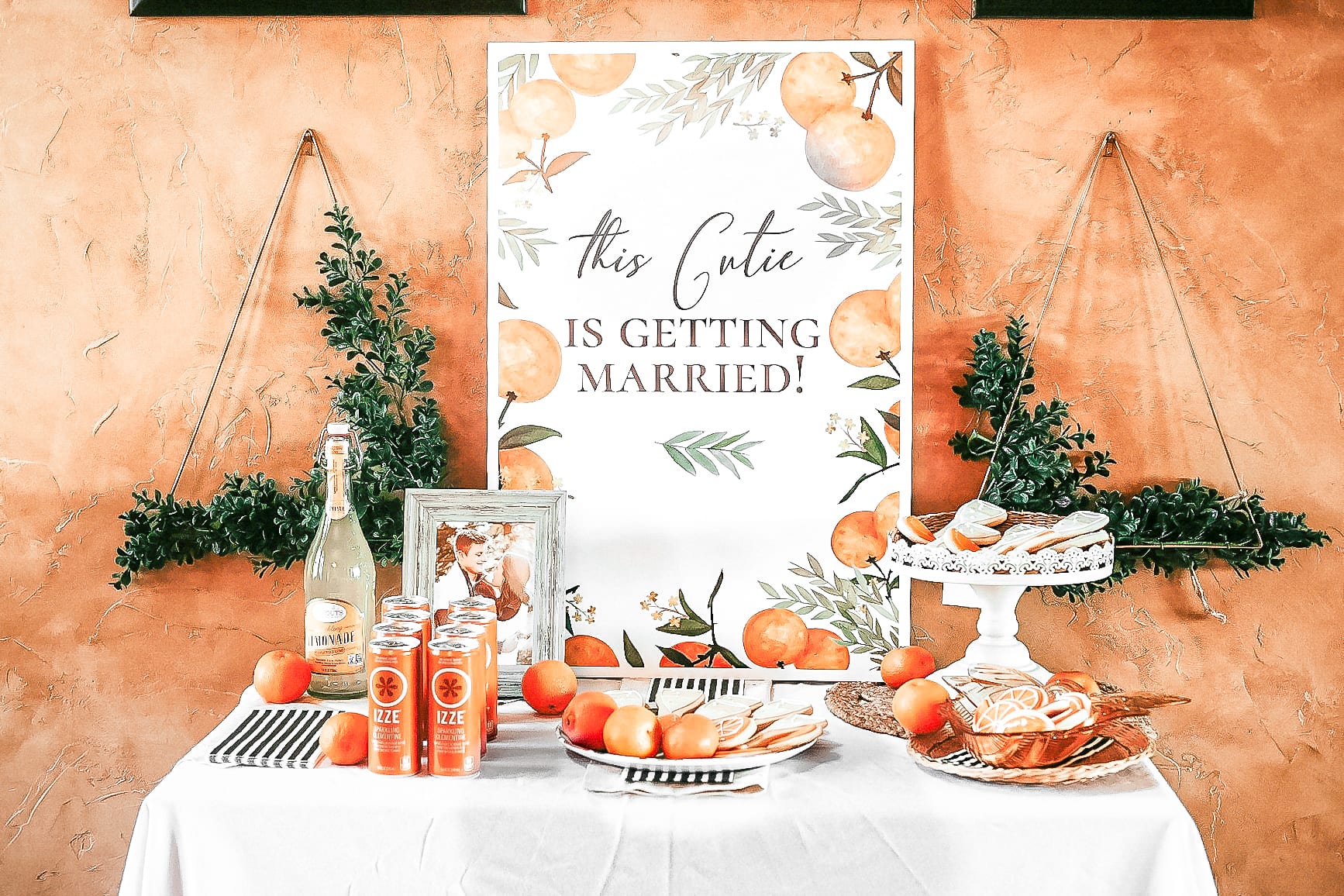 My last themed party I did, This Chick is Turning One, was when my daughter turned one last year. Don't worry, I've got a good theme up my sleeve for her 2nd birthday!
So because of the current situation, we were pretty limited on where we could go and what we could do as a group for her bachelorette party. I made do and booked some at home bachelorette activities!
At Home Bachelorette Party Ideas
Private Wine Tasting
Charcuterie Board for the bridal crew
Dessert and Drink bar
Girls night sleepover with games!
Beautiful brunch
Pool or lake day
This was our agenda for a fun at home bachelorette party!
How to Host a Cutie Themed Bachelorette Party
I of course put together the charcuterie board for our private wine tasting. Our runner, plates, and napkins were from Love of Character.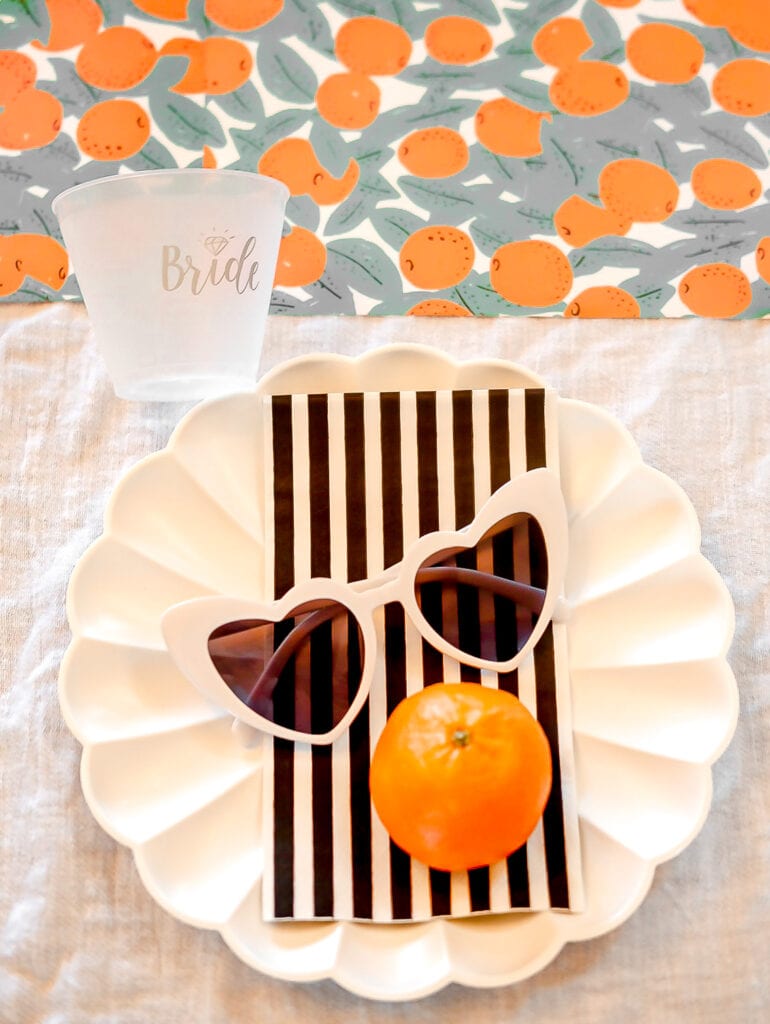 (Check out my charcuterie made simple blog for my step by step charcuterie process!)
I got the party favors for the girls from Amazon. Hair ties and sunglasses would be perfect for our bachelorette party lake day! I set the tables with a tiny cutie and their party favors.
For the backdrop I ordered the paper flower strands from amazon as well as the DIY balloon arch. Thanks to Love of Character they helped me snag some fun orange slice balloons to drop in here and there.
Her sign was from the Etsy shop Bohemian Woods. She will customize it to say whatever you'd like! Ours says "This Cutie is Getting Married" to go along with the cutie theme.
For our dessert and drink bar, we had custom orange slice cookies and champagne cookies. I tried to incorporate oranges and cuties wherever possible! So the table is decorated with oranges
I also snagged all types of orange drinks that I could find and placed those on the table as well!