Calling all moms! Have you ever wanted to create an AMAZING snack board for your kiddos? OR have you ever wanted to create an amazing grazing board for your friends? I have the solution for both.
Featuring Crunchy Rollers snacks, I've created a simple yet special snack board that is kid friendly BUT pair some wine with it and hello girls night!
This blog post is sponsored by Crunchy Rollers but all thoughts and opinions are my own!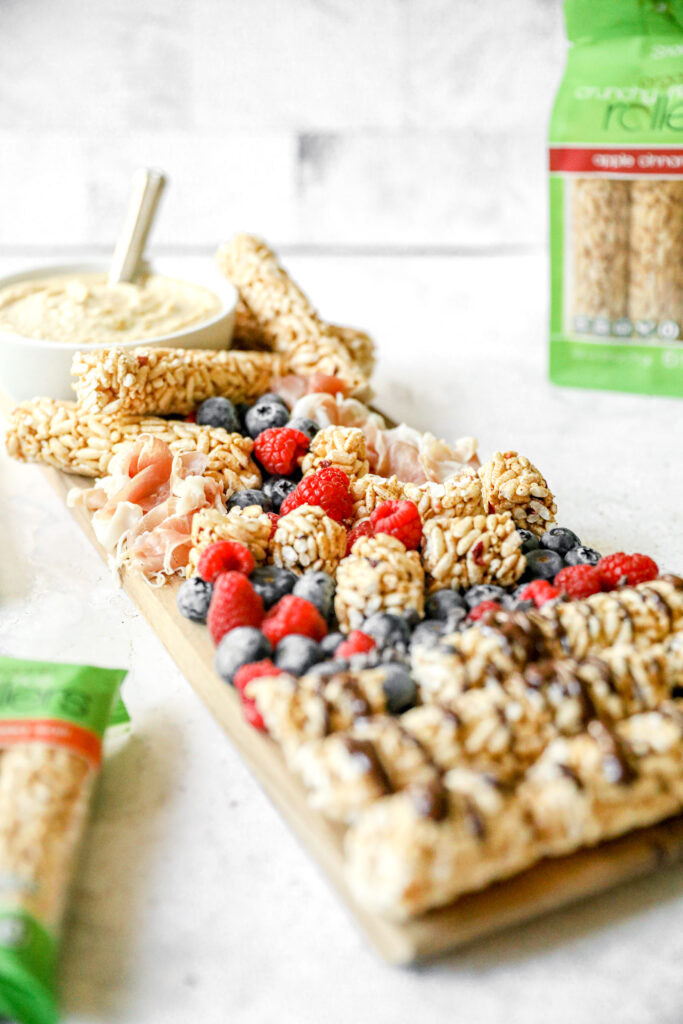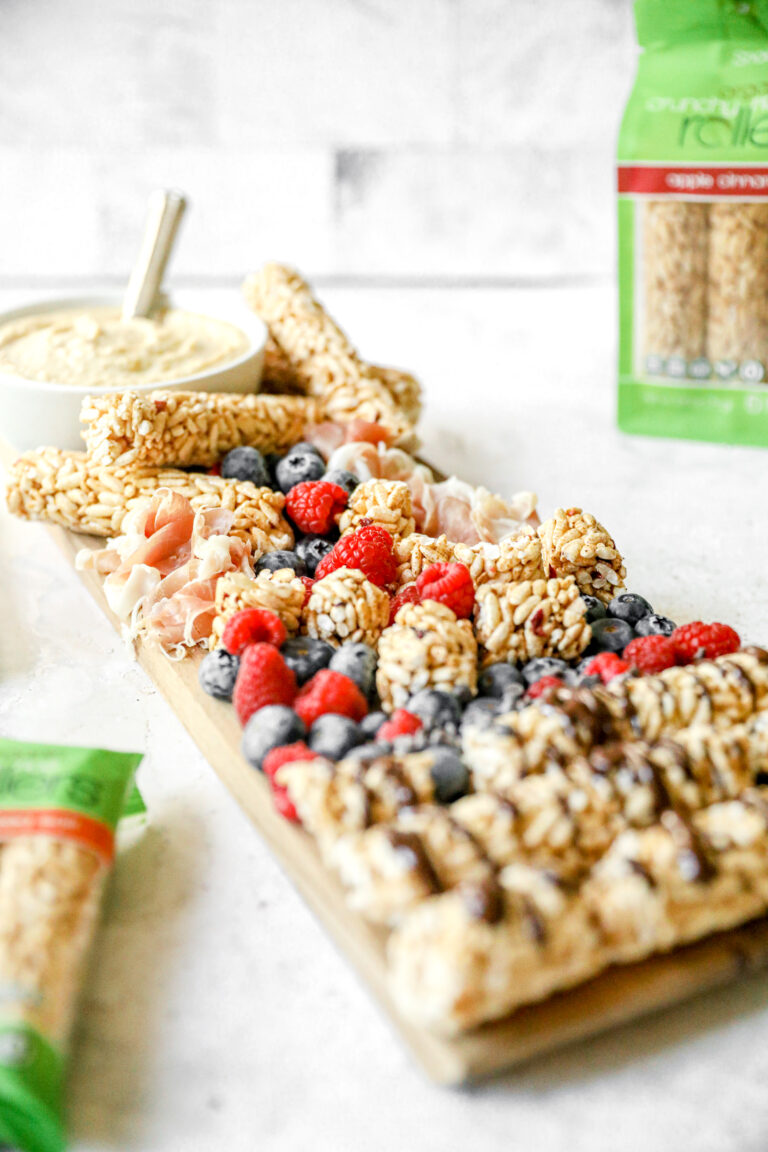 What Are Crunchy Rollers?
Crunchy Rollers have been a favorite snack of mine and my daughters for a few months now. They are a perfectly sweetened rice cake snack that come in many incredible flavors from mixed berry to salted caramel.
They are free from the "Big 8" allergens and that makes me feel good about keeping them around the house for friends or taking them to school as a snack for Monroe's class.
They take pride in sourcing their ingredients and I can say from personal experience all my daughters friends AND their moms are obsessed with this snack.
Girls Night Crunchy Rollers Grazing Board
Like I mentioned before, these are great snacks for kids. Yes. BUT, when I need a sweet bite or a quick snack these Crunchy Rollers are also something I can turn to!
I knew I could create the ULTIMATE girls night snack board with these plus pair them with a coordinating wine to go with each flavor.
I simply took each flavor of Crunchy Roller and paired it with a yummy snack! Which include dairy free chocolate drizzle, fruit and prosciutto ham, and a homemade vanilla bean hummus!
Leave it just like that for a family friendly snack board OR. pair them with the following wines...
Crunchy Rollers Wine Pairing
So to make this ladies night perfect we're partnering up each snack with a delicious glass of wine. What a great way to get together with friends without stressing about what all to put on this board. Raid your pantry for your favorite Crunchy Rollers flavors and you can do this too!
Caramel Sea Salt Crunchy Rollers + Dark Chocolate Drizzle paired with a Pinot Noir. This is an incredible pairing because the dark chocolate (dairy free if you like!) goes really nicely with a fruity Pinot Noir. Chocolate and red wine are a great combo!
Mixed Berry Crunchy Rollers + mixed berries + prosciutto paired with Sauvignon Blanc. Something crisp like a sauvignon blanc makes the freeze dried berries really pop in the Crunchy Rollers. Adding a little something savory such as prosciutto really balances everything out.
Apple Cinnamon Crunchy Rollers + Vanilla Bean Hummus + Pinot Grigio. Lastly this warm and cozy apple cinnamon Crunchy Roller dipped in delicious vanilla bean hummus (recipe below!) is the ULTIMATE sweet bite. It's even better when paired with a sparkling pinot grigio.
Simply assemble the board with each coordinating Crunchy Rollers, little bite to eat, and glass of wine. Then enjoy your girls night!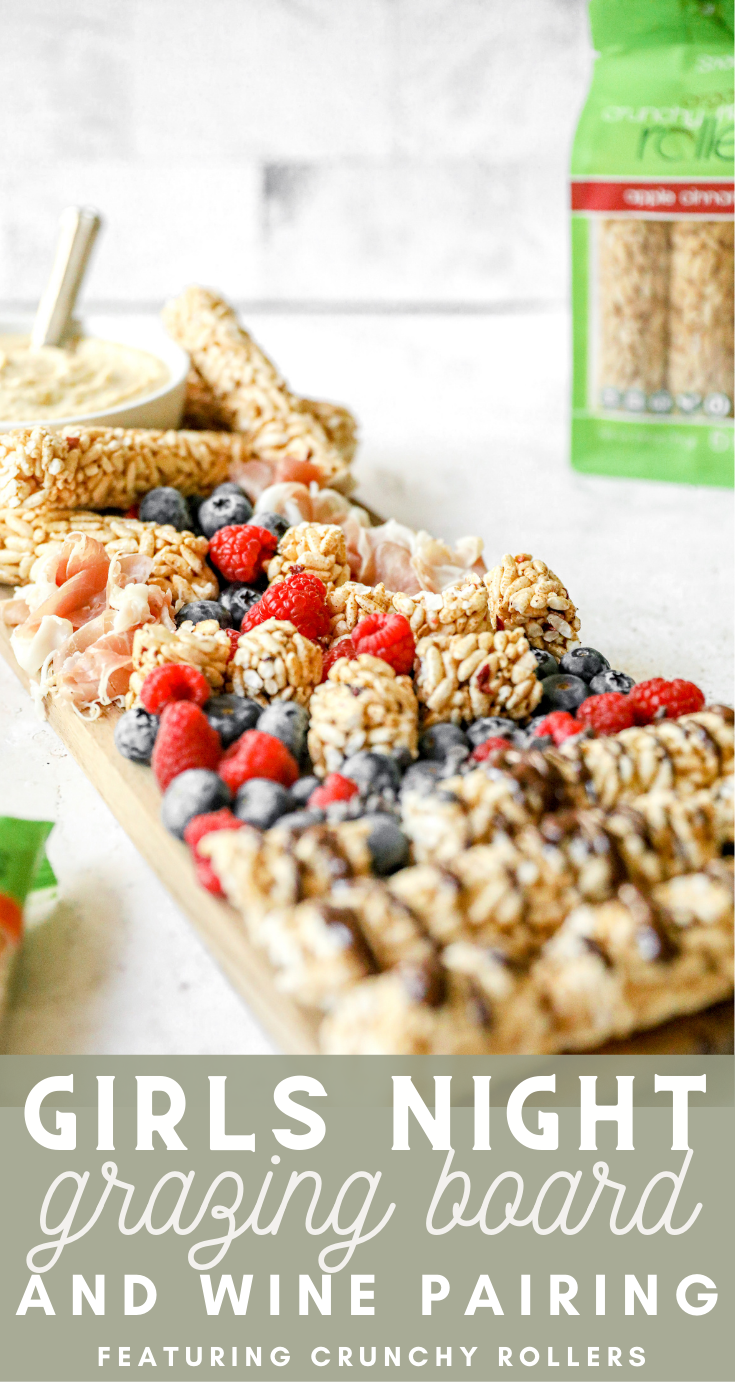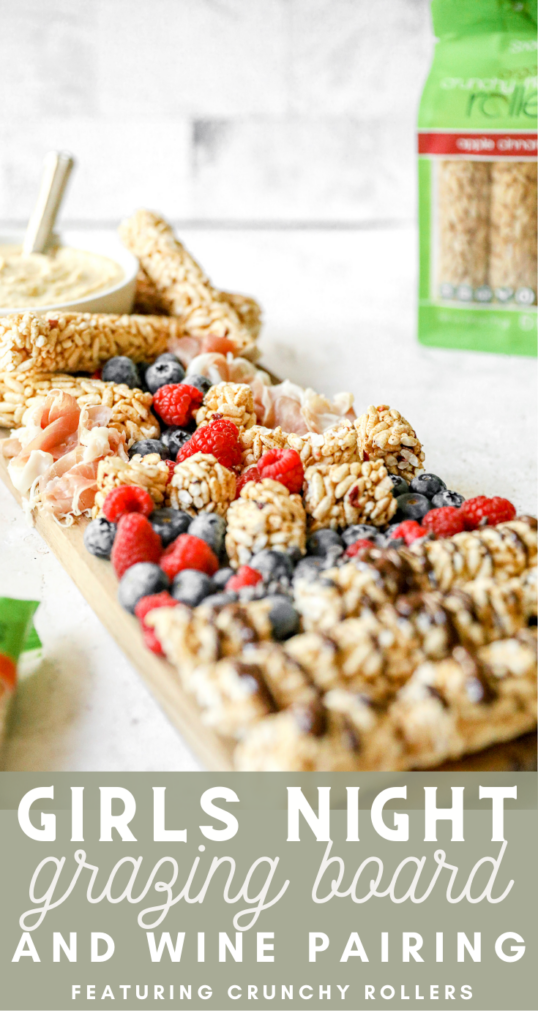 Vanilla Bean Hummus Recipe
Ingredients:
1 can chickpeas , drained
½ cup tahini
½ cup cold water
3 tablespoon agave syrup
2 teaspoon vanilla extract
Scrape the beans from 1 vanilla bean pod
Pinch of salt
Instructions:
In a food processor add the tahini and ice water and blend until very light in color.
Add the chickpeas and blend until almost smooth.
Add agave syrup, vanilla extract, vanilla bean seeds, salt, and blend until very smooth.
Refrigerate for 20 minutes then serve!
You can find Crunchy Rollers at Albertsons, Safeway, Costco (brown rice only), Kroger, HEB,
and even Amazon! See link below to their Amazon store