If you're in the mood for crispy, carby, golden breakfast perfection, you need to try this recipe for crispy Air Fryer Hash Browns. Making frozen hash browns in your countertop air fryer is the easiest, least messy way to make an enviable pile of breakfast potatoes I've ever tried. Best of all, you only need 5 ingredients and about 5 minutes of active time to whip up a batch.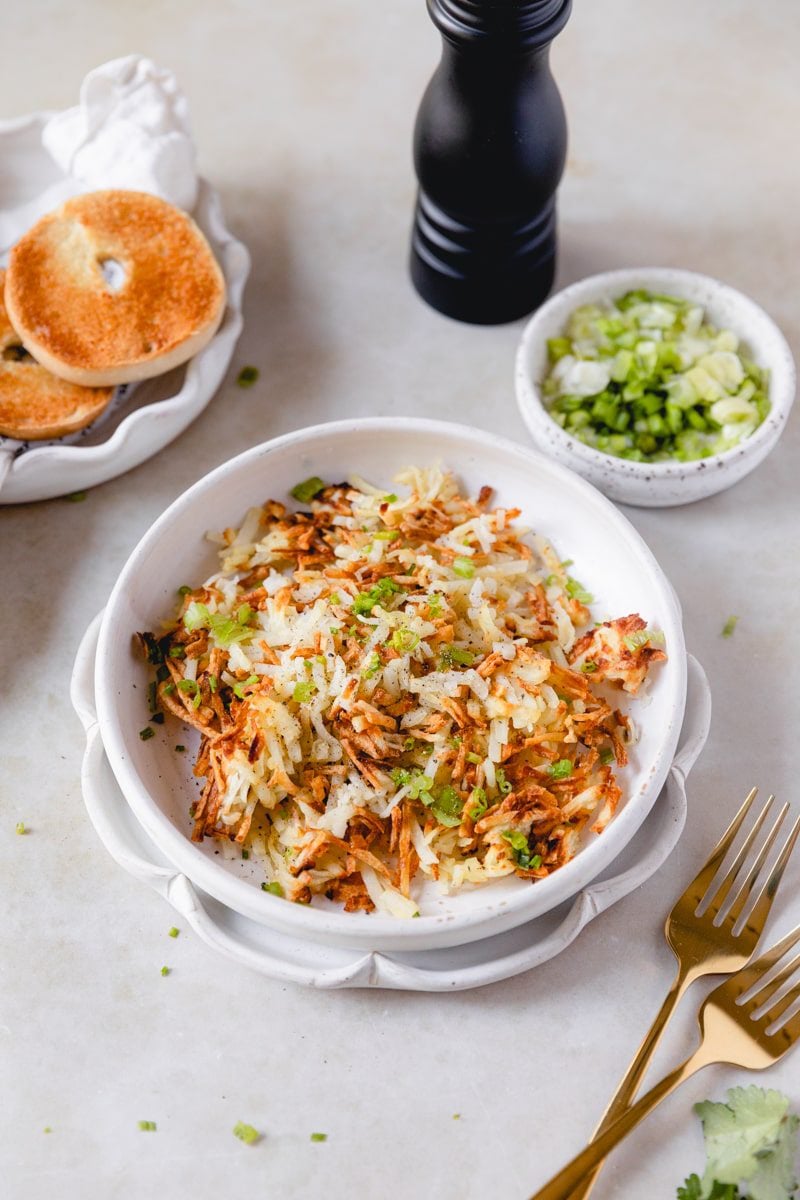 Why You Should Make Frozen Hash Browns In The Air Fryer
If you've ever wondered "can I make hash browns in the air fryer?" I'm happy to announce that the answer is a resounding YES. In fact, I may never go back to pan-frying my morning spuds again!
Cooking has browns in the air fryer yields a batch of the most perfectly crispy, delectably starchy, Instagrammably golden shredded potatoes you've ever tried. Aside from being totally diner-worthy, this air fryer hash brown recipe is:
Quick & Easy. You literally only need about 5 minutes of prep and exactly zero kitchen skills to get them ready to cook. They'll be ready for eating in just 25 minutes from when you start!
Made With Just 5 Ingredients. Frozen hashbrowns and pantry basics are all it takes.
Wholesome & Nutritious. Made with nothing but potatoes, heart-healthy olive oil, and a few spice cabinet staples, these are breakfast potatoes you can feel good about serving to your loved ones.
Budget-Friendly. I can get a bag big enough to make about three full batches of these crispy hashbrowns for about $3. Even with the extra pantry items, you're looking at less than $0.50 per serving!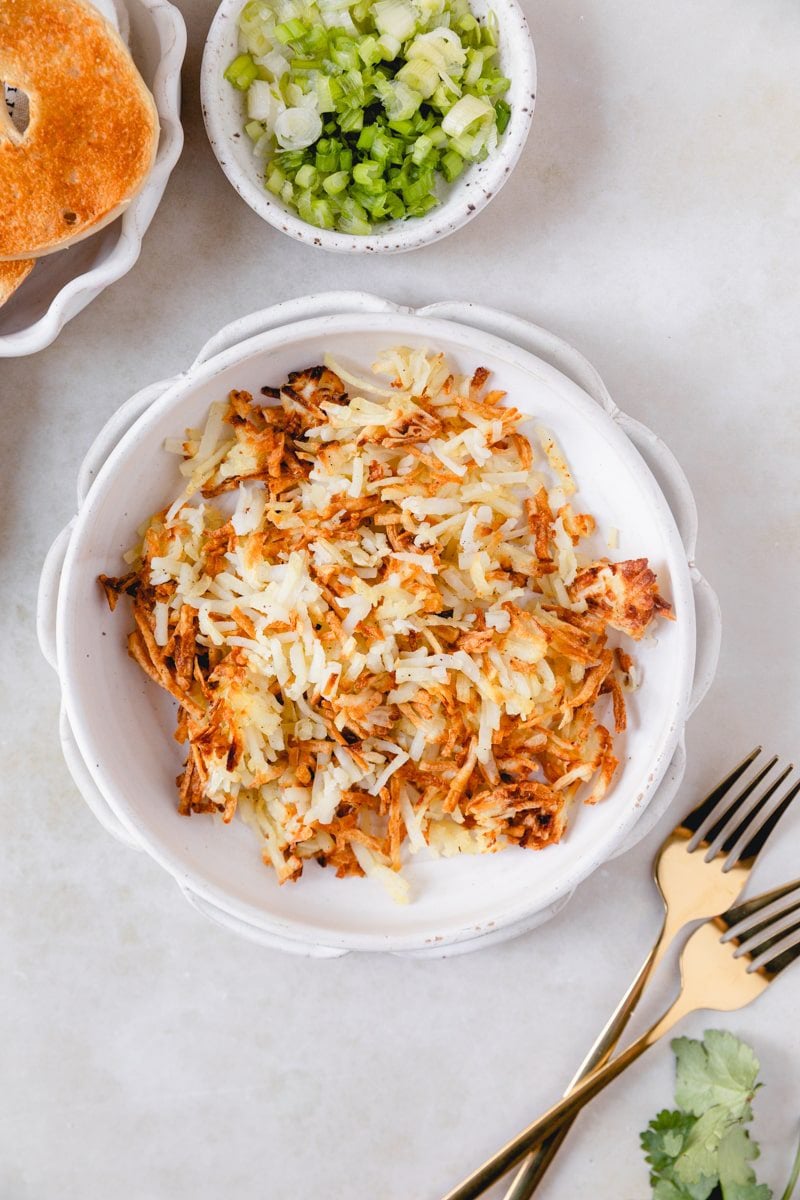 Crispy Air Fryer Hash Brown Ingredients
As promised, you only need 5 simple ingredients to make hash browns in your air fryer oven. Here's what to grab:
Frozen Shredded Hash Browns - Opting for frozen hashbrowns means your prep is nearly non-existent, making breakfast time a breeze.
Salt & Pepper - For basic seasoning.
Garlic Powder - For a bit of a savory kick. Feel free to swap in garlic salt in place of the garlic powder and salt.
Olive Oil - This is my go-to cooking oil for medium-high heat cooking. If you prefer, feel free to swap in another healthy cooking oil like avocado oil.
Tools Needed
You don't need much equipment to make a big batch of hash browns in the air fryer. Here is everything you'll need:
Wooden Spoon (or any other kitchen spoon)
How To Make Air Fryer Hashbrowns
Learning how to air fry hash browns is a simple task. Here's how it's done:
Step 1: Preheat the air fryer.
Step 2: Prep. In a large bowl, break the frozen clumps of shredded hash browns up with a wooden spoon. Pour in the olive oil and toss to coat. Sprinkle on the seasonings and mix thoroughly.
Step 3: Air Fry the seasoned hashbrowns in the air fryer 10 minutes.
Step 4: Flip the hash browns over and cook for 5-7 more minutes until nice and crispy on the edges. Serve hot & enjoy!
Swaps & Substitutions
While I'm a big fan of frozen hashbrowns, there are a few other ways to make this breakfast favorite.
Air Fryer Frozen Hash Brown Patties. These premade squares are a bit more dense than the shredded variety and tend to have less healthy vegetable oils added. That said, feel free to pop a few in your air fryer basket, making sure not to overlap them. Air fry for about 8 minutes, flip, and continue to cook for another 5-8 minutes depending on how crisp you like them.
Homemade Hash Browns From Scratch. Frozen hashbrowns are an inexpensive convenience item I like to keep on hand, but making your own from scratch is a bit cheaper. Grab a few starchy potatoes like russet or Idaho. Wash, peel, and then shred them on the large holes of a box grater or in your food processor. Rinse with cool water (this will help them keep from oxidizing and turning brown), then place in a clean kitchen towel. Wring out as much liquid as possible, squeezing as hard as you can. Proceed with the recipe as written.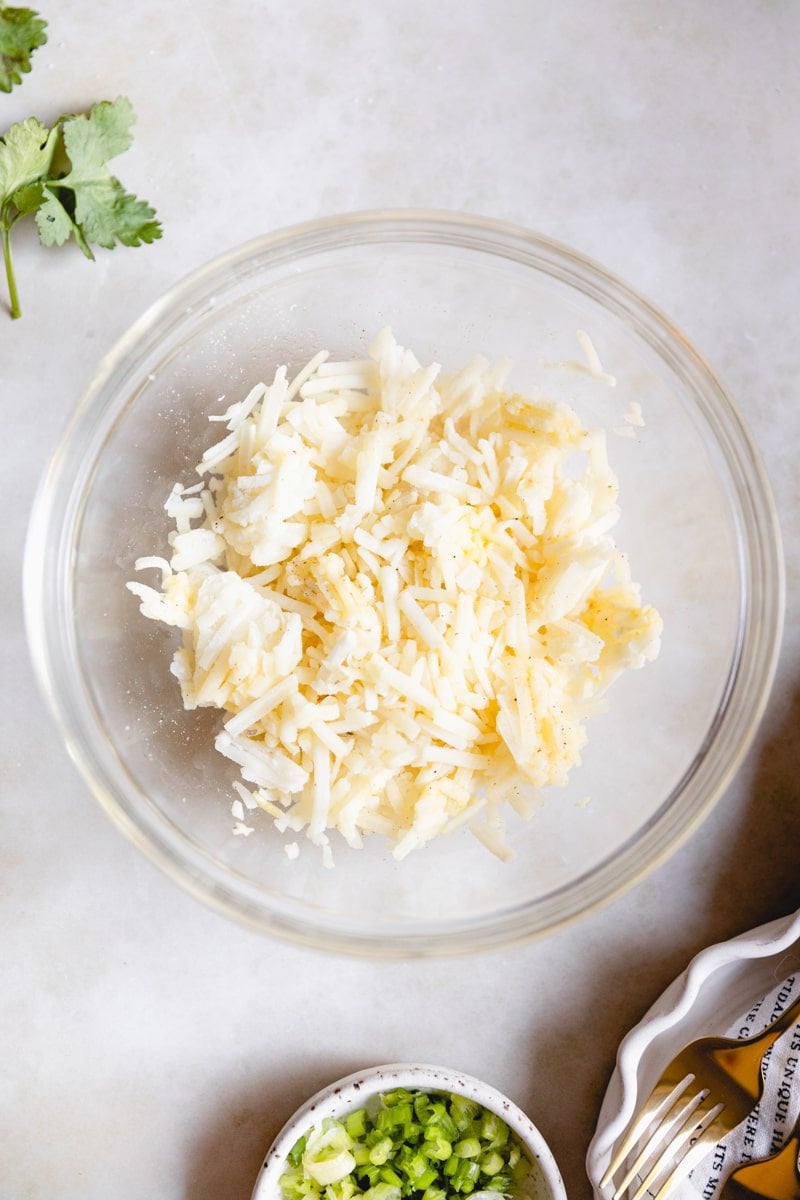 FAQs & Tips
How To Make The Crispiest Hashbrowns: Make sure you don't skip the flip to ensure your hash browns get crispy on both sides. Depending on exactly how crispy you like them, you can continue to flip and break up the bits. I personally like some tender potato pieces in mine, so flipping once is all I need.
How To Keep Shredded Potatoes From Falling Through The Air Fryer Basket: If you have wide grates in your air fryer basket, consider lining it with parchment paper, aluminum foil, or a reusable silicone liner.
How To Choose The Best Spray Oil: If you want to grease the interior of your air fryer basket, make sure to either use non-aerosol oil or choose a brand that is free from soy lecithin, which can make your air fryer gunky.
How long does it take to cook hashbrowns in the air fryer? I find that shredded frozen hash browns take between 16-19 minutes in my air fryer to get to my personally preferred level of crispiness. Depending on how crisp you like yours and the model of air fryer you're using, you may need to adjust the time up or down by a few minutes.
If you are using frozen hashbrown patties, I suggest starting around 12-16 minutes. Remember: you can always cook them more, but you can never un-cook them if they get too well done!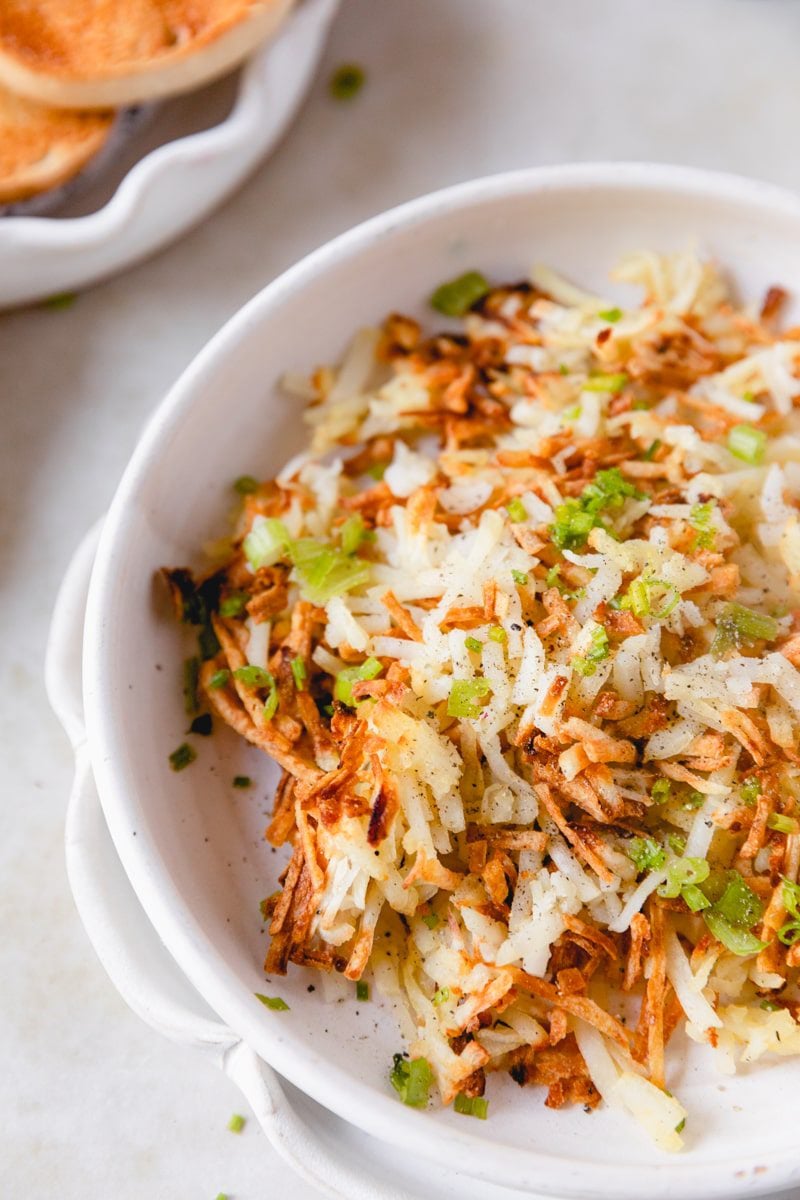 Can you line an air fryer basket with aluminum foil or parchment paper? Yep! Since air fryers are simply blowing hot air around (they're essentially just convection ovens), both parchment and foil are totally safe to use. That said, make sure you're not blocking the air flow or you'll miss out on some serious crisping action.
Storing & Reheating Hash Browns
Leftover hashbrowns can be kept in an airtight container in the fridge for 3-5 days. To reheat, either use your air fryer or a sauté pan on the stove. You can also microwave them if you wish, but they won't be as crispy as the first time around.
Serving Suggestions
Depending on when you're serving up a pile of these yummy, crispy air fryer frozen hash browns, you can go in quite a few directions with them. For example, try serving them with:
Cheesy scrambled eggs, ketchup & toast
Smoked salmon, a poached egg, lemony yogurt, and fresh chives
Sour cream and apple sauce
Taco meat, cheddar, sour cream, and salsa
Corned beef and cabbage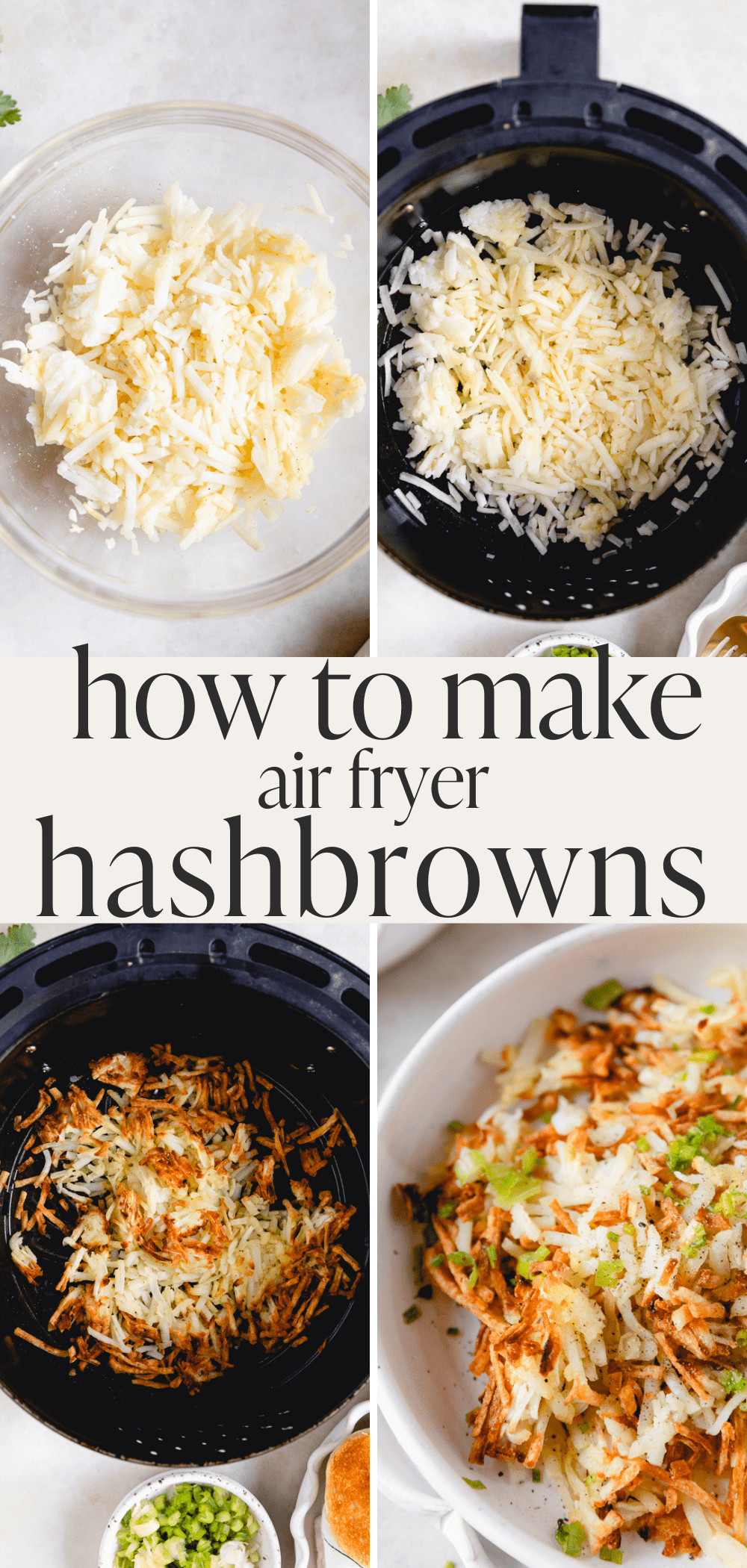 Did you come up with a brilliant way to gussy up your air fryer hashbrowns? Let me know in the comments below or tag me in your social media posts (@whitekitchenredwine) so I can cheer you on!
More Tasty Air Fryer Recipes
And if you need to add some protein to your breakfast, try out these Havarti Spinach Mini Quiche!
📖 Recipe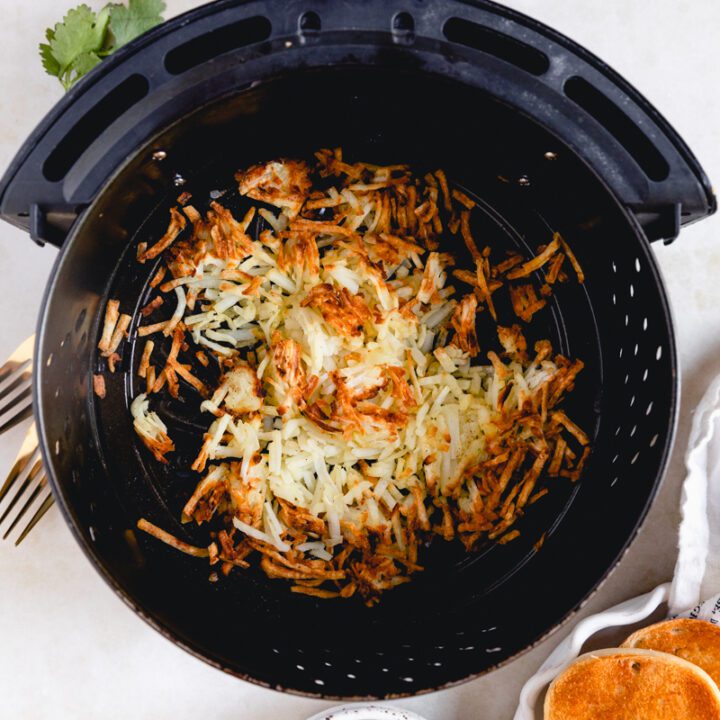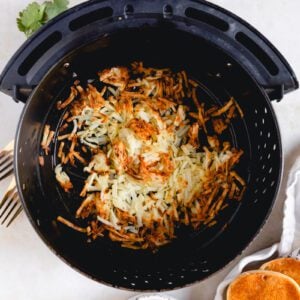 Crispy Air Fryer Hashbrowns
Easy 10 minute air fryer hashbrowns straight from the freezer! Great weekday breakfast dish or for when company visits for the holidays. Crispy hashbrowns are a winner!
Print
Pin
Rate
Ingredients
2

cups

frozen

shredded hashbrowns

½

teaspoon

salt

¼

teaspoon

pepper

2

tablespoon

olive oil

¼

teaspoon

garlic powder

chives for garnish
Instructions
In a large mixing bowl combine all ingredients and toss well.

Place the hash browns in the basket of the air fryer and cook at 370 for 5 minutes.

After that, shake the basket to move the hash browns around and turn the heat up to 400 degrees.

Cook for an additional 5 minutes then enjoy!