Hot and creamy with a vibrant green color and delicious green tea flavor, this Starbucks Matcha Latte recipe tastes just like you hit the drive-thru but at a fraction of the price!
I'm pretty sure matcha lattes are the perfect drink. With their bright color and unique matcha taste, they're the ideal replacement for a regular coffee latte or to enjoy as a special treat. 
It's such a refreshing alternative to coffee, but without the jitters or bitterness. Fortunately, it's easy to make at home, and this Starbucks Matcha Latte recipe will help you kick the coffee habit for good.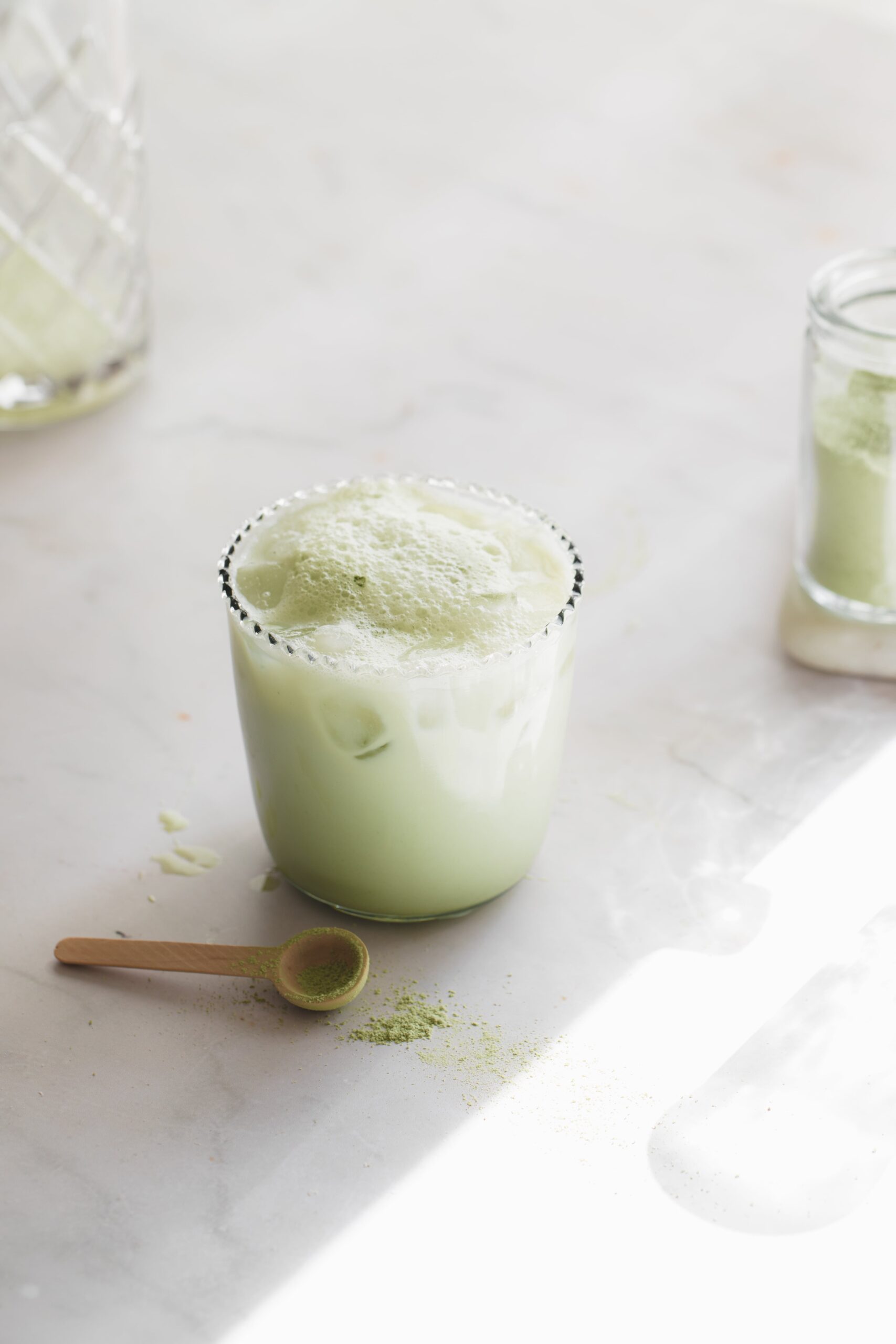 What is Matcha?
Matcha is a traditional Japanese green tea made by pulverizing shade-grown green tea leaves into a fine powder. High-quality matcha powder has a bold green color and a grassy, earthy green tea flavor. There are different grades of matcha, including culinary and ceremonial grade.
Ceremonial grade matcha - The highest quality green tea leaves are sold as ceremonial grade matcha, which is usually prepared using traditional tools like a bamboo matcha whisk (chasen). It has a stronger matcha flavor and is sold as a specialty item.
Culinary grade matcha - This slightly lower-quality matcha is perfect for cooking or drinking. This Starbucks Matcha Latte recipe calls for sweetened matcha powder, typically made with less expensive culinary matcha. Although it costs less, it still has a wonderful matcha flavor and many antioxidants.
Does matcha have caffeine?
Yes! Matcha does have caffeine. One serving of matcha usually has 19-44mg of caffeine (source). Compared to the average cup of black coffee, which has 95mg of caffeine, matcha is a great way to taper down your coffee use while still getting a gentle caffeine buzz.
There are so many reasons to drink matcha beyond its delicious flavor. I love how matcha boosts energy without the anxious, panicky feelings of regular coffee.
It is also loaded with antioxidants! Although scientists are still researching the health benefits of matcha, its antioxidants may help reduce inflammation, lower blood pressure and cholesterol, reduce the risk of heart disease, and maybe even fight cancer (source)!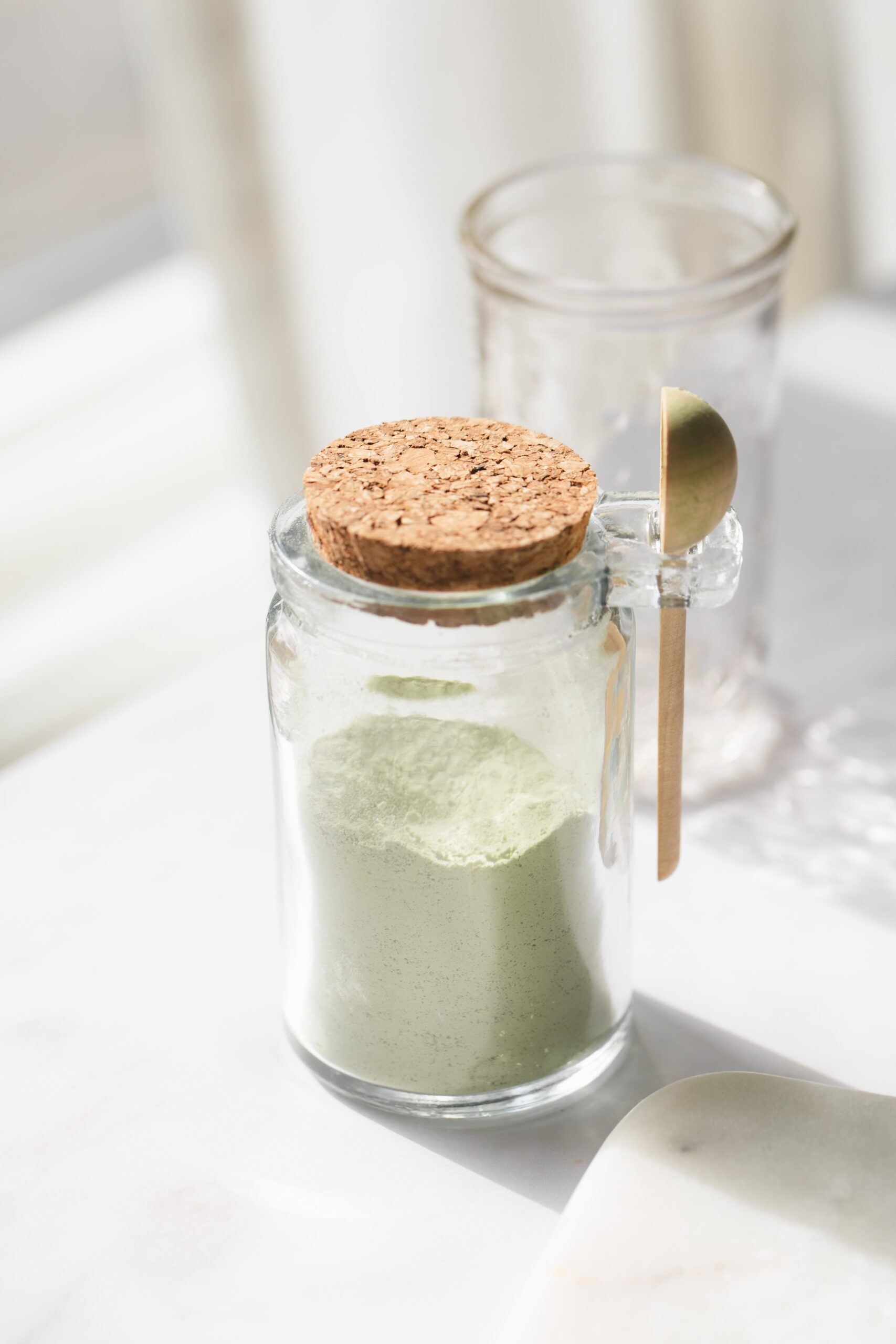 What's In a Matcha Green Tea Latte?
A hot matcha latte almost always includes powdered matcha, regular or non-dairy milk whipped and heated until frothy, and is sweetened with a bit of honey or maple syrup. The creaminess of the milk mellows out the grassiness of the matcha, and the sweetness makes it taste like a wonderful treat.
I love the Starbucks version, but it has too much sugar! It might be a delicious drink, but all that sugar defeats the purpose of consuming such a healthy ingredient. Fortunately, this copycat Starbucks recipe makes a healthy matcha latte you can enjoy daily!
Starbucks Copycat Matcha Ingredients
Sweetened matcha powder - Wondering which matcha powder to use? You can use ceremonial or culinary matcha. You can also choose an unsweetened option and add your favorite sweetener, like vanilla syrup, to taste.
Hot milk - I love the creaminess of regular milk, but you can steam any milk of choice, whether that's oat milk, coconut milk, etc.
Ice - This is optional, but I love chilling my drink for an iced matcha tea latte. So creamy and refreshing!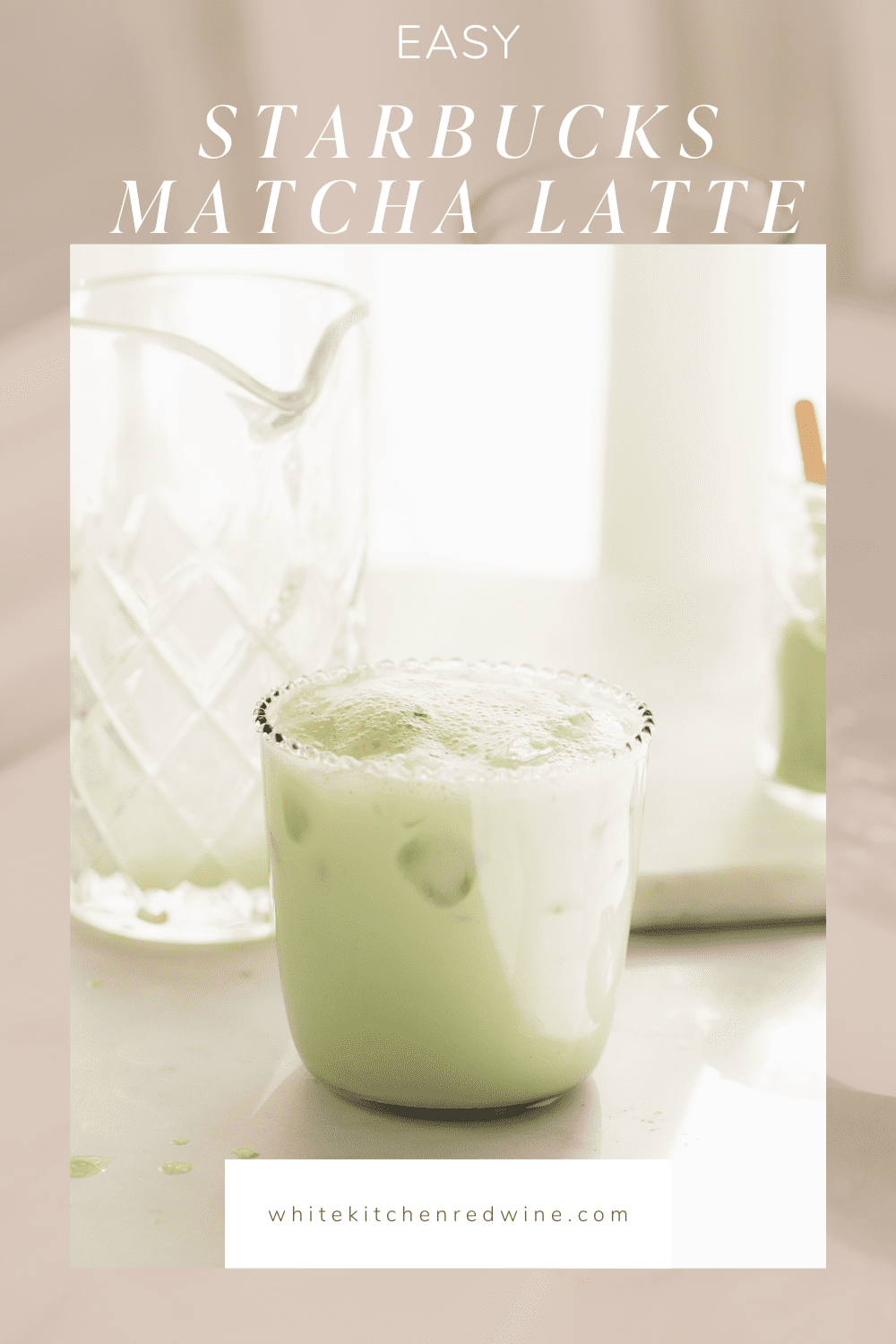 How to Make Homemade Starbucks Matcha Latte at Home
Steam your milk in a steamer or slowly heat it over medium heat in a saucepan. Whip it up smooth and creamy using a milk frother.
Once heated through, quickly whisk the sweetened matcha powder into the milk.
Enjoy immediately, or pour over a large glass of ice!
My Iced Matcha Latte Order
I'm obsessed with iced matcha drinks! You've got to see my Starbucks matcha latte order.
I order my iced matcha green tea latte with one pump of pistachio sauce and 2 pumps of raspberry syrup. These counteract the subtle bitterness of matcha and the raspberry makes it taste like a dessert!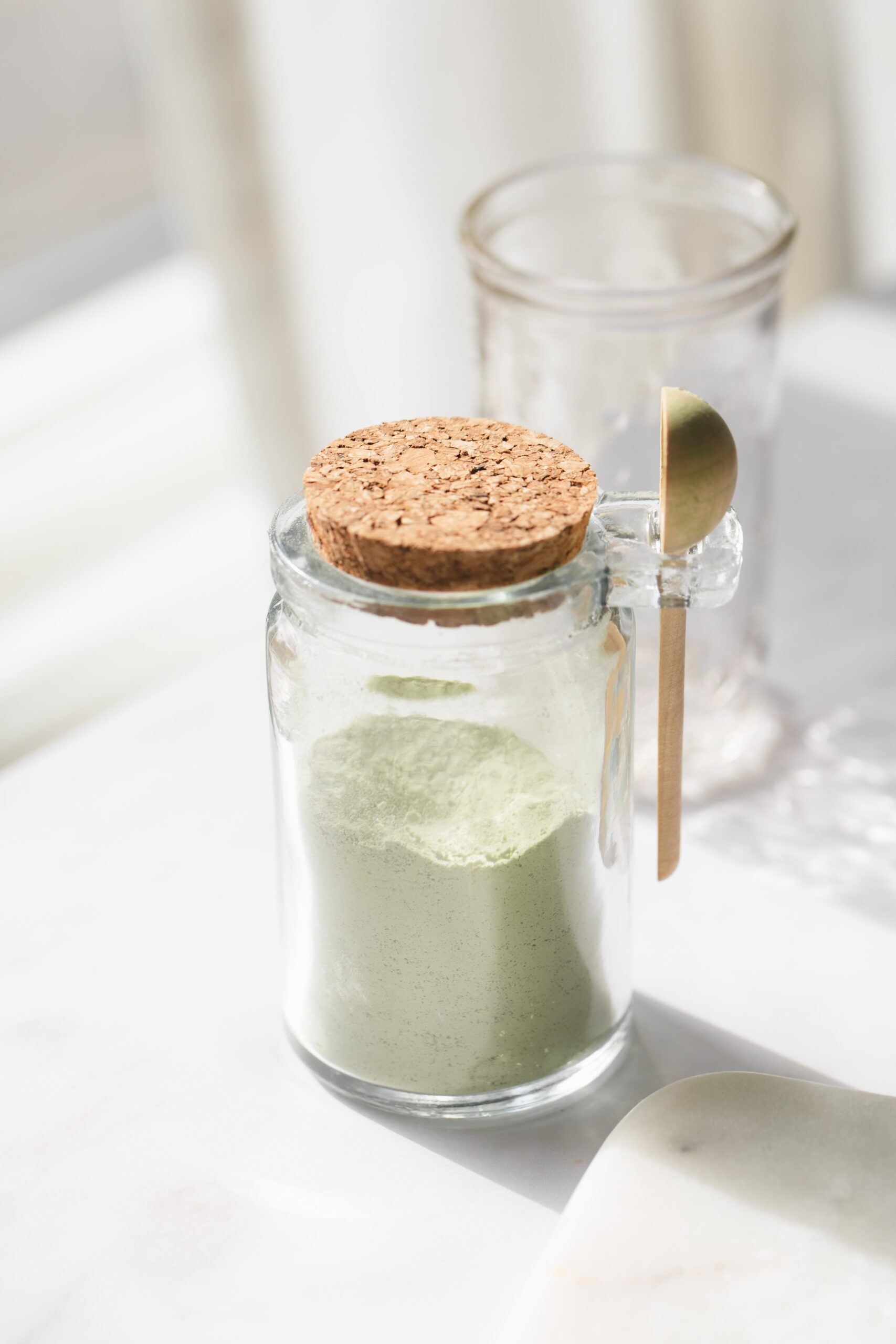 FAQs
What does Starbucks put in its Matcha latte?
Starbucks uses a recipe just like this one! They use sweetened matcha powder and milk to make their matcha lattes. You can have the same drink without leaving your house or paying their high prices.
What Starbucks syrup is good in matcha?
Steal my favorite recipe and add one pump of pistachio sauce and two pumps of raspberry syrup to your iced matcha latte. Although matcha is great with flavors like vanilla or honey, these two ingredients take the flavor to another level.
What can I sweeten my matcha latte with?
Add your favorite sweetener to this Starbucks matcha latte recipe! Although I like to use sweetened matcha powder for even fewer steps, you can use any sweetener, including simple syrup, flavored syrups, stevia, honey, maple syrup, monk fruit, etc. By choosing a low carb sweetener and unsweetened milk, you can make this keto matcha latte!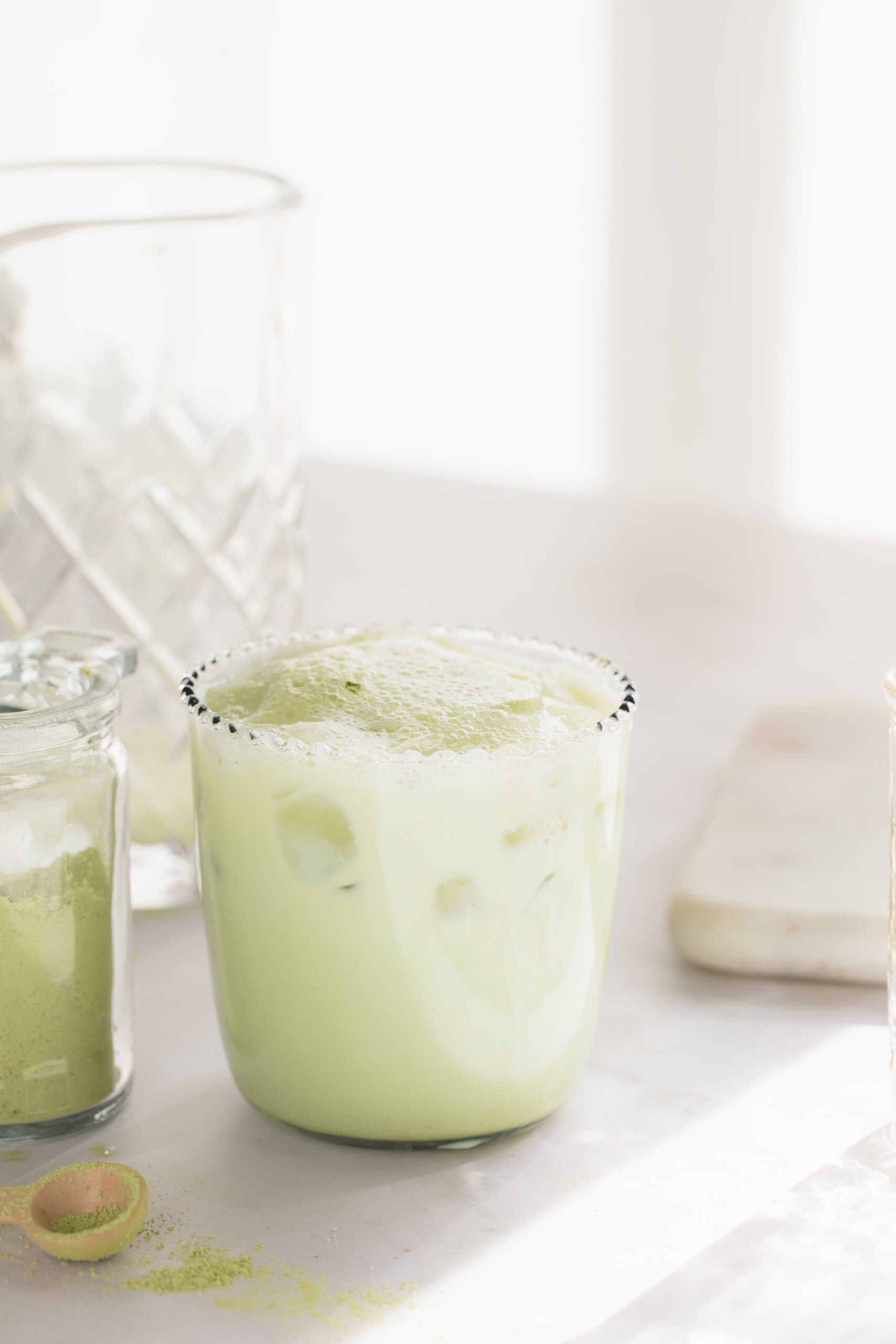 More Starbucks Copycat Recipes
Love a good Starbucks copycat recipe? Me too!
Iced Chocolate Almondmilk Shaken Espresso
📖 Recipe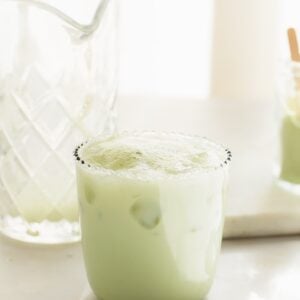 Starbucks Matcha Green Tea Latte Recipe
Vibrant green latte made with sweet matcha, steamed milk, and frothed up together to make the perfect Starbucks copycat matcha latte!
Share by Text
Print
Pin
Rate
Ingredients
1

tablespoon

sweetened matcha powder

16

oz

2 cups steamed 2% milk

Ice

optional
Instructions
Steam your milk in a steamer or slowly over medium heat in a saucepan.

Once heated through, quickly whisk in the sweetned matcha powder into the milk.

Enjoy immediately or pour over a large glass of ice!