To boost your immune system and help you kick the flu in its tracks, I have an amazing hot tea recipe for you - the Starbucks version! This is the super popular Copycat Starbucks Medicine Ball Recipe.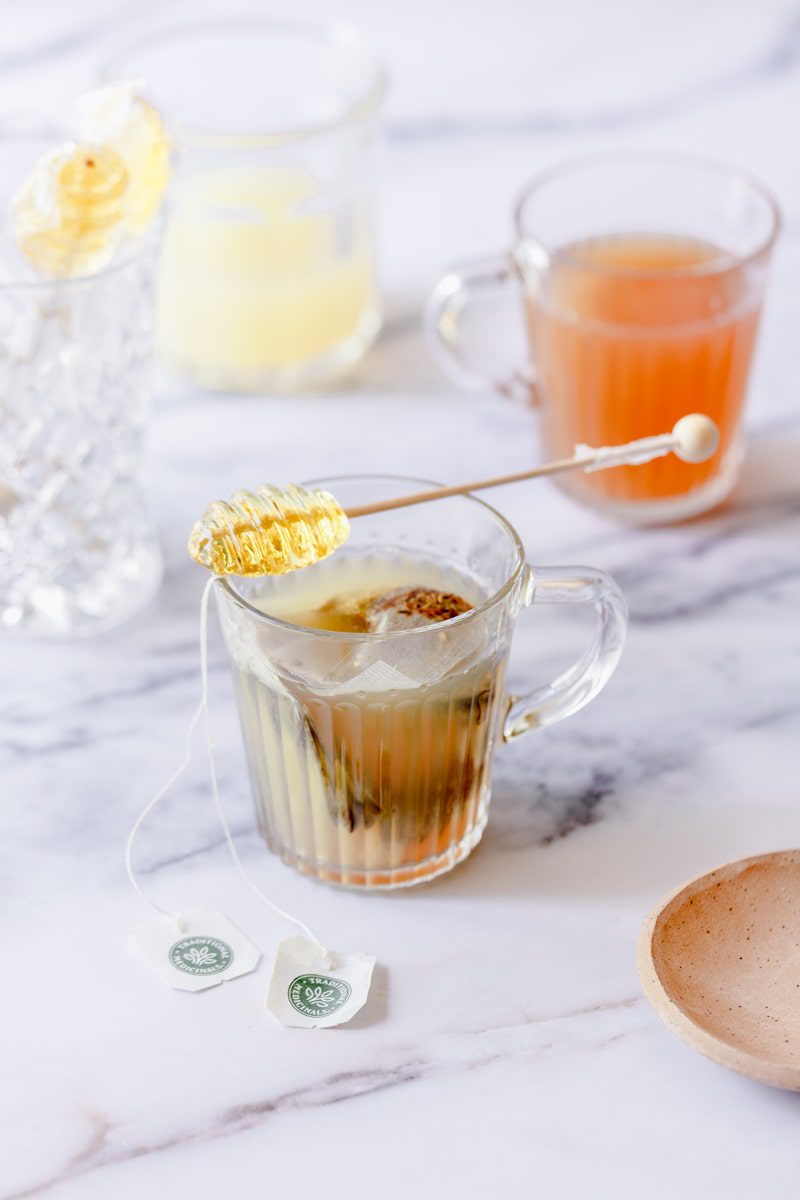 I'm a Starbucks lover through and through. But I also love finding ways to make these simple recipes right at home to save a little money here and there.
So if you are a Starbucks girlie like me, you'll also want to try my Starbucks Iced Matcha Latte , Starbucks Pink Drink, or the Chocolate Almond Milk Shaken Espresso!
Jump to:
Here's Why You'll Love This Recipe
It's super easy to make. Flu time isn't when you'd like to spend a lot of time in the kitchen. The good news is, you don't have to. This recipe is done and dusted (more like stirred and gulped) in less than ten minutes!
It only uses simple ingredients. Nothing fancy. Nothing that you don't already have in the pantry or can't easily get from your local grocery store. So, no extra effort! Phew
It's incredibly healthy! Just what you need. Every ingredient in there is good for you.
You can tweak it as you like. You don't have to stick to the classic if you don't want to. Add healthy ingredients (even flavors) to feel better.
No extra dollars. You can make and enjoy this perfect drink in the comfort of your own home, and that too at a fraction of the price. Nothing beats that!
What is Starbucks Medicine Ball Drink?
Okay, so this hot drink was originally Starbucks' secret menu item. But then the word got out, and they moved it to their regular menu.
It is a concoction of Teavana jade citrus mint green tea, steaming hot water, steamed lemonade, little honey, and peach tranquility herbal tea. It really does give those sniffles a tough time. Some people enjoy it with peppermint extract or syrup for extra flavor.
Ingredient List for Copycat Starbucks Medicine Ball Recipe
As I mentioned, the ingredient list is super short and sweet. Here's everything you need for a flu-buster drink.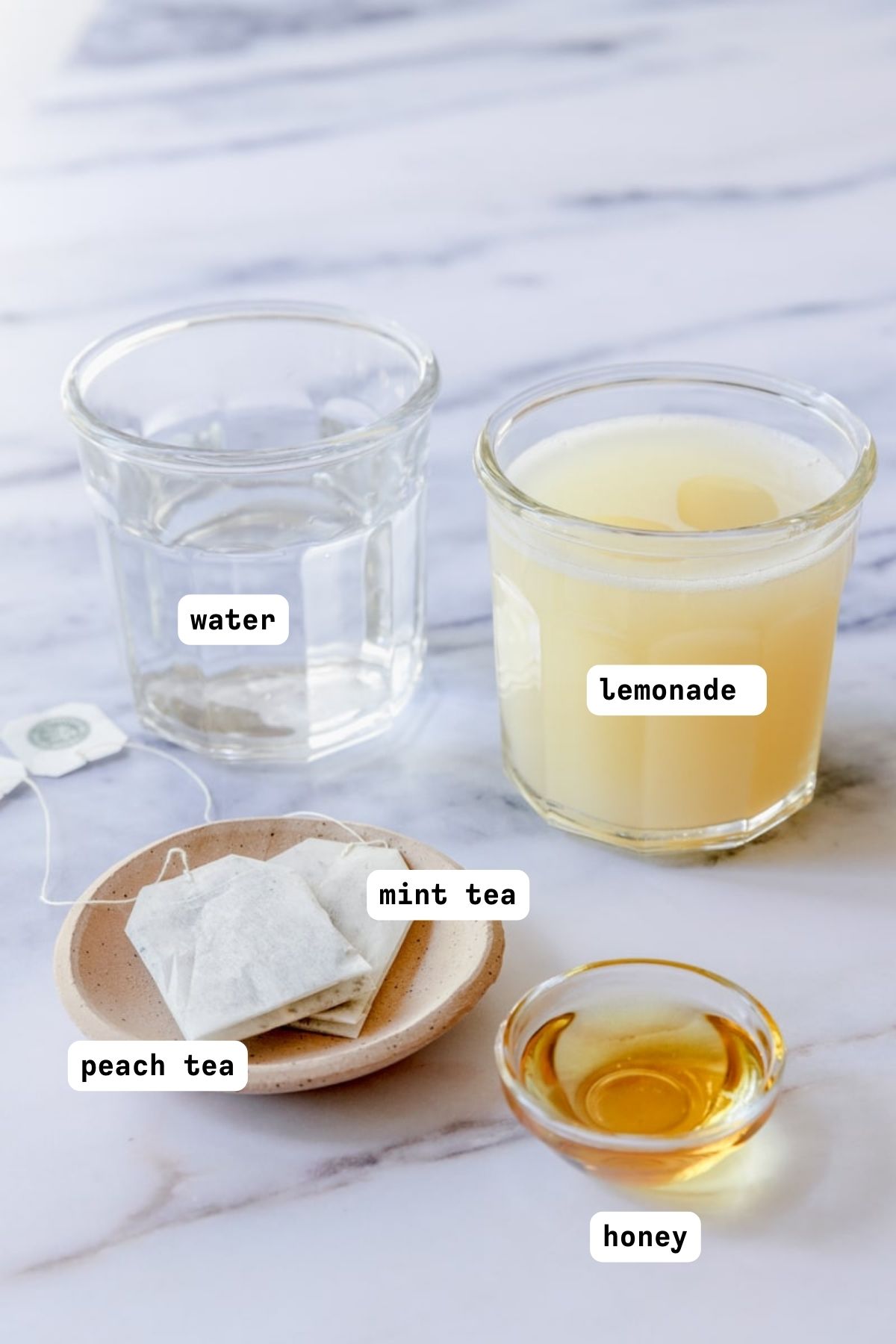 Hot Water - Your flu or sore throat isn't budging unless you give it lots of fluids. 
Lemonade - Use ready-made, store-bought lemonade, or make one yourself. It's super easy. I'll share some tips below.
Mint Tea - I prefer Teavana teas. Teavana's Jade Citrus Mint Tea has lemon verbena, spearmint, and lemongrass.
Peach Tea - Teavana peach tranquility tea works for me. It has apple, peach, chamomile flowers, pineapple, rosehip, and herbs with a hint of citrus notes. The peach flavor really kicks the drink up a notch.
Honey - Natural sweeteners all the way. Don't leave this out. I'll tell you why below. 
Check out the recipe card at the end of the post to know the exact quantities.
Health Benefits of this Copycat Starbucks Tea
This comforting drink has a lot of health benefits. You'd never want to ditch it once you know what it can do for you.
Honey has been used as a healer for many centuries. It has anti-bacterial and anti-inflammatory benefits and is rich in antioxidants. It also eases sore throats and improves digestive health. It is best to use raw honey if you can, as it has not been processed or heated.
Lemon is a powerhouse of Vitamin C. Vitamin C is known for keeping your immunity strong and helping your body fight off infections.
Mint is great for congestion and helps clear up mucus and stuffiness.
Herbal teas are packed with antioxidants. They also have anti-inflammatory properties that can help boost your immune system, reduce stress, and improve digestion.
So, if a cold day gets you bad, turn to this great recipe. You don't even need Starbucks baristas to make it!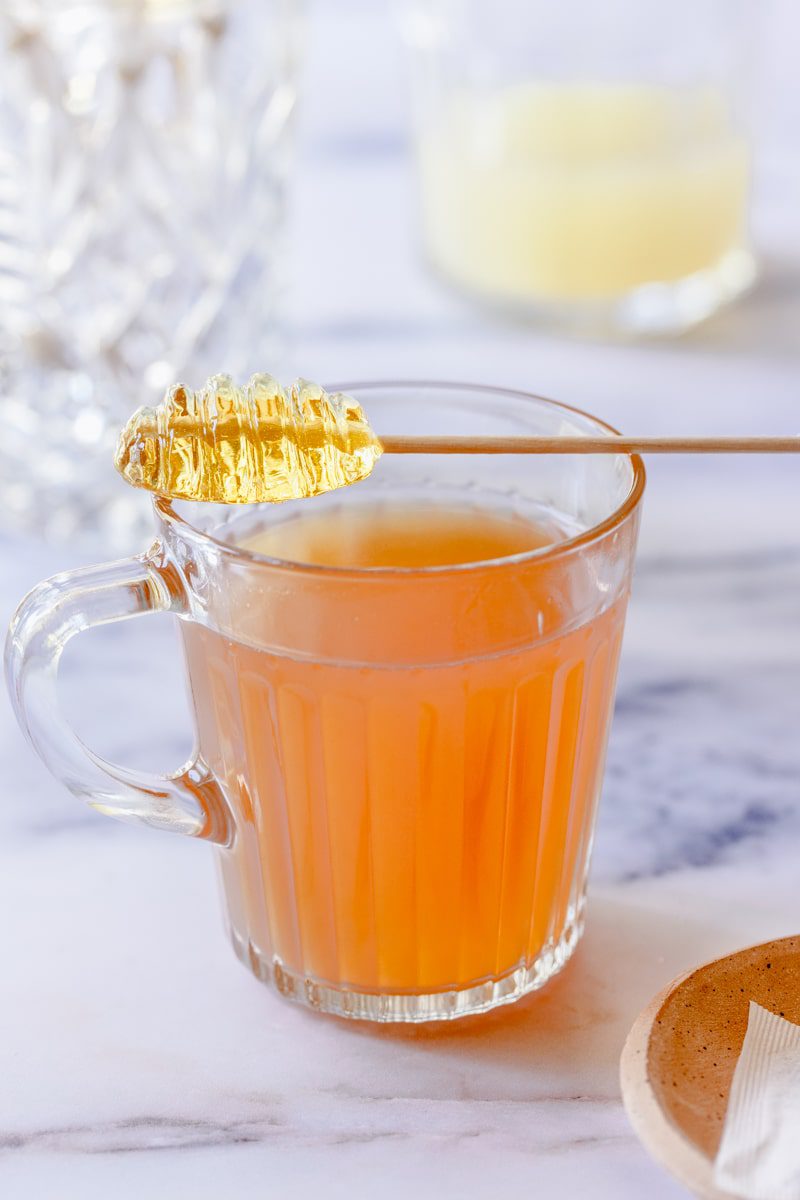 Making the Copycat Starbucks Cold Buster Tea
Here are three super simple steps that'll take you a sip closer to an itch-free throat.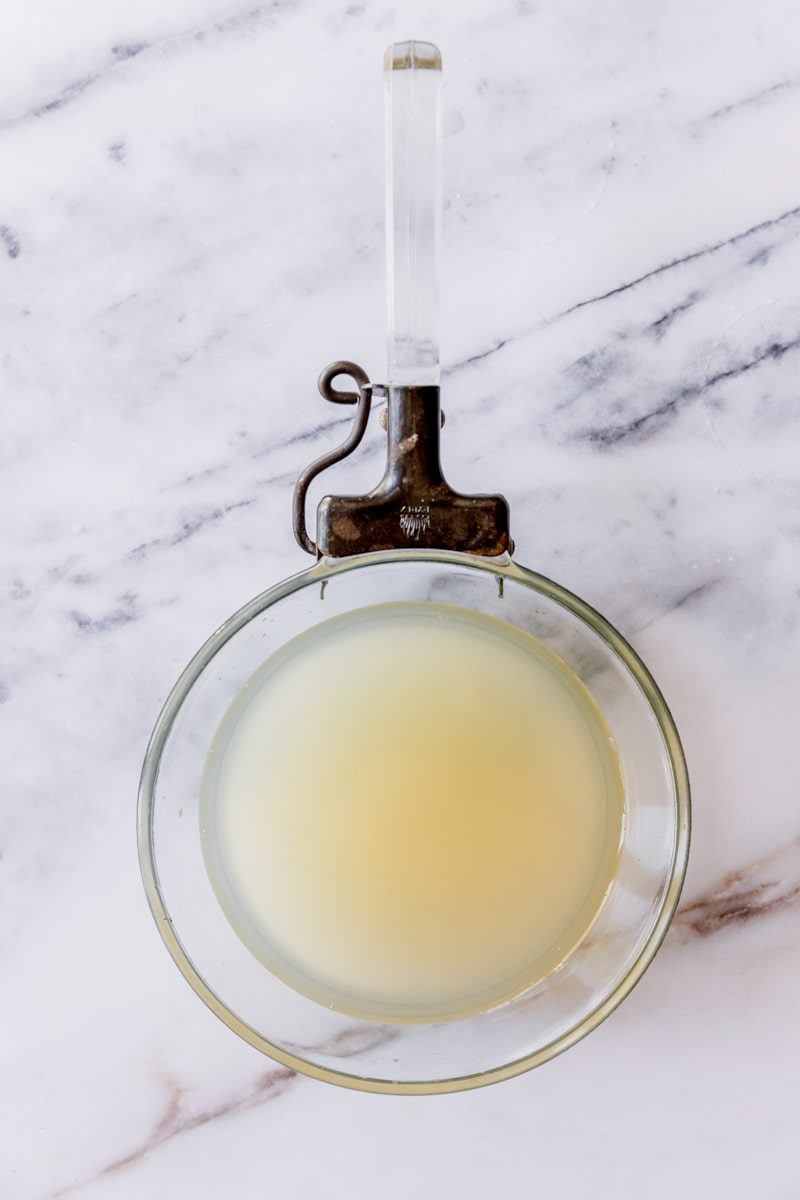 Combine water, lemonade, and honey in a saucepan or microwave-safe bowl and bring it to a boil over medium-high heat.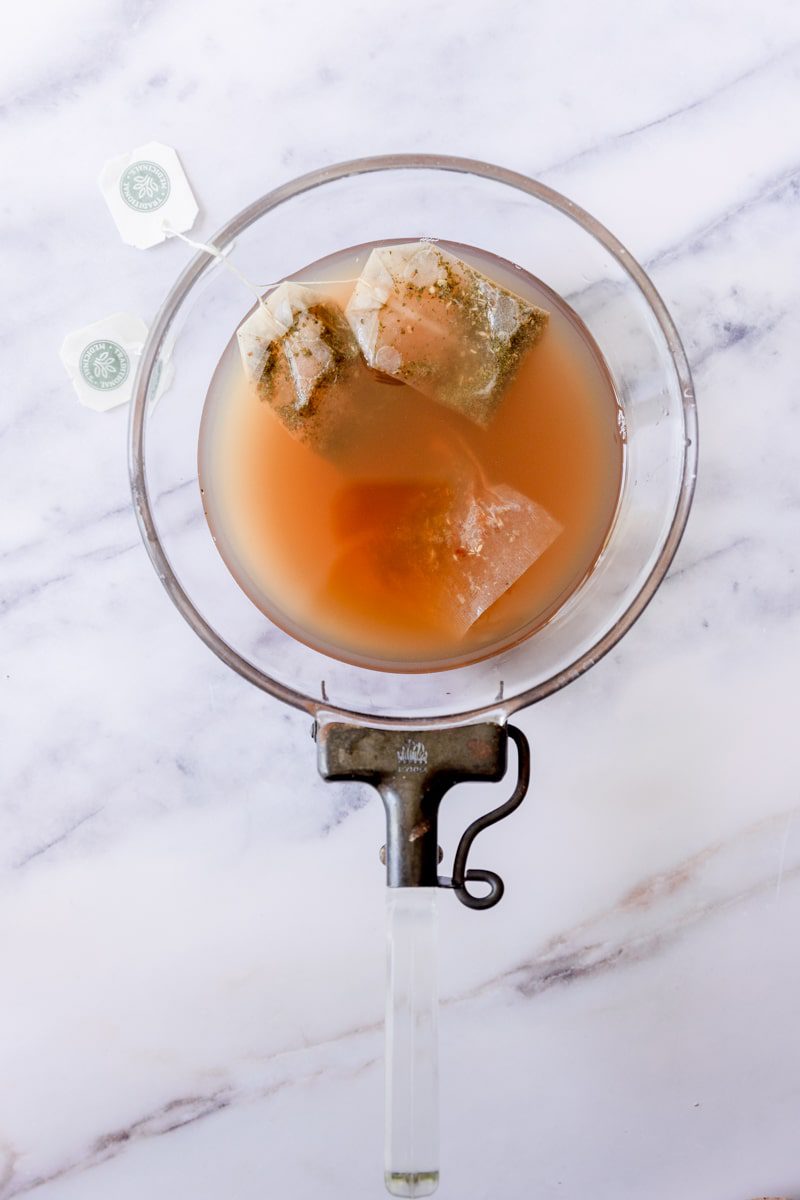 2. Remove the saucepan from the stovetop and steep tea bags in the lemonade tea mixture. 2-3 minutes will do.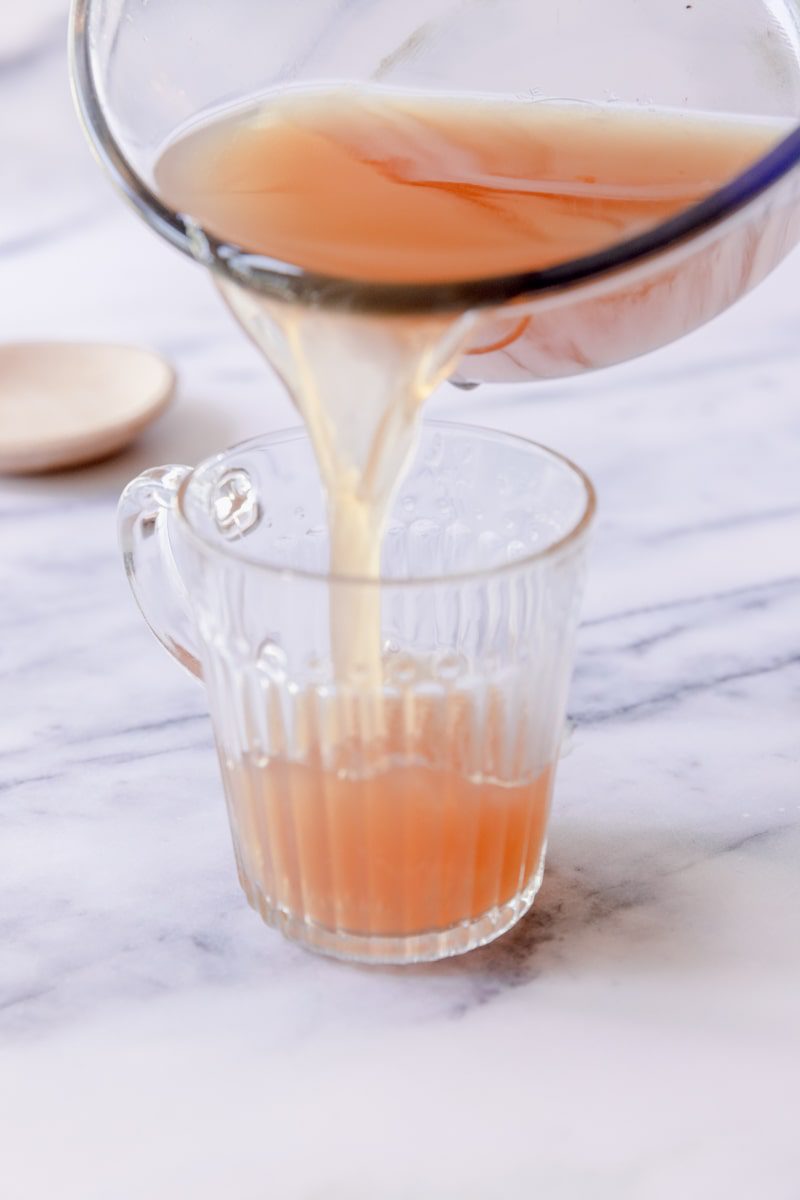 3. Remove the tea bags, pour your tea into your favorite mug.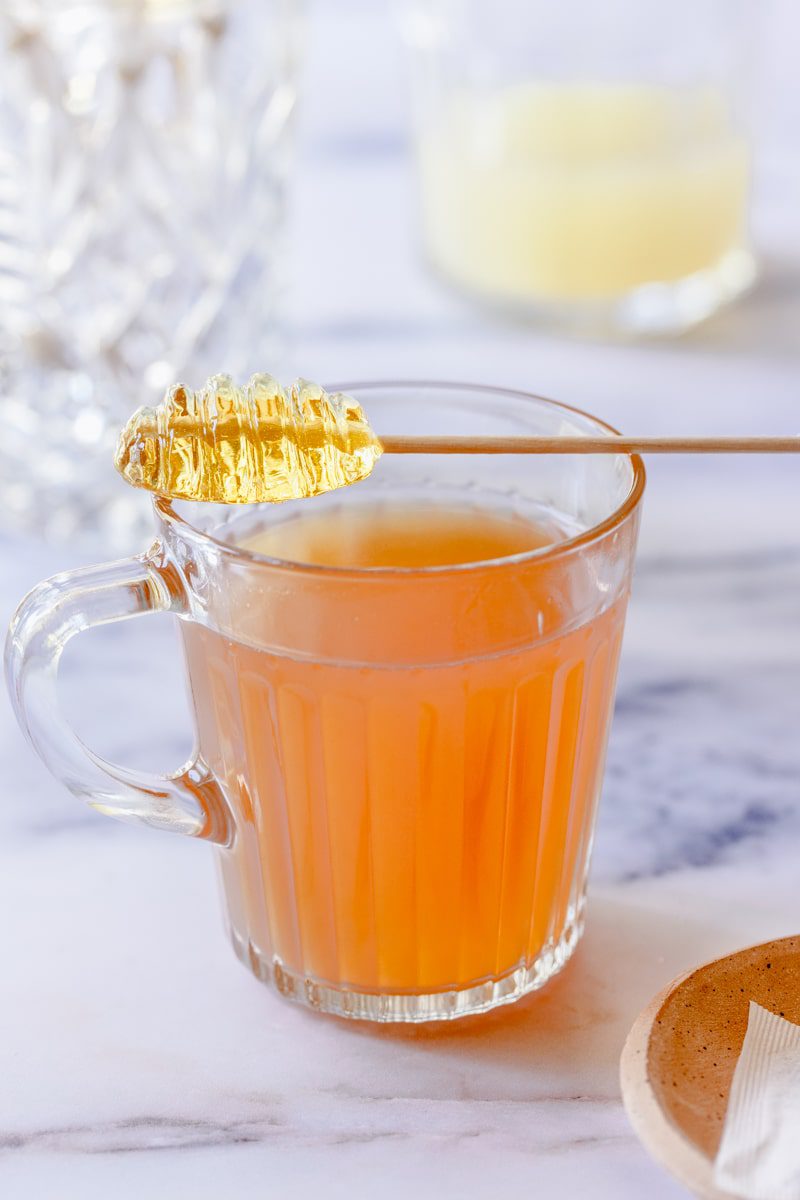 4. Garnish with lemon or honey stir stick.
That's literally it! No long queues, no receipts— done.
This warm drink doesn't need any side dishes. You can gulp it down on its own and enjoy the benefits.
However, if your tastebuds are looking for something more, a shortbread cookie or a digestive biscuit will do just fine! 
Substitutes and Variations
I know what you're thinking, "It's just tea. How can I make it more special?" That's exactly why I'm here! Here are a few ways to spruce up your homemade medicine ball:
Add Fresh Mint Leaves - Looking for an extra kick? Add fresh mint leaves and enjoy the aroma as you sip.
Lemon Slices - Instead of a lemon wedge, try adding thin lemon slices for an extra citrusy flavor.
Mint Syrup - A teaspoon of mint syrup adds a subtle hint of sweetness and flavor. A little goes a long way.
Ginger - For an extra warming effect, add a pinch of ground ginger to your tea. 
Chamomile Flowers - For an extra pop of flavor, add some dried chamomile flowers to your tea. Not only will it give a nice aroma, but also the benefits of this miracle herb. 
Frequently Asked Questions
What is Steamed Lemonade?
Oh, it's just a fancy name they use for heated lemonade. Think of it as hot lemonade. If you're using a store-bought lemonade, simply heat it on your stovetop, and you're done. 
How to Make Steamed Lemonade from Scratch?
It's pretty straightforward. Mix water, lemon juice from fresh lemon, and some honey. Heat the mixture, and it's done! 
Can I Use Any Other Types of Tea?
Yes, of course. Feel free to use green tea, chamomile tea, or any other type of herbal tea you like. The key here is to look for a tea that's naturally caffeine-free, just like the Starbucks' medicine ball.
Where Can I Find Teavana Tea Bags?
Teavana tea bags are available in most retail stores, or you can buy them online. Just make sure to pick a caffeine-free variety for this recipe.
If you try this medicine bomb of a drink, do tell me how effective it was. I'd love to hear about your experience. If you're looking for other copycat Starbucks recipes, give this copycat Starbucks Pink Drink and Starbucks Matcha Green Tea Latte Recipe a try. You'll love them!
📖 Recipe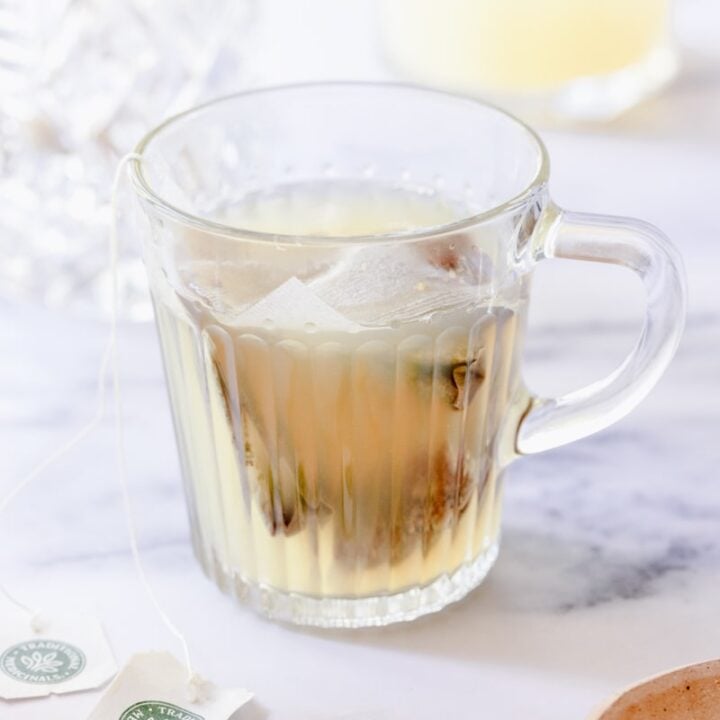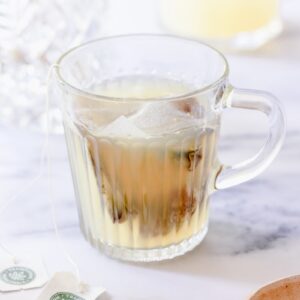 Copycat Starbucks Medicine Ball Recipe
Warm and cozy cold-fighting Starbucks Copycat Medicine Ball Tea recipe! It's not only soothing but it's delicious!
Share by Text
Print
Pin
Rate
Ingredients
¾

cup

water

¾

cup

lemonade

1

bag Mint Tea

1

bag Peach Tea

2

teaspoons

honey
Instructions
In a sauce pan (or microwave safe bowl) combine water, lemonade and honey. Bring to a gentle boil over medium high heat then remove from heat.

Steep tea bags in the hot lemonade tea mixture for 2-3 minutes. Remove tea bags.

Pour into a mug and garnish with a lemon wedge

Enjoy warm.
Notes
This is easy to make in batches and reheat when ready to enjoy! It's also delicious and refreshing over ice.