If this isn't THE theme of 2022. Disco themed parties are every where and I wanted to put my own spin on it. Pjs, Prosecco, and Disco was a glamorous pj party where we danced, ate, and popped Prosecco!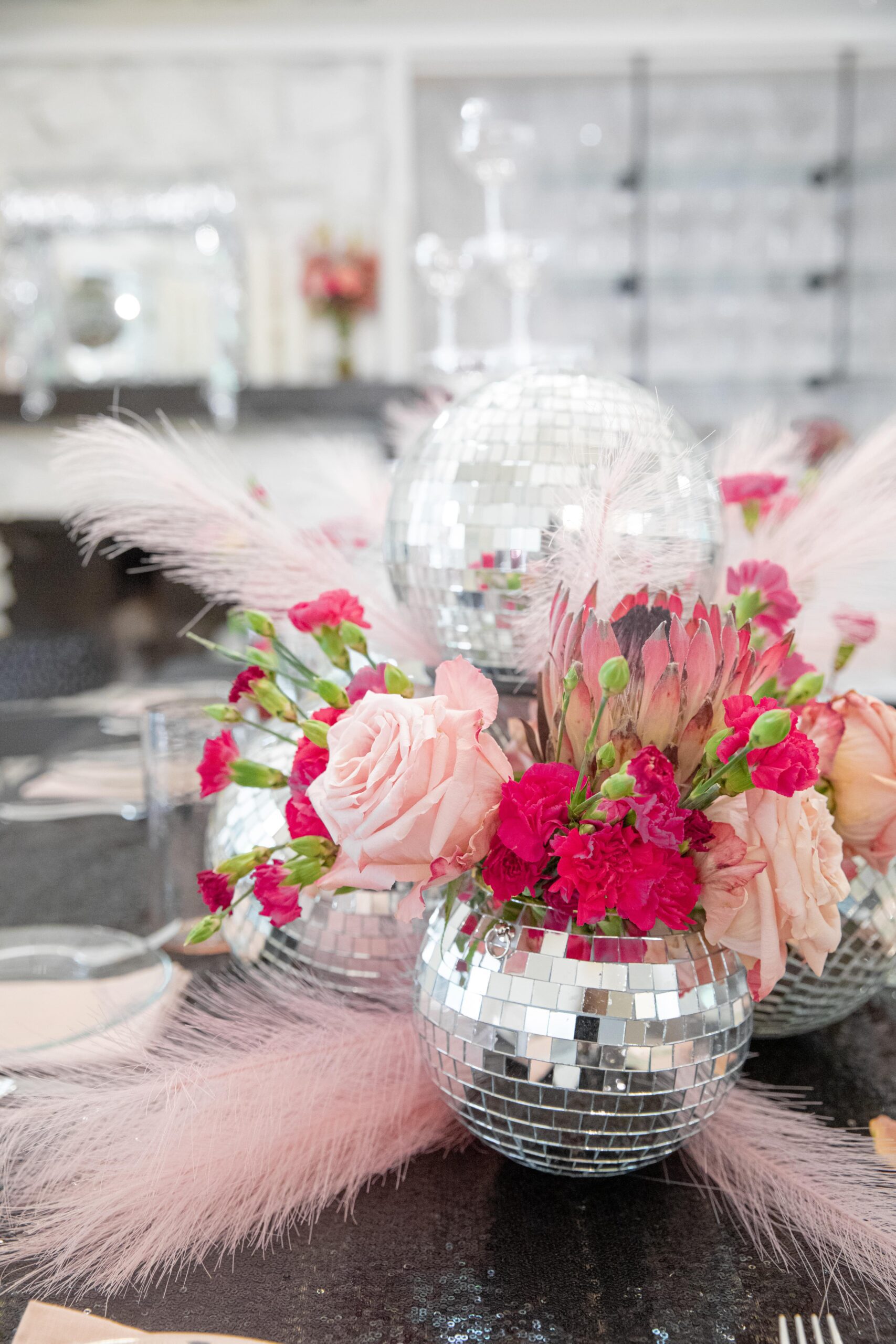 Disco Party Ideas
I knew I couldn't just do a plain old disco theme. I needed to elevate it and pjs + Prosecco was just the ticket.
I love this theme for a bachelorette party or a birthday party & it is totally easy to pull off. Some elements to this disco party that were really popular include:
Fringe Disco Wall - a great backdrop!
Prosecco Pong - kept guests entertained and people could just watch or get into it and play.
Disco Planters - I loved adding these to the tablescape
Disco playlist - an essential part of any party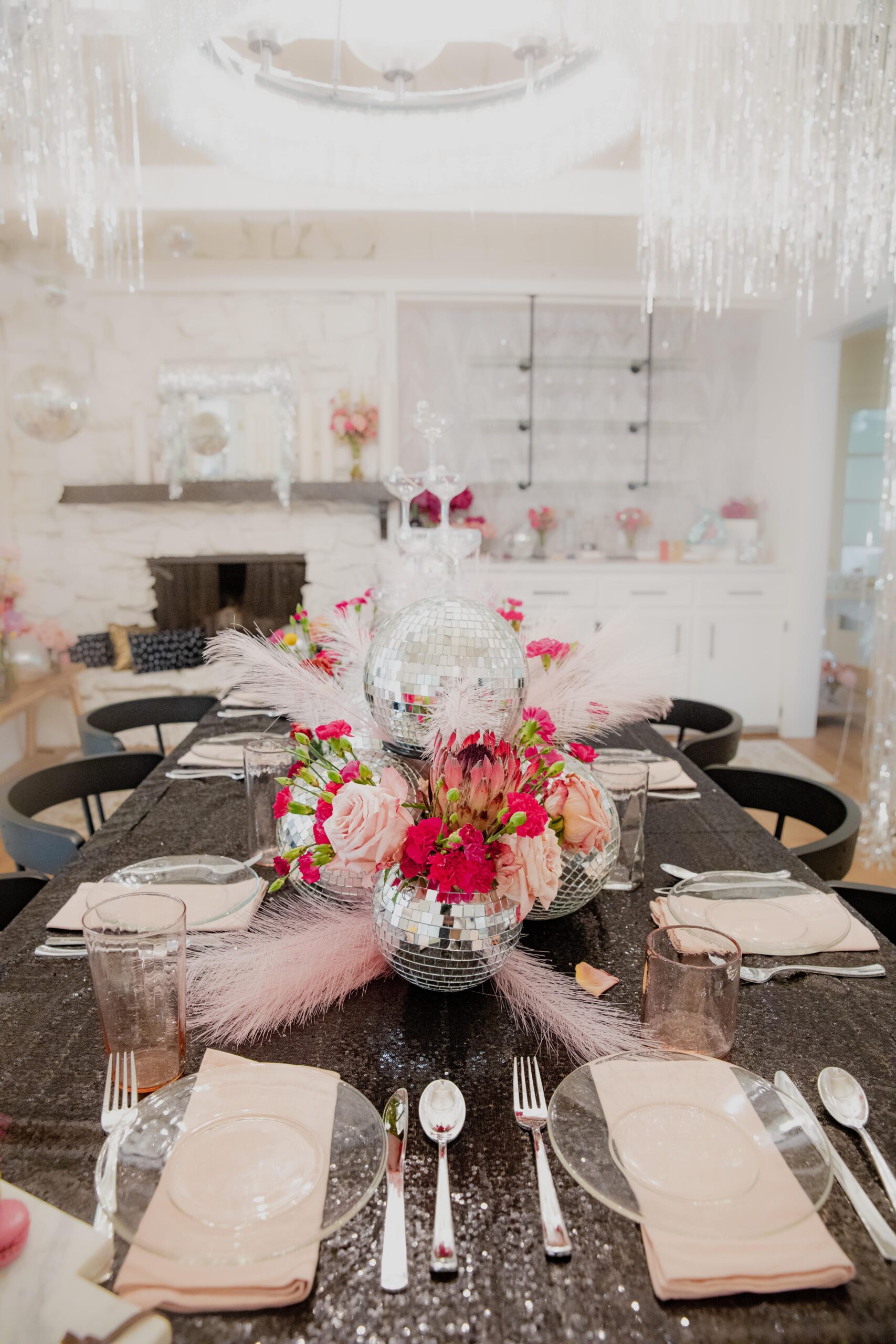 Set A Sparkly Tablescape
This was one of my favorite things about the party! This table spread included a tall champagne tower centerpiece and disco balls.
When I set a table with a centerpiece I typically like to keep it low, so people can actually see each other across the table. However, I totally broke that rule for a show stopping centerpiece...
This champagne tower was made up of plastic coupes that hooked together for stability. I put it on top of a cake stand and used this as my disco party centerpiece!
I added some disco balls all around and stuck some pink pampas stems throughout.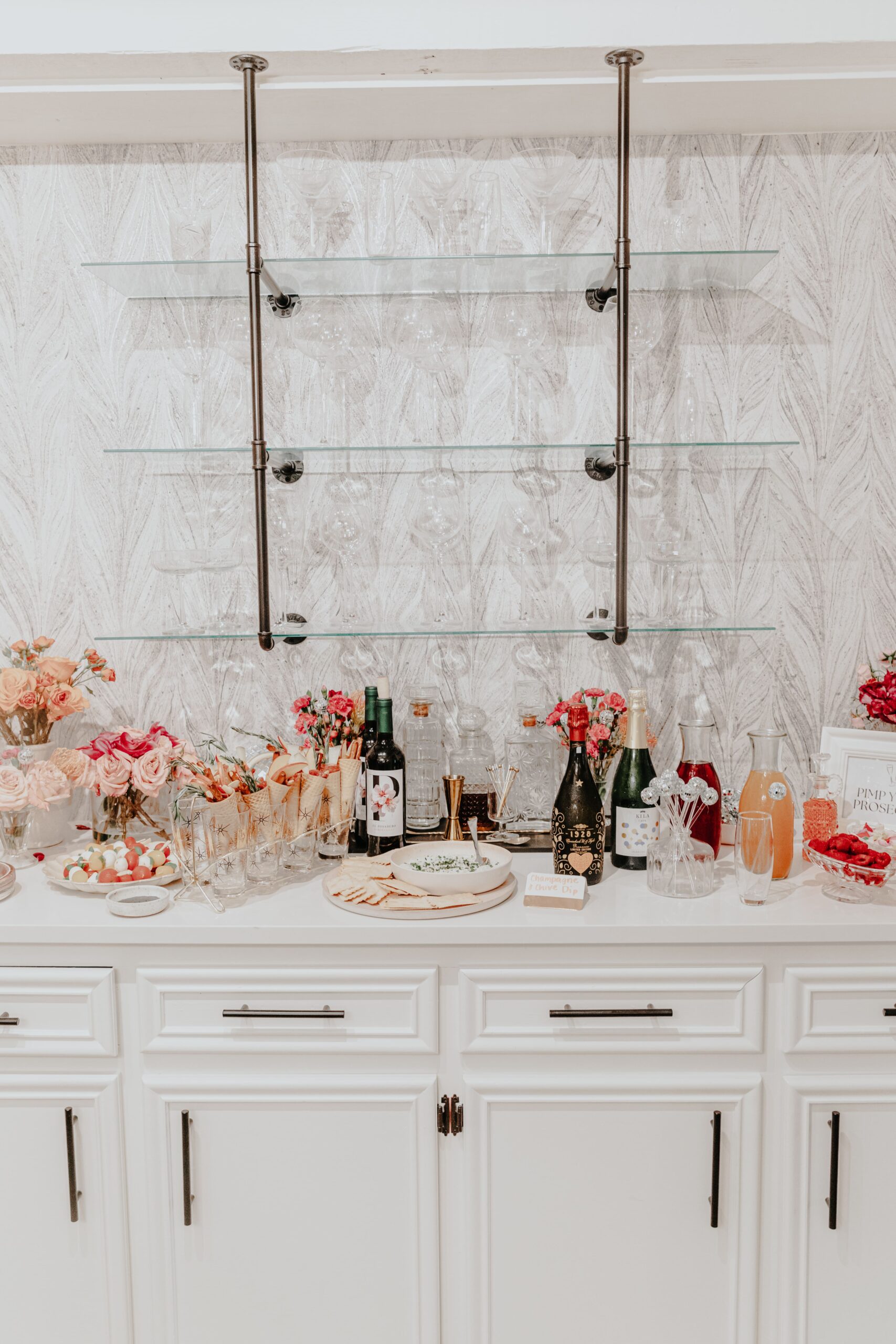 Party Menu
After the decor was all settled and perfectly disco themed, I moved on to the Pjs + Prosecco inspiration!
All my girls wore their fanciest pjs and so I HAD to serve a fabulous menu...it included a welcome drink of a French 75 and a caviar bump.
What's a caviar bump you may ask? It's how people test a tin of caviar before purchasing and it consists of placing a small amount on the hand between the thumb and pointer finger.
Take the bite of caviar and wash it down with champagne or Prosecco. It was the "WOW" factor of the party and really helped to break the ice and get the party started.
Welcome drink: French 75 (could also do a French Gimlet!)
Appetizers: Goat cheese dip, charcuterie cones, and caviar bump.
Side Dish: Stuffed Artichokes, but these Roasted Artichokes would be great too.
Salad: Mixed greens with champagne vinaigrette
Main course: Local pizza! It was the perfect balance to the "fancy" party
Dessert: Macarons and a candy dessert board
other drinks...Prosecco of course!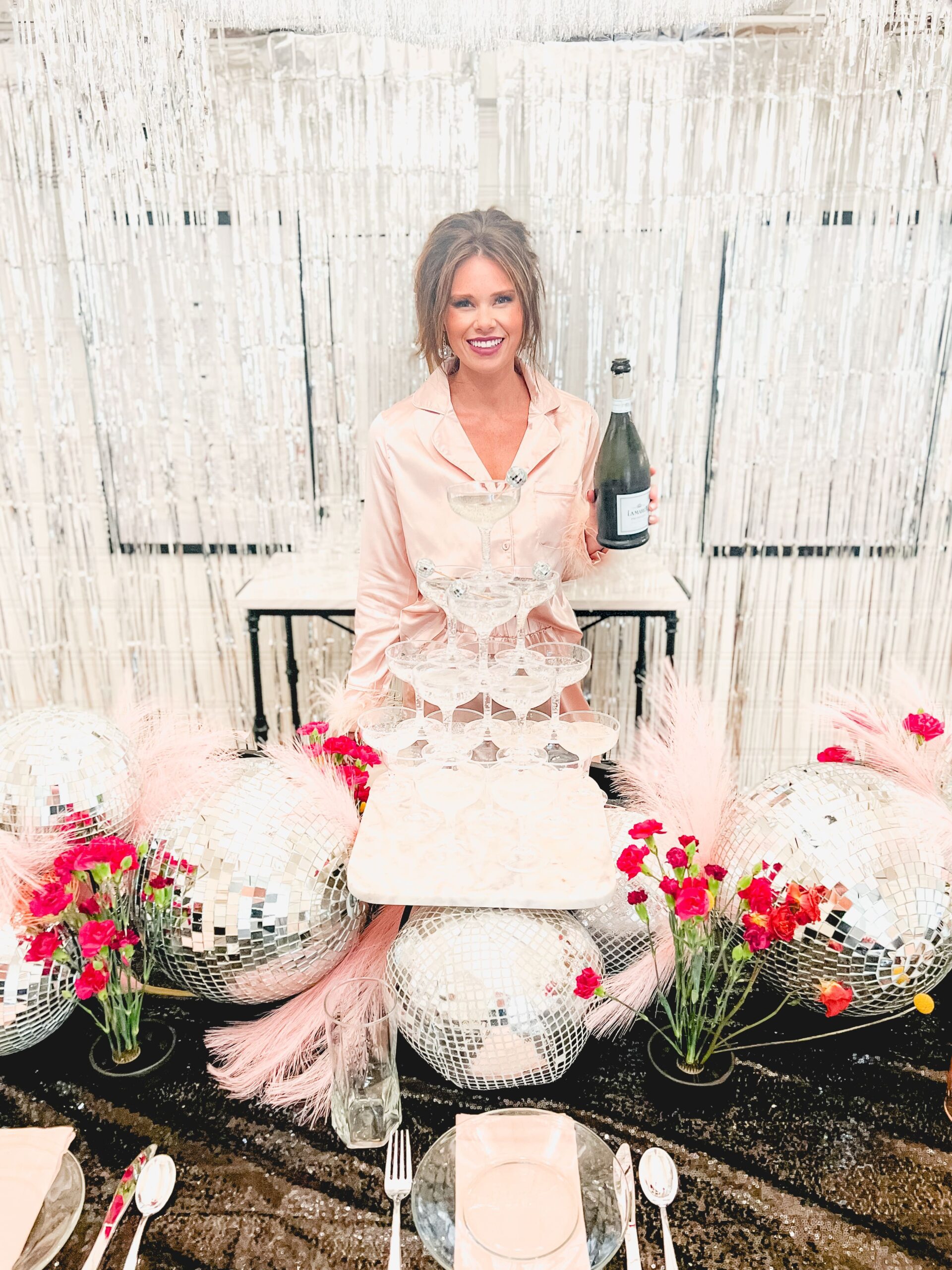 Prosecco Bar For Party
Say goodbye to that boring mimosa bar we've all seen...I did a "Pimp Your Prosecco" bar! This was so easy to do and had guests mixing up their own drinks so you don't play bartender all night!
To build a Prosecco bar, you'll need...
Bottles of Prosecco
Juice (2 or 3 options)
Aperol or St. Germaine
Edible flowers, berries, cotton candy to add!
People can mix up all kinds of fun and pretty drinks with these ingredients!
Hosting Tips For Girls Night 💡
After hosting a few of these girls nights, here are some pro-tips to pass along...
Prep appetizers, sides, and desserts the night before. As much as you can, prep these dishes ahead of time. I had the salad, stuffed artichokes, and dessert board assembled ahead of time.
Don't be afraid to delegate people to bring something! If people asked what to bring, easy options to give them is always a bottle of wine, champagne, or a bag of ice.
Batch cocktails are your friend. By mixing up large batches or setting up something like the Prosecco bar, you eliminate the need to play bartender all night.
More Menu Ideas for Disco Party
So whether you keep your disco party elevated or casual, here are some more of my suggestions for a girls party. I kept this one "snack" forward and focused on heavy appetizers.
More Party Inspiration
If party planning is your jam or you just love a good theme, check out these other themed parties I've hosted!