While roasted artichoke halves might sound intimidating to make, they really couldn't be easier! & they are such a treat to enjoy as an appetizer with any dinner you serve.
Garlic, parmesan, potatoes, and a creamy chive sauce go PERFECTLY with these toasty, roasted artichoke halves.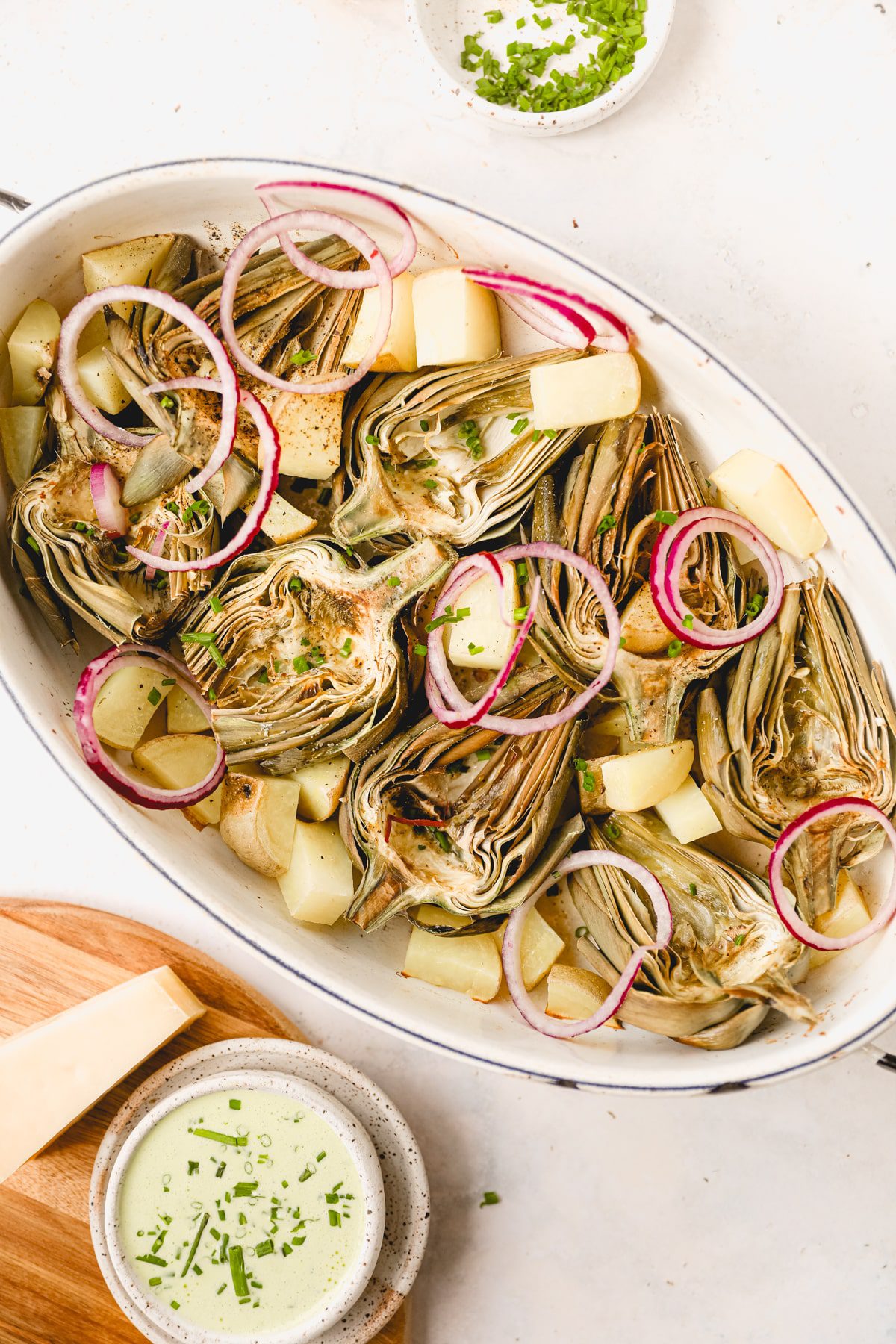 How to Prep Artichoke Halves for Roasting
For this artichoke halves recipe, I have a simple step-by-step guide to prepping artichokes for roasting.
While it may feel complicated - I promise it's not that bad! And the end result of the roasted artichokes is totally worth it.
How to Trim & Cut Artichoke Halves
Our oven roasted artichoke halves are first trimmed of ¾ of the stem.
Using kitchen scissors simply snip the pointy tips off of all of the leaves.
Cut the artichoke in half lengthwise with a sharp knife.
Carefully scoop out the interior with a spoon and discard it.
Best Methods for Roasting
Crispy roasted artichokes are easily made in a baking dish! Which is how I prepared them in this recipe.

Pan roasted artichokes can also be made on a sheet tray with other vegetables to roast to crispy perfection!
How to Make and Eat Roasted Artichokes
Exactly how long you need to roast artichokes will depend on how large the artichokes are! When cooking artichokes in your oven, larger ones could take up to 40 minutes to get brown and crispy.
There are plenty of ways to eat a roasted artichoke but my favorite way is as an appetizer with any sort of dip. The leaves are SO tender and delicious.
Roasted artichoke appetizers are best served alongside my creamy, chive, and garlic dip!
So, How Do I Eat This Artichoke?
Now you might be wondering…"How do you eat a halved artichoke?" As complicated as artichokes look, eating them is simple.
You just pull the individual leaves off of the halves and work your way to the center of the artichoke! Although if you are me, I start right in the middle and eat the heart first, hah!
What to Serve with Roasted Artichokes
You could pair just about anything with this roasted artichoke recipe, and it would be to die for.
However, I love roasted potatoes and artichokes together and they take about the same amount of time to cook! So for this recipe, I added chopped-up baby potatoes to serve with it.
& if there had to pick one other ingredient I love with artichokes, it's cheese! Roasted artichokes with parmesan work so well with the addition of the potatoes.
Keep reading below to grab the recipe for my Parmesan Chive creamy sauce to drizzle over these roasted potatoes and artichokes. It's perfection!
More Amazing Artichoke Recipes
This is definitely my favorite recipe for roasted artichokes, but we enjoy artichokes all sorts of ways around here.
Check out these creative ways to eat artichokes below: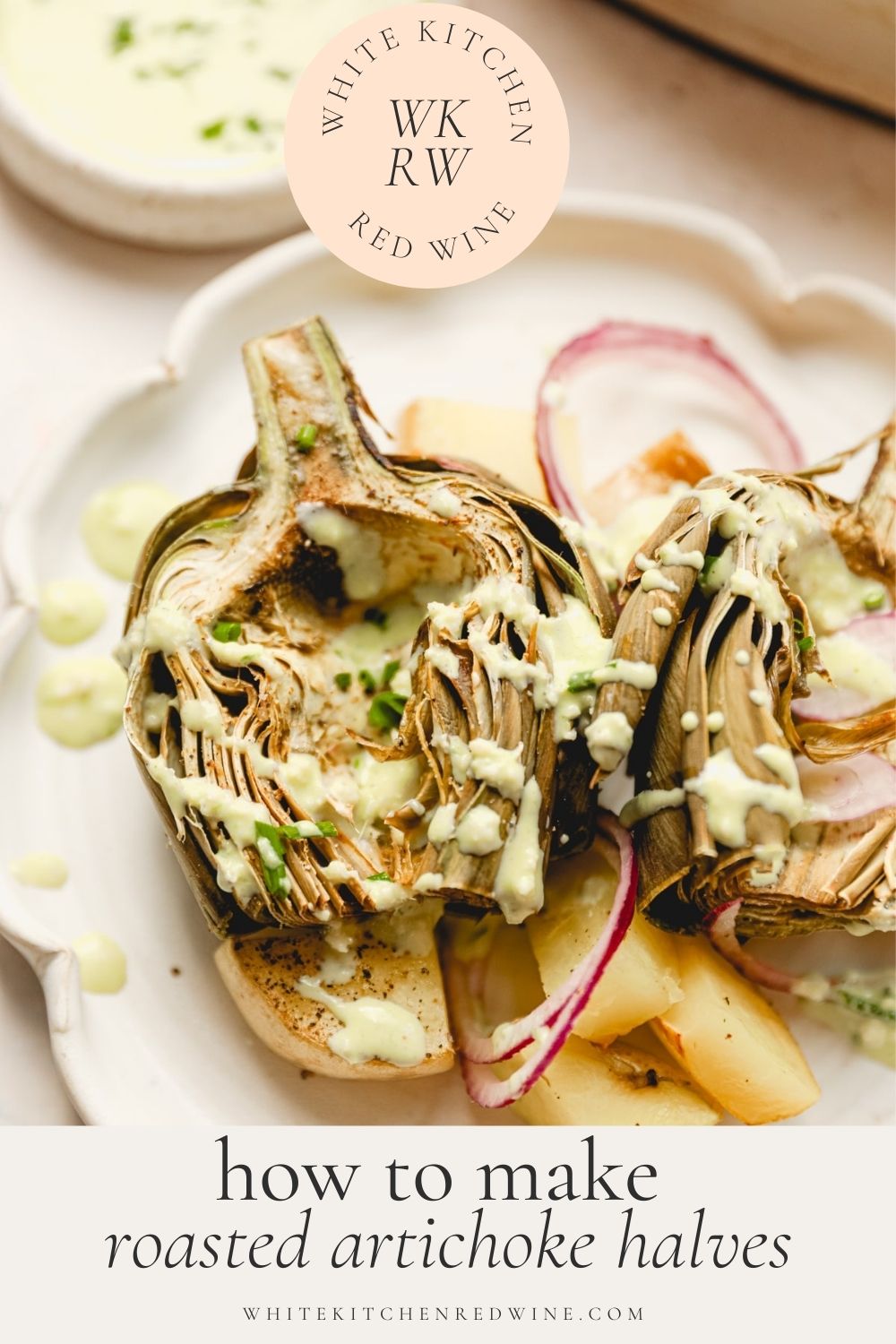 📖 Recipe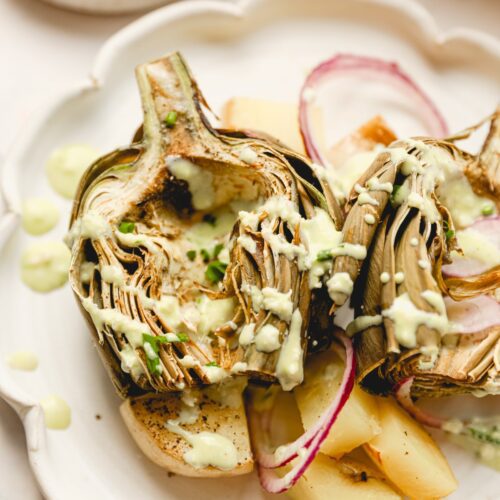 Roasted Artichoke Halves
This roasted artichoke recipe gives you perfectly crispy outer petals and tender, full-flavored hearts. Pan roasted in your oven, these artichokes make an excellent appetizer!
Print
Pin
Rate
Ingredients
4

artichokes

2

small yukon gold potatoes

2

tablespoons

olive oil

1

clove

of garlic

juice of 1 lemon

4

teaspoons

of salt

separated in half

2

teaspoons

of pepper

1

cup

greek yogurt

2-4

tablespoons

of water

4

oz

grated parmesan cheese

¼

cup

fresh chives

½

a red onion
Instructions
Preheat the oven to 400 degrees.

Prepare the artichokes by first cutting ¾ of the stem off.

Clip the pointy tops of all the leaves with kitchen scissors.

Cut the artichoke in half, you will see the choke in the center. Using a spoon, scrape out the spikey textured center because it is inedible.

Repeat for the rest of the artichokes.

In a large roasting pan or baking dish, add the artichoke halves and diced potatoes.

Top with olive oil and 2 teaspoons of salt and 1 teaspoon of pepper.

Place in the oven for 10 minutes uncovered. Then cover with foil and cook for 20-25 more minutes.

While those are roasting, prepare the sauce in a food processor.

Place the chives and parmesan in the processor and pulse until finely chopped.

Add in the yogurt, water, lemon juice, 2 teaspoons salt, 1 teaspoon pepper and blend well.

Place in a bowl and refrigerate.

Remove the artichokes and potatoes, top with sliced red onion.

To serve, dip the leaves in the sauce and enjoy!