Planning Rosie's birthday parties have become one of my favorite yearly traditions. This fabulous 4th Fairy Birthday Party is no exception!
Complete with family, friends, homemade food, and tons of cute fairy decor to go along with it. Let me break down the how-to for a fairy party at home and I can't wait to see YOUR fairy parties!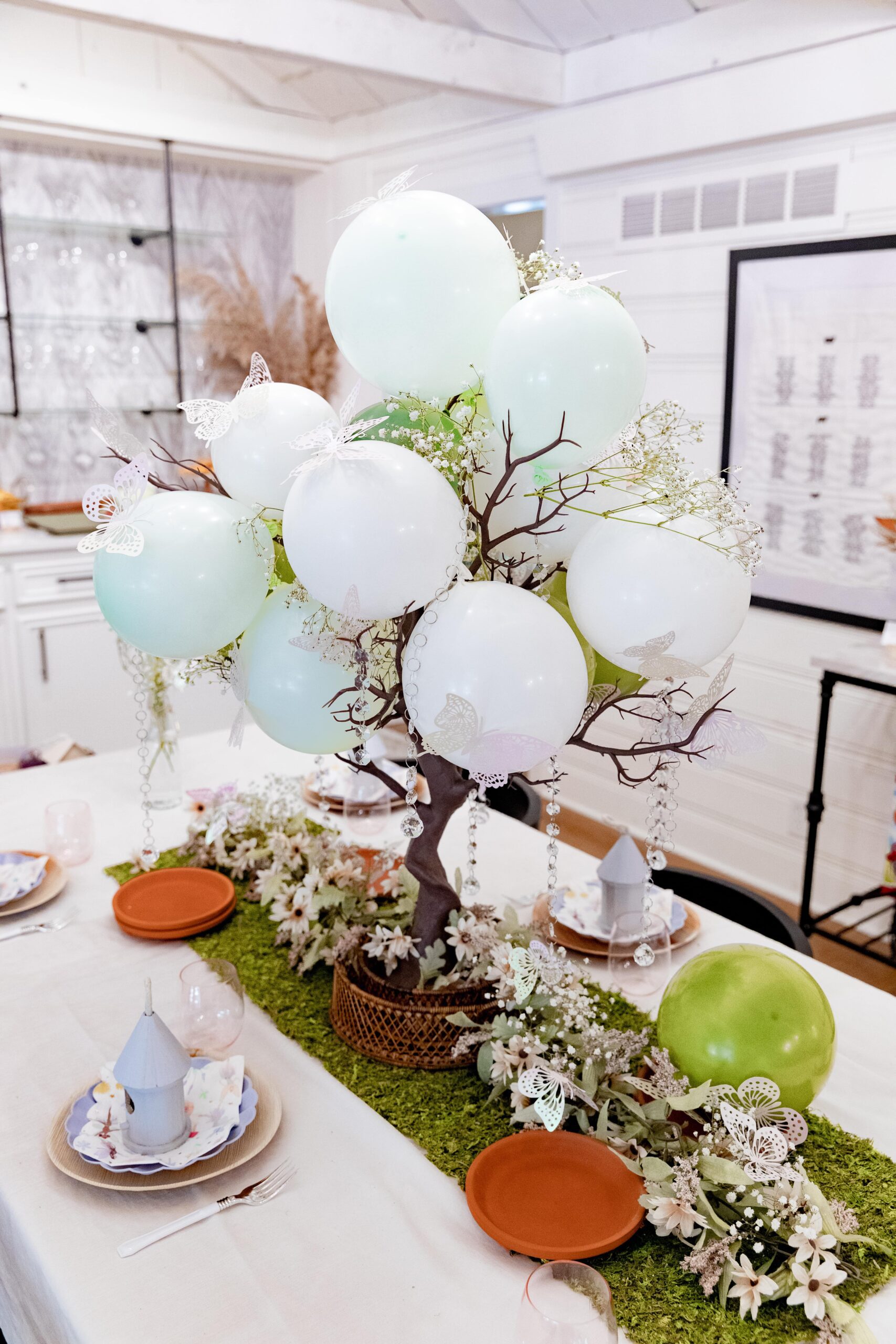 Fairy Themed Party
My daughter chose this theme for her party this year and honestly, I immediately had visions of adorable little girls dancing around in fairy wings. I was excited.
When hosting a fairy party there are a few coordinating themes out there to pair it with. Such as garden party, woodland animals, or fairytale birthday party.
I combined a little bit of all of those to create what I think was a fun alternative to an all pink fairy party. I stuck to greens, blues, and whites for our decor and served garden inspired foods like ranch and veggies as well as tea sandwiches.
Decor For a Fairy Party
This is where the color scheme came in handy. By choosing hues of blue, green, and white and also keeping in mind I wanted it to feel natural, it was easy to choose the decor.
You can also shop my Amazon storefront for all of these party goodies!
Plates - I chose a combination of bamboo plates and periwinkle scalloped plates
Napkins - Meri Meri has a collection of fairy items and I knew I wanted to incorporate these napkins for a slight nod to all the fairies!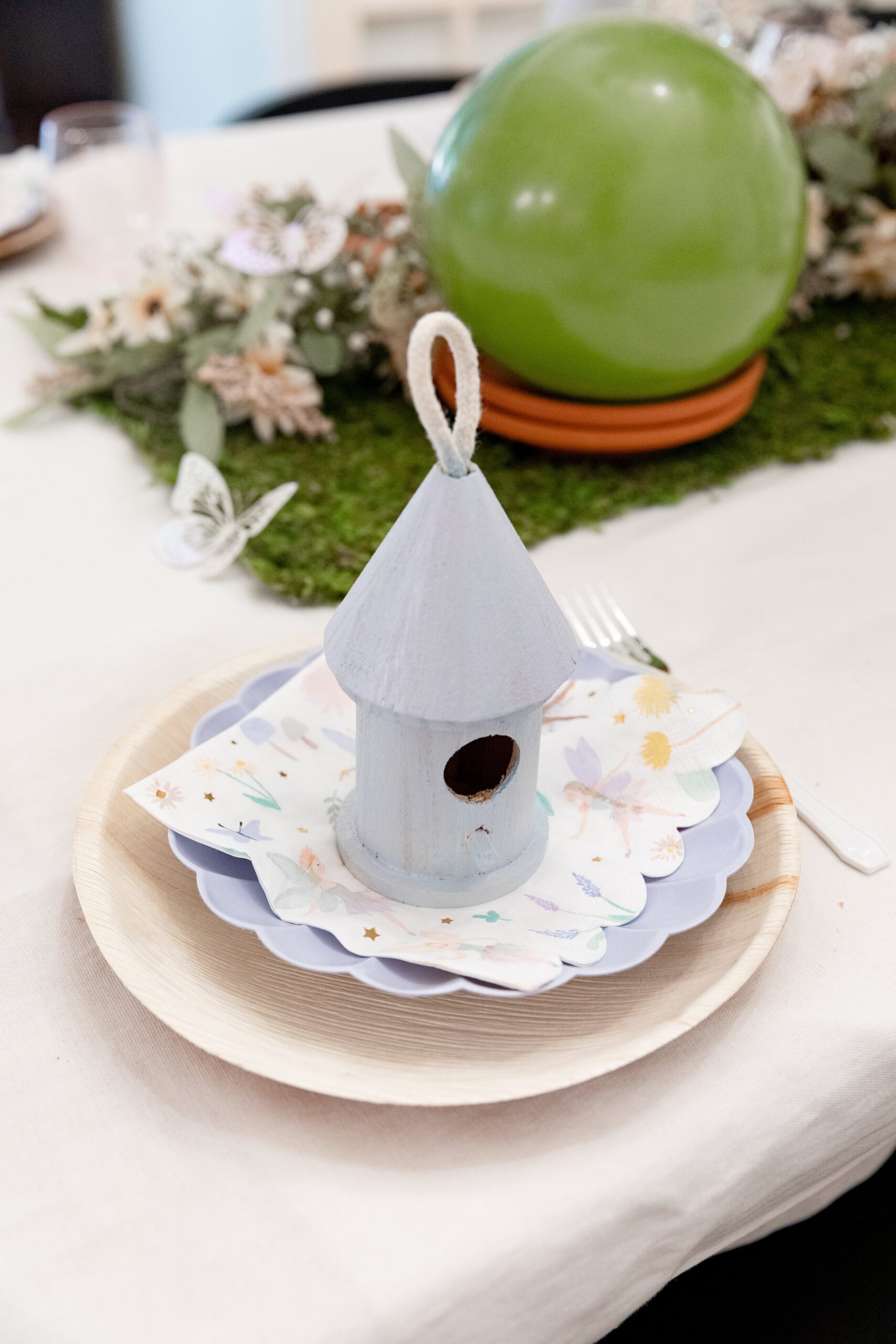 Moss Table Runner - This was the first building block to our centerpiece, the moss runner is a simple way to bring that garden party feel indoors.
Tree Centerpiece - Arguably the star of the show was our balloon tree! I took a simple plastic tree centerpiece and used glue dots to stick them to the tree branches and create the "leaves"
Iridescent Butterflies - Were added EVERYWHERE to bring that ethereal feel to the whole party.
Faux Flower Garland - I love using touches of faux flowers then mix in fresh baby's breath or spray roses to make it feel real but still do it in a cost-effective way.
Gold Stacked Rings - I found this online and thought I could use it to add to a little photo booth area. It held linen napkins and some greenery draped on it for extra fairy-flair!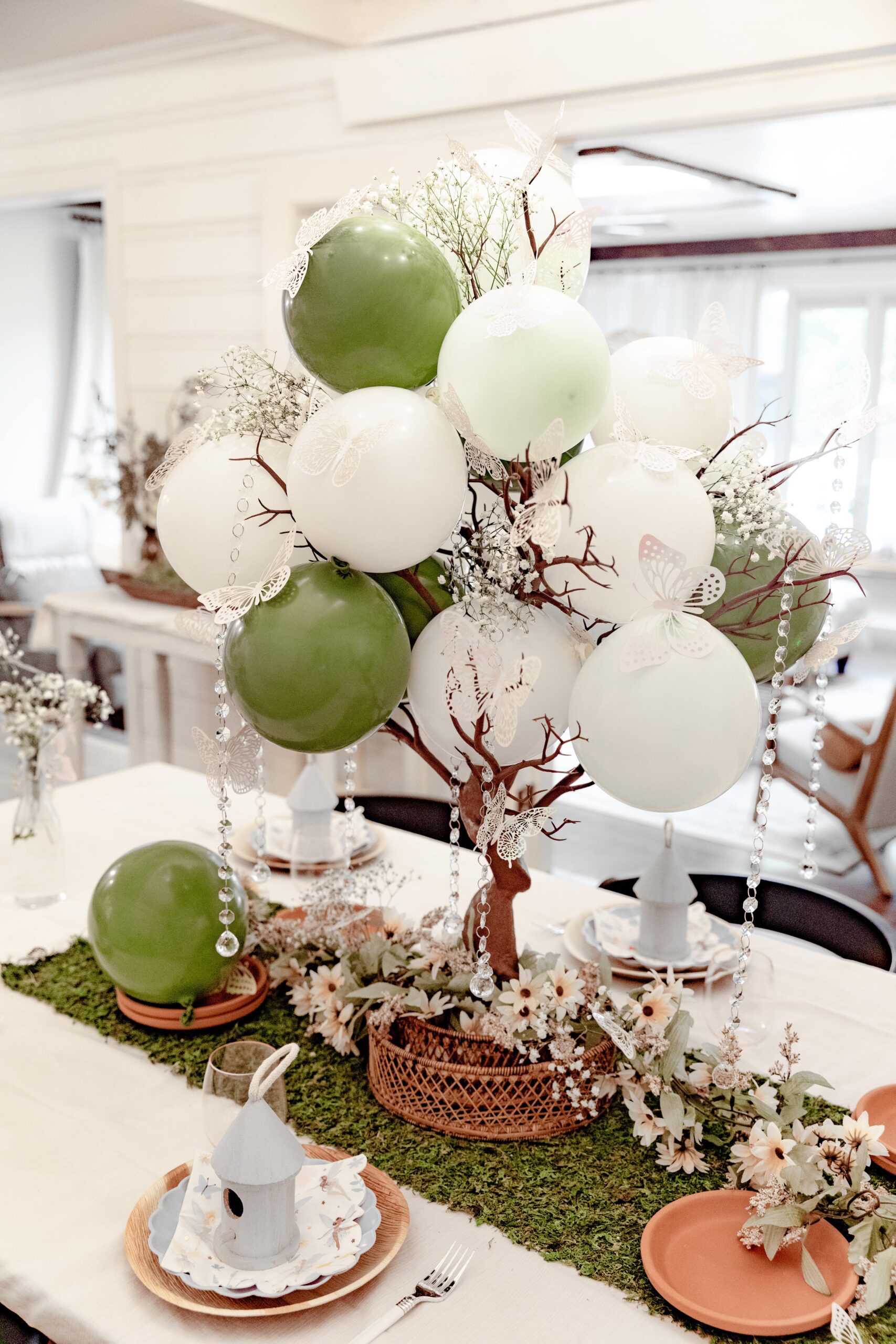 Activities For A Birthday Party
So keeping a few 4 year old girls busy during a fairy party shouldn't be that hard, right?
When our guests walked through the door they were greeted with their own little set of fairy wings, a flower crown, and wand. This was my favorite part. They were ADORABLE all dancing around in these.
Fairy Wings, Crowns, and Wands - this also doubled as their party favor and kept them entertained.
DIY Fairy Gardens - the main event for the little gals, homemade fairy gardens. These were EASY to make and each girl had a blast creating their own. Details at the bottom of the post!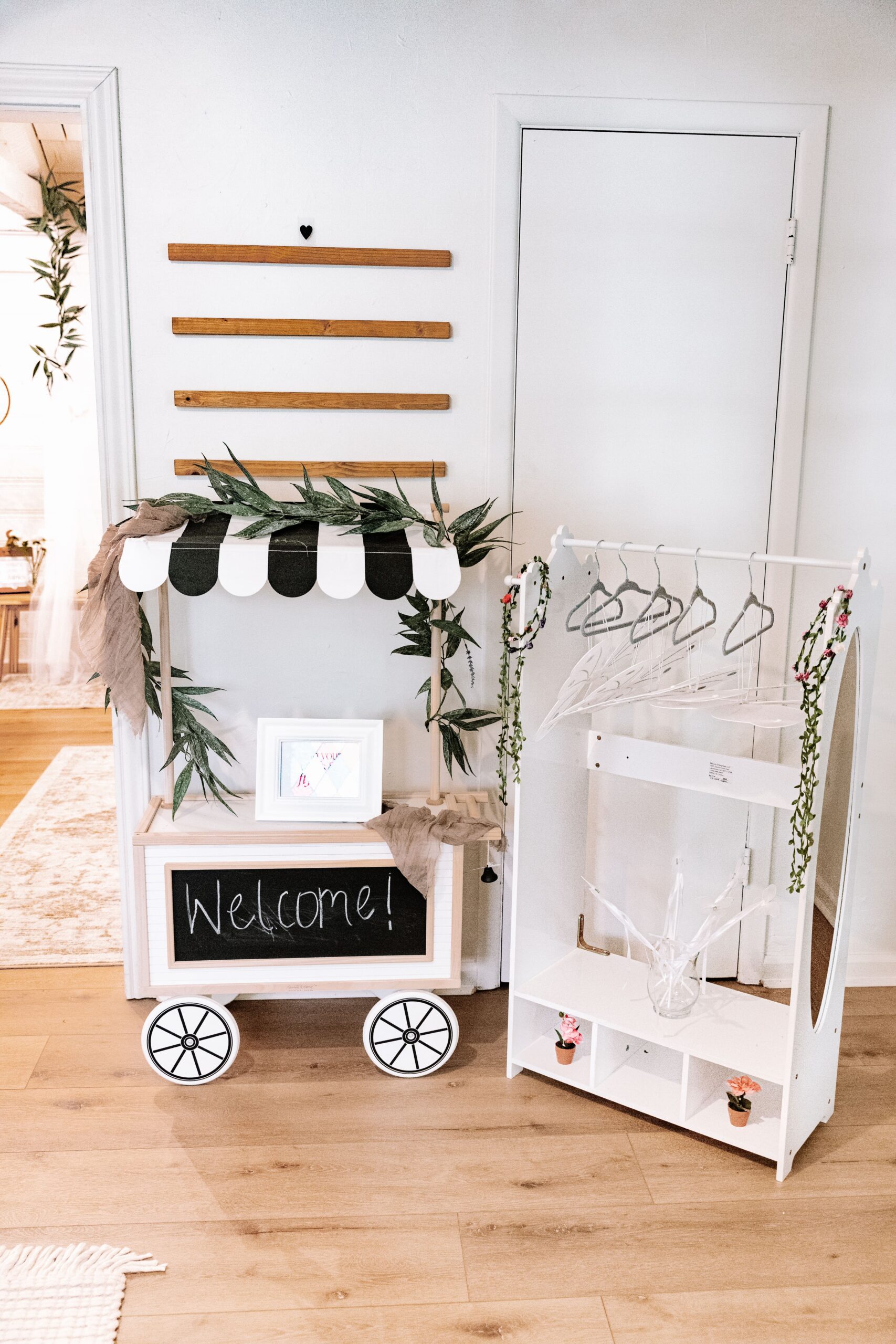 Birthday Party Photo Booth
If there isn't a good photo opportunity, it's easy to forget to take pics! Set up a little area that gives moms and dads an easy place to pop in with their kid for a photo.
Rosie helped me assemble this little picture frame made from poster board, moss, and a faux flower arrangement I deconstructed. She loved posing with it and her friends!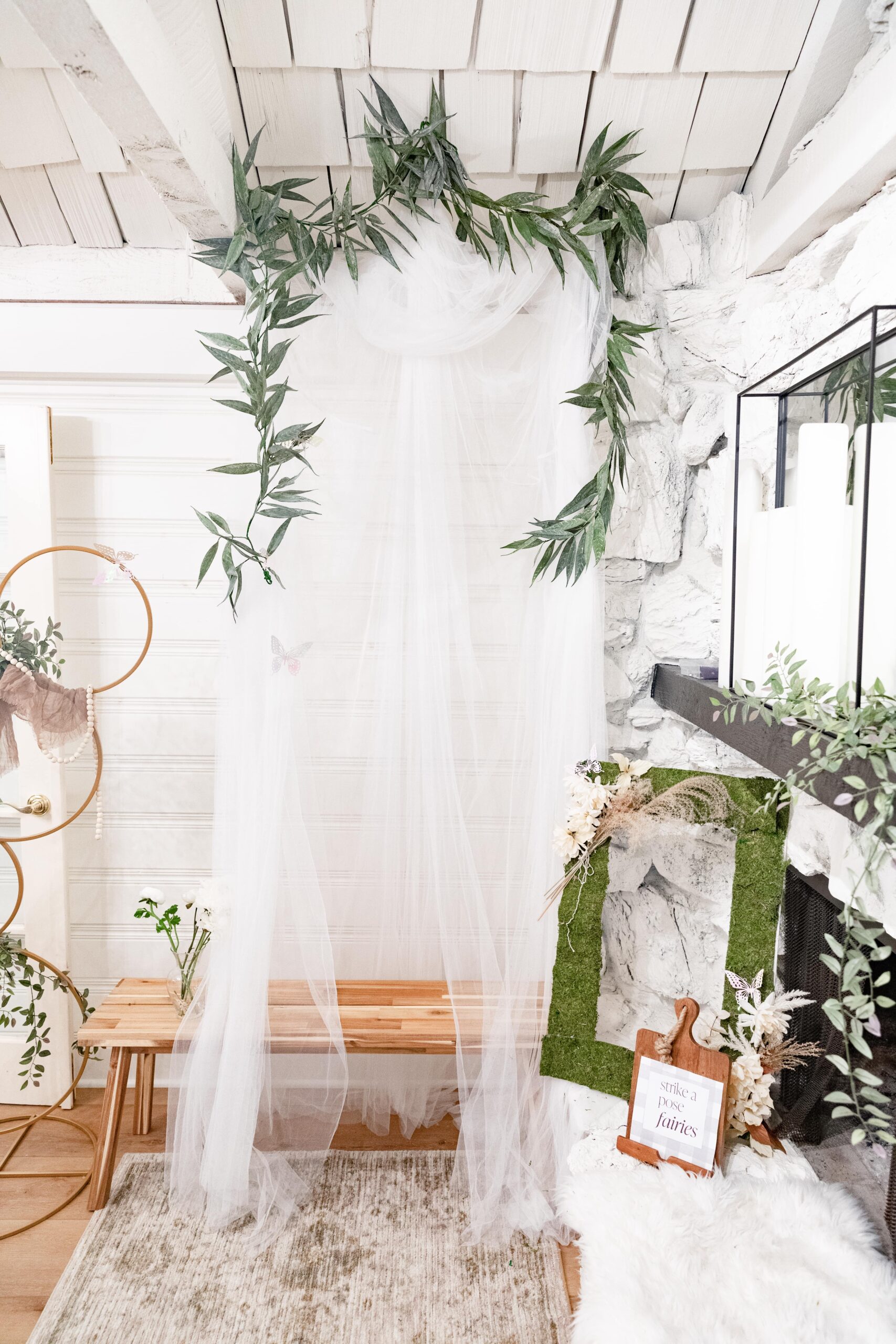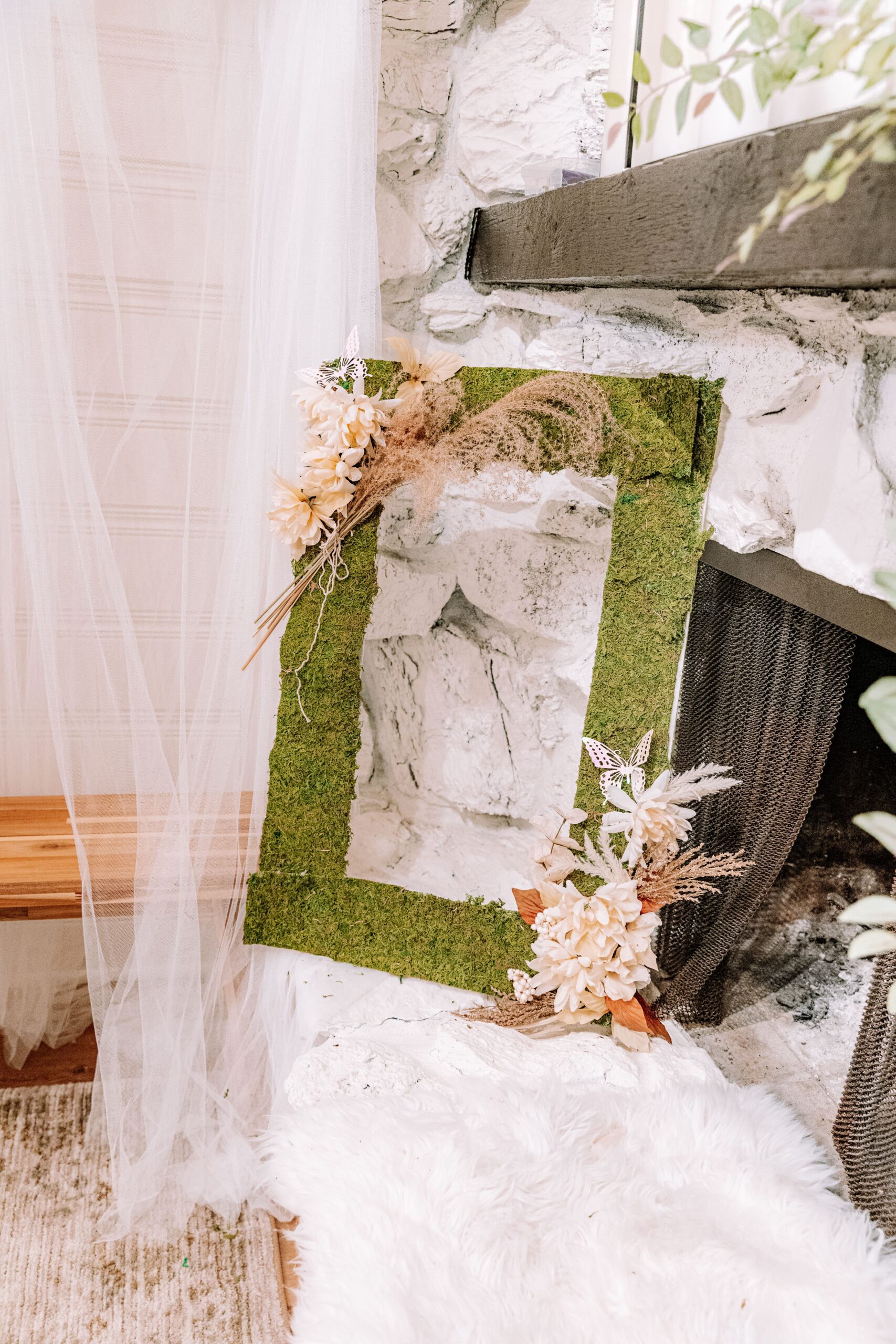 How to Make DIY Fairy Garden
What You'll Need:
In a few simple steps we took random craft supplies and turned them into ADORABLE fairy gardens for the girls to take home.
Mini wooden bird houses
Glue dots
Craft paint
Small terra cotta planter dishes
Mini fairies and tiny plastic toys (Amazon was great for these!)
Fish tank rocks
Moss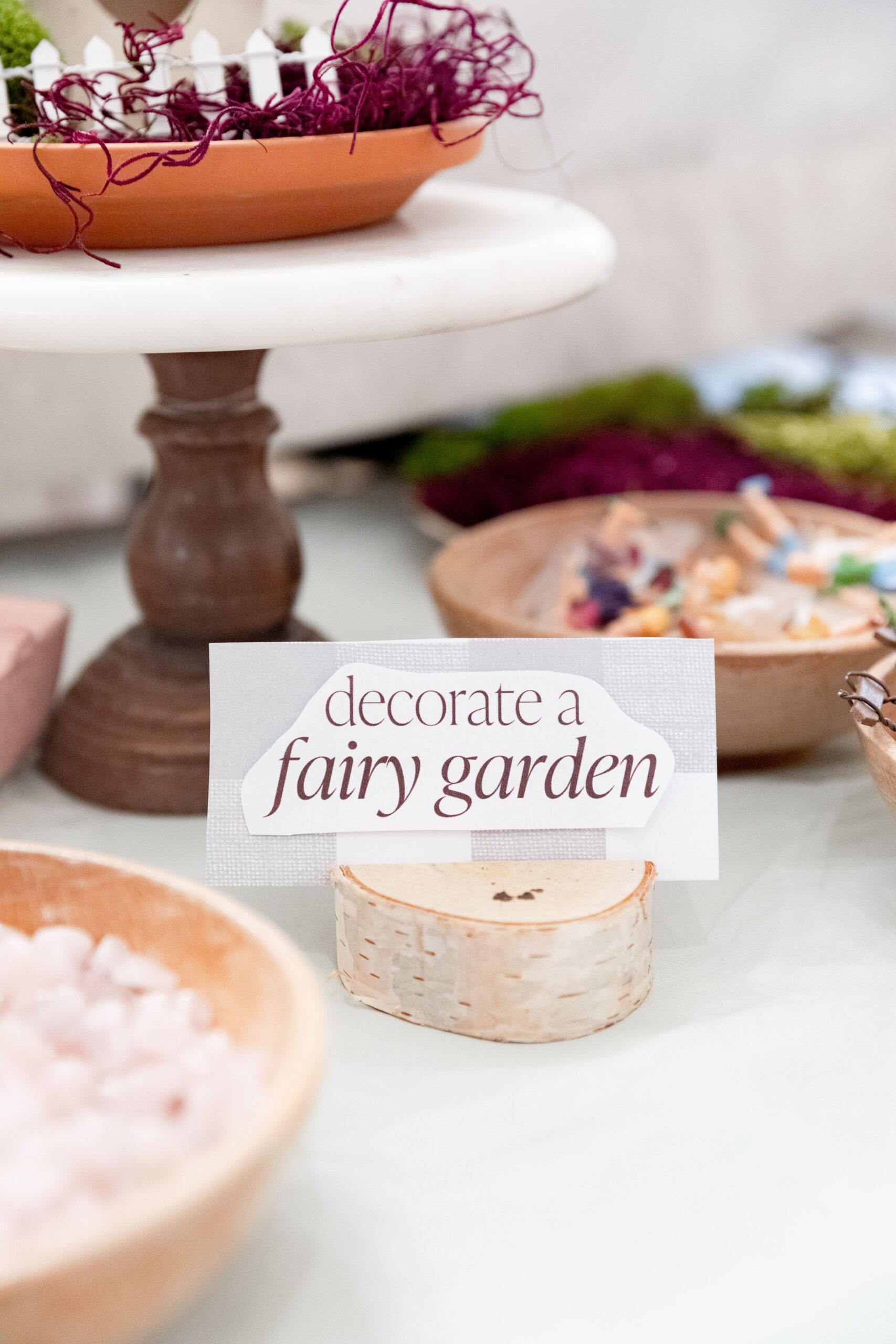 Make DIY Fairy Gardens
Fill the terra cotta planter dish with faux moss, leaving a space for the bird house.
Use glue dots to set the fairy house in place.
Add a path of fish tank rocks to the front of the fairy house.
Pass around small dishes with the plastic fairies and toys to add to their garden.
Have the girls name the fairies and enjoy checking out each little garden.
Prior to having the girls make them at the party, I had Rosie make one with me from start to finish so I could see if it was truly feasible to coordinate these kids making them.
I found that if I paint the houses beforehand, it was a lot more manageable! So I painted all the houses for them and let them decorate at the party.
Menu For A Garden Inspired Birthday Party
Lastly, you know I had to have some good food at the party! I went out on a limb and made EVERYTHING myself. Which was both difficult and rewarding. It made the whole party feel like an intimate family brunch.
Garden Veggies and Ranch - I used a hollowed out cabbage as the bowl
Mini Tea Sandwiches - The girls loved the fun cheese shapes I used my veggie/fruit cutters from amazon to create these.
Savory Sausage French Toast Bake - the hit of the party! I kept everyone full with this easy, make ahead brunch dish.
Shortbread Cookies with Edible Flowers - using a simple shortbread dough recipe, I topped them with an edible flower from Whole Foods (in the herb section) and brushed with a bit of egg wash. They were adorable.
Birthday Cake - this was my proud moment, I took 2 bundt cakes from the grocery store clearance section, then using homemade whipped cream stacked them on each other. I spooned fresh whipped cream on them and stuck on berries and edible flowers.
Rosie was floored, and loved the cake. It was cheap, easy, and definitely echoed the woods-y, fairytale party vibes I was going for.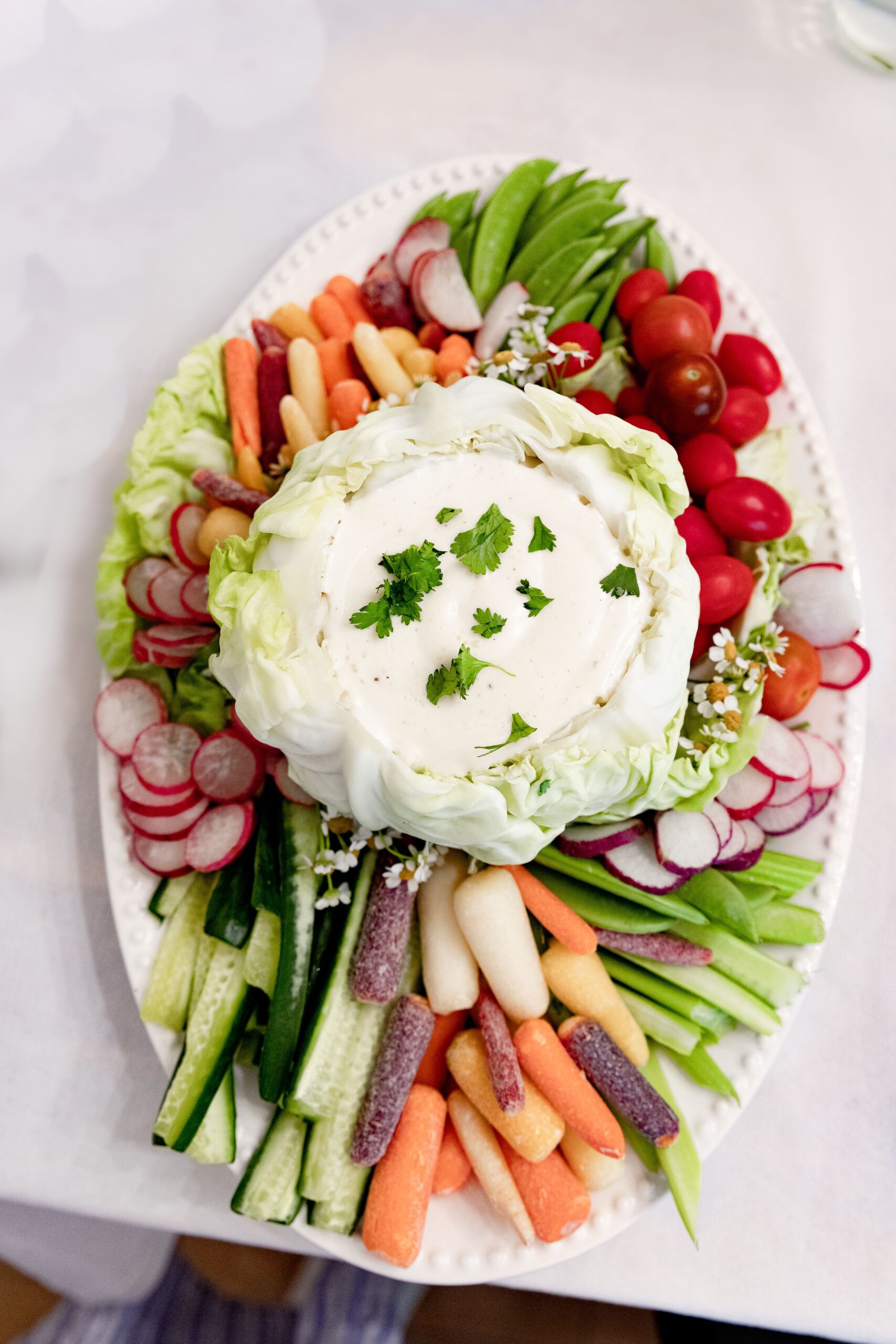 Other Themed Parties
If you liked this themed party, share it to Pinterest, Facebook, or Instagram! And check out these other party themes for your next soiree!