Made with just 3 ingredients in about 3 minutes, this bright, citrusy French Gimlet recipe is sure to bring majorly cheerful vibes to your Happy Hour at Home. Try this fun twist on the classic gin cocktail for a floral, European take on the original!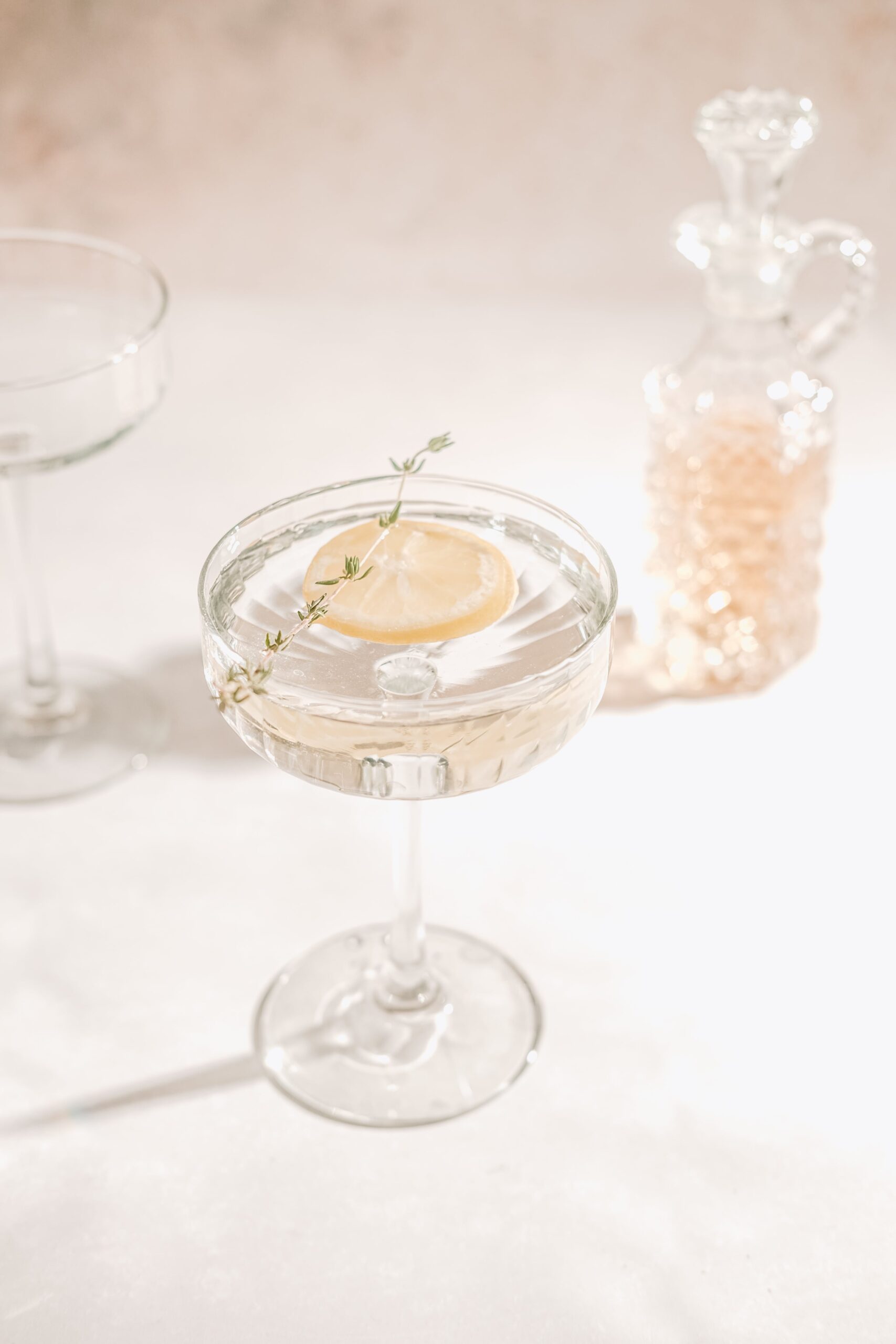 What Is A French Gimlet?
A French Gimlet is a fun take on the original Gin Gimlet, a cocktail made from gin, lime juice, and perhaps a splash of sweetener.* In this tasty alternative, St. Germain – a French elderflower liqueur – adds a touch of floral sweetness to the otherwise bracing beverage.
*Some recipes claim that "proper" gin gimlets should be made using the sweetened lime juice made by Rose's brand, while others prefer fresh lime juice with a splash of simple syrup. I fall in the latter camp!
Why This Cocktail Is The Best
You know how at the end of a long, crappy day, the only things that'll make it better are a shower and a stiff drink? Well, the French Gimlet definitely fulfills the second on that list. Made with nothing more than booze and lime juice, it'll get you feeling right as rain in just a few sips.
While I'm a huge fan of regular ol' gin gimlets, this gin and St. Germain cocktail is a lovely departure from the mouth-puckeringly tart original. St. Germain is a high-end French liqueur made from elderflower, so it imposes a bewitching hint of floral sweetness that'll keep you coming back for more.
Best of all, this simple cocktail recipe is made with just 3 ingredients, requires just minutes of your time to make, and is perfectly refreshing whether you're in the depths of summer or need a palate cleanser after a heavy winter meal.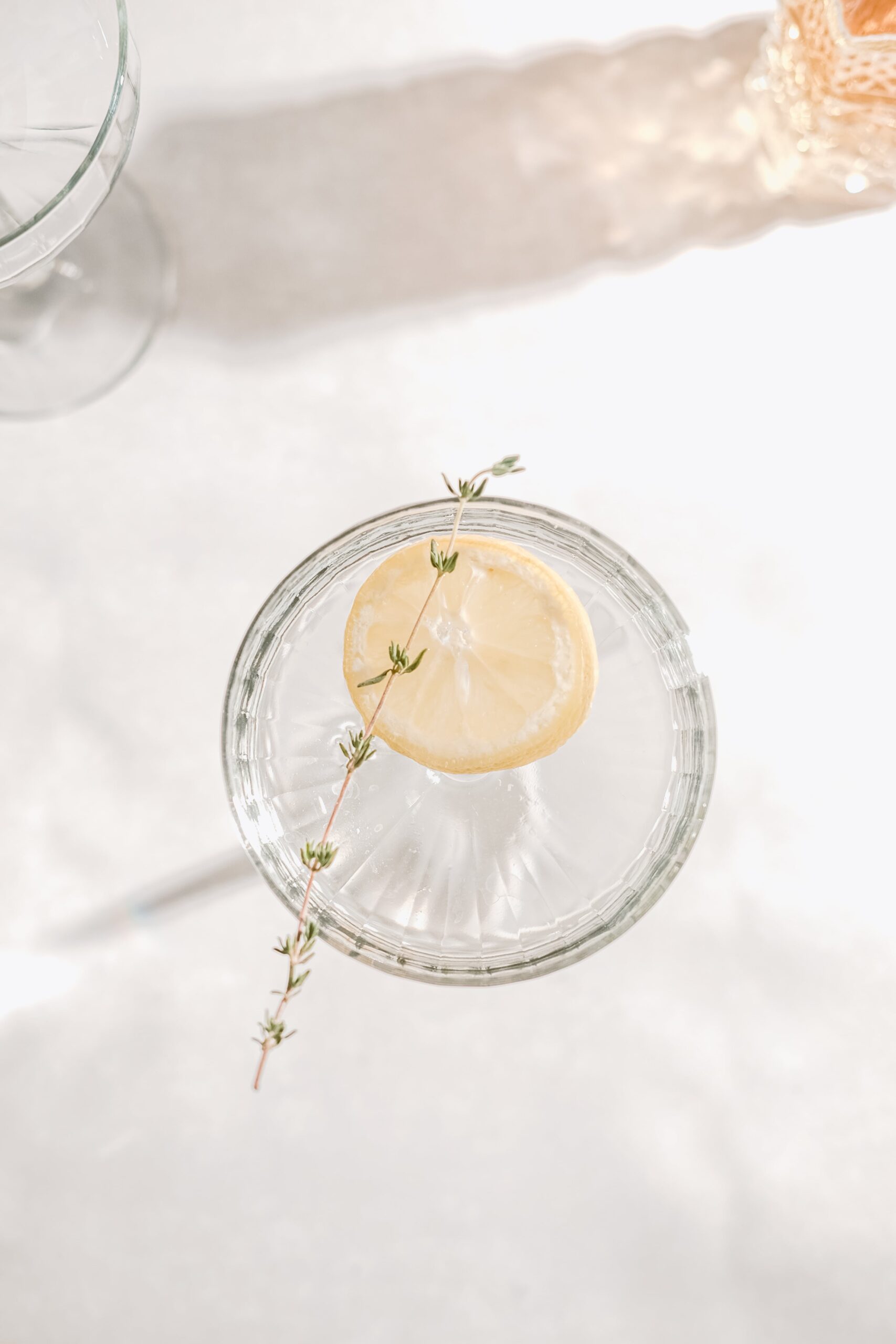 French Gimlet Ingredients
As promised, you don't need much to make this St. Germain and gin gimlet recipe. Here's your list:
Gin - While there are several types of gin (and I love them all!), I find that this gimlet cocktail tastes best when made with a botanical option like Hendricks. That said, feel free to use the more ubiquitous London Dry-style gin if that's what you have on hand.
St. Germain - More than just a pretty bottle, this French liqueur is a sweet-floral nectar that has many uses. Aside from this French gimlet recipe, try swapping it in for Cointreau next time you make a margarita! You should be able to find it at any well-stocked liquor store.
Lime Juice - I'm a firm believer that fresh is always best, especially when it comes to citrus juice. To get the most juice from your fruit, give it a firm roll on the countertop for 10-15 seconds before cutting in.
Tools Needed
Making this tasty gin St. Germain cocktail doesn't require much. Don't you just love a low-lift drink?? Me too, friends. Me too. Here's what you'll need to gather:
Cocktail Shaker - Any style of cocktail shaker will work here. I typically prefer a cobbler or French shaker, but if you're a cocktail professional, a Boston shaker might be more up your alley.
Coupe Glasses - To get the whole 1920's vibe from this gimlet cocktail, coupes are called for. You can purchase clear glass ones at nearly any retailer, or feel free to go for something fancier like etched or colored glass.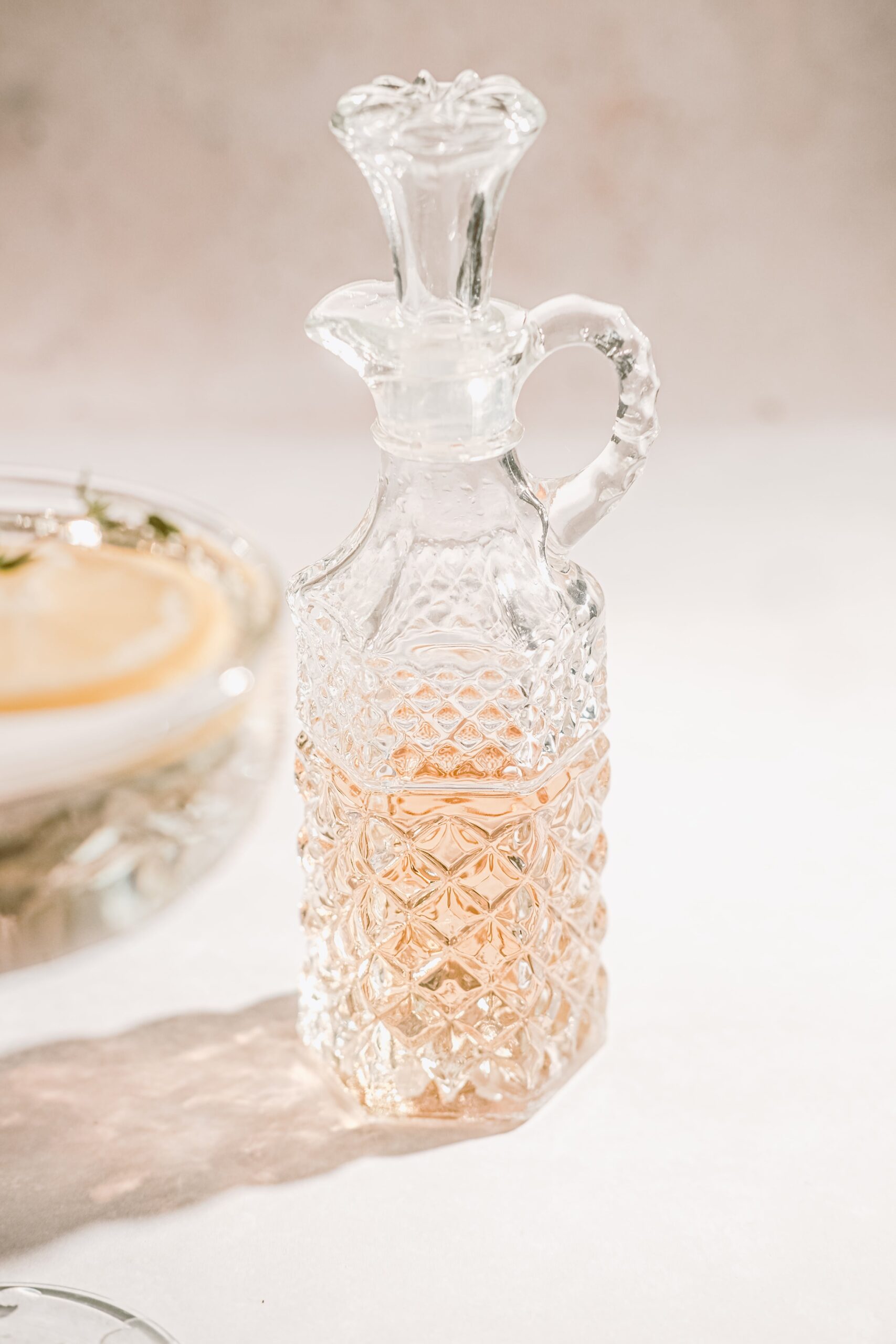 How To Make French Gimlets
Making this gimlet recipe couldn't be easier. Here's how it's done:
Step 1: Combine all ingredients plus ice in a shaker.
Step 2: Shake well for 30 seconds.
Step 3: Serve. Strain into a coupe glass and garnish with fresh mint, thyme, or a lime wedge. Cheers!
Swaps & Substitutions
There are plenty of gin gimlet variations out there, and while I love this French Gimlet, there are several others I highly recommend:
Make it with vodka. If gin isn't your favorite, swap in neutral-flavored vodka instead.
Swap out the St. Germain for more lime juice and a splash of simple syrup to make a classic gin gimlet.
Make it a Pimmlet. Use Pimm's in place of the St. Germain for a cheery, red-hued, pleasantly bitter-tart cocktail.
Make a non-alcoholic gimlet. Sober curious? Try swapping in 2 parts of Seedlip booze-free gin to 1 part fresh lime and a splash of simple syrup for a tasty, DD-approved mocktail.
FAQs & Tips
Shake it like you mean it. If you've ever sat at the bar at a fancy restaurant, you might have thought that the bartenders were just putting on a show when they shake your drink. Turns out, this process is akin to creaming butter and sugar together for making cookies and cakes. Shaking not only serves to chill the cocktail, but also acts to aerate it with tiny shards of ice to create a pleasant mouthfeel. Cue "The More You Know" star and rainbow.
Use high-quality gin… With just 3 ingredients, it's essential that you use the best of the best (or at least the best in your price range). Just remember, since you're making cocktails at home, you'll be able to make a bevy of tasty drinks for the cost of just 3-4 cocktails on the town.
… and fresh limes. Again, it all comes down to quality. I simply don't care for Rose's sweetened lime juice (or really any bottled lime juice, for that matter). Fresh lime is where it's at!
What's the difference between a martini and a gimlet? Martinis and gimlets are both made with either vodka or gin as the primary ingredient. The major difference is that gimlets rely on lime juice as flavoring, whereas martinis call for a fortified wine known as vermouth.
Why is the drink called a "gimlet?" Before the cocktail came onto the scene in the 1920s, "gimlets" referred to small tools used for boring holes into wood. I'm pretty sure naming this booze-forward cocktail after said tool was a cheeky way of letting patrons know that this drink is quite "penetrating."
Is a gimlet always gin? Nope! You can easily swap in neutral-flavored vodka, or even use a different cordial like Pimm's.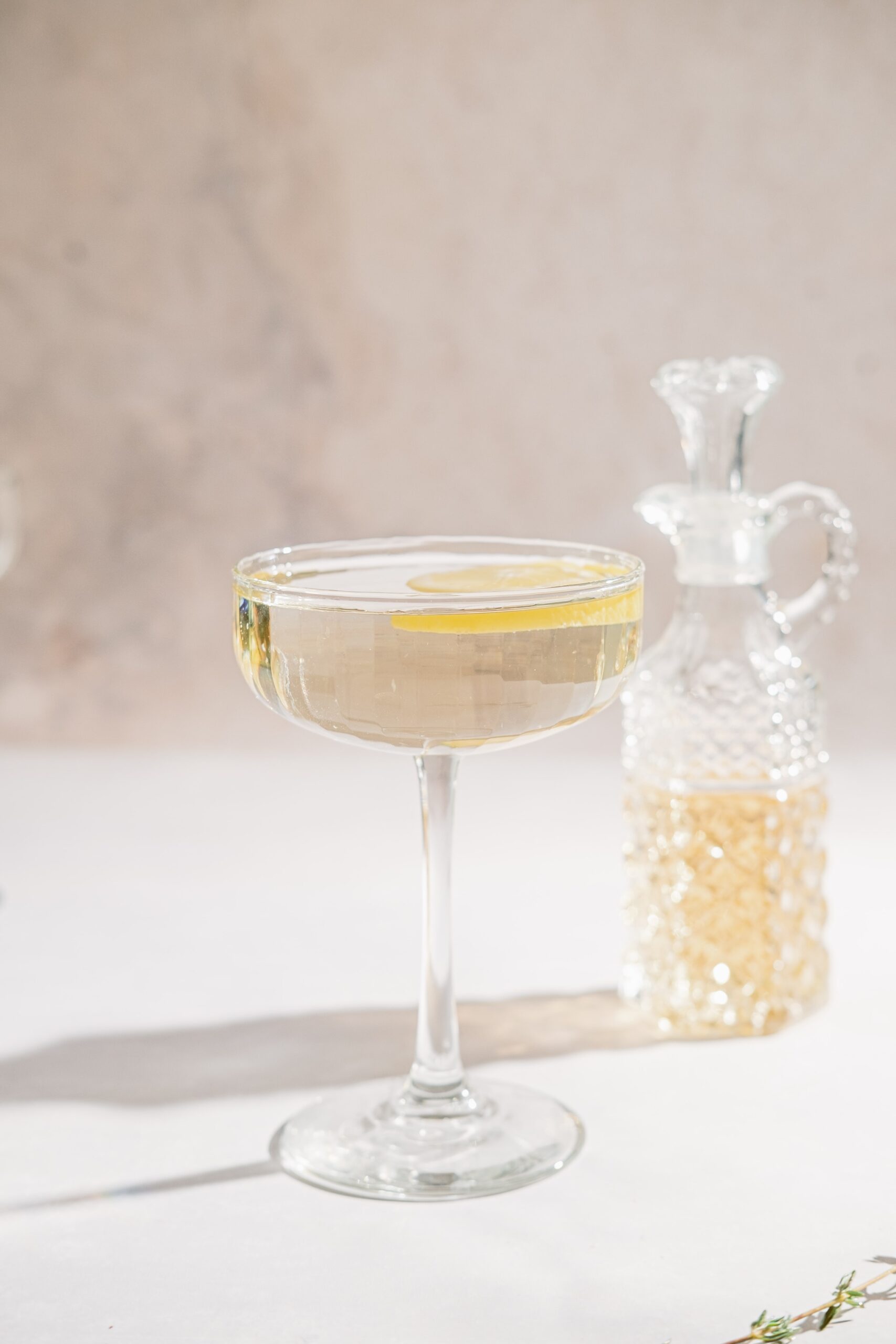 Serving Suggestions
Perfect for happy hours, pre-dinner party cocktails, New Year's Eve or holiday celebrations, or just because, these French Gimlets are a delight all year round. Just make sure you serve them with some snacks on the side so you don't get too schnockered! Here are a few of my favorite bites to pair with them:
More Tasty Cocktail Hour Recipes
If you tried this simple recipe for French Gimlets, please be sure to rate and review it below!
📖 Recipe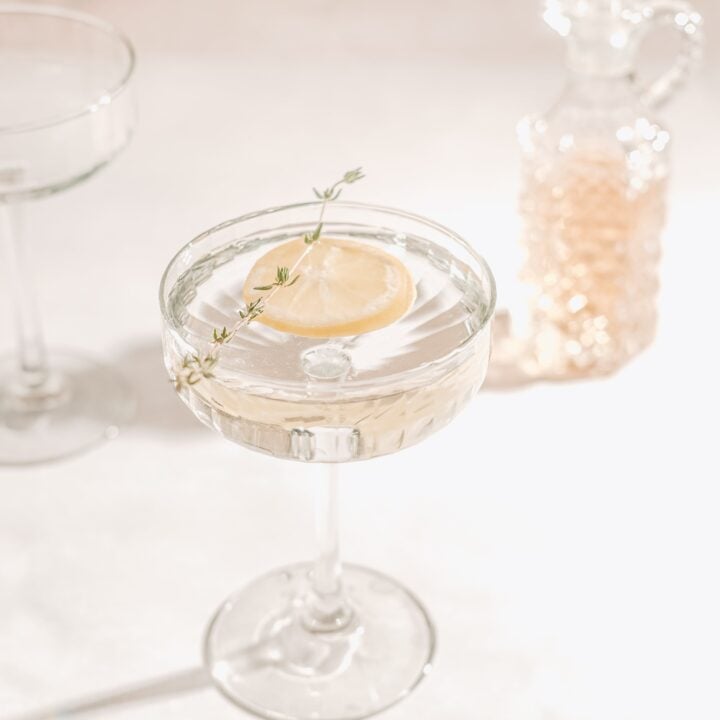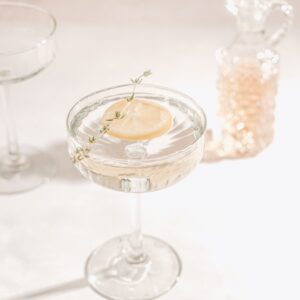 French Gimlet
A refreshing and classy drink for happy hour any time of year. This classic gin cocktail mixes elderflower liquor and a splash of lime juice together for a perfect paring.
Print
Pin
Rate
Ingredients
2

oz

gin

1

oz

St Germain

½

oz

lime juice
Instructions
Combine all ingredients plus ice in a shaker

Shake well for 30 seconds

Strain into a coupe glass and garnish with fresh mint, thyme, or a lime wedge