Simple, yet satisfying. Everything you'd want in one bite. These tomato, cheese, and basil Italian stuffed mushrooms are the perfect party appetizer or easy make-ahead side dish.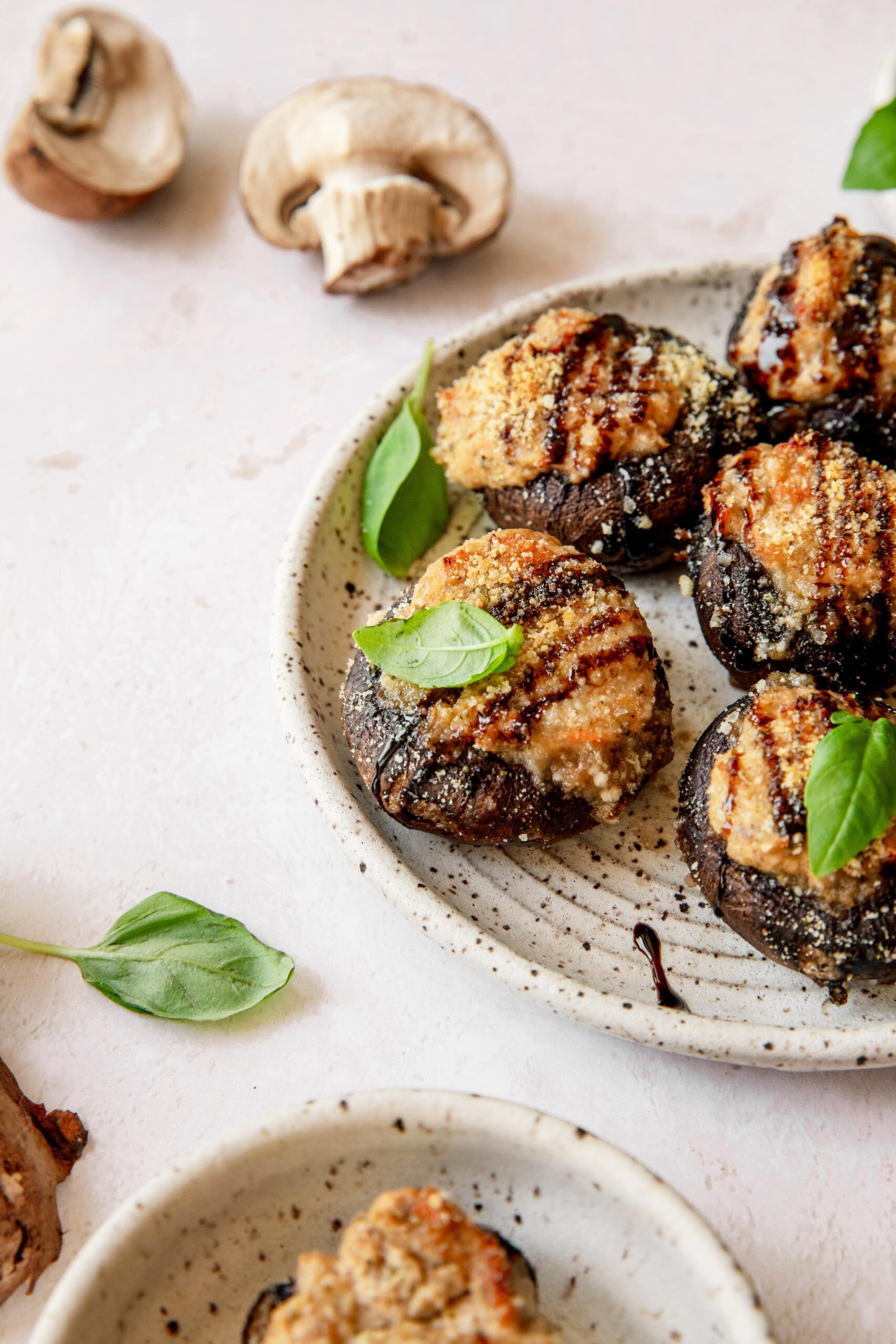 Veggie & Cheese Stuffed Mushroom Recipe
I'm a sucker for a good appetizer. Like when I bring something to a party I want people to as me about it.
These Italian stuffed mushrooms are that recipe. People love to experience a bite that satisfies all of our cravings.
Crunchy. Creamy. Earthy. Sweet. Fresh. But, decadent? YES!
Filled with a mixture of cheese and veggies, these mushrooms are stuffed with a rough spin off of an Italian caprese salad.
I mixed basil, tomato, and cheese then drizzled balsamic glaze over the top to finish. It really is the perfect little bite of heaven.
Why Make Italian Stuffed Mushrooms?
These stuffed mushrooms are now a dinner party staple. I served them at a girls dinner party and it was one of everyone's favorite things on the plate!
You need to make these because they can be PREPPED AHEAD OF TIME. Who doesn't like that? Up to 2 days ahead.
They are the perfect balance of earthy, creamy, savory, and fresh. The crunchy topping, mushrooms, and fresh sliced basil combined with a creamy tomato cheese filling is really satisfying- yet light!
You can serve these as a side or an appetizer! Along side some sheet pan salmon or on a party tray for apertivo. These little stuffed mushrooms are so versatile.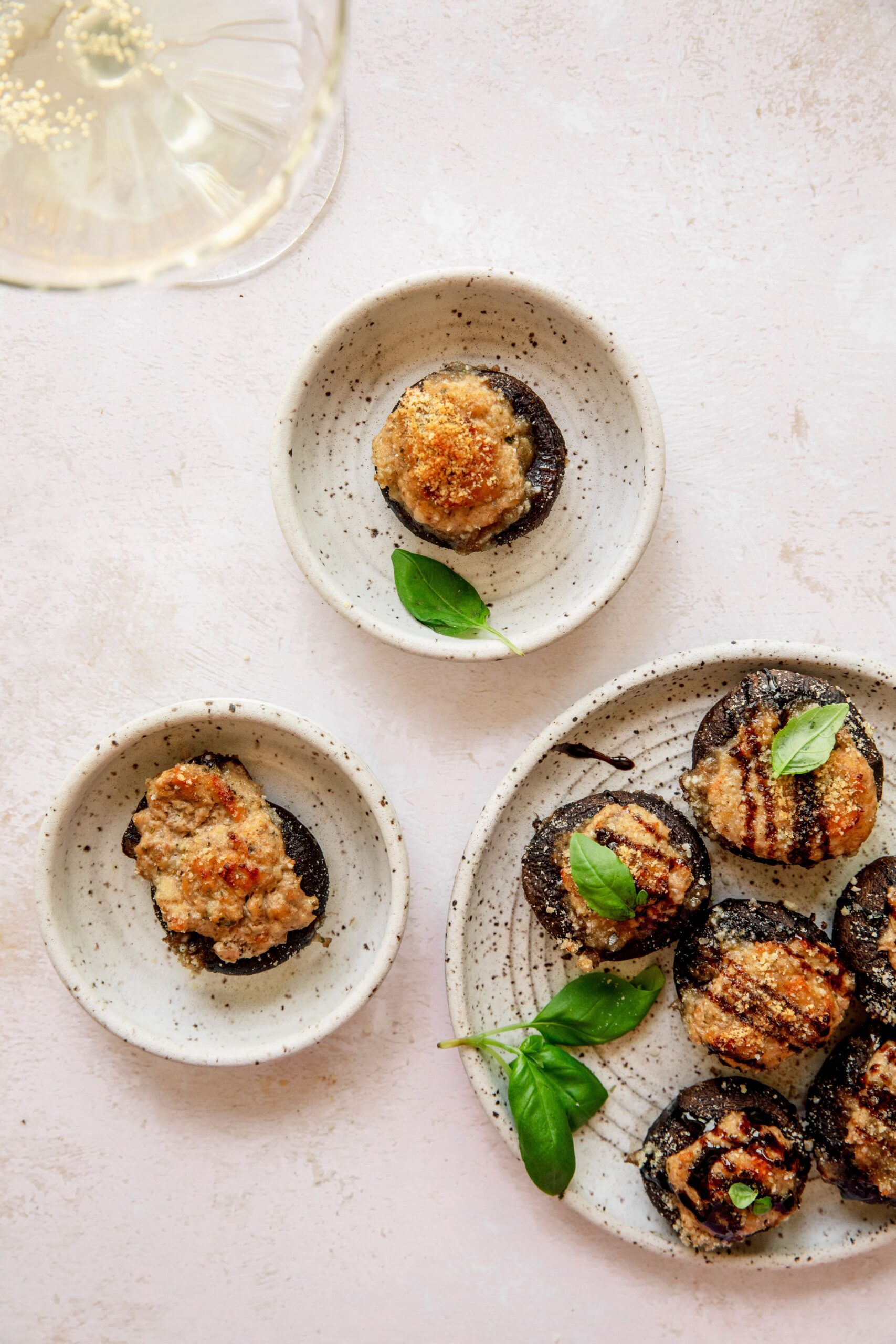 Ingredients
Baby Bella Mushrooms these are great for stuffing and don't get too watery
Cherry Tomatoes
Shallot
Basil
Garlic Powder
Cream Cheese
Parmesan Cheese
Salt and Pepper
Italian Breadcrumbs
Optional: balsamic glaze
How To Make Italian Mushrooms
This appetizer is easy to prep ahead of time and you just have to cook about 15 minutes before serving! They are easily made and assembled on a sheet tray, stuffed, then covered until cook time.
Wash and de-stem the mushrooms, keep the stems!
Chop the stems finely and sauté them with the shallot & cherry tomatoes.
In a food processor combine the tomato mixture, cream cheese, ½ of the parmesan cheese, garlic powder, salt and pepper and a few basil leaves.
Blend until creamy and set aside.
Pat the mushrooms dry and line them up on a baking sheet
Using a spoon or even a piping bag, fill each mushroom. At this point you can cover and place in the fridge for later, or continue on cooking them to serve right away.
In a small bowl combine bread crumbs and parmesan cheese.
Top the mushrooms with the breadcrumbs and bake at 375 for 10-15 minutes.
Drizzle with balsamic and top with fresh sliced basil
Making Stuffed Mushrooms in the Air Fryer
Prefer to make these in the air fryer? No worries!
Instead of lining them up on a sheet tray, simply add them to the air fryer basket (keep in mind you may need to do it in batches) and air fry at 400 for about 8-10 minutes.
This is also a fantastic way to reheat them! I served it up with my Air Fried Salmon and Gnocchi and it was the perfect 15 minute dinner.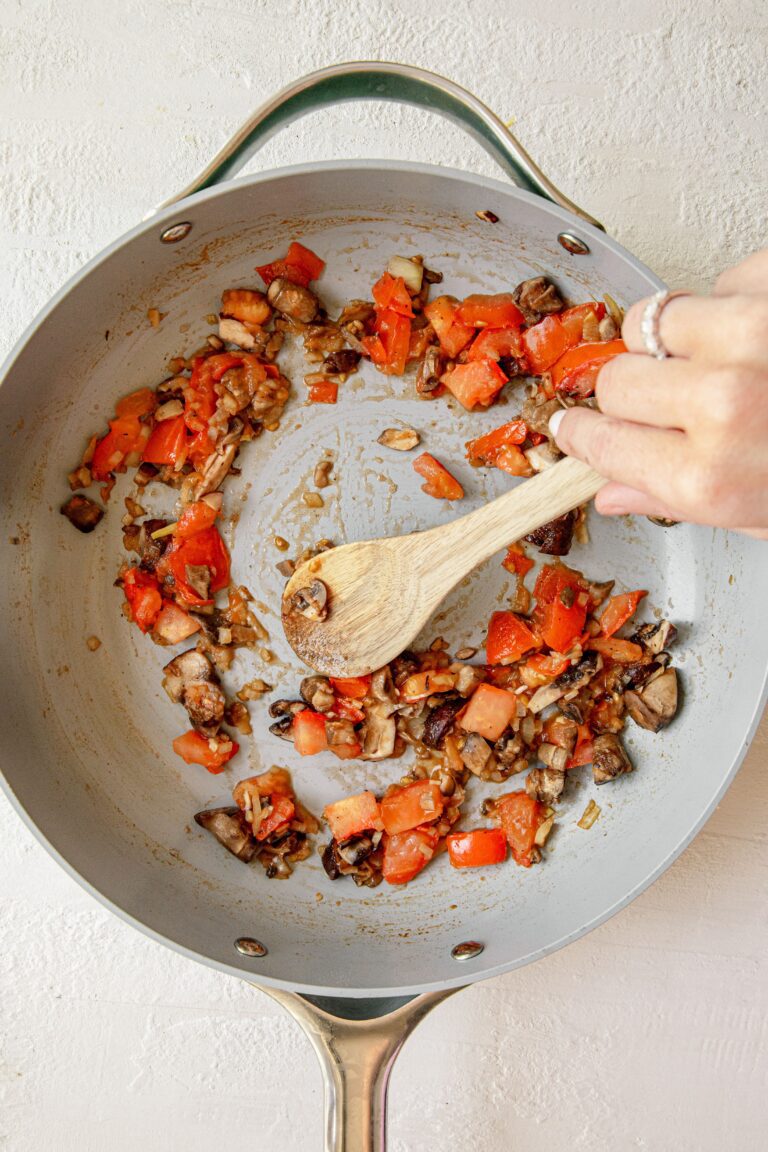 How To Clean Your Mushrooms Before Cooking
This is a very important step to this recipe! You want to clean your mushrooms prior to stuffing and cooking them.
I like to add all of my mushrooms to a colander and run them under cool water. I pick each one up and gently scrub them with my hands, making sure to remove any dirt or debris.
I then gently lay them out on paper towels and pat them dry, then de-stem them.
Other Make-Ahead Appetizers
Needing more apps to prep ahead of time before a holiday or party? Try these super easy appetizers...
Crispy Chili Onion Crunch Chickpeas
What to Serve with Stuffed Mushrooms
These make THE BEST side dish. I make them one evening and can easily serve them later in the week next to multiple dishes.
Salmon is a great choice to serve this with. So try out my pecan crusted salmon recipe!
Another perfect main dish would be pork. I think the earthy mushrooms paired with this Spinach Boursin Stuffed Pork Loin would be delish.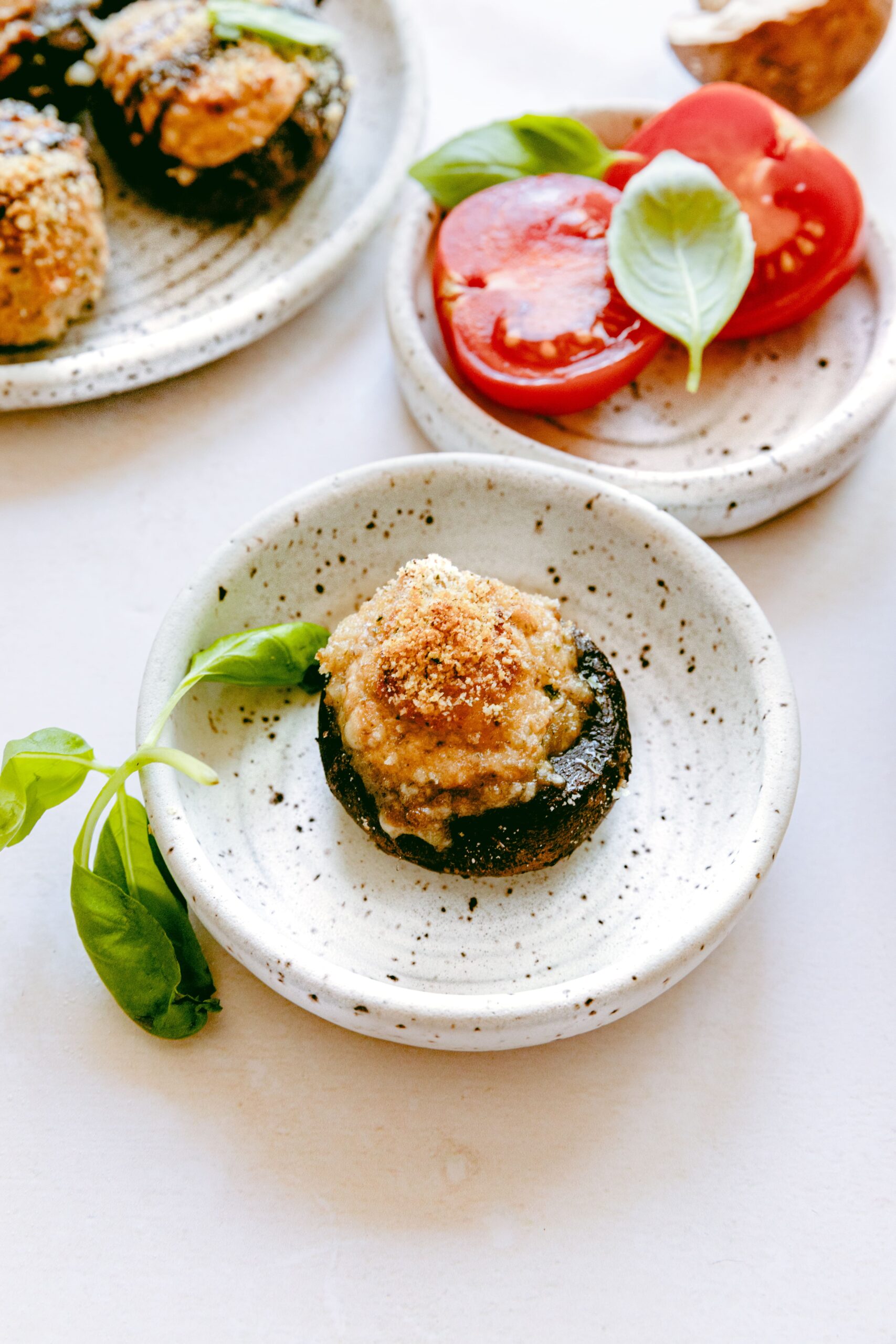 FAQ

What Mushrooms are Best For Stuffing
Opt for firm baby Bella mushrooms. They hold up well in the oven without getting watery and they are the perfect, bite size for an appetizer!
If you want to use this as a vegetarian main dish, try out larger portobello mushrooms.
How To Make Stuffed Mushrooms Not Watery?
I think it is important not to overcook these mushrooms. Overcooking them will lead to mushy, water shrooms.
A high temp for a short amount of time will perfectly melt the cheese inside and make the mushrooms tender enough to eat without being water.
Substitutions?
If you don't have cream cheese on hand, try out goat cheese instead!
You could also swap out the basil for parsley or dill.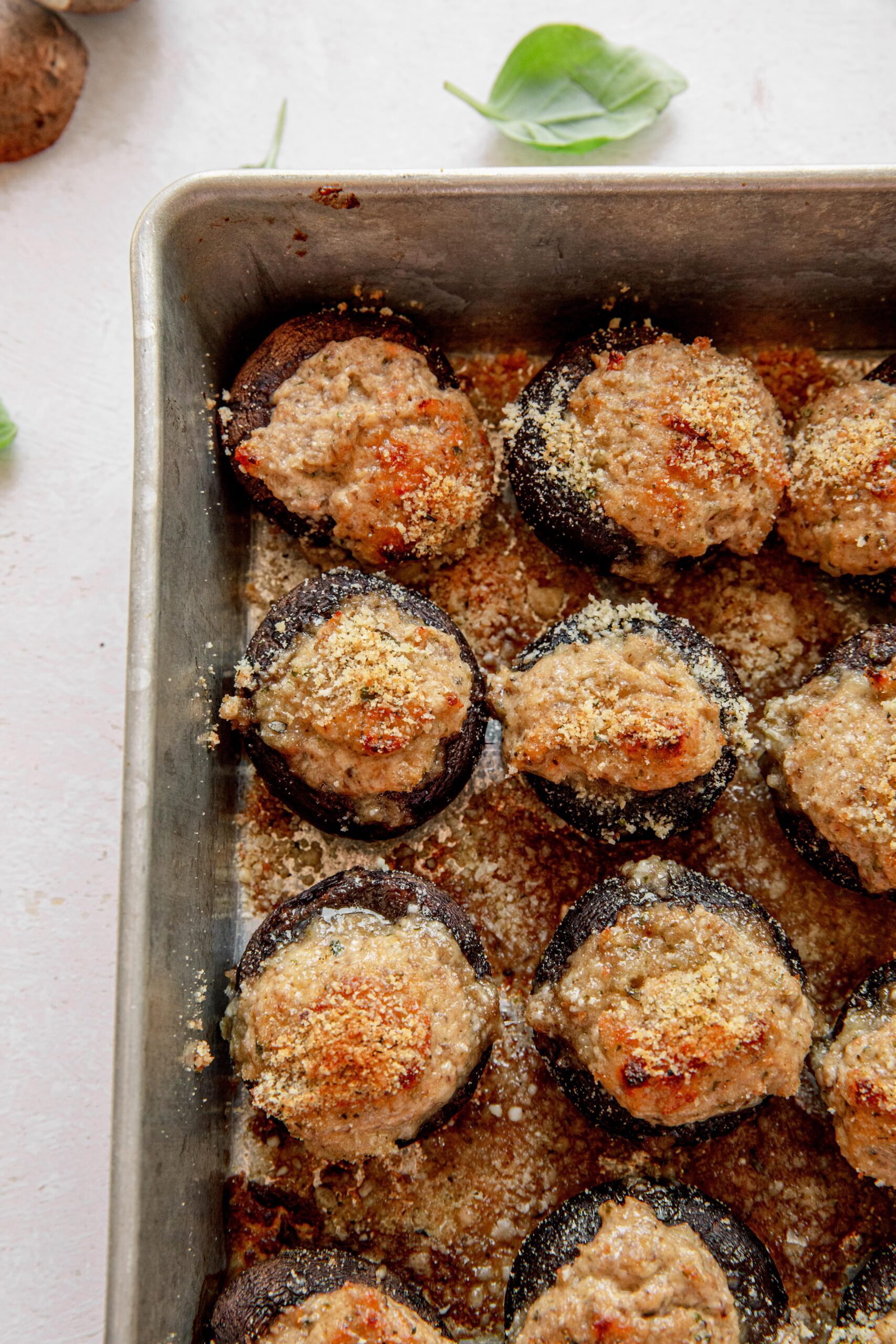 📖 Recipe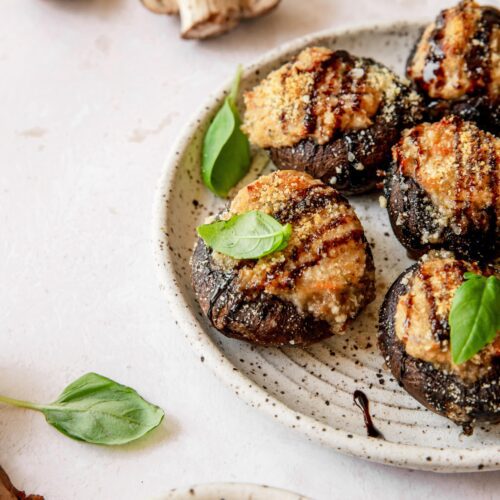 Italian Stuffed Mushrooms - Vegetarian Recipe!
Delicious vegetarian stuffed mushroom caps with creamy tomato cheese filling and a crispy breadcrumb topping. They are a great make ahead appetizer or side dish to any dinner.
Print
Pin
Rate
Ingredients
1

pint

Baby Bella Mushrooms

½

cup

Cherry Tomatoes

1

Shallot

diced

¼

cup

Basil

1

tablespoon

Garlic Powder

2

oz

Cream Cheese

¼

cup

Parmesan Cheese

½

teaspoon

Salt

¼

teaspoon

Pepper

3

tablespoon

Italian Breadcrumbs

Optional: balsamic glaze
Instructions
Wash and de-stem the mushrooms, keep the stems!

In a pan over medium high heat, add the olive oil to the pan.

Chop the stems finely and sauté them with the shallot & cherry tomatoes for 3-5 minutes.

In a food processor combine the tomato mixture, cream cheese, ½ of the parmesan cheese, garlic powder, salt and pepper and a few basil leaves.

Blend until creamy and set aside.

Pat the mushrooms dry and line them up on a baking sheet

Using a spoon or even a piping bag, fill each mushroom. At this point you can cover and place in the fridge for later, or continue on cooking them to serve right away.

In a small bowl combine bread crumbs and remaining parmesan cheese.

Top the mushrooms with the breadcrumbs and bake at 375 for 10-15 minutes.

Drizzle with balsamic and top with fresh sliced basil