Do I love party planning? Yes. Do I love every last detail of a theme party? Also yes. This post is written to inspire your very own mermaid party ideas! Monroe turned 3 this August and we had to celebrate with this lavish Mermaid Birthday Party.
If you need some other inspiration for kids' party ideas, check out this Chicken themed first birthday party or even a cutie orange inspired party!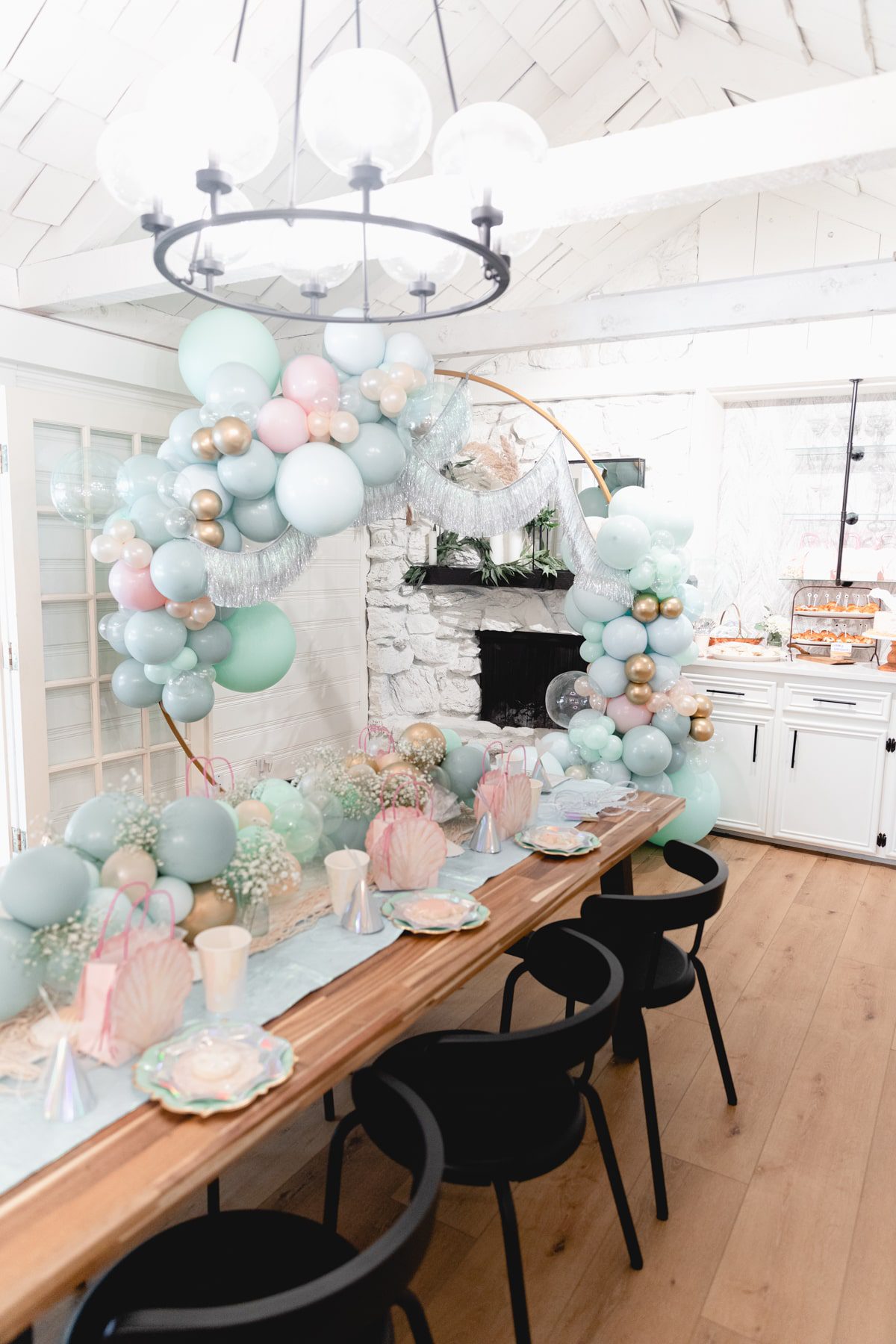 Mermaid Birthday Party Menu
So of course being a food blogger, the menu was of uptmost importance! We had a mix of savory and sweet foods.

Pro Tip: The party took place at 10 am which is prime snack time. Throwing a party at this time of day ensures you are only responsible for snacks and not a full meal!
Crabby Croissant Chicken Salad Sandwhiches
These adorable little sandwiches are made from croissants and pre-made chicken salad from Costco! It was super easy to throw together right before the party and made for a filling snack.
For the eyeballs, I took cake pop sticks and large candy eyes from Michaels and stuck them together using a bit of melted chocolate.
Slice open the croissant and fill with a few tablespoons of the chicken salad. Finish them off by sticking in two "eyeballs" and you've got some adorable Crabby Croissants!
Sour Seaweed & Pearls
This is simply sour strips of candy mixed with white gumballs! A huge hit with the parents and the kids.
Spinach Seaweed Dip
Another pre-made dip from Costco! Their Spinach and Parmesan Dip was perfectly served alongside sliced baguettes and was a great balance to all of the sweets we had.
Jello Ocean Water
The last thing I made for the party were these adorable jello cups! Blue jello and some cupcake toppers made for a semi-homemade treat that all the kids loved.
Other Snacks For A Mermaid Party...
Other snacks we served up ...
Mermaid Inspired Decor For Kids Party
Obviously, the stunner of this party was our giant balloon hoop! I had this made by our favorite local party store, Love of Character.
They mixed up teal, peach, and some clear balloons to give us an over-the-top Under the Sea moment!
A matching garland went down the center of our table which I added some simple sprigs of baby's breath.
Plates, napkins, and party favor bags were also from Love of Character.
Unique Party Activities For Kids
So what to do to keep those kids busy?
For us, coloring pages are always a hit, but since we were blessed with nice weather we just turned the kids loose outside with a lot of new pool floaties!
They also just enjoyed simply snacking on goldfish and jello cups.
I set up a fun bubble machine outside that helped sell the "under the sea" theme!