Chic Adult Halloween Party
As a person who doesn't *love* Halloween but DOES love a party, this Black Tie Halloween Dinner Party was the perfect combination.
Sleek table setting, semi-spooky food, and great company made this glam get-together the best time ever and here's how to host your own!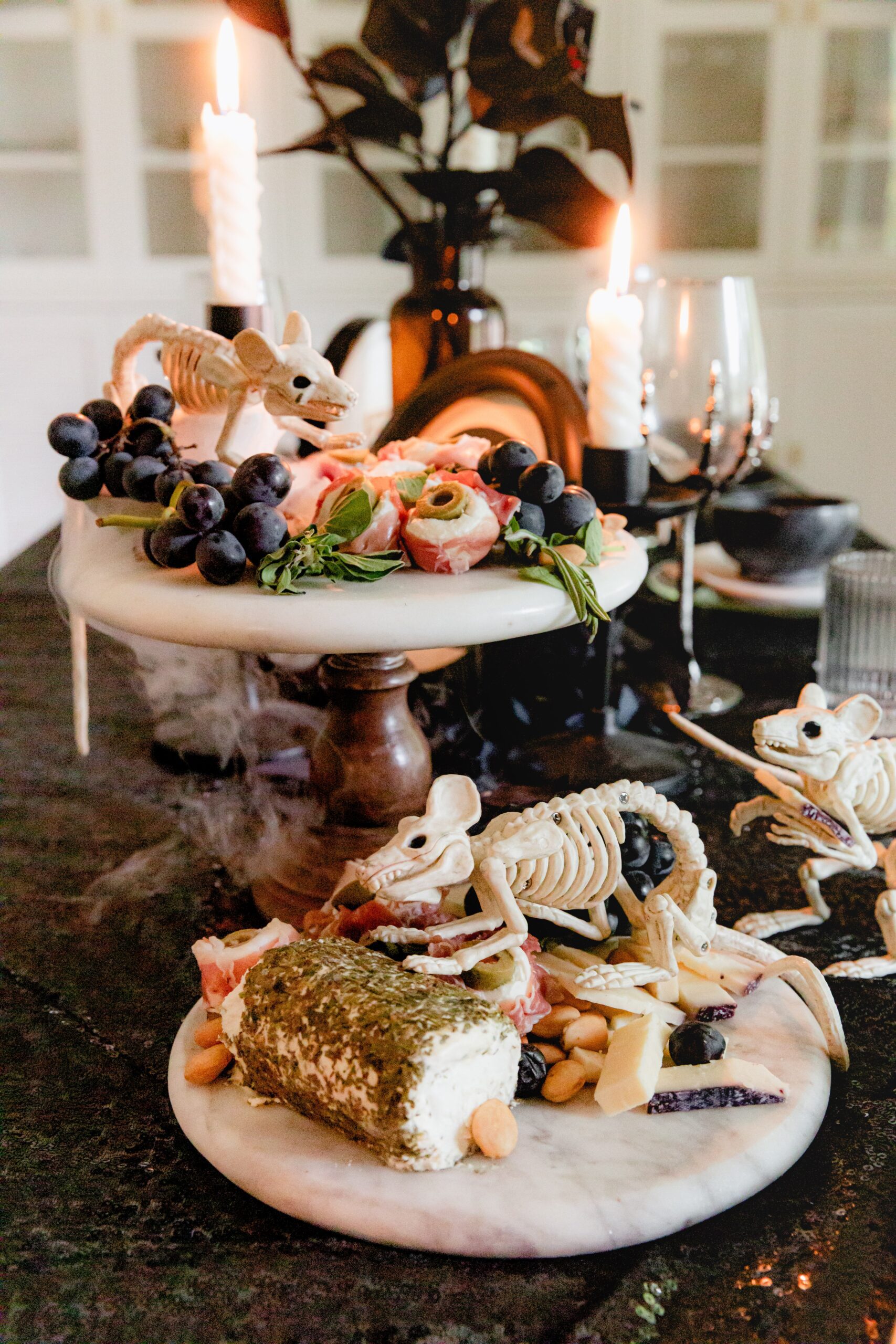 Glam Halloween Decor
To keep a Halloween party simple and glamorous, I have a few tricks up my sleeve!
Inspo photos are below, but feel free to check out my Amazon Storefront where I link to everything you'll need!
Amazon Storefront - Black Tie Halloween Dinner Party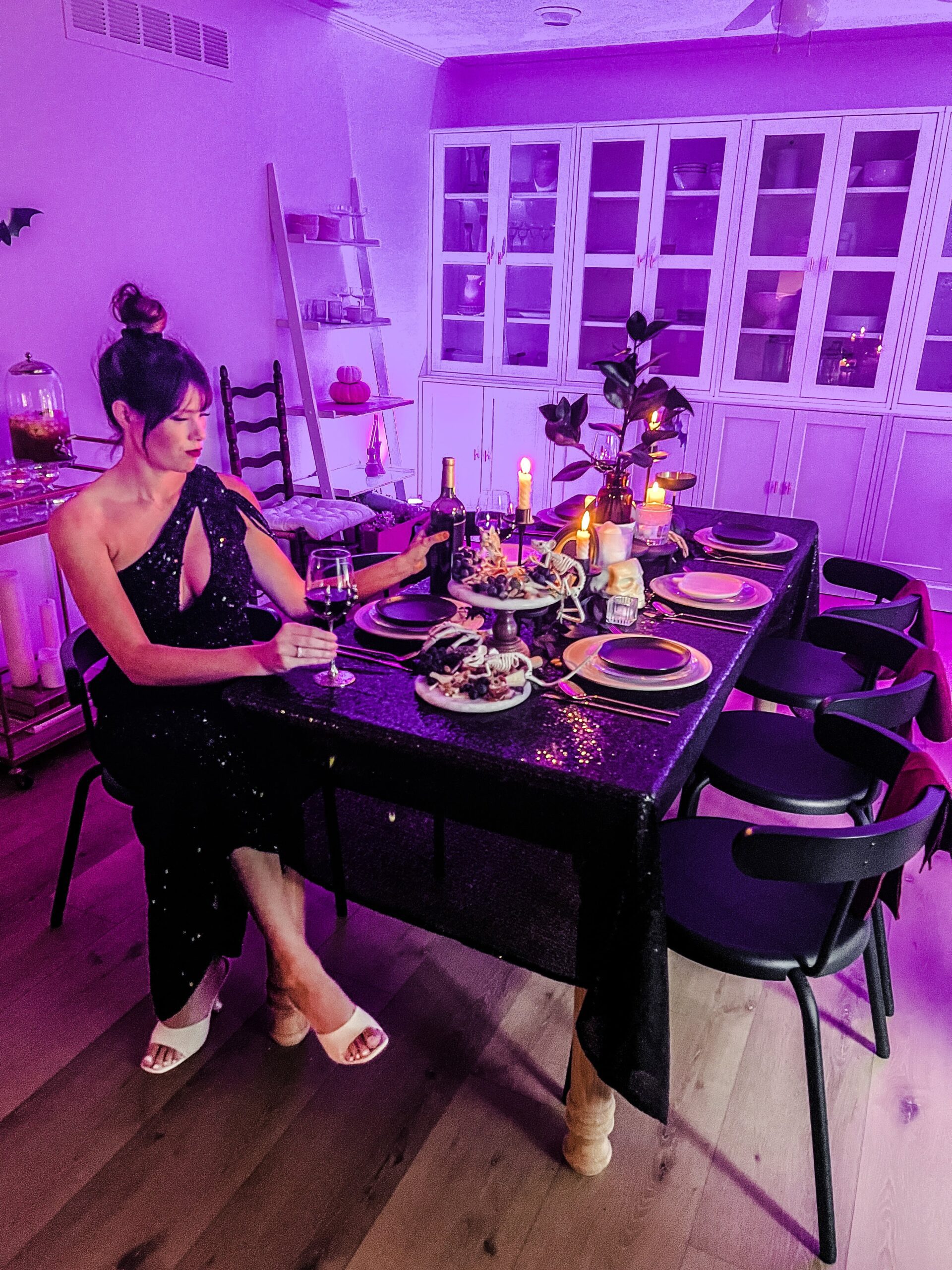 Monochromatic color scheme. Dark colors obviously work well for halloween but feel free to think outside the box!
I kept the table setting almost all black with pops of sparkle and accents of white. I also used purple uplighting around the room to keep it dark but cozy.
Using black floral arrangements brings in a natural feeling element and creates height as a table centerpiece.
Create ambiance. With lots of candle lighting or some simple uplighting, this will set the spooky scene with very little effort. Use varying heights of candle sticks and tapered candles.
Sparkle! While my table cloth was black, I wanted to incorporate lots of texture to keep the setting interesting. Black sequins on the table cloth bounced the light from the candles all around the table - it was gorgeous!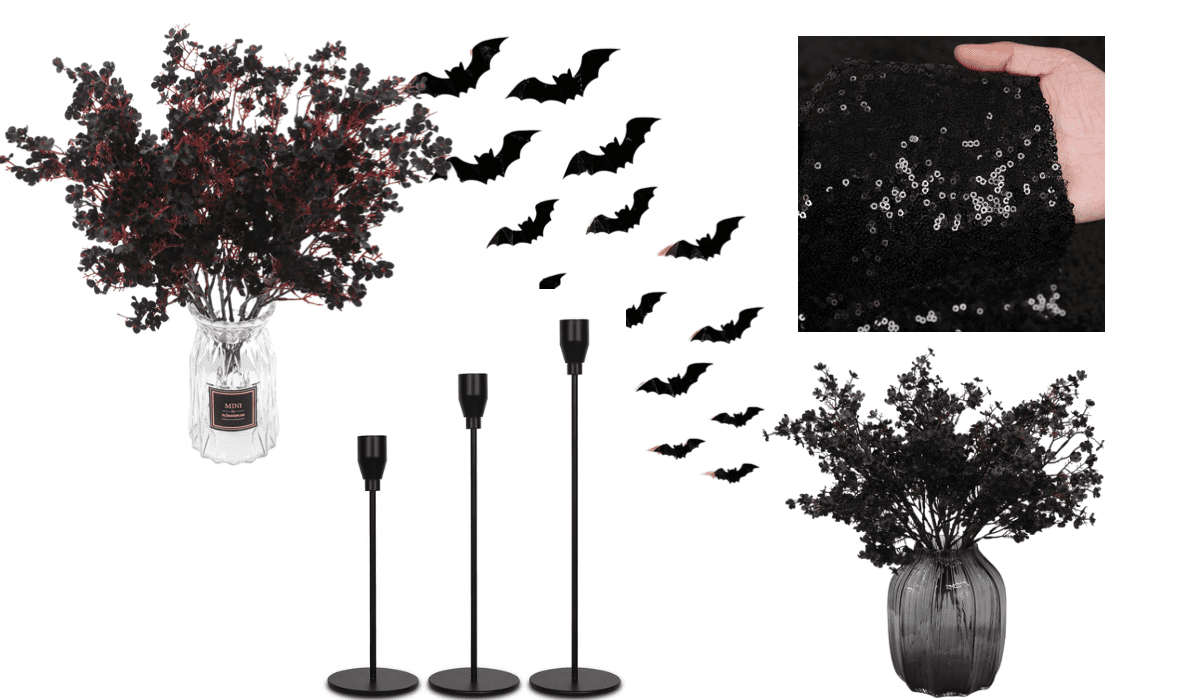 Halloween Store Touches. As much as it pains me to purchase skeleton decor...it honestly looked totally chic minimally mixed into the table scape AND even a couple of mice on the cheese board!
These things are also fairly cheap additions to the table, so don't feel too bad grabbing some skeleton mice, hands, or wine glasses!
Dry Ice. Obviously the most fun addition to the table, dry ice! I grabbed about 5 pounds of dry ice from a local specialty grocery store and placed it in shallow dishes around the table.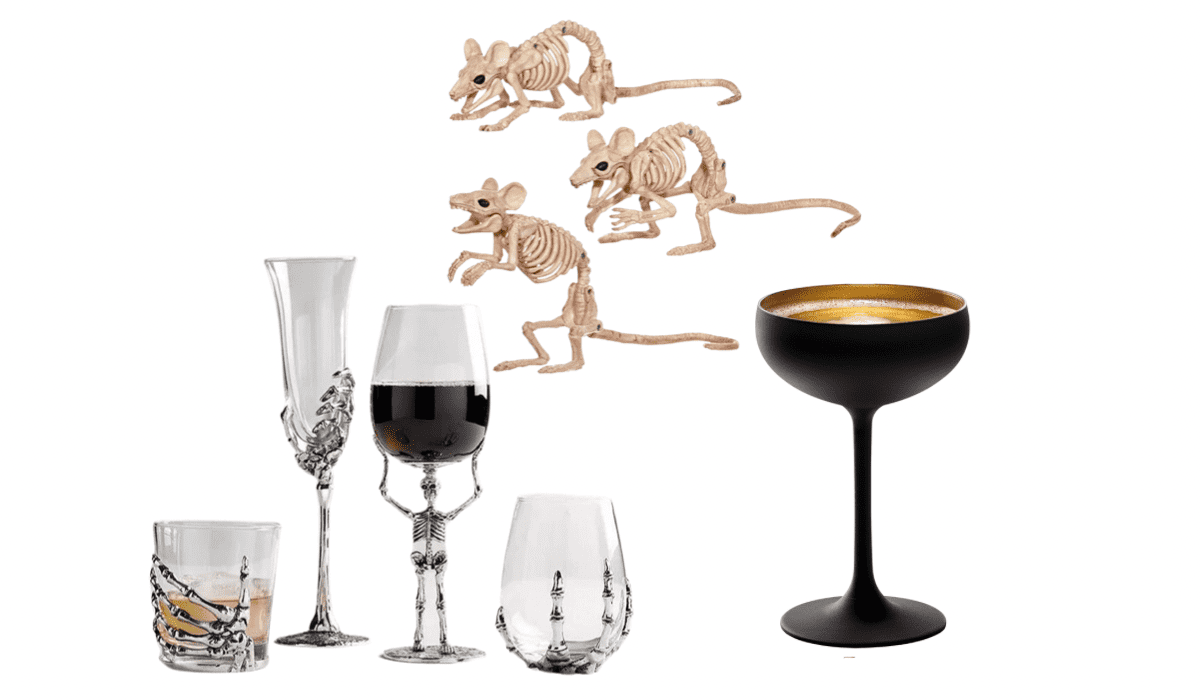 Halloween Party Menu
Now you can't just stop with decor, carry the spooky theme throughout the evening with tricks, treats, and magic in your food.
Appetizer
Cheese and Mice Charcuterie - take your favorite charcuterie boards (I used a couple of tiered cake stands to add height to the table) and put together simple mix of meats, cheese, and fruit. Add your skeleton mice for an understated Halloween decoration.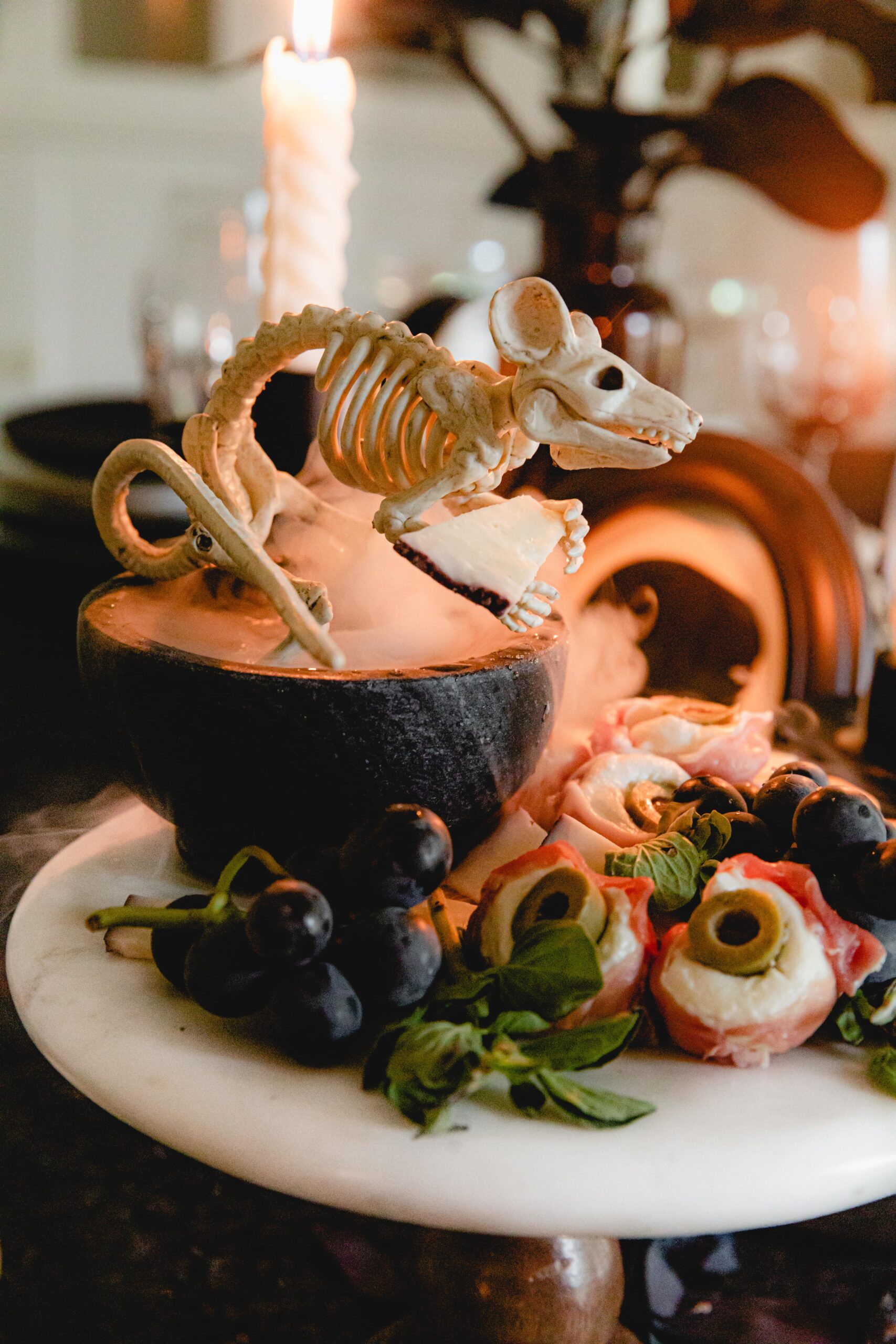 Honey Butter Board & Yeast Dinner Rolls - I served this as the first course to our seated dinner and this was SO EASY to prep ahead of time.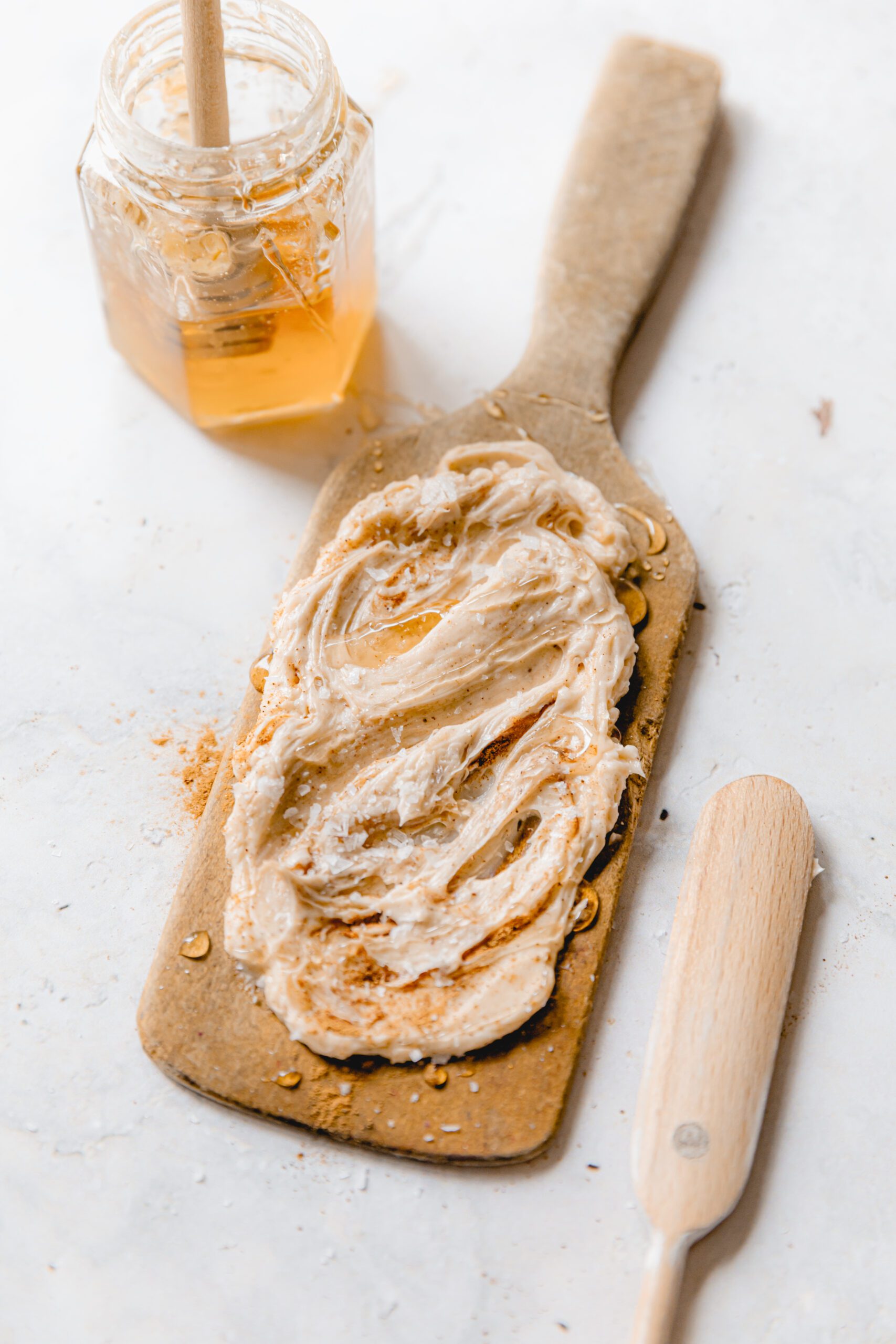 Side Dish
Roast Butternut Squash Soup was the start to the meal. It's healthy and hearty but you don't need to serve too much to get that cozy feel. Plus, since it's soup, it's another easy thing to prep up to a day ahead of time.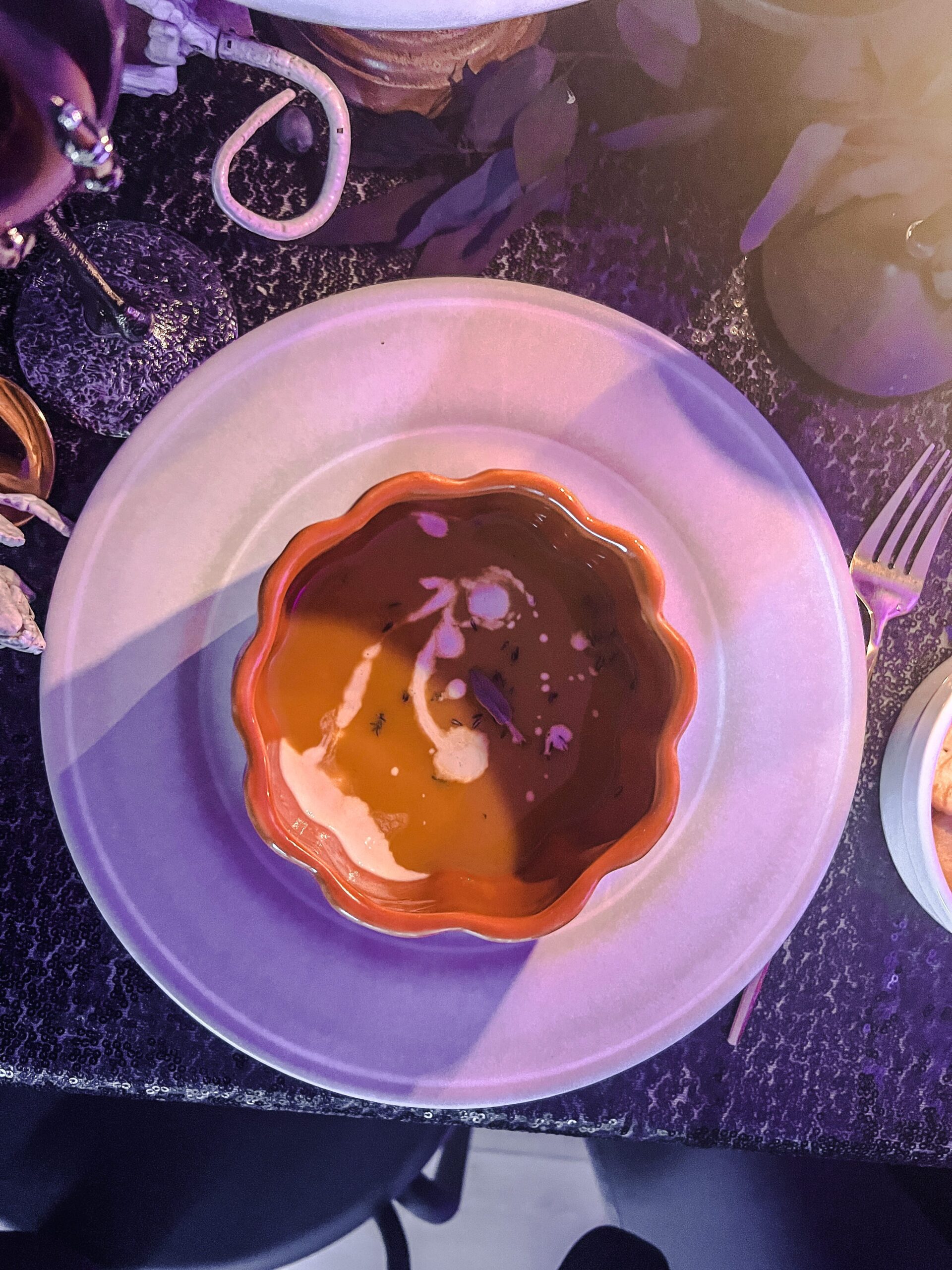 Main Course
Coffee Rubbed Burgers with Squid Ink Buns were the main event for our dinner.
I made some homemade burgers then added a slice of provolone cheese carved to look like a jack-o-lantern face melted on top.
I also attempted to make my own brioche buns that I dyed black with squid ink! It was...interesting, hah! But a fun touch to the dinner.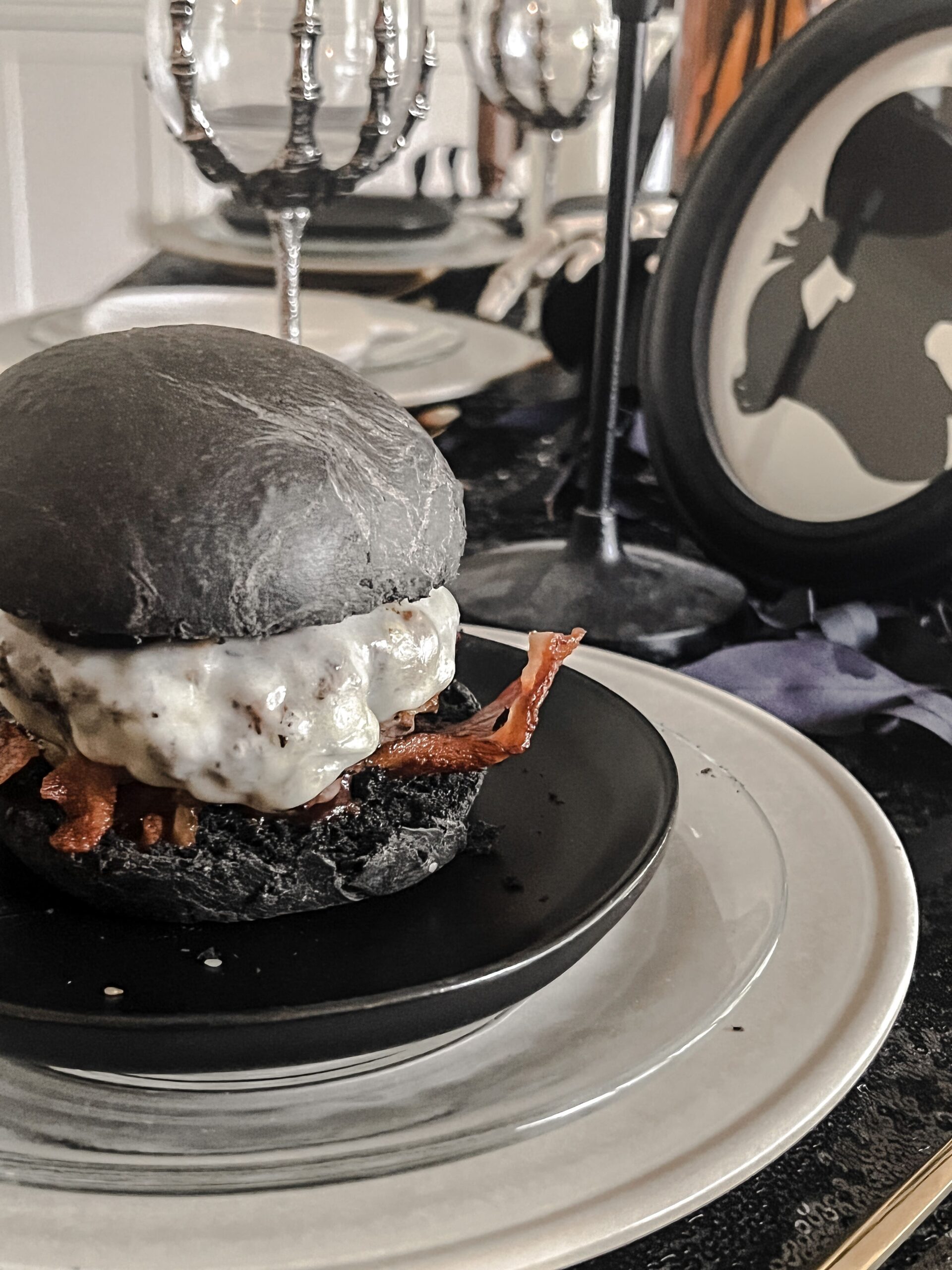 Dessert
Lastly for dessert I served up a chocolate bark that only takes a few ingredients and tastes like caramel apples! Another make-ahead item for the elegant dinner.
Another idea for a dessert for a chic party is my Halloween dirt cake . It's a spin off a classic Oreo dirt cake I used to enjoy as a child!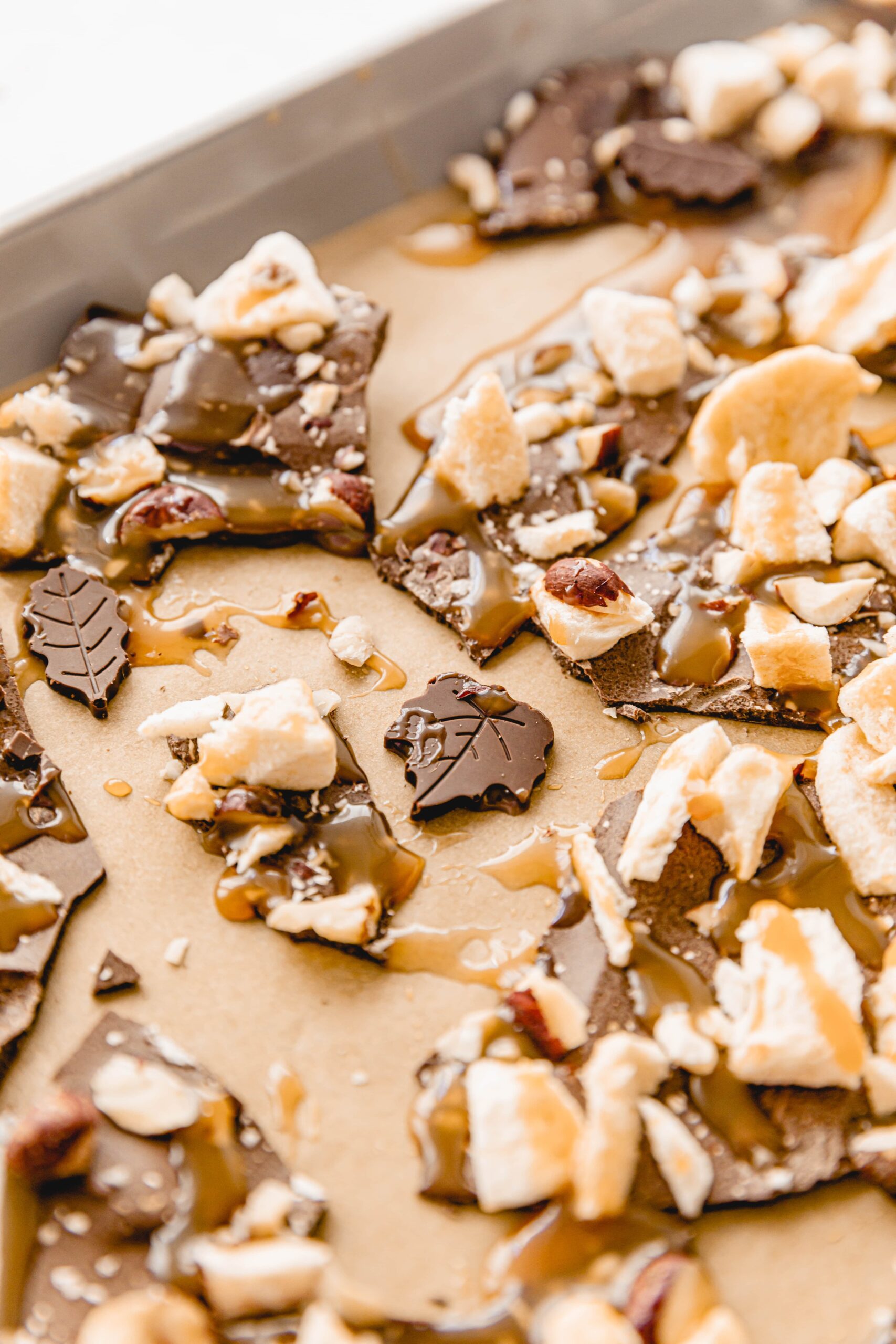 Drink Ideas For Halloween Party
Food wasn't the only spooky thing I whipped up for the party, drinks are just as important at any adult halloween party check out these 7 Halloween Shots and try one out for your next party!
I personally love the Arak cocktail as a nod to my husband's Lebanese family and it turns ghostly white when mixed with water to amuse your guests.
Liked This Party? Try these themes out!
I love a themed party. It's so much fun to think of crazy, out of the box ideas and see them come to life - if you try one out, share it with me on Pinterest, Instagram or Facebook!