Needing the ultimate comfort food but want to elevate it? I love a good pot pie. Who doesn't?! Add a little white wine and swap biscuits for the traditional pie crust and now we're talking! White Wine Skillet Biscuit Pot Pie recipe coming your way!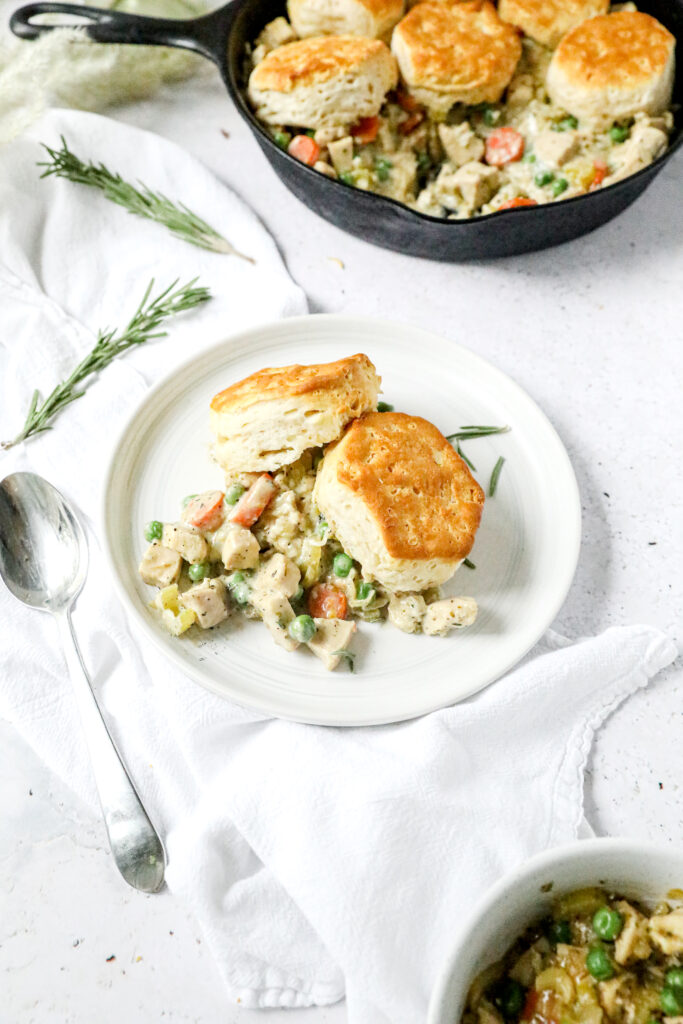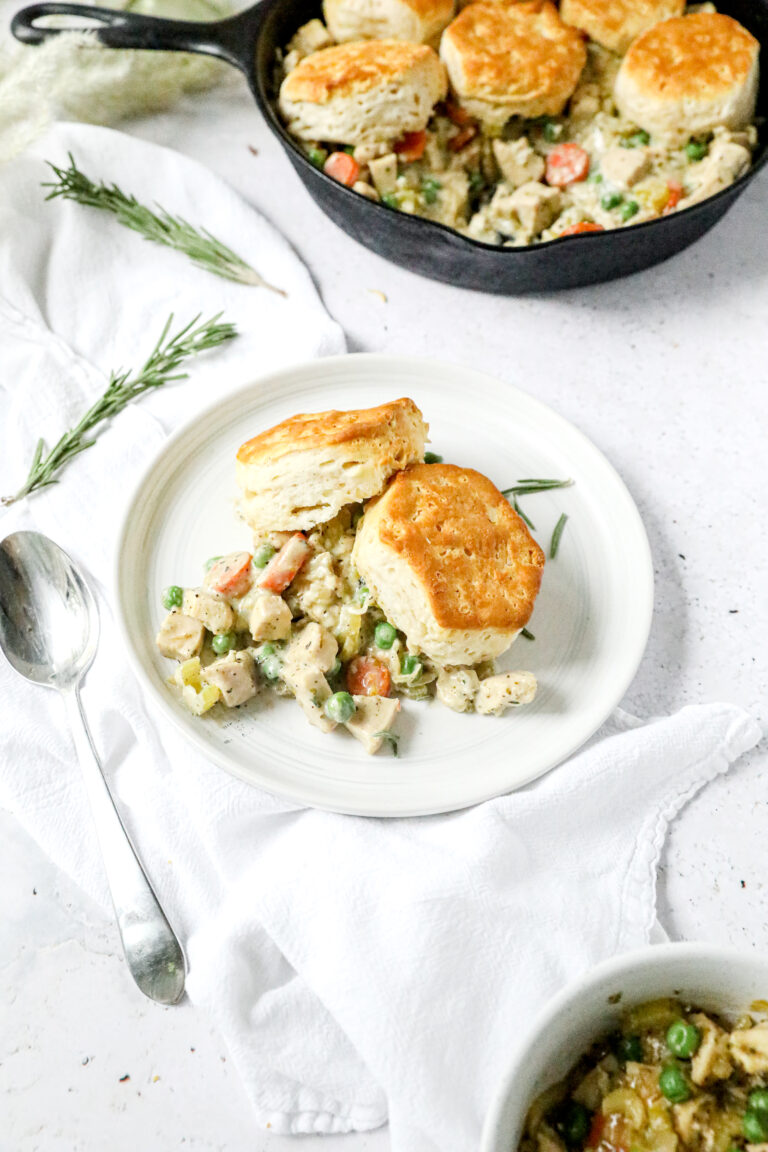 White Wine in a Pot Pie
What better way to elevate something "normal" than to add a splash of wine?! I love a good glass of wine (duh!) but adding it to food can really add something special that will leave people wondering what you did differently!?
By using a splash of white wine with the thyme, rosemary, and oregano in this pot pie gives it a flair for the holidays (or weeknight dinner!) that will leave people wanting more of this skillet biscuit pot pie recipe.
The general rule of thumb for cooking with wine is you don't need to buy the best of the best, but still make sure that it's something you would drink. We also don't want something too sweet here either (no moscato!)
Biscuit Skillet Pot Pie
Another way we are switching things up for this skillet pot pie recipe is swapping the traditional pie crust for buttermilk biscuits and cooking it in a cast iron skillet.
Bake the biscuits in the skillet, cut the tops off, pour the pot pie filling over and top with the biscuits and pop back in the oven.
It makes for a great display piece but also each biscuit is the size of one serving! So it makes it easy to dish it up to guests or family
What Vegetables To Use?
This is totally up to you. Traditionally carrot, onion, celery, and peas make up the pot pie filling. I added corn and lots of herbs to mine to really make it feel like the holidays!
Feel free to add any vegetables that speak to you. Potatoes or sweet potatoes would be a great addition to our pie!.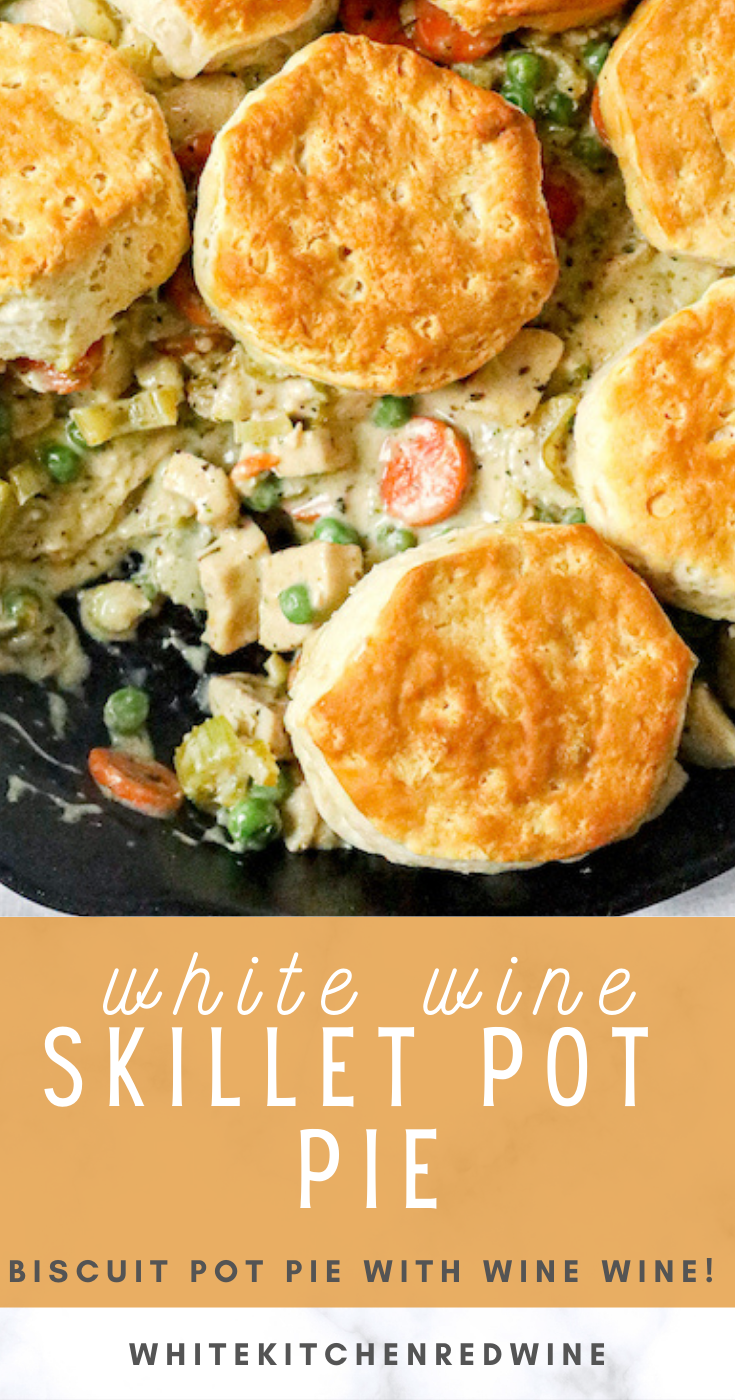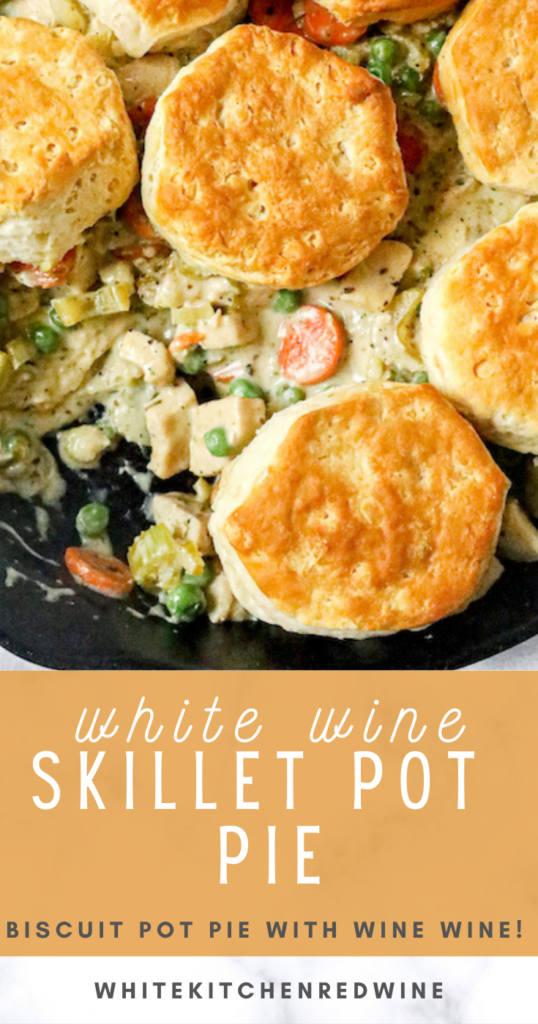 📖 Recipe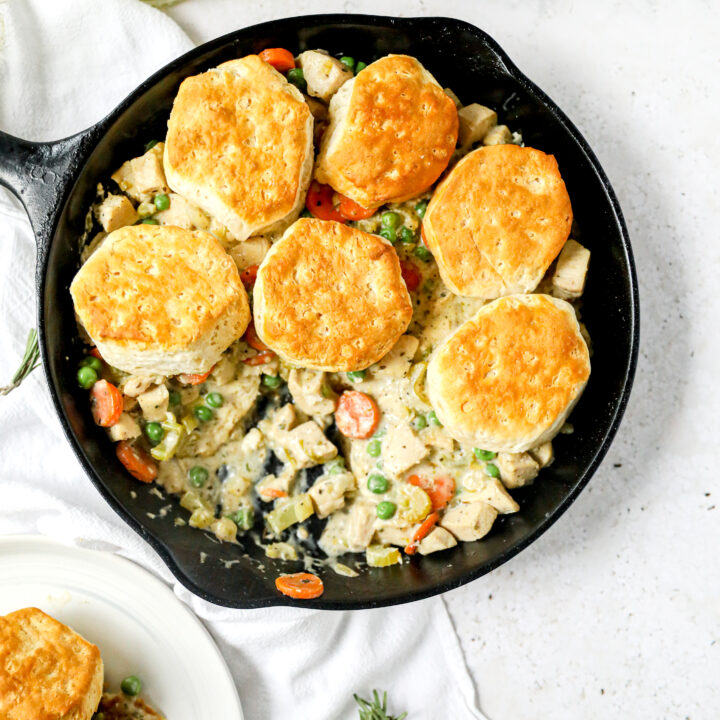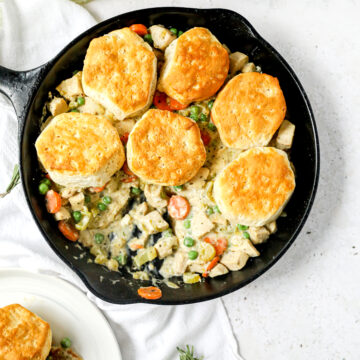 White Wine Skillet Biscuit Pot Pie
An elevated pot pie recipe that can use leftover chicken or turkey! We are adding a splash of wine for a fancy spin on this traditional recipe.
Print
Pin
Rate
Ingredients
1

lb

shredded or diced chicken/turkey

Great use for leftover turkey or chicken!

2

tablespoon

butter

3

tbsp

flour

1

cup

dry white wine

1

cup

chicken stock

½

white onion, diced

2

carrots, diced

2

celery stalks, diced

1

cup

peas

1

cup

corn

½

cup

half and half or whole milk

1

can of buttermilk biscuits

3

tsp

salt

1

tsp

pepper

1

tablespoon

italian seasoning
Instructions
Bake The Biscuits
Using the instructions on the roll of biscuits, bake them in your cast iron skillet.
Make The Filling
In a pot or large pan melt the butter and saute the onion for 3-5 minutes

add the diced celery and carrot and cook 3-5 more minutes.

Add your italian spices and cook until fragrant. 1 minute or so.

Sprinkle in flour and stir to coat the veggies.

Slowly add in your white wine a couple tablespoons at a time. This ensures that the filling gets thick. Make sure to stir in the wine and let it thicken a bit before moving on.

Now slowly add in the chicken stock the same way. Let it cook and bubble until thick. If it isnt thickening (think pie filling) then add a pinch more flour! It should take a few minutes , 5-7 to get nice and thick.

Season with salt and pepper.

Add in the shredded or diced chicken or turkey.

Stir in the peas and give it a taste. Add salt or pepper if you feel like it needs more.

Stir in the half and half or milk and let it bubble until thick and creamy.
Aseemble The Pot Pie
take the tops off the cooked biscuits.

pour the filling over the bottom biscuits.

Top with the biscuit tops.

Pop in a 350 degree oven for 5-7 more minutes and enjoy!