Turning anything into fries is my favorite thing in the world. Especially when it's a healthy veggie like green beans. I mean, they are just BEGGING to be French fries. So we're going to air fry them and add a little crunch of almond along with a balsamic drizzle. Here are my delicious Crispy Green Bean Fries!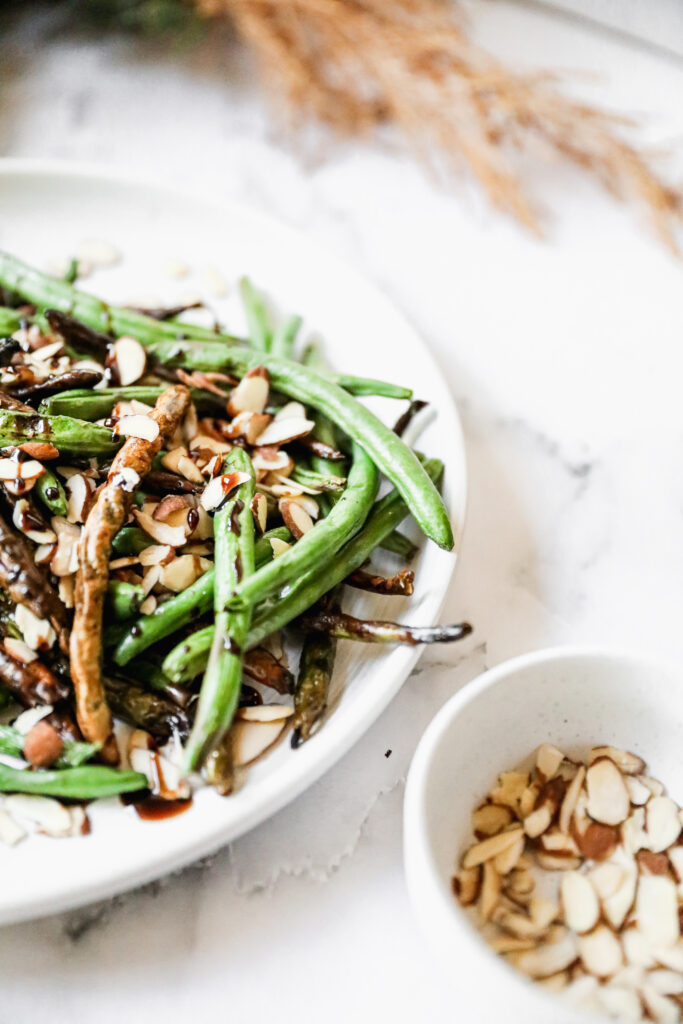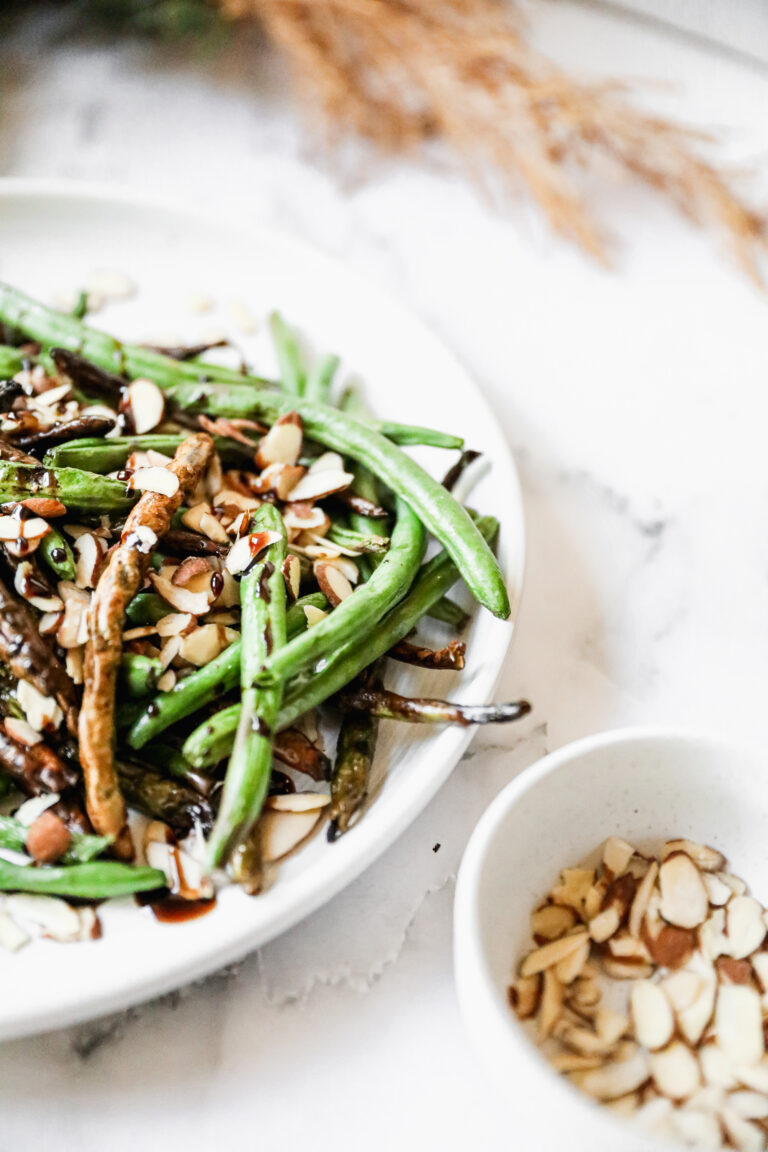 How To Make Crispy Air Fry Green Beans
I wish this was harder. It's almost TOO easy. Air frying green beans just takes 3 easy steps.
Toss the green beans in a little olive oil.
Season with garlic, salt, and pepper.
Air fry for 10-15 minutes on 400 until the edges are a bit crispy.
You see what I mean? Too simple. You could really amp up the favoring by adding a little sprinkle of lemon pepper or steak seasoning even! Sky is the limit.
What To Serve with Green Bean Fries
Air Fried Green Beans are the perfect side dish for literally any meal. From chicken, to salads, an appetizer, to the best holiday side dish ever! Green beans are accessible almost all times of the year.
This makes them the perfect option for a Summer, Fall, Winter, and Spring side. But since we are taking the flavors to a deep, delicious place. I suggest serving them along side a fancy holiday meal.
What the Best Balsamic Glaze?
I have 2 specific favorites when it comes to the PERFECT tangy glaze for these air fried green beans.
Kroger Balsamic Glaze - call me crazy but this generic Kroger brand is my absolute favorite and it's budget friendly.
Pomegranate Date Syrup - ok so technically this isn't balsamic, BUT it's slightly sweet and equally tangy so I think its a perfect combo!
OR Make Your Own Balsamic Glaze - this is actually very easy to do, but I've always got the glaze in my fridge so that's my go-to!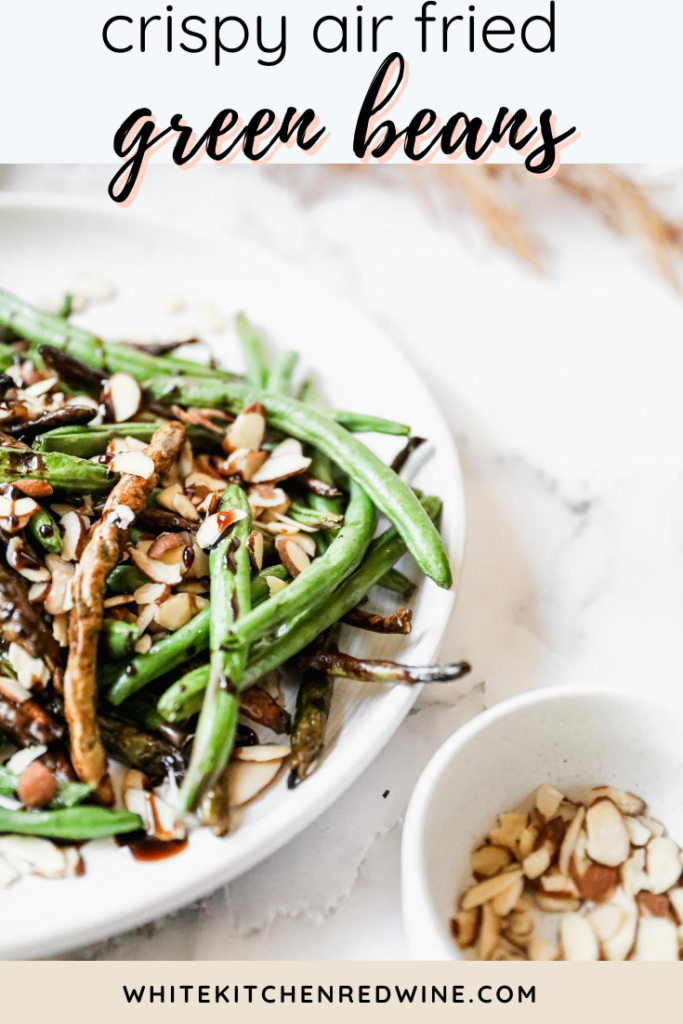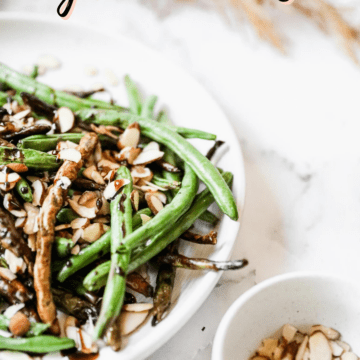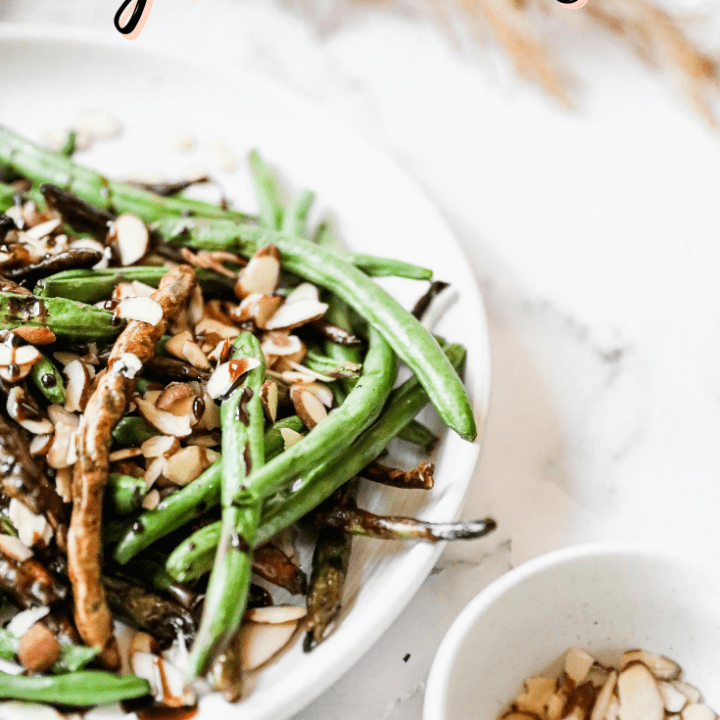 Crispy Air Fried Green Beans with Balsamic Drizzle and Almonds
Easy how-to on air frying green beans. They are taken over the top with a delicoius balsamic drizzle and slivered almonds.
Ingredients
1

10 oz bag

green beans

2

tbsp

minced garlic

1/2

tbsp

salt

1

tbsp

olive oil

drizzle

balsamic reduction

3

tbsp

slivered almonds
Instructions
In a large mixing bowl combine olive oil, green beans, salt, and garlic. Toss to combine.

Add everything to the basket of your air fryer and fry at 375 for 15 minutes.

Remove and place on a plate. Sprinkle with almonds and drizzle with balsamic reduction.