Get a quick, healthy meal on the table with these juicy air fryer turkey burgers! They'll be a new family favorite for those busy weeknights!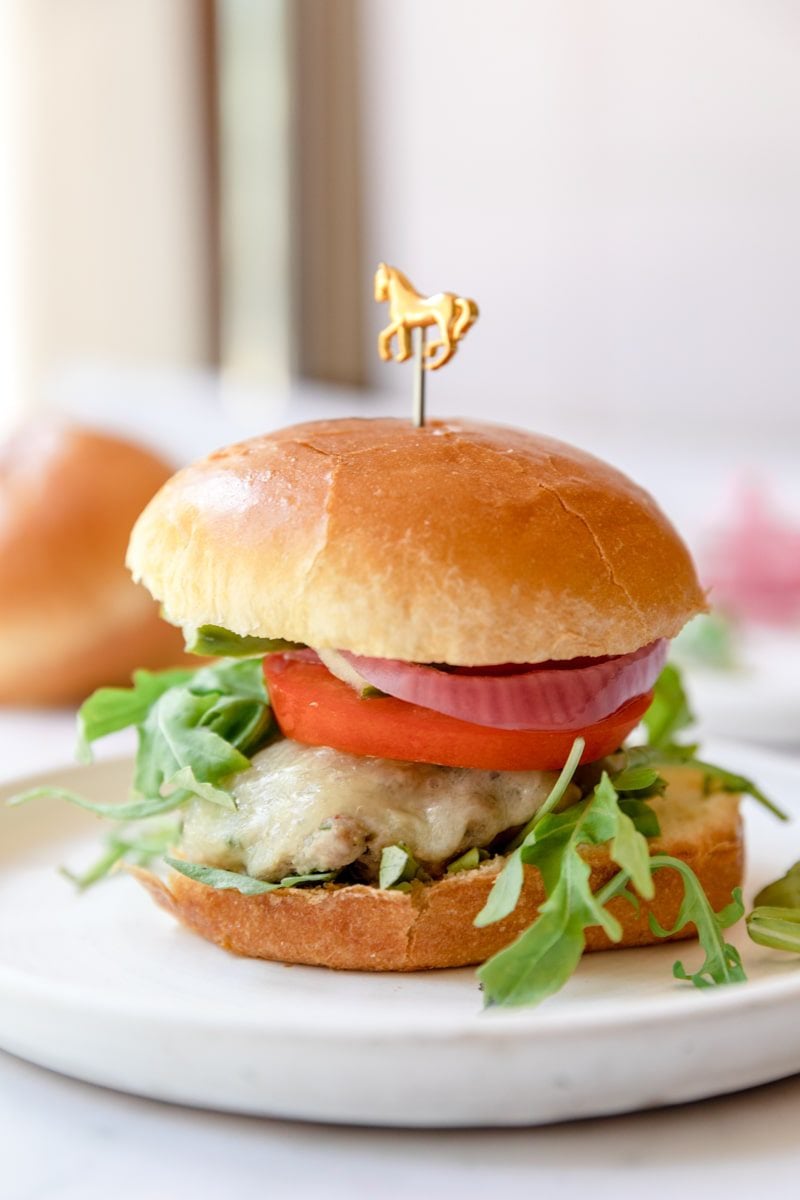 This recipe for air fryer turkey burgers is so good you won't even miss the ground beef! Made with flavorful spices and a little onion, these homemade air fryer turkey burgers are tender, juicy, and full of flavor.
Your whole family will love these, and they're quick enough for a healthy weeknight dinner! Serve them with plate of sweet potato fries & you'll have youreslf a healthy and hearty weeknight dinner.
Ingredients for Juicy Turkey Burgers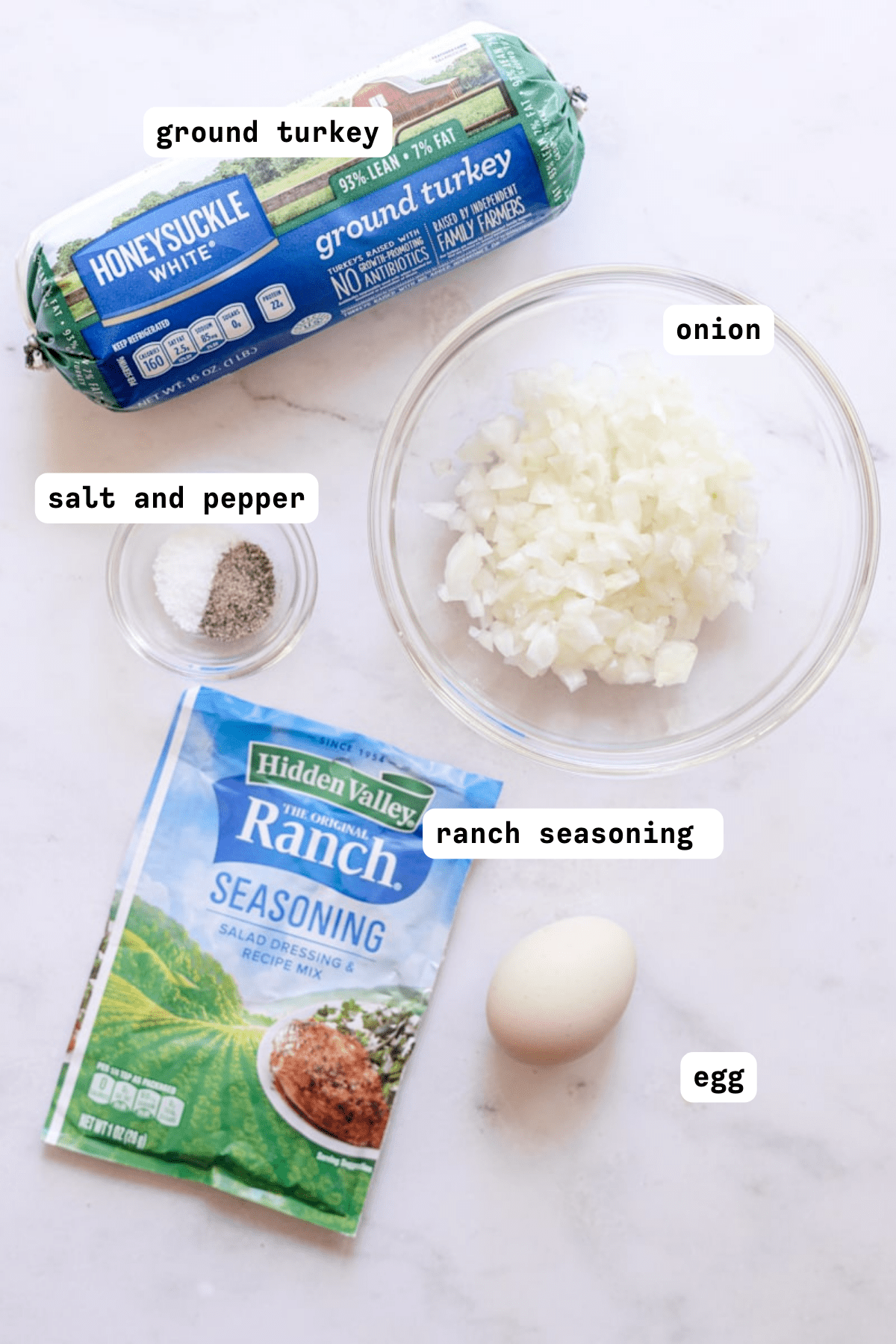 Ground turkey: Start with a pound of lean ground turkey and make sure it is fully thawed. You can also substitute ground chicken for a lean protein dinner option.
Ranch seasoning: This special ingredient makes air fry turkey burgers have so much flavor in every bite! It truly is my little secret ingredient for these healthy ground turkey air fryer burgers.
Grated onion: A little raw onion adds sweetness and flavor to these healthy turkey burgers.
Egg: Add an egg to bind the turkey burger patties together to get the perfect texture.
Parsley: Add a little herby flavor to this air fryer turkey burger recipe with fresh or dried parsley.
Salt and black pepper: Season your turkey burger mixture with salt and pepper for the best flavor.
Why You'll Love Air Fryer Turkey Burgers
While there are so many reasons I love quick air fryer meals, these turkey burgers really check all the boxes for my easy dinners...
Quick & easy: These easy turkey burgers are a quick way to prepare dinner! Mix the ingredients, make your patties, and pop them in the air fryer. Dinner is served!
Freezer-friendly: If you make a bunch of these turkey burgers in advance, you can cook them from frozen. They're so handy for those busy weeknights!
Healthy: Unlike fast food burgers, these air fryer turkey patties are made with simple ingredients you probably already have in your kitchen. Since these air fryer turkey burgers are made without breadcrumbs, they're lower in carbs and also lower in fat than regular beef burgers.
Budget friendly: Just one pound of ground turkey and a few basic ingredients will make enough tasty burgers for your whole family. That's way cheaper than the drive thru!
Equipment Needed
To make these Ninja air fryer turkey burgers, you need just a few basic tools:
air fryer
mixing bowls
spatula
meat thermometer
How to Cook Turkey Burgers in the Air Fryer
Cooking these turkey burgers in the oven is not necessary! Pop these patties in the air fryer for a quick way to make dinner.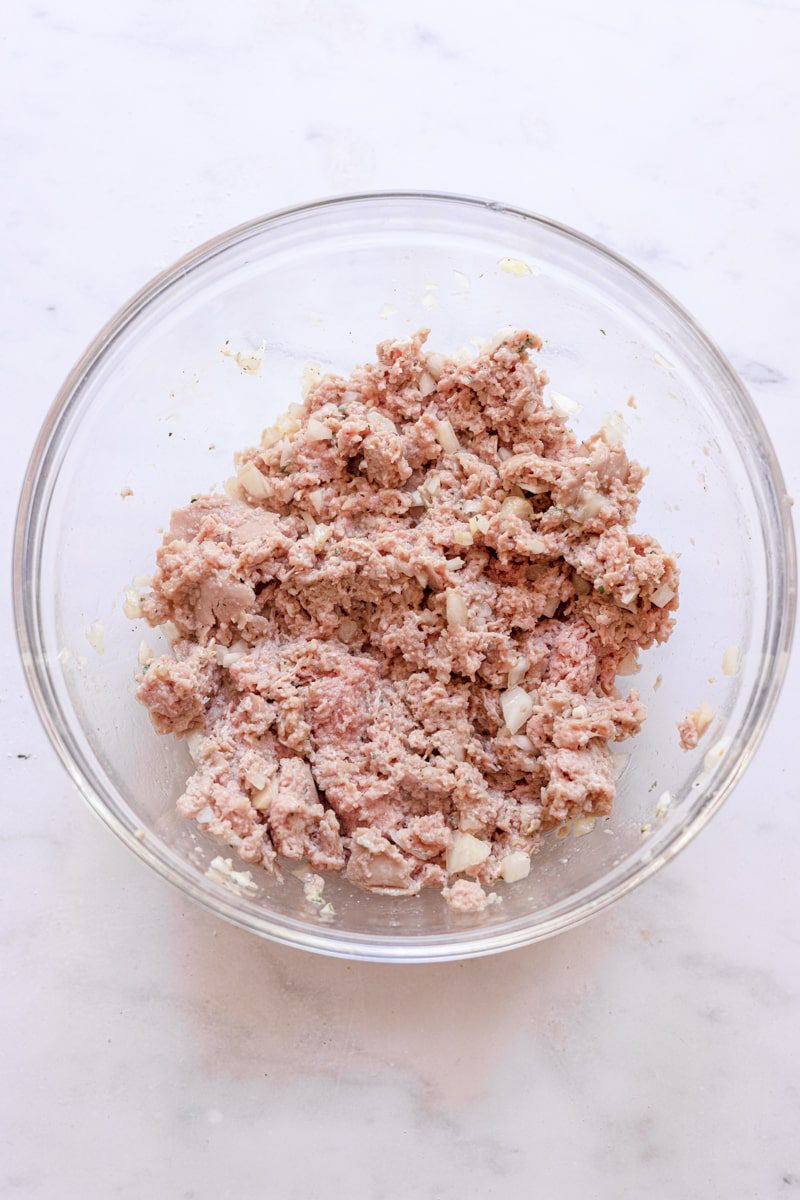 In a mixing bowl combine all of the ingredients and preheat the air fryer to 400 degrees.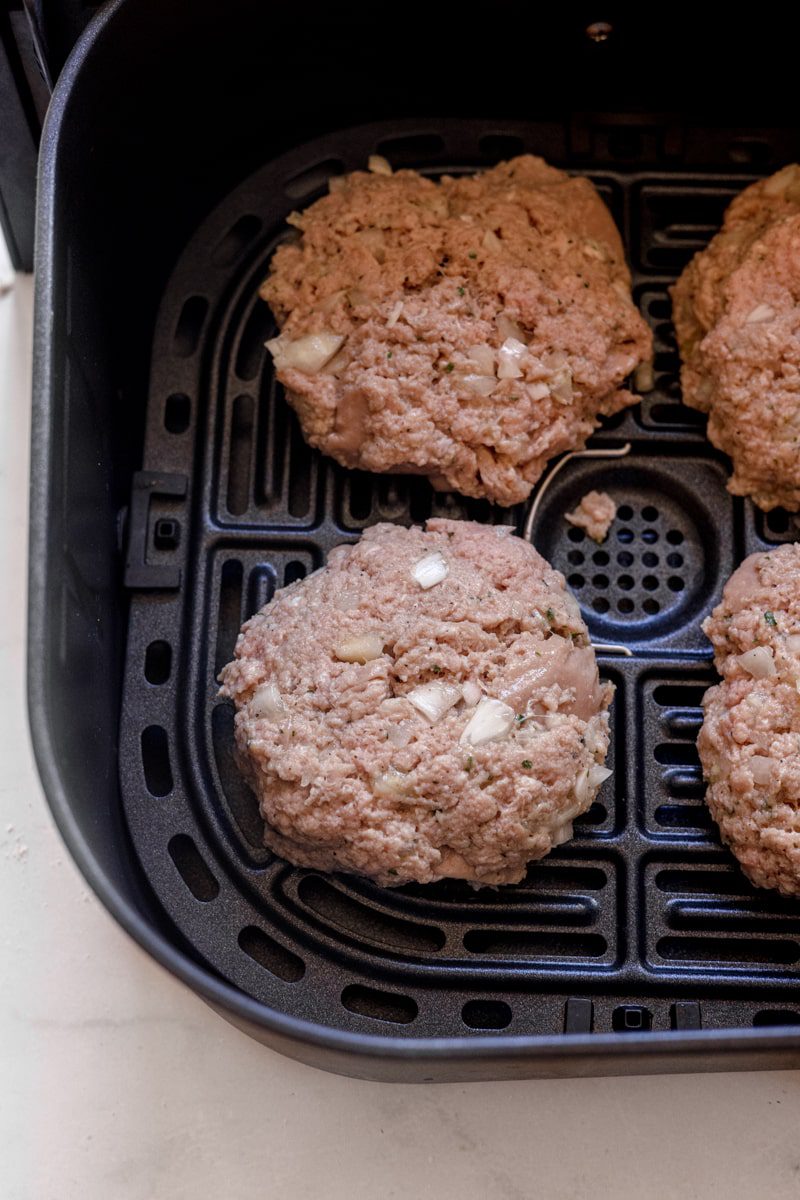 2. Form into 4 equal burger patties.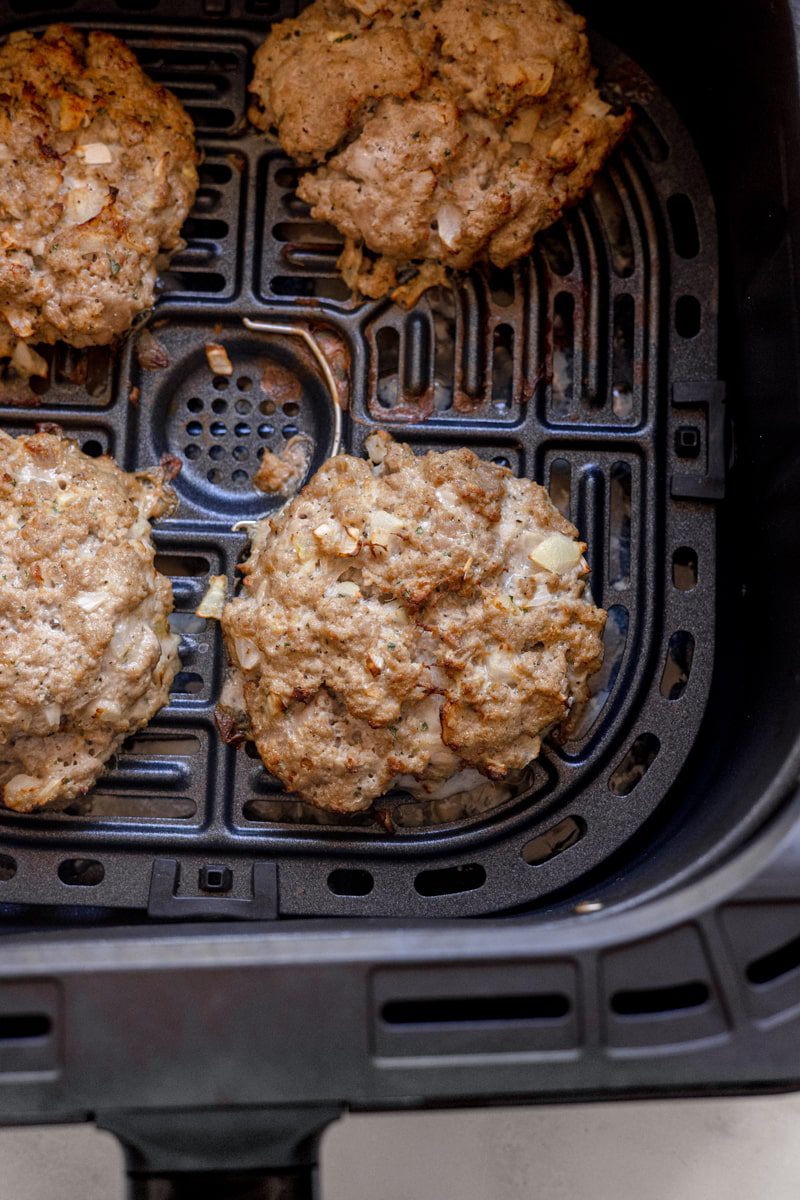 3. Add the turkey burger patties to the air fryer basket and cook for 4 minutes. Flip and cook another 4 minutes.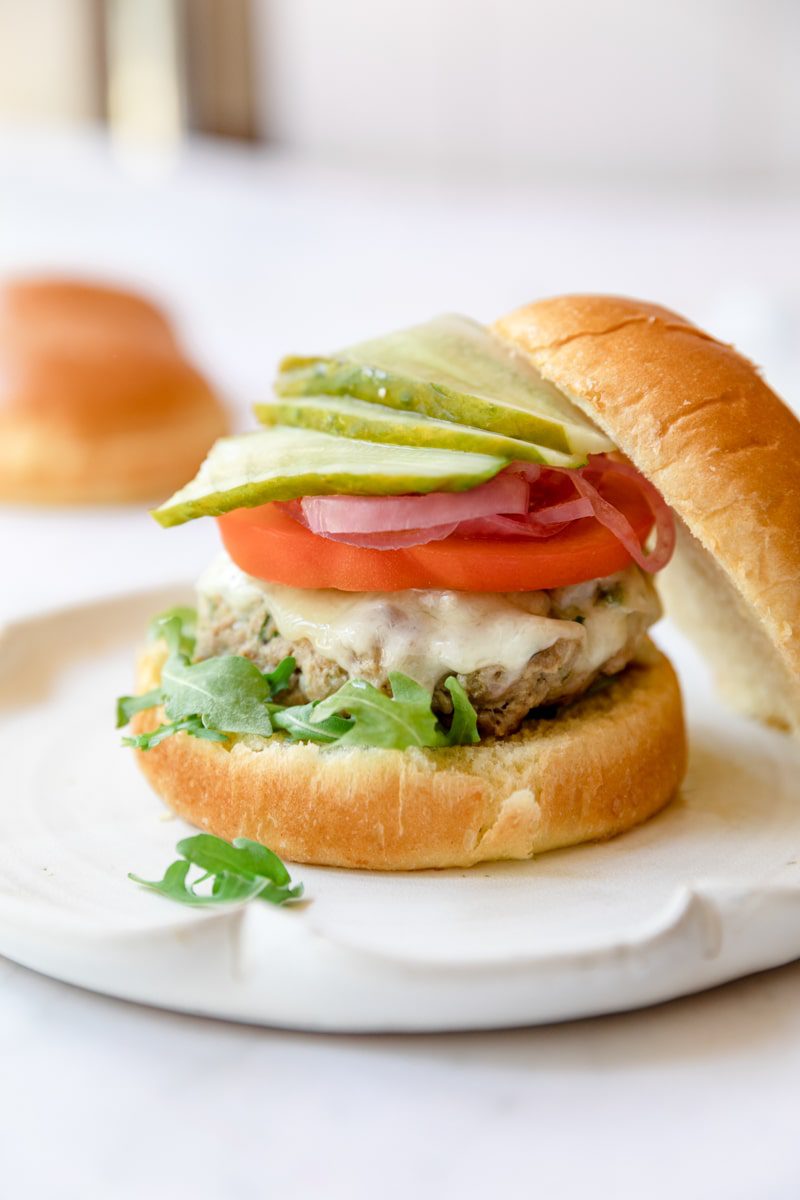 4. Layer with your favorite bun and toppings for delicious air fryer turkey burgers!
PRO TIP! Use a meat thermometer to check the internal temperature of your burgers. That way you get it cooked to perfection everytime without cutting it open!
Tips and Tricks for the BEST Air Fried Burgers
There are a few things I always do to make sure my burgers turn out perfect every time!
Use a meat thermometer to check for doneness. The air fryer turkey burgers temperature should be 165 degrees F. I love this meat thermometer!
Easy air fryer turkey burgers will cook more evenly if they're the same size. Use a measuring cup to portion each one out.
To prep them in advance, add a piece of parchment paper between each turkey patty.
Season thoroughly! There's nothing fun about a bland burger so don't be afraid to season them up! Use your favorite burger seasoning or try out my secret ingredient (ranch powder!)
Popular Air Fryers
These days, there are so many different air fryers on the market. They're an incredibly versatile kitchen tool, and you can use them for so much more than you'd think! These are some of the best air fryer for your kitchen.
Ninja: There are several different styles of air fryer from Ninja, including traditional basket-style models to multipurpose countertop workhorses. You won't go wrong with any of these options!
Power XL: This option comes in a variety of sizes, making it easy to cook enough turkey burgers in the air fryer for your whole family.
Instant Vortex: This is one of the most popular options available. The 10-quart size is perfect for big families! This is the one I use and I love it!
Why Use An Air Fryer?
Although you can grill, griddle, or bake your burger patties, there's a reason to make fresh turkey burgers in the air fryer.
By constantly circulating hot air, your burgers will have a nice bite on the outside and tender, juicy meat inside the patties. They're the secret to the best air fryer turkey burgers every time!
Plus, air frying has even more benefits, like using less energy than a standard oven and frying without oil. They're a fantastic tool for preparing healthy recipes quickly every night of the week!
Best Air Fryer Accessories to Have
Make the most of your air fryer with these handy accessories! They'll help you cook and clean up faster, making them perfect for your busy life.
Air fryer liners
Silicone tongs
Loaf pans
Instant read thermometer
Oven mitts
Air fryer rack
Grill pan
Air fryer baking dish
What to Serve with Turkey Burgers
After you cook ground turkey burgers in the air fryer, serve them on burger buns or a bed of crisp lettuce with your favorite burger toppings, like tomato, sliced red onion, a slice of cheese, and your favorite sauces.
Don't forget the French fries! These are my favorite sides to serve with these homemade turkey burgers for a quick, easy meal.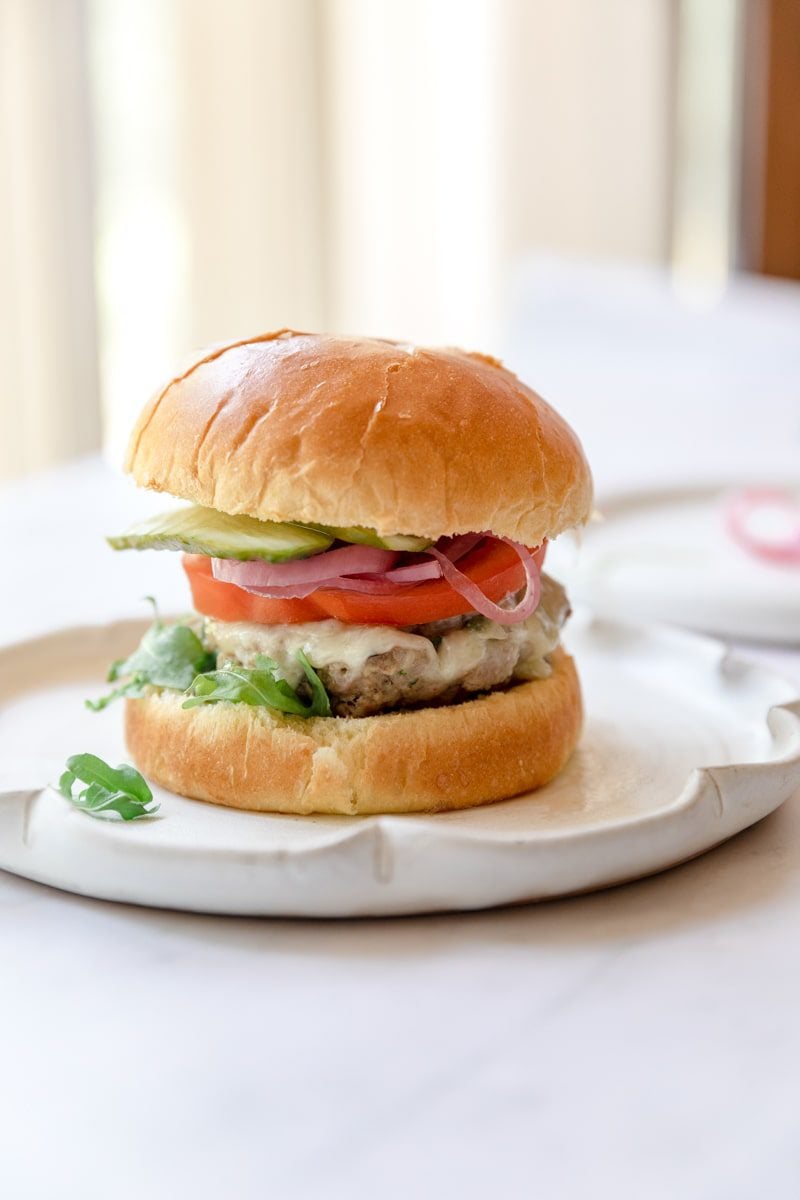 FAQ
Can you cook frozen turkey patties?
Yes! You can cook frozen raw turkey burgers in air fryer or heat up frozen turkey patties from the store. Air fryer frozen turkey burgers are a great way to get dinner on the table fast! 

Frozen raw turkey burgers: Air fry for 11 minutes at 400 degrees F.

Trader Joes turkey burgers air fryer: Air fry for 12-15 minutes at 400 degrees.

Can I make turkey burgers in an air fryer?
The air fryer is the best way to get a juicy, flavorful burger every time! Preheat your air fryer to 400 degrees F. Then, adjust your cooking time depending on whether your air fryer turkey burgers are thawed or frozen.

Raw turkey burgers in air fryer: Cook for 4 minutes, flip the patty, then cook for another 4 minutes.

Frozen homemade burgers: Air fry for 11 minutes.

You should make sure your turkey burger temperature reaches 165 degrees fahrenheit. 
How long to cook frozen turkey burgers in air fryer?
Cook your homemade frozen turkey burgers for approximately 11 minutes in a 400 degrees air fryer. Storebought turkey burgers may need to be cooked longer, closer to 13-15 minutes. Adjust your timing based on the package's instructions.
What temperature to cook turkey burgers?
You'll know your turkey burgers are ready when they reach an internal temperature of 165 degrees F.H
How to store cooked turkey burgers?
Store leftover turkey burgers in an airtight container in the fridge for 3-4 days. To reheat, pop them in the microwave for a minute or air fry them at 350 degrees for a couple of minutes.
​
More Air Fryer Recipes
Air Fryer Mini Tacos with Rotisserie Chicken
Air Fried Zucchini Squash Fries
Air Fryer Chicken Wings with Chimichurri Sauce
Air Fryer Artichoke Hearts with Garlic Aioli
Puff Pastry Air Fried Cinnamon Rolls
Delicious Turkey Burger Variations
Stuffed Turkey Burgers in Air Fryer: Make your own diner-style burger with these homemade stuffed burgers.
📖 Recipe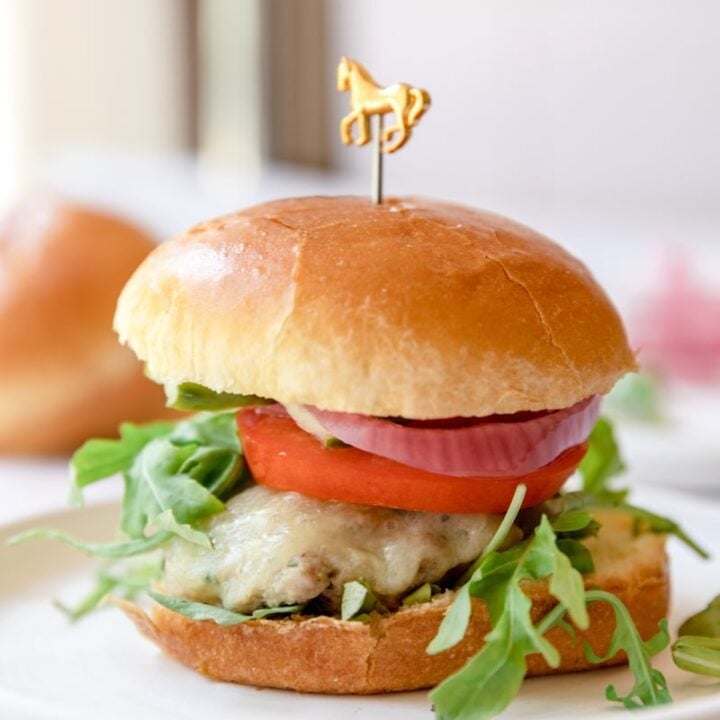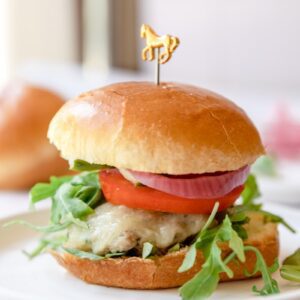 Easy Air Fryer Turkey Burgers
Delicious and juicy air fryer turkey burgers will cut down on cook time and is a meal the whole family can enjoy!
Print
Pin
Rate
Equipment
1 air fryer

1 mixing bowl

1 meat thermometer
Ingredients
1

lb

ground turkey

1

tablespoon

ranch seasoning

½

an onion

grated

1

egg

¼

cup

parsley

1

teaspoon

salt

½

teaspoon

pepper
Instructions
Preheat the air fryer to 400 degrees

In a mixing bowl combine all ingredients

Separate the turkey mixture into 4 equal patties.

Add the patties to the air fryer basket and cook for 4 mintues, flip and cook another 4 minutes. For frozen patties air fry for 11 minutes, flipping halfway through.

Once done, serve on your favorite buns with your favorite toppings.
Notes
Don't forget to use a meat thermometer! This will ensure your burger is perfectly cooked without cutting it open.
Use a measuring cup to portion out the burgers. They will all be the same size and cook evenly this way.