This Strawberry Boba Tea is super easy to make right at home to elevate your afternoon pick-me-up! A refreshing drink perfect year-round. Homemade strawberry milk, huge boba pearls, and green tea combined & its done in about 10 minutes!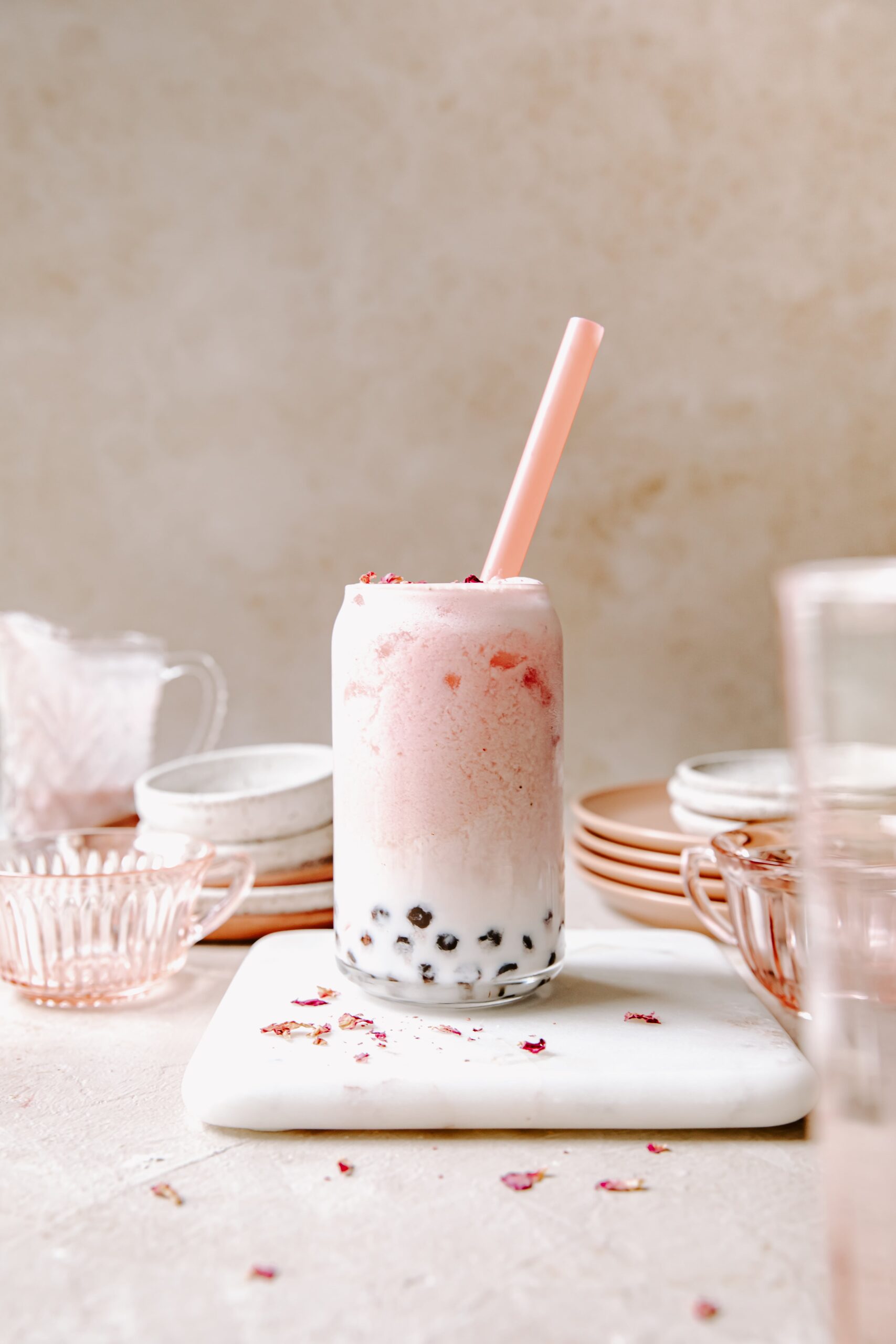 Why Make Boba At Home...
This was such a fun activity to do with my little one. She really enjoyed watching the boba boil, making the strawberry milk, and then finally enjoying a homemade drink with a unique texture.
The tea shops and cafes serving Bubble Teas are growing exponentially. You can easily recreate these recipes at home for a fraction of the cost.
PLUS I'm also showing you how to make your own sweet strawberry milk tea so it's definitely the healthier option as well! No fake strawberry syrups here!
What Is Strawberry Bubble Tea?
The boba phenomenon has officially hit us all. The bubble tea originated in Taiwan but has recently become a sensation world-wide.
The boba, or pearls, at the bottom of these drinks give a pleasantly squishy and chewy texture to the creamy teas served with it. Common flavors of bubble tea include Black Milk Tea and Green Milk Tea.
You'll find boba tea cafes popping up all over now days, but why not make this easy drink at home?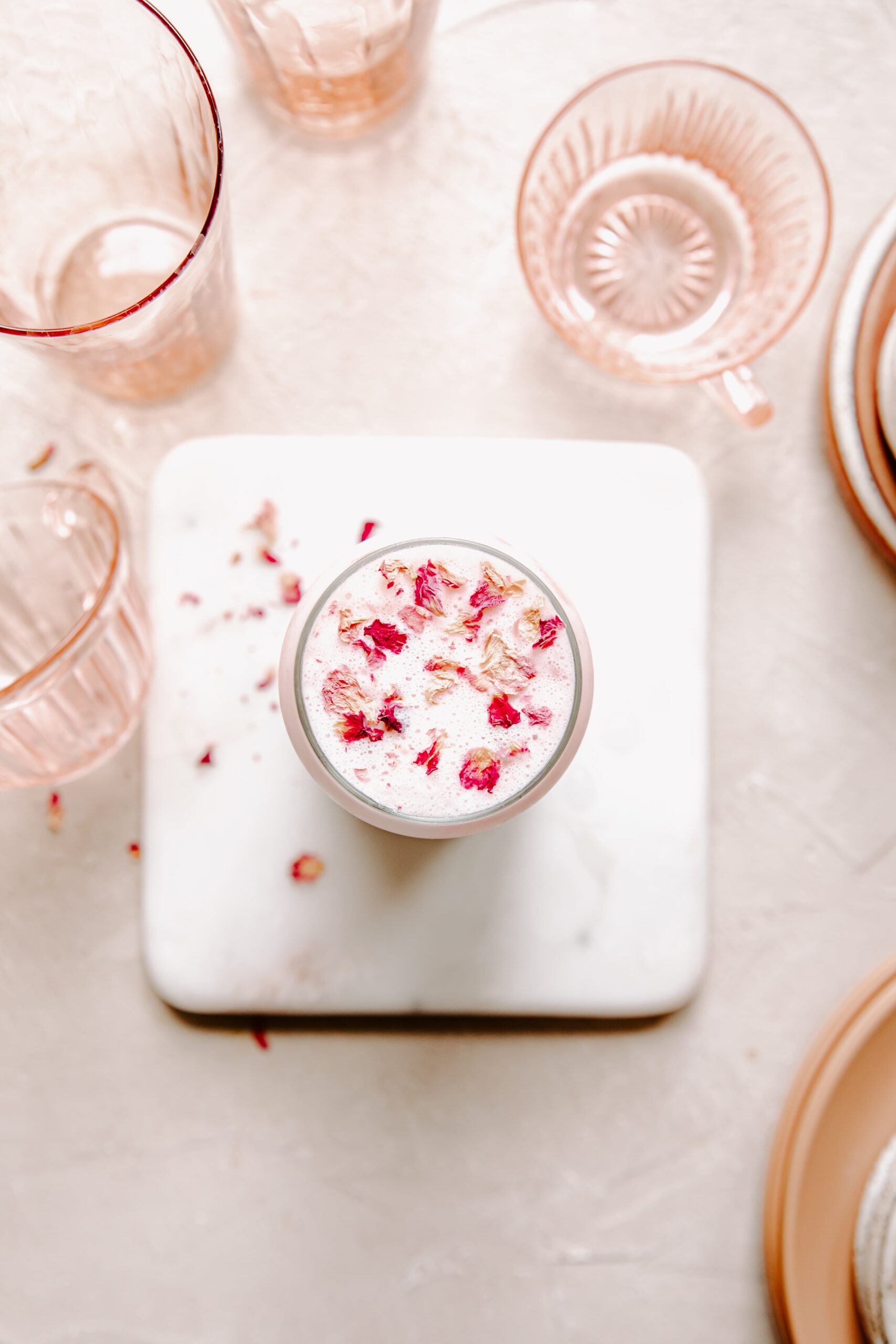 What Is Boba?
The pearls at the bottom of these drinks are called boba!
Boba pearls are made from tapioca, which is the starch extracted from cassava. So while they may feel like gelatin, they are totally vegan friendly!
The pearls are boiled and slightly cooled before being served in the tea. The texture is chewy and can be slightly sweet. It creates a truly unique tea-drinking experience.
I purchased black boba pearls from Amazon that you cook yourself. It was so easy to do and much more cost effective than ordering an expensive drink at a cafe. They even came with those huge straws necessary to drink the boba!
You can find all different flavors online and in stores. They are fairly easy to get ahold of and you can even make your own boba!
Strawberry Boba Tea Ingredients
With 5 ingredients total, this recipe is not only delicious...its easy! So here is what you'll need to make this strawberry boba recipe.
Strawberries - Cut the stems off and slice them in half. Frozen strawberries would work here as well.
Milk - I used 2%, feel free to use any milk you'd like. Almond milk or coconut milk would even work well for this boba recipe.
Agave Syrup - one of my favorite naturally derived sweeteners. Substitute white sugar here if you don't have agave.
Green Tea Packets - We'll be quickly brewing our own green tea for this recipe, so grab your favorite herbal green tea. It could also be fun to mix up the flavors and do a passionfruit herbal tea here...
Tapioca Pearls - Get the large ones! Black is the preferred color because it creates the signature contrast we're looking for in our strawberry milk boba.
Water - to steep the tea and boil the pearls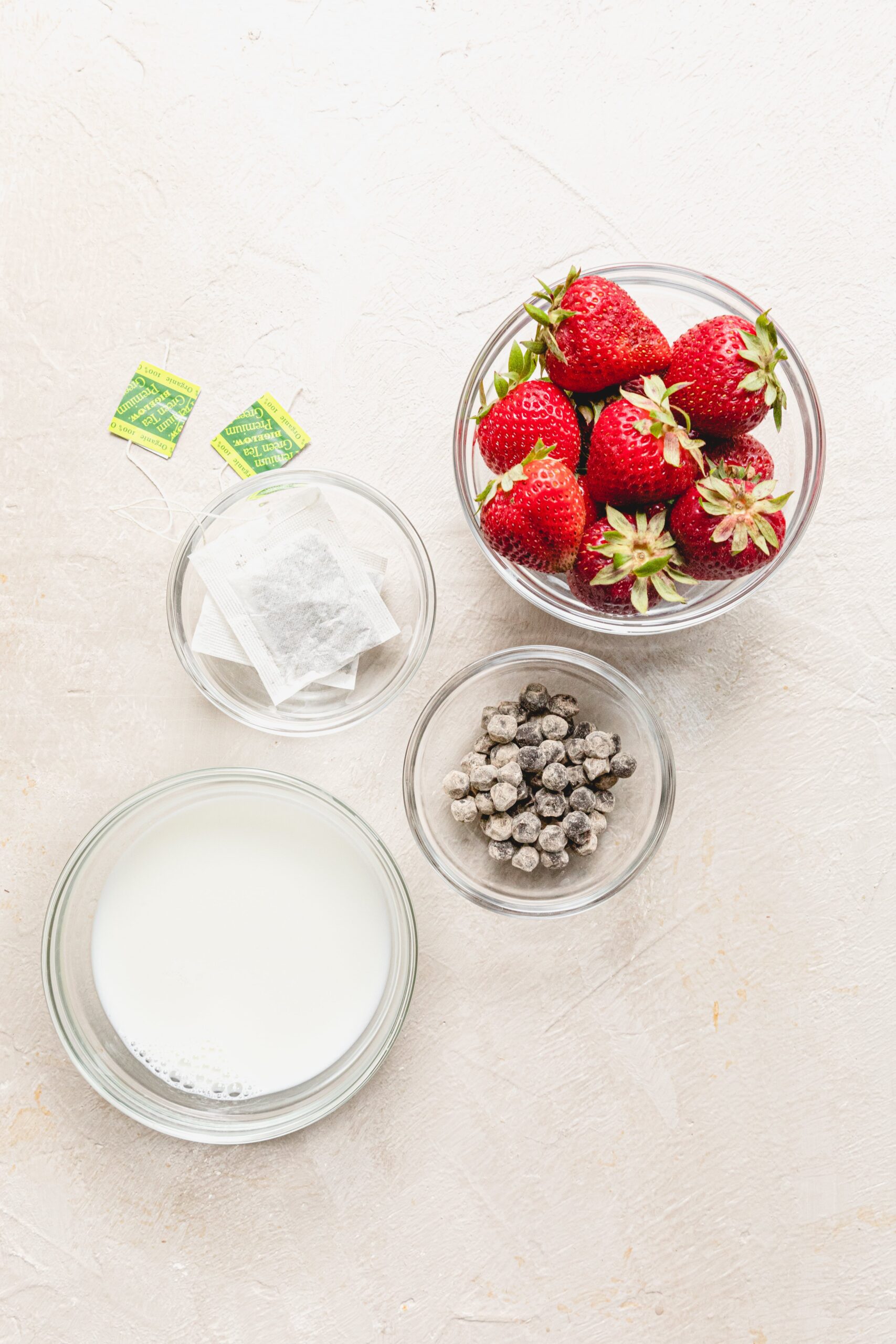 Substitutions
If necessary you can make easy substitutions in this recipe.
Swap in any type of milk you enjoy to make the strawberry milk.
Use frozen strawberries in place of fresh strawberries.
White sugar or simple syrup makes a great alternative to agave syrup.
Play around with different flavored herbal teas in place of green tea.
Tools Needed For Homemade Boba
Easily make Strawberry Boba with these tools...
High-speed blender: This makes blending up the milk a breeze! You could use a food processor too.
Mesh strainer or sieve: We'll strain our freshly made strawberry milk of any seeds or pieces of strawberry that didn't blend up all the way for a super creamy milk tea.
Small sauce pan: For boiling the tapioca pearls in the sauce pan while we prepare the rest of the tea.
Making The Tea
Now that everything is gathered and in order...let's make this tea! It comes together quickly and easily with these steps:
Prepare The Boba
Prepare the boba by boiling a cup or two of water in the sauce pan.
Add the boba pearls to the boiling water and let it boil until the pearls begin to rise to the top.
Boil for 5 minutes then place the lid on the sauce pan.
Remove from heat and allow to sit for 10 minutes.
Remove the boba pearls and set aside to just slightly cool before adding to our tea.
Prepare The Tea
In a small cup, add 1 cup warm water and steep the green tea bags while we prepare the strawberry milk.
In a blender combine strawberries, agave, and milk. Blend well for 1 minute.
Strain into a pitcher and stir in the brewed green tea.
In 2 cups, add equal amounts of the slightly cooled boba pearls.
Top with ice
Pour the strawberry green tea mixture over the boba and give it a stir with the straw.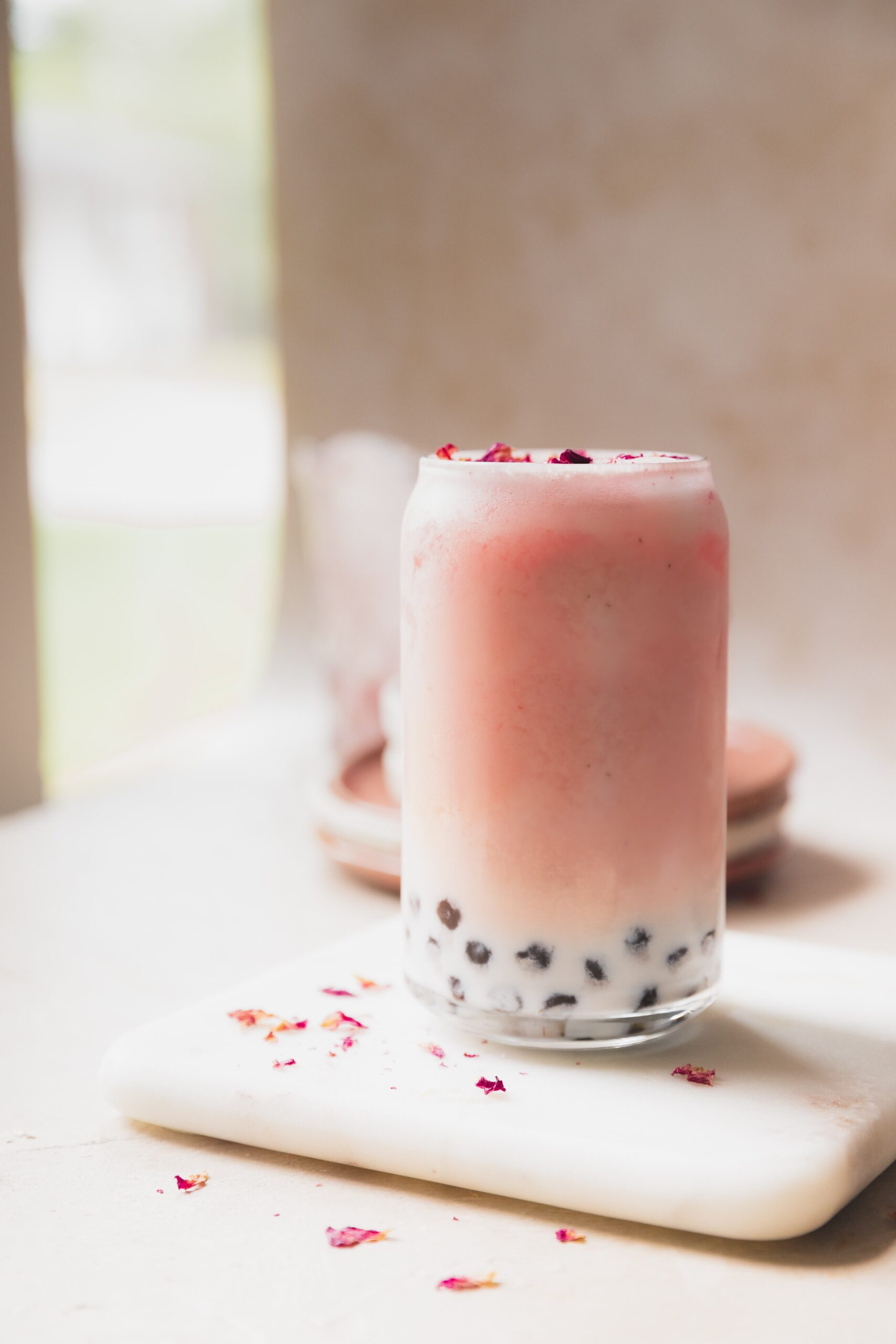 Recipe Pro Tips!
After making and enjoying this recipe a few times, here are my pro tips to help you craft the most perfect homemade Strawberry Boba Tea.
Don't cool the boba completely. This takes away a bit of the chewy texture if they become completely cooled.
Making the boba ahead of time: While you can, I don't recommend it. Make the boba pearls fresh for each batch of tea.
Can you make the tea ahead of time? While I don't recommend making the boba ahead of time, you can definitely make a batch of the strawberry milk tea up to 2 days ahead of time!
Serving suggestions: I love topping these drinks with crushed freeze dried strawberries or sliced fresh strawberries. It adds even more texture and I can't ever have enough of that sweet strawberry flavor.
When To Serve Boba
This is SUCH a fun treat to serve for any occasion but I could especially see kids enjoying this (make sure they are old enough to not worry about choking, though!)
My daughter would have loved this at any of her birthdays! I would also serve this at a girls dinner or even make up individual glasses of it for a bridal shower.
The possibilities are endless and everyone can enjoy this sweet, unique drink.
More Fun Drinks To Make At Home
If you loved making a Strawberry Bubble Tea at home, you'll definitely want to enjoy these other craft drinks!
If you tried this recipe and loved it, leave a rating below and share to Pinterest!
📖 Recipe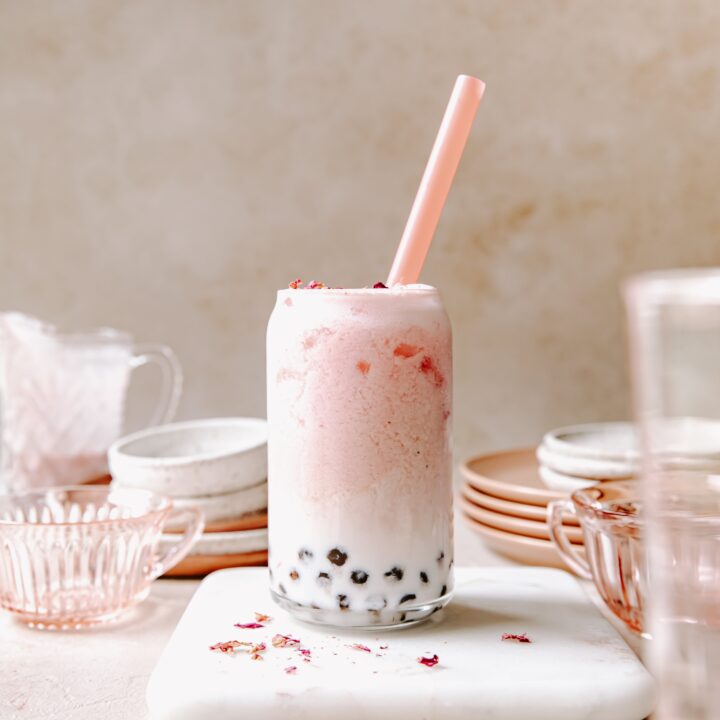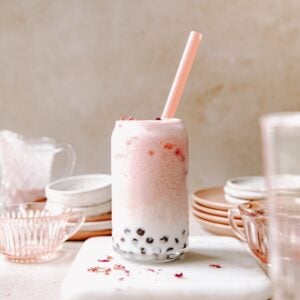 Strawberry Boba Tea
Creamy, sweet, and a unique texture...Strawberry Boba Tea is easier to make at home than you might think.
Share by Text
Print
Pin
Rate
Equipment
1 blender

1 Saucepan

1 mesh strainer or sieve
Ingredients
4

green tea bags

1

cup

water

2.5

cups

strawberries

fresh or frozen

3

tablespoon

agave syrup

2.5

cups

milk

½

cup

large tapioca pearls
Instructions
In a saucepan cook tapioca pearls to the instructions on the bag and set aside to slightly cool.

In a small cup add water and steep the two green tea bags for 5 minutes and set aside

In a blender combine the milk, strawberries, agave and blend well for 1 minute. Strain into a pitcher.

In 2 cups add the boba pearls to the bottom, top with ice.

Pour in the strawberry milk and top with green tea. Stir and enjoy!