My ridiculously simple Sesame Seared Ahi Tuna recipe looks and tastes super impressive, but is a snap to make. Made with just 10 easy-to-find ingredients and just 10 minutes of active cooking time, this showstopping seafood main is easy enough for even the busiest weeknights.
Jump to: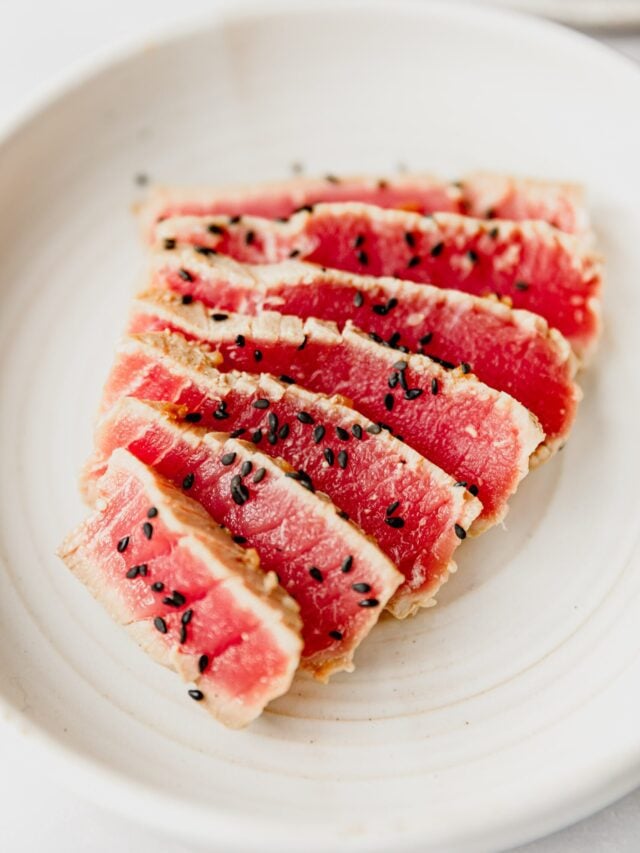 What Is Ahi Tuna?
Ahi is the Hawaiian name for two types of large, tropical, sea-dwelling fish — yellowfin tuna and bigeye tuna. While smaller catches can weigh in at just 3 pounds, the larger catches can surpass 300! I tend to prefer the slightly milder flavor and firmer texture of yellowfin, but both are quite delicious.
Either variety you choose, you can expect a meaty fish with a pink to dark red hue and a mild, buttery flavor that makes it perfect for searing, grilling, or eating raw as poke, sashimi, nigiri, or maki. Also, please note that both types of ahi are typically less expensive than bluefin tuna, but bluefin can be used interchangeably in this recipe.
Why This Meal Is The Best
Whenever I go out to eat, it seems that there's some kind of ahi on the menu. Whether it's a seared tuna salad, sesame crusted tuna, or a pan-seared tuna steak, one thing remains the same: I'm probably going to order it.
Why? Because it's an excellent source of protein that's almost inevitably going to be delicious!
The only bummer about eating seared ahi tuna recipes prepared at restaurants is that they're EXPENSIVE. Who wants to pay $20 for a salad? Not this gal!
Luckily, I've cracked the code on how to perfectly prepare tuna steaks at home for a mere fraction of what you'd pay to eat out.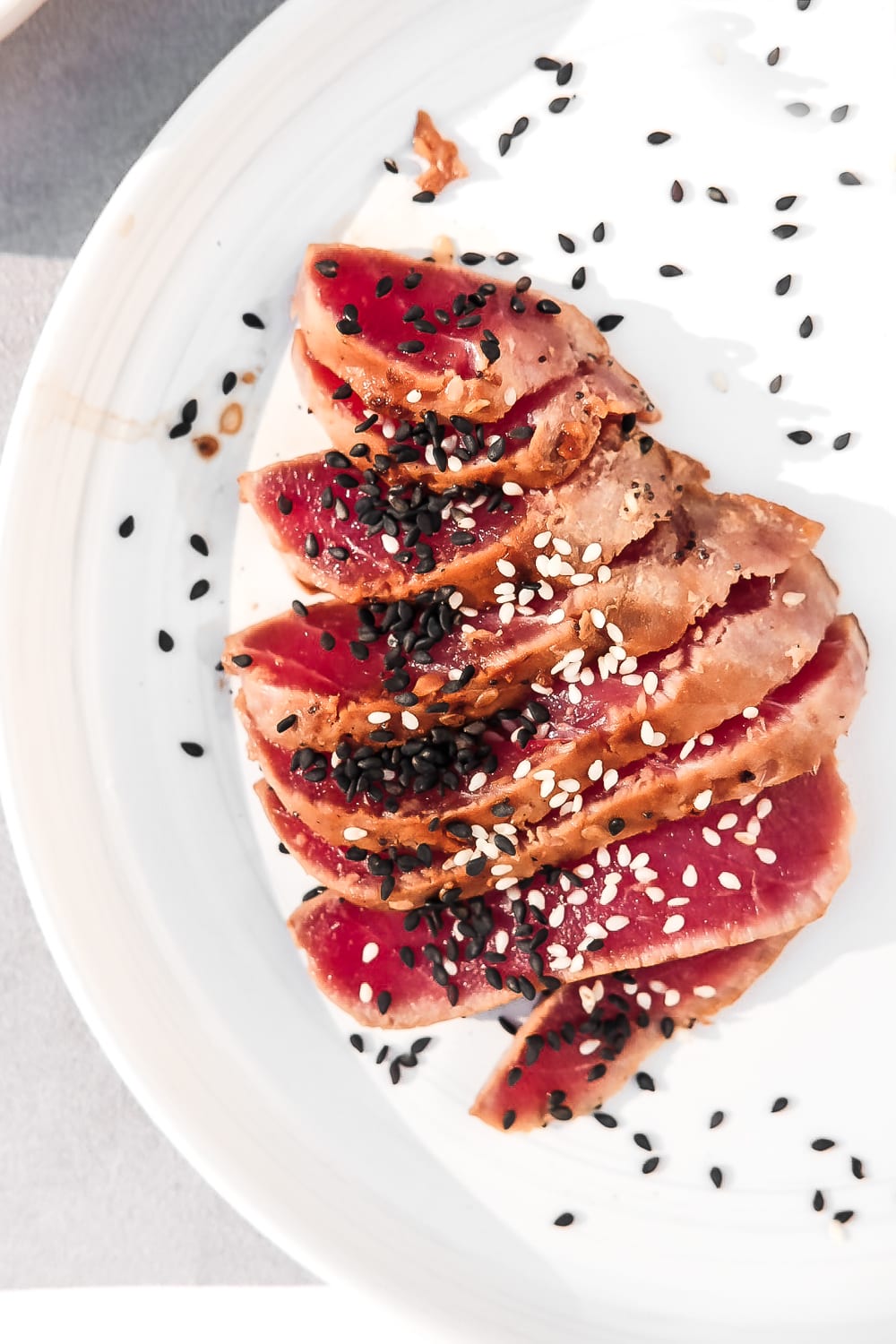 Cooking ahi tuna is way simpler than you might expect. In fact, this seared tuna recipe:
Is Made With Fewer Than 10 Ingredients. And I'd bet you already have most of them in your pantry!
Takes Just 10 Minutes Of Active Time To Prepare. Whip up a quick marinade for your tuna steaks, then refrigerate for a few hours. When it's time to eat, they'll sear up in no time.
Is Wholesome & Nutritious. Ahi is an excellent source of vitamins B12, B6, and D; minerals like phosphorous, iron, iodine, potassium, and selenium; is loaded to the gills (see what I did there? 🤓) with heart-healthy omega-3 fatty acids; and is an excellent source of protein. What's not to love?
Saves Tons Of Money. Cooking yellowfin tuna at home is a simple way to save you money. A pound of ahi costs around $10 where I live. Most restaurant portions are no more than a ¼ pound and can easily run upwards of $15 or more. I wasn't a math major, but that seems like a significant amount of savings, no?
And Is Super Versatile! Serve this sesame seared tuna over salad for a light entrée, turn it into a tasty tataki platter, or tuck it into taco shells for a fun fusion recipe. No matter how you slice it, this is a great fish recipe!
Sesame Seared Ahi Tuna Ingredients
As promised, you don't need much to make this beautiful ahi tuna steak recipe. Here's what to gather:
Ahi Tuna Steaks - Roughly 2 large steaks should be plenty to feed 4 adults.
Soy Sauce - Feel free to swap in tamari if you're gluten-free, or low-sodium soy sauce if needed. If soy is off the table, try using coconut aminos (gluten-free) or Bragg's liquid aminos (not gluten-free) instead.
Everything But The Bagel Seasoning - Trader Joe's doesn't have the monopoly on this tasty seasoning anymore! You should be able to find it at most grocery stores including Kroger, Aldi, Publix, and Walmart.
Sesame Oil - For extra rich and toasty flavor.
Salt & Black Pepper - If possible, use freshly ground black pepper for the best flavor.
Hot Honey - Ever since I first tried Mike's Hot Honey a few years ago, I've been hooked. You can easily swap in regular honey if you don't like spicy flavors, or you can make your own hot honey using a few pantry staples.
Lemon - Fresh is always best, especially when it comes to citrus juice. To get the most juice from your fruit, give it a firm roll on the countertop for 10-15 seconds before slicing it open.
Coconut Oil - Be sure to reach for REFINED coconut oil here, as unrefined has far too low of a smoke point. You can also swap in any other high heat-friendly oil like grapeseed oil, avocado oil, or peanut oil.
Black Sesame Seeds - For a subtle crunch and a lovely color contrast. You can also use lightly toasted white sesame seeds if you prefer.
Tools Needed
I told you this was an easy recipe, so rest assured you only need a few basic pieces of equipment:
Heavy-Bottomed Pan - I typically reach for my enamel coated Dutch oven (for less splatter) or my cast iron skillet because they are the heaviest pans I have. The heavier the bottom, the more even the heat will be, resulting in a perfectly even sear.
Mixing Bowl & Whisk - For making the marinade.
Baking Dish - For marinating the tuna steaks.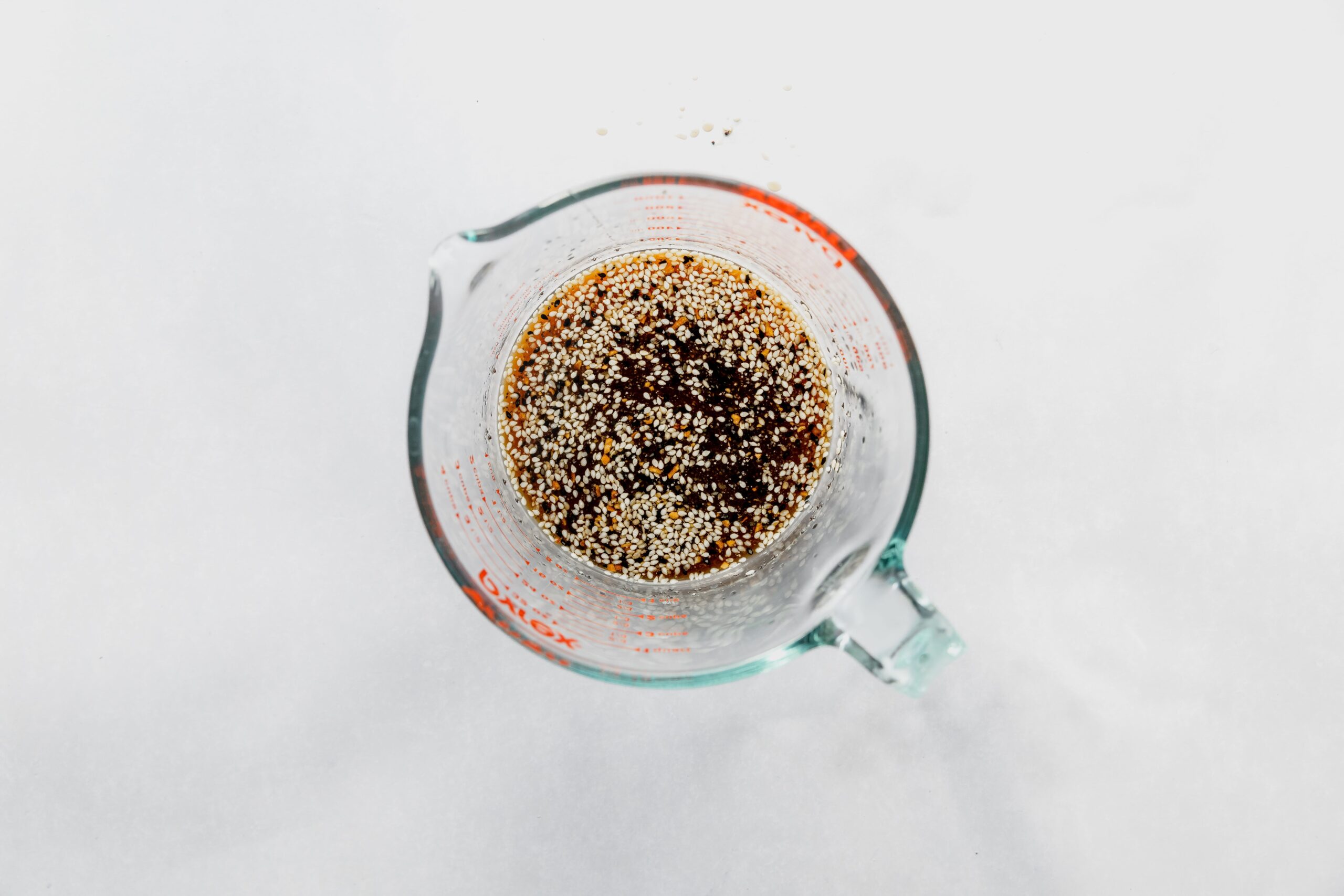 How To Make This Seared Tuna Steak Recipe
I'm thoroughly convinced that this is the best way to cook tuna steaks. It's seriously SO easy! Here's how it's done:
Step 1: Make Marinade. In a small bowl combine all marinade ingredients and whisk to combine.
Step 2: Marinate. Place your tuna steaks in a shallow dish and pour the marinade over them. Cover and let sit in the refrigerator for 3-6 hours. If you have the time, I suggest leaving them in the full 6 hours for the best flavor.
Step 3: Heat Oil. Get your oil screaming hot in a cast iron pan over high heat. I use a dutch oven because the sides are tall and there is less splatter.
Step 4: Sear. When the pan is scorching hot and the oil is nearly smoking, lay one tuna steak down in the oil. Cook for 45 seconds to 1 minute depending on the level of rareness you like. Flip to the other side and cook for an additional 45 seconds to 1 minute. Remove from pan and lay on a cutting board to rest for 5 minutes. Repeat with the second tuna steak.
Step 5: Slice. After the tuna steaks have rested, cut them into thin slices using a serrated knife moving against the grain of the tuna.
Step 6: Plate & Enjoy! Top with sesame seeds, sliced avocado (if you like), then serve.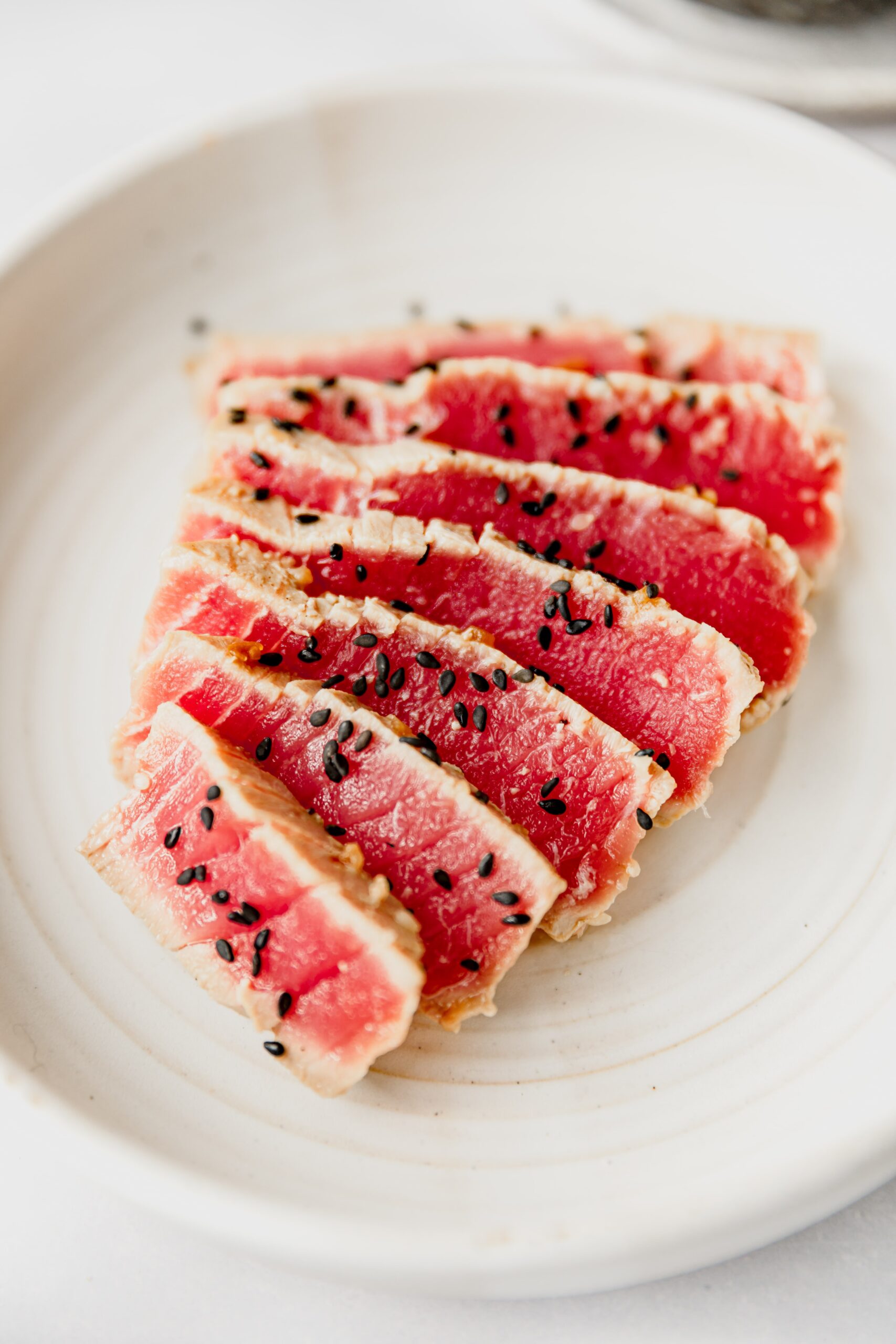 Swaps & Substitutions
This seared yellowfin tuna steak recipe is pretty much the bee's knees, but there's always room for customizations. Here are a few ideas to get your creative juices flowing:
Make it spicy - If you're among the some who like it hot, feel free to amp up the spice by adding a dollop of sambal oelek or sriracha to the marinade.
Grill instead of sear - Cooking tuna steaks is super simple. All you need is very high heat and a minute or less per side. Feel free to make these bad boys on the grill instead of the stovetop if you prefer to cook and dine al fresco.
Make a seared tuna sauce - Make extra marinade as a delicious dip, and/or drizzle with wasabi or sriracha aioli. Bonus points if you use Japanese kewpie mayo!
FAQs & Tips
Is seared tuna still raw? If cooked properly (i.e. over very high heat for no more than a minute per side), then the interior should still be somewhat raw. Overcooking the tuna leads to a dry, gray interior that overshadows the light, mildly sweet flavor of the fish, so do your best to keep it nice and pink in the center.
Is it safe to eat raw ahi tuna? So long as the tuna has been frozen at -4℉ (-20℃) or below for 7 days , at -31°F (-35°C) or below until solid and storing at -31°F (-35°C) or below for 15 hours, or at -31°F (-35°C) or below until solid and storing at -4°F (-20°C) or below for 24 hours is considered food safe by the FDA and is likely to kill most parasites. I'd imagine that any fish you find in the frozen aisle should easily meat these qualifications.
If you are worried, you can always take the added precaution of purchasing your fish from a reputable fishmonger and requesting "sushi grade" fish. That said, a small risk still exists, so pregnant or breastfeeding women, small children, and the immunocompromised should avoid eating raw tuna.
In addition, you should note that large sport fish like tuna that eat other, smaller fish have a higher mercury content than smaller fish like sardines or oysters. As such, you should limit your intake of tuna to no more than a few times per month.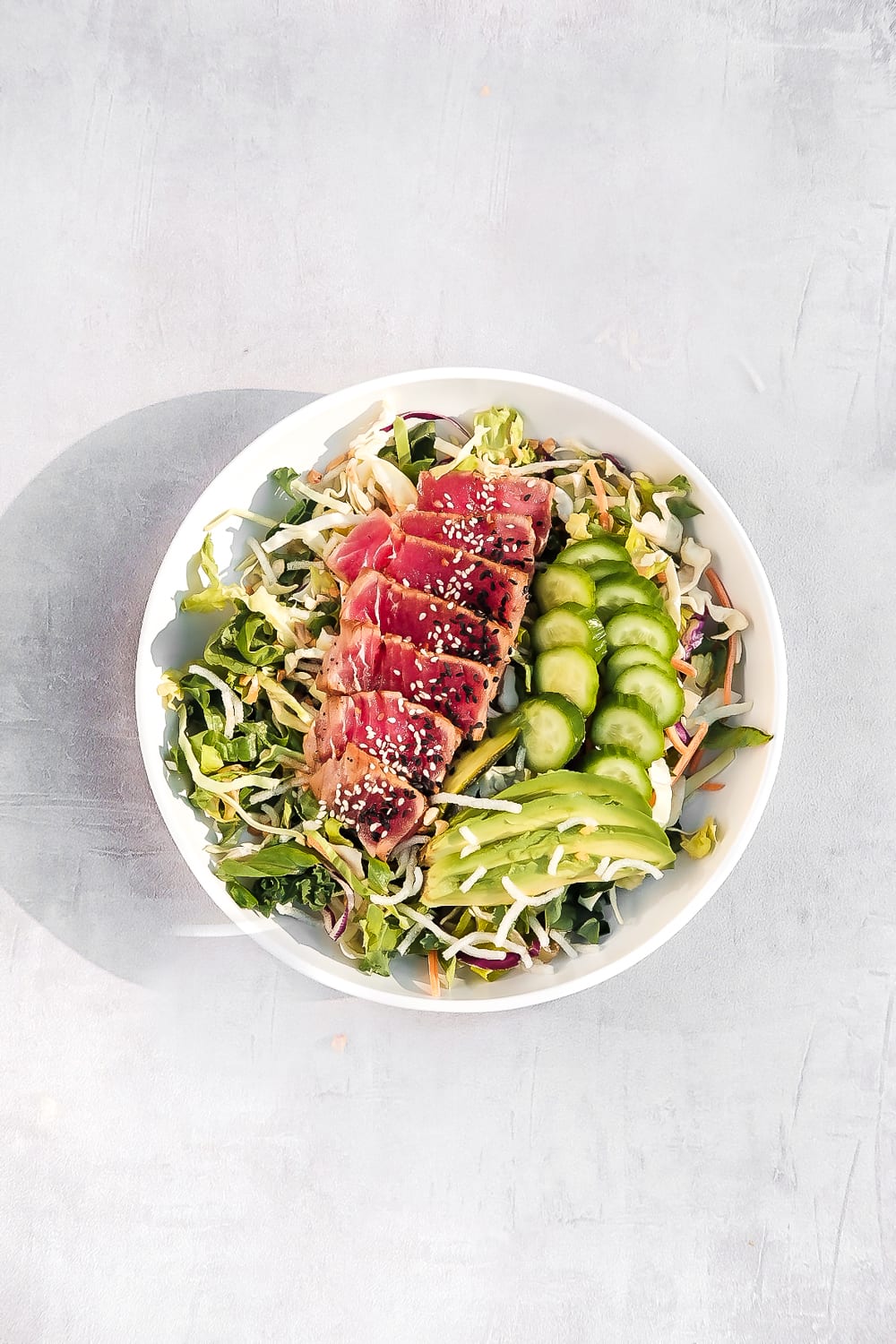 Is it safe to eat leftovers? If properly refrigerated, seared tuna should keep well for 24 hours.
What is the best type of tuna to use? In terms of flavor, I think bluefin tuna is superior, but it's not technically ahi and it's also quite expensive. Next in line would be yellowfin tuna, followed pretty closely by bigeye tuna.
Pro Tip: How to thaw frozen fish - First, remember that since you're merely searing the tuna steaks, the fish doesn't need to be fully defrosted all the way through. In fact, having the center be slightly frozen can act as a precaution against overcooking!
If you're in a rush, keep the tuna steaks wrapped in plastic, place them in a deep bowl, and put them under cool, running water. They should defrost in about 10 minutes. You can also defrost them overnight in the refrigerator.
Pro Tip: Make extra marinade as a dipping sauce - This sesame-soy-honey marinade is so good, I'd honestly eat it by the spoonful. Make a little extra to serve as a dipping sauce, especially if you're serving the seared ahi with white rice.
What To Serve With Seared Tuna
A seared ahi tuna salad is a classic, in my opinion. To make things easy, I'll often turn to a bag of Your Taylor Farms Asian Salad mix (your guests will never know!) and thinly sliced avocado. Homemade salads work just as well.
This sesame tuna is also excellent served with a side of sticky rice and a simple cucumber salad. Or you can serve it chirashi-style over a bowl of sushi rice and top it with some pickled ginger, avocado, and sunomono for a hearty feast.
If you'd like to eat this as more of an appetizer, try plating it on a long rectangular plate and top it with ponzu or some extra marinade for a homemade take on tuna tataki.
Finally, try making it into a fusion dish by using it in my simple tuna taco recipe!
More Fast & Easy Recipes
If you tried this recipe for my Sesame Seared Ahi Tuna, please be sure to let me know how it turned out by rating and reviewing it below. You can also always tag me in your social media posts — I love seeing your creations and cheering you on!
📖 Recipe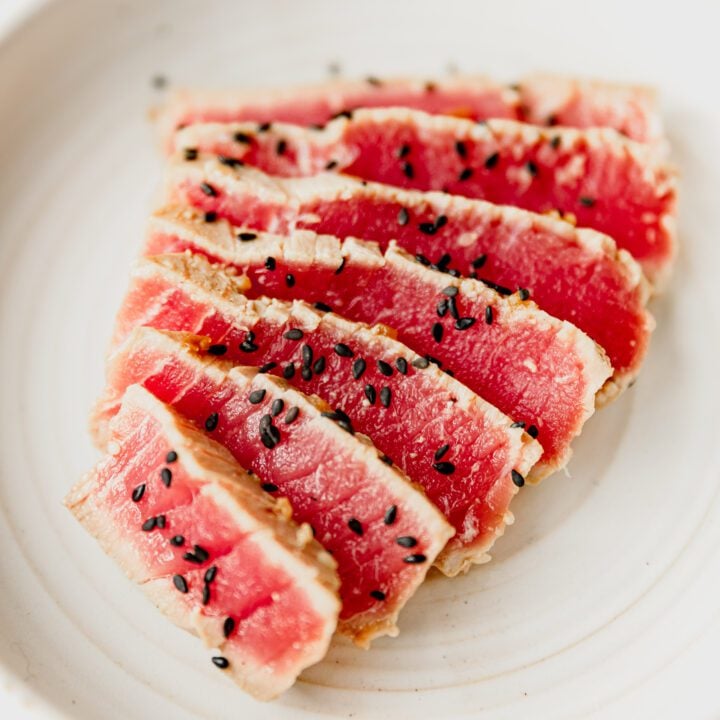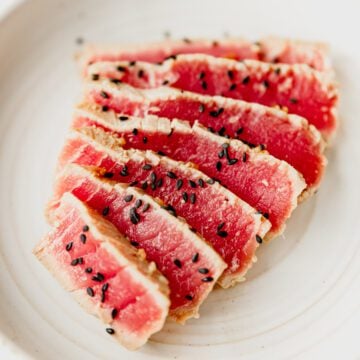 Seared Ahi Tuna
You won't believe how easy making seared ahi tuna at home is! Deceptively easy and so healthy.
Print
Pin
Rate
Equipment
dutch oven or cast iron skillet

mixing bowl

whisk

baking dish
Ingredients
1-1.5

lbs

Ahi Tuna Steaks

This is usually about 2 large tuna steaks
Ahi Tuna Marinade
3

Tablespoons

Soy Sauce

1

Tablespoon

Everything But The Bagel Seasoning

1

Tablespoon

Sesame Oil

½

teaspoon

Salt

½

teaspoon

Black Pepper

1

Tablespoon

Mikes Hot Honey

or regular honey

Juice of 1 lemon

3

Tablespoons

coconut oil

Black Sesame seeds for garnish
Instructions
In a small bowl combine soy sauce, sesame oil, everything but the bagel seasoning, salt, pepper, lemon juice, and hot honey. Whisk to combine.

In a shallow dish place your tuna steaks and pour marinade over them. Cover and let sit in the refridgerator for 3-6 hours. The longer the better!

Take out your tuna and over high heat get 3 tablesoons of coconut oil screaming hot in a cast iron pan. I use a dutch oven because the sides are tall and there is less splatter.

When the pan is very hot, lay one tuna steak down in the oil. Cook for 45 seconds -1 Minute depending on the level of rareness you like.

Flip to the other side and cook for an additional 45 seconds to 1 minute.

Remove from pan and lay on a cutting board to rest for 5 minutes. Repeat with 2nd tuna steak.

With a serrated knife, cut slices against the grain of the tuna.

Top with sesame seeds and sliced avocado!
Notes
This is also delicious with siracha mayo and a cabbage slaw. 
Nutrition