This creamy Italian chickpea soup recipe will give your regular cold night go-to a run for its money. It's a no-fuss meal that tastes like it came from a restaurant but is easy enough to make at home.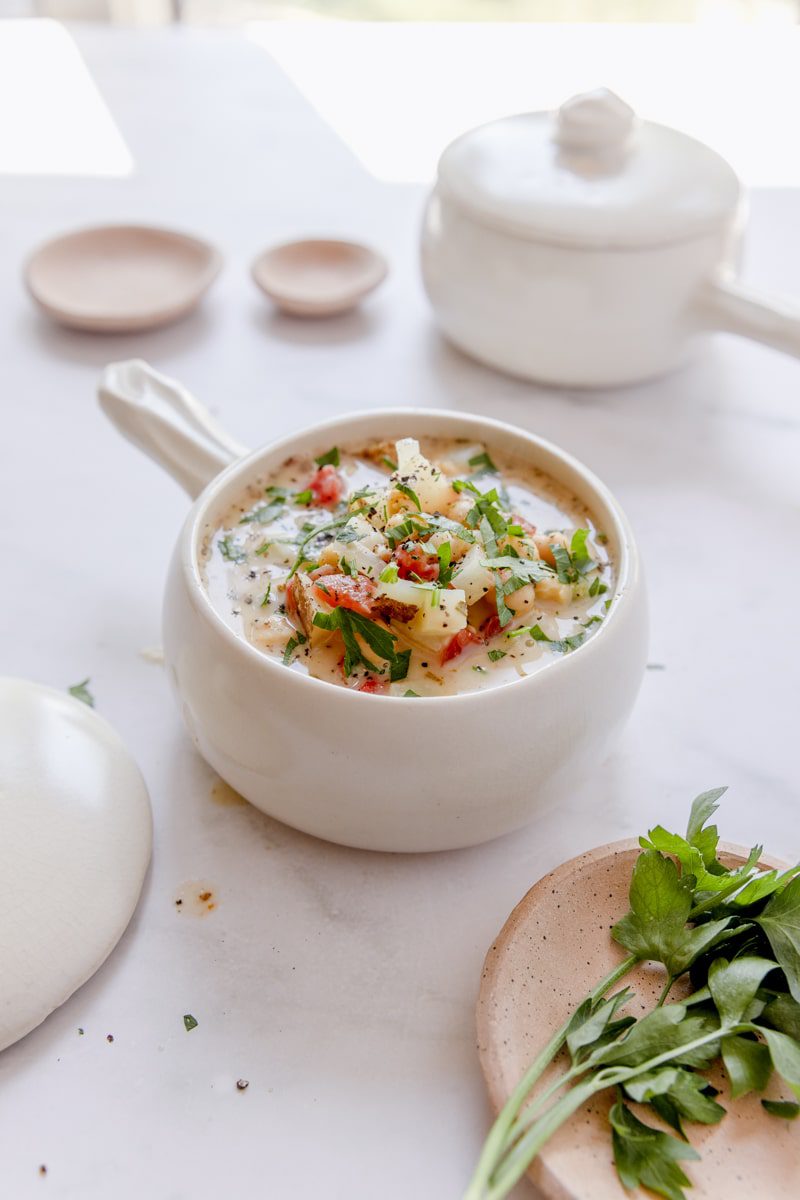 You can serve it with white rice (or brown rice), a side salad, or some crusty bread (like this dutch oven artisan bread) - there's no bad combo here! 
Jump to:
Reasons You'll Love This Comforting Soup
Easy soup recipes are lifesavers. They fill you up without tiring you out first. So, there's no shocker that we love soups as much as we do.
But what's so special about this chickpea soup? Why should you try it?
Here's why...
It gets ready in thirty minutes! Yep, only thirty minutes! So, if you have any surprise visits from friends on a cold night, you can whip it up and impress them.
It's a veggie wonderland. From potatoes and onions to celery and tomatoes, this soup is a nutrient powerhouse.
The recipe is fail-proof. There's no chance it won't turn out good.
It's so straightforward. Simple ingredients, simple tools, simple process - it's the perfect recipe for even beginner cooks.
It's easy to customize. Add whatever you want, however much you want, and when you want. In the end, it all comes together to create a delicious and comfy bowl of soup.
It's even better the next day. Say whattttt! Yep, that's my absolute favorite part of this recipe. I can make a big batch and save the leftovers for the next day. No flavor mess-ups. In fact, it just gets yummier.
Ingredients for the Hearty Chickpea Soup Recipe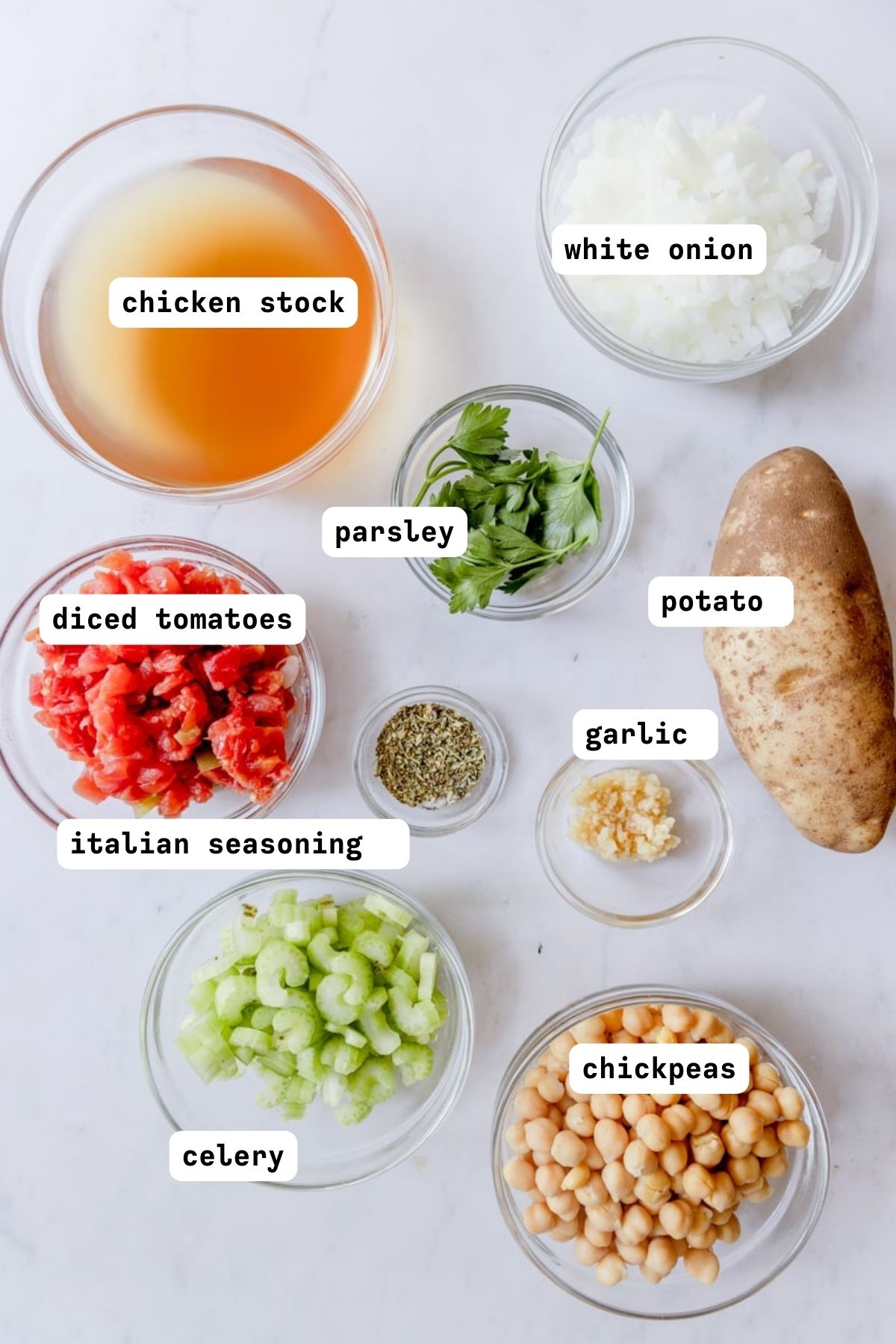 Olive Oil: You'll need olive oil to sautee your veggies before adding them to soup. If you're worried about it burning, go for avocado oil - it has a higher smoke point.
Garlic Cloves: Fresh garlic cloves are the most aromatic. Make sure you mince them well.
Onion: Use diced white onion. Its subtle sweetness will balance the rest of the flavors. 
Celery Stalk - Add a crunchy texture to your chickpea soup recipe with diced celery stalk. Make sure to sauté the celery for a few minutes before adding the rest of the ingredients. This will help intensify the flavor of your soup. 
Russet Potato: Russets will soak up the soup liquid and become creamier. That's just what we want!
Chickpeas - Never say no to shortcuts - use 2 cans of chickpeas for ease. But if you enjoy kitchen labor, dry garbanzo beans (same thing) work just fine. You'll only need to soak them for hours and budget some time to cook them.
Tomatoes: Let this juicy, vitamin C-rich fruit add a pop of color and a flavorful balance to your soup. 
Chicken Stock: Chicken stock has a nice and thick texture. But if you prefer a more liquid-y soup, you can use chicken broth. If you want to keep it vegetarian, vegetable broth it is!
Fresh Parsley: Add a touch of green to your soup bowl with freshly chopped parsley. After all, you eat with your eyes first.
Seasonings: You'll need some Italian seasoning, a dash of salt and black pepper, and a wee bite of red pepper flakes for flavor. 
Refer to the recipe card at the end of the blog for quantities
Optional Ingredients
Soups are versatile. You can add just about anything to these comfort dishes and make them extra special.
Here are some ideas for you:
Fresh Herbs - Sprinkle some fresh cilantro or fresh thyme before serving your hearty soup. You can also add a dried bay leaf during the cooking process for a flavor boost.
Vegetable Choices - Bell peppers, sweet potatoes, carrots, and baby spinach will make the soup more filling. Garnish with some green onions.
Lemon Juice - Squeeze some lemon juice into your soup for a zesty kick!
Cheese Topping - Add some crumbled feta cheese or parmesan cheese for an extra flavor boost.
Meat Topping - Sprinkle some bacon bits or sautéed beef strips to make a meaty topping for your chickpea soup. You can also add some cooked, cubed chicken or ham chunks.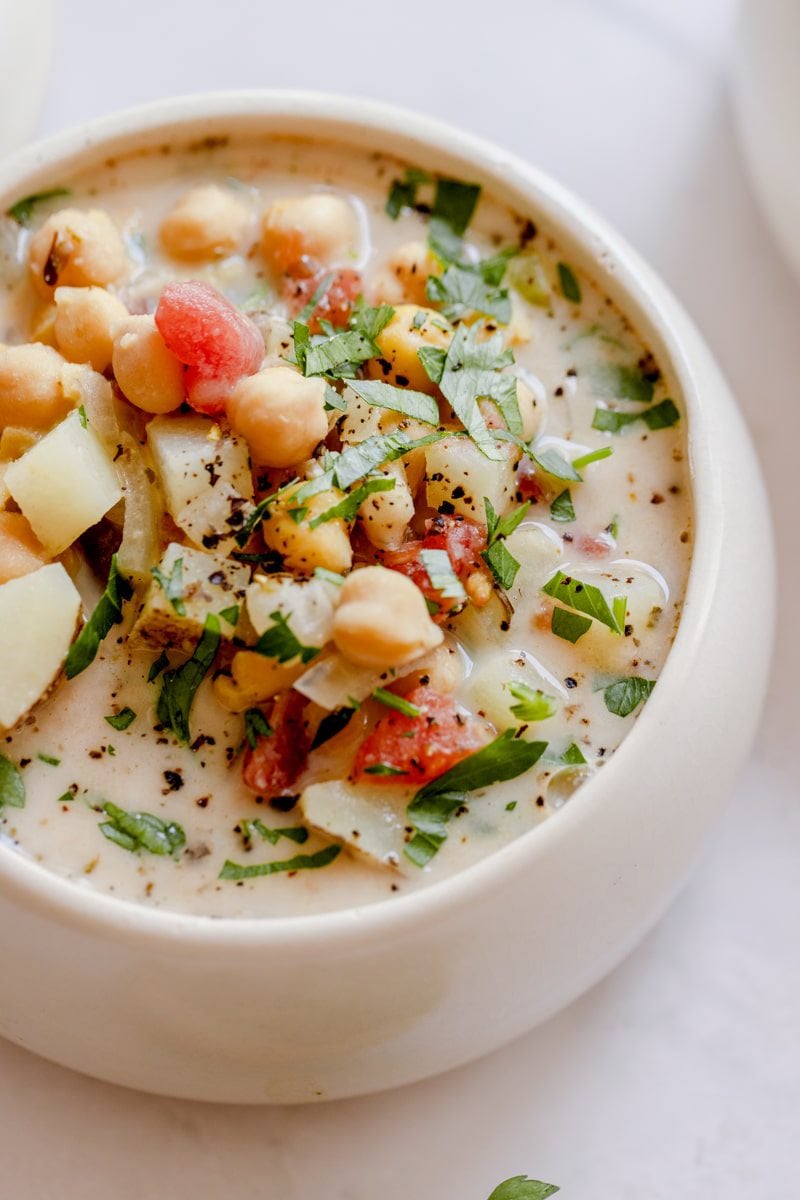 Chickpea Soup Variations
Once you try this filling and creamy chickpea soup, you'll want to have it every day. The good thing is that it doesn't have to taste the same every time. You can try different variations of it (which, by the way, are equally tasty and easy to make) to keep your tastebuds guessing!
Here are some variations you won't want to miss out on:
Italian Chickpea Soup - Go generous with basil, thyme, sage, oregano, and rosemary.
Greek Chickpea Soup - Make some revithia soupa with lots of lemon and oregano.
Chickpea Curry Soup - Add some Indian-inspired flavors like cumin, curry powder, and garam masala. You'll also need some coconut milk for extra creaminess.
Chickpea Noodle Soup - Add your favorite pasta and a lot of vegetable stock for a chewy and hearty soup.
Making the Best Chickpea Soup Recipe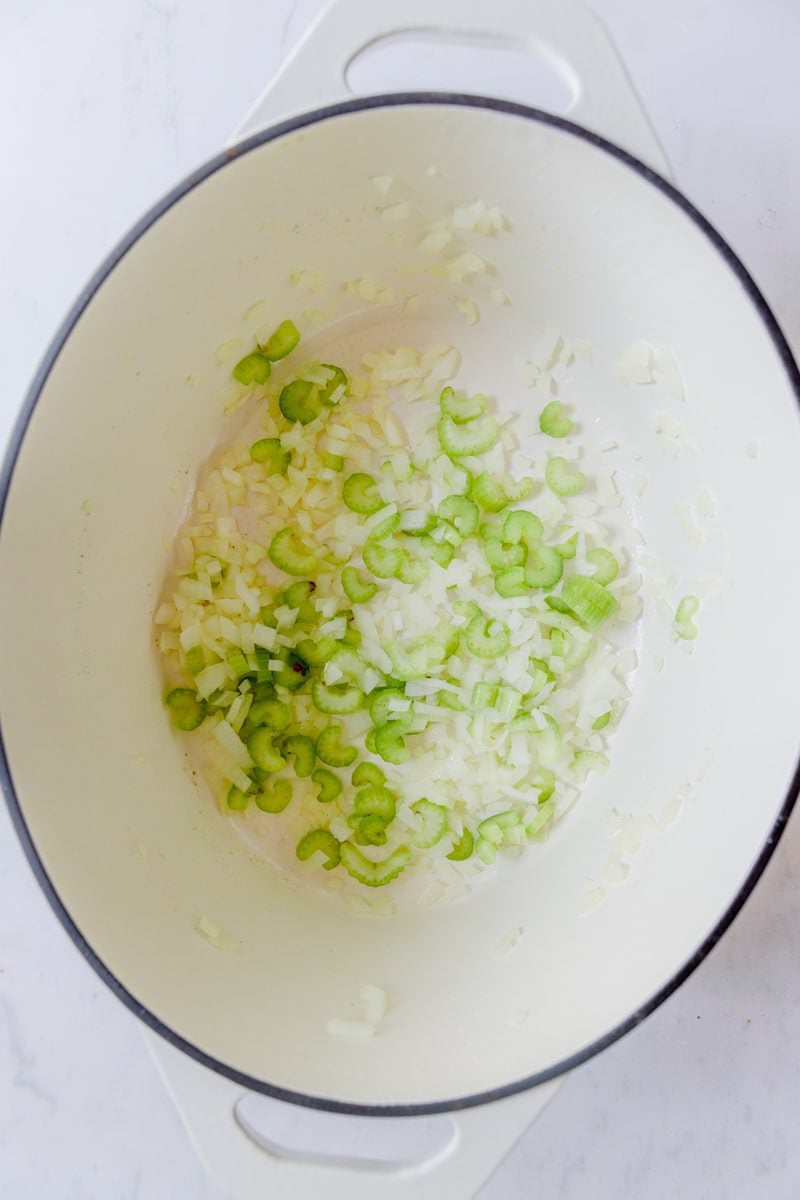 Heat olive oil in a dutch oven over medium heat and then sauté onion and celery.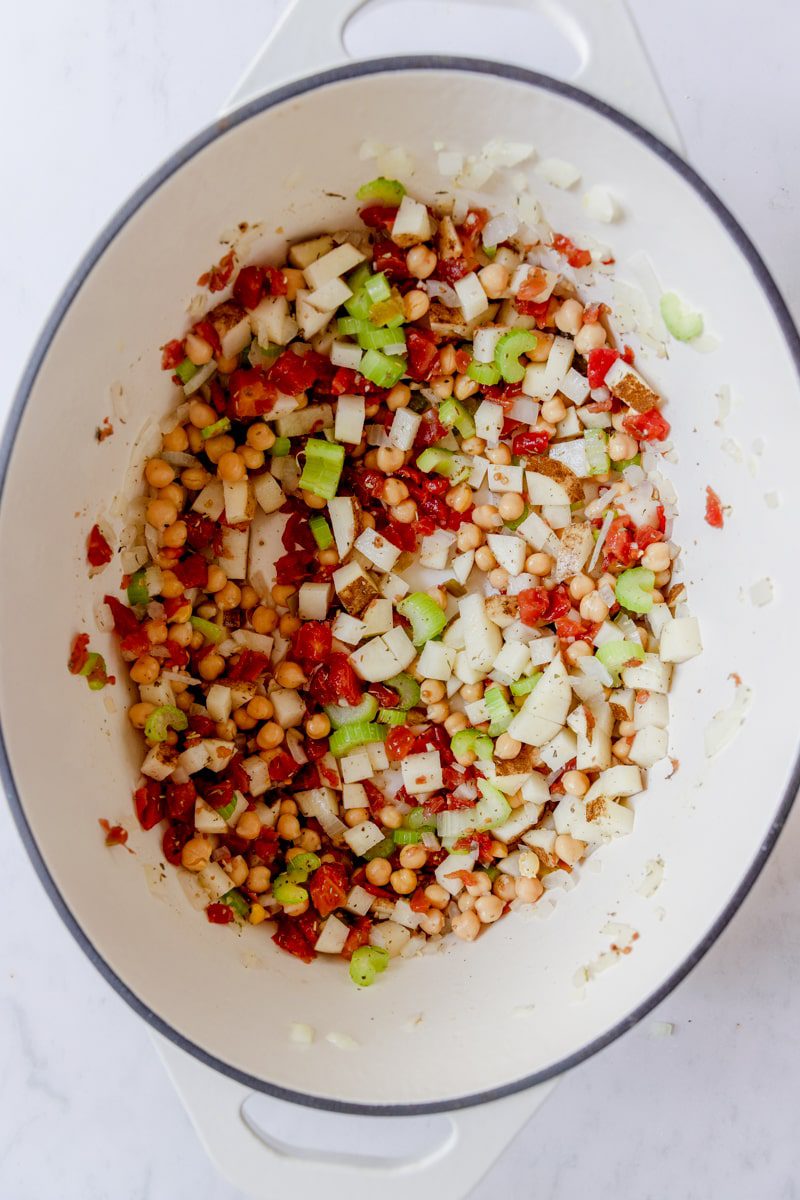 2. Stir in chickpeas, tomatoes, potatoes, and seasonings.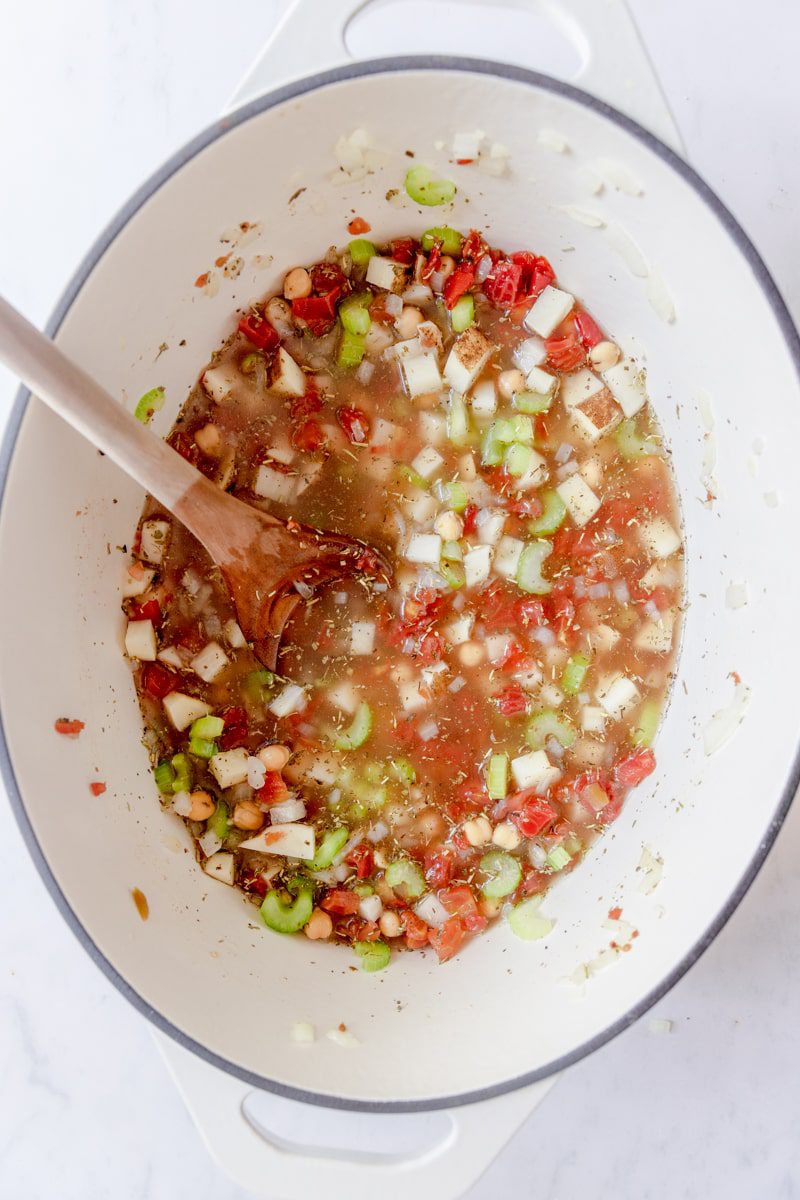 3. Pour in the chicken stock and stir well. Cook 15 minutes until potatoes are tender.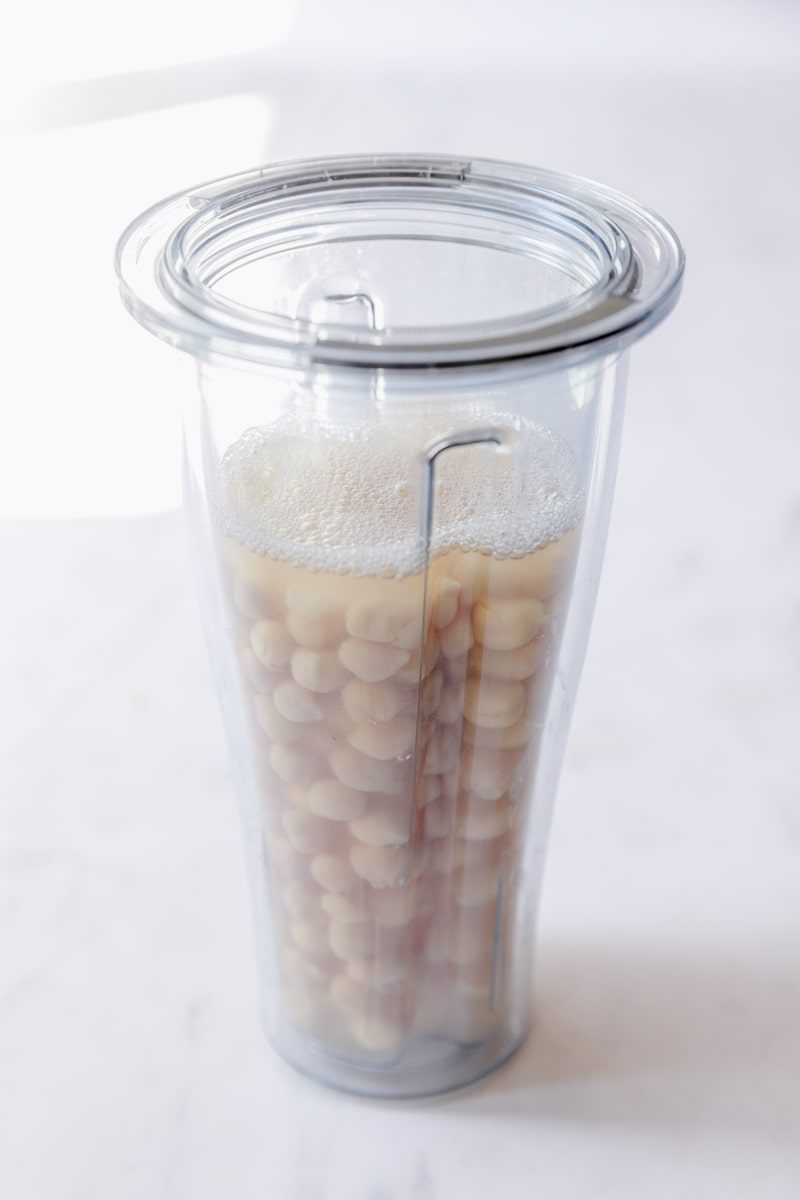 4. In a blender cup, blend canned chickpeas with the liquid until smooth and creamy.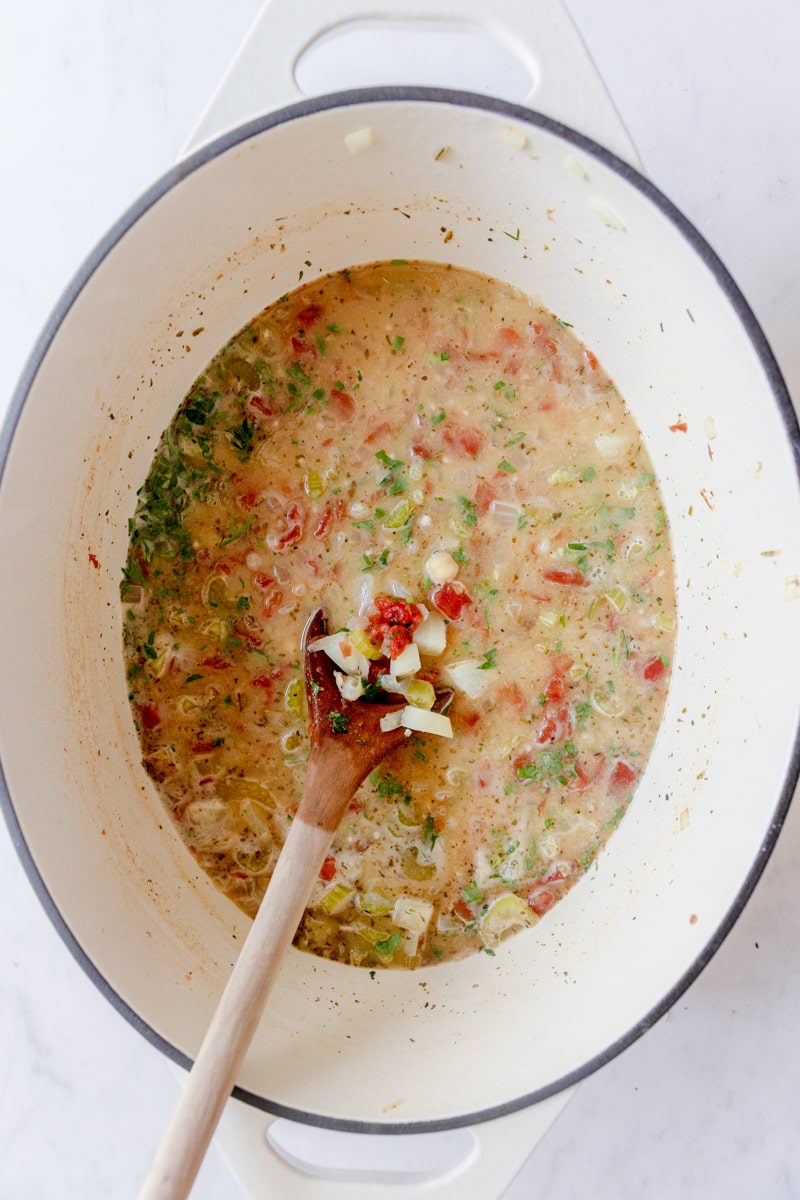 5. Pour the blended chickpeas into the soup and continue cooking for 10 minutes.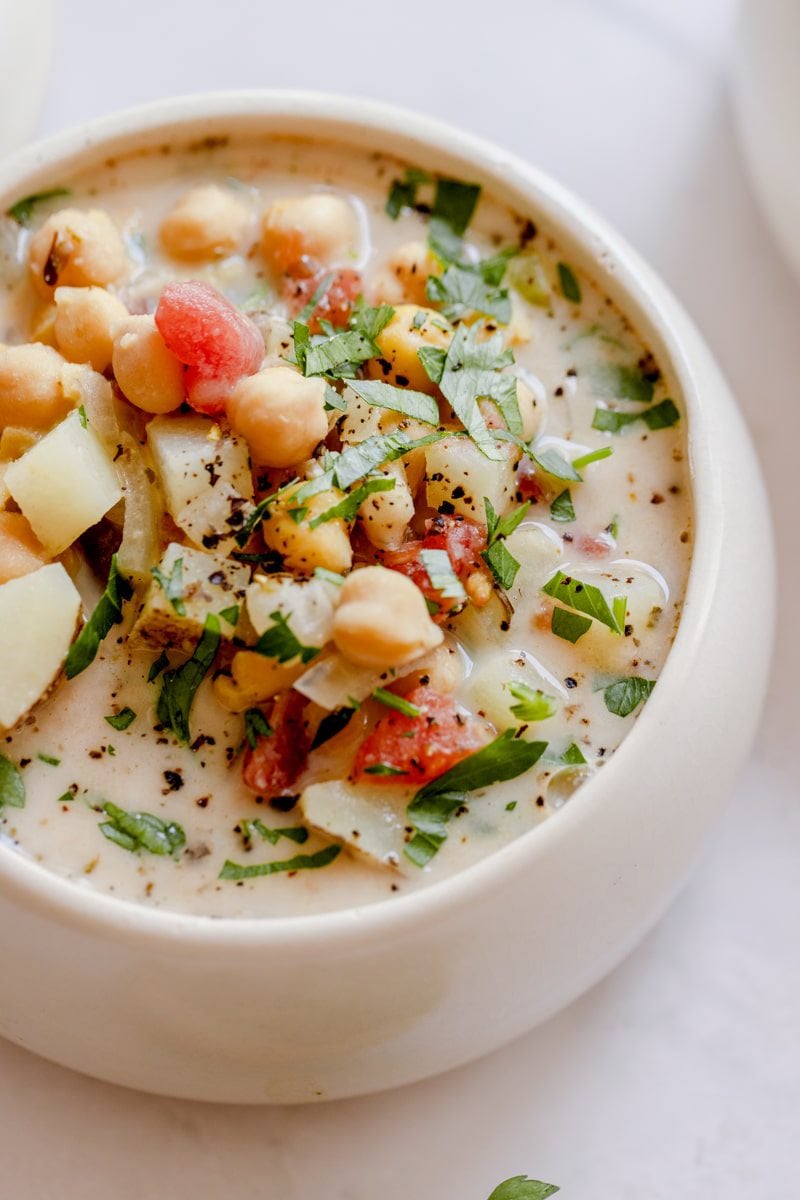 6. Add the soup to dishes and top with fresh parsley. Enjoy!
Tips and Tricks
Making soups is pretty straightforward. It's like a dump-and-go activity. But if you're a new cook, you could use some tips. Here are some that'll make this recipe even easier for you:
Chop your veggies into small pieces for a faster cooking time.
Use low-sodium vegetable stock to get the perfect flavor.
Use leftover soup the next day by thickening it with crushed crackers. This will make a delicious risotto!
Chop and store your veggies in an airtight container beforehand to save time on busy weeknights.
Use a large pot with medium heat to cook the soup properly.
Make a big batch and freeze some for another not-in-the-mood-to-cook kind of day.
Does this hearty chickpea soup sound like something you'd want to try? Well, you should! It's a great way to get in all the essential nutrients with simple ingredients.
If you try this recipe, tell me how it turned out below!
📖 Recipe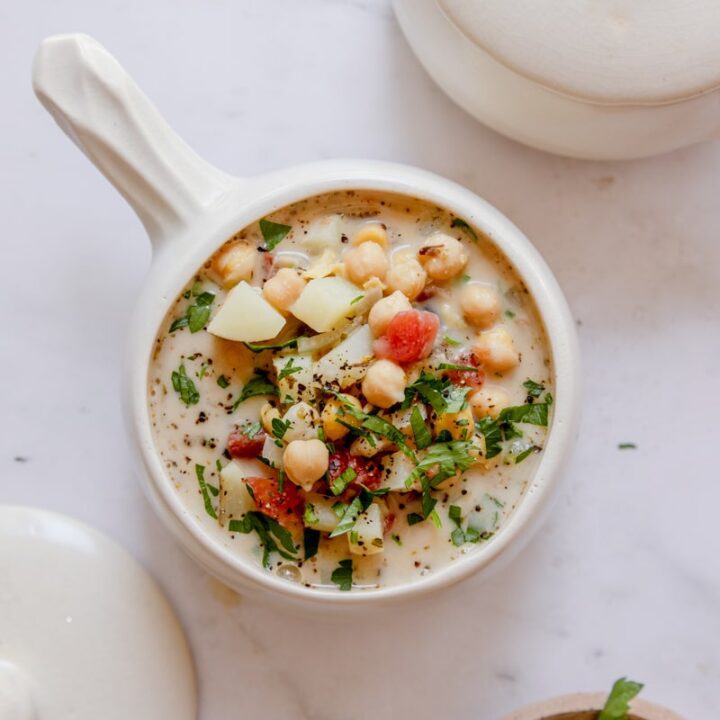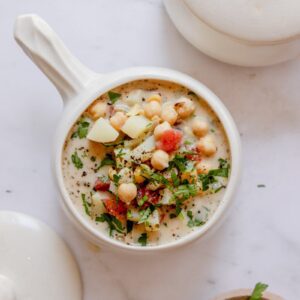 Creamy Italian Chickpea Soup
Delicious and easy to make Creamy Chickpea Soup loaded with good-for-you ingredients makes it the perfect hearty weeknight dinner for the fall or winter!
Print
Pin
Rate
Ingredients
1

tablespoon

olive oil

2

cloves

garlic

minced

1

yellow onion

diced

1

celery stalk

diced

1

russet potato

peeled and chopped

2 14

oz

cans chickpeas

1 14

oz

can diced tomatoes

3

cups

chicken stock

¼

cup

parsley

chopped

1

tablespoon

italian seasoning

salt and pepper

pinch

of red pepper flakes
Instructions
In a large dutch oven add the olive oil and heat over medium high heat.

Add the diced onion and celery. Saute 3-5 minutes until translucent. Then add in the minced garlic. Stir to combine.

Add in potato, 1 can of drained chickpeas, diced tomatoes, chicken stock, and spices.

Bring to a boil, then reduce the heat to medium-low. Cook for 15 minutes.

While that is cooking, add the remaining can of chickpeas, plus the water in the can, to a blender or food processor. Blend until creamy.

Stir the blended chickpeas and the parsley into the soup and allow to cook another 10 minutes.

Serve with crusty bread and enjoy!