Silky smooth with a bright lemony flavor, this creamy poppy seed dressing is a sensational way to top your summer salads, yet it only requires six easy ingredients. Once you start making it yourself, you'll never go back to store-bought salad dressings!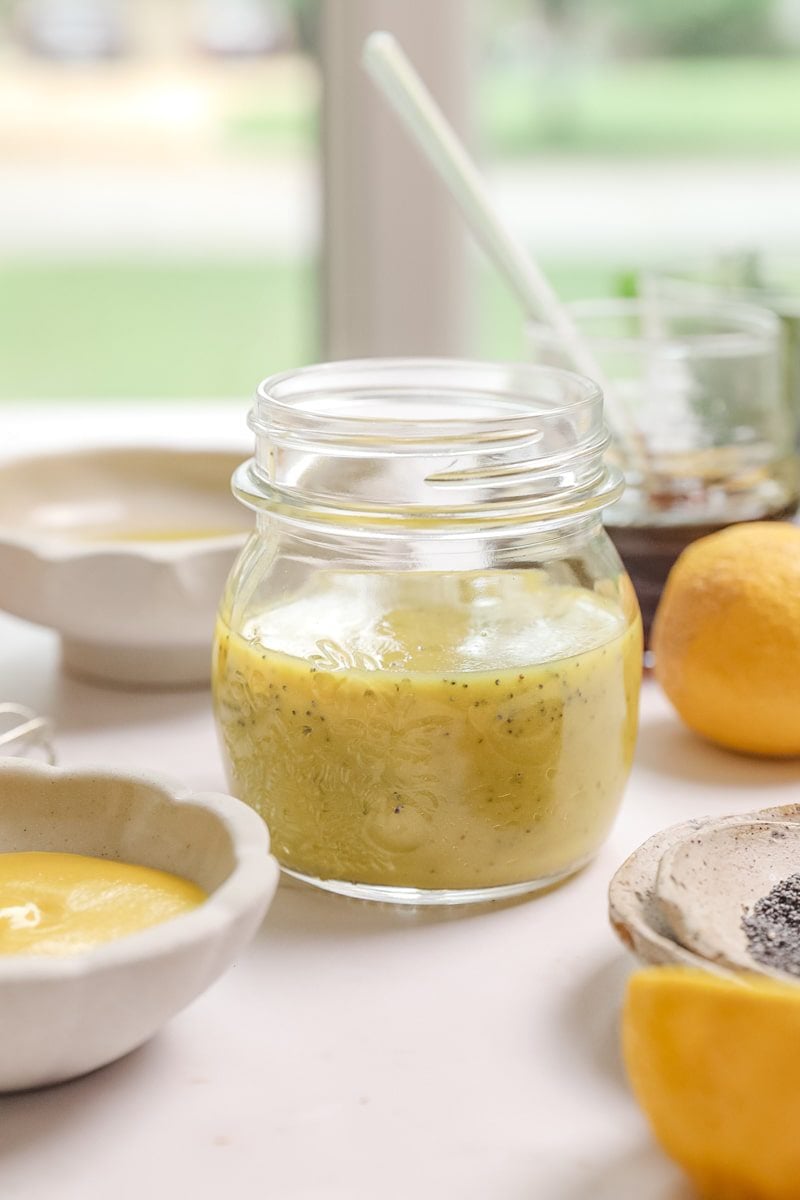 This versatile dressing is one of my favorites to keep on hand for spring and summer! Light, bright, and goes with anything from salads to fruit!
Serve it up on top of a Peach Prosciutto salad or slices of watermelon for a tasty, healthy treat.
Ingredients Needed For Poppy Seed Dressing
Pantry staple ingredients are all you need for this super simple dressing; which is why I LOVE it! Homemade salad dressings are so easy and a healthy alternative to store-bought so here's what you'll need...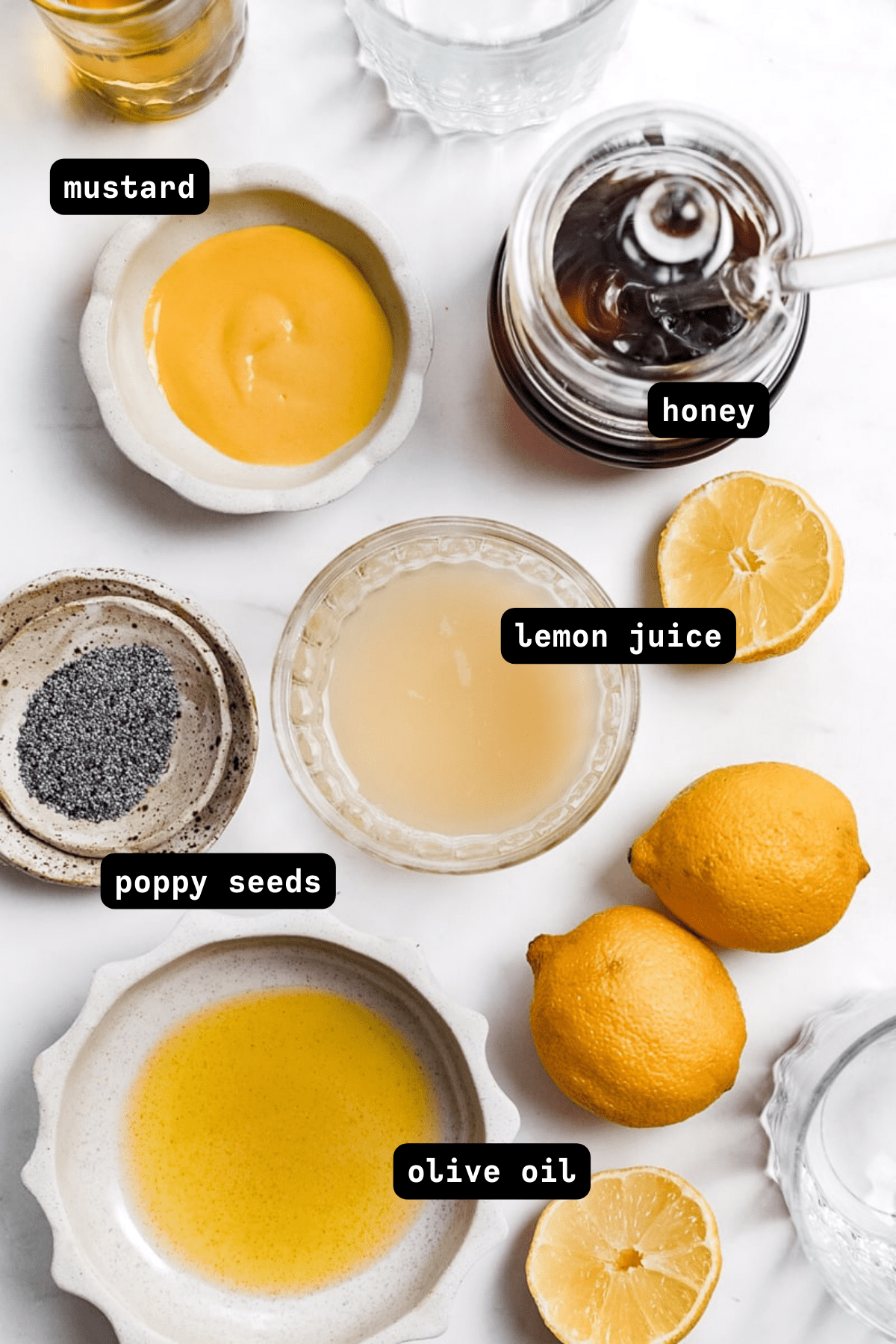 Olive oil: Choose a high-quality light olive oil that won't distract from the flavors in your salad.
Honey: Add a little honey to this homemade salad dressing to make it as sweet as you'd like.
Mustard: You'll need just a touch of mustard to emulsify the oil and lemon juice in this creamy homemade poppy seed dressing recipe.
Poppy Seeds: Crunchy poppy seeds add texture and a delicious nutty flavor that tastes wonderful with fresh lemon juice.
Salt: You'll need a pinch of salt to bring out all the flavors in this recipe.
Lemon juice: Use real fresh lemons for a bright, sunshiny flavor in this healthy poppy seed dressing.
Step-By-Step Instructions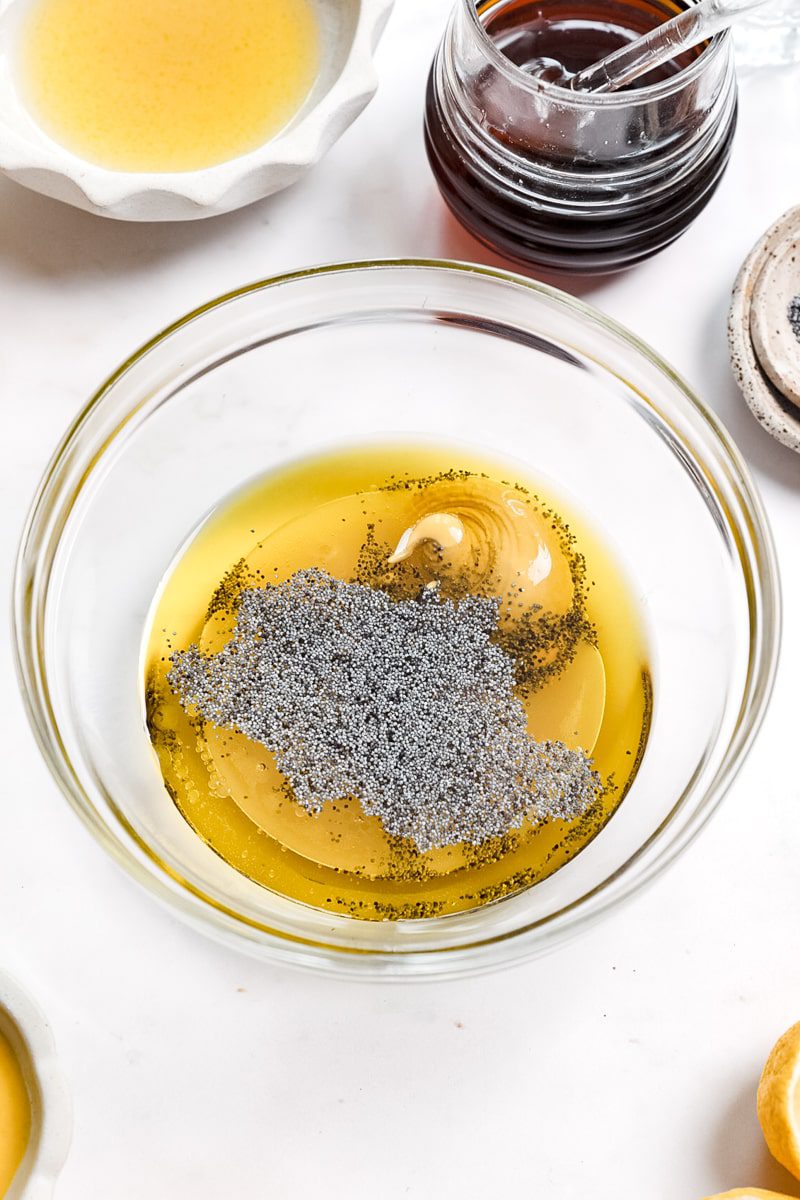 In a mixing bowl, add all ingredients.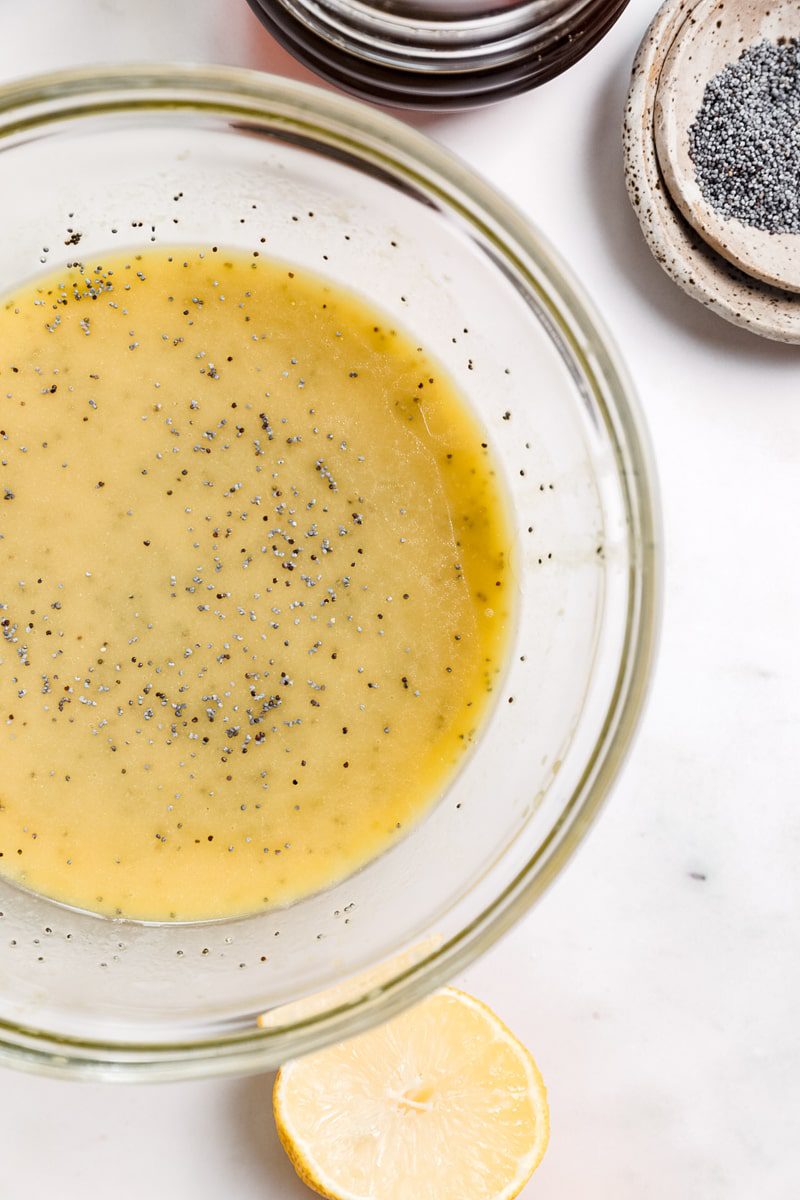 2. Using a whisk, begin to beat the mixture together and continue
whisking until the mixture turns opaque and thicker in consistency. This ensures that the dressing is emulsified and won't separate.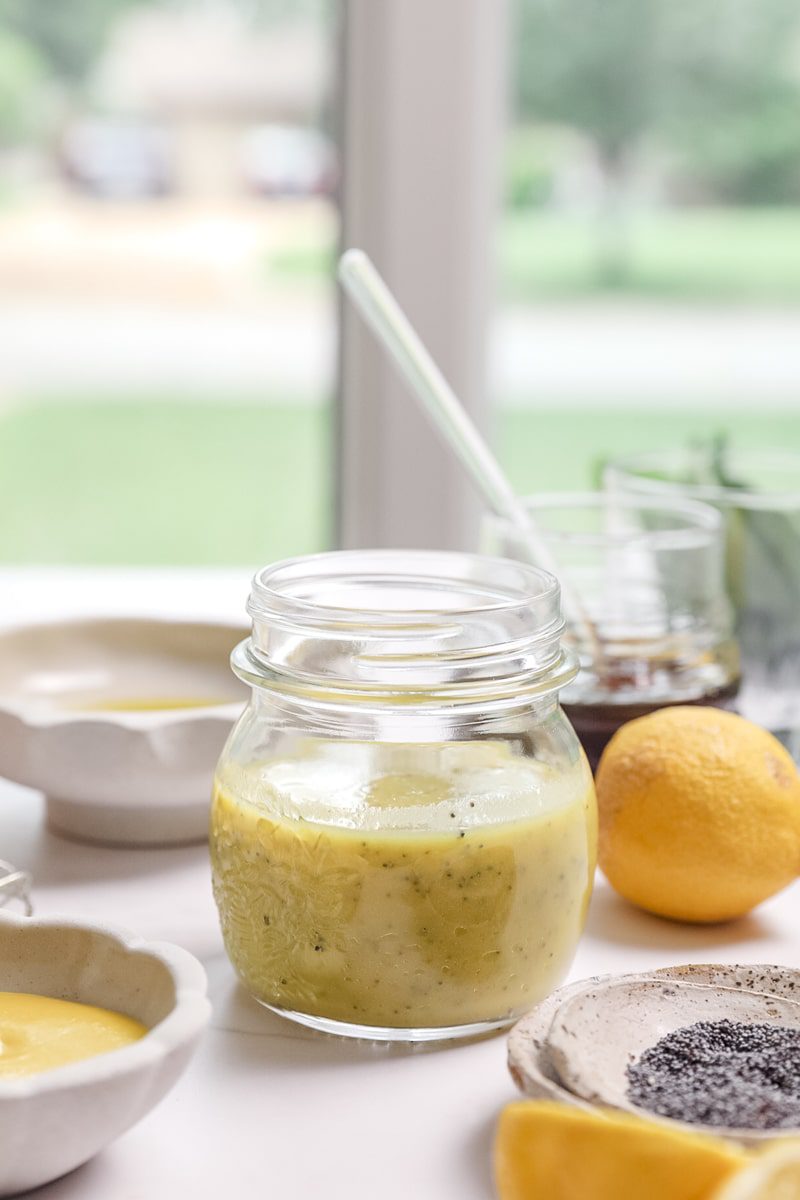 3. Pour the mixture into a glass jar and store in the fridge for up to 5 days.
Substitutions
Whether you want to try different flavor profiles or for dietary reasons need to swap some ingredients, here are some substitutes for the recipe...
Feel free to use maple syrup or agave instead of honey.
For the mustard, you can use either Dijon mustard or whole-grain mustard for a little extra bite.
Instead of lemon juice, I often use apple cider vinegar or white wine vinegar.
Add shallots or a small amount of diced red onion for a mild onion flavor that tastes wonderful when paired with fresh fruit.
No olive oil? You can use grapeseed oil, vegetable oil, or any other neutral-tasting oil in your own salad dressing.
Variations
Use a mason jar. Instead of a bowl, add all of the ingredients to a jar and give it a good shake!
Add balsamic. Instead of lemon juice, use white balsamic vinegar or even champagne vinegar for a true vinaigrette.
Prefer a creamy dressing? Add a tablespoon or two of Greek yogurt or mayo.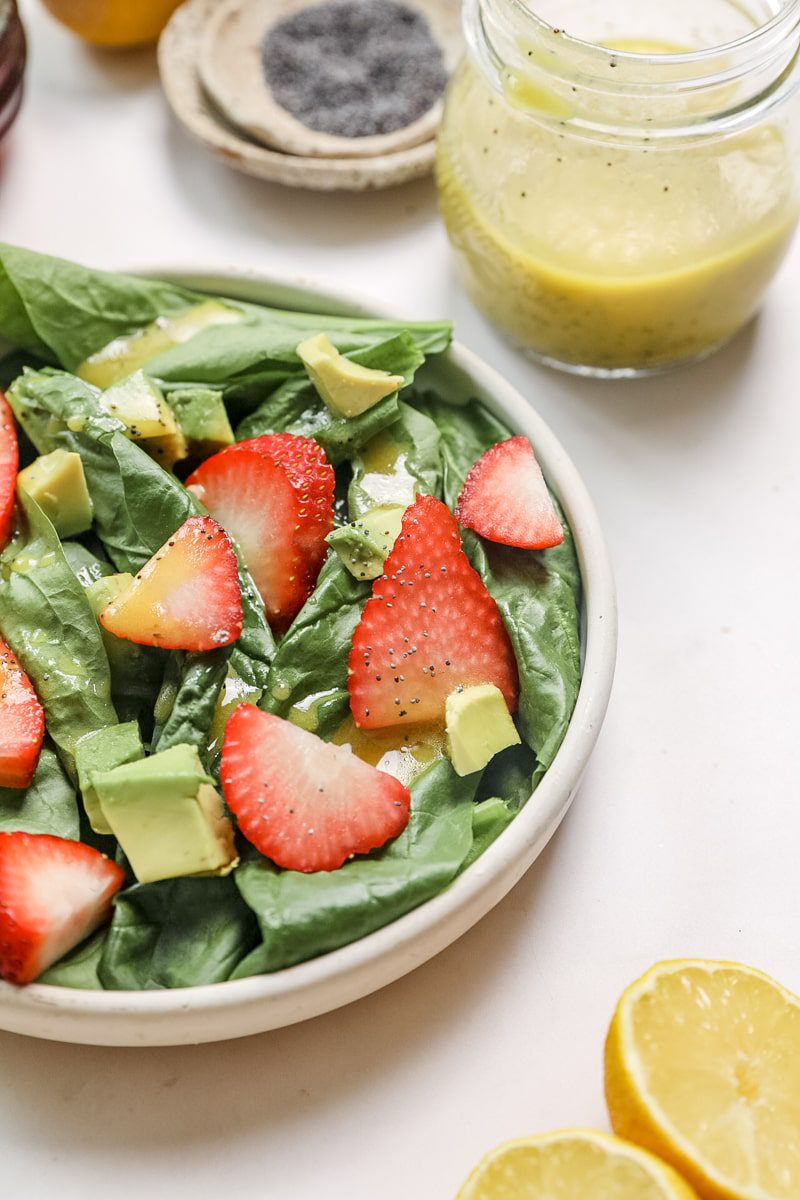 Uses for poppy seed dressing
This creamy poppyseed salad dressing recipe shines with fresh fruits and tangy cheeses, like blue cheese, goat cheese, and more! Use it on your favorite strawberry spinach salad or any of these delicious homemade salads:
FAQs
Is poppy seed dressing healthy?
This one is! Unfortunately, most store-bought salad dressings are not very healthy. They're loaded with oils, sugars, flavorings, and preservatives to keep them shelf stable for longer. 

Fortunately, homemade poppy seed salad dressing is made with simple ingredients, and you can ensure that each one is up to your standards!

You'll just need six ingredients: olive oil, honey, mustard, poppyseed, salt, and lemon juice, and you can easily adjust each one to make it just right. 
Making homemade dressings is a great way to make sure you're really eating a healthy salad and avoid the extra stuff they add to those bottles!
Is poppy seed dressing sweet?
Most poppyseed vinaigrette from grocery stores or your favorite restaurants is very sweet since sweetness enhances the flavor of the poppyseed.
Since you're making your own creamy poppyseed dressing, you can easily adapt the sweetness to your own personal preference. I prefer to keep it slightly sweet and allow the flavors of the salad ingredients to shine through. 

Start by using half of the raw honey called for in this creamy poppy seed dressing recipe, taste it, then add more if desired.
Is poppy seed dressing vegan?
The answer depends on the recipe you're following! Many conventional poppyseed dressings are made with corn syrup as the sweetener, which is vegan even if it's not very healthy.

If you make your own poppy seed vinaigrette at home, you can choose which sweetener you use. I prefer to use honey for sweetness, but to make vegan poppy seed dressing, use maple syrup or agave syrup.
How to Store Poppy Seed Dressing
The best way to keep your delicious dressing fresh is to store it in an airtight container, like a mason jar, in the fridge for up to 5 days. If you use vinegar instead of fresh lemon juice, it will last up to two weeks.
Personally I love Weck jars, they are an aesthetically pleasing glass jar that store EVERYTHING! From Garden fresh salsa to homemade salad dressings!
As the oil cools down, you may find that it firms up and becomes thick. Let the dressing sit at room temperature for about an hour before serving, and shake the jar to reintegrate the oil with the other ingredients.
Related Recipes
Pesto Rosso (Sundried Tomato Pesto)
Panera Green Goddess Salad Copycat
📖 Recipe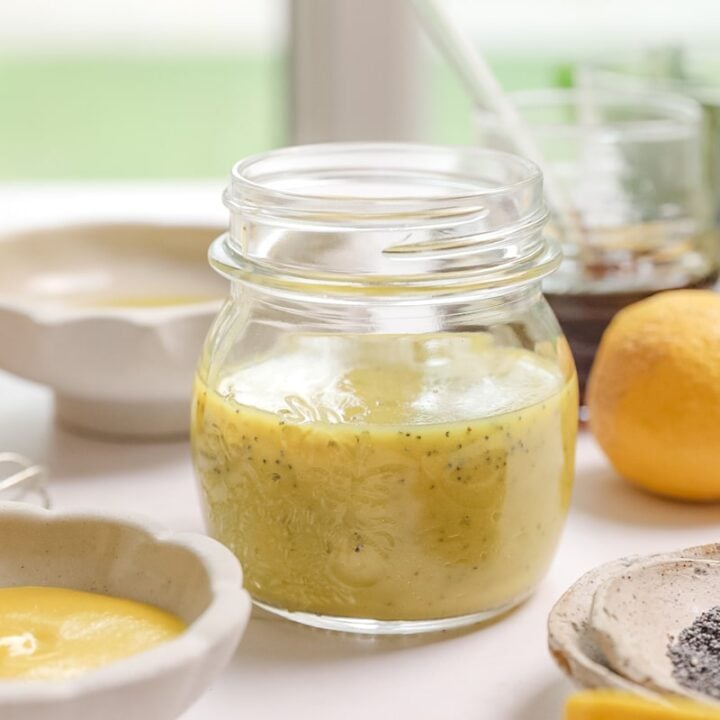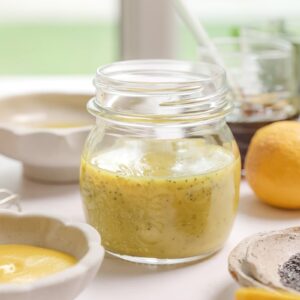 5- Minute Creamy Lemon Poppy Seed Dressing
Delicious and tangy homemade, creamy Lemon Poppyseed dressing is a refreshing dip, dressing or marinade for anything you choose! It's bright and delicious, sure to liven up any meal.
Print
Pin
Rate
Equipment
1 mixing bowl

1 whisk

1 glass storage jar
Ingredients
½

cup

olive oil

2

tablespoon

honey

1

tablespoon

mustard

1

tablespoon

poppy seeds

pinch

of salt

¼

cup

lemon juice
Instructions
In a mixing bowl add all ingredients

Using a whisk, begin to beat the mixture together and continue

whisking until the mixture turns opaque and thicker in consistency. This ensures that the dressing is emulsified and won't separate.

Pour the mixture into a glass jar and store in the fridge for up to 5 days.
Notes
If you don't whisk until the mixture is thick and creamy looking, you have not emulsified the dressing. Emulsification is simply the process of combining these 2 liquids (oil and lemon juice) to become one! It also ensures it won't separate in the fridge once you've made it!
Grab a couple of Weck canning jars or mason jars to make storage super simple. They are my favorite for storing homemade dressings and salsas.