Something about Spring and Summer just lends itself to eating a bit lighter. I don't find myself reaching for heavier things, especially for a quick lunch! This Peach Prosciutto salad hits the spot every time. It is a quick fix for lunch or an incredible side dish for a family dinner. Using all of the gorgeous produce of summer and a homemade dijon dressing, this salad is a knock out!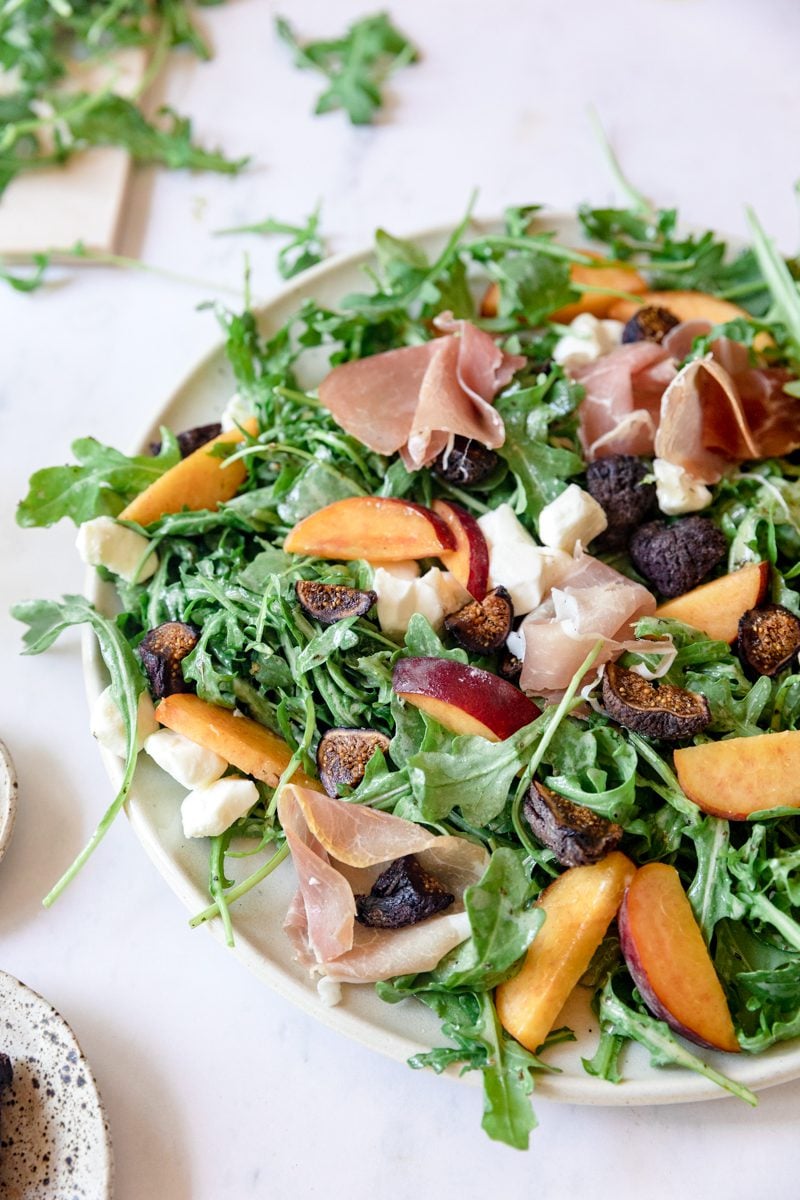 How to make the best salads
I have a couple of rules when making salads...
Something sweet, something creamy, something crunchy, something tangy, protein, greens. The perfect salad has each of these things!
Making your own dressing MAKES A DIFFERENCE! It is lower in calories and to me, you can adjust the sweetness/tartness/salt level
Season your salad. For the love, please salt and pepper your salads! Its a pro tip but I promise you it makes huge difference the the tasty-level (yes that's a thing!)
This peach prosciutto salad has all of these elements and it's one of my best yet!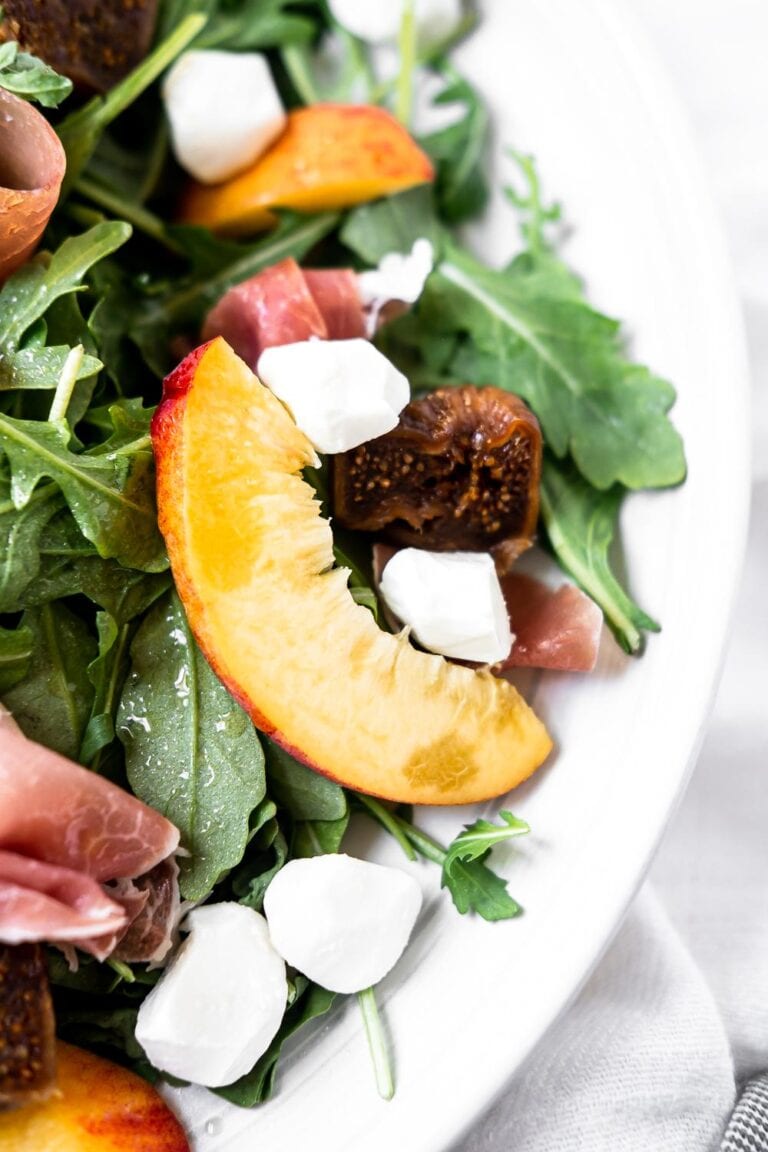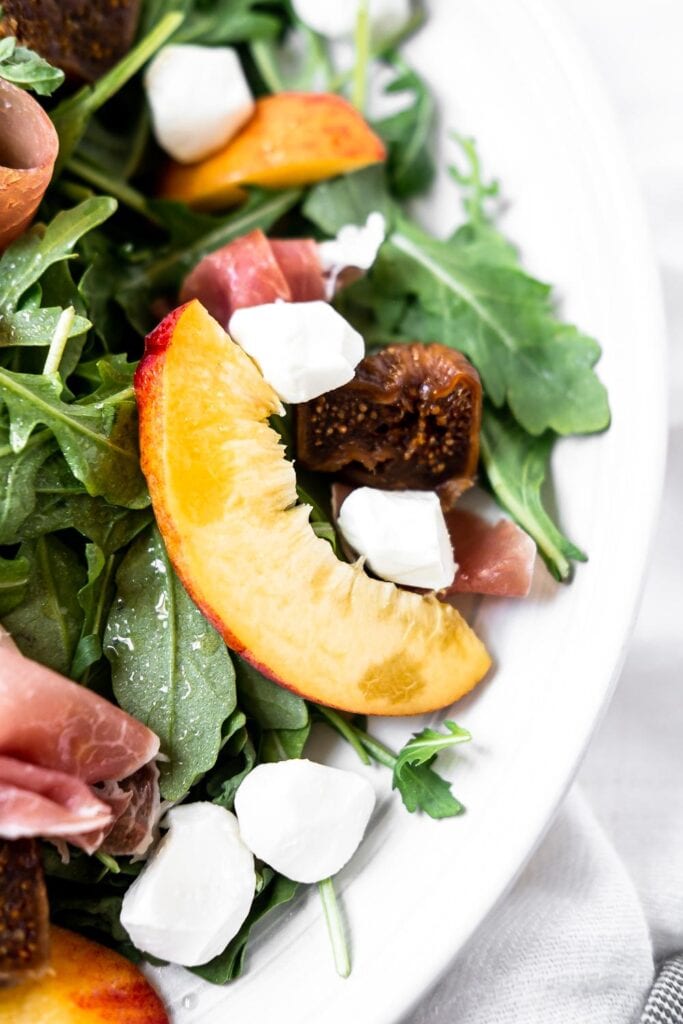 So for the greens here I used baby arugula. Its peppery and beautiful, not to bold like kale but not bland like spinach. Its a great middle ground green!
My crunch is some dried figs! I know they don't sound particularly crunchy, but the little seeds inside add a perfect texture as well as a bit of sweetness.
As for the sweet, I have fresh peaches. Seriously is there anything better in the summer!? NO!
My creamy element is little mozzarella pearls. They are the perfect portion and just add the perfect amount of creaminess without going over the top. You could also top this with burrata and have a burrata peach prosciutto salad, doesn't that sound amazing!
My protein is some gorgeously folded prosciutto. It adds a nice salt to the whole salad and is a great pair with the peaches. I used Boar's Head and it's really one of my favorites!
Lastly, the tang is a homemade Dijon Dressing and it is so versatile. A really good dressing for an everyday salad that add just the right amount of acid to this superb peach prosciutto Salad. This homemade dijon dressing is a mix of mustard, white wine vinegar, olive oil, and mint! So fresh!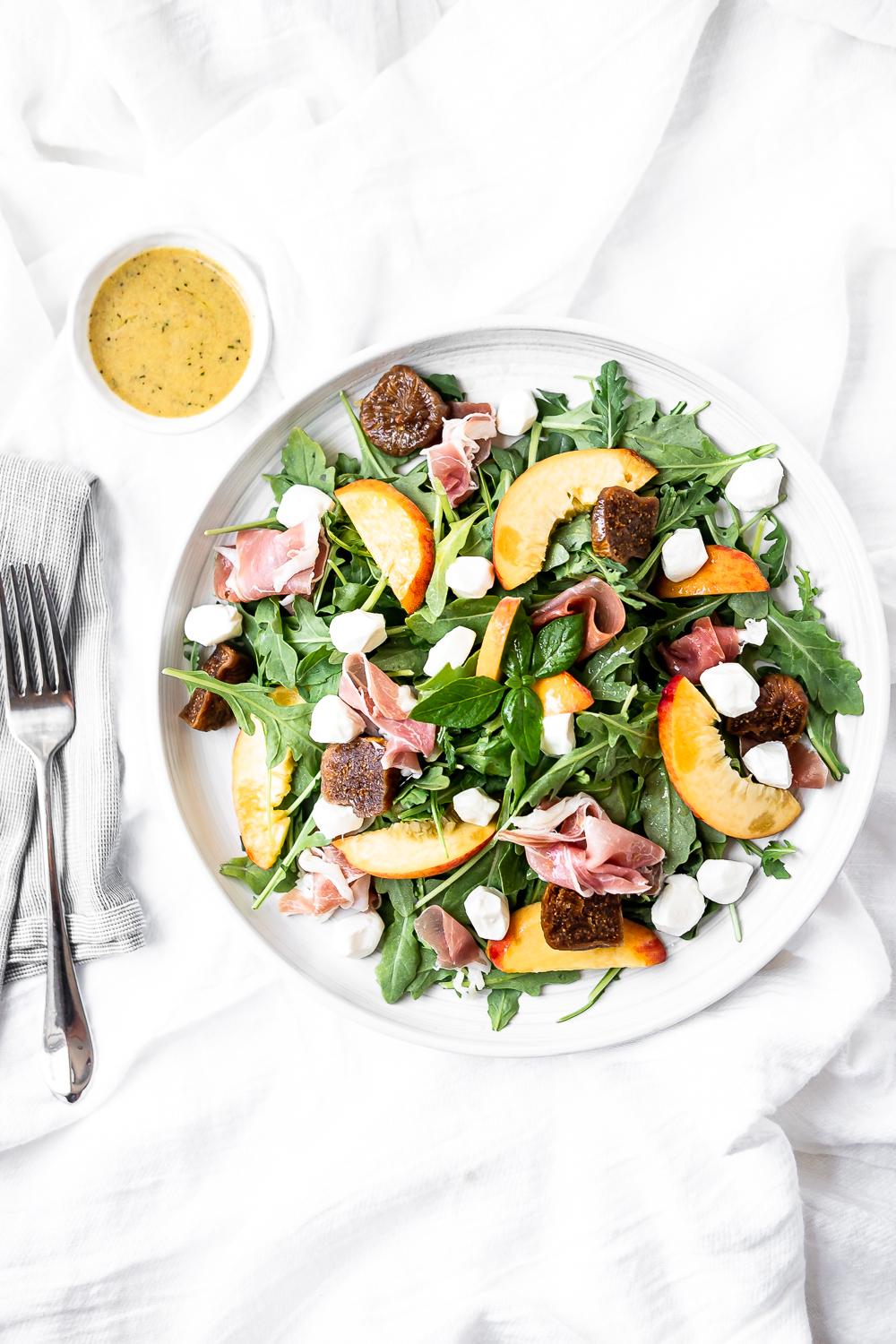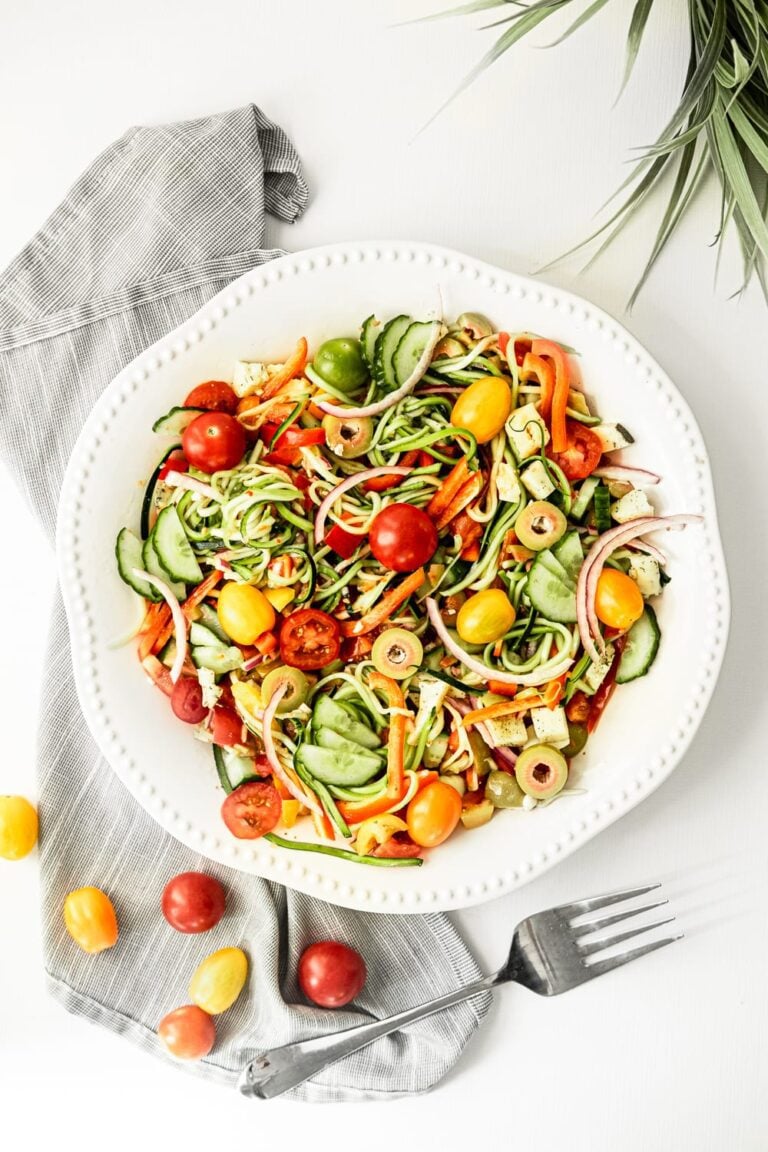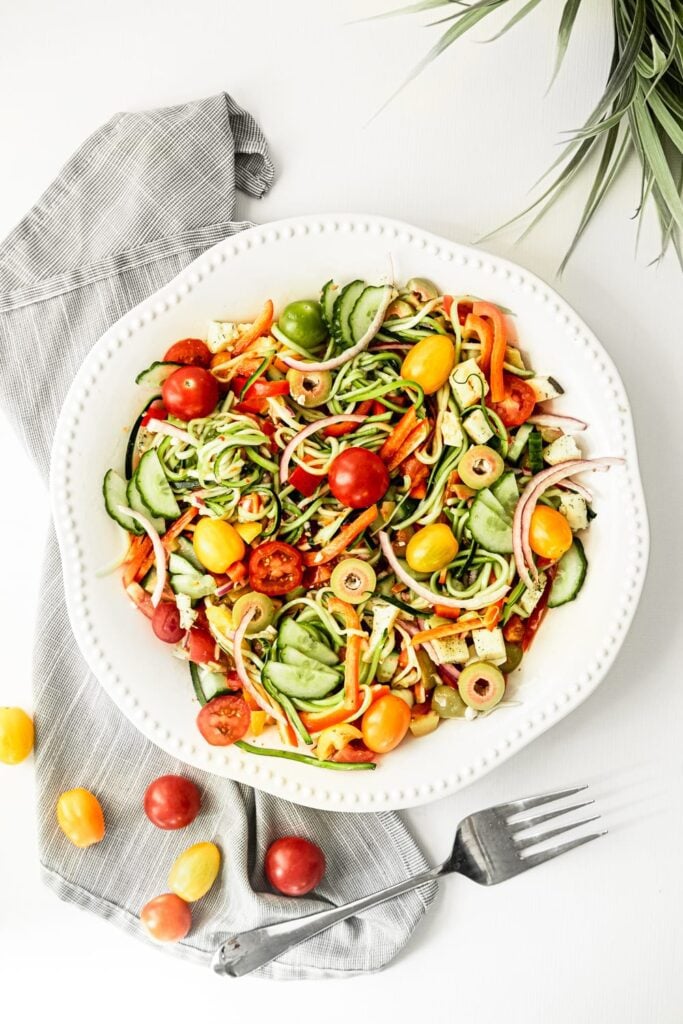 More White Kitchen Red Wine Salad Recipes
What is burrata? Burrata is similar to mozzarella in it's mild flavor. On the outside it resembles mozzarella but when you cut it open, it is soft mozzarella soaked in heavy cream. Nothing wrong with that!
📖 Recipe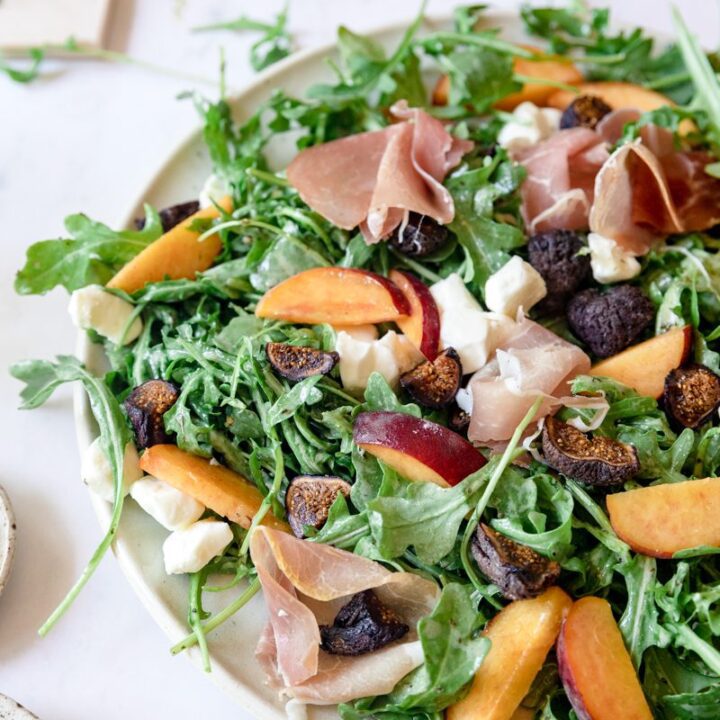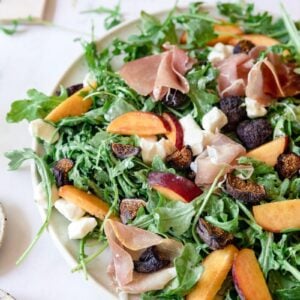 Peach Prosciutto Salad
Perfect light salad using up gorgeous Summer produce
Print
Pin
Rate
Ingredients
Salad
1

package

Boars Head sliced prosciutto

2

peaches, sliced

10

dried figs, sliced in half

1

package

Mozzarella pearls

5

cups

arugula

½

teaspoon

salt

¼

tsp

pepper
Dijon Dressing
2

tablespoon

dijon mustard

2

tablespoon

white wine vinegar

4

tablespoon

olive oil

½

tablespoon

dried mint

¼

teaspoon

salt

¼

tsp

black pepper
Instructions
Assemble the Salad
combine the arugula, mozzarella, prosciutto slices, sliced figs, salt and peppper in a large bowl and toss to combine

Add the sliced peaches on top
Mix the Dressing
In a small bowl or mason jar combine all ingredients for the dressing and shake or whisk until combined. Pour over the salad and enjoy!