Delicious, zesty, and easy to make, Sun-dried Tomato Pesto (aka Pesto Rosso) is quickly becoming one of my go-to sauce recipes! For pastas, pizzas, and more, this recipe has so many uses!
With so many uses for this Pesto Rosso, how will you choose!? The ingredients come together to create a flavor packed sauce that elevates any dish.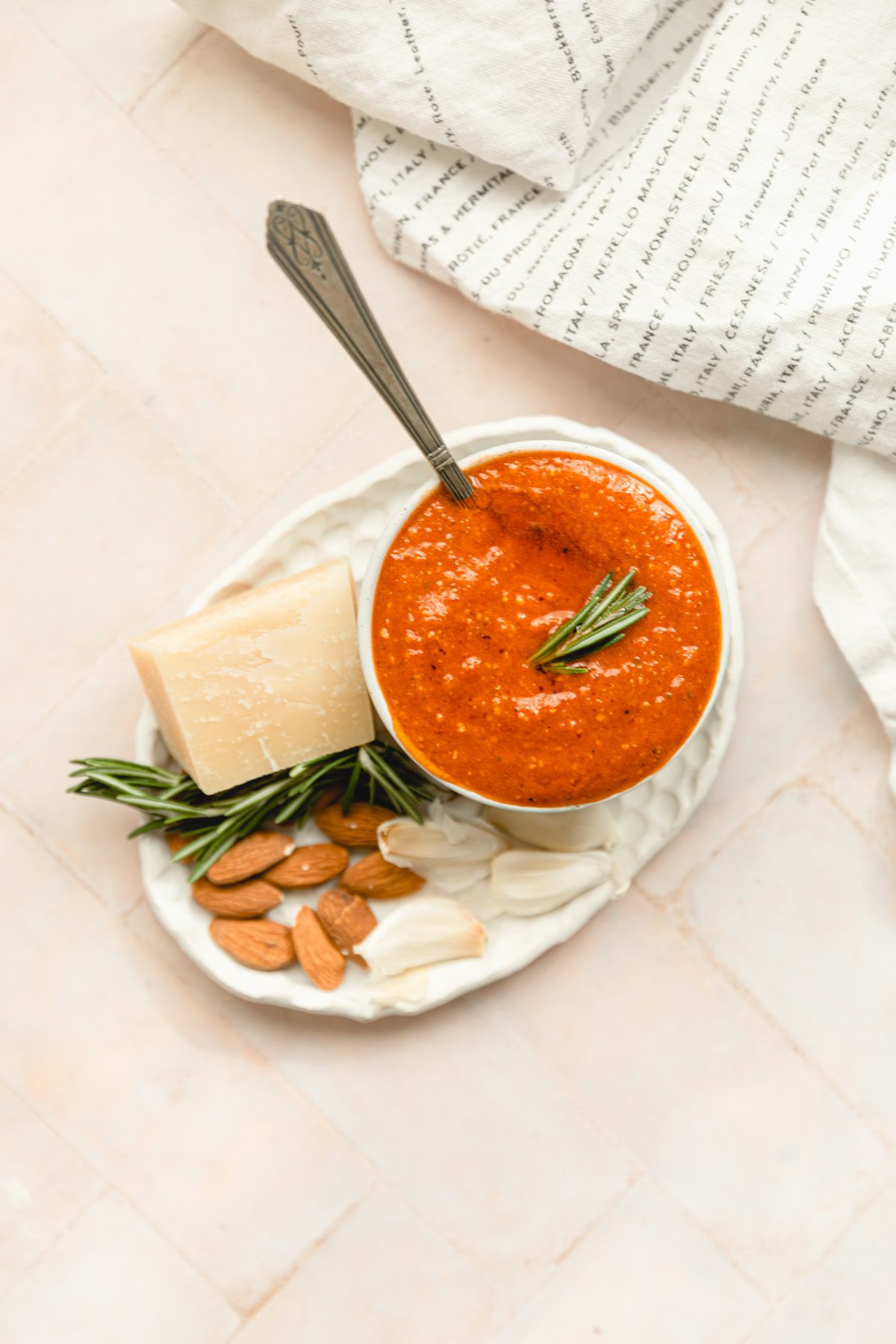 What Is Pesto Rosso?
This recipe for pesto might look different than you are used to! Typically pesto (Genovese) is a deep green color thanks to fresh basil leaves, like in my Dairy Free Pesto.
My recipe for sun-dried tomato pesto rosso (or pesto alla trapanese) is herb-y and a little spicy! The bright red color is thanks to tomatoes that are dried out and packed in olive oil. They are slightly tangy and really pack a punch of flavor.
It's versatility is one of my favorite things about it. Plus it's super easy to make at home!
Ingredients
sun dried tomatoes
extra virgin olive oil
almonds

parmesan cheese

chili flakes
rosemary
garlic
salt and pepper
These ingredients are blended together in a food processor and come together to make a delicious tomato spread and sauce.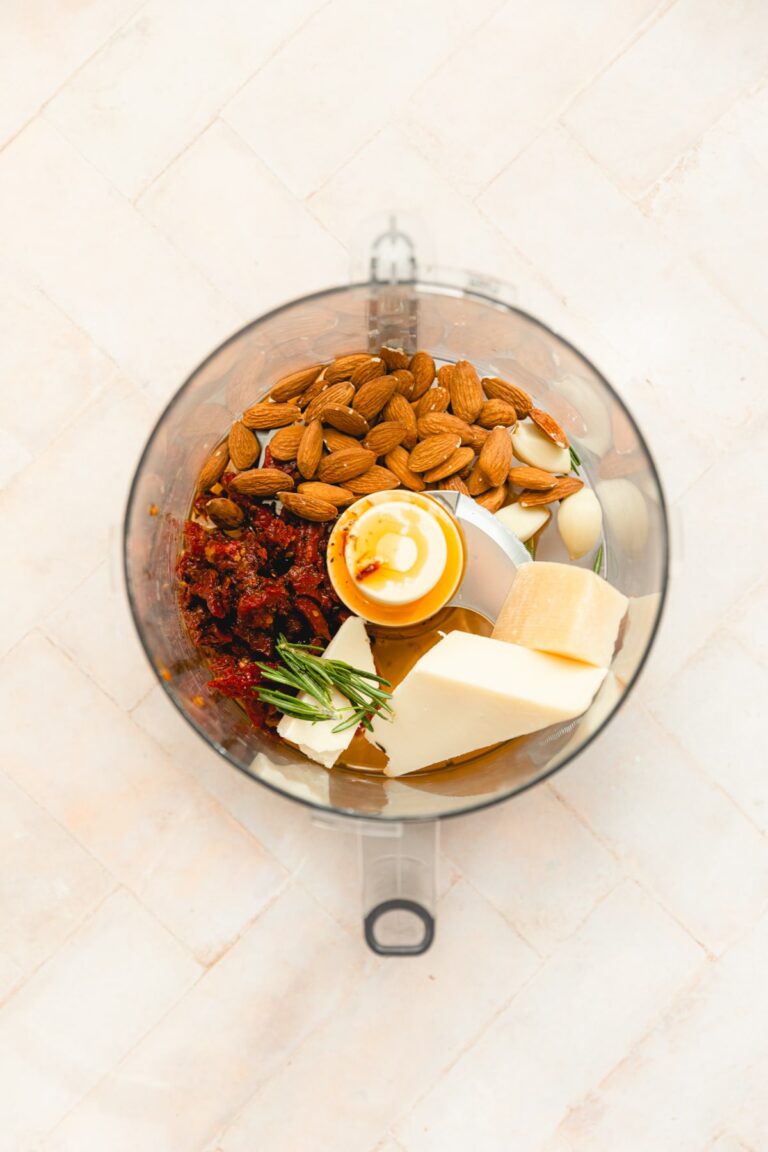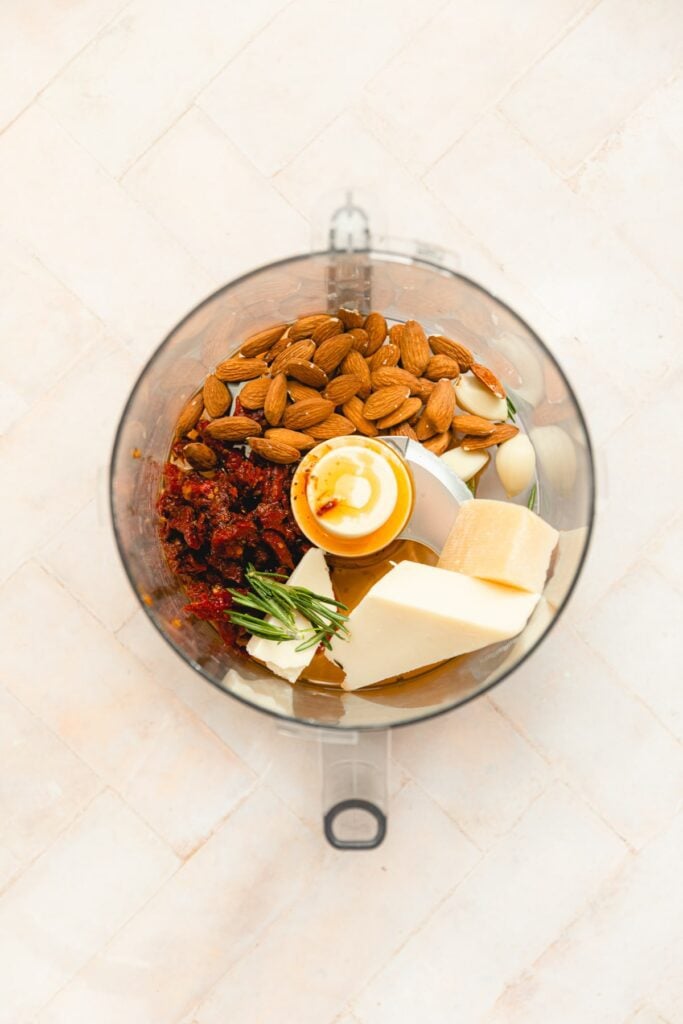 Types Of Sundried Tomatoes
Typically you can find a few varieties of tomatoes that are sun-dried in the store. San Marzano, Roma, or even cherry tomatoes! The dehydration process intensifies the flavor of the tomato.
However, they come in 2 different forms at the store: oil packed and dried.
The dried ones remind me of raisins and as the name states, dry. You might use these for a baked dish (like my baked Chicken Gnocchi) where you don't want tons of excess oil in the dish.
Oil packed tomatoes, which is what I used in this recipe, are packed in a jar with olive oil and sometimes seasonings. Since we will already be using oil in the recipe, it's ok that these are packed in oil!
Why Make Pesto At Home?
Making pesto at home is an easy way to control the salt level, the quality of ingredients in the sauce, and to top it all of ITS SIMPLE!
You can add all kinds of herbs to pesto variations and really create special sauces each time. I love the freedom and liberty you can take with the flavor profile.
For example, in my Broccoli Pesto I supplemented the basil with broccoli florets for a unique taste. It's delicious!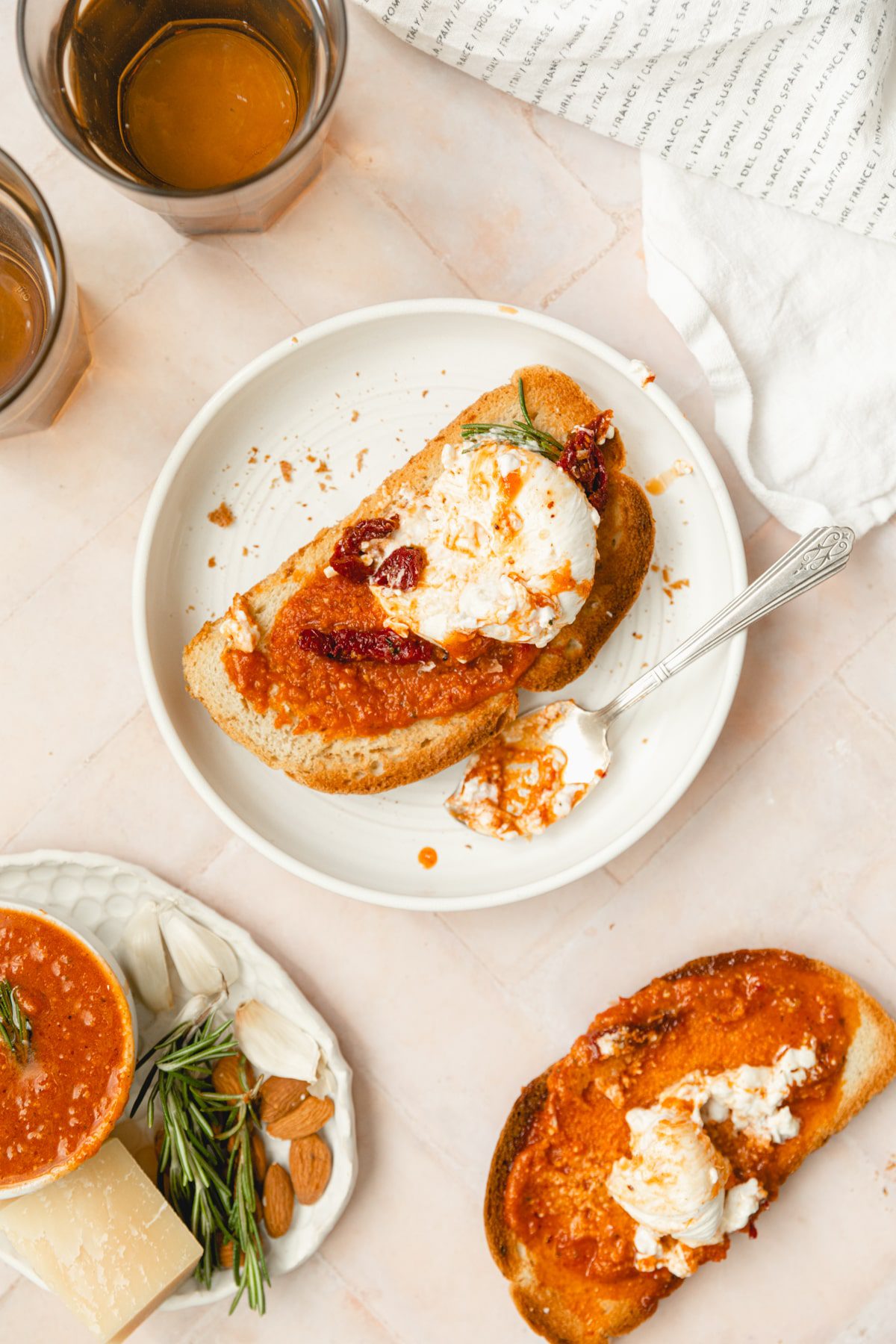 How to Make It
Tools you will need for this recipe are a food processor and a jar for storing the pesto!
Place all ingredients except olive oil in the food processor.
Pulse a few times to finely chop everything.
Turn the food processor on and slowly add the olive oil. Slowly adding it will help emulsify the pesto rosso so it won't separate!
Taste test and add more salt or pepper to your liking.
After making your sun-dried tomato pesto, store it in an air tight container for up to a week. Enjoy!
Sundried Tomato Pesto Rosso Uses
So one thing I love about this tomato pesto is that it's good on nearly anything. You can use it as a spread, a sauce, a dip, or dressing. Simple to make, even simpler to incorporate into your meals.
Try making these recipes with your homemade pesto rosso:
pesto rosso pizza
bruschetta with pesto rosso
pesto rosso pasta ( try it with spaghetti, ziti, or penne!)
eggs fried in pesto rosso
I ended up toasting some sourdough, topping it with pesto and melty burrata cheese. YUM!
If you are cooking with pesto rosso, the possibilities are endless.
FAQ & Tips
Is pesto rosso vegan? This specific recipe is not vegan, it contains dairy in the parmesan cheese. However you could swap in nutritional yeast instead to make this pesto rosso vegan.
How to store pesto rosso? I keep mine in a mason jar sealed up in the fridge for up to 7 days. If it lasts that long without being eaten!
Is pesto rosso spicy? This recipe does include some red pepper flakes, if you are not a fan of spice you could omit those.
📖 Recipe
Pesto Rosso (Sundried Tomato Pesto)
A delicious variation of pesto, Pesto Rosso uses dried tomatoes in oil thickened with almonds and a touch of herbs and spice. It's a great spread, sauce, dip or dressing for pastas and more.
Print
Pin
Rate
Ingredients
½

cup

sun dried tomatoes in oil

½

cup

extra virgin olive oil

¼

cup

almonds

¼

cup

parmesan cheese

¼

teaspoon

chili flakes

1

tablespoon

rosemary

chopped

2

cloves

garlic

1

teaspoon

salt

½

teaspoon

pepper
Instructions
In a food processor combine all ingredients, except the olive oil.

Pulse for about 10 seconds until everything becomes finely chopped.

Turn the food processor on and slowly stream in the olive oil. This will help emulsify the pesto and keep it from separating.

Pour pesto into serving dish and use immediately or put in a mason jar and store in the fridge up to 1 week.