If you were looking for a recipe that is low-carb and enjoyable then look no further than this Panera Green Goddess Cobb Salad. It is a flavor combination that so many people love.
Perfect if you want something low-carb or if you are embracing a keto diet (if so just omit the pickled onions) and it is incredibly easy to make. It is a healthy choice but certainly doesn't feel like it as you tuck it into the grilled chicken, avocado, and feta cheese. Yum!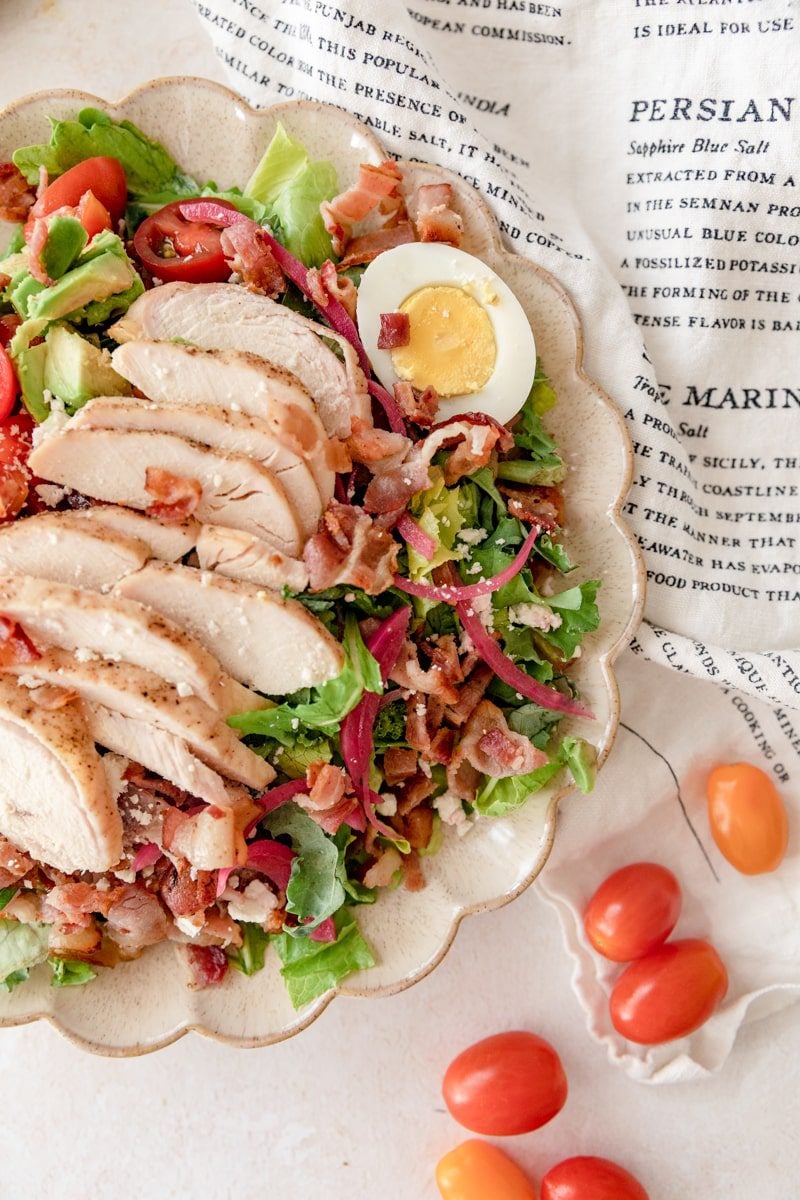 Why this recipe works?
Easy to make - It really is as simple as combining the flavorful ingredients together in one bowl and enjoy!
The dressing makes all of the difference - It wouldn't be a green goddess cobb salad without the dressing. You can even make your own!
Budget-friendly - The ingredients are fairly low cost and this is the perfect salad to batch cook and prepare for lunches during the week. 
Eat on the go - Ideal for lunch at work or on the go. 
What is green goddess dressing?
Green goddess dressing is a creamy salad dressing that is super delicious and easy to make at home. It can also be a dip if you wanted it to be, making it a truly versatile recipe to have in your repertoire.
It typically contains mayonnaise and an abundance of herbs that gives it the distinct flavor we love. With this recipe, it is the dressing that makes the salad so appetizing. Perfect as a main meal or as a side dish.
More dressings to try if you like this one include my cranberry vinaigrette!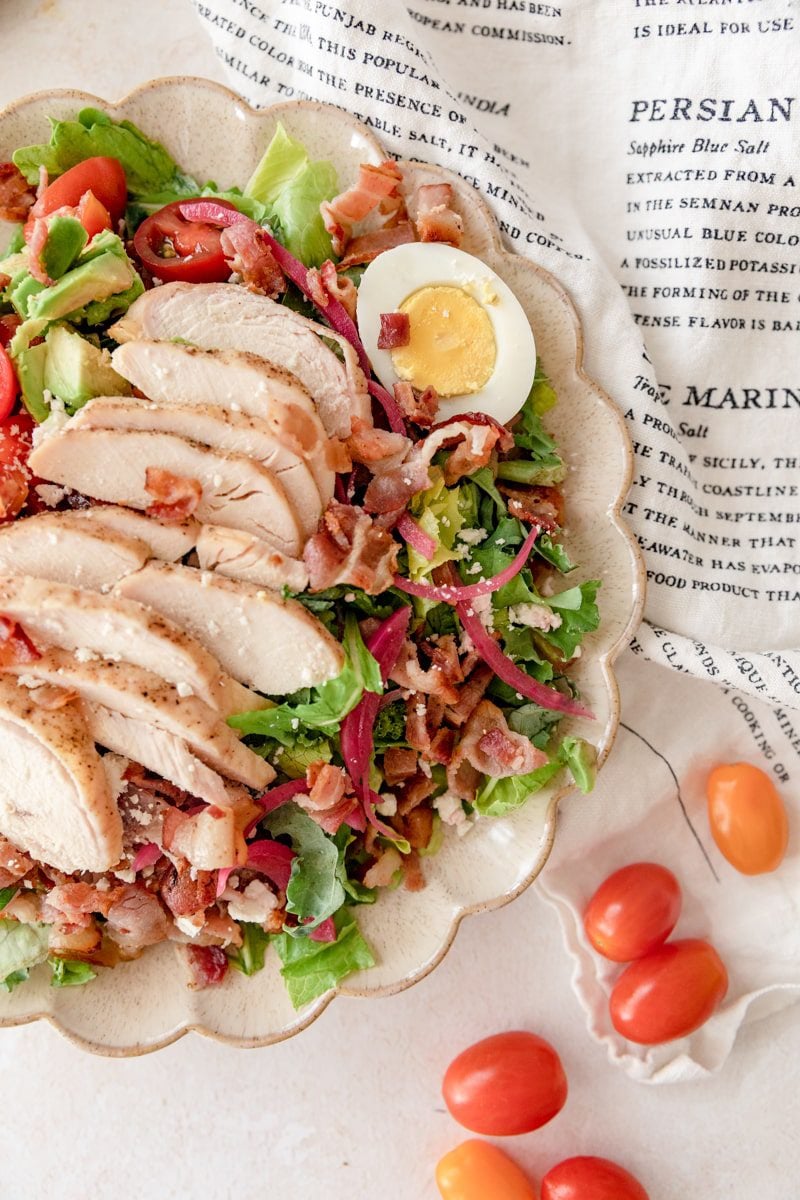 Ingredients needed for the Panera Green Goddess Copycat Salad Recipe
Here is everything that you need to create the Panera Green Goddess Cobb Salad
6 cups romaine lettuce
6 oz grilled chicken, sliced
2 slices crispy bacon, crumbled
½ an avocado, diced
2 Roma tomatoes, chopped
1 hard-boiled egg, cut in half
¼ cup feta cheese
¼ cup pickled red onions
Homemade green goddess dressing (or store-bought green goddess dressing)
Substitutions
You can substitute the mayonnaise for a vegan alternative so that you can make the green goddess dressing vegan.
You can use dried herbs instead of fresh but you may find that this doesn't give the fresh taste you will expect with the green goddess dressing.
Use leftover roast chicken instead of grilled chicken.
Create crispy prosciutto instead of crispy bacon.
Use just vegetables for a lovely vegetarian alternative.
How to make the Panera Green Goddess Copycat Salad Recipe
Now that you have got all of the ingredients together it is time to make the dish.
Serves 2
If making your own green goddess dressing, combine all dressing ingredients in a blender and blend well until smooth. Set aside.
Assemble the cobb salad starting with the blend of greens, and toss the greens with ½ of the dressing mix.
Add the greens to 2 bowls and top with bacon, chicken, avocado, tomato, feta, hard-boiled egg, and pickled red onion all separated out on top like a traditional cobb salad.
Top with a drizzle of the remaining dressing and enjoy!
To quickly prepare your chicken, try out my Air Fryer Chicken recipe. It takes a frozen chicken breast and cooks it to perfection in less than 20 minutes!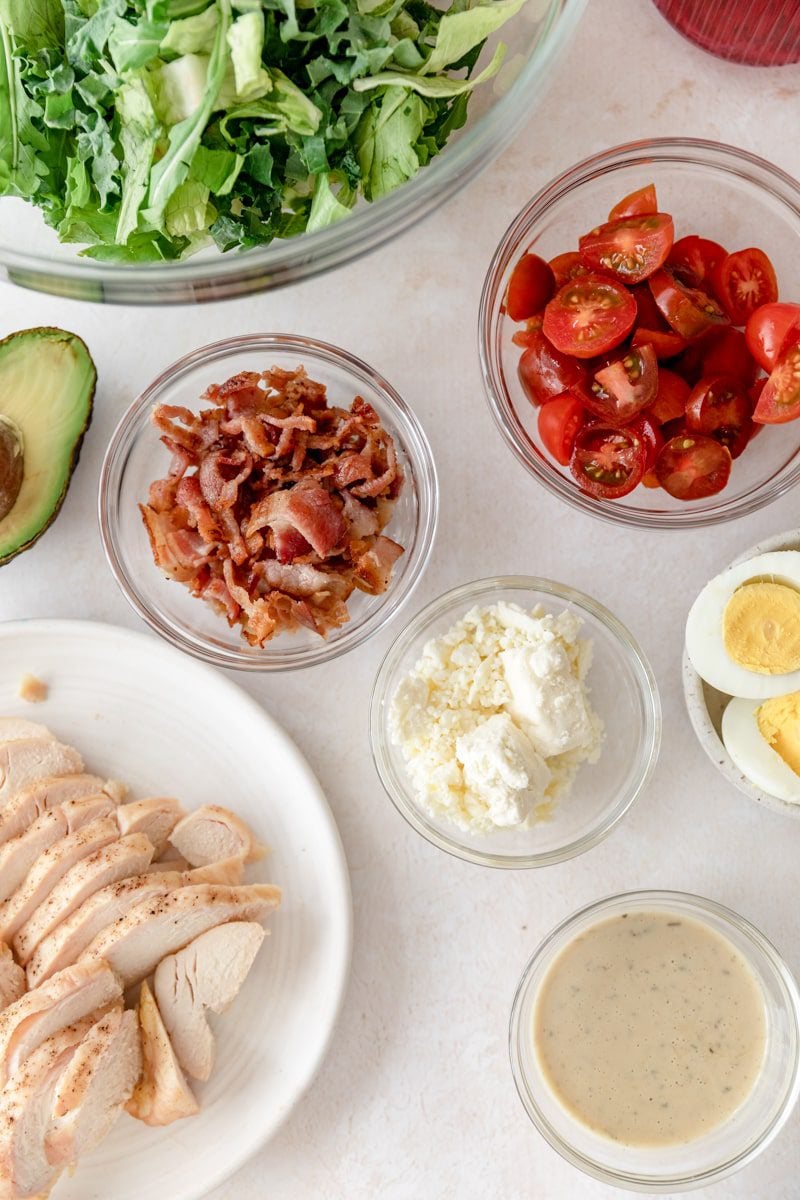 How to make Pickled red onions
To make pickled red onions you just need five basic ingredients: red onions, white vinegar, water, cane sugar, and sea salt.
You first need to slice the onions finely and add them to your chosen jar. In a pan, heat up the water, white vinegar, cane sugar, and sea salt. Let the mixture cool for a while before adding it to your onions.
Transfer them to your fridge and leave them to do their thing. Your onions will be ready when they turn bright pink. This might take an hour or overnight. They will keep in the refrigerator for up to two weeks.
Recipe notes and tips
Like with any recipe, no matter how simple it may appear, it is always worth taking note of some helpful tips and advice on offer. I have a couple of suggestions that will help you when making this recipe.
Make sure you have all of the ingredients to hand before assembling your Panera cobb salad or making your green goddess dressing.
Don't add the dressing until you are about to serve the Panera green goddess cobb salad.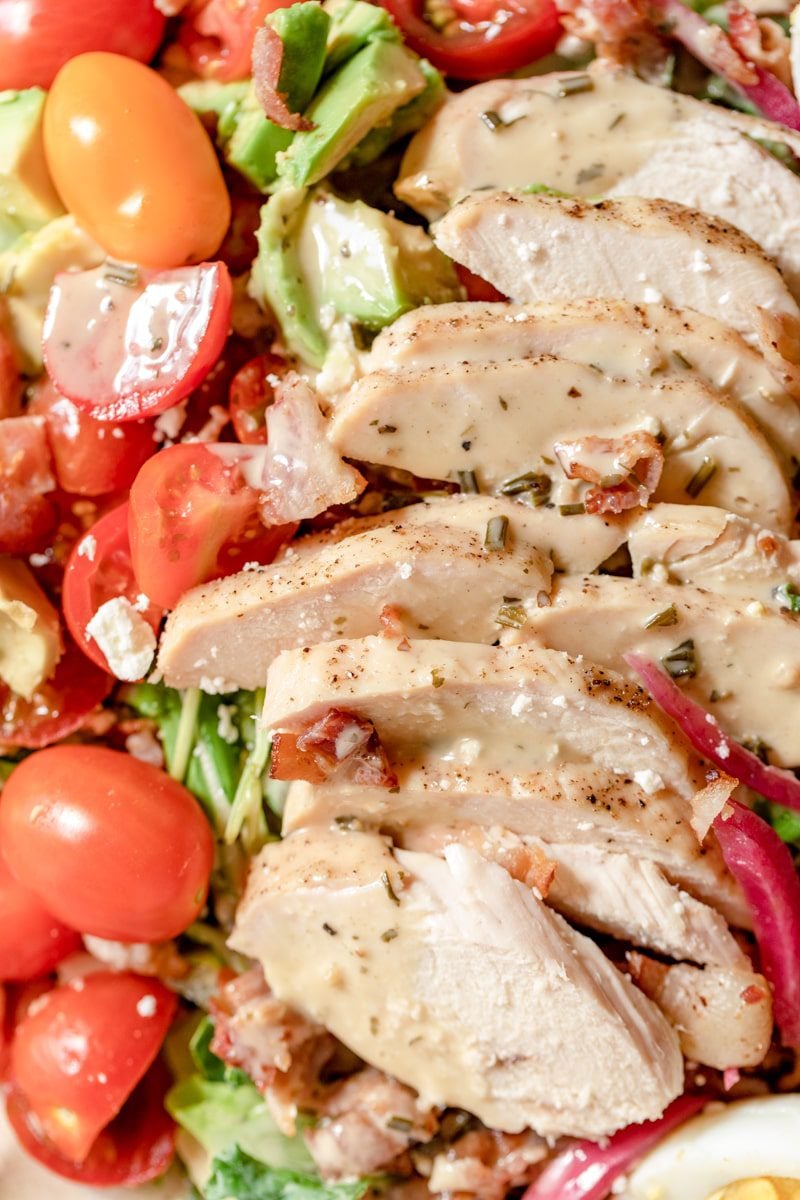 Additional Salad Toppings
If you wanted to add some additional toppings then here are a couple of suggestions:
Chopped cucumber
Spring or salad onions
Chopped bell peppers
Variations to try
When it comes to any recipe it is always good to hear of any variations you could make and try. This is by no means an exact recipe; you can do your own thing regarding what you add or how you make it. Here are a couple of recommended variations that you might want to try.
Make it vegetarian by adding roasted cooled vegetables to the salad.
Use leftover meats instead of grilled chicken
Deli meats might work really well with this.
Serving suggestions
A salad is such an easy thing to turn to when you want a healthy lunch or a low-carb side dish. Here are a couple of serving suggestions that I think would work well with it.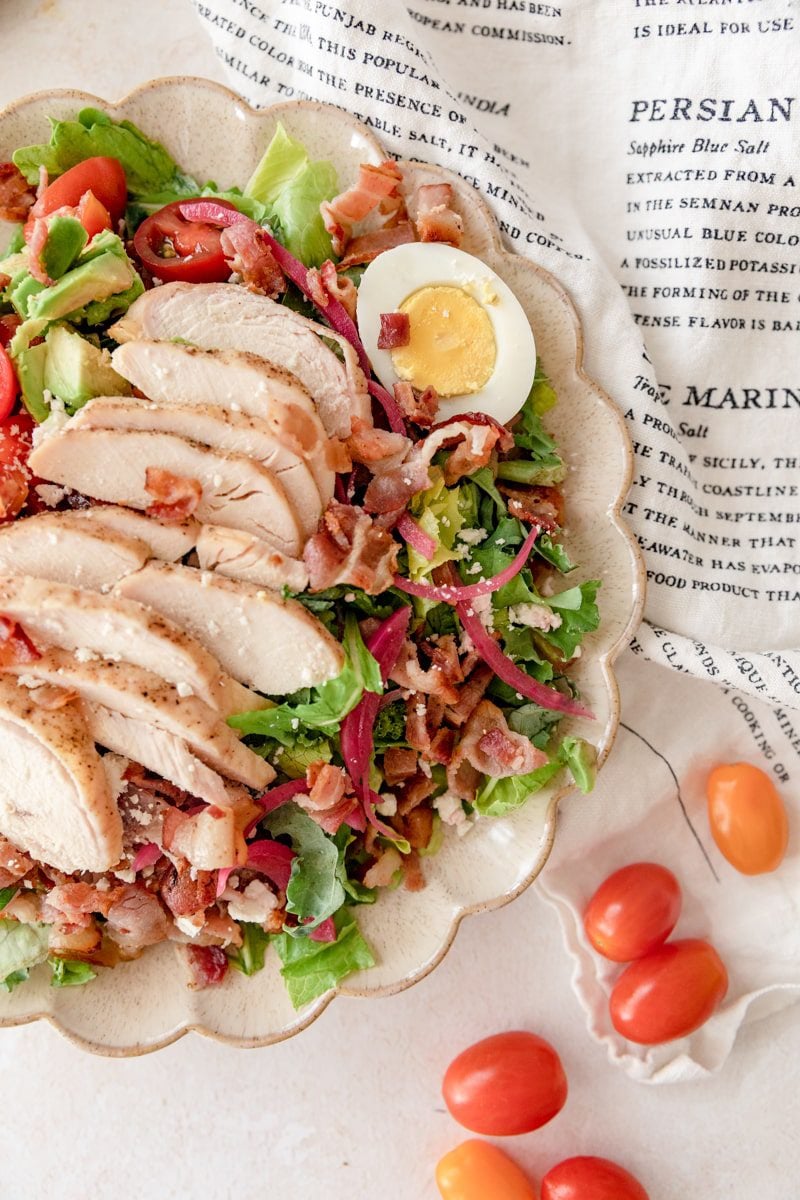 How should I store the Panera Green Goddess Cobb Copycat Salad Recipe?
The salads can stay fresh for up to four days in the refrigerator when stored in an airtight container. If you are making this salad ahead of time refrain from adding the dressing so that the salad stays crunchy.
FAQs
There will always be questions that people may have, so hopefully, I will have managed to answer some of the common ones below.
Are Panera Green Goddess Salads Healthy?
This salad is high in protein and relatively low in fat so yes it can be a very healthy option to enjoy.
What is the difference between a cobb salad and a chef salad?
A cobb salad is typically made with chopped greens like lettuce, tomatoes, bacon, chicken, hard-boiled eggs, avocado, blue cheese, and a vinaigrette dressing. In our version, it is a green goddess dressing. A chef's salad is more generic. It is made with more generic salad ingredients such as cucumbers, tomatoes, and carrots, then meats such as ham, bacon, and cheddar cheese.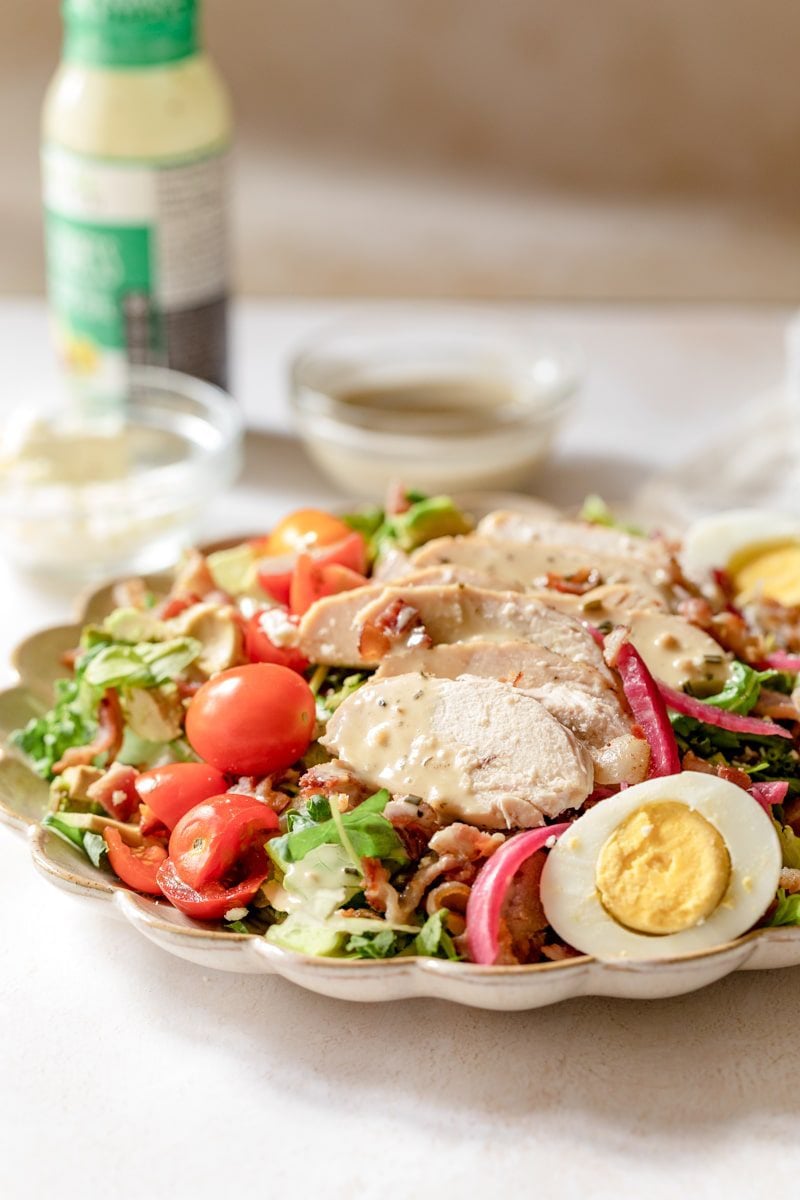 Tools needed to make the recipe
Similar recipe suggestions
If you love a good copy cat recipe, I've got loads of my favorite Panera meals with homemade recipes...
📖 Recipe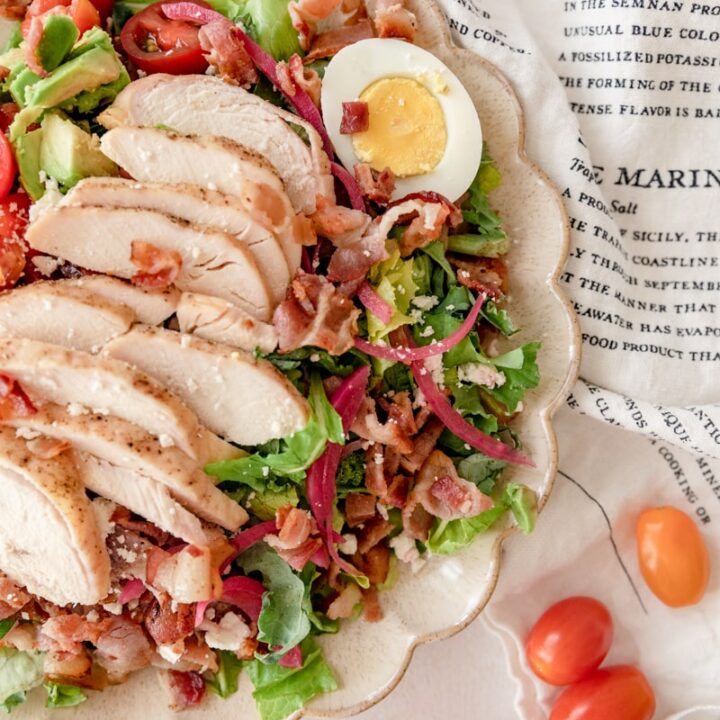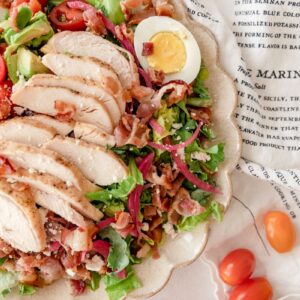 Panera Green Goddess Salad Copycat
Delicious copy cat salad recipe for the Panera Green Goddess salad. It's light and totally delicious with all of those Cobb salad toppings!
Share by Text
Print
Pin
Rate
Ingredients
3

cups

romaine lettuce

roughly chopped

2

cups

arugula

1

cup

kale

chopped

6

oz

grilled chicken

sliced

5

slices

crispy bacon

crumbled

an avocado

diced

2

Roma tomatoes

chopped

1

hard-boiled egg

cut in half

¼

cup

feta cheese

¼

cup

pickled red onions

¼

cup

mayo

1

tablespoon

italian seasoning

2

tablespoon

chives

2

tablespoon

fresh parsley

Juice of ½ a lemon

1

tablespoon

red wine vinegar

¼

cup

mixed greens

½

teaspoon

salt

½

teaspoon

pepper
Instructions
In a large bowl, toss together the arugula, kale, and romaine lettuce.

In sections, add each chopped topping.

If making your own green goddess dressing, place all of the dressing ingredients in the blender and blend for 1-2 minutes until smooth and creamy.

Pour the dressing over and enjoy!
I hope you enjoy eating your Panera green goddess copycat salad.