Baked Stuffed Avocados with Steak
Avocado halves that are stuffed with delicious carne asada marinated steak and baked with the most delicious toppings! Baked Avocados with cheese and steak are one of my favorite ways to go low-carb!
Now that it's a new year, add this healthy recipe to your weekly rotation, and taco Tuesday won't be boring ever again!
Baked avocados in the oven aren't the only way to enjoy them! I love avocado slices air-fried with some breading, they are so delicious!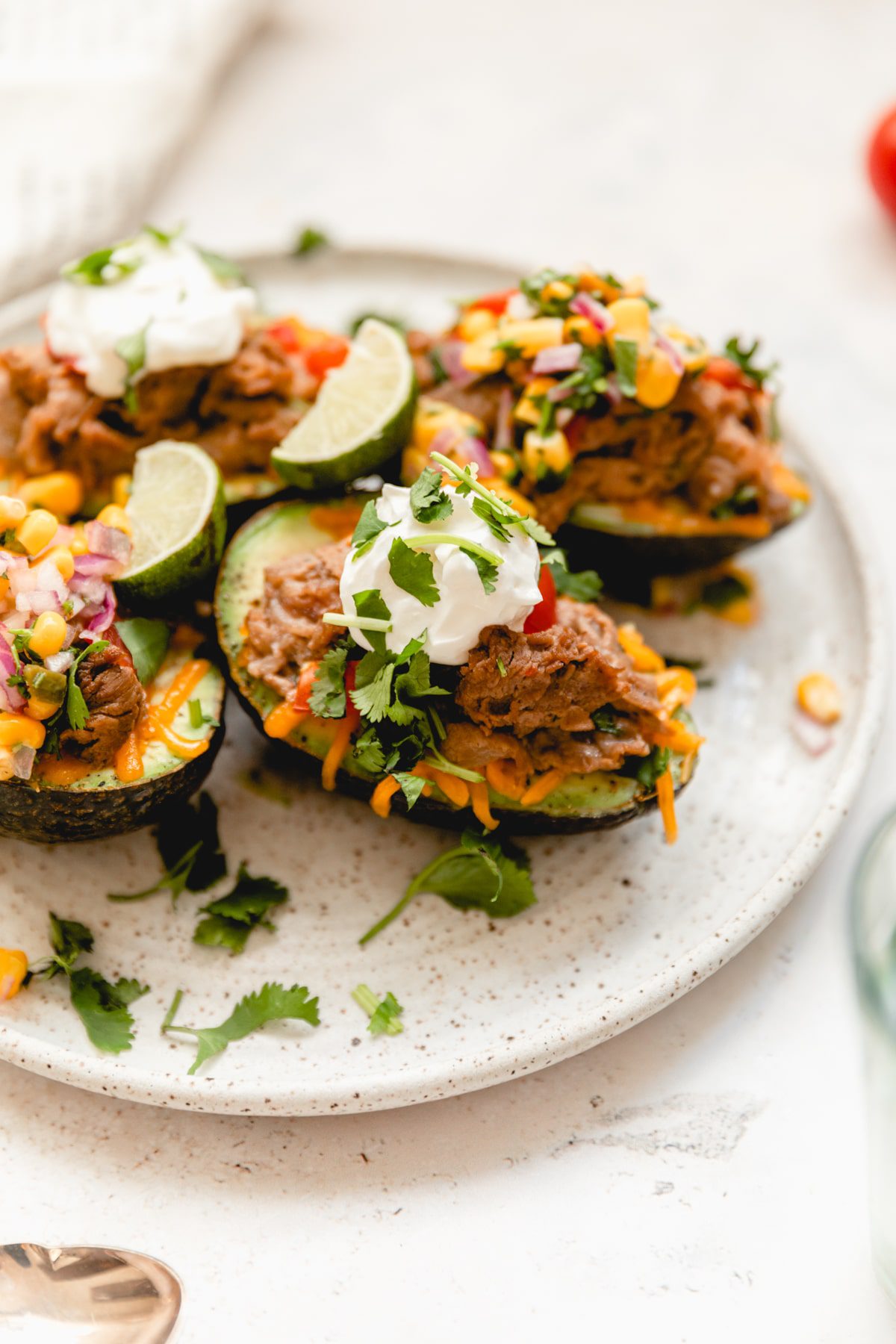 Best Carne Asada Seasoning
I loveeee carne asada flavor. The seasonings come together in the best, tangy marinade that I knew would be perfect for these stuffed baked avocados with shaved beef.
Ingredients
soy sauce
olive oil
lime juice
orange juice
cumin
cilantro
fresh garlic
jalapeno
salt and pepper
Mix those all together to create the best carne asada seasoning for these avocado tacos!
Traditional Carne Asada
Traditional carne asada is made with skirt steak or flank steak that is marinated and grilled.
That is a delicious way to do it! You could even marinate a whole flank steak, slice, and stuff the avocados with it.
But for this quick version, I picked up some shaved steak, which is very thinly cut. It marinates quicker and cooks so fast!
Other Ways To Use Shaved Steak
Ever since finding shaved steak at the store, I love using it for a quick-cooking weeknight meal. Here are a couple more suggestions for it!
Carne Asada Nachos
Marinate the shaved steak and top a pile of nachos with it! Perfect slices of steak in every bite of nachos.
Top with some garden fresh salsa and sour cream!
Carne Asada Quesadilla
Why not take the marinated carne asada steak and turn it into carne asada quesadillas?! Delicious steak quesadillas with cheese are always a crowd-pleaser.
Are Baked Avocados Good?
Cooked avocado may seem a little odd, typically I enjoy them cold or room temperature. But by cooking the avocado, it turns almost buttery!
The soft, creamy texture of the avocado is delicious paired with lots of flavors. You could stuff them with an egg, ground beef, or even chicken!
Baked avocados in the oven aren't the only way to enjoy them! I love avocado slices air-fried with some breading, they are so delicious!
More cooked avocado recipes...
Toppings For Baked Stuffed Avocados
When topping these steak-stuffed avocados, I went with "less is more."
The carne asada marinated beef is so flavorful, I didn't want to overpower it! So for the toppings, I went lighter...
Chopped tomatoes
Shredded cheese
Lime juice
Cilantro
These flavors are mild but delicious and compliment the carne asada so well.
More Healthy 30-Minute Dinners
Healthy recipes are a staple on White Kitchen Red Wine, so check these other 30-minute dinners that are healthy!
📖 Recipe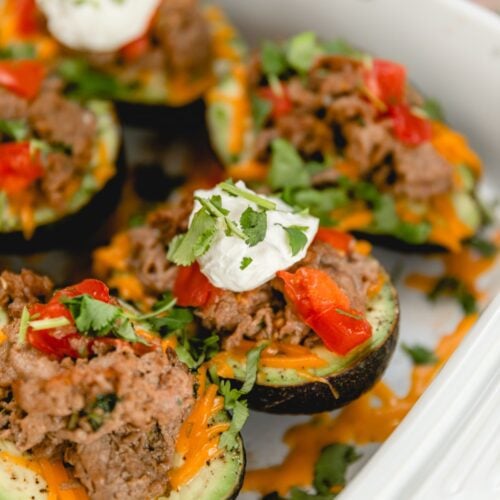 Baked Avocados with Carne Asada Beef
Stuffed and baked avocaods with a delicious and easy carne asada marinated shaved beef. It's an easy 30-minute dinner, healthy, and low carb!
Share by Text
Print
Pin
Rate
Ingredients
Marinade Ingredients
¼

cup

soy sauce

¼

cup

olive oil

¼

cup

lime juice

3

tablespoons

orange juice

1

tablespoon

cumin

½

cup

chopped cilantro

2

heads fresh garlic

½

a jalapeno

diced

2

teaspoons

salt

1

teaspoon

pepper
Stuffed Avocaods
3

large avocados

1

cup

shredded Mexican blend cheese

2

roma tomatoes

chopped

sour cream

extra slices of lime for topping
Instructions
In a medium mixing bowl combine the marinade ingredients and whisk well.

Place your shaved steak in a shallow bowl or baking dish and pour the marinade over the top.

Cover and place in the fridge for a minimum of 30 minutes.

After the marinating is done, preheat the oven to 425 degrees.

In a skillet, heat 1 tablespoon olive oil over medium high heat and add the steak (drain the marinade from the seak first).

Begin to brown the steak, it won't take very long. Maybe 5-7 minutes until you see no more pink. Turn off the heat.

Cut your avocaods in half and remove the pit. Place them in a baking dish.

Sprinkle the avocado halves with salt and pepper, add equal amounts of shredded cheese to each avocaod.

Top with the shaved steak, chopped tomato, and one last sprinkle of cheese.

Place the avocaods in the oven for 5-6 minutes until cheese is melted.

Remove and top with sour cream and extra cilantro.

Top with any other toppings you like! I used a corn salsa and lime juice.