Looking for an MVP for your game-day spread? Say hello to these cheesy roast beef sliders! They'll be ready before halftime and score a flavor touchdown that'll have your taste buds doing the end zone dance.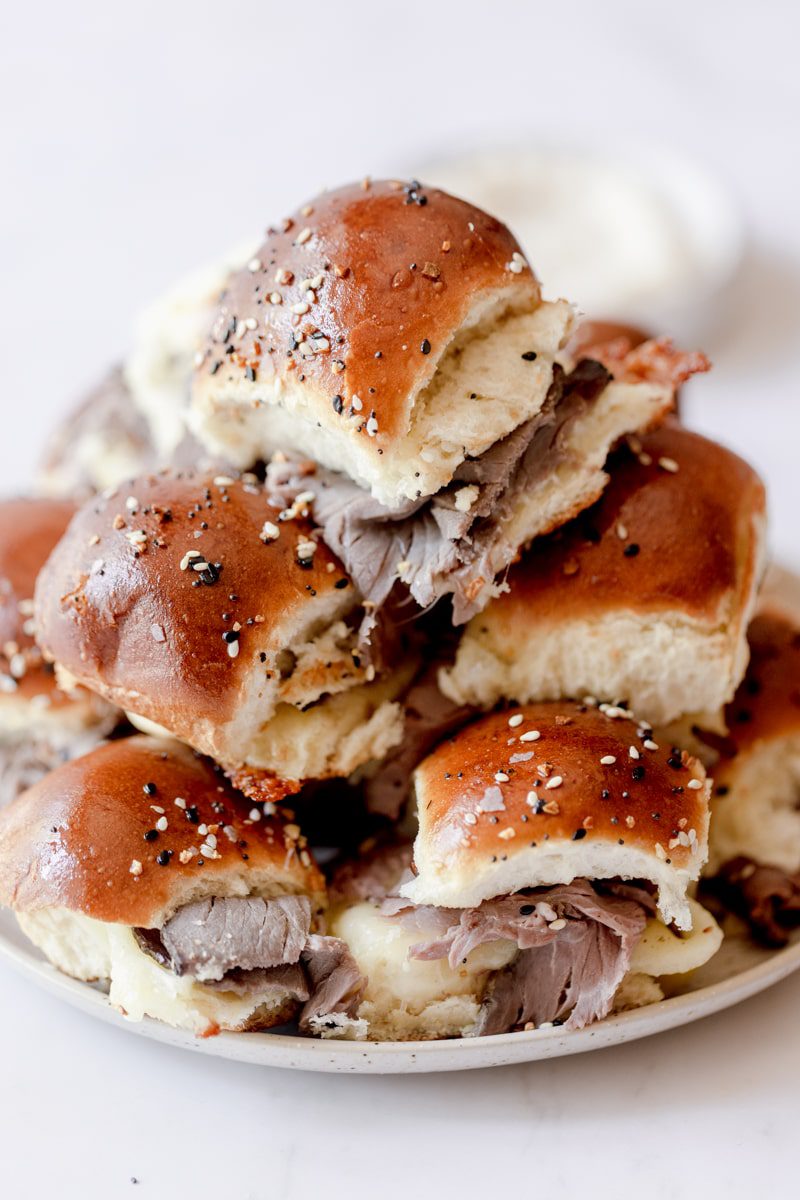 Sliders are a tailgate classic - easy-to-grab-and-munch without taking the eyes off the screen EVER!
Plus, they won't let a missed goal or a bad pass ruin the party. There's cheese in there, guys! These sliders were meant to cheer up!
Why These Roast Beef Cheese Sliders Are the BEST!
Besides being loaded with tender roast beef, melted cheese, and a sauce topping of your choice, these sliders are just as good as takeout roast beef sandwiches.
And guess what? You're getting more for the price!
This roast beef slider recipe will become your go-to because...
It's ingredient-friendly. A short ingredient list is just what you need when time is tight.
You can get creative with it. Stuff in some caramelized onions, dress the sliders in some Dijon mustard or serve it up with some mayo. In any case, they'll be gone before the fourth quarter is over!
It's party-pleasing. Completely mom-approved, these sliders are popular even among the littlest quarterbacks. And, of course, there's no chance the adults are resisting.
Ready to jump on the slider train? Let's check out the short and sweet ingredient list.
Ingredients for the Yummiest Roast Beef Sliders Recipe
True to the word, here are five simple ingredients you need to put these lip-smacking-good sliders together: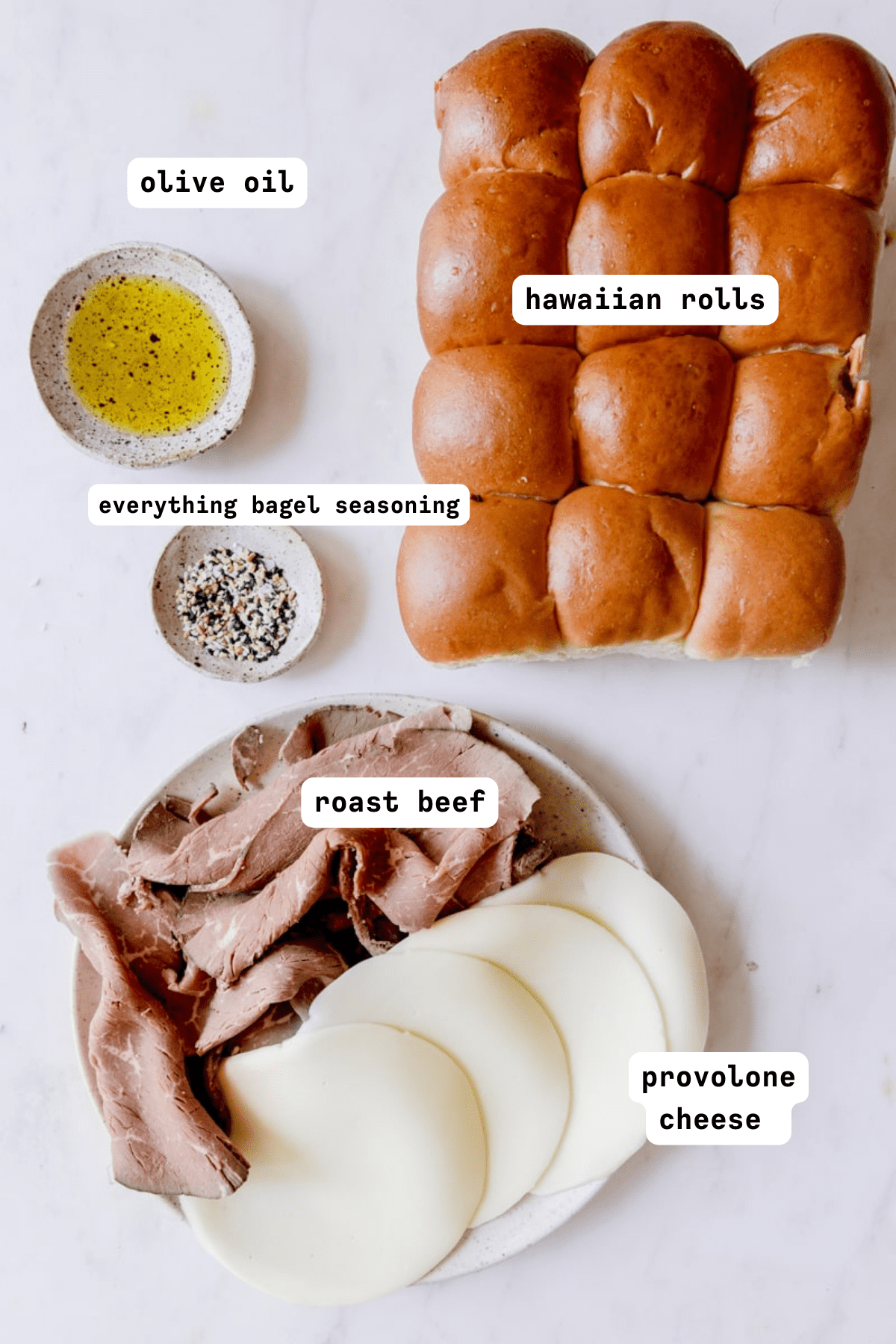 Deli Roast Beef - That's our meat choice for the yummy game-day meal. Use thin roast beef slices so they fit in perfectly in the bun (and your mouth)!
Slider Buns - I prefer Hawaiian slider buns for their sweetness and softness, but you can use whatever you like. No rules here!
Provolone Cheese - Piccante or Dolce, you choose! Piccante has a buttery and spicy flavor profile, whereas dolce is sweet. Whichever you choose, it'll be stretchy! Mozzarella cheese works perfectly fine instead of Provolone; expect a low-key tang. If you want to switch it up, cheddar cheese and Swiss cheese won't disappoint you.
Everything Bagel Seasoning - Poppy seeds+onion powder+toasted sesame seeds+salt+garlic powder = yumminess! Buy a ready-made mix or make your own.
Cooking Spray - The quickest and easiest way to grease the pan.
The recipe card at the bottom has all the quantities mentioned.
Topping Choices
It's your game night, so I'll leave the choice to you!
I like my sliders with horseradish sauce (horseradish mayo).
or au jus sauce (a clear and savory butter sauce with Worcestershire and beef broth).
You can also serve them with a delicious mix of mayo and ketchup!
Variations and Substitutions
While keeping it simple is always my favorite, there are tons of ways to spice up these simple roast beef Sammies!
Top with poppy seeds instead of Everything Bagel Seasoning. This still gives it that little added texture right on top!
Spread the bread with dijon mustard before baking. If you like the sliders really saucy, add some on before baking!
Add sliced red onion to the sliders before you pop them in the oven for a burst of freshness!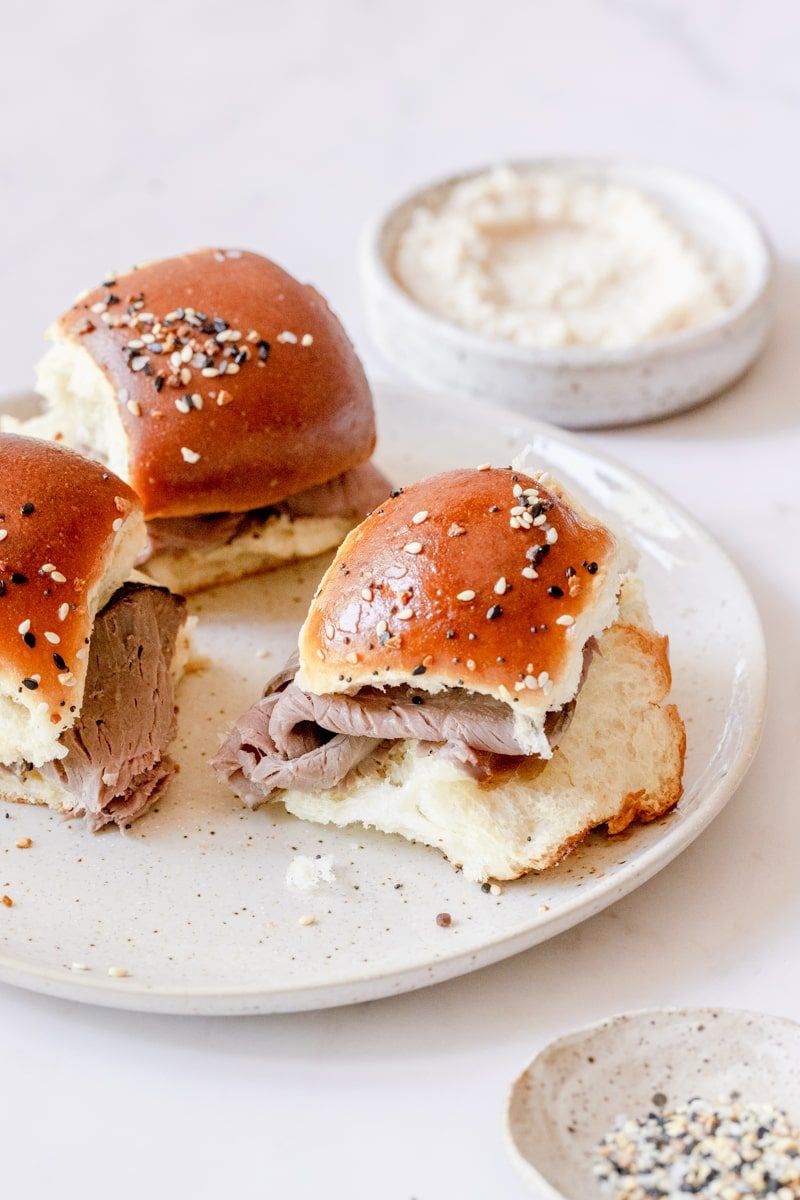 Tools Needed
Make your life easy with these tools:
Serrated Knife - to slice through the buns like they're butter.
A Small Bowl - in case you're making your own seasoning.
An Air Fryer - if you want a low-oil version of the roast beef sliders.
How to Make Easy Roast Beef Sliders
Any guesses why this recipe is my absolute go-to? Yep, because it's super quick and easy. More focus on the game than on the kitchen!
Here's what you need to do to please everyone in the hall: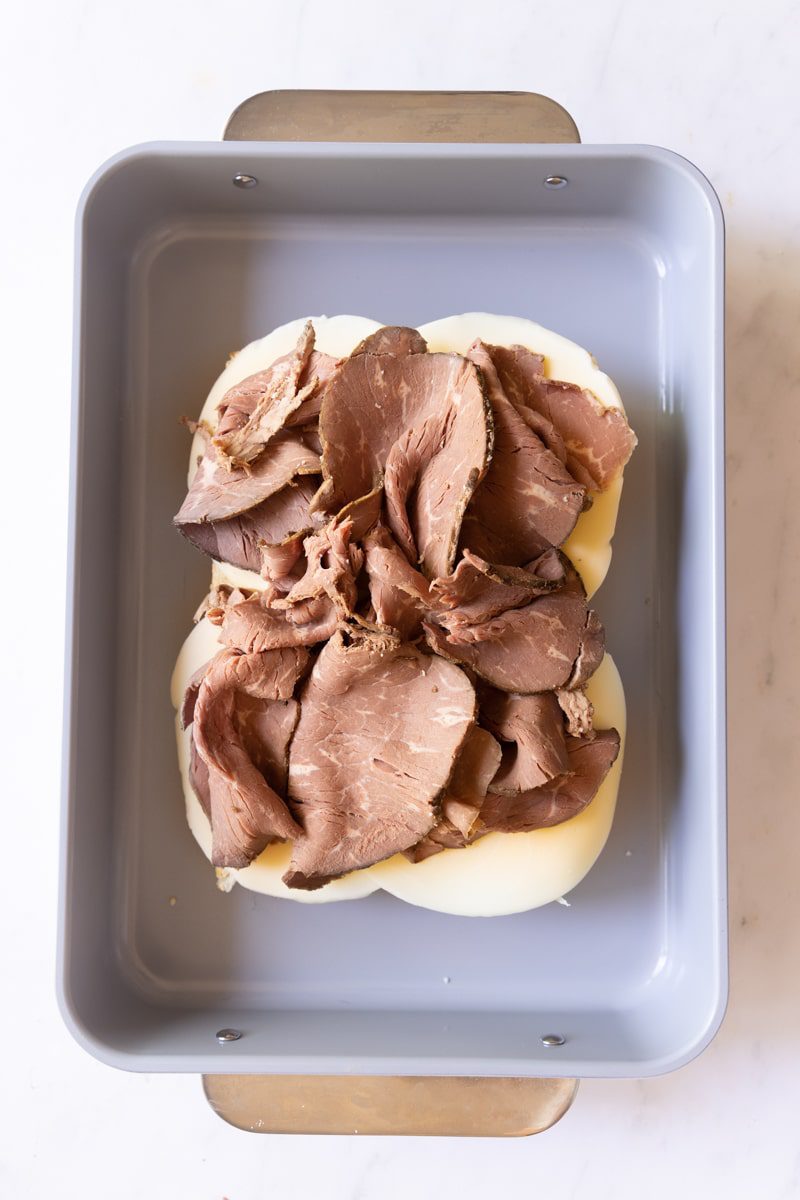 Place the bottom of the sweet Hawaiian rolls in your 9x13 baking dish. If you don't have a casserole dish (a type of baking dish), use a baking pan. Layer the bottom half of Hawaiian rolls with slices of cheese, and on top of the cheese, spread your yummy slices of roast beef.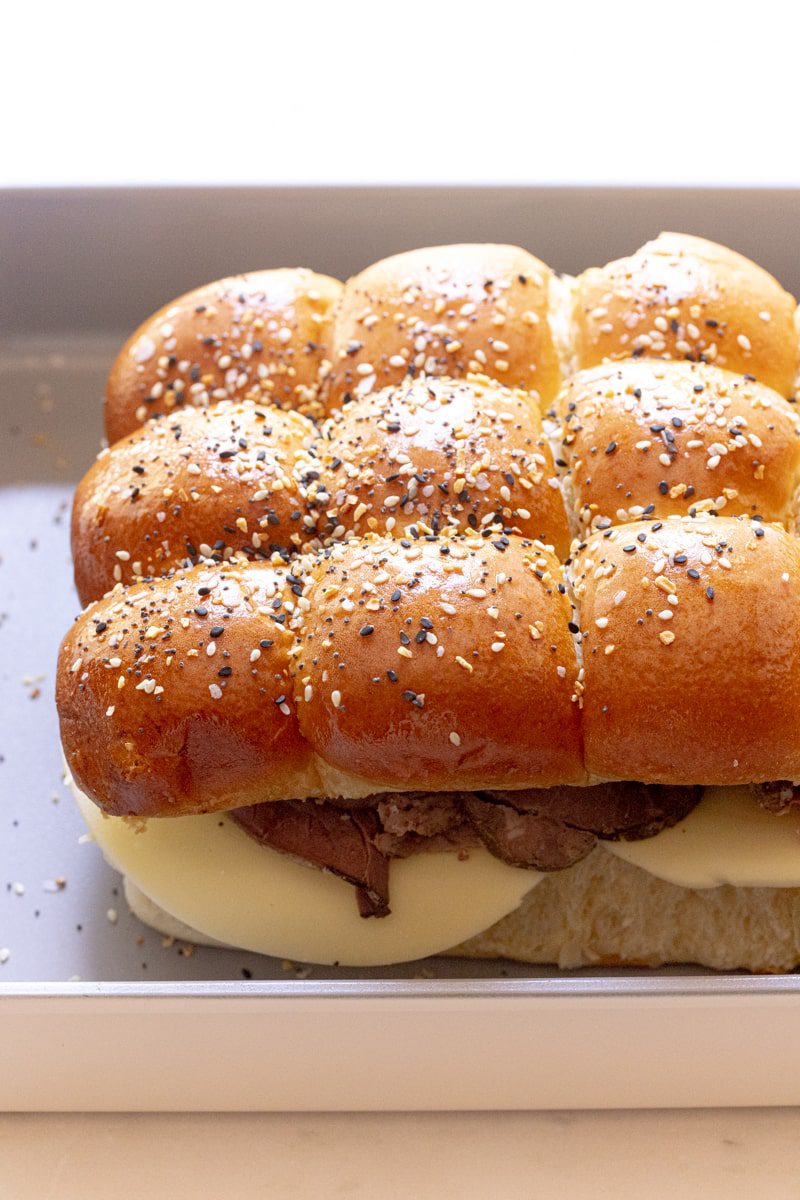 2. On top of the roast beef, go the tops of the rolls. And then you spray those top buns with cooking spray. Top that, ladies!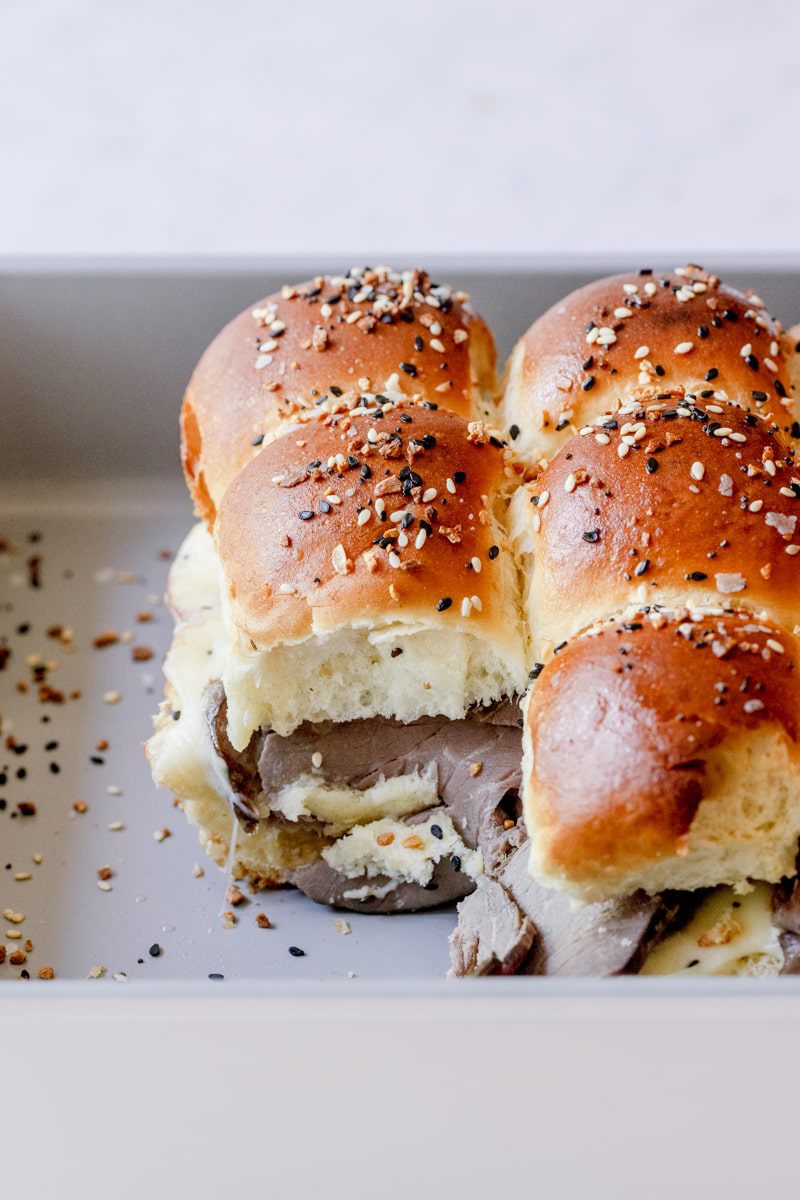 3. Bake till you have ooey gooey melty cheese or golden brown bun tops, and DONE!
PRO TIP: If the tops of your buns are getting a little too brown, simply cover the whole baking pan with tin foil until they are done cooking. This prevents burning.
Serving the Crowd
Game days can get pretty intense. And if you have people on the couches who binge-eat to channel their frustrations, you need to pair these cheese sliders with trusty party food side dishes.
Here are some cool appetizer ideas that'll raise the bar: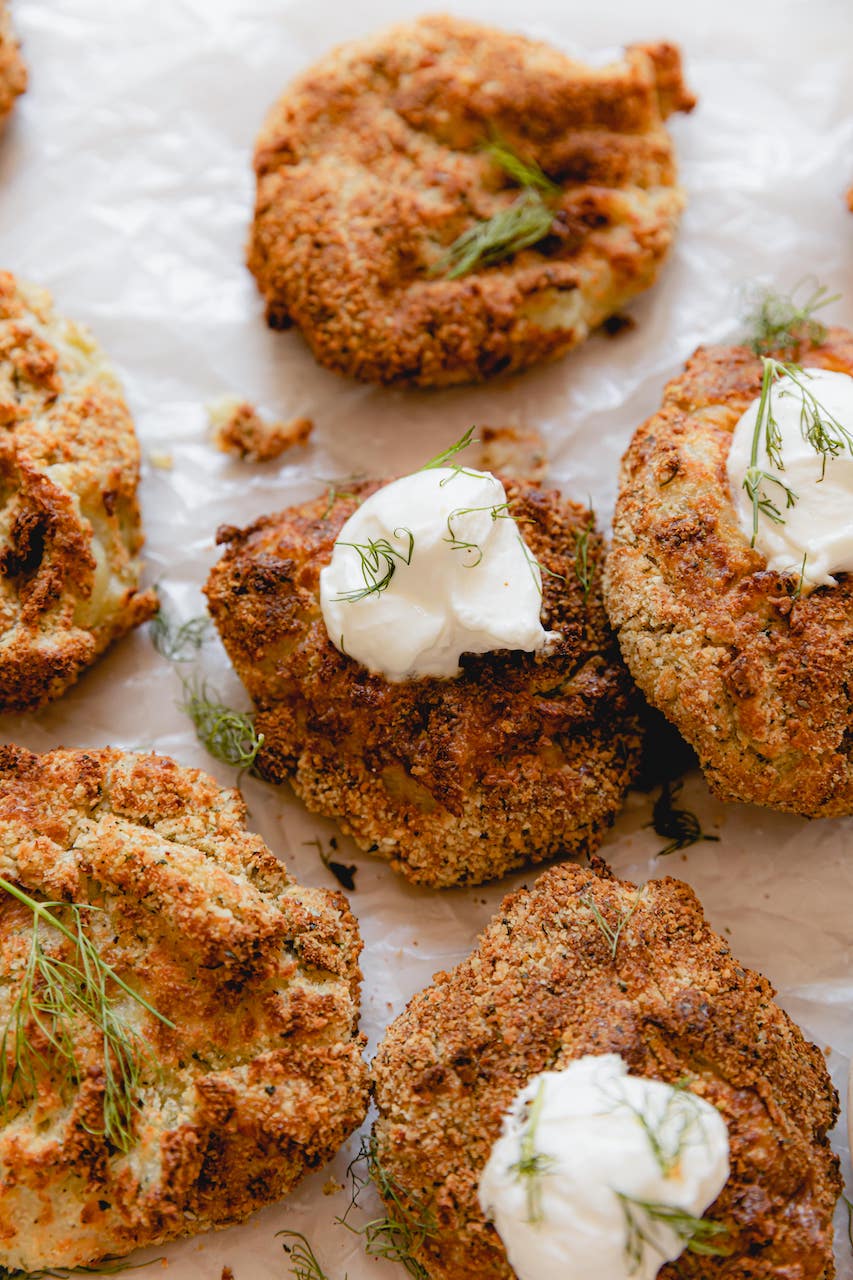 Cheesy Potato Fritters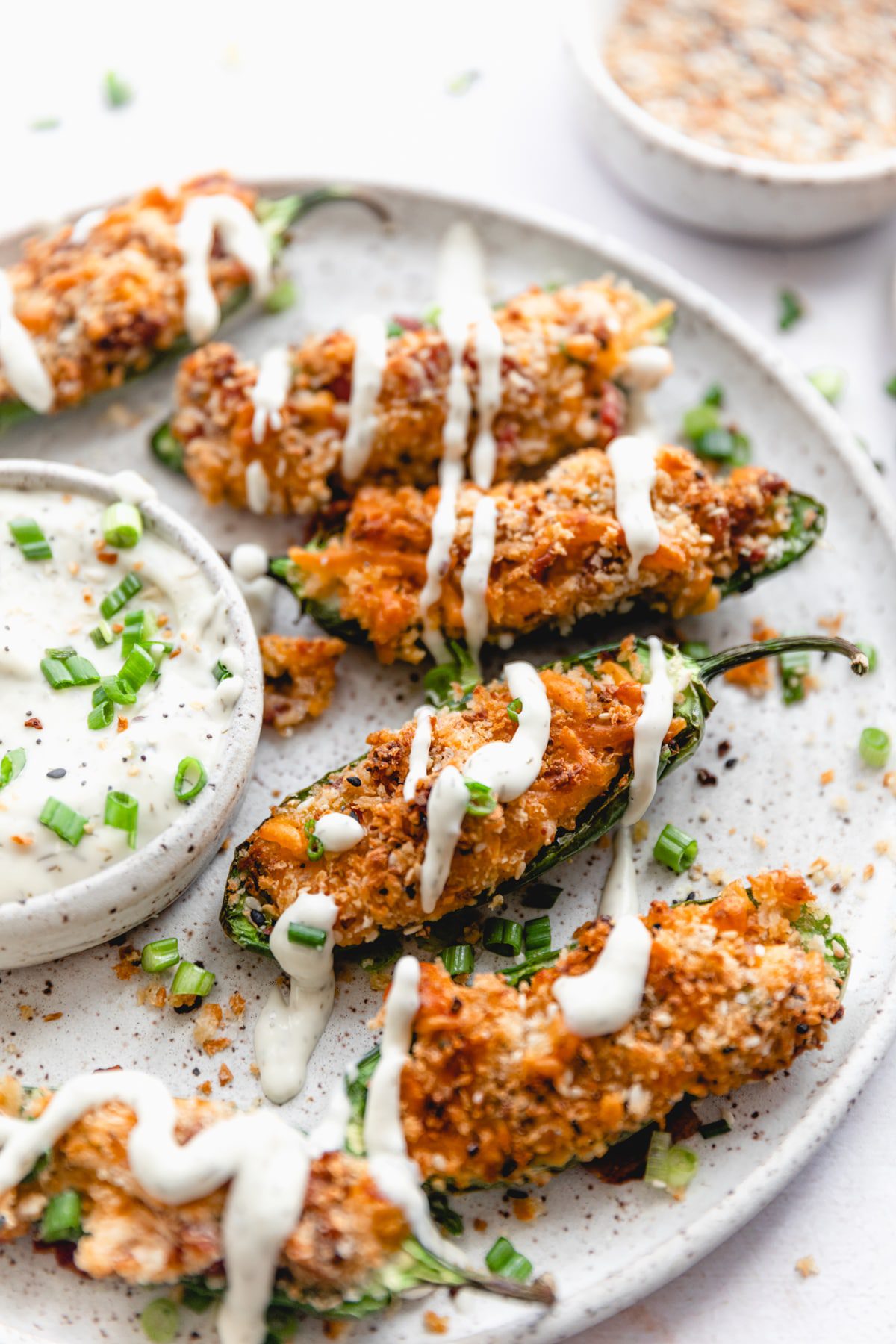 Jalapeno Poppers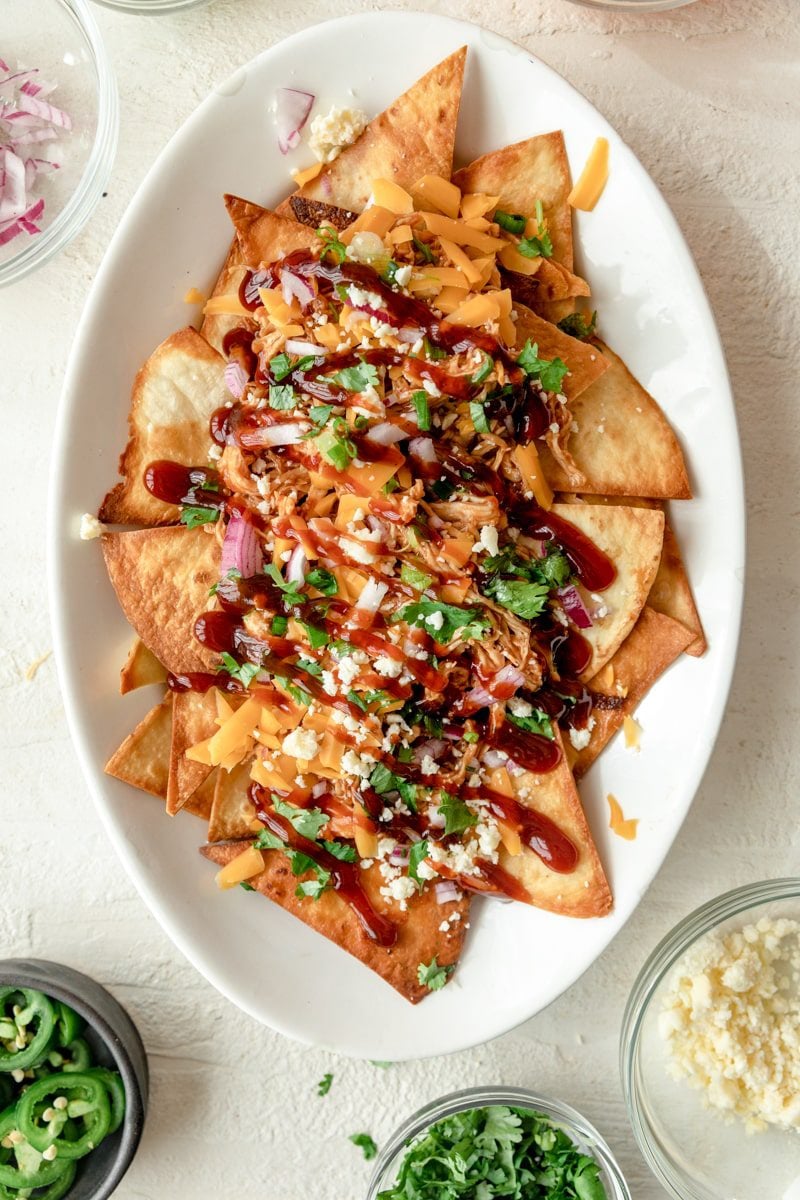 BBQ Chicken Nachos
Tips and Tricks
Freeze your leftover Hawaiian rolls in an airtight container and reheat them in an air fry before using them again.
Remove the tinfoil for the last baking portion for crispier sliders. Soggy food on game night? No thanks!
Never spread your sauces at the bottom of dinner rolls, they'll suck in the moisture, and you know the rest.
If you enjoy this recipe, you'll definitely like my Chicken Bacon Ranch Sliders and Buffalo Chicken Pinwheels. Try them yourself to know for sure.
And if you try any of these recipes, don't forget to share them with me. I'd love to know how they came out.
FAQ
What to eat with roast beef sliders?
These can definitely be your main meal and I love to eat them dipped in a savory au jus sauce or a horseradish mayo!
How much deli meat per slider?
I usually get 1 pound (16 oz) of deli meat when I am making these sliders! Which equals out to a little over 1 oz per slider!
How long do you cook roast beef sliders?
Since we are using already cooked deli roast beef, you want to cook these about 10 minutes to get the cheese night and melted!
📖 Recipe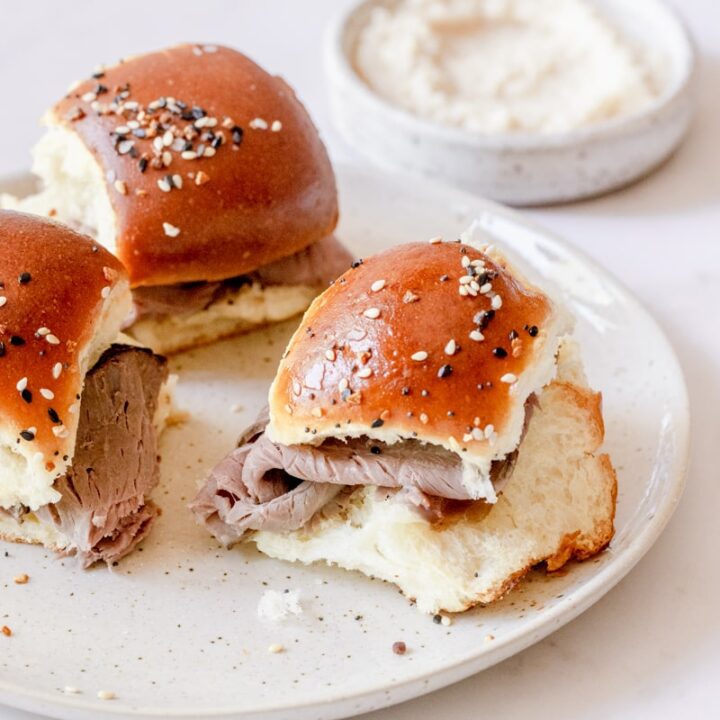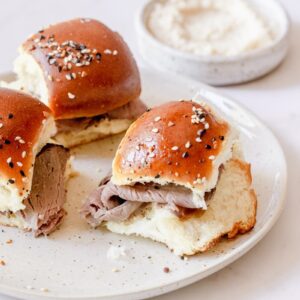 Roast Beef Sliders on Hawaiian Rolls
Looking to up your game day spread? These cheesy roast beef sliders on Hawaiian rolls are just the ticket! They are easy to make, easy to eat, and the whole family will enjoy them!
Share by Text
Print
Pin
Rate
Ingredients
10

oz

thinly sliced deli roast beef

12

hawaiian slider buns

6

slices

provolone cheese

2

tablespoon

everything bagel seasoning

cooking spray

toppings: horseraddish

au ju
Instructions
Preheat the oven to 350 degrees.

Place the bottoms of the hawaiian rolls in a 9x13 baking dish

Layer the slices of cheese on the hawaiian roll and top with slices of roast beef.

Replace the tops of the hawaiian buns and spray the tops with cooking spray and sprinkle with everything bagel seasoning on the tops of the buns.

Cover with tinfoil and bake for 10 minutes until the cheese is melted.

Serve with au ju or horseraddish on the side!
Notes
These sliders are perfect for game day! Bake them in a disposable tin foil pan for the ultimate bake and take tailgate item everyone will love!