Let me take something off your plate, this easy Honey Mustard Salmon that has 7 ingredients. Most of which I guarantee you have in your pantry!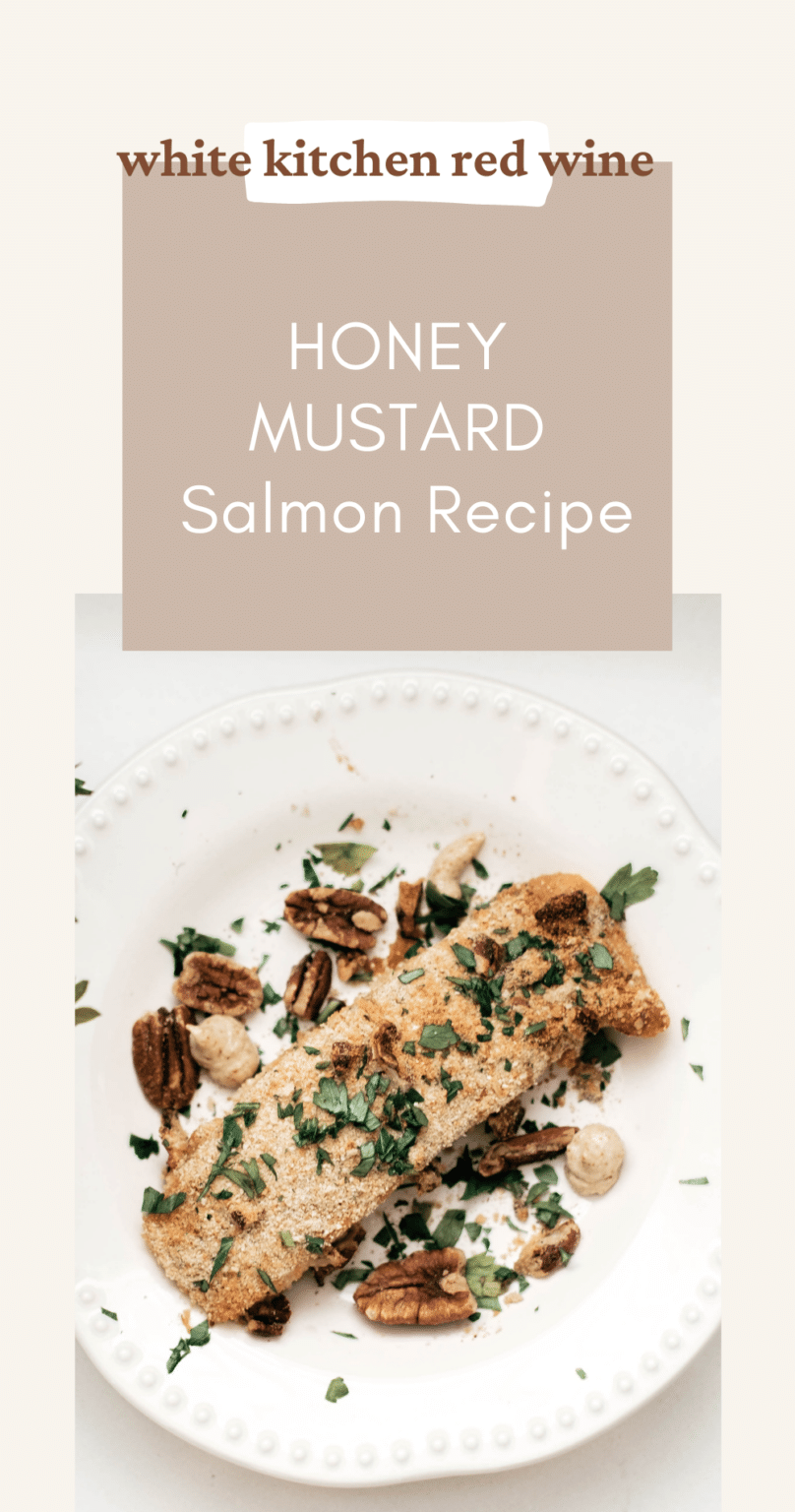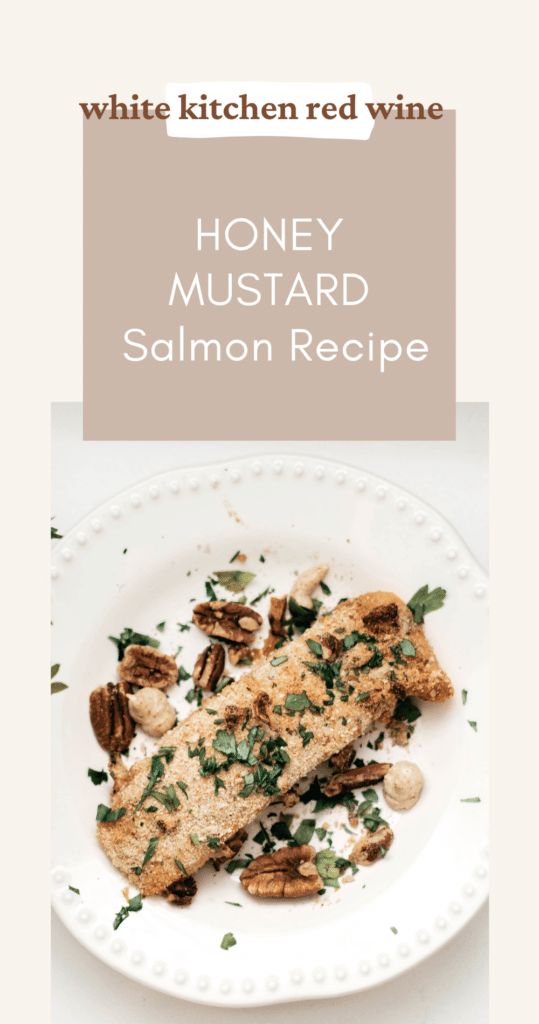 Salmon is one of our favorite types of fish to cook at my house. My kiddo even loves it! Sam's sells precut filets that are frozen and that is what we mostly use so I can always have it on hand.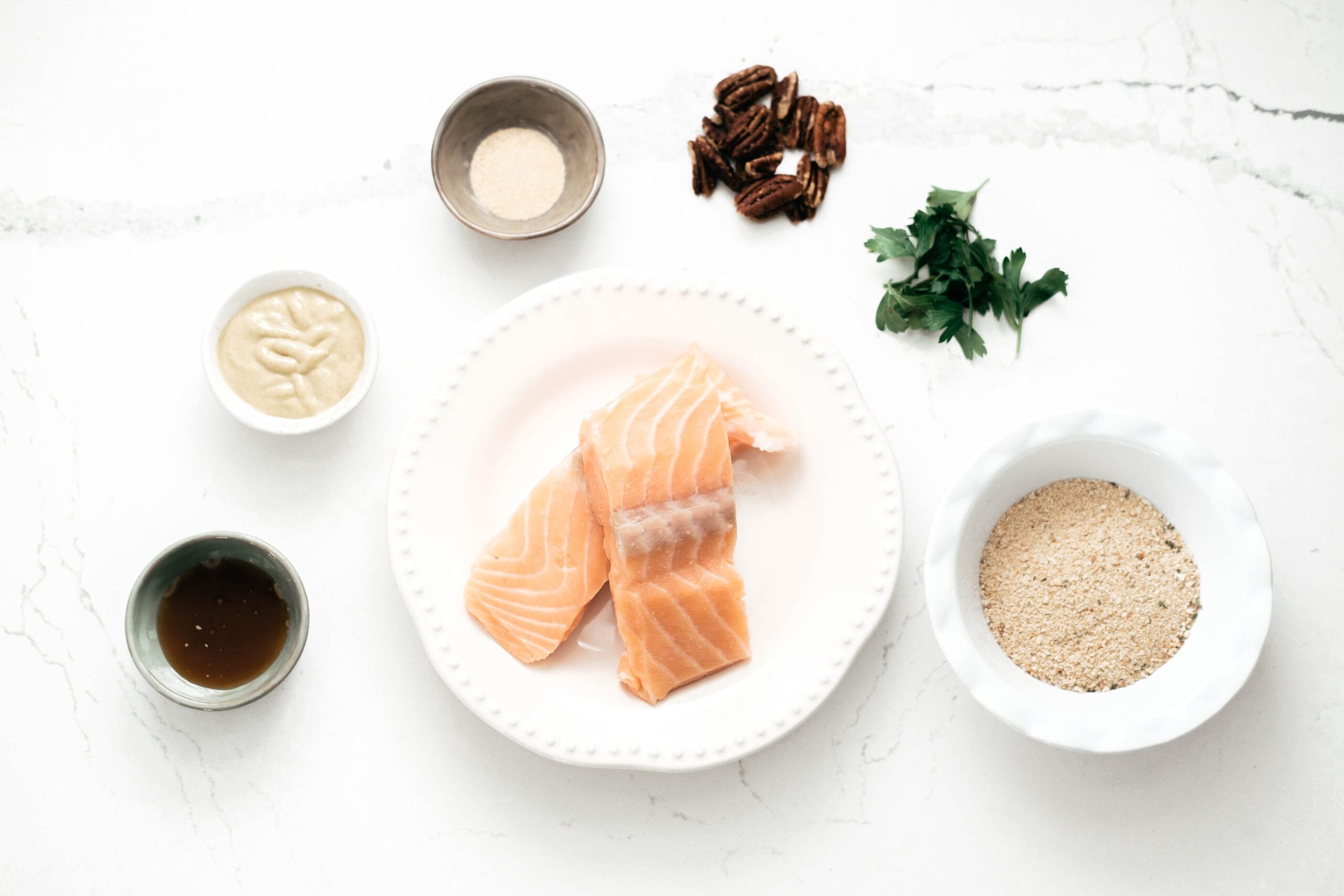 Easy Salmon Weeknight Dinner
I've been making this salmon dish ever since Ryan and I were dating. I would come over to his house on the weekends and after driving 2.5 hours from Kansas State University to see him, all I wanted was a quick and easy meal.
So when I make this I picture us in our first house together and to still be enjoying it together today makes me really happy!
Dijon and Honey with Salmon
The dijon mustard packs a punch of flavor and helps keep the salmon nice and moist through the cooking.
The sweetness of the maple syrup actually balances out the flavors SO nicely! It may sound like an odd combination but give it a try.
The crunch of the bread crumb and pecans on top is a perfect contrast to the soft, flaky salmon. Garnished with fresh herbs, it's the perfect bite every time!
During these colder months, I love serving Honey Mustard and Pecan Salmon alongside some roasted veggies or on top of a big arugula salad. So let's get cooking!
How To Make Honey Mustard Salmon
First, you'll want to make the honey mustard sauce by combining honey, dijon mustard, a pinch of salt, and pepper.
Make the crust by combining the Panko, pecans, and parsley.
Spread the honey mustard on the salmon
Press the panko mixture into the salmon
Bake!
How To Bake The Best Salmon
Baking salmon is one of my favorite ways to cook it. It keeps it going low and slow so all of the fat doesn't cook out immediately and it always turns out tender.
For a completely thawed, 4 oz filet I bake it for 15-17 minutes at 375 degrees Fahrenheit.
However, time is never a good way to gauge if protein has finished cooking. Always check with a good meat thermometer like this one. Fish needs to be cooked to an internal temperature of 145 degrees Fahrenheit.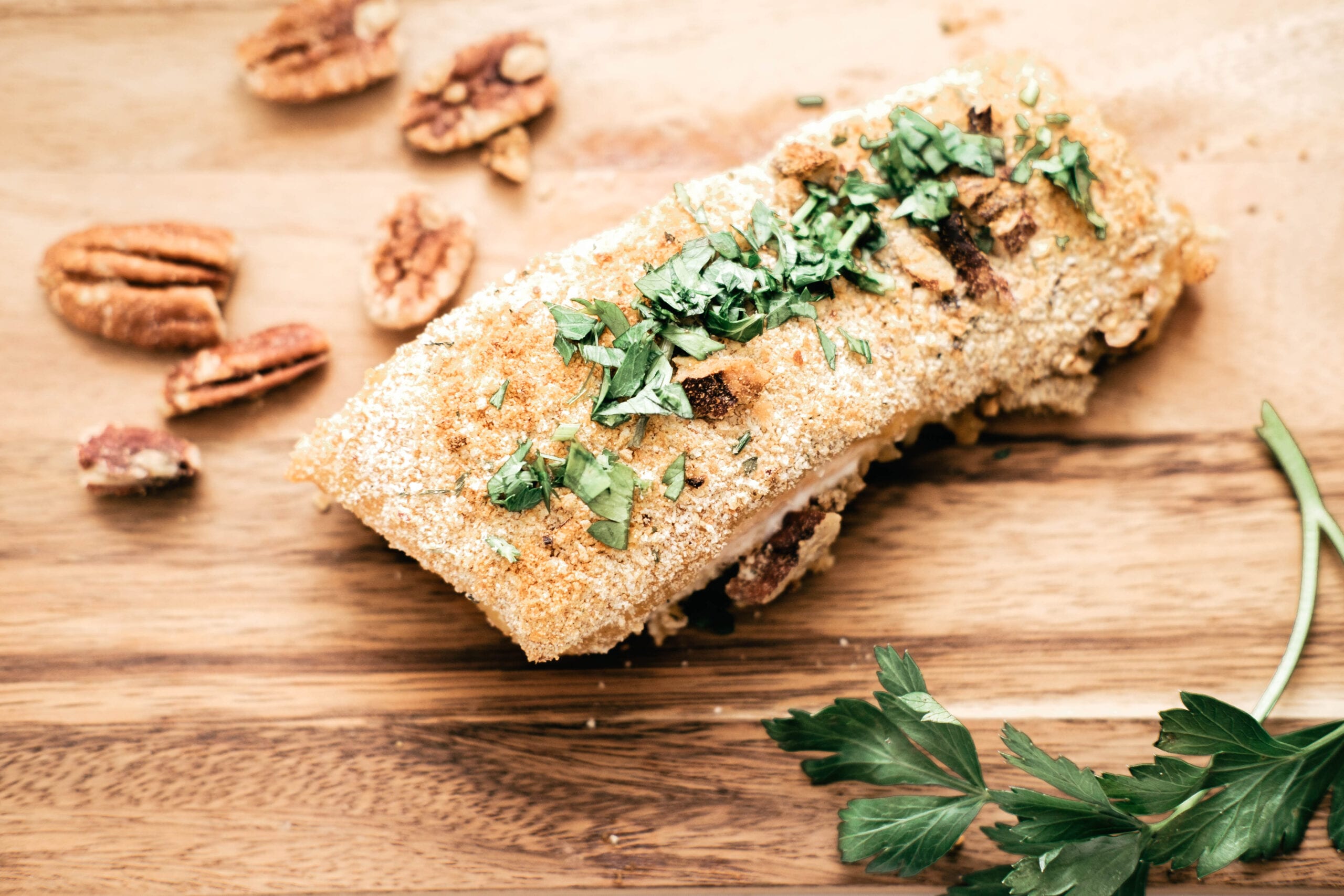 Salmon With The Skin On
Did you accidentally buy salmon with the skin on? No problem. I've written a blog all about how to remove salmon skin with ease!
I have 2 go-to ways to remove the salmon skin. So check out How To Remove Salmon Skin.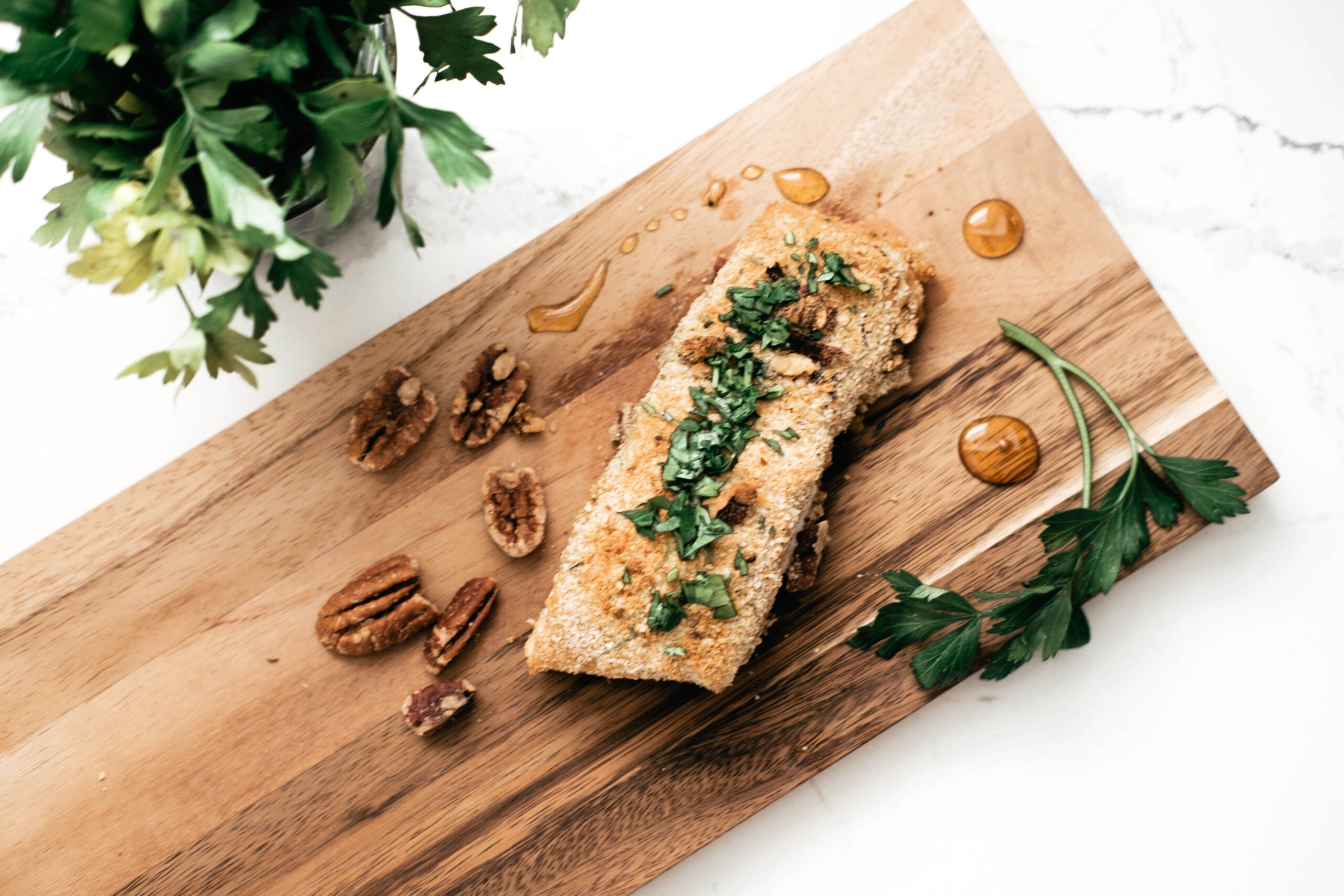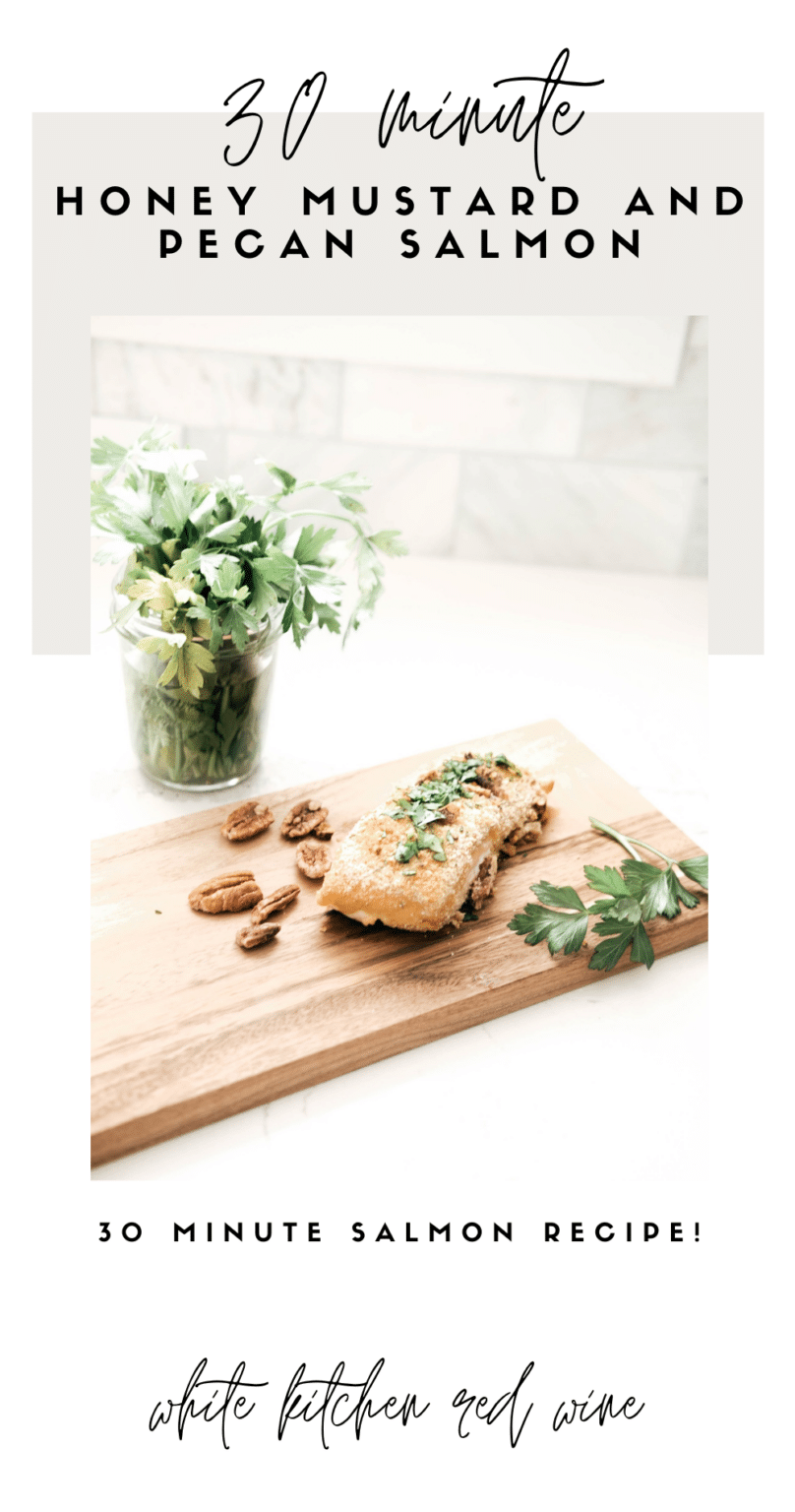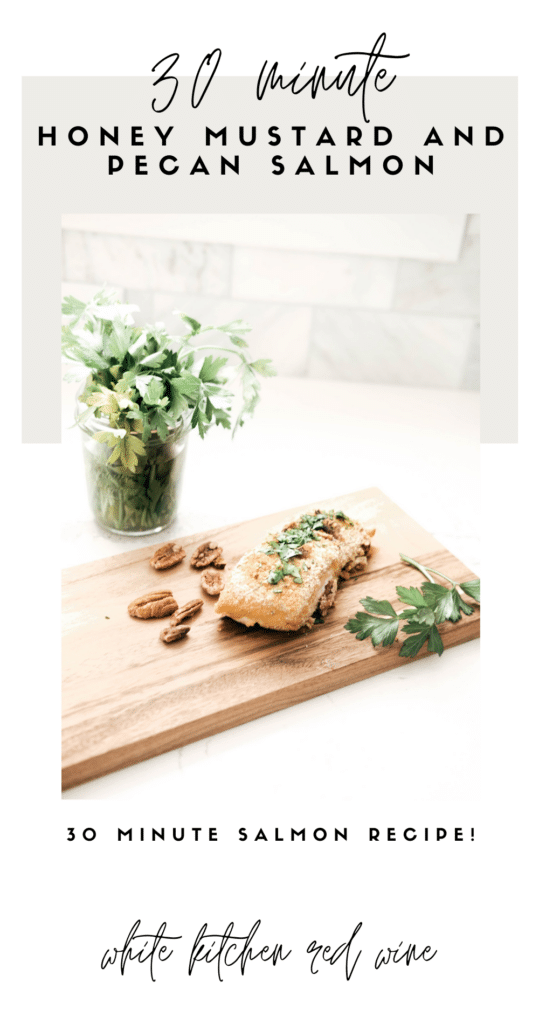 [mv_create key="10" type="recipe" title="Honey Mustard and Pecan Salmon" thumbnail="https://whitekitchenredwine.com/wp-content/uploads/2019/10/DSCF9802.jpg"]