Are you tired of spending hours in the kitchen after a long day at work or preparing for a dinner party? Look no further than this quick Sheet Pan Philly Cheesesteak recipe! This simple and convenient meal of shaved steak, peppers, onions, and meltyed cheese, this option can save you time, energy, and stress.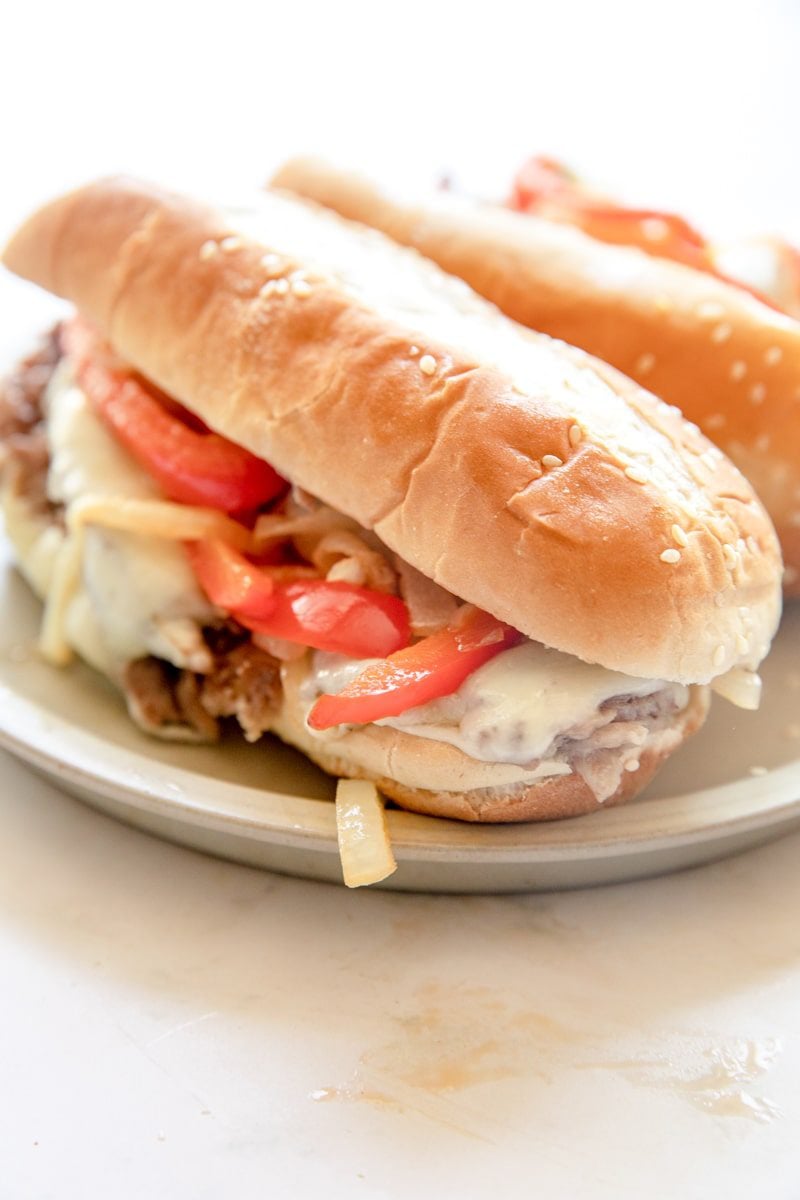 With just a few ingredients and minimal prep time, you can have a delicious and satisfying meal on the table in no time. This recipe is perfect for busy weeknights or when you're craving something hearty but don't want to spend hours in the kitchen.
With just a few ingredients and minimal prep time, you can have a delicious and satisfying meal on the table in no time. This recipe is perfect for busy weeknights or when you're craving something hearty but don't want to spend hours in the kitchen.
Jump to:
Sheet pan dinners are my go-to when I'm in full mom mode (you know that midweek autopilot mode I'm talking about!) Some of my favorite one-pan dinners include these easy Teriyaki Chicken Bowls!
What Makes an Authentic Philly Cheesesteak?
An authentic Philly cheesesteak sandwich is a mouthwatering sandwich made with thinly sliced ribeye steak, melted cheese, and caramelized onions. The Philly cheesesteak originated in Philadelphia, Pennsylvania, in the 1930s.
It's said a hot dog vendor was looking for a new sandwich to sell and decided to grill up some thinly sliced steak and onions, putting it on a roll! The sandwich became SO popular and is now an American classic!
The key to a perfect Philly cheese steak lies in the meat, which should be sliced thinly and cooked to a tender texture. The cheese should be melted just enough to hold everything together without overpowering the flavor of the steak. (Are you drooling yet?!)
And of course, the bread is also an important component, with a soft and slightly chewy texture that complements the filling!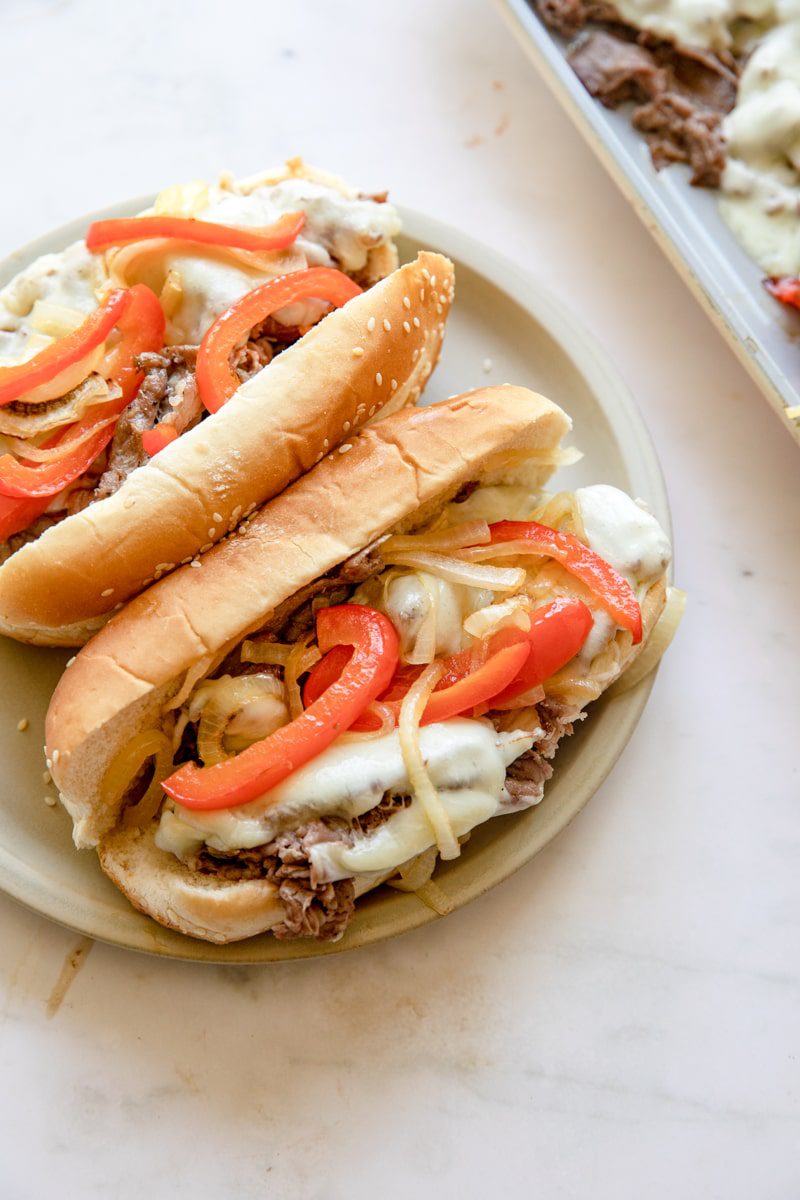 Why You'll Love This Easy Sheet Pan Recipe
If you're a busy mom looking for a quick and delicious dinner option, you'll love my newest sheet pan Philly cheesesteak recipe. This recipe is perfect for those hectic weeknights when you need to get dinner on the table fast.
Filled with Protien - With thinly sliced ribeye steak, caramelized onions, and melted provolone cheese, this meal is a great source of protein. 
Convenient - Added convenience of being cooked on a single sheet pan!  Plus, the easy cleanup means you'll have more time to spend with your family instead of washing dishes.
Easy to customize - You can adjust the ingredients to suit your family's tastes. Give this sheet pan Philly cheesesteak a try and see why it's sure to become a new family favorite!
& If its easy delicious sheet pan meals you're searching for you need to give my Lemon Caper Salmon a try!
Sheet Pan Philly Cheesesteak Ingredients
One major benefit of sheet pan dinners is their versatility! You can use any combination of protein, vegetables, and seasonings to create a tasty dish that everyone will love. Here's what you'll need for this 30 minute meal...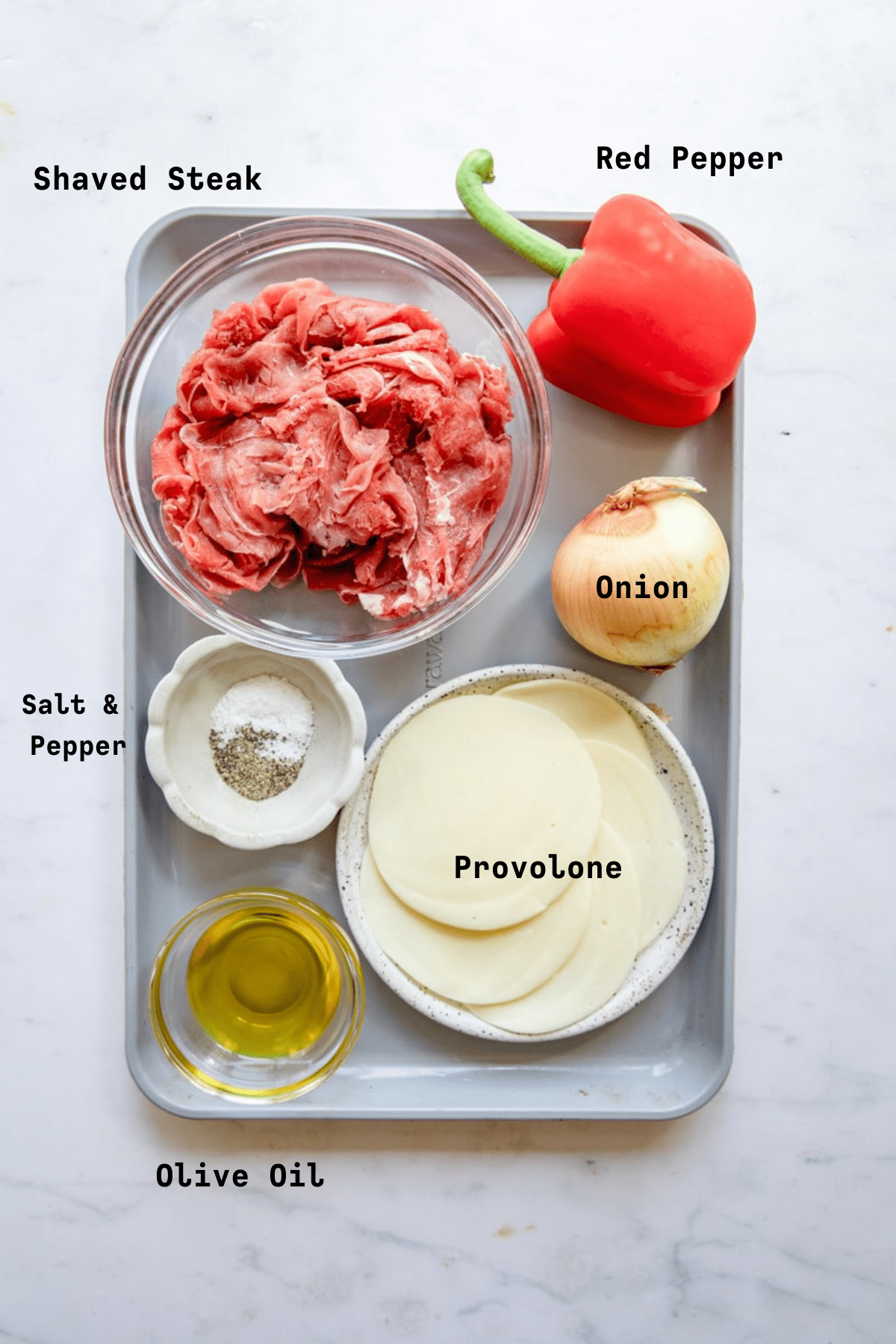 shaved steak (typically this calls for ribeye but I love the convenience of the shaved steak!)
red bell pepper
onion
salt and pepper
hoagie rolls
See recipe card for quantities!
How to Make an Easy Philly Cheesesteak in Minutes: Use Your Sheet Pan!
Another advantage of sheet pan dinners is their efficiency! Instead of cooking multiple dishes separately, everything can be cooked together on one pan in the oven.
This means less time spent monitoring separate pots and pans on the stove and as a busy mom, that's so important!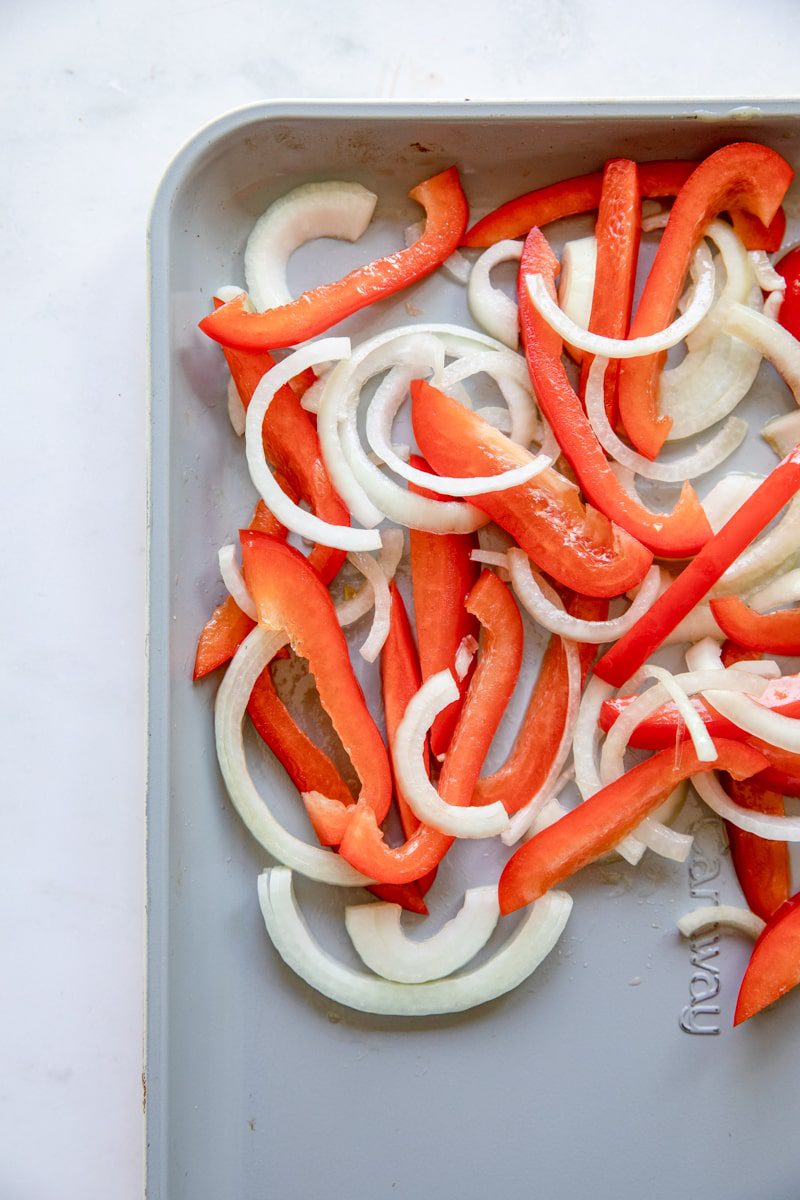 Toss the peppers and onions with olive oil, add to a sheet pan, and bake for 5 minutes at 350 degrees.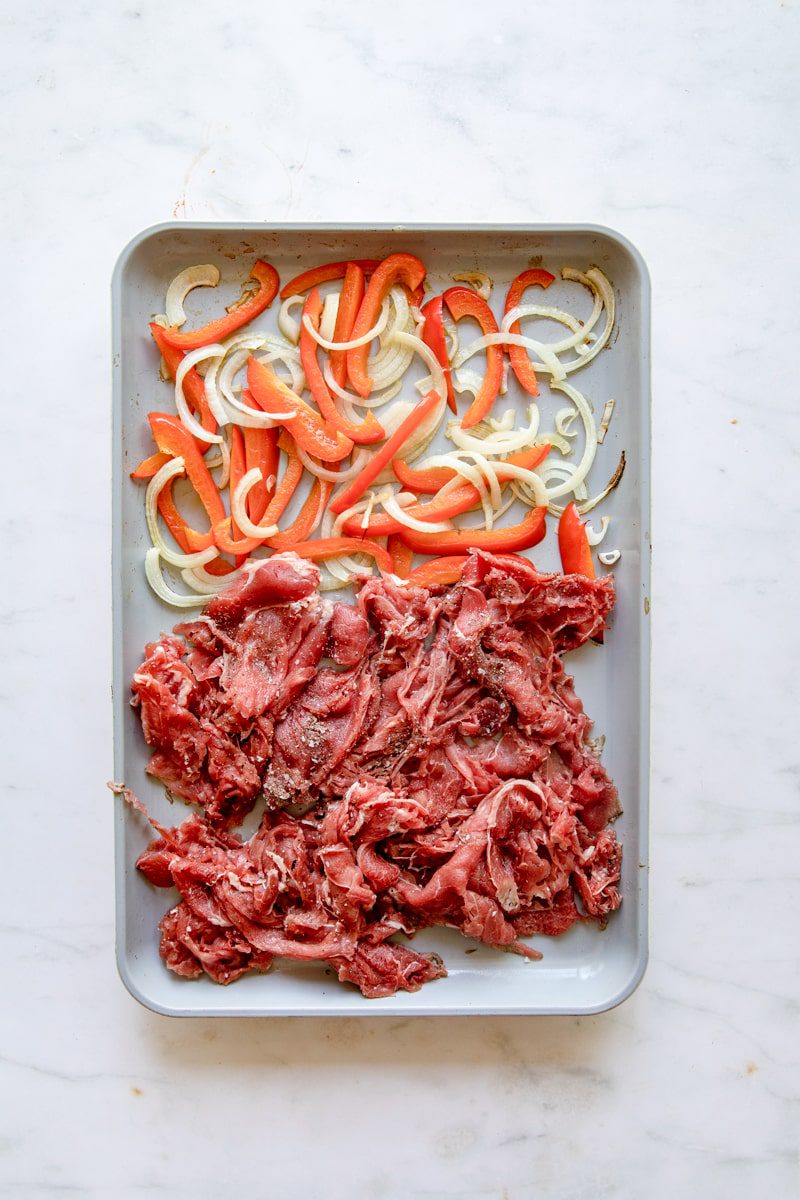 2. Season the shaved steak with salt and pepper then add it to the sheet pan. Bake for another 5 minutes.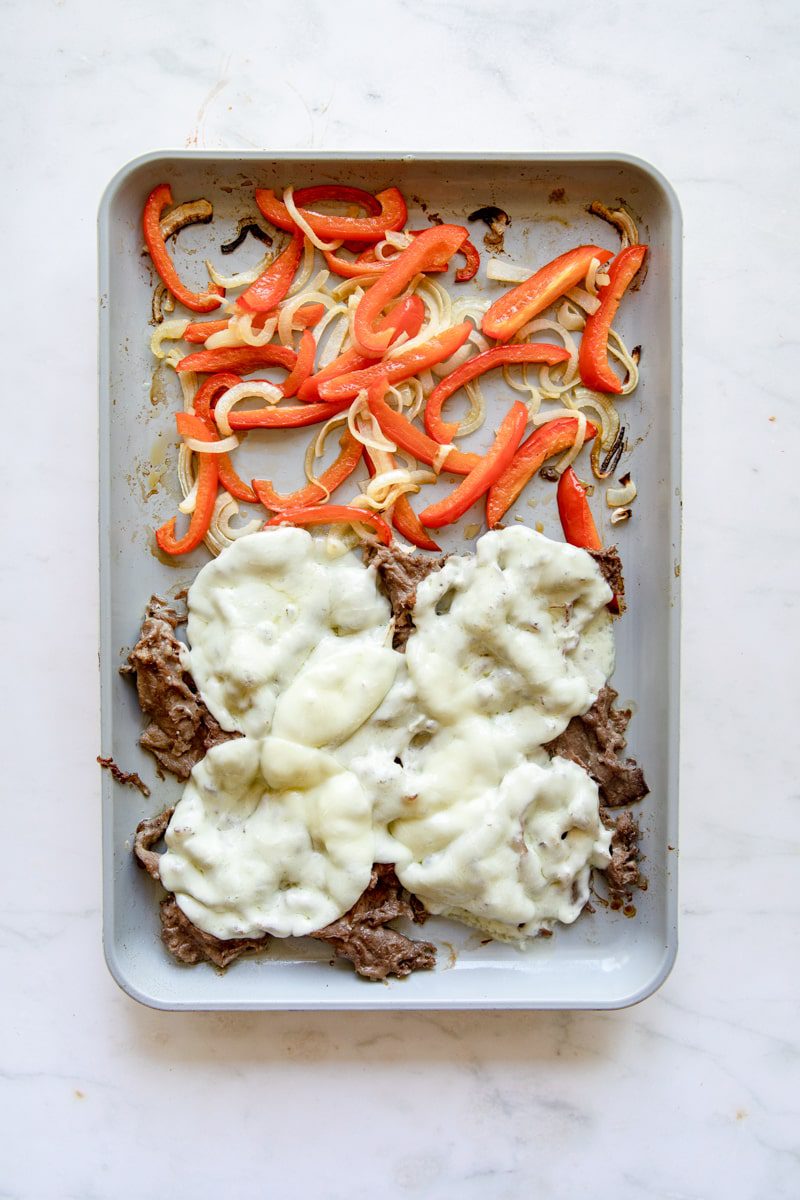 3. Top your steak with sliced provolone cheese and broil for 2 minutes.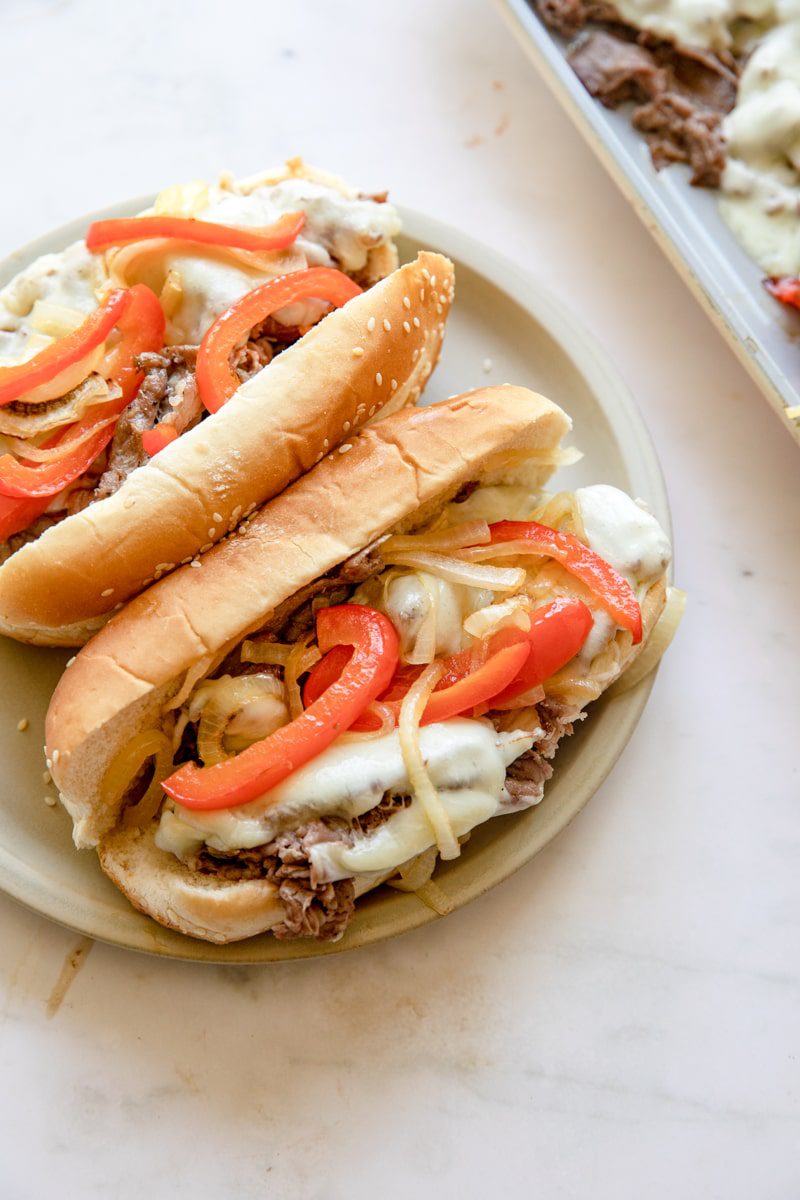 4. Pile the peppers, onions, and cheesey steak on a hoagie bun and enjoy!
Hint: Prep everything ahead of time and cover the sheet pan with foil for super easy dinner prep! Make this up to a day ahead of time.
Sheet Pan Cheesesteak Recipe Variations
Are you tired of the same old traditional Philly cheesesteak recipe?
Well, fear not because we have got some exciting variations that will make your taste buds dance with joy. From adding unique toppings to swapping out ingredients, these twists on the classic sandwich are sure to please:
Cheese whiz - a favorite topping for many to add to the top of their cheeseteak!
Mushrooms- a typical add on for a cheesesteak, adding sautéed mushrooms to your sandwich can really elevate the whole dish!
Vegetarian - or opt to swap in the mushrooms for the philly cheeseteak meat altogether for a vegetarian friendly recipe!
Pizza Cheesesteaks - what's better than pizza? Add marinara sauce and swap the provolone for mozzarella cheese.
Jalapeño Popper Cheesesteaks- craving a little spice? Add jalapeños and cream cheese to your steak and cheese sandwich.
Philly Cheeseteak Sliders - slice the hoagie rolls in half and create mini sliders!
Philly Cheesteak Bread Options
The bread is an essential component of any Philly cheesesteak recipe, providing a sturdy base for the filling while also adding its own unique flavor and texture.
While a classic hoagie roll is the most commonly used bread for this sandwich, other options such as a baguette or even a soft pretzel bun can also work well.
The bread should be soft enough to easily bite through without falling apart, but also sturdy enough to hold the filling without getting soggy.
Ultimately, the choice of bread comes down to personal preference, and trying out different options can be a fun way to customize your Philly cheesesteak recipe!
Storage
Once the meat, peppers, and onions are completely prepared, you can store the beef and veggies all together! Keep in an airtight container for up to 3 days.
To reheat: microwave for 30 seconds or in a small saucepan and pile high on your warm hoagie bun.
Top tip!
Don't forget to cook the veggies first. Pop the sheet tray into the oven with only the veggies for a few minutes so they get nice and tender.
The beef will cook quickly in the oven and takes a lot less time than the peppers to cook. So getting them started first with this recipe is important!
FAQ
What meat is used in Philly Cheesesteak Recipe?
The meat that goes on a Philly cheesesteak is typically thinly sliced ribeye steak. Ribeye is a tender, flavorful cut of beef that works well in the sandwich, as it cooks quickly and evenly when sliced thin. Some variations may use other cuts of beef, such as sirloin or flank steak, but ribeye is the most commonly used meat for a classic Philly cheesesteak.
What sauce is used for Philly Cheesesteaks?
Traditionally, the Philly cheesesteak is served without any sauce. However, some variations may include a condiment such as ketchup, hot sauce, or mayonnaise. Another popular option is to add a drizzle of cheese sauce, such as Cheez Whiz
Related
Looking for other recipes like this? Try these:
Pairing
These are my favorite side dishes to serve with Philly Cheesesteaks!
📖 Recipe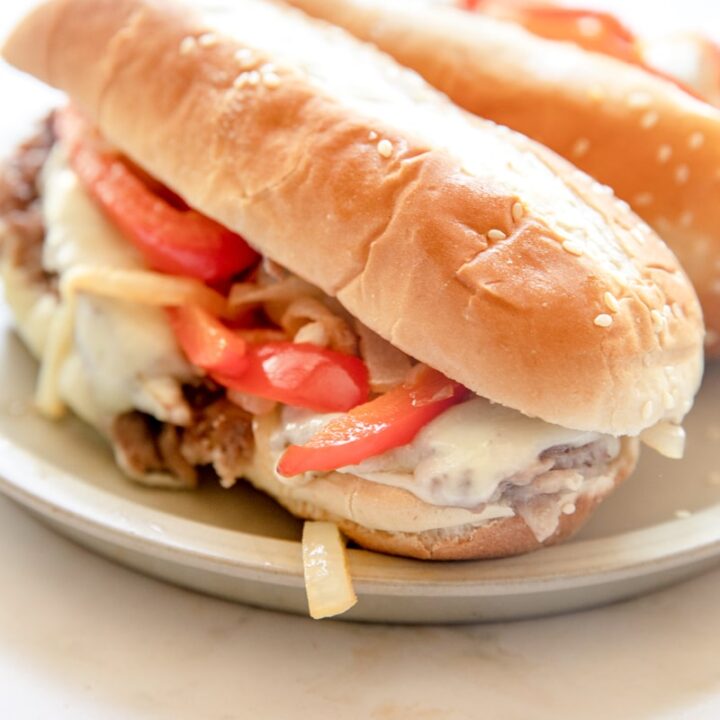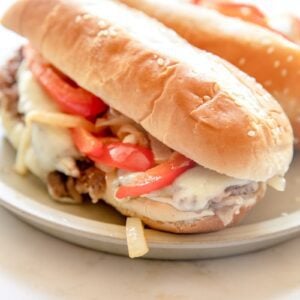 The Ultimate Sheet Pan Philly Cheesesteak Recipe
No need to spend hours in the kitchen – this sheet pan Philly cheesesteak will be ready in 30 minutes or less!
Share by Text
Print
Pin
Rate
Ingredients
1.5

lbs

shaved steak

2

bell peppers

sliced

1

onion

sliced

2

tablespoon

olive oil

1

teaspoon

salt

½

teaspoon

pepper

4-6

slices

provolone cheese

4

hoagie buns
Instructions
Preheat the oven to 350 degrees.

On the sheet tray add the peppers and onions, drizzle with olive oil and toss to combine.

Bake this for 5 minutes until the veggies are tender.

While that cooks, take the steak out of the fridge and season with salt and pepper. Set aside.

Once the veggies are cooked down a bit, spread out the shaved steak on the hot sheet pan and place back in the oven for 3 minutes.

Remove the sheet pan and top the steak with sliced provolone cheese. Broil for 2 minutes.

Remove from the oven and pile the peppers, onions, and steak on the hoagie buns. Enjoy!