I've got a couple of "fancy" back pocket meals for when I really want to impress guests. This one just happens to be FULL of protein and atop a tangy veggie salad. Seared Ahi Tuna is one of my husband's favorite meals that I make. So when I want to have a fun date night in, I'll whip this seared ahi tuna recipe up.
How To Make Seared Ahi Tuna
If you can put together a simple marinade and heat up a skillet, you can make this restaurant quality seared ahi tuna recipe. After sitting in a marinade of soy sauce, lemon juice, sesame oil, honey, and everything but the bagel seasoning it is so full of flavor you will impress yourself with how delish it is.
This is also a perfect meal if you just feel "ick." You know, after the holidays when your body is just crying out for a vegetable & protein haha! This is that meal. Its light, yet satisfying and the protein from the tuna will keep you full for hours.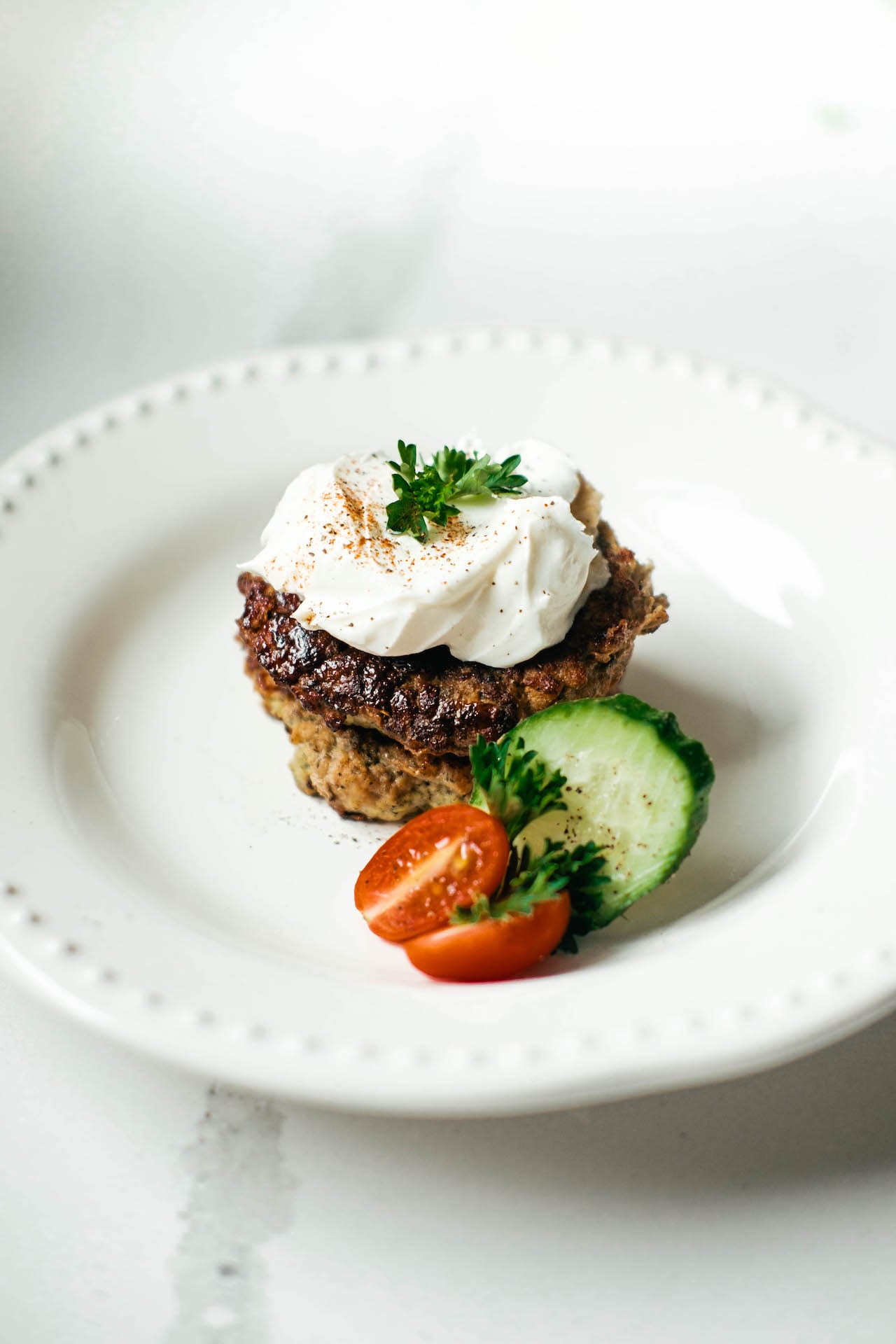 Need more ideas for healthy dinners?
Where should I get my tuna?
I purchase my ahi tuna from my local Sprouts. Check out their healthy produce here! It often goes on sale and when it does that's when I try to make this meal. On sale it's usually $7.99-9.99 a pound which means I can feed 4 people this meal for less than $15.00. ?
It is fresh from frozen and normally fish to be eaten raw should be frozen. It kills the kinds of bacteria in fish that can make you sick.
Have you ever shopped Sprouts? You guys know I live and die by Aldi but, sometimes I'm looking for specialty items that Aldi just doesn't have! For that, I head to Sprouts. They also run amazing sales like buy one get one free chicken!
Ordering seared ahi tuna at a restaurant will easily set you back $20. Save yourself the heartache of an expensive salad and stay in your sweats and whip this up for yourself at home.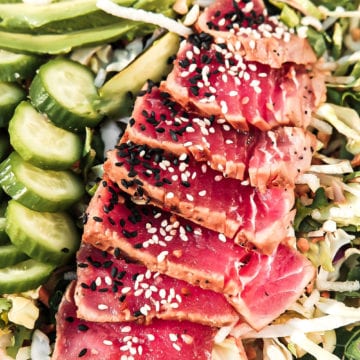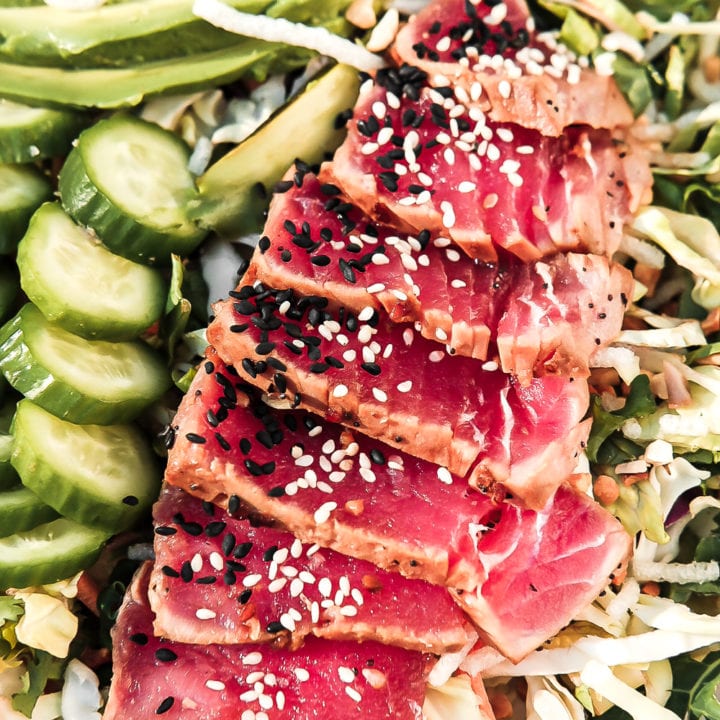 Seared Ahi Tuna
You won't believe how easy making seared ahi tuna at home is! Deceptively easy and so healthy.
Ingredients
1-1.5

lbs

Ahi Tuna Steaks
Ahi Tuna Marinade
3

Tablespoons

Soy Sauce

1

Tablespoon

Everything But The Bagel Seasoning

1

Tablespoon

Sesame Oil

1/2

Tsp

Salt

1/2

Tsp

Black Pepper

1

Tablespoon

Mikes Hot Honey

or regular honey

Juice of 1 lemon

3

Tablespoons

coconut oil

Black Sesame seeds for garnish
Instructions
In a small bowl combine soy sauce, sesame oil, everything but the bagel seasoning, salt, pepper, lemon juice, and hot honey. Whisk to combine.

In a shallow dish place your tuna steaks and pour marinade over them. Cover and let sit in the refridgerator for 3-6 hours. The longer the better!

Take out your tuna and over high heat get 3 tablesoons of coconut oil screaming hot in a cast iron pan. I use a dutch oven because the sides are tall and there is less splatter.

When the pan is very hot, lay one tuna steak down in the oil. Cook for 45 seconds -1 Minute depending on the level of rareness you like.

Flip to the other side and cook for an additional 45 seconds to 1 minute.

Remove from pan and lay on a cutting board to rest for 5 minutes. Repeat with 2nd tuna steak.

With a serrated knife, cut slices against the grain of the tuna.

Top with sesame seeds and sliced avocado!
Notes
This is also delicious with siracha mayo!